Currently Browsing
Posts Tagged ' activities for children '

Since 1970, Earth Day has been raising public awareness of environmental issues. Today, our waterways are less polluted and air cleaner, yet there is still much work to be done before we can consider ourselves a sustainable society. This year, engage your students or children with one of these eco-friendly activities on Earth Day or the weeks leading up to and from it.
Activities for Children – Kindergarten to Grade 6
Plant a Tree
It may seem cliché, but planting a tree is a simple act that helps the environment and gets children outdoors enjoying the natural world on Earth Day. Coordinate with your school a place on the grounds where your class can plant a tree or check with your local conservation board for a public location. Apply for free trees through organizations like Trees for Schools (UK and Ireland only) and Trees for Wildlife or by having students write to local nurseries.
Compete in a Contest
Contents are a wonderful way to get students excited about learning and with Earth Day comes array of eco-themed competitions. Look for local and regional contests or have your students enter the Wonders of Water contest by writing and illustrating a water-themed poem.
Don't Put Out the Trash
During the week leading up to Earth Day, arrange with the custodian not to remove the trash and recycling from your classroom. On Earth Day, have your students weigh the trash and recycling they generated (weigh trash separately from recycling). Over the next week, challenge your students to toss and use less, plus recycle more. After a week, have students weigh the trash and recycling again and calculate the decrease (hopefully!) in trash weight and increase in recycling weight. Extend the lessen for older students and have them calculate percent increase and decrease as well. Get started by assigning the lesson Reduce, Reuse, Recycle, then find more recycling activities here.
Walk to School
It is good for the environment and our children's health. More and more schools are planning annual walk or bike to school days. Why not plan one for April 22 or use Earth Day to have your students start planning for National Walk to School Day in May? Read this for more information on getting started.
Declare April 22 Waste-Free Lunch Day
With the help of your class and the EPA's Pack A Waste-Free Lunch site, make Earth Day a school-wide commitment to reducing the mounds of garbage generated during a typical school lunch. Have your class coordinate with administrators and cafeteria workers and help spread the word to students and parents about what can be done to minimize lunch waste.
Get your students excited for Earth Day by engaging them with these interactive lessons on Climate Literacy and Environmentalism by PBS Learning Media and with Help Teaching's self-paced science lessons.
Activities for Children – Grades 7 to 12
Participate in a Citizen Science Project
Engage your children or students in authentic science by participating in an eco-themed crowd science collaboration. There are numerous projects running that allow students to participate with adult supervision, including the environmentally oriented: Forgotten Island, YardMap, The Lost Ladybug Project, and Globe at Night.
Take a Field Trip
What student doesn't love a field trip? Plan an inexpensive day out by arranging tours of your local landfill, recycling center, wastewater treatment facility, and/or power plant (even better – visit a plant that uses renewable energy and one that uses a nonrenewable source). Yes, it will be dirty, hot, and smelly, but what better way for students to develop an understanding of where energy comes from and trash goes than to see it for themselves?
Host an Environmental Career Fair
Enlist your students in finding local professionals working in environmental careers to visit the school on Earth Day. Arrange for a career fair that allows students to hear about green jobs and discuss job duties with the professionals. Have students prepare questions ahead of time and write thank-you notes after. Visit Kids.gov for a list of environment and nature jobs to get started.
Build a Rube Goldberg Machine
Ask your students to bring in a variety of cleaned items from their home recycling containers during the week leading up to Earth Day. On April 22, divide your students into teams and task them with designing and building a machine that completes a simple eco-friendly task such as turning off the lights or watering a plant. Provide basic materials, like string and wine, to aid in construction. Be sure and have your students demonstrate their machines for an audience and see if their projects can be displayed in the school lobby or library.
Launch a Project-Based Learning Unit
Spring has sprung and students are anxious to get outside, making Earth Day is the perfect time to embark on an environmentally focused project-based learning (PBL) initiative. BIE.org offers extensive PBL resources for teachers and students – start by using their search tool for project ideas.
Be sure to visit Help Teaching's Earth Science Printables and Lessons for free environmental science resources to use on Earth Day and year round!
10 March //
Posted in How To //

Kids love crafts (and many grown-ups do too). Sites like Pinterest are full of craft ideas for kids, but sometimes you don't feel like wading through all of the pins. When you're short on time or aren't quite sure what you're looking for, there are plenty of craft sites ready to help you out. Whether you want to celebrate National Craft Month in March, find a craft to go along with a lesson, or just do a craft with the kids, we've rounded up a collection of the best craft sites to help you find the perfect craft for kids. With over 50 kid-friendly resources, you'll be getting crafty in no time!
General Crafts
Many craft sites cover all subjects and seasons. These are some of our favorites both for the amount of craft ideas they offer and the quality of the ideas they provide.
Red Ted Art's motto is "Bringing Color & Art to Children's Hearts." This site is full or really neat ideas to encourage children to develop their creative side. Crafts are organized by category and range from making gifts to designing your own board games.
Busy Bee Kids Crafts organizes its craft ideas by time of year, category, and material. For example, if you have a wealth of empty toilet paper tubes, you can see a list of crafts that will help you use them up.
Enchanted Learning's crafts section includes craft ideas for nearly every holiday and category. The crafts include a mix of printables and simple paper-based crafts. Most are appropriate for preschool and early elementary school.
DLTK's Crafts for Kids is another quintessential crafts site, with a large selection of crafts for preschool and early elementary school. One section of the site is entirely devoted to printable crafts, which are ideal for those who want simple crafts with little mess.
First Palette includes a large selection of crafts searchable by theme, occasion, and age. Crafts range from toddler to ages 9 and up. While the site does have some printable crafts, many are slightly more involved crafts that will require grown-up participation.
Crayola has a great selection of crafts that can be made with Crayola projects. You can filter by age (12 months-12+ years), category, and color.
Storybook Crafts and Favorite Characters
Younger kids love to create crafts related to their favorite stories and characters. These sites take some of the most popular picture books and cartoon characters and pair them with great crafts for kids.
Kids Activities Blog has gathered up 100 crafts inspired by children's books. These include crafts from books such as The Very Hungry Caterpillar and Knuffle Bunny.
No Time for Flashcards features a list of 25 books with crafts to match. Find a book you want to read with young kids and a relevant craft beside it. It can't get much easier than that.
The Picture Book Professor offers many holiday and seasonal booklists that are accompanied by relevant crafts for kids.
PBS Kids crafts for kids page features crafts for many of kids' favorite PBS shows, such as Peg+Cat, Sesame Street, and Daniel Tiger's Neighborhood. Many of the crafts are involved and require grown-up participation.
Disney Family offers many different craft ideas featuring favorite Disney characters. Many of the crafts are designed to be completed by families, which means they have steps that will be difficult for little kids.
Bible Crafts
Bible crafts can help kids learn more about key events and lessons in the Bible. These sites are perfect for Christian homeschoolers, Sunday school teachers, and parents who want to bring Bible lessons into the home.
DLTK's Bible Crafts features a large selection of craft ideas organized by animals, general Bible crafts, Old Testament crafts, and New Testament crafts. Their offerings include printable crafts and many crafts that use items found around your home.
Danielle's Place offers a massive selection of Bible stories and crafts for kids. Crafts are organized alphabetically by story. Each story is also accompanied by fun games.
Christian Preschool Printables focuses on easy-to-use printable crafts for kids. Crafts are organized by Old Testament, New Testament, and Holidays.
Meaningful Mama created a list of 100 Best Bible Crafts for Kids. The crafts are organized by major stories in the Bible.
Edible Crafts
With these edible crafts, you can have your crafts and eat them too. These sites offer crafts for a range of ages, from young kids who like to play with their food to older kids who are starting experiment in the kitchen.
EdibleCraftsOnline.com includes a large assortment of edible crafts for kids and adults. Many of the crafts are focused on special occasions.
Kinder Art shares a solid collection of recipes and edible crafts for kids. Many are simple enough to made by younger kids, with some grown-up supervision.
Cute Food for Kids features many neat ideas to help parents make kids' food playful and fun. While many of these ideas are designed for parents, kids can help with the process.
Imperial Sugar offers many edible art projects that incorporate sugar and also includes fun science experiments as well.
Fun Family Crafts has an extensive archive of edible crafts, including some inspired by kids' favorite movies.
Science and Nature Crafts
Science and nature crafts are a great way to get kids to have fun while learning more about the world around them. These sites include crafts made from materials found in nature and science experiments to help kids learn more about the world of science.
Tinkerlab features a variety of crafts and other projects designed to get kids thinking. Its offerings include many crafts related to science and nature that are great for upper elementary school.
Science Kids offers many fun science experiments and crafts designed to help kids learn more about how the world works. Ideas range from making eggs float to building parachutes.
The Craft Crow features crafts designed to help kids learn about science while being creative as well. Many of the activities repurpose the same materials in multiple ways.
32 Awesome Things to Make with Nature from Buzzfeed is full of clever craft ideas. While many of the ideas are designed for adults, they can easily be adapted to be fun for kids too.
Activity Village offers a nice selection of crafts designed to be used with leaves, pine cones, and other easy-to-find objects from nature. Many crafts can be enjoyed by younger kids too.
National Geographic features a selection of crafts designed for kids in elementary and middle school. Many of the crafts are designed to go along with National Geographic articles or programming.
Recycled Crafts
Rather than wasting paper and other items, why not make crafts from items you can find around your home? Kids can have fun and help save the environment at the same time.
Education.com's Recycled Crafts section includes tons of craft ideas, from using old Christmas lights to creating a classic tin can phone.
Fave Crafts shares its list of 1000+ Recycled Crafts. This extensive list features crafts for both kids and adults and all of them use recycled items.
Planetpals is all about saving the Earth and it continues its mission through its collection of recycled crafts for kids.
Math Crafts
Sometimes right-brained students have a hard time grasping math. Bringing craft projects into the math classroom can help students grasp difficult concepts in fun ways.
Lalymom offers a list of 20 different math activities activities that all use the same main material – craft sticks! These activities are designed for preschool and early elementary school and help kids learn a range of basic math skills.
Nurture Store created a list of 100 hands-on, creative math activities for kids. Many of the items on the lists are crafts kids can complete. Activities are organized by skill, such as addition and subtraction and learning symmetry.
The Art Curator for Kids offers 13 Ways to Integrate Art & Math, a list of 13 different art projects connected with math. Ideas include tessellations and color wheel clocks. The site also includes a list of books that combine math and art.
We Are Teachers shares a list of 9 math art projects designed to help students love math. Ideas include musical fractions and place value pictures.
Social Studies Crafts
Craft projects can help kids experience the time period or event they're learning about. Many of these sites offer projects that allow kids to make replicas of toys and tools found in history.
Time Traveller Kids is a British site that offers a wealth of free project ideas from different periods in history, including Ancient Rome, Japan, and Tudor Britain.
A Book in Time includes many resources for teaching social studies, including pages of crafts and projects organized by periods in American and world history.
Quatr.us offers a "What Should I Do Today?" section with a variety of social studies crafts. The site also has tons of articles on many different social studies topics.
Gifts for Others
Rather than spending tons of money on holiday gifts, why not have kids make gifts for friends and family? These sites offer some great handmade gift ideas.
FreeKidsCrafts.com has over 10 pages of crafts that kids can make as gifts for others. Ideas range from candy towers to glittery acorn necklaces. Many ideas are great for upper elementary and middle school.
101 DIY Gifts for Kids from Kids Activities Blog includes a large selection of ideas for both kids and parents to make.
101 Crafty Gifts to Make from Instructables is a list designed for adults, but many of the ideas could easily be made by older kids and teens as well.
40 Useful Gifts Kids Can Make is full of great crafty gift ideas. It includes gift such as handprint aprons and handmade bowls. Many will require help from a grown-up.
101 Handmade Gift Ideas Kids and Families Can Make from the Artful Parent is a great collection of crafty ideas. The crafts are organized by gift type, such as art gift, gifts for play, and gifts for the home.
Coloring Pages and Cut-Outs
Sometimes instead of making fancy crafts, kids just like to color. Pick up cheap coloring books at the dollar store or print them out from these sites.
Babadoodle features free coloring pages for kids and adults. Colorings pages are organized by category and include many mandala coloring pages.
Coloring.ws from DLTK is full of simple coloring pages organized by category and holiday. Print them out and let kids color away.
Crayola offers many free coloring pages, including pages featuring some of kids' favorite characters, such as the Disney Princesses.
Educational Coloring Pages has thousands of coloring pages for kids featuring their favorite cartoon characters.
The Kidz Page has a large selection of printable and online coloring pages organized by category and holiday. They include many early elementary pages.
HelpTeaching.com's Early Education printables feature coloring pages designed to help preschoolers learn their letters and numbers.
Craft Kits and Subscriptions
If even searching for craft ideas for kids is too much work, consider getting a subscription to a craft box or purchasing a craft kit.
Kiwi Crate is a monthly subscription box that includes a different craft or maker project each month. It is designed for children ages 5-8, but the company offers other boxes for kids from ages 3-16.
Green Kid Crafts features monthly subscription kits for kids ages 3-10. Each kit is focused around a different educational theme and comes with STEAM activities for kids.
Bramble Box is a pretend play and craft kit that is delivered to your door monthly. Kids will enjoy exploring and reading about a monthly theme, and then creating a craft related to it. Many themes relate to math, science, and social studies, so it's educational too!
Science Buddies sells kits to help kids learn about science while making their own fun toys, such as vibrating robots and a magic bullet train.
Oriental Trading is known for its pre-made crafts for kits. Many of the kits come in multi-packs, which makes them great for play dates or classroom craft time.
Tips for Crafting with Kids
Before you start a craft project with kids, keep these tips in mind.
Gather all of your materials in advance

The kids will be ready to get started right away, so you want to make sure you have everything ready to go.

Be patient and flexible

It may take kids a long time to complete a step and they may not do it perfectly, but you need to step back and let them craft their own way and at their own pace. If their snowman comes out looking for like a snowball, who cares?

Prepare for the worst

Crafts are designed to be messy. Cover your dining room table, put newspaper or plastic on the floor, and let kids wear a large paint shirt so you're not as worried about the mess.

Have fun

Why let your kids have all the fun? Summon your inner-child and have some fun getting messy and making the crafts with them.
Do you have a go-to craft site or a great craft idea with kids? How about tips for parents and teachers taking on a big craft project? We'd love if you shared it with us.
9 March //
Posted in How To //

During spring break, many families try to squeeze in a getaway. One way to have a fun family adventure is to incorporate education into your trips. There are so many places across America that offer a terrific spring or summer-like atmosphere, while opening your children's eyes to the history of this country and other learning opportunities.
Museum Sleepover
Numerous museums across the country offer overnight excursions inside of their buildings! What better way to become acquainted with different aspects of culture and history than to sleep next to exhibits and artifacts?
Three different Smithsonian affiliated museums in the Washington D.C. area offer sleepovers, with dates scheduled through the end of August. The American History Museum, Natural History Museum, and the Air and Space Museum's Udvar-Hazy Center all offer overnight stays that includes tours, games, crafts, and more.
For families in the Northeast, head over to Pier 86 on the west side of Manhattan and spend the night on the Intrepid! The Intrepid Sea, Air, and Space Museum offers fun activities, including a ride in a flight simulator!
The Field Museum in Chicago hosts "Dozin' with the Dinos", a nighttime exploration with museum scientists that make the exhibits come alive!
Living History Museums
There may be no better way to understand what bygone eras were like than to actually experience them. These attractions bring history to life by showing what daily life and major events were like in a specific period.
One of the best known of these types of attractions is the world's largest living history museum, Colonial Wiliamsburg. It features hundreds of reconstructed and historically furnished buildings, with costumed guides who tell stories of the people who lived there in the 1700s.
Columbia State Historical Park is a living gold rush era town. It contains "residents" in 1850s attire, and tons of exhibits, activities, and experiences you would find in a gold rush museum.
Connor Prairie Interactive History Park in Fishers, IN recreates life on a rural community in the 19th century. This attraction also offers a look at Native American life at this time. Kids will love the interactive nature of life on a prairie, as they can work like a farmhand, become a craftsman, or ride in a helium filled balloon high overhead.
Landmarks
We've seen them on television, we've always meant to go there, but many Americans have not seen some of our most famous landmarks. The stories and the history behind these places and modern marvels are well worth the trip.
The Gateway Arch in St. Louis, MO is a magnificent architectural creation that also serves as a monument to Thomas Jefferson's plans for American expansion and the role of St. Louis as a gateway to the west.
Mount Rushmore in Keystone, SD offers so much more than the breathtaking mountain sculpture of four of America's presidents. Vacationers can learn about the natural history of the surrounding area, as well as methods used to sculpt the chief executives. There is also ample information available on the Native American tribes who called this area home.
It's never too late to enjoy the summertime, and it's never too early to refocus on education and learning. Make a last ditch effort to get away and take advantage of all of the creative educational – and fun – opportunities our country has to offer.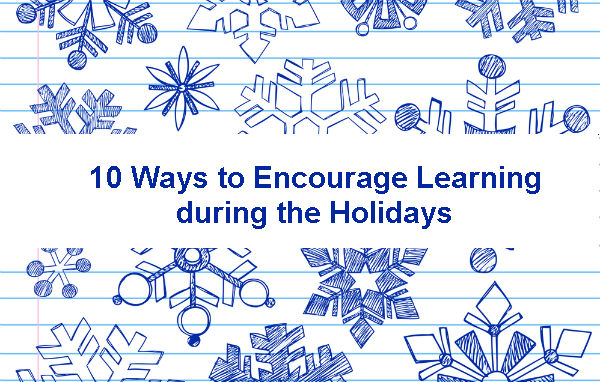 Kids may have a couple weeks off from school, but that doesn't mean they have to take two weeks off from learning. If you're clever, you can find numerous ways to make the holiday activities kids already enjoy a little bit more academic. In fact, if you do it just right, kids won't even realize that they're learning. We've come up with a few ways to help you encourage learning during the holidays.
#1 Take a Nature Walk
Bundle up and head outside to take a nature walk. As kids walk, talk to them about the changes nature goes through during the winter (trees losing their leaves, animals digging up food they've hidden). You could even make up a scavenger hunt to give kids something to look for as they walk. A few suggestions include:
Find something red
Find some animal tracks
Find an animal nest
Find an animal searching for food
#2 Play in the Snow
Even playing in the snow can be a fun learning opportunity. Talk to kids about geometry, engineering, and architecture as they build snowmen and snow forts. Learn about angles and trajectory as they attempt to throw snowballs to hit a target. Bring some snow inside and talk about the states of matter as you heat it up in a pan, watching it turn from snow to water to steam. Put the melted snow in the freezer and discover what happens when it refreezes.
#3 Do a Science Experiment
Take some time do conduct a science experiment or two in your own home. Before starting, refresh kids' knowledge of The Scientific Method and controls and variables with Help Teaching's worksheets. Then check out our Science Activities You Will Want to Do with Your Kids or the Ultimate Guide to Teaching Science to discover fun experiments and other activities.
#4 Make Christmas Cookies
Let kids help with the measuring when you do your annual cookie baking. If you're willing to mess up a small batch of cookies, have kids "accidentally" add too much baking soda or butter and let them see how it affects the final outcome. For large batches of cookies, give older kids a chance to figure out the amount of ingredients needed for doubling the recipe.
#5 Go Shopping
When you do some of your Christmas shopping, take the kids along and let them do some shopping of their own. However, when you do, put them on a budget. Kids will get a good lesson in budgeting, adding up prices, and learning to control their spending as they try to buy something for everyone with the small amount of money they have.
#6 Watch a Christmas Movie
Even watching Christmas movies can be educational. After watching a favorite holiday movie with your kids, take some time to ask a few questions about it. If one of your movies of choice is the classic A Christmas Carol, use Help Teaching's general A Christmas Carol or Characters in a Christmas Carol worksheet to give you some ideas of the kinds of questions to ask.
#7 Head to the Library
In the midst of all their holiday fun, kids could benefit from some downtime spent lounging on the couch with a good book. Head to your local library and have kids pick out a few books to enjoy during the holidays. If your kids don't like to read, the library also likely has a large selection of magazines, graphic novels, and even educational movies for them to watch. Our Winter Holidays Reading List contains a good list of holiday stories you may want to check out.
#8 Make Your Own Christmas Gifts
Give kids a chance to express their creativity by making Christmas gifts for their friends and family. Head to your local craft store to help kids get inspired. An empty shoebox could become a jewelry box, while some colorful rubber bands could become the materials to make a trendy bracelet. Find lots of ideas and resources in our Ultimate Guide to Crafts for Kids. While creative skills may not seem academic, honing those skills can help kids keep their minds sharp and ready to do some creative problem-solving when they get back to math or science class.
#9 Enlighten their Devices
Gifting your kids with a new smartphone or tablet this holiday? Before handing it over, add the StudyLock app. In order to unlock their device, kids must answer a few questions, helping keep their brains sharp before they get lost in text messages and social networking. You'll find more quality apps for kids and teens in our Guide to Quality Screen Time for Babies, Children, and Teens.
#10 Volunteer
Learning isn't limited to math, science, or reading activities. You can also use the holidays to teach kids valuable character lessons. During the holidays, plenty of organizations need volunteers to help with their holiday events. Donate a toy to a local toy drive, sign up to serve a meal or help clean up at a local homeless shelter, or even adopt a family in need. The lesson kids learn by helping out may be more valuable than any lesson they would learn in school.
What other strategies do you use to keep kids learning during the holidays? Share them with others in the comments below.
27 November //
Posted in How To //
In October 2016, Microsoft released the long-awaited Minecraft: Education Edition, making it easier for teachers to bring Minecraft into the classroom. However, you don't need a computer or even Minecraft software to make Minecraft an integral part of your classroom. We've come up with some great ways to help you engage your Minecraft-loving students offline too.
Develop a How-To Guide
For students it's often easy to play a game and much harder to show someone else how to play again. Get students to stop and think about what it takes to play Minecraft. Then have them hone their expository writing skills by developing a how-to guide or video to help other students learn how to play the game. You can have students create a brochure outlining Minecraft's key features or create a video focused on a more specific element of the game, such as how to make a hidden doorway in a staircase.
Create a List of Rules
Before setting students free to explore the world of Minecraft, teachers often lay out a list of rules students should follow while in the game, such as not destroying others' structures. Once students have interacted with Minecraft a bit on their own, have them come up with their own list of rules for the online community. Rules can be serious, such as using kind words, or silly, such as banning all purple structures. Developing rules will help students learn about concepts related to citizenship and developing a healthy community.
Write a Minecraft-themed Story
A quick internet search will result in a ton of Minecraft stories written by authors hoping to capitalize on Minecraft's fame. Chances are your students know more about Minecraft than many of those authors. Put their knowledge of the game to the test by having them write stories centered around their own Minecraft worlds. If they need help getting started, check out some of our own Minecraft-themed story starters to help spur the creative writing process.
Learn Minecraft Vocabulary
Minecraft has its own set of terminology and skills. See how much your student know by pulling out Minecraft-related words and using them as part of a spelling or vocabulary test. You can also download and print our Minecraft-themed Word Search and Bingo games to introduce students to some key Minecraft vocabulary words.
Build Minecraft-inspired Structures
When students play Minecraft, they're immersed in a pixelated world. Everything is designed using cubes, which means creating objects with triangular or rounded edges is a bit more challenging. You can explore the same concept by having challenging students to build 3D sculptures outside of the game. Sugar cubes and square blocks make great building tools.
Design Paper Plans
Before creating in Minecraft, students can also create paper blueprints of the worlds they plan to create. Using some basic graph paper, kids can shade in different grids to represent the elements of the landscape. Then they can try to recreate their drawings within the game.
Study Perimeter, Area, and Volume
The pixelated world of Minecraft offers a great way to help students learn about perimeter, area, and volume. Using their paper plans, sculptures, or groups of blocks, have students determine the perimeter and area of a structure. They can do it easily by measuring the side of one block, and then counting the number of blocks that make up the length and width of the structure. They'll also build their multiplication skills at the same time.
Solve Minecraft-themed Word Problems
Help build students' addition, subtraction, multiplication, and division skills through the creation of some basic Minecraft word problems. For example, how many apples does a character need or how many ink sacs and bone metal are needed to make enough gray dye? We have a few Minecraft-themed word problems to get kids started.
Create Minecraft-inspired Mosaics
Cut construction paper into squares or pick up a bag of tissue paper squares at the craft store. Glue the squares onto a piece of white construction paper to create different Minecraft-inspired mosaics. For example, students could design self-portraits or glue the squares onto a box to create full-size Minecraft-inspired versions of their heads.
Design a Color by Number Worksheet
Similar to Minecraft-inspired mosaic, design a color by number worksheet for students to complete. Have students color every square with a particular number, letter, or word a certain color. Once all the squares have been colored correctly, students will have a fun picture. You can also challenge students to create their own color by number worksheets using graph paper. Then they can give them to a classmate to solve. We've created a few color by number worksheets to get you started: Color by Number Parts of Speech and Color by Number Addition and Subtraction.
All of these activities incorporate the principles and ideas of Minecraft without requiring students to play the actual game. Whether you already use Minecraft in the classroom or just have students who enjoy the game, you can use these activities to help engage students throughout the school year.
Do you have any fun Minecraft-inspired resources that you use in the classroom? If so, we'd love to know about them. Share them in the comments!