Currently Browsing
Posts Tagged ' activities for children '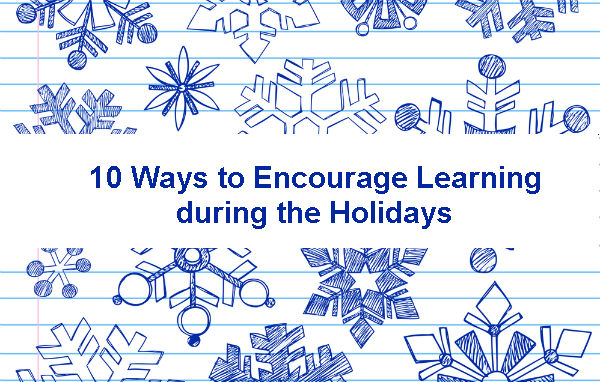 Kids may have a couple weeks off from school, but that doesn't mean they have to take two weeks off from learning. If you're clever, you can find numerous ways to make the holiday activities kids already enjoy a little bit more academic. In fact, if you do it just right, kids won't even realize that they're learning. We've come up with a few ways to help you encourage learning during the holidays.
#1 Take a Nature Walk
Bundle up and head outside to take a nature walk. As kids walk, talk to them about the changes nature goes through during the winter (trees losing their leaves, animals digging up food they've hidden). You could even make up a scavenger hunt to give kids something to look for as they walk. A few suggestions include:
Find something red
Find some animal tracks
Find an animal nest
Find an animal searching for food
#2 Play in the Snow
Even playing in the snow can be a fun learning opportunity. Talk to kids about geometry, engineering, and architecture as they build snowmen and snow forts. Learn about angles and trajectory as they attempt to throw snowballs to hit a target. Bring some snow inside and talk about the states of matter as you heat it up in a pan, watching it turn from snow to water to steam. Put the melted snow in the freezer and discover what happens when it refreezes.
#3 Do a Science Experiment
Take some time do conduct a science experiment or two in your own home. Before starting, refresh kids' knowledge of The Scientific Method and controls and variables with Help Teaching's worksheets. Then check out our Science Activities You Will Want to Do with Your Kids or the Ultimate Guide to Teaching Science to discover fun experiments and other activities.
#4 Make Christmas Cookies
Let kids help with the measuring when you do your annual cookie baking. If you're willing to mess up a small batch of cookies, have kids "accidentally" add too much baking soda or butter and let them see how it affects the final outcome. For large batches of cookies, give older kids a chance to figure out the amount of ingredients needed for doubling the recipe.
#5 Go Shopping
When you do some of your Christmas shopping, take the kids along and let them do some shopping of their own. However, when you do, put them on a budget. Kids will get a good lesson in budgeting, adding up prices, and learning to control their spending as they try to buy something for everyone with the small amount of money they have.
#6 Watch a Christmas Movie
Even watching Christmas movies can be educational. After watching a favorite holiday movie with your kids, take some time to ask a few questions about it. If one of your movies of choice is the classic A Christmas Carol, use Help Teaching's general A Christmas Carol or Characters in a Christmas Carol worksheet to give you some ideas of the kinds of questions to ask.
#7 Head to the Library
In the midst of all their holiday fun, kids could benefit from some downtime spent lounging on the couch with a good book. Head to your local library and have kids pick out a few books to enjoy during the holidays. If your kids don't like to read, the library also likely has a large selection of magazines, graphic novels, and even educational movies for them to watch. Our Winter Holidays Reading List contains a good list of holiday stories you may want to check out.
#8 Make Your Own Christmas Gifts
Give kids a chance to express their creativity by making Christmas gifts for their friends and family. Head to your local craft store to help kids get inspired. An empty shoebox could become a jewelry box, while some colorful rubber bands could become the materials to make a trendy bracelet. Find lots of ideas and resources in our Ultimate Guide to Crafts for Kids. While creative skills may not seem academic, honing those skills can help kids keep their minds sharp and ready to do some creative problem-solving when they get back to math or science class.
#9 Enlighten their Devices
Gifting your kids with a new smartphone or tablet this holiday? Before handing it over, add the StudyLock app. In order to unlock their device, kids must answer a few questions, helping keep their brains sharp before they get lost in text messages and social networking. You'll find more quality apps for kids and teens in our Guide to Quality Screen Time for Babies, Children, and Teens.
#10 Volunteer
Learning isn't limited to math, science, or reading activities. You can also use the holidays to teach kids valuable character lessons. During the holidays, plenty of organizations need volunteers to help with their holiday events. Donate a toy to a local toy drive, sign up to serve a meal or help clean up at a local homeless shelter, or even adopt a family in need. The lesson kids learn by helping out may be more valuable than any lesson they would learn in school.
What other strategies do you use to keep kids learning during the holidays? Share them with others in the comments below.
27 November //
Posted in How To //
In October 2016, Microsoft released the long-awaited Minecraft: Education Edition, making it easier for teachers to bring Minecraft into the classroom. However, you don't need a computer or even Minecraft software to make Minecraft an integral part of your classroom. We've come up with some great ways to help you engage your Minecraft-loving students offline too.
Develop a How-To Guide
For students it's often easy to play a game and much harder to show someone else how to play again. Get students to stop and think about what it takes to play Minecraft. Then have them hone their expository writing skills by developing a how-to guide or video to help other students learn how to play the game. You can have students create a brochure outlining Minecraft's key features or create a video focused on a more specific element of the game, such as how to make a hidden doorway in a staircase.
Create a List of Rules
Before setting students free to explore the world of Minecraft, teachers often lay out a list of rules students should follow while in the game, such as not destroying others' structures. Once students have interacted with Minecraft a bit on their own, have them come up with their own list of rules for the online community. Rules can be serious, such as using kind words, or silly, such as banning all purple structures. Developing rules will help students learn about concepts related to citizenship and developing a healthy community.
Write a Minecraft-themed Story
A quick internet search will result in a ton of Minecraft stories written by authors hoping to capitalize on Minecraft's fame. Chances are your students know more about Minecraft than many of those authors. Put their knowledge of the game to the test by having them write stories centered around their own Minecraft worlds. If they need help getting started, check out some of our own Minecraft-themed story starters to help spur the creative writing process.
Learn Minecraft Vocabulary
Minecraft has its own set of terminology and skills. See how much your student know by pulling out Minecraft-related words and using them as part of a spelling or vocabulary test. You can also download and print our Minecraft-themed Word Search and Bingo games to introduce students to some key Minecraft vocabulary words.
Build Minecraft-inspired Structures
When students play Minecraft, they're immersed in a pixelated world. Everything is designed using cubes, which means creating objects with triangular or rounded edges is a bit more challenging. You can explore the same concept by having challenging students to build 3D sculptures outside of the game. Sugar cubes and square blocks make great building tools.
Design Paper Plans
Before creating in Minecraft, students can also create paper blueprints of the worlds they plan to create. Using some basic graph paper, kids can shade in different grids to represent the elements of the landscape. Then they can try to recreate their drawings within the game.
Study Perimeter, Area, and Volume
The pixelated world of Minecraft offers a great way to help students learn about perimeter, area, and volume. Using their paper plans, sculptures, or groups of blocks, have students determine the perimeter and area of a structure. They can do it easily by measuring the side of one block, and then counting the number of blocks that make up the length and width of the structure. They'll also build their multiplication skills at the same time.
Solve Minecraft-themed Word Problems
Help build students' addition, subtraction, multiplication, and division skills through the creation of some basic Minecraft word problems. For example, how many apples does a character need or how many ink sacs and bone metal are needed to make enough gray dye? We have a few Minecraft-themed word problems to get kids started.
Create Minecraft-inspired Mosaics
Cut construction paper into squares or pick up a bag of tissue paper squares at the craft store. Glue the squares onto a piece of white construction paper to create different Minecraft-inspired mosaics. For example, students could design self-portraits or glue the squares onto a box to create full-size Minecraft-inspired versions of their heads.
Design a Color by Number Worksheet
Similar to Minecraft-inspired mosaic, design a color by number worksheet for students to complete. Have students color every square with a particular number, letter, or word a certain color. Once all the squares have been colored correctly, students will have a fun picture. You can also challenge students to create their own color by number worksheets using graph paper. Then they can give them to a classmate to solve. We've created a few color by number worksheets to get you started: Color by Number Parts of Speech and Color by Number Addition and Subtraction.
All of these activities incorporate the principles and ideas of Minecraft without requiring students to play the actual game. Whether you already use Minecraft in the classroom or just have students who enjoy the game, you can use these activities to help engage students throughout the school year.
Do you have any fun Minecraft-inspired resources that you use in the classroom? If so, we'd love to know about them. Share them in the comments!

Celebrating the contributions of veterans in our community is an easy way to thank those brave men and women for their service, while showing our young students the proper gratitude for those who give their time, effort, and sadly, sometimes their lives for our country and our values. Below are some great activities that show the proper respect for our soldiers and also contribute to skill building and content learning.
Hold a Veteran's Day Ceremony
There's no better way to show the importance of this day than to devote 30 minutes to a whole school ceremony highlighting the special place that veterans hold in our country. The US Department of Veteran's Affairs has created a handy step by step guide to hold an assembly in your school, including instructions on how to post the colors and suggestions for remarks and speakers.
Take a Vet to School Day
The History Channel has a Take a Vet to School Day program, complete with How To Guides and Planning Guides by grade. Of course, you don't have to involve a national program to invite veterans into your classroom. Invite your students' relatives to sit in on class for a celebration of their service. Have the children read letters of thanks and ask the vets to say a few words. It's a day your students and the servicemen and women will not forget.
Make Crafts and Care Packages to Commemorate Veteran's Day
Younger students will love to use their creativity to show their thanks and respect for veterans. Celebrate the social studies themes of Election and Veteran's Days with a display that encompasses both events. Ask your students to write thank you cards expressing gratitude to our service members. Contact the local VFW or Veteran's Hospital to act as an intermediary and deliver the cards. You can use this thank you card template or download free thank you cards from Operation We Are Here to get started. Or maybe your class can send items to military personnel stationed overseas. Many organizations will assist in sending care packages to soldiers, such as Any Soldier, Operation Gratitude,  and Adopt a Soldier.
Teach Your Students About the Contribution of Women in the Military
Too often we are saddled with stereotypes of the past that are unfortunately passed on to our children. There has always been a vibrant and vital role of women in our military, but it's important to emphasize the history and facts of those contributions. The National World War II Museum has a terrific lesson plan about the changing role of women in the military. The Veteran's History Project has a mini unit on the role of women in World War II.
Take a Virtual Field Trip to the National World War II Museum in New Orleans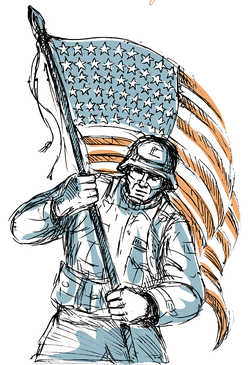 This museum offers numerous opportunities for distance learning, including as many as 15 virtual field trips on topics that include Pearl Harbor, D-Day, Iwo Jima, African Americans, and Science and Technology. They also offer Skype programs that provide a lesson plan and Skype session with a museum expert who will guide your students through the content.
It's so important to ingrain a sense of respect for our service members. There is no better way to do that than to use appropriate, creative resources to show young people how special our soldiers really are. This is another great opportunity to discuss citizenship and patriotism. For more on that topic, check out 10 Activities to Celebrate Constitution and Citizenship Day.
The words "fall" or "autumn" may bring visions of colorful leaves, falling temperatures, and apple picking, but many students are still lamenting the loss of summer and the beginning of the school year. The fall season is perfect for getting students out of the back-to-school slump and engaging them in themed learning activities that span the curriculum. Whether you are a teacher looking to enliven your fall curriculum or a parent wanting to spend quality time with your children, these activities will help you and your students celebrate the season and hopefully learn something new along the way.
Language Arts Activities
1. Write about Fall. Writing about fall is a great way for students to get back in the habit of writing every day while developing sensory writing skills. Take your students outside and encourage them to write about the sounds and sights of fall. Challenge them to describe the tastes and smells of their favorite fall foods. Use our fall writing prompts, fall haiku, or autumn acrostic to get started.
2. Fall into Reading. Summer reading has passed, but that doesn't mean that students shouldn't continue to read throughout fall! Younger students will enjoy autumn-themed picture books like Fall is Not Easy, Leaf Man, and The Little Yellow Leaf. Students of all ages should read at least one piece of literature honoring Hispanic Heritage Month which begins on September 15. Help Teaching offers fall reading resources including this rebus story and fall reading comprehension passages.
Social Studies Activities
3. Recognize Constitution and Citizen Day. The United States Constitution was signed on September 17, 1787. Use this important date in history to discuss civics and citizenship with your students. Get started with these activities for Constitution and Citizen Day.
4. Contemplate Columbus Day. Columbus Day is a federal holiday that doesn't come without controversy. Take the opportunity to broaden your students' knowledge of the holiday beyond the Nina, Pinta, and Santa Maria with one of these Columbus Day activities.
5. Be a Historical Detective. Autumn is harvest time. What better way to celebrate the harvest, than to step back in time and learn about what happened during the first Thanksgiving with this historical interactive by Plimoth Plantation.
Math Activities
6. Measure Earth's Tilt. The Earth's 23.5o tilt is largely responsible for the changing seasons and offers a perfect opportunity to connect geometry and measurement concepts with real-world learning.  Elementary students can first learn about measuring angles with protractors then use their new skills to measure shadows on the fall equinox with this lesson. Middle and high school students can further investigate the impacts of Earth's angular tilt on the seasons with the PBS LearningMedia lesson, Seasons on Earth.
7. Tell a Math Story. Once upon a time there was a lonely even prime number named Two. Math Storytelling Day falls each fall on September 25 and is a great way to combine math and literacy skills. Read a math-themed story to your students or have them write and share their own stories. Find more ideas for Math Storytelling Day in this article on celebrating math holidays.
8. Collect Fall Data. From kindergarten on, today's math students must learn how to collect, represent, and interpret data. Take advantage the autumn's offerings and have your students work with real data that comes with the season. Count and graph the number of acorns that fall off an oak tree each week. Plot and track hurricane paths. Measure morning air temperature at the same time each day and calculated changes in temperature over the season. Estimate then measure pumpkin weights. Ask your students to brainstorm ideas of fall data they would like to collect, represent, and interpret!
Science Activities
9. Dispel Student Misconceptions. The seasons are caused by the changing distance of the Earth from the sun. It is the same season everywhere on Earth. These are a couple common misconceptions about the seasons. Take a few minutes to watch 'Tis the Season for a Reason by the Smithsonian Science Education Center to learn more on student misconceptions about the changing seasons and tips on improving instruction.
10. Learn about the Autumnal Equinox. The official first day of any season is an astronomical event. The autumnal equinox falls around September 22-23 each year and is one of two days a year with almost equal amounts of daylight and darkness. Assign students this self-paced lesson on Solstices and Equinoxes so they can explore the astronomical science behind the changing seasons.
11. Keep a Weather Journal. Recognizing patterns in the natural world is an essential skill for today's science student. Young students can keep a daily weather journal by drawing pictures of the weather they see each day. Have elementary students make qualitative observations in weather patterns during the fall and draw connections between daily and seasonal changes in temperature. Try our printable on investigating daily temperature changes. Middle school students can take quantitative weather measurements and analyze patterns in data.
12. Observe the Night Sky.  Clear, cool fall nights are ideal for getting children outside to observe the sky. Folklore names each full moon, so make an effort to get out and see the Harvest Moon, the full moon closest to fall equinox. Students can learn about the moon's surface features before going out, then try to locate maria, highlands, and craters. Be sure to also encourage students to watch one of the fall meteor showers.
General Activities
13. Compose a Fall Song. What sounds do you associate with fall? Maybe you think of rustling leaves, rumbling harvesting machinery, or honking geese migrating. Challenge your students to work in groups to compose original songs featuring the sounds of fall. Encourage them to use not only instruments, but also leaves, acorns, and other natural materials of the season. Use this lesson on parts of a song to help get students started.
14. Go to a Fair. Each fall, farmers and artisans gather at traditional fairs to display their best produce, animals, and creations and to participate in good-natured competition. Take your children and see how large a pumpkin really can grow, watch a livestock show, and see modern and antique agricultural machinery in action. Kick off your trip by having your child complete this lesson on fair vocabulary words.
15. Get Crafty with Nature. Mother nature supplies an abundance of nature materials to create with in the fall. Try one of these nature crafts using pinecones, apples, leaves and other fall finds. Explore our Ultimate Guide to Crafts for Kids for more crafty ideas.
What are your favorite fall learning activities enjoyed by your students and children? Share them in the comments! Be sure to visit Help Teaching and check our library of seasons worksheets.
30 August //
Posted in How To //

There are very few times when parents have their kids' undivided attention. However, when you're traveling, you have a captive audience. Whether you're going by plane, train, or automobile, you have an amazing opportunity to impart knowledge and turn your trip into an opportunity for learning. The next time you head off to grandma's house for Thanksgiving or fly to Florida for vacation, put away the smartphones and tablets for a bit, and try out some of these educational travel activities with your kids.
Toddler – Preschool
"I Spy"
At this age, a key skill for toddlers and preschoolers is being able to take the basic skills that they're learning and connect them with the real world. While you travel, you can use the ever-changing landscape to help them make some of those connections. Play a simple game of "I Spy," but don't just look for colors. During the game, you can say "I spy…"
a shape
a number
a letter
a particular animal
Let your kids join in and pick things that they spy too. If they have trouble seeing out the window, then randomly place stickers around the car for them to spy as you drive. You can get reusable stickers if you're worried about them sticking too much.
Find 100
Another type of seek-and-find game is "Find 100." In this game, you challenge kids to find 100 of something during the trip. This helps reinforce counting skills. For kids who are just learning to count, you can keep a tally for them or adjust the number to 5, 10, or 20. You can also add in an additional challenge by seeing who can find that number of objects first. Things kids can look for include:
animals
shapes
letters
items of a certain color
types of cars
restaurants
Virtual Hide and Seek
Toddlers and preschoolers love to play hide and seek, but the game is kind of hard to play in the car. However, you can play a virtual game of hide and seek where they pretend to hide somewhere in another location and you try to guess where they are. For example, if they pretend to hide somewhere at home, you could say, "I'm looking in the bathtub. Is that where you're hiding?" If guessing proves impossible, have them give you clues to figure it out.
Motion Games
Kids need to move around, but that's pretty hard if they're strapped into a car seat or stuck on an airplane. However, their arms and legs are usually free to wave and kick, so you can take some of their favorite movement songs and adapt them to fit in the car. Some songs that make great car motion games include:
The Wheels on the Bus
The Itsy Bitsy Spider
If You're Happy and You Know It (change "Stomp Your Feet" to something else)
Alice the Camel
If you're traveling for the holidays, you can also look for holiday-themed songs and finger plays that include motions. For example, Five Little Turkeys or Way Up High in the Apple Tree for Thanksgiving and Up on the Housetop or a modified We Wish You a Merry Christmas for Christmas.
Elementary
The Alphabet Game
There are many different versions of the alphabet game. To play you can start off with a phrase, such as:
I'm going to the store and I need to buy…
I'm going on a trip and I need to pack…
I'm going on a trip and I will visit…
I'm hungry and I'm going to eat…
Take turns adding to the list, letter by letter, repeating all the previous items as you go. At the end, see who can recite the entire list without making a mistake.
License Plate Meanings
License plates are often random combinations of letters and numbers. Pick a random license plate while driving and make up a meaning for the letters and words on the license plate. For example, JCAI26 could be "Just Cruisin' Along Interstate 26″. You can make the descriptions completely random or try to base them off the type of car or people you see in the car. For more fun, make up a story about the people in the car. What are their names? Where are they going?
Math Quiz
Use the trip as an opportunity to brush up on basic math facts. For younger children, start by stringing addition problems. For example, "What's 2+2? What's 4+4? What's 8+8?" For older children, call out basic multiplication or division problems. If you have multiple children in the car, pull out a stopwatch and see how many problems they can solve in a minute.
Twenty Questions
Twenty questions is one of those classic games that kids have been playing for ages. Simply think of a person, place, or thing. Then the other people in the car can ask up to 20 yes/no questions to figure out what it is. You may be surprised how easy it is to figure something out by asking simple questions.
Family Spelling Bee
Who is the best speller in the family? A family trip is the perfect opportunity to find out. Hold a family spelling bee, taking turns spelling words to see who can spell the most words correctly. You can use random words or pick words related to a particular holiday or location. For even more fun, bring along a dictionary and let your children randomly pick out words to see if they can stump you.
All Ages
Listen to a Story
A car or plane trip is a great time to enjoy a good book. If you're riding in the car, download a novel that the whole family can enjoy and listen to it on your trip. If you can't find a book to download, bring along a few books to read and take turns reading aloud to the rest of the family. Not only will you get to enjoy a good book, you'll help your children learn the importance of reading. If you don't want to read an entire novel, check out funny storytellers, such as Bill Harley or the Story Pirates podcast.
Tell a Story
Instead of listening to a book or story, you can always make up your own. You can start by making up your own version of a popular fairy tale or embellish a story from your childhood. To get your children involved, tell a story where every person tells one sentence of the story and the others add on to it. If you're worried you won't know what to tell a story about, take a look at our writing prompts for some inspiration. You can print out a few to take along on your trip.
Would You Rather?
Would you rather have leaves for hair or mushrooms growing out of your ears? These kinds of silly questions are great for kids of all ages. They teach kids to think creatively and learn how to back up their opinions. If you're not sure you can come up with questions on the fly, let your kids do the work or just look up a few before you go. Sites with great Would You Rather questions for kids include:
Listen to Educational Songs
Turn on some music the whole family can enjoy and learn from at the same time. If you have satellite radio, you can listen to a station like Kids Place Live which is full of fun indie music for kids and call-in radio shows for kids, much of which is educational. You can also purchase fun kids' CDs or download albums full of educational songs. Some good ones that parents will enjoy too include:
Road Trip Bingo
Print out or create your own version of Road Trip Bingo to play. As you travel, kids can look for the items on their bingo boards and cross them off as they see them. The first one to get five in a row wins the game. To play the game multiple times, put the bingo boards in plastic sheet protectors and bring along dry erase markers for kids to use to mark each item off. Then you can wipe the board clean in between each game.
How Far Away Is it?
To help make the time go faster, have kids guess how far away different places, landmarks, or rest stops are. For example, if you see a tunnel in the distance say, "How far away is it?" Then watch the odometer to see whose guess was the closest. You can also give kids a map or let them look at the map on a smartphone or tablet to help them figure out exactly how far away a particular landmark is.
These are just a few ways to engage kids in learning activities as you travel during the holidays and year-round. Of course, you can also print out some of your favorite Help Teaching worksheets and put them in a binder for kids to work on during the drive.
Do you have educational activities you enjoy with your kids while traveling? If so, we'd love to hear them. Share them in the comments below.