Currently Browsing
Posts Tagged ' activities for children '
8 November //
Posted in How To //

If you're a parent, you know there are very few times you have your kids' undivided attention. However, when you're traveling, you have a captive audience. Whether you're going by plane, train, or automobile, family travel offers an amazing opportunity to connect with your kids and engage them in educational activities. The next time you head off to grandma's house for Thanksgiving or fly to Florida for vacation, put away the smartphones and tablets for a bit, and try out some of these educational travel activities with your kids.
Toddler – Preschool
"I Spy"
At this age, a key skill for toddlers and preschoolers is being able to take what they're learning and connect it to the real world. While you travel, you can use the ever-changing landscape to help them make some of those connections. Play a simple game of "I Spy," but don't just look for colors. During the game, you can say "I spy…"
a shape
a number
a letter
a particular animal
Let your kids join in and pick things that they spy too. If they have trouble seeing out the window, then randomly place stickers around the car for them to spy as you drive. You can get reusable stickers if you're worried about them sticking too much.
Find 100
Another type of seek-and-find game is "Find 100." In this game, you challenge kids to find 100 of something during the trip. This helps reinforce counting skills. For kids who are just learning to count, you can keep a tally for them or adjust the number to 5, 10, or 20. You can also add in an additional challenge by seeing who can find that number of objects first. Things kids can look for include:
animals
shapes
letters
items of a certain color
types of cars
restaurants
trees
You can extend the activity by having kids complete a 100 Chart, coloring in the numbers to find a mystery picture.
Virtual Hide and Seek
Toddlers and preschoolers love to play hide and seek, but the game is kind of hard to play in the car. You can, however, play a virtual game of hide and seek where they pretend to hide somewhere in another location and you try to guess where they are. For example, if they pretend to hide somewhere at home, you could say, "I'm looking in the bathtub. Is that where you're hiding?" If guessing proves impossible, have them give you clues to figure it out.
Motion Games
Kids need to move around, but that's pretty hard if they're strapped into a car seat or stuck on an airplane. However, their arms and legs are usually free to wave and kick, so you can take some of their favorite movement songs and adapt them to fit in the car. Some songs that make great car motion games include:
The Wheels on the Bus
The Itsy Bitsy Spider
If You're Happy and You Know It (change "Stomp Your Feet" to something else)
Alice the Camel
If you're traveling for the holidays, you can also look for holiday-themed songs and finger plays that include motions. For example, Five Little Turkeys or Way Up High in the Apple Tree for Thanksgiving and Up on the Housetop or a modified We Wish You a Merry Christmas for Christmas.  When you stop for a rest stop, kids can stretch their bodies with a fun movement story.
Elementary
The Alphabet Game
There are many different versions of the alphabet game. To play you can start off with a phrase, such as:
I'm going to the store and I need to buy…
I'm going on a trip and I need to pack…
I'm going on a trip and I will visit…
I'm hungry and I'm going to eat…
Take turns adding to the list, letter by letter, repeating all the previous items as you go. At the end, see who can recite the entire list without making a mistake.
License Plate Meanings
License plates are often random combinations of letters and numbers. Pick a random license plate while driving and make up a meaning for the letters and words on the license plate. For example, JCAI26 could be "Just Cruisin' Along Interstate 26″. You can make the descriptions completely random or try to base them off the type of car or people you see in the car. For more fun, make up a story about the people in the car. What are their names? Where are they going?
Math Quiz
Use the trip as an opportunity to brush up on basic math facts. For younger children, start by stringing addition problems. For example, "What's 2+2? What's 4+4? What's 8+8?" For older children, call out basic multiplication or division problems. If you have multiple children in the car, pull out a stopwatch and see how many problems they can solve in a minute. Use our Worksheet Generator to print out some basic math worksheets before you go.
Twenty Questions
Twenty questions is one of those classic games that kids have been playing for ages. Simply think of a person, place, or thing. Then the other people in the car can ask up to 20 yes/no questions to figure out what it is. You may be surprised how easy it is to figure something out by asking simple questions.
Family Spelling Bee
Who is the best speller in the family? A family trip is the perfect opportunity to find out. Hold a family spelling bee, taking turns spelling words to see who can spell the most words correctly. You can use random words or pick words related to a particular holiday or location. For even more fun, bring along a dictionary and let your children randomly pick out words to see if they can stump you.
All Ages
Listen to a Story
A car or plane trip is a great time to enjoy a good book. If you're riding in the car, download a novel that the whole family can enjoy and listen to it on your trip. If you can't find a book to download, bring along a few books to read and take turns reading aloud to the rest of the family. Not only will you get to enjoy a good book, you'll help your children learn the importance of reading. If you don't want to read an entire novel, check out funny storytellers, such as Bill Harley or the Story Pirates podcast.
Tell a Story
Instead of listening to a book or story, you can always make up your own. You can start by making up your own version of a popular fairy tale or embellish a story from your childhood. To get your children involved, tell a story where every person tells one sentence of the story and the others add on to it. If you're worried you won't know what to tell a story about, take a look at our writing prompts for some inspiration. You can print out a few to take along on your trip.
Would You Rather?
Would you rather have leaves for hair or mushrooms growing out of your ears? These kinds of silly questions are great for kids of all ages. They teach kids to think creatively and learn how to back up their opinions. If you're not sure you can come up with questions on the fly, let your kids do the work or just look up a few before you go. Sites with great Would You Rather questions for kids include:
Listen to Educational Songs
Turn on some music the whole family can enjoy and learn from at the same time. If you have satellite radio, you can listen to a station like Kids Place Live which is full of fun indie music for kids and call-in radio shows for kids, much of which is educational. You can also purchase fun kids' CDs or download albums full of educational songs. Some good ones that parents will enjoy too include:
Road Trip Bingo
Print out or create your own version of Road Trip Bingo to play. As you travel, kids can look for the items on their bingo boards and cross them off as they see them. The first one to get five in a row wins the game. To play the game multiple times, put the bingo boards in plastic sheet protectors and bring along dry erase markers for kids to use to mark each item off. Then you can wipe the board clean in between each game.
How Far Away Is it?
To help make the time go faster, have kids guess how far away different places, landmarks, or rest stops are. For example, if you see a tunnel in the distance say, "How far away is it?" Then watch the odometer to see whose guess was the closest. You can also give kids a map or let them look at the map on a smartphone or tablet to help them figure out exactly how far away a particular landmark is.
These are just a few ways to engage kids in learning activities as you travel during the holidays and year-round. Of course, you can also print out some of your favorite Help Teaching worksheets and put them in a binder for kids to work on during the drive.
Do you have educational activities you enjoy with your kids while traveling? If so, we'd love to hear them. Share them in the comments below.

November 15 is America Recycles Day. According to the U.S. Environmental Protection Agency (EPA), Americans recycled about 34% of their trash in 2014. The good news is this is a significant increase over the less than 10% that was recycled in 1980. The bad news is that a lot of our garbage still isn't being recycled. Although we have come a long way in our recycling practices, we still have a long way to go. America Recycles Day is an opportunity to educate students about the importance of recycling, and more importantly, involve them in the process.
Create Recycling Infographics
Ask your students to research recycling facts and statistics, then create infographics based on their findings. Younger students can get creative and make poster infographics to display around school. Older students can craft digital infographics to post on school websites, classroom blogs, or social media. Get started by assigning HelpTeaching's lessons, Reduce, Reuse, Recycle and The Trash Patrol, then by visiting the EPA's Reduce, Reuse, Recycle website. Then use an infographic maker like Visme or Piktochart to present them. Below is a sample infographic for a reference.
Host a Bottle and Can Drive
Bottle and can drives are great ways to encourage recycling and raise awareness, plus they double as fundraisers for schools and organizations. Students can help organize the event by contacting the local recycling center ahead of time, spreading the word in your community, sorting on the day of the drive, and arranging for collection bins and transportation of collected materials to the recycling center. For another simple and profitable way to encourage recycling, set up an ink cartridge recycling program at your school.
Attend an Event
Whether you are looking to get your children involved in a recycling event, enter a contest, or participate in a community clean up day, you can find something to do on America Recycles Day. There are over 2,000 events registered for America Recycles Day.  Find one to attend in your area here.
Reduce Food Waste
With the approach of Thanksgiving, America Recycles Day is perfectly timed to encourage children to reduce food waste. Learn about composting or start a compost at home or school. Have students create a step-by-step plan to explain how they plan to reduce food waste at home. Better yet, have your students organize a food rescue program or donations for the local food pantry. Get started with these tips.
Get Crafty
If you plan on having your students create crafts for holiday decorations or gifts, then consider having them do so using materials that would otherwise be tossed out. Here is an excellent list of recycled crafts for kids. Also, use this writing prompt for eco-friendly gift ideas.
Reduce Electronic Waste
E-waste is an ever growing concern and electronic items should never go in your daily recycling container. But, your students' old phones, tablets, and MP3 players can help someone else. Encourage students to donate unwanted electronics for worthy causes. Shelter Alliance and Cell Phones for Soldiers are just a couple organizations that accept cell phones donations. Learn more about how and where to recycle and donate electronics here.
Host a Clothing Swap
According to the EPA, almost five percent of municipal solid waste comes from clothing, footwear, and textiles. Consider organizing a neighborhood or church clothing swap where children (and adults!) can bring clean, gently worn items and swap for "new" items that fit. Anything left over can be donated to local organizations like The Salvation Army or Dress for Success. Also, see about coordinating swap boxes with local sports leagues for common sports items that children outgrow, like cleats. Athletes can leave outgrown pairs of cleats and in turn, take a pair from the box that fits.
Inform Others
Over 60% of America's garbage isn't being recycled. Some people still don't understand the importance of recycling. Others don't realize how much of their trash is actually recyclable. Encourage your students to inform people about the importance of recycling. Write letters to the editor of the local newspaper, give speeches at city council meetings, or create pamphlets to give out to their neighbors. Encourage people to check with their local recycling provider to make sure they are following correct recycling guidelines.
Finally, and most importantly, ask your students to brainstorm ideas on how to best promote recycling in their school and community. Their excitement for the projects they develop, plan, and complete will be the most successful and rewarding activities!
Looking for more science activities for your students? Read 10 Engaging Earth Day Activities for Kids or try our free Earth Science worksheets and lessons.

Celebrating the contributions of veterans in your community is an easy way to thank those brave men and women for their service, while helping students understand the proper way to show gratitude for those who give their time, effort, and sadly, sometimes their lives for our country and values. Below are some great activities that show the proper respect for our soldiers and also help students learn about the history of Veteran's Day.
Hold a Veteran's Day Ceremony
There's no better way to show the importance of this day than to devote 30 minutes to a whole school ceremony highlighting the special place that veterans hold in our country. The US Department of Veteran's Affairs has created a handy step by step guide to hold an assembly in your school, including instructions on how to post the colors and suggestions for remarks and speakers.
Take a Vet to School Day
The History Channel has a Take a Vet to School Day program, complete with How To Guides and Planning Guides by grade. Of course, you don't have to involve a national program to invite veterans into your classroom. Invite your students' relatives to sit in on class for a celebration of their service. Have the children read letters of thanks and ask the vets to say a few words. It's a day your students and the servicemen and women will not forget.
Make Crafts and Care Packages to Commemorate Veteran's Day
Younger students will love to use their creativity to show their thanks and respect for veterans. Celebrate the social studies themes of Election and Veteran's Days with a display that encompasses both events. Ask your students to write thank you cards expressing gratitude to our service members. Contact the local VFW or Veteran's Hospital to act as an intermediary and deliver the cards. You can use this thank you card template or download free thank you cards from Operation We Are Here to get started. Or maybe your class can send items to military personnel stationed overseas. Many organizations will assist in sending care packages to soldiers, such as Any Soldier, Operation Gratitude,  and Adopt a Soldier.
Teach Your Students About the Contribution of Women in the Military
Too often we are saddled with stereotypes of the past that are unfortunately passed on to our children. There has always been a vibrant and vital role of women in our military, but it's important to emphasize the history and facts of those contributions. The Pennsylvania Veterans Museum has a terrific lesson plan about the role of women in the military. The Veteran's History Project has a mini unit on the role of women in World War II.
Take a Virtual Field Trip to the National World War II Museum in New Orleans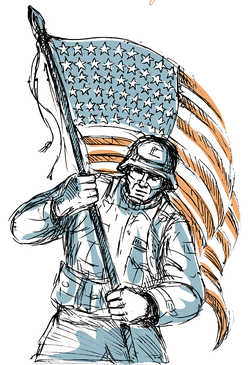 This museum offers numerous opportunities for distance learning, including as many as 15 virtual field trips on topics that include Pearl Harbor, D-Day, Iwo Jima, African Americans, and Science and Technology. They also offer Skype programs that provide a lesson plan and Skype session with a museum expert who will guide your students through the content.
It's so important to ingrain a sense of respect for our service members. There is no better way to do that than to use appropriate, creative resources to show young people how special our soldiers really are. This is another great opportunity to discuss citizenship and patriotism. For more on that topic, check out 10 Activities to Celebrate Constitution and Citizenship Day.
Do you have any lessons/activities you use to help students understand Veteran's Day or show gratitude to those who serve our country? If so, we would love to hear them.

Since 1970, Earth Day has been raising public awareness of environmental issues. Today, our waterways are less polluted and air cleaner, yet there is still much work to be done before we can consider ourselves a sustainable society. This year, engage your students or children with one of these eco-friendly activities on Earth Day or the weeks leading up to and from it.
Activities for Children – Kindergarten to Grade 6
Plant a Tree
It may seem cliché, but planting a tree is a simple act that helps the environment and gets children outdoors enjoying the natural world on Earth Day. Coordinate with your school a place on the grounds where your class can plant a tree or check with your local conservation board for a public location. Apply for free trees through organizations like Trees for Schools (UK and Ireland only) and Trees for Wildlife or by having students write to local nurseries.
Compete in a Contest
Contents are a wonderful way to get students excited about learning and with Earth Day comes array of eco-themed competitions. Look for local and regional contests or have your students enter the Wonders of Water contest by writing and illustrating a water-themed poem.
Don't Put Out the Trash
During the week leading up to Earth Day, arrange with the custodian not to remove the trash and recycling from your classroom. On Earth Day, have your students weigh the trash and recycling they generated (weigh trash separately from recycling). Over the next week, challenge your students to toss and use less, plus recycle more. After a week, have students weigh the trash and recycling again and calculate the decrease (hopefully!) in trash weight and increase in recycling weight. Extend the lessen for older students and have them calculate percent increase and decrease as well. Get started by assigning the lesson Reduce, Reuse, Recycle, then find more recycling activities here.
Walk to School
It is good for the environment and our children's health. More and more schools are planning annual walk or bike to school days. Why not plan one for April 22 or use Earth Day to have your students start planning for National Walk to School Day in May? Read this for more information on getting started.
Declare April 22 Waste-Free Lunch Day
With the help of your class and the EPA's Pack A Waste-Free Lunch site, make Earth Day a school-wide commitment to reducing the mounds of garbage generated during a typical school lunch. Have your class coordinate with administrators and cafeteria workers and help spread the word to students and parents about what can be done to minimize lunch waste.
Get your students excited for Earth Day by engaging them with these interactive lessons on Climate Literacy and Environmentalism by PBS Learning Media and with Help Teaching's self-paced science lessons.
Activities for Children – Grades 7 to 12
Participate in a Citizen Science Project
Engage your children or students in authentic science by participating in an eco-themed crowd science collaboration. There are numerous projects running that allow students to participate with adult supervision, including the environmentally oriented: Forgotten Island, YardMap, The Lost Ladybug Project, and Globe at Night.
Take a Field Trip
What student doesn't love a field trip? Plan an inexpensive day out by arranging tours of your local landfill, recycling center, wastewater treatment facility, and/or power plant (even better – visit a plant that uses renewable energy and one that uses a nonrenewable source). Yes, it will be dirty, hot, and smelly, but what better way for students to develop an understanding of where energy comes from and trash goes than to see it for themselves?
Host an Environmental Career Fair
Enlist your students in finding local professionals working in environmental careers to visit the school on Earth Day. Arrange for a career fair that allows students to hear about green jobs and discuss job duties with the professionals. Have students prepare questions ahead of time and write thank-you notes after. Visit Kids.gov for a list of environment and nature jobs to get started.
Build a Rube Goldberg Machine
Ask your students to bring in a variety of cleaned items from their home recycling containers during the week leading up to Earth Day. On April 22, divide your students into teams and task them with designing and building a machine that completes a simple eco-friendly task such as turning off the lights or watering a plant. Provide basic materials, like string and wine, to aid in construction. Be sure and have your students demonstrate their machines for an audience and see if their projects can be displayed in the school lobby or library.
Launch a Project-Based Learning Unit
Spring has sprung and students are anxious to get outside, making Earth Day is the perfect time to embark on an environmentally focused project-based learning (PBL) initiative. BIE.org offers extensive PBL resources for teachers and students – start by using their search tool for project ideas.
Be sure to visit Help Teaching's Earth Science Printables and Lessons for free environmental science resources to use on Earth Day and year round!
10 March //
Posted in How To //

Kids love crafts (and many grown-ups do too). Sites like Pinterest are full of craft ideas for kids, but sometimes you don't feel like wading through all of the pins. When you're short on time or aren't quite sure what you're looking for, there are plenty of craft sites ready to help you out. Whether you want to celebrate National Craft Month in March, find a craft to go along with a lesson, or just do a craft with the kids, we've rounded up a collection of the best craft sites to help you find the perfect craft for kids. With over 50 kid-friendly resources, you'll be getting crafty in no time!
General Crafts
Many craft sites cover all subjects and seasons. These are some of our favorites both for the amount of craft ideas they offer and the quality of the ideas they provide.
Red Ted Art's motto is "Bringing Color & Art to Children's Hearts." This site is full or really neat ideas to encourage children to develop their creative side. Crafts are organized by category and range from making gifts to designing your own board games.
Busy Bee Kids Crafts organizes its craft ideas by time of year, category, and material. For example, if you have a wealth of empty toilet paper tubes, you can see a list of crafts that will help you use them up.
Enchanted Learning's crafts section includes craft ideas for nearly every holiday and category. The crafts include a mix of printables and simple paper-based crafts. Most are appropriate for preschool and early elementary school.
DLTK's Crafts for Kids is another quintessential crafts site, with a large selection of crafts for preschool and early elementary school. One section of the site is entirely devoted to printable crafts, which are ideal for those who want simple crafts with little mess.
First Palette includes a large selection of crafts searchable by theme, occasion, and age. Crafts range from toddler to ages 9 and up. While the site does have some printable crafts, many are slightly more involved crafts that will require grown-up participation.
Crayola has a great selection of crafts that can be made with Crayola projects. You can filter by age (12 months-12+ years), category, and color.
Storybook Crafts and Favorite Characters
Younger kids love to create crafts related to their favorite stories and characters. These sites take some of the most popular picture books and cartoon characters and pair them with great crafts for kids.
Kids Activities Blog has gathered up 100 crafts inspired by children's books. These include crafts from books such as The Very Hungry Caterpillar and Knuffle Bunny.
No Time for Flashcards features a list of 25 books with crafts to match. Find a book you want to read with young kids and a relevant craft beside it. It can't get much easier than that.
The Picture Book Professor offers many holiday and seasonal booklists that are accompanied by relevant crafts for kids.
PBS Kids crafts for kids page features crafts for many of kids' favorite PBS shows, such as Peg+Cat, Sesame Street, and Daniel Tiger's Neighborhood. Many of the crafts are involved and require grown-up participation.
Disney Family offers many different craft ideas featuring favorite Disney characters. Many of the crafts are designed to be completed by families, which means they have steps that will be difficult for little kids.
Bible Crafts
Bible crafts can help kids learn more about key events and lessons in the Bible. These sites are perfect for Christian homeschoolers, Sunday school teachers, and parents who want to bring Bible lessons into the home.
DLTK's Bible Crafts features a large selection of craft ideas organized by animals, general Bible crafts, Old Testament crafts, and New Testament crafts. Their offerings include printable crafts and many crafts that use items found around your home.
Danielle's Place offers a massive selection of Bible stories and crafts for kids. Crafts are organized alphabetically by story. Each story is also accompanied by fun games.
Christian Preschool Printables focuses on easy-to-use printable crafts for kids. Crafts are organized by Old Testament, New Testament, and Holidays.
Meaningful Mama created a list of 100 Best Bible Crafts for Kids. The crafts are organized by major stories in the Bible.
Edible Crafts
With these edible crafts, you can have your crafts and eat them too. These sites offer crafts for a range of ages, from young kids who like to play with their food to older kids who are starting experiment in the kitchen.
EdibleCraftsOnline.com includes a large assortment of edible crafts for kids and adults. Many of the crafts are focused on special occasions.
Kinder Art shares a solid collection of recipes and edible crafts for kids. Many are simple enough to made by younger kids, with some grown-up supervision.
Cute Food for Kids features many neat ideas to help parents make kids' food playful and fun. While many of these ideas are designed for parents, kids can help with the process.
Imperial Sugar offers many edible art projects that incorporate sugar and also includes fun science experiments as well.
Fun Family Crafts has an extensive archive of edible crafts, including some inspired by kids' favorite movies.
Science and Nature Crafts
Science and nature crafts are a great way to get kids to have fun while learning more about the world around them. These sites include crafts made from materials found in nature and science experiments to help kids learn more about the world of science.
Tinkerlab features a variety of crafts and other projects designed to get kids thinking. Its offerings include many crafts related to science and nature that are great for upper elementary school.
Science Kids offers many fun science experiments and crafts designed to help kids learn more about how the world works. Ideas range from making eggs float to building parachutes.
The Craft Crow features crafts designed to help kids learn about science while being creative as well. Many of the activities repurpose the same materials in multiple ways.
32 Awesome Things to Make with Nature from Buzzfeed is full of clever craft ideas. While many of the ideas are designed for adults, they can easily be adapted to be fun for kids too.
Activity Village offers a nice selection of crafts designed to be used with leaves, pine cones, and other easy-to-find objects from nature. Many crafts can be enjoyed by younger kids too.
National Geographic features a selection of crafts designed for kids in elementary and middle school. Many of the crafts are designed to go along with National Geographic articles or programming.
Recycled Crafts
Rather than wasting paper and other items, why not make crafts from items you can find around your home? Kids can have fun and help save the environment at the same time.
Education.com's Recycled Crafts section includes tons of craft ideas, from using old Christmas lights to creating a classic tin can phone.
Fave Crafts shares its list of 1000+ Recycled Crafts. This extensive list features crafts for both kids and adults and all of them use recycled items.
Planetpals is all about saving the Earth and it continues its mission through its collection of recycled crafts for kids.
Math Crafts
Sometimes right-brained students have a hard time grasping math. Bringing craft projects into the math classroom can help students grasp difficult concepts in fun ways.
Lalymom offers a list of 20 different math activities activities that all use the same main material – craft sticks! These activities are designed for preschool and early elementary school and help kids learn a range of basic math skills.
Nurture Store created a list of 100 hands-on, creative math activities for kids. Many of the items on the lists are crafts kids can complete. Activities are organized by skill, such as addition and subtraction and learning symmetry.
The Art Curator for Kids offers 13 Ways to Integrate Art & Math, a list of 13 different art projects connected with math. Ideas include tessellations and color wheel clocks. The site also includes a list of books that combine math and art.
We Are Teachers shares a list of 9 math art projects designed to help students love math. Ideas include musical fractions and place value pictures.
Social Studies Crafts
Craft projects can help kids experience the time period or event they're learning about. Many of these sites offer projects that allow kids to make replicas of toys and tools found in history.
Time Traveller Kids is a British site that offers a wealth of free project ideas from different periods in history, including Ancient Rome, Japan, and Tudor Britain.
A Book in Time includes many resources for teaching social studies, including pages of crafts and projects organized by periods in American and world history.
Quatr.us offers a "What Should I Do Today?" section with a variety of social studies crafts. The site also has tons of articles on many different social studies topics.
Gifts for Others
Rather than spending tons of money on holiday gifts, why not have kids make gifts for friends and family? These sites offer some great handmade gift ideas.
FreeKidsCrafts.com has over 10 pages of crafts that kids can make as gifts for others. Ideas range from candy towers to glittery acorn necklaces. Many ideas are great for upper elementary and middle school.
101 DIY Gifts for Kids from Kids Activities Blog includes a large selection of ideas for both kids and parents to make.
101 Crafty Gifts to Make from Instructables is a list designed for adults, but many of the ideas could easily be made by older kids and teens as well.
40 Useful Gifts Kids Can Make is full of great crafty gift ideas. It includes gift such as handprint aprons and handmade bowls. Many will require help from a grown-up.
101 Handmade Gift Ideas Kids and Families Can Make from the Artful Parent is a great collection of crafty ideas. The crafts are organized by gift type, such as art gift, gifts for play, and gifts for the home.
Coloring Pages and Cut-Outs
Sometimes instead of making fancy crafts, kids just like to color. Pick up cheap coloring books at the dollar store or print them out from these sites.
Babadoodle features free coloring pages for kids and adults. Colorings pages are organized by category and include many mandala coloring pages.
Coloring.ws from DLTK is full of simple coloring pages organized by category and holiday. Print them out and let kids color away.
Crayola offers many free coloring pages, including pages featuring some of kids' favorite characters, such as the Disney Princesses.
Educational Coloring Pages has thousands of coloring pages for kids featuring their favorite cartoon characters.
The Kidz Page has a large selection of printable and online coloring pages organized by category and holiday. They include many early elementary pages.
HelpTeaching.com's Early Education printables feature coloring pages designed to help preschoolers learn their letters and numbers.
Craft Kits and Subscriptions
If even searching for craft ideas for kids is too much work, consider getting a subscription to a craft box or purchasing a craft kit.
Kiwi Crate is a monthly subscription box that includes a different craft or maker project each month. It is designed for children ages 5-8, but the company offers other boxes for kids from ages 3-16.
Green Kid Crafts features monthly subscription kits for kids ages 3-10. Each kit is focused around a different educational theme and comes with STEAM activities for kids.
Bramble Box is a pretend play and craft kit that is delivered to your door monthly. Kids will enjoy exploring and reading about a monthly theme, and then creating a craft related to it. Many themes relate to math, science, and social studies, so it's educational too!
Science Buddies sells kits to help kids learn about science while making their own fun toys, such as vibrating robots and a magic bullet train.
Oriental Trading is known for its pre-made crafts for kits. Many of the kits come in multi-packs, which makes them great for play dates or classroom craft time.
Tips for Crafting with Kids
Before you start a craft project with kids, keep these tips in mind.
Gather all of your materials in advance

The kids will be ready to get started right away, so you want to make sure you have everything ready to go.

Be patient and flexible

It may take kids a long time to complete a step and they may not do it perfectly, but you need to step back and let them craft their own way and at their own pace. If their snowman comes out looking for like a snowball, who cares?

Prepare for the worst

Crafts are designed to be messy. Cover your dining room table, put newspaper or plastic on the floor, and let kids wear a large paint shirt so you're not as worried about the mess.

Have fun

Why let your kids have all the fun? Summon your inner-child and have some fun getting messy and making the crafts with them.
Do you have a go-to craft site or a great craft idea with kids? How about tips for parents and teachers taking on a big craft project? We'd love if you shared it with us.