Teaching kids about money goes beyond giving kids an allowance or having them fill a piggy bank with spare change. It involves creating budgets, setting savings goals, comparing prices, and even coming up with ways to earn more money. That may sound like a lot of work, but thankfully you don't have to do it on your own. We've chosen a few of the top tools that you can start using today to ensure your kids develop the healthy money habits they need to become financially stable adults. Remember: it's never too early to start teaching kids about money.
Financial Peace Jr.
What: book, chart, activities
Age Range: preschool – elementary
When people want to get out of debt, one of the first people they often turn to is Dave Ramsey.
However, Dave Ramsey does more than help people get out of debt. He also offers resources to help parents teach kids about money. One of those resources is Financial Peace Jr. and the Junior's Adventure story series. In the Financial Peace Jr. kit, kids receive giving, saving, and spending envelopes, a fun chore chart, and a book full of activities to complete. In addition, parents get access to video lessons and a digital copy of the book Smart Money, Smart Kids to help them learn more about the importance of teaching kids healthy money habits.
Sesame Street Finance for Kids
What: videos, worksheets
Age Range: preschool – early elementary
Sesame Street is a favorite of toddlers and preschoolers around the globe, so it makes sense that it would also be a good platform for a lesson about healthy money habits. Finance for Kids features a short video where Elmo tries to earn money, discovers the difference between needs and wants, and sets earnings goals. Parents can download a guide with activities and questions to use along with the video. The site also features coloring pages and other worksheets that can be downloaded and printed out. For more help, parents can check out the Elmo's Adventures in Spending, Saving, and Sharing podcast.
Current Debit Card
What: debit card with virtual wallets and parental controls
Age Range: upper elementary – college
With Current, parents can teach kids and teens about responsible spending with an actual debit card and an online platform that helps kids learn more about money. Kids are given three wallets: spending, savings, and giving.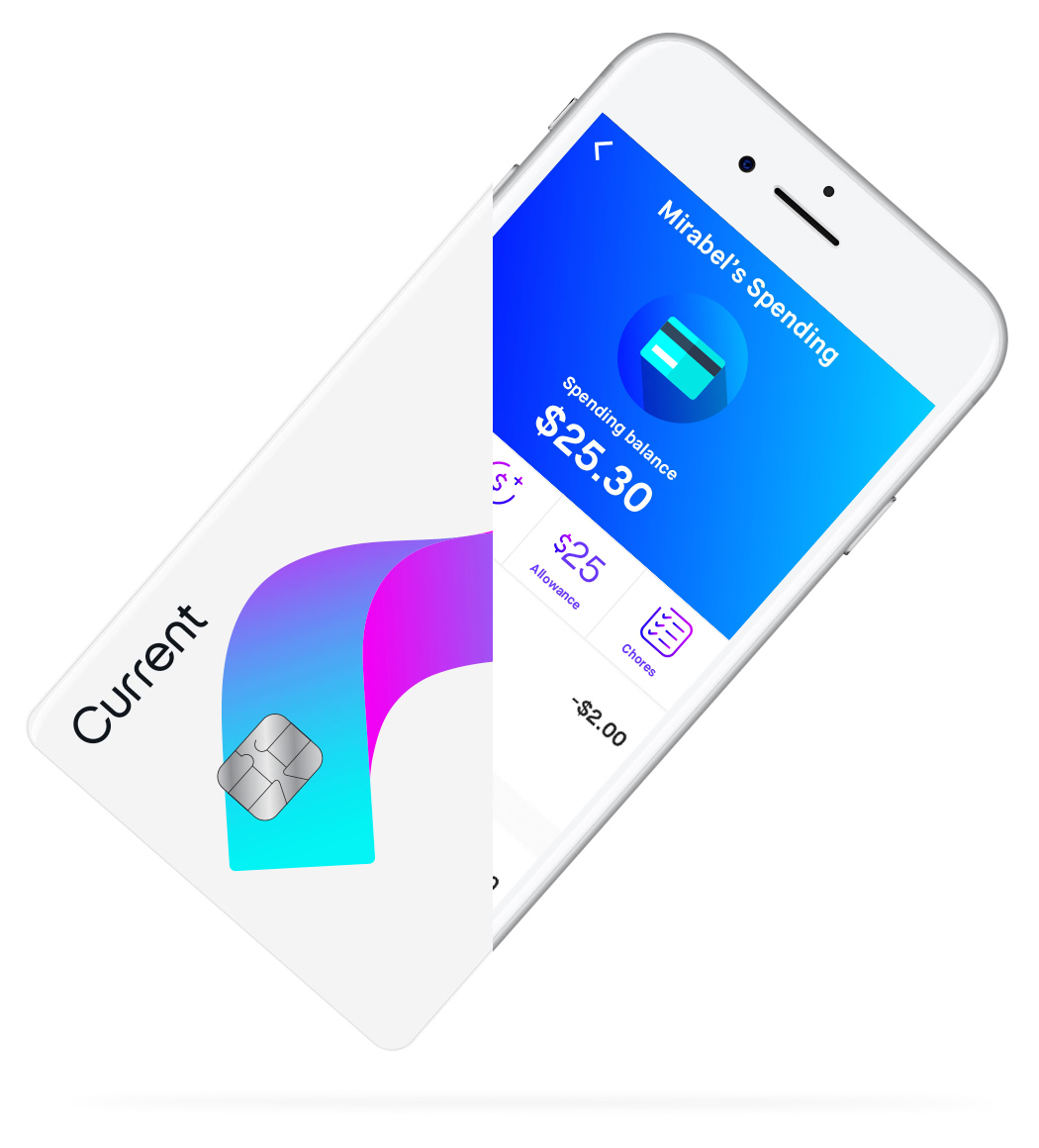 Kids earn money through chores and/or a general allowance, both of which can be set up in the app, and can also have money transferred into their accounts by their parents and others. The money can then be moved between the different wallets. Current gives kids freedom to spend their money, but also provides parents with tools and opportunities to see how kids are spending their money and talk to them about responsible spending habits. All transactions are itemized and parents have the ability to control what kids are allowed to spend their money on.
BusyKid
What: chores and allowance management
Age Range: upper elementary – high school
BusyKid helps simplify the process of monitoring chores and giving kids an allowance by combining them into an online platform. With this program, parents can set up chores and see suggested rates for common chores. They can also approve payments for those chores. Kids can then use the money they earn to purchase gift cards, contribute to popular charities (such as Big Brothers Big Sisters, Make-a-Wish Foundation, and Autism Speaks), and even purchase stocks. The idea is to teach kids how to save, share, and invest their money responsibly.
Biz Kids
What: videos, games, activities

Age Range: middle school – high school
When kids visit Biz Kids, they can learn all about healthy money habits through engaging videos, fun games, and other activities. Through BizKids, kids and teens can learn about a lot more than just spending, saving and giving. They can also learn about concepts such as starting a business and how to spot common advertising tactics and scams. These lessons come largely through the video clips from the BizKids show. The website also features lesson plans for teachers and a blog that highlights kids who are doing awesome things with their money.
Whatever tools you use to teach your kids about money, remember to practice what you preach. Take time to show your kids your household budget, tell them about some of your savings goals, and regularly talk to them about any spending or giving choices you make. The more kids see you making smart money choices, the more likely they are to make those same choices themselves.
Try HelpTeaching out today for free.
No credit card required.