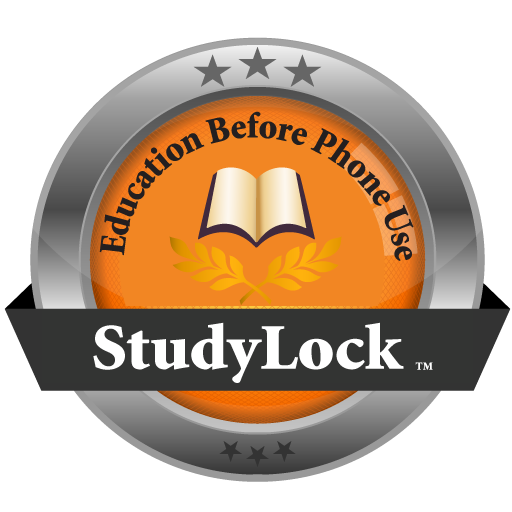 We are excited to announce Help Teaching's partnership with StudyLock™, a parental control app. Help Teaching is an exclusive content provider for this innovative application that "parents love and teens hate".
Eric Vreeken, the app's creator, designed the app after having trouble prying his own children away from their devices and getting them to focus on their homework first.
The idea is that kids and tens must answer questions before they can use their devices. Help Teaching's role is to provide the content for those multiple-choice questions, ensuring questions are available to cover multiple grade-levels and subject areas.
How does StudyLock™ Work?
StudyLock™ locks games, internet, cellphone use, smartphone applications, and texting to other telephone numbers, except for predetermined emergency phone numbers. In order for a child to unlock the device, they must answer questions in subjects such as Math, Science, History, and Literature. Parents control how many questions must be answered before the device can be used normally. Some kids may just need to answer a single question for a quick review, while others may need to answer more to encourage them to focus more on their studies and less on texting and playing with apps. Once the questions have been answered the cellphone or device can be used as normal.
The questions kids and teens must answer to unlock their devices are all provided by Help Teaching's content contributors. Our contributors have over 20 years of combined teaching experience and are committed to providing the highest quality of content for use by StudyLock™. It's the same high-quality content you'll find as part of Help Teaching's premium printable worksheets and questions. All math and language arts questions are aligned to the Common Core State Standards too, ensuring that the content is focused on the knowledge and skills kids need to know.
Of course, there's more to StudyLock™ than just answering questions. Parents can choose to have progress reports e-mailed to them and quickly see which standards their kids and teens need the most help with. Once parents determine where their kids need the most help, they can head over to Help Teaching to discover more resources to help them improve their skills.
Try HelpTeaching out today for free.
No credit card required.