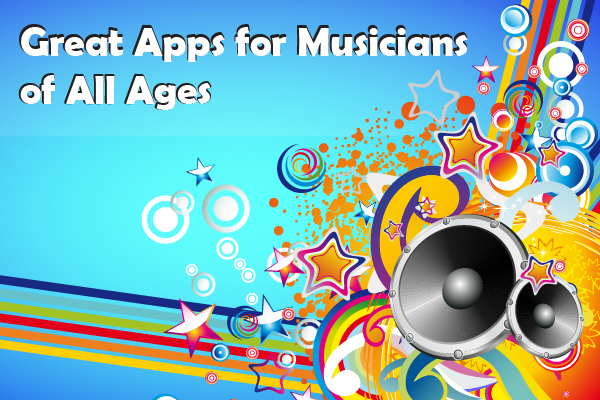 Not too long ago a music "app" could have been a windup metronome and a tape recorder (remember those?). Those days are gone, and apps have the capabilities to allow musicians to record music, tune their instrument, keep a beat, learn notes, learn an instrument, and more.  While there are hundreds upon hundreds of apps to choose from, the following apps are helpful, educational, and fun for musicians. The summaries are for iTunes apps with a comparable Android user app to follow.
What musician doesn't need a metronome at some point? MetroTimer is a fantastic app that allows the user to program the beats per minute. It also has a tapping function where the user can tap the beat desired on the device and MetroTimer picks it up almost instantly.  It comes with multiple practice timers ranging from 1 to 30 minutes worth of practice time to the beat chosen. The beat can be both seen and heard, and there are 8 metronome sounds.
For an one time upgrade fee of $2.99, MetroTimer Pro comes with additional features such as the ability to customize time signatures, adding accents, and a beat editor. It's a very handy app, especially when combined with a tuner.
Android users: Digital Metronome
The free Tuner Lite app is available for iPhone and iPad. This chromatic tuner and pitchpipe can be used with any instrument anywhere. The tuner plays and holds any note picked until it is turned off.  While it is calibrated to A 440, the musician can any note they want to tune by using the half step up or down options until they get to the note desired.  The paid version at $2.99 adds in capabilities to adjust temperaments, language, calibration, solfege, and more.
Android Users: DaTuner (Lite)
The GarageBand app allows the user to create and record their own music using a variety of instruments including smart guitar, keyboard, organ, synthesizer, drums, and an audio recorder. There is also an option of  sampler smart strings, bass, drums, and keyboards that costs$4.99. Guitarists can actually plug in their guitars and play through amps.
When picking an instrument, the user is taken to a screen that allows them to record music. There are many settings to adjust volume, the sand of the instrument, and there is an option to combine recordings. Songs can even be uploaded to iCloud if desired. This is a fun app for putting together different sounds with the option of playing them on the PC.
Android Users: Learn GarageBand
This fun app has rated 4.5 stars from over 7,700 reviewers. This is a simple app featuring a drum set with cymbals, bass, snare, tri-toms, cowbell, and suspended cymbals. This app is very basic (and has ads that never disappear at the top), and there is no option to record, it's just for tapping out beats. If  musicians need a little more than just a beat maker, Ratatap Drums provides the ability to create your own sets with many more features for $1.99 and no ads.
Android Users: Real Drum
Virtuoso piano comes with two sounds, Grand Piano, and Broken Pub Piano – which is slightly out of tune and brash sounding instrument. The piano ranges from C1 to C8 (C1 being the first C on the piano, while C8, is the 8th C on the piano). Sliding your finger left to right produces the rolling sound, and the user can play up to 5 fingers at a time. A simple press of an arrow key allows musicians to scroll to the next octave.  It begins with 8 keys, but you can adjust the keyboard to add at least 7 more (making it extremely hard to play if you have anything more than baby sized fingers.)
There is the option of labels on the keys, background glow, which note to start from, sustain, and volume. It does not record, unfortunately, but it can be a fun learning experience for younger students, along with something to pass the time for older ones. It can also help with ear training.
For Android Users : Piano Teacher
Piano Infinity is for the more involved musician. It comes with a tutorial and options to Play, Create, Learn, and Jam. The keys are touch sensitive and can all be played at the same time – if you like that sort of sound!   The keyboard shows all 88 keys in a narrow row at the top of the app with a shaded area, showing the user what keys are being played at the time.  A click of an arrow moves the keys up or down.
There are many options such as: key labels, highlighting, double row, finger slide, and key width. In "Learn" mode there is the option of lit keys and tempo adjustment depending on skill level. Volume, metronome, and reverb options are also available. Piano sound options are: grand, pub, organ, electronic, and harpsichord.
There are a few songs available to help learn to play piano, with or without piano accompaniment, and there are the options of using both hands, right, or left. The keyboard is displayed and each note is highlighted ahead of time to stay in tempo.
Creating songs are easy, but the drawback to this is paying $4.99 for a download to save them. To Jam, there are song options and a bit of a different type of background. White and black circles drop down and pulsate when it's their turn to be played. It can be a bit of a challenge. Over all, for being (mostly) free, this is a great app.
Android Users: Piano Instructor
While this app isn't a learning tool, AutoRap is fun to try. There is one free background beat (with opportunities to gain free plays by watching or downloading ads/games/commercials) but 100's to choose with a fee. A page appears with a large red button encouraging the user to "Say Anything". When the user is done, the app mixes the voice – now mostly autotuned –  in with the rap beats, creating an original rap. Young children will get a kick out of hearing their voice being mixed to a rap beat.
Android Users: AutoRap
The Pocket Shaker is great for teachers and percussionists. It features 26 different auxiliary percussion instruments. The name of of the instrument is matched with a picture. Tapping on the picture produces a beat and sound of the instrument. It is very simple, but effective if teaching a younger group. Pair this with a friend using Ratatap drums, and a percussion concert is born.
Android Users: Shake Instruments
There are so many apps centered around music it would be impossible to list them all. If an Android or Apple user can think of something, it's most likely available for download. The capability of learning, hearing, creating, tapping, playing, and performing music via apps literally right at your fingertips.
One Response to "8 Great Apps for Musicians of All Ages"