Currently Browsing
Posts Tagged ' science '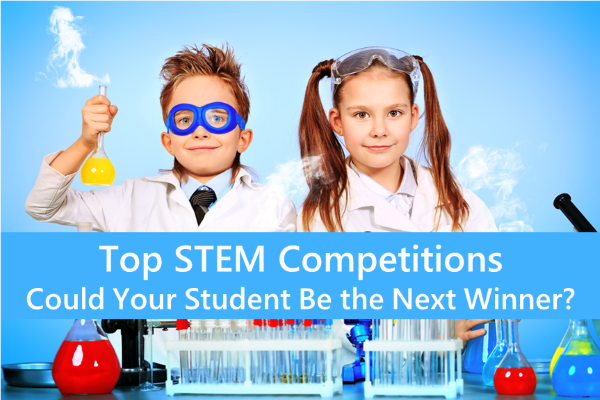 Science, technology, engineering, and math (STEM) contests and competitions benefit students in many ways. They can inspire students to pursue careers in STEM-related fields and challenge teachers and homeschool parents to take STEM education to the next level. Quality competitions provide students with hands-on practice and application of core STEM concepts they are studying and support project-based learning initiatives. Updated for the 2018 – 2019 school year, we've gathered a list of the top STEM competitions by age group to help you find the perfect opportunity for your students.
Before committing to entering any STEM competitions, consider the following criteria:
Curriculum Alignment – Does the competition directly support your curriculum and education standards? Do you have the classroom time to devote to working with students on their entries? If not, consider starting a school club dedicated to the project.
Cost – Many competitions cost nothing other than time, others require the purchase or donation of materials, and still others require travel and associated expenses. Determine your budget prior to selecting a competition to avoid student disappointment if funding is not available.
Timeline – Each competition will have a set competition timeline. In addition, some will require registration well before the submission deadline. Make sure the timeline works with your teaching schedule so students have ample time to complete quality projects.
Individual vs. Team – Science is collaborative and so are many STEM competitions. Decide if it is best for your students to compete individually, in small teams, or as a class, and then select a competition that fits those needs.
STEM Competitions for Multiple Age Groups
America Computer Science League – The ACSL challenges students in grades 3 – 12 to solve computer science and programming problems in this international competition divided into division by age group and computing experience.
ExploraVision – The National Science Teachers Association and Toshiba ask small teams of K-12 students to envision what a current technology will look like in the future. The ExploraVision competition has refocused over the past several years to align with Next Generation Science Standards.
FIRST – With school teams and clubs worldwide, hundreds of thousands of students grades K-12 participate annually in FIRST's hands-on robotics programs and competitions.
NASA Ames Space Settlement Contest – K-12 students design permanent orbital settlements. There are contest categories for students in each grade 6 – 12 and for individuals, small groups, and large groups.
National Science Bowl – Sponsored by the U.S. Department of Energy, the National Science Bowl challenges middle and high school students to face-off in a question-style science and math contest.
Science Olympiad – With competitions in all fifty states, the Science Olympiad is one of the best-established STEM competitions around for students in grades 6 – 12. Tournaments focus on teamwork and consist of standards-based challenges.
Team America Rocketry Challenge – Middle and high school students take part in designing, building, and flying rockets complete with "astronaut" eggs.
TEAMS – Middle and high school teams of four to eight students contend in this engineering-based competition that involves hands-on design challenges, multiple choice questions, and an essay based around an annual theme.
National Science Bee – This bee-styled tournament for elementary and middle school students covers science, math, and engineering topics and culminates in a national championship.
EngineerGirl Essay Content – Each fall the site posts an engineering related prompt for students grades 3 – 12 to write about. Despite the name, the content is open to all students in grades 3 – 12, not just girls!
Game-a-thon – From cards, to dice, to board games, games make for creative, hands-on learning. In this competition, students create games based on math concepts and submit videos of their games in action.
American Geosciences Institute Contests – In honor of October's Earth Science Week, the AGI offers several annual contests for kids that celebrate Earth through visual arts, a nice option to support STEAM curriculums.
VEX Robotics Competition – Get student teams designing and building robots in this popular game-based engineering competition.
MOEMS – This Math Olympiad for students in grades 4 – 8, allows students to compete in teams of up to 35 via an online monthly math test.
STEM Competitions for Middle School Students
Discovery Education 3M Young Scientist Challenge – In this competition, students in grades 5 – 8 create videos on unique solutions to everyday problems. Multiple levels of prizes are given, including a $25,000 grand prize.
Future City Competition – Middle school student teams use the engineering design process to create a city 100 years in the future that solves a sustainability issue. Competition elements include virtual city design, physical model construction, essay, and a presentation.
MATHCOUNTS – Each four-student middle school team creates a video that teaches the solution to and a real-world application of a math problem selected from the MATHCOUNT's handbook. MATHCOUNTS also offers "bee" style competitions and club programs.
eCYBERMISSION – This web-based competition, sponsored by the U.S. Army, is for teams of students in grades 6 – 9 and focuses on real-life applications of STEM.
STEM Competitions for High School Students
SourceAmerica Design Challenge – High school students innovate workplace technologies that diminish obstacles standing between people with disabilities and employment opportunities.
Google Science Fair – Students 13-18 perform in-depth investigations of real-world problems in this competition that awards many prizes in different age categories.
Imagine Cup – Microsoft's Imagine Cup challenges high school students worldwide to create software applications that help resolve some of the world's most challenging problems.
Mathworks Math Modeling (M3) Challenge – A free, internet-based math challenge for juniors and seniors that addresses a real-world problem. The competition offers numerous scholarships to top-placing teams.
Clean Tech Competition – Individuals and small student groups research, design, and produce papers around a real-world environmental theme that integrates eco-friendly energy sources.
Regeneron Science Talent Search – Billed as the oldest U.S. science and math competition, this one is limited to high school seniors who submit original science research. The top 300 entries earn cash prizes and finalists will go on to compete for $250,000.
Math Prize for Girls – This is a competitive math prize for high school girls, held at the Massachusetts Institute of Technology each fall. Only 300 students will be selected to compete and applicants must take an American Mathematics Competition exam prior to applying for this competition.
This is just a sampling of the many STEM competitions available. Many students also participate in local and regional science fairs that allow students to conduct and present authentic research and potentially compete at the national level in competitions like the Intel International Science and Engineering Fair and Broadcom MASTERS. However, most students will not win a national competition, so before entering students in a competition, consider the intrinsic value of participation. Look for well-organized competitions that offer clearly defined rules and judging criteria, as well as constructive feedback for all participants.
Remember to check out Help Teaching's collection of science worksheets and online lessons to support your science teaching needs. If you enjoyed reading this article, try our Ultimate Guide to Teaching Science.
Click on the image for a printable version of the Solar Eclipse Map.
A total solar eclipse is perhaps one of the most dramatic astronomical events we may witness during our lifetimes. On August 21, 2017, all of North America, as well as parts of South America, Africa, and Europe will experience either a total or partial solar eclipse. Our printable solar eclipse map shows when and where you can plan on viewing the eclipse in the United States. Here are ten facts to know about this summer's solar eclipse before heading out with your kids to view this astronomical event.
1. People in fourteen states will experience a total solar eclipse. The path of the total eclipse will trail from Oregon southeast to South Carolina. The rest of North America will experience a partial solar eclipse.
2. Totality is the maximum amount of time the moon completely blocks the sun. The location with the longest duration of totality will be near Carbondale, Illinois, and will last about 2 minutes 40 seconds.
3. The duration of the eclipse will depend upon your location. In most places, the time of first contact, from when the moon first begins to cross the sun, until fourth contact, when it completes the eclipse, lasts two to three hours.
4. During a solar eclipse, the moon aligns perfectly between Earth and the sun. Since the moon's orbit around Earth is slightly tilted compared to Earth's orbit, solar eclipses do not occur every month. Our online Solar Eclipse lesson introduces students to the science of eclipses.
5. Although the diameter of the sun is much larger than the diameter of the moon, from Earth, they appear to be the same size. The moon is much closer to Earth and is located at the exact distance needed to completely block the sun during a total eclipse.
6. The moon blocks the bright photosphere of the sun during a total solar eclipse. During totality, the corona, or dim outermost part of the sun's atmosphere, can be seen.

7. The only time you can safely view a solar eclipse without eye protection is during totality. Discuss eye safety with children ahead of time and purchase certified ellipse glasses (not the same as regular sunglasses!). Learn more about ellipse eye safety at NASA.gov.
8. Subtle and not so subtle natural changes can be observed during a solar eclipse. The sky darkens. Air temperature decreases. The stars come out. It has even been reported that animal behavior changes as it would as nighttime falls. Changes will be most dramatic along the path of totality.
9. People have observed solar eclipses throughout human history. Yet, the narrow and seemingly random path of the moon's shadow across Earth's surface made it difficult for early astronomers to predict when the next solar eclipse would occur. It's no wonder ancient cultures considered solar eclipses to be foreboding events. Our worksheet, What Causes a Solar Eclipse?, explores a few of the ancient explanations about solar eclipses.
10. The next total solar eclipse in the continental United States will occur on April 8, 2024. The next time a total solar eclipse will cross the U.S. from coast-to-coast will not be until August 12, 2045.
There are many ways to enjoy this spectacular celestial event with your children. Plan a solar eclipse party with friends, make a pinhole camera, or participate in an eclipse citizen science project.
Looking for more fun ways learn about space with your students? Read 5 Stellar Activities for World Space Week or try our astronomy lessons and worksheets.
18 March //
Posted in How To //

Between work, school, and extra-curricular activities, family time is at a premium. Take advantage of your free time on the weekend or during school vacations and try one of these science activities. Spend some quality time as a family, learn some science, and even get a bit messy!
Each activity focuses on a key scientific concept, yet can be done with basic materials. Encourage scientific thinking by asking your child to predict what will happen before doing each activity. Focus on the reasoning behind the prediction, rather than accuracy. Remember, the scientific method is a process designed to be repeated. If the prediction is not correct, that is fine, it's science!
Pre-K – Grade 2
Young children as natural scientists. They continually experiment with the world around them. Has your toddler ever thrown food from her highchair? Perhaps she was really experimenting with gravity and projectile motion!
Fun with Shadows – Get creative with your child while exploring light and shadows. Extend this activity by making puppets from translucent materials (see what is available in your recycling bin) and comparing their shadows with those of the opaque cardboard puppets.
Sink or Float with Nature – Although he most likely hasn't studied density or buoyancy, your child probably has a good grasp of what floats on water. Don't worry if it's winter, gathering materials for this activity doubles as a good excuse to bundle up and head outside for a while. A large mixing bowl set on a towel will work well if weather requires that the experiment takes place indoors.
Walking on Eggs – The potential for an activity to go spectacularly wrong and end in a slimy mess always adds excitement to a science project. Thanks to physics, cathedral arches hold up and so should raw eggs under your child's feet. Once your child masters the art of walking on eggshells ask her to predict the minimum number of eggs that will hold her weight. Of course she will have to try it! As an extension, this may turn into an assignment on finding the best household cleaner.
Grades 3 – 5
Older elementary students have been introduced to a wide range of science concepts. They have begun to study the various branches of science and are ready to extend learning by developing scientific questions. Challenge your student to ask follow-up questions after an activity, then design a way to test one of the question.
Coloring Flowers – Flowers brighten a home no matter the season, so why not color them your child's favorite colors? This activity demonstrates how water is pulled through plants by transpiration. White flowers work well for this, but celery acts as a good substitute. Ask your child what will happen if the stem is split and placed in different colors. Then, try it with her!
Balloon in a Bottle – Air is all around us, but understanding that this invisible gas takes up space is not necessarily intuitive. Ask your child to predict what will happen before trying to inflate the balloon each time. Be sure to use latex free balloons if any household members have latex allergies.
Discovering Sound Matters – The idea that sound requires matter can be a difficult one to grasp.  Take the opportunity to learn about sound as a vibration through matter by demonstrating the abstract with this simple and fun project.
Diaper Science – Who doesn't love a little potty science? Disposable diapers contain sodium polyacrylate, a superabsorbent polymer. This property allows diapers to absorb and hold liquids. Maybe your scientist wants to experiment further by testing how well the diaper absorbs different household liquids.
Middle and High School
At this level, science students have a solid understanding of the scientific method and have conducted experiments at school. Perhaps they have even designed and presented experiments at science fairs. Ask your child to explain the science to you as you work on these activities together. You may be amazed by what she teaches you!
Strawberry DNA – This activity is a great introduction to DNA for students studying life science or biology. It takes an abstract concept and yields a visible result. High school students can follow-up this activity with our self-paced lesson on DNA Structure and Replication.
Build a Roller Coaster – What tween or teen doesn't love a roller coaster? Okay, this one is a bit smaller than the ones they are used to riding on, but it is a good model for discussing transformations of mechanical energy. Add on tubes and have an all ages, family-friendly competition to see who can construct the longest track that works or the one with the tallest uphill or most loops.
Mini Snow Machine – Combine the studies of electronics and fluid dynamics by simulating a blizzard with this mini snow machine activity. See if your student can draw a electrical schematic diagram for the machine. Then, try changing the sizes of the pieces of paper to see if it impacts the blizzard.
Cleaning the Air – If your student is interested by environmental science or enjoys tinkering and building, this is the project to try. Use the engineering design process to create, build, and test an air filter to capture particulate matter. Redesign is a key step of the engineering process and should be in this activity as well!
Visit Help Teaching and utilize our growing collection of K – 12 science printables and lessons. Read The Ultimate Guide to Teaching Science for our favorite science resources for teachers and homeschooling parents.
Teachers have embraced Pinterest, the modern day equivalent of clipping magazine photographs and showing them to your friends, as a source of inspiration for classroom organization, projects, and curriculum resources. Pinterest offers a multifaceted platform for educators to research ideas for their classrooms, follow other pinners, and create boards linking to resources for students. For STEM educators, Pinterest is a visual brainstorm of hands-on science activities, curriculum materials, and the most recent advances in science and technology.
If you are looking for new ideas for your science, technology, engineering, or math classroom, get started by following some of these Pinterest boards:
Best Kids Science Experiments – Steve Spangler fans will enjoy this collaborative board and visual playground of icky activities to engage students in the scientific process.
Citizen Science Programs – Check out these pins and find a citizen science project for your class to participate in.
Earth Science – Kids Discover offers a host of interesting boards for teachers, but geo-geeks will especially appreciate these pins to earth science articles, videos, and images.  
Explore and Get Outdoors – The National Wildlife Federation's board of ideas on getting kids back to nature.
Explore the Natural World – STEM educators will appreciate this board by PBS, featuring stunning images of nature that blur the boundaries of science and art.
Invertebrate Love – View these stunning images and videos of strange sea critters lacking skeletons.
iPad Landia – With the integration of iPads into more and more classrooms comes the need for finding quality apps and educational best practices. Get started with iPad Landia.
Los Alamos National Lab – Cool collection of boards for those who embrace their inner geeks. Pocket protectors anyone?
NASA EDGE Vodcasts – Engage students with these vodcasts by NASA EDGE. Maybe one of your students will become a rocket scientist.
NASA Goddard Space Flight Center – Don't miss out on any "Wicked Cool Space Stuff." Follow any or all of these boards from the Maryland Space Center.
NGSS: Next Generation Science Standards – The standards are out. Become familiar with them and stay up-to-date with NGSS progress with these pins by The Einstein Project.
Scientific Explorer – An essential collaborative board dedicated to "exploring scientific knowledge".
Science & STEM – Get your STEM ideas flowing for hands-on, home projects with this resource board.
STEM STEM STEM – In case the name was unclear, this collection of pins by the National Science Teachers Association helps teachers stay up-to-date with trends in STEM education.
STEM Works – The STEM-Works program strives to increase science, technology, engineering and mathematics skills in communities nationwide and maintains this collection of boards including pins about CSI, jobs, lesson plans, robotics and more.
Students Like Tech! – Follow Edutopia's board for EdTech ideas and trends.
Teaching with Sci-Fi – Even reluctant science students may enjoy a good science fiction book.
U.S. Department of Energy – Get the latest information on everything energy related, from STEM education to green energy.
Video Lectures in Mathematics – Looking for a refresher course on differential equations, a tidbit on the history of math, or a good math joke? Check out this collection of boards with over 1,400 pins to math lectures.
Women in Science – These photos of groundbreaking women in science, courtesy of the Smithsonian Archives, link to further information about these pioneers.
Follow Help Teaching on Pinterest to keep up with our newest free printables, premium worksheets, and blog articles!
Your classroom may not be equipped with satellite access, a roller coaster, or an operating room , but chances are you have interactive whiteboards, iPads and computers. Technology is an essential element in today's science classroom. However, locating meaningful web-based interactive activities that are scientifically sound can be time consuming. With these interactive resources, your students can experience science unlike any generation before.
e-learning for Kids provides animated mini-courses covering manyscientific disciplines for elementary and middle school students. Students can work their way through each course and take the provided quiz when finished.
Edheads offers a variety of exceptionally well-designed interactives with accompanying teacher guides. Their virtual surgeries are particularly impressive . For example, let your students play brain surgeons with the virtual Deep Brain Stimulation Surgery.
Kids.gov offers a great list of interactive science games, videos, and resources from many government agencies about all branches of science, careers, and science fair projects. Use the tabs along the top of the page to search for content by grade or for teacher resources.
KS2 Bitesize by the BBC brings science alive with their collection of living things, materials, and physical processes interactives. Each topic includes animated activities, background reading, and a quiz.
Learner.org provides dozens of interactives across scientific disciplines and is searchable by grade level. Be sure to try Amusement Park Physics, where students investigate the physics of amusement park rides by constructing animated roller coasters.
NASA Quest brings the expanses of the universe to K-12 classrooms with their innovative collection of interactive resources. Challenge students to design robotic airplanes to explore Mars, solve air traffic problems, or take part in the next NASA Quest Challenge.
PBS LearningMedia offers an extensive collection of interactive STEM resources. Search this collection of videos, audio files, interactives, and images by discipline and grade. The "Background Essays" and "Discussion Questions" offer great starting points for classroom use. Resources are free, but you need to register for an account after viewing three.
Scholastic offers a range of interactive activities geared toward elementary and middle school students. Check out the "Weather Watch" module. Students will enjoy playing Mother Nature with the Weather Maker interactive and solving real-world "weather mysteries" with the Weather Detective Web Quest.
Thinkport virtually transports students from the classroom around the world and through time. This Maryland-based collection of interdisciplinary interactives includes comprehensive teacher guides and is well worth spending time on regardless of where you live. Challenge students to try their eco-detective skills with "EnviroMysteries."
Wonderville will grab students' attention with their engaging collection of science-themed activities, comics, games, and videos. After all, what student wouldn't want to try "Poo Power" in science class?
Looking for more web-based teaching resources? Read Test Designer's article, "Ten Social Studies Web Resources."