Printable Algebra Worksheets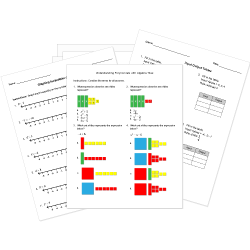 Use these Pre-Algebra, Algebra I, and Algebra II tests to gauge student comprehension of algebra topics including: linear and quadratic equations, inequalities featuring number line graphics, functions, exponents, radicals, and logarithms. Our printable algebra worksheets can also be administered online using Test Room.
Worksheets labeled with are Common Core Standards aligned and accessible to Help Teaching Pro subscribers only. Become a Pro Subscriber to access all standards aligned worksheets.
Don't see any printable algebra worksheets you need? Use our Test Maker™ to create your own printable that fits your needs. Browse function and algebra concepts questions or use our advanced search to find existing questions while filtering by grade levels and keywords. You can also create your own questions.
Related: Online Algebra Lessons
Middle School Printable/Online Pre-Algebra Tests and Worksheets
Want to teach beginning or middle school algebra skills? Consider free algebra games.
High School Printable/Online Algebra Tests and Worksheets
© Copyright Notice: All worksheets contain copyrighted work and are designed for use by individual teachers, tutors, and parents. Worksheets and/or questions may not be replicated or redistributed in any way outside HelpTeaching.com, regardless of intended usage, without explicit permission.