Free Printable World History Worksheets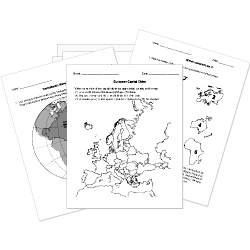 Historical thinking is rooted in the ability to see connections throughout historical events and civilizations. Our World History worksheets take you from Africa to Asia to Europe, and analyzes major societies of the western hemisphere, as well.
Don't see a printable you need? Use our Test Maker™ to create your own printable that fits your needs. Browse world history questions or use our advanced search to find existing questions while filtering by grade levels and keywords. You can also create your own questions.
Ancient History Tests and Worksheets
From the beginnings of civilization to the classical period, these societies provide the basis for all aspects of modern life, and give students the opportunity to hone their historical thinking skills by providing a basis for comparison and connections throughout history.
World History Tests and Worksheets
From the Golden Ages of African Civilizations and the Renaissance, to the destruction caused by war, World History shows the best and worst of humankind and prepares students to see multiple perspectives of the participants.
Other Regions
Nobel Laureates
© Copyright Notice: All worksheets contain copyrighted work and are designed for use by individual teachers, tutors, and parents. Worksheets and/or questions may not be replicated or redistributed in any way outside HelpTeaching.com, regardless of intended usage, without explicit permission.