Free Early Education Printables and Coloring Pages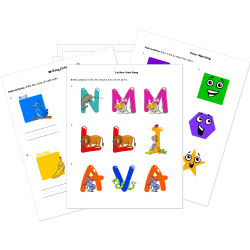 Help kids build their early education skills with our collection of early education worksheets and preschool printables. Our printable pre-k worksheets and coloring pages cover basic number recognition and shape recognition, as well as help kids learn the letters of the alphabet. You'll also find printables that help them learn their colors, themed mini-books, and even activities to build fine motore skills and thinking skills.
Worksheets labeled with are accessible to Pro subscribers only. Become a Subscriber to access hundreds of standards aligned worksheets and premium content.
Don't see a printable you need? Use our Test Maker™ to create your own printable that fits your needs. Browse questions or use our advanced search to find existing questions while filtering by grade levels and keywords. You can also create your own questions.
Related: How to Engage Young Learners (Toddler and Preschool)
Basic Colors and Shapes Printables
Learning Numbers 1-10 Printables
Build number recognition and counting skills with these early education number worksheets.
Thinking Skills and Science Concepts Printables
Enhance learning with these colorfully illustrated critical thinking and science concepts printables.
Fine Motor Skills Printables
Use this collection of tracing and cutting printables to help young learners develop fine motor skills.
Toddlers and preschoolers will need support learning proper pencil grip and scissor safety.
Alphabet Letters and Sounds with Animals
Kids will develop letter recognition and visual discrimination skills with this collection of worksheets featuring colorful letters each featuring a cute animal that begins with the letter.
Coloring Pages - Alphabet Letters and Numbers with Animals
Develop kids letter and number recognition along with pre-writing fine motor skills with these lively, full-page coloring sheets. Print and reproduce for coloring then hang for classroom or bulletin board decoration or bundle together to create a portfolio for each child.
Printable Mini-Books
This collection of themed mini-books is ideal for engaging early learners while building essential skills. Read along
with children and encourage them to cut, staple, write, color, and draw to make each book uniquely their own!
Early Reading Worksheets
These worksheets feature short reading passages accompanied by simple questions that ask children to recall basic details in the passage.
Dinosaur Coloring Pages
Color the dinosaurs and answer the questions. Great for young dinosaur lovers.