Printable Life Science Worksheets, Tests, and Activities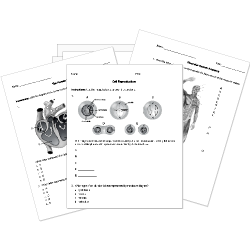 Discover the natural world with this collection of life science worksheets on botany, ecosystems, and the human body.
Worksheets labeled with are accessible to Pro subscribers only. Become a Subscriber to access hundreds of premium worksheets.
Don't see a worksheet you need? Use our Test Maker™ to create your own printable that fits your needs. Browse life science questions or use our advanced search to find existing questions while filtering by grade levels and keywords. Customize your test further by creating your own assessment questions.
Worksheets noted with (NGSS) support Next Generation Science Standards. Select the worksheet link to view the alignment note. Search for NGSS questions to see all content available.
Related Lessons: Amphibian Vocabulary Words and The Little Flower - A Science Story
Elementary Life Science Worksheets and Activities
Grades K-2
Introduction to Life Science

Plants

Animals

Human Biology

Ecology
Grades 3-5
Cells

Plants and Animals

Human Biology

Ecology
Middle School Life Science Tests and Worksheets
Anatomy and Physiology
Reading Passages
Botany, Ecology, and Zoology
© Copyright Notice: All worksheets contain copyrighted work and are designed for use by individual teachers, tutors, and parents. Worksheets and/or questions may not be replicated or redistributed in any way outside HelpTeaching.com, regardless of intended usage, without explicit permission.