Printable Physics Worksheets, Tests, and Activities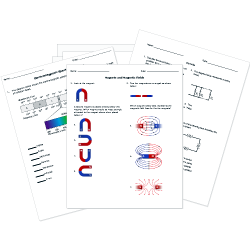 Try physics tests on motion, energy, and forces. Take a quiz to test knowledge of electrical circuits using schematic symbols.
Worksheets labeled with are accessible to Pro subscribers only. Become a Subscriber to access hundreds of premium worksheets.
Don't see a worksheet you need? Use our Test Maker™ to create your own printable that fits your needs. Browse physics questions or use our advanced search to find existing questions while filtering by grade levels and keywords. Customize your test further by creating your own assessment questions.
Related: Online Self-Paced Physics Lessons
Middle School Physics
High School and AP Physics
Electricity and Magnetism
Energy and Momentum
Forces and Motion
Light and Optics
Other Physics
Matter and Properties of Matter
Mechanics
Waves and Sound
© Copyright Notice: All worksheets contain copyrighted work and are designed for use by individual teachers, tutors, and parents. Worksheets and/or questions may not be replicated or redistributed in any way outside HelpTeaching.com, regardless of intended usage, without explicit permission.