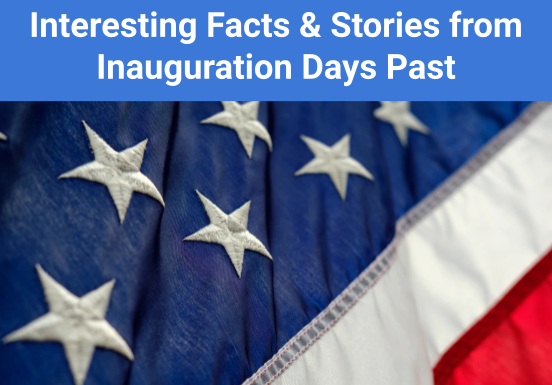 On Wednesday, January 20, 2021, at noon, President-elect Joe Biden will be inaugurated as the next president of the United States.  Learn all about Inauguration Days from the past here!
Biden will be sworn into office as the 46th commander-in-chief.  Inauguration Day is typically a day of pomp and circumstance, carefully planned out to reflect tradition and the orderly transfer of power.  (This year's activities will be limited due to the COVID-19 pandemic — see below).  However, through the years there have been some moments that stand out as atypical of the normal routine.  Here are some interesting facts and history from Inauguration Days past.
A Change in Date
For well over a century, the new president was sworn in on March 4. This extended lame-duck session led to numerous problems for incoming presidents, so the date of inauguration was established as January 20 by the passage of the 20th amendment to the U.S. Constitution.
A Change in Location
The first president who took the oath of office in the nation's current capital of Washington D.C. was Thomas Jefferson in 1801. Previously, George Washington took his first oath in New York. His second oath, along with John Adams' one and only, were administered in Philadelphia.
The Oath of Office
There have been numerous occasions when the oath of office had to be re-administered. The most recent and infamous example was in 2009. On that day, the oath was incorrectly read by Chief Justice John Roberts and repeated by President Barack Obama. Because the oath was not read and repeated exactly as stated in the Constitution, Obama and Roberts had a do-over "out of an abundance of caution". The oath has been repeated six other times in history due to a variety of issues. Four presidents – Rutherford  Hayes, Woodrow Wilson, Dwight Eisenhower, and Ronald Reagan – restated their oaths publicly because Inauguration Day took place on a Sunday, meaning only private ceremonies were held. Chester Arthur and Calvin Coolidge both took the oath privately following the sudden death of the sitting president, as did Lyndon Johnson in 1963 after the assassination of John F. Kennedy.  Lyndon Johnson's swearing-in is the only time a president has taken the oath while flying in an airplane.
The Inaugural Speech
The first inaugural speech was also the shortest (just 135 words). The longest speech is surrounded in intrigue as many believe it led to a tragic event. William Henry Harrison's almost two hour, 8,500-word speech took place on a cold, wet day. In 1841, President William Henry Harrison chose to forgo a coat and hat, and rode on horseback instead of in a covered carriage.  Many have attributed Harrison's death from pneumonia just thirty days later to these poor choices, but modern historians dispute this theory. They instead point to poor handling of sewage in the area around the White House water supply that would have had devastating effects on Harrison's gastrointestinal system.
Tragic results of Inauguration Day
There is, however, one death that is properly attributed to poor Inauguration Day weather. That sad designation belongs to Abigail Fillmore, wife of President Millard Fillmore, who, in 1853, remained at her husband's side throughout his successor's (Franklin Pierce) inauguration despite brutal wintry conditions. She developed pneumonia and died shortly after.
Coverage of the Inauguration
In 1845, James Polk's inaugural was the first covered by telegraph. The first inauguration to be photographed was in 1857 when James Buchanan took the oath. William McKinley was the first president to have his inauguration filmed by a motion picture camera, and Harry Truman was the first to be televised. Bill Clinton's second inauguration was the first to be live-streamed on the Internet.
Inaugural Balls
Every four years, much is made of the parties and inaugural balls. Fashion experts critique the outfits, gossip columnists cover the attendees, and pundits analyze the cost.  The first inaugural ball celebrated the beginning of James Madison's presidency in 1809.  Tickets were just $4.  In the 21st century, admission for two to the inaugural balls can cost upwards of $10,000!
The 2021 Inauguration's Special Circumstances
Inauguration Day has a long list of traditional and customary practices that presidents and their staffs have followed for years.  But nothing about the 2020 campaign and election season has been traditional.  The COVID-19 pandemic will affect how this inauguration will be handled.  Although a public ceremony is scheduled for January 20 at the U.S. Capitol, festivities will be limited to prevent the spread of the virus.  The live audience will be limited to members of Congress.  Public health measures such as mandatory face coverings, testing, temperature checks, and social distancing will be used for the ceremony.
Inaugural organizers are inviting communities around the United States to light buildings and ring church bells at 5:30 p.m. ET on the eve of the inauguration in a moment of "unity and remembrance" for those lost to the pandemic. A lighting ceremony at the Lincoln Memorial Reflecting Pool will be held simultaneously. Most traditional inaugural festivities will be conducted virtually. The parade, should it take place, will be historically limited, and other functions such as inaugural balls may not be held. The Biden Inaugural Committee has urged people not to physically gather in Washington for ceremonies.
You can sign up to receive details of the inauguration from the official Presidential Inauguration Committee 2021 website.
Resources for Teaching about Presidential Inaugurations
Free education resources
Video Resources
C-SPAN has also compiled videos of inaugural speeches. Here are some of the more notable ones:
Activities and worksheets
Try HelpTeaching out today for free.
No credit card required.