Currently Browsing
How To

Teacher Appreciation Week, which is held during the first full week in May, is a week designed to honor teachers. It is also a convenient time to take a moment to thank teachers for the hard work that they do. While a simple thank you will go a long way, accompanying it with a gift doesn't hurt. This year, think beyond the apples and homemade cookies and replace it with one of these ideas.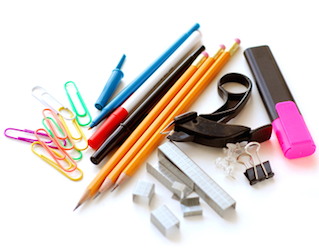 1. Classroom Supplies
Teachers spend a lot of their own money on classroom supplies. Even though the school year is almost over, you can help get through to the last day of school and start to stock them up for next year by giving a classroom supply basket. Pencils, crayons, glue, and markers are items teachers can always use more of, but you don't have to stick with the obvious. Encourage your favorite teacher to make a special wish list earlier in the year and purchase something off of the list wish list as a Teacher Appreciation Week gift. If you know there's something bigger the teacher wants, such as a set of books for the classroom or a large rug for circle time, get together with a group of parents to purchase it.
2. Books
Even though the school has its own library, many teachers also keep a classroom library stocked with books for students to read. These books are often purchased by the individual teacher and the expense can add up. Instead of giving the teacher a card, consider giving a book instead. Let your child help you pick the book since she will know what types of books the kids in the class like to read. For preschool, kindergarten, and first grade, popular picture books are always a good choice. However, you don't have to get a picture book or even a piece of fiction. You can also pick up a non-fiction text about one of your child's favorite topics. If you want to make the book a little more memorable, include your child's name or a short note inside the cover of the book so the teacher will always remember who it came from.
3. Educational Subscriptions
Having a lot of resources on hand can make a teacher's job much easier. Educational subscription services help provide teachers with those resources. Magazines, such as Highlights, Time for Kids or one of Scholastic's range of magazine options are a good choice. Don't forget about digital subscriptions either. Resources such as BrainPop can help a teacher save time by providing interactive lessons.
4. Gift Cards
Gift cards also help offset the amount of money teachers spend in the classroom. Consider a gift card to a teacher supply store, Dollar Tree, or even Amazon to help teachers get supplies they need. Bookstore gift cards can help teachers build up their classroom libraries. If you know a teacher who regularly uses apps in the classroom and like to try out new technology, iTunes or Google Play gift cards are another option to help them build up their library of resources.
Of course, the gift you give doesn't have to help the teacher in the classroom. You may want to give a gift card for a local coffee shop or movie theater. You can also help them relax with a gift card to a local spa. Fast food gift cards are handy for teachers who spend a lot of time at school and need to pick up dinner on the way home.
5. Handwritten Notes
If you don't want to spend a lot money, there is one handmade gift that is always accepted by teachers. A simple handwritten note thanking a teacher for their hard work and explaining the impact they have had can go a long way. Teachers don't always have a place to store all of the mugs and trinkets they receive, nor do they want a lot of homemade treats, but most have a special place to keep the notes from their students. Nothing makes a teacher feel better than to know they're making a difference.
If you need some inspiration for a note, consider using one of our teacher thank you note templates:
Teacher Thank You Note Template Grades K-3
Teacher Thank You Note Template Grades 4-8
Are you a teacher? What types of gifts do you appreciate most during Teacher Appreciation Week?

Since 1970, Earth Day has been raising public awareness of environmental issues. Today, our waterways are less polluted and our air is cleaner, yet there is still much work to be done before we can consider ourselves a sustainable society. This year, engage your students or children with one of these eco-friendly activities on Earth Day or the weeks leading up to it.
Activities for Children – Kindergarten to Grade 6
Plant a Tree
It may seem cliché, but planting a tree is a simple act that helps the environment and gets children outdoors enjoying the natural world on Earth Day. Coordinate with your school a place on the grounds where your class can plant a tree or check with your local conservation board for a public location. Apply for free trees through organizations like Trees for Schools (UK and Ireland only) and Trees for Wildlife or by having students write to local nurseries.
Raise a School Garden
April is National Garden Month, making Earth Day the perfect time to plant a school garden. Gardens are an excellent way to get kids moving, encourage healthy eating, and incorporate project-based learning into your curriculum. A school garden takes time and commitment, but in planning and raising a garden, you will sow seeds that will help your students reap a lifetime of rewards! Get started with these school gardening tips.
Don't Put Out the Trash
During the week leading up to Earth Day, arrange with the custodian not to remove the trash and recycling from your classroom. On Earth Day, have your students weigh the trash and recycling they generated (weigh trash separately from recycling). Over the next week, challenge your students to toss and use less, plus recycle more. After a week, have students weigh the trash and recycling again and calculate the decrease (hopefully!) in trash weight and increase in recycling weight. Extend the lessen for older students and have them calculate percent increase and decrease as well. Get started by assigning the lessons Reduce, Reuse, Recycle and The Trash Patrol, then read our America Recycles Activity Guide for more ideas.
Walk to School
It is good for the environment and our children's health. More and more schools are planning annual walk or bike to school days. Why not plan one for April 22 or use Earth Day to have your students start planning for National Walk to School Day in May? Visit the Walk & Bike to School website for more information on getting started.
Declare April 22 Waste-Free Lunch Day
With the help of your class and the EPA's Pack A Waste-Free Lunch site, make Earth Day a school-wide commitment to reducing the mounds of garbage generated during a typical school lunch. Have your class coordinate with administrators and cafeteria workers and help spread the word to students and parents about what can be done to minimize lunch waste.
Get your students excited for Earth Day by engaging them with these interactive lessons on Climate Literacy and Environmentalism by PBS Learning Media and with Help Teaching's self-paced science lessons.
Activities for Teens – Grades 7 to 12
Participate in a Citizen Science Project
Engage your children or students in authentic science by participating in an eco-themed crowd science collaboration. There are numerous projects running that allow students to participate with adult supervision, including the environmentally oriented: Forgotten Island, YardMap, The Lost Ladybug Project, and Globe at Night.
Take a Field Trip
What student doesn't love a field trip? Plan an inexpensive day out by arranging tours of your local landfill, recycling center, wastewater treatment facility, and/or power plant (even better – visit a plant that uses renewable energy and one that uses a nonrenewable source). Yes, it will be dirty, hot, and smelly, but what better way for students to develop an understanding of where energy comes from and trash goes than to see it for themselves?
Host an Environmental Career Fair
Enlist your students in finding local professionals working in environmental careers to visit the school on Earth Day. Arrange for a career fair that allows students to hear about green jobs and discuss job duties with the professionals. Have students prepare questions ahead of time and write thank-you notes after.
Conduct a School Energy Audit
Challenge students to work in small groups to perform an energy audit of their school. Each group can audit energy use for a given building space like the classroom, cafeteria, gymnasium, or auditorium. Groups can share their results and compare their findings, then use the data to prepare an energy action plan to present to school administration. National Wildlife Federation and Green Education Foundation both offer resources for energy audit projects for students.
Build a Rube Goldberg Machine
Ask your students to bring in a variety of cleaned items from their home recycling containers during the week leading up to Earth Day. On April 22, divide your students into teams and task them with designing and building a machine that completes a simple eco-friendly task such as turning off the lights or watering a plant. Provide basic materials, like string and wine, to aid in construction. Be sure and have your students demonstrate their machines for an audience and see if their projects can be displayed in the school lobby or library.
Launch a Project-Based Learning Unit
Spring has sprung and students are anxious to get outside, making Earth Day is the perfect time to embark on an environmentally focused project-based learning (PBL) initiative. BIE.org offers extensive PBL resources for teachers and students – start by using their search tool for project ideas.
Be sure to visit Help Teaching's Earth Science Printables and Lessons for free environmental science resources to use on Earth Day and year round!

Sometimes engaging toddlers and preschoolers might seem as complicated as herding cats. Not only do they have tons of energy, but they're also very opinionated. How do you engage a child whose favorite word is "no" and favorite question is "why?" Believe it or not, it can be done. The key is to use their energy and opinionated nature to your advantage. Whether you're working with one child or a group of children, we've discovered some ways to help harness the energy of young learners and maximize their ability to learn.
1. Keep it short
The average attention span for a two-year-old is 3-6 minutes. For three and four-year-olds, it's around 8-10 minutes. Because young children can't focus for very long, it's important to make the most of the time you have. As a general rule, plan to switch activities every 10-15 minutes. If you need to complete a longer activity, break it up into smaller steps and take breaks in between the steps to keep children focused. Keep in mind that children's attention spans vary from activity to activity too. For some activities, a few minutes may be all they can handle, while others will hold their attention for half an hour. Be flexible in your planning to allow for changing attention spans.
One way to keep young children's attention is to show them a short video. Most of Help Teaching's videos for young learners, such as this Namimg Shapes video, are 1-3 minutes in length to make it easy for kids to focus.
2. Make it hands-on
Young children love to get their hands on everything. Touch is one of the ways they experience the world. They're also still developing their motor skills and using their hands can help them build key skills. When working with young children, given them plenty of opportunities to complete hands-on activities, be it molding shapes out of clay, feeling plastic letters, or even moving a clothespin to the correct answer on a clip card.
3. Get moving
The parts of the body are all connected. As children spin in circles, jump up and down, and move their bodies in other ways, they're making important connections in their brain. Sometimes children need to move their bodies to help them process information. By incorporating movement into learning activities, you help children focus and experience the lesson on multiple levels.
4. Repeat it
Have you ever noticed that young children love to watch the same shows and sing the same songs over and over again? While this may drive you nuts, it's actually an important part of their development. Not only does repeating information help children learn, it helps them build confidence in their knowledge and feel like they have mastered something. Repeat patterns, sound, expressions, and bits of information to help children gain the confidence they need to learn new things.
5. Involve rhythm
Adding rhythm to an activity is another way to help young children take in information on multiple levels and make crucial connections in their brain. After all, the ability to connect rhythm to sound and movement is a cognitive skill. Just patting your hands in a rhythm while you recite the alphabet or explain an important concept can be enough to help children remember it.
6. Offer guidance
Young children are just beginning to gain confidence. As an adult, you want them to learn and explore on their own, but many children need to know that you're there to help them. You can offer guidance by asking leading questions, giving them subtle hints, or starting the activity with them and then letting them finish it on their own.
For example, in this How Many, video, children are shown how to count, and then given the opportunity to try on their own.
7. Include their interests
Sometimes young children are so focused on on television show or one type of animal that it's hard to get them interested in anything else. When it comes to getting children involved in other activities, use what they love to your advantage. Count dinosaurs, practice colors with princess dresses, or role play a popular fairy tale using their favorite stuffed animals. Think of creative ways to bring children's interests into activities to help get them interested in something new.
For example, if you want to teach children new words, try themed vocabulary lists, such as these construction words and princess words videos.
8. Give them a task to do
Children love to feel important. Giving children a task to do helps them feel like they have an important role to play and encourages them to take ownership of their learning. You can do this by turning an activity into a game, giving kids a puzzle to solve, or creating a process that children have to work through.
For example, turn a question into a riddle for kids solve or make a bingo board with activities for them to complete.
9. Offer a choice
Another thing children love is choices. Even the most headstrong children are often likely to comply when given choices. Design learning activities so that children can make choices. The choices may be as simple as what color of crayon to use or you may offer a choice of completely different activities that all cover the same skill.
10. Tell a story
Sometimes children have a difficult time remembering individual facts or bits of information. However, if you put that information into a story, children will often hear the message loud and clear. You can tell stories about specific bits of information, such as the letters of the alphabet or the names of shapes, or you can tell a story to illustrate character-centered skills, such as saying please or learning the difference between tattling and telling. Plenty of authors have written books designed to do just this, but you can also make up a story of your own or print out a simple mini book to help get the message across.
11. Use color
Color makes learning exciting. Fill learning activities with brightly colored pictures, words and objects. Give children coloring pages related to basic concepts, letters, or numbers, and allow them to fill them with colors of their own.
12. Follow a routine
Young children thrive on routine. Every day, they're taking in new information and learning all about the world around them. With all of this new information coming in, it can cause them to feel like they're losing control. Routines help children feel like they have some control. They know what to expect so they're more willing to focus on new information when it comes in.
13. Offer positive reinforcement
Some toddlers and preschoolers may seem like they have big egos, but in reality, most young children are slowly building confidence in themselves and their abilities. By offering positive reinforcement, you help young children build confidence in themselves and their abilities. This makes them more willing to learn new things. Positive reinforcement is not the same as praising children for everything they do. Instead, it involves specific positive phrases, such as "You can do it" or "I like the way you cut out the circle with the scissors."
14. Be enthusiastic
Have you ever noticed how young children tend to feed of the enthusiasm of others? If you're excited about something, toddlers and preschoolers will be too. So even if you're not all that excited about counting to 10 or singing the alphabet song, paste a smile on your face and pretend like it's your favorite thing in the world. The more enthusiastic you are, the more likely children will buy in to what you're selling.
15. Let them rest
Growing is hard work. While it's tempting to pack children's days full of highly engaging activities, they also need time to rest. The average toddler needs 12-14 hours of sleep for day and the average preschooler needs 10-12 hours of sleep a day. While you might not be successful at putting them down for a nap in the middle of the day, you can enjoy some quiet rest time throughout the day. Play some soft music or listen to a story. This will allow children to recharge and be ready to learn even more when rest time is over.
What are some of your favorite strategies for engaging love learners? Share them with us in the comments. Also don't forget to check out Help Teacher's Early Education page full of printables, coloring pages, and other resources to use with toddlers and preschoolers.

Most students are required to take advanced math courses at the secondary level, but those courses often fail to teach the basics of personal finance. With credit card use and student loan debt at an all-time high, it's important that students are aware of how to manage their money.
Budgeting
Help teens create their own budget and hold them accountable for the purchases they make.
Being able to budget is an essential skill. Whether you are managing time, responsibilities, or money, exceeding your available resources will lead to difficulties rather quickly. Help Teaching's Budgeting Activity leads students on a brief tour of Peter's life as he tries to reign in his spending in the face of increasing expenses. This worksheet can be used to teach simple finance, the more advanced concept of scarcity, or as a metaphor for key life skills.
Along with the budgeting worksheet, help teens create their own budgets and hold them accountable for the purchases they make. They may not have to provide for their basic needs, but they can budget for music, apps, clothes, fast food, and other entertainment expenses.
Apps such as SmartyPig or iAllowance may also be useful tools when it comes to helping kids learn to budget and handle their money more effectively.
Credit Cards
Teens are being targeted by credit card companies much more frequently than in the past. Being able to understand the impact credit debt can have and the proper way to take advantage of credit are essential skills for any young adult.
It's important that students understand how to build a good credit history. Use the Narrative Procedure organizer to list and explain the 3 C's of credit. Use the Cause and Effect chart to display how bad credit decisions can have effect on your life years afterwards.
One engaging way to teach the different uses of credit cards is to compare and contrast different credit cards with a Venn Diagram. Have your students choose one cash back credit card and a card that accumulates miles for travel to see that cards can be beneficial if used properly.
Thirteen.org's It Costs What?! game and iGrad's Credit Card Simulator are great ways to run students through credit card simulators where they must choose the best credit card and learn about using credit cards responsibly at the same time. While Frontline's series of episodes, The Card Game, introduces students to the credit card industry and make the dangers of credit cards clear.
Long Term, High Principal Borrowing
Everyone will need to borrow money at some point in their life, some as early as 17 when they are responsible for student loans to secure tuition for college. Understanding interest rates, payment schedules, terms, and balloon payments are very important to making prompt and reliable payments and not owing more than you can afford. Many websites offer loan calculators to see how much that loan will really cost you.
SaveAndInvest.org offers its own selection of videos and worksheets designed to help teens understand borrowing and the cost of debt.
Investment Options
There are so many ways to grow your money, but many students are unaware of their options. Kids receive saving bonds or use a passbook saving account when they are young, but as they become adults those are not the only viable investment options. Help Teaching has an activity that will start them on the road to identifying investment options that will lead into a deeper research project.
Students can head to TheMint.org, too, to help them learn more about how to start building financial security today. This includes making investments and learning how to manage their money so it can work for them in the future.
Retirement
Students are rarely aware of the tenuous nature of Social Security. They know even less about pensions, IRAs, and 401(k)s. Beginning to save for retirement immediately upon finding a job is extremely important, but that urgency is unknown to teens. A simple but effective KWL chart can be a good introduction to retirement savings. Filling in the gaps of their knowledge can save them a lot of trouble forty years in the future.
Of course, it's never too early for students to start saving for retirement either. Dave Ramsey's article on How Teens Can Become Millionaires may help motivate students to seriously start thinking about how money connects to their future.
For more great suggestions on personal finance and other essential skills students need, check out 9 Life Skills Every Teens Needs. So many of us come out of high school barely able to write a check. Going through these concepts in personal finance can put a young adult on a much less tenuous road to financial stability.

Whether it's reading poems written by some of the greatest poets of all time or writing poems of their own, students spend a fair amount of time studying poetry in the ELA classroom. While the figurative language and eloquent verses found in poems may seem best-suited for ELA, their relevance extends across the curriculum. From science and math to social studies and foreign language courses, poetry can become an integral part of student learning outside of the ELA classroom.
Reading Poetry
Believe it or not, not all poetry centers around love and deep philosophical concepts. A lot of poetry has been written to explain the world around us, including mathematical and scientific concepts. Consider these lines by a famous poet:
This is now–this was erst,
Proposition the first–and Problem the first.
On a given finite Line
Which must no way incline;
To describe an equi–
–lateral Tri–
–A, N, G, L, E.
– From "A Mathematical Problem" by Samuel Taylor Coleridge
Throughout history, well-known poets have shared their thoughts about the world. Poetry has also been used to chronicle and commemorate many historic events. For example, many students can recite lines from "Paul Revere's Ride" by Henry Wadsworth Longfellow when asked to recall that infamous night during the American Revolution. Other references are more subtle. For example, these lines from the poem "O Captain! My Captain" by Walt Whitman were written about the death of Abraham Lincoln:
O Captain! my Captain! our fearful trip is done,
The ship has weather'd every rack, the prize we sought is won,
The port is near, the bells I hear, the people all exulting,
While follow eyes the steady keel, the vessel grim and daring;
But O heart! heart! heart!
O the bleeding drops of red,
Where on the deck the Captain lies,
Fallen cold and dead.
To find poetry to fit a specific time in history or concept in math or science, simply perform a quick internet search for poems in your subject area and you'll come up with numerous examples. You may also check out books of poetry created to help students learn about science, math, and social studies.
Some of our favorite resources include:
Math
Science
Social Studies
Writing Poetry
Writing poetry can be a way to assess students' understanding of particular concepts, It also helps teachers  incorporate creative thinking skills into the math, science, and social studies classrooms. Students may write poems about particular concepts, people, or events related to the subject area.
Three forms of poetry that work particularly well outside of the ELA classroom are:
Found poetry
Concrete poetry
List poetry
Found Poetry
Found Poetry involves taking lines from other sources and turning them into poetry. For example, students may turn words from the Declaration of Independence into a poem:
Life
Liberty
The Pursuit of Happiness
Truth.
All men are created equal
Truth.
Evils are sufferable.
Dissolve them.
Abolish them.
United.
Or students may take information from an article about space exploration and turn them into a poem:
What's next?
Stepped on the moon.
Sent rover to Mars.
What's next?
Retrieved pictures from Hubble Space Telescope.
Spent a year on the International Space Station.
What's next?
We have laid the foundation for success.
Going farther into the solar system than ever before.
What's next?
Concrete Poetry
Concrete poetry, also known as shape poetry, involves taking a poem and placing it into the shape of an object. Students may create poems to represent mathematical equations, specific shapes, or different areas of science. For example, a poem about photosynthesis may be written in the shape of the sun. The shape of the poem helps add additional meaning and ensure the content sticks in a student's memory.
Consider this poem about a triangle:
3
sides
three angles
sometimes equilateral
sometimes isosceles or right
List Poetry
List poetry is simply poetry created out of a list. The list doesn't just list items randomly. Instead, it's a carefully thought out poem, often containing repetition, to cover a topic. A student may write a list poem about a particular concept, a person, or even an event in science or history.
For example, the following list poem might have been written during a unit on the Civil Rights Movement:
Martyrs for the Cause
George Lee
Emmett Till
Medgar Evers
Addie Mae Collins
Denise McNair
Carole Robertson
Cynthia Wesley
Jimmie Lee Jackson
Dr. Martin Luther King Jr.
Paying Attention to the Words
Poetry is about more than rhyming a few words on the page. As you read poetry with students or have students write poems of their own, encourage them to pay attention to the words on the page. The figurative language, diction (word choice), and even the placement of the words on the page can help add deeper meaning to poems and encourage students to think critically and creatively about the content being taught.