Currently Browsing
How To

Did you know it's possible to have fun and learn at the same time? While it's great for kids to play with toys, their young minds are at the prime stage for taking in information and learning new skills. The solution? Toys that allow kids to learn while they play. This year when you shop for holiday and birthday gifts, opt for something with educational value. Need help finding ideas? We've rounded up some of the top educational gifts for kids of all ages.
Babies
Even though babies won't remember whether you bought them a gift for Christmas or their birthday, sometimes you still want to get them something. Instead of adding another stuffed animal to their collection, try one of these options.
Baby's First Blocks: Nothing beats a classic shape sorting toy for babies and toddlers. Baby's First Blocks from Fisher-Price features a handy tub to collect the shapes and a handle for carrying it. Babies and toddlers will learn to grab, manipulate, and match the shapes.
Skip Hop Activity Mirror: Mirrors are great toys for babies. They allow them to explore the world around them and also begin to recognize their own face. This mirror from Skip Hop is just one of many baby mirrors that can be attached to the seat of a car or the bar of a stroller for babies to enjoy.
Munchkin Mozart Magic Cube: Babies love music and this magic cube combines music with lessons in cause and effect and tempo to create a fun learning experience for babies. They can press different parts of the cube to add instruments to the orchestra and see lights flash w
ith the tempo of the music.
Go Car: This car comes with a handle to make it easy for babies to hold on to it and control the way it moves. It also glides smoothly on different surfaces, helping babies begin to learn about the concept of movement.
What's Inside Toy Box?: With the What's Inside Toy Box, babies begin to learn that objects have names and also build motor skills as they reach in and pull out objects or put objects back in. Additionally, this toy can help teach object permanence.
All About Me Personalized Photo Book: Babies can learn the names and faces of loved ones, pets, and other special people or places in their lives with this photo book. Parents can insert photographs in protected compartments so babies can flip through and look at them.
Toddlers

Start Up Circuits: Toddlers who enjoy playing with switches will enjoy these toys that help them begin to understand how circuits work. Simply flip the switch to make each object work.
Wooden Building Blocks: Blocks are a favorite for toddlers because they help them build motor skills and begin to understand geometrical concepts. This set from Pidoko Kids features 50 colorful blocks in different shapes and comes with a container for carrying them all.
Personalized Name Puzzle: One of the first things a toddler learns how to spell is his/her name. Help develop that skill and help your toddler start learning how to complete puzzles with a personalized name puzzle.
Color Discovery Boxes: Color Discovery Boxes help toddlers learn their colors and begin to categorize objects. Each box contains multiple objects to represent the color. Mix the objects up and have toddlers sort them and put them back where they belong.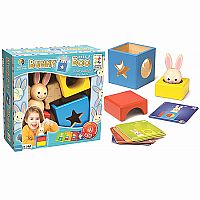 Bunny Peek a Boo: This fun game helps toddlers learn about prepositions and object placement. They must look at the cards and try to create the scene with the bunny and various blocks. Parents are encouraged to give clues and talk about where the bunny is. For example, "The bunny is behind the box."
Learn the Alphabet Dough Mats: You can print out and laminate your own dough mats or you can buy these handy mats which feature uppercase and lowercase letters. These help kids learn letters and build fine motor skills.
Size and Sequence Farm Puzzles: Size and Sequence Farm Puzzles have toddlers put the puzzle pieces in order by size. This set of puzzles helps them learn how to organize objects from smallest to largest.
Dress Up Career Set: Toddlers can learn a lot from dressing up, especially when they dress up to represent different careers. With this set, your toddler can pretend to be someone else nearly every day of the week.
Seek A Boo: Seek A Boo is a fun game designed to get toddlers and preschoolers moving and help them learn how to categorize objects. Basically, it works like a game of "I Spy" where kids must find a circle that meets a particular description. Adults and kids can take turns coming up with questions.
Preschoolers

Think & Learn Code-a-pillar: Kids are never too young to learn some of the basic principles of coding and the Code-a-pillar helps them do just that. Kids can build the Code-a-pillar to make it move in different ways, helping them learn how to code at an early age.
Balancing Stacker: Preschoolers can learn about patterns and balance with the Balancing Stacker. This toy comes with different cards for kids to follow as they place the rings on the board. It also builds fine motor skills and color recognition skills as they must manipulate the rings and place them carefully on board based on the colors on the cards.
Bear Counters: Bear Counters and counting cubes can be used by preschoolers in a variety of ways. Not only are they good for counting practice, but they can also be used for creating patterns and measuring.
Think & Learn Measure With Me! Froggy: The Measure With Me! Froggy encourages kids to measure things around the house. It helps kids learn the concepts of long and short and also has fun songs to help kids learn to count by 5s and 10s.
Fun Express Happy Kids Hand Puppets: This adorable set of hand puppets features kids from different ethnic backgrounds. It's great to include with a puppet theater and to use to act out social stories to help get preschoolers thinking about their actions and emotions.
Toss Across: If you're looking for a fun game to get kids moving, try Toss Across, a game that helps kids practice their throwing skills and learn about patterns while playing a game of tic tac toe.
Periodic Table Blocks: Make block play a little more educational by having kids learn the elements of the periodic table at the same time. These square blocks are great for building and also feature the names, symbols, and atomic numbers of various elements.
Rainbow Mosaic Pattern Puzzle: Kids can build fine motor skills and create patterns when they play with the Rainbow Mosaic Pattern Puzzle, an activity that features connecting tiles that kids snap together to create a mosaic on the floor.
Early Elementary

Teaching Talking Cash Register: This cash register is a favorite of kids because it offers many functions. Kids can play store or open a real store and the cash register will help them add up totals and calculate change. It also features a fun scanner.
Melissa and Doug Magnetic Human Body: Kids can learn the different parts of the human body by taking them on and off the wooden form. It's a great, non-gory way for kids to begin to explore what makes up the body.
Snap Circuits: This kit helps kids learn about the basics of electricity and other STEM principles as they put together circuits.
Magformers: Magformers feature fun tiles that connect to one another. Kids can use them to build unique structures.
Magnetic Science: Magnetic Science contains 38 pieces to help kids explore magnets and their various uses.
Geosafari Talking Microscope: With this talking microscope, kids can learn about the world around them and the samples they are viewing. They can also learn how to properly use a microscope.
Precision School Balance: With a balance, kids can practice weighing items and comparing different weights. For example, is a carrot heavier than four quarters? 
Dive into Shapes: Using a series of rods and balls, kids can build their understanding of geometry as they try to recreate the shapes on the cards.
Tumble Trax: Tumble Trax is a magnetic marble run. Kids can arrange the pieces in a variety of ways to create crazy and challenging marble runs of their own.
Sum Swamp: Sum Swamp is a fun game that helps kids build their addition and subtraction skills.
Electric Plane Launcher: With the help of a grown-up, kids can put together the electric plane launcher, and then make a variety of paper planes and see how far they fly.
Beaker Creatures: Learning Resources has created a fun science toy where kids can conduct experiments to reveal hidden creatures. Kids simply pop a reactor pod into the chamber, complete the steps, and discover a surprise. They learn about the scientific method and following directions at the same time.
Upper Elementary

Rush Hour Logic Game: The Rush Hour Logic Game has become a classic game for helping kids build logic and problem-solving skills as they maneuver the cars in the parking lot.
Women of NASA Lego Set: Celebrate the women of NASA with this fun Lego set which features mini figures and building kits. It's great for girls and boys.
Adopt an Animal: Start teaching your child about giving back and becoming more aware of the world by adopting an animal. The kit comes with a certificate and a stuffed animal.
Kiwi Crate offers maker kits for kids up to age 16. Try Doodle or Tinker Crate for ages 9-16 and Kiwi for ages 5-8. Sign up for a monthly subscription box. Each box comes with fun STEM and STEAM activities for kids.
Tin Can Robot: Take an ordinary tin can and turn it into something cool with the Tin Can Robot kit. Using this kit, kids can build their own robot.
Star Wars Death Star Electronic Lab: Star Wars fans will love the challenge of the Death star Electronic Lab which has them connect circuits to help bring the Death Star to life.
Super Slime Factory: Slime is all the rage these days and the Super Slime Factory gives kids the chance to make their own slime while learning a bit about the science that goes into the process.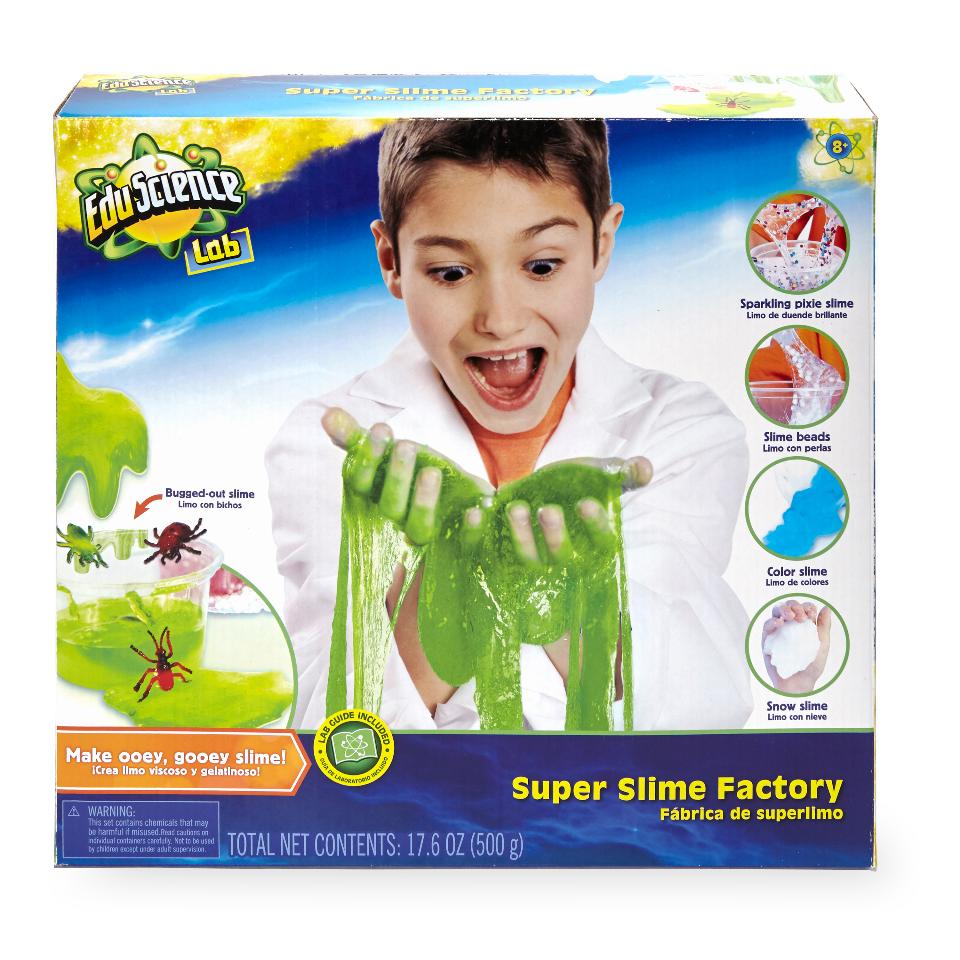 Qwirkle: Qwirkle is a fun game with a dominoes-like feel. Kids must match the shapes and colors, but they also have to use a bit of strategy to win the game.
Keva Contraptions: With Keva, kids can learn about engineering and geometry. This set allows kids to build unique contraptions and also comes with two balls. Perhaps kids will use them to make an epic marble run.
Create a Maze: With the Create-a-Maze set, kids are tasked with re-creating the maze on a card and then trying to get a ball through the maze.
Klutz LEGO Chain Reactions Craft Kit: This book and LEGO set helps kids learn how to build simple machines and put them to use, introducing them to the laws of physics at the same time.
For preschoolers through upper elementary school students, you can also put together a craft kit, full of supplies, such as googly eyes, stickers, craft sticks, and glitter glue, to make a variety of crafts and to encourage kids to use their imaginations.
Pre-Teens

Kano Computer: Pre-teens who enjoy coding and working with electronics, but are not quite ready to work on a full-fledged computer will appreciate Kano Computer, which allows them to build their own mini computer.
Perfume Maker: A lot of science goes into the creation of perfume. This set allows pre-teens to make their own scents while learning at the same time.
Spa Soaps Kit: Let pre-teens make their own spa soaps, and then use them to host a spa party for their friends. Better yet, they can package their soaps and give them as gifts to others.
Boxed Book Sets : If you know a pre-teen loves to read or has a favorite series, consider purchasing a boxed set. The Giver trilogy by Lois Lowry is a great set to consider.
Eco-Friendly Bean Bag: Instead of a normal bean bag, opt for an eco-friendly bean bag. The gift will teach pre-teens about being more environmentally conscious.
Giant Inflatable Ball: Encourage pre-teens to get outside and be active by purchasing a giant inflatable ball. They can make up their own fun games to go with the ball too.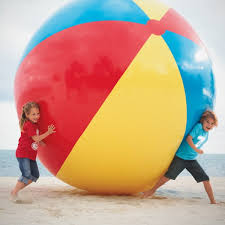 Build Your Own Pinball: Kids and teens can learn about engineering by building their own pinball game with this fun set.
Teens

Displates: Give teens a unique gift that teaches them to value creativity and different art forms. Displates come in different styles and relate to interests such as popular movies and TV shows or musical instruments.
Quadcopter: What's more fun than a drone? A drone with a camera. Teens can make their own videos and take pictures as they fly their drones.
Marvel Puzzle: Have a superhero fan? Give them a superhero puzzle so they can enjoy some of their favorite skills and they put their puzzlesolving skills to the test.
Codenames: Disney: Codenames is a fun word association game. Purchase the Disney version or another themed-version and play it with your teen.
Die Cast Spirograph: Spirograph may seem like a kids' toy, but this version of the classic drawing kit is super sleek. Teens may find creating their own spiral shapes relaxing.
Games: World of Puzzles: Purchase a subscription to a magazine such as Games: World of Puzzles. This fun magazine includes many different puzzles for teens and adults to solve.
Game of Phones: Teens are always on their phones. Get them to interact with one another with this fun game which has them use their phones to send messages and complete challenges.
My Cinema Lightbox: A lightbox is a fun way to get teens to write. They can come up with creative messages or even practice spelling vocabulary words.
In addition to the gifts listed above, consider purchasing apps and other digital gifts for teens or giving them a gift card to purchase music and apps for their phones or tablets.
Do you know of any must-have educational gifts for kids or teens? If so, we'd love to hear your ideas. Share them in the comments!
7 November //
Posted in How To //
When it comes to traveling with children, sometimes it feels like the parenting world is split in two: those who absolutely believe in traveling with their children and those who absolutely don't. If you find yourself in the latter group or somewhere in the middle, maybe it's time to reconsider your stance. As an experienced travel parent who has exposed her daughter to 32 countries, I can tell you firsthand that traveling with your children is one of the best decisions you will ever make.
Here are some benefits of traveling with children:
1. Cultural Understanding
Traveling with children teaches them to understand and accept people and things that are different. As they are exposed to cultural differences early in their life, they develop a sense of ease within these settings, and learn to understand and respect what other people and places look like and sound like, connecting with those different to them on a humanitarian level. This understanding of the other can then be applied to all people and places of the world. Suddenly their world looks very different, as they begin to understand these differences more than a child whose cultural understanding is limited to those humans that they come across at the corner park or local ice cream shop.
2. Global View
Traveling with children expands their worldview. Even if the travel is domestic travel, it still teaches the children that other places, people, and ways of life exist. Children who travel know that the world is bigger than library story-hour.
3. Bilingual Skills
Developing bilingual skills from travel is one of the greatest gifts you can give your children. This is the gift of a skill that can be monetized later on in the workplace, but also one that allows for interactions with and understandings of a different culture, which, along with cultural understanding and global viewpoint, fosters confidence, and an intimate membership into the 'other' community, leading to friendships, opportunities, and a sense of belonging which would otherwise be off limits.
4. Friendships
Traveling with children allows them the opportunity to make more friends in different places and of different backgrounds. And as a child, isn't the goal to have the most friends?
5. Opportunities
Traveling with children grants them more opportunities, because they are familiar with more places and people, have a wider network of contacts, and understand that more jobs exist. It develops different abilities that are applied to the workplace, and further illuminates dreams and possibilities.
6. Education
Traveling is the best education. Wherever you travel to, education is all around. From calculating mileage or converting currency or weighing luggage to nature walks and ocean discoveries, cultural immersion, weather patterns, utilizing social skills, communication skills, history, and geography, there are many educational travel activities kids can enjoy.
7. Personal Growth
Traveling puts you around different people and places, and stretches your comfort zone with the unfamiliar. This leads to personal growth in terms of independence, responsibility, and comfort with foreign surroundings.
8. Global Citizenship & Responsibility
When we see other parts of our state, country, or world, we begin to understand how other places operate, and their needs, challenges, and successes. We see what different places look like in terms of environments and cultures. As we explore and learn and see, we also connect, bond, and begin to develop and assume a sense of moral responsibility and obligation for challenges we see in the world, as collective humans. This changes our perspective on gratitude, materialism, and humanity, and encourages us to think and act for the collective whole, and make a difference in this world, sharing with those who have less, and helping those in need.
9. Compassion
Finally, the most important benefit of traveling with children is the ultimate lesson and value that it instills, which is cultivating compassion. The more we see, smell, feel, touch, and taste, the more we understand. And the more we understand, the more we respect. And the more we respect, the more we love. Traveling with children shows them that there are so many different ways to be, look, think, which in turn, if you are doing it right, instill ideals of eternal compassion, for our human race, and for our planet.
Crystal Blue Savante is a cultural anthropologist, international educator, and worldschooler who has traveled the globe with her children.
31 October //
Posted in How To //
Tags :
Geography Awareness Week, also known as GeoWeek, is celebrated every year during the third week of November.  The goal of the week is to get people excited about geography and help them learn more about the world around them. Every year, we present fun facts to help you get excited about Geography Awareness Week. This year our subject is very dry subject- deserts.
Imagine a desert. What do you see?
Most people probably envision a hot and barren landscape. Perhaps it is covered by flowing sand dunes. Covering over a quarter of the world's land surface, deserts come in many shapes and sizes. Here are ten fun facts designed to clear up some misconceptions about these dry landscapes and highlight some of the world's more extraordinary deserts.
1.) Not All Deserts are Hot
Not all deserts are hot, but they are all dry. An area's status as a desert is determined not by its temperature, but by the amount of precipitation it receives. A desert is an area that receives on average less then 250 mm (10 in) of precipitation per year. Because precipitation, not temperature, determines if an area is a desert, they can be found all across the globe from the equator to the poles and everywhere in between.
2.) Not All Deserts are Sandy
The classic image of desert has rolling sand dunes. Most deserts, however, do not actually have much sand.  It has been estimated that only about twenty percent of the world's deserts are sandy. Lacking much rain, wind is the primary driver in shaping a desert's landscape. In the majority of deserts, wind blows small particles, like sand, away leaving a landscape of large rocks or hard-packed soil.
3.) Largest Desert
With an area of 5,400,000 square miles, the world's largest desert is the continent of Antarctica. It might not seem like it, because it is covered with snow and ice, but Antarctica is actually one of the driest places on Earth. Not even on the coasts, its wettest areas, does Antarctica receive more than 200 mm of precipitation per year.
4.) Largest Non-polar Desert
Though smaller than the Antarctic and Arctic Deserts, the Sahara is still an immense desert.  Covering over 3,500,000 square miles, the Sahara stretches across North Africa from the Red Sea to the Atlantic Ocean. Parts of ten countries (Algeria, Chad, Egypt, Libya, Mali, Mauritania, Morocco, Niger, Sudan, Tunisia) make up the Sahara Desert.
5.) Driest and Highest Altitude Desert
The Atacama Desert, located along Chile's Pacific coast, does double duty as the driest and highest altitude non-polar desert. With an average of less than 15 mm of precipitation, the Atacama Desert is, with the exception of parts of Antarctica, the driest place on Earth. The Atacama also stretches into the Andes Mountains.  Mountains as high as 20,000 feet in the Atacama Desert do not have snowcaps.
6.) Largest Contiguous Sand Desert
Most of the world's deserts are not sandy, but if there is a desert that most closely resembles the stereotypical image of a desert, it would be the Rub' al Khali. A part of the Arabian Desert, the Rub al' Khali has an area of 250,000 square miles and is covered by red sand dunes that can reach over 800 feet tall.  Rub al' Khali, meaning the Empty Quarter in Arabic, earned its name because its harsh landscape has kept it largely uninhabited.
7.) Smallest Desert
Located in the Canadian Yukon territory, the Carcross Desert is often labeled as the world's smallest desert. Covering only a single square mile, Carcross is definitely small. The problem with Carcross, however, is that it is not actually a desert. No one would call Carcross, with an annual average of 20 in of rain, a wet place, but it does receive too much precipitation to be a real desert.
8.) Most Extreme Temperatures
From blazing hot to dangerously cold, deserts can be any temperature. The records for the highest and lowest temperatures were both set in deserts.
The world's hottest recorded temperature, 134 °F, was set in the United States' Mojave Desert's Death Valley. The record for the coldest temperature, −128.6 °F, was set at Vostok Station in Antarctica.
9.) Not All of the Continents Contain Their Own Desert
Every continent, except for one, contains at least one desert within its borders. Unlike the other continents, Europe does not have its own desert. Europe does have dry and sometimes sandy areas, but none that receive less then 250 mm of precipitation.  The Arctic Desert does include parts of Europe's more northern countries, such as Sweden, Norway, and Finland, but it also includes parts of Asia and North America.
10.) Deserts Change Over Time
The Atacama Desert may have been dry since the Triassic Period 200 million years ago, but most deserts change over time.  Now located in the American Great Plains, the Sandhills in Nebraska was once part of a desert that disappeared around 800 years ago. The Sahara Desert, on the other hand, used to be a wet and fertile place five thousand years ago. Ancient rock art found in the Sahara depicts a range of animals, such as giraffes and hippopotamuses, that you would not find in the current desert.  The Sahara is also still growing. In part due to a warming climate, the Sahara desert has increased in size by around 10 percent in the past hundred years.
Bonus Fact: Deserts are not Just Found on Earth
The planet Mars has a large sandy desert. Because of its red dunes and sandstone cliffs, the valley of Wadi Rum in the Arabian Desert is  frequently used as a stand in for Mars in many films.  Wadi Rum has also been the location of fictional deserts such as the moon of Jedha in Rogue One: A Star Wars Story.

Looking to invigorate your science curriculum and teaching this year? Help Teaching's team of teachers understands the time and commitment it takes to prepare meaningful science classes and lab activities, not to mention stay up-to-date with the latest scientific advances. Updated for the 2018-2019 school year, we have gathered links to over 80 of our favorite resources to help support rookie and veteran science teachers and homeschooling parents alike.  This year we've added several new science sites and a new category for our favorite engineering sites. Happy Teaching!
QUICK LINKS:
Next Generation Science Standards
Whether or not your state has adopted the new science standards, they have been released and are the talk of the science teaching community.
Bozeman Science provides a free series of NGSS videos on each of the disciplinary core ideas. The videos give a clear overview of each standard as well as suggestions on how to teach the core ideas at the elementary, middle, and high school levels.
NGSS@NSTA provides current information about the implementation process and professional development opportunities, including free web seminars, to support science teachers looking to incorporate the standards into their curriculums.
NGSS is the primary resource for teachers looking to read and learn about the new science standards. Teachers may find the EQuIP Rubric overview page useful for identifying high-quality instructional materials that align to the standards.
The National Academies Press offers several NGSS-related publications useful for teachers, many of which can be downloaded for free after creating an account.
PBS LearningMedia NGSS links to a large collection of NGSS resources for professional development and classroom use.
Parent Q&A is a flyer designed to answer parent questions about the Next Generation Science Standards, but is also a nice overview for teachers and administrators.
The Concord Consortium features a unique tool that allows educators to navigate the NGSS by core idea, practice, and crosscutting concept and locate high-quality digital activities that support the standards.
Breaking Science News
Check these sources regularly to stay current with scientific research. Better yet, have your students read them as well!
Newsela website and app keep educators and students alike up-to-date with current events, including a large selection of STEM news stories at different reading comprehension levels. Registering for the free version of the platform allows teachers and students unlimited access to articles.
Scientific American maintains a section dedicated to education that includes activities, information on their program connecting teachers and scientists, tips on improving science literacy, and more.
Live Science will help keep you up to date with science headlines across disciplines.
BBC Science & Environment is the place to go for breaking science news. Whether you are a busy science teacher or student looking for the hottest topics in science, BBC has coverage for you.
Science Daily offers a compilation of breaking news articles for those interested in the latest research.
ScienceBlogs hosts posts from over sixty blogs, presenting a wide range of science news and viewpoints.
HuffPost Science will help keep you up to the minute with breaking science stories.
NewScientist shares topical new stories on all things science related.
Science Instruction
Like the scientific method, great science instruction takes systemic modifications. Read on for resources that will help invigorate your science teaching.
Good Thinking! The Science of Teaching Science by the Smithsonian Science Education Center houses a collection of must-watch videos for anyone who teaches science. These short, animated videos explore common student misconceptions on topics ranging from natural selection to chemical reactions.
NSTA Learning Center links science teachers with professional development resources by subject and grade. Be sure to peruse their collection of 4,000+ free articles, web seminars, podcasts, and modules available to support your professional growth.
What Works Clearinghouse reviews and summarizes education products and research to help educators make evidenced-based decisions when it comes to teaching.
SERC is working to improve STEM education by providing a rich assortment of professional development opportunities and resources for educators.
Understanding Science is a primer for teachers and students alike on what science is and how science really works.
BSCS Science Learning helps to transform science education by working with science educators worldwide to provide a variety of resources. They conduct research on improving science instruction, develop instructional materials, and offer professional development.
Help Teaching's library of printable science worksheets are ideal for practice and assessment. Our growing collection of self-paced science lessons for biology, chemistry, physics, and earth science are a great way to introduce topics and reinforce learning.
Science competitions and fairs can inspire students to pursue STEM careers while providing hands-on learning opportunities. Consider challenging your students to participate in a local science fair for one of these major science competitions: Young Scientist Challenge, ExploraVision, Regeneron STS, & Google Science Fair.
Science Activities
Science lends itself to hands-on activities that engage students in active learning. Save time and get inspired when preparing lessons this year by reading these links.
Science Friday partners with educators and scientists to create STEM activities, lessons, and resources for all learners. This site connects teachers with relevant, unique, and dynamic instructional materials, videos, stories, and more.
ScienceNetLinks brings together a large, searchable database of science lessons, interactive tools, news, and hands-on activities to support formal and informal science education.
Science Buddies is the place to look for science fair topics and activities. Not only does Science Buddies provide science fair project resources for students and teachers, but their growing collection of science activities are perfect for classroom and home use.
BIE maintains a library of science project-based learning units that encourage student inquiry and investigation.
Lawrence Hall of Science: 24/7 offers citizen science projects, hands-on activities, online games, and more for classroom and home exploration.
PBS LearningMedia has thousands of the best digital science teaching resources in an easily searchable platform by grade, subject, standard, and format.
Zooniverse brings together a collection of citizen-science, or people-powered, research projects where everyday people can contribute to real science.
Science Kids has a nice collection of experiments, science fair project ideas, games, videos, and images designed to get kids interested in science.
Annenberg Learner brings together a collection of science interactives that can readily support any science curriculum.
Virtual Microscope simulates the use of various types of microscopes for students through the examination of set image samples.
PhET Simulations supplement classroom learning with a large array of well-designed science interactives.
The Science Spot contains a vast library of information and resources pertaining to all areas in science, including forensic science and astronomy. This is an essential resource of middle school teachers and students as well as for high school teachers. This website also provides tips for implementing interactive science notebooks in the classroom.
Hook your students on science by sharing videos from Veritasium, Science360, SciShow, It's Okay to Be Smart, Untamed Science, and Help Teaching.
Collaborate and Explore
We teach our students that collaboration is an essential part of doing science. Practice what you teach with these links for connecting and sharing with teachers who have similar goals.
Teaching Channel is on a mission to create an environment where teachers can watch, share, and learn new techniques to help every student grow. Start by watching these science videos, then explore the entire site for more teaching inspiration.
Skype in the Classroom helps teachers connect with other educators and experts in their fields. Use Skype to bring your students on virtual field trips, interact with a virtual guest speaker, and collaborate with another class from across the country or around the world.
STEM on Google+, and STEM Educators are Google+ groups offering vibrant online communities of science teachers sharing resources and best practices.
Professional Learning Communities allow teachers to connect with others in their schools, districts, and communities who are dedicated to science education.
Google Educator Groups bring educators together, both online and offline, to share ideas on web-enabled learning.
AP Teacher Community connects and supports those instructing AP courses.
Astronomy
Don't miss out on the latest discoveries about the universe with these links.
NASA Education for educators opens a universe of information about space science through lessons, videos, professional development, and more. Get started by browsing astronomy teaching resources in NASA Wavelength.
Google Sky does for the view of space what Google Earth does for the view of your neighborhood.
Air and Space Live webcasts from the Smithsonian National Air and Space Museum brings a world and beyond of learning opportunities for anyone interested in astronomy.
If the Moon Were Only 1 Pixel dubs itself, "a tediously accurate scale model of the solar system," but don't be misled by the tagline. This interactive is beautiful in its simplicity and will engage your students on this virtual journey through our solar system.
National Optical Astronomy Observatory offers numerous space-based resources, programs, and resources for education purposes.
Biology
From life science to AP biology, helping students develop an understanding of the nature of life is essential for science literacy.
BioEd Online from Baylor College of Medicine offers science teachers resources that include lessons, videos, classroom slides, and a full library of magazines and storybooks for use with K-12 students as well as professional development courses for teachers.
BioInteractive by the Howard Hughes Medical Institute is a free collection of virtual labs, films, animations, apps, and more that are ideal for biology education.
Encyclopedia of Life offers an extensive collection of free resources on just about any organism.
The Biology Corner offers a wealth of teaching resources for biology teachers, including classroom presentations and lab handouts.
Ask a Biologist not only allows K-12 students to submit questions for biologists to answer, but also offers a wealth of biology-related articles, activities, games, and more.
Solve the Outbreak is a free app by the CDC that challenges students to solve epidemiology mysteries. It's fun, really!
Cells Alive brings microbiology to life through amazing photos, interactives, and videos.
BEN: BioSciEdNet managed by the American Association for the Advancement of Science, helps teachers to engage their students with animations and lab activities.
Biology4Kids offers clear explanations of many topics for elementary and middle school reading levels or for teachers searching for material covering the basics, from scientific study to cell biology.
American Physiological Society supports education through student activities and curricula, education projects that link teachers and physiologists, and teacher learning resources.
Chemistry
Teaching the central science takes knowledge, skill, and a bit of wow factor. Use these links to help make your class preparations a little easier.
American Chemical Society's education page is the place to find materials for teaching chemistry, professional development opportunities, and reports on chemistry education.
ScienceGeek.Net is chemistry teacher Andy Allan's personal website where he shares his collection of presentations, labs, and more.
Evan's Chemistry Corner provides worksheets, transparencies, and lab activities for Regents Chemistry in New York State, but these resources can be used in any high school chemistry classroom.
Kent Chemistry contains instructional pages covering topics in chemistry, along with accompanying videos, practice questions, worksheets, and lab activities. Both high school-level and AP chemistry are covered.
Illustrated Glossary of Organic Chemistry catalogs 1,500+ terms and is an essential resource for any organic chemistry course.
Periodic Videos from the University of Nottingham features videos and experiments on each element. Check out their 500 videos on YouTube as well.
Crash Course Chemistry contains a playlist of YouTube videos covering various topics in chemistry in a short amount of time.
Chemmy Bear contains a multitude of resources for AP chemistry, from handouts and activities to study cards and practice tests. This site is especially helpful for newer AP chemistry teachers and for teachers of honors chemistry courses.
Seasonal science "holidays" offer fun and engaging ways to incorporate STEM activities into your classroom. Celebrate science this year with these theme days and weeks:
World Space Week Stellar Activities October 4 – 10, 2018
Earth Science Week Fun Daily Activities October 14 – 20, 2018
National Chemistry Week – Chemistry & Forensics October 21 – 27, 2018
America Recycles Day Activity Guide November 15, 2018
Earth Day Activities for Kids April 22, 2019
World Oceans Day Activities June 8, 2019
Earth Science
Developing student understanding of the earth's structures and processes helps nurture an appreciation of the natural world.
EarthLabs supplies rigorous units on earth and environmental topics that focus on hands-on laboratory activities and data analysis. Each unit provides all the information, resources, and lessons necessary to elevate earth science and environmental lab instruction to the next level.
NOAA brings together a wonderful collection of resources about the oceans and atmosphere.
USGS Education compiles a wide variety of videos, maps, images, and interactives ideal for use in the earth science classroom.
ClimateChangeLIVE engages students with two electronic field trips for the classroom as well as supplemental materials and support for teachers.
COSEE is dedicated to helping build collaborations between students, teachers, and scientists interested in ocean studies.
Physics
Physics is daunting for many students. Great physics teachers actively engage students with the study of the interactions between energy and matter.
The Physics Classroom supplements physics instruction with tutorials, animations, teacher toolkits, and lab activities.
The Physics Front is an extensive collection of materials, including online tools and lesson plans for K-12 physics and physical science instruction.
PhysicsCentral shares everything from articles to posters to home projects to support those educating physics students at all levels.
APlusPhysics contains helpful video tutorials and webpages for students to learn from, covering topics ranging from high school physics to AP physics. The site also contains worksheets for teachers to print and distribute to students as well as activities that teachers can implement.
Burrows Physics' playlist contains a multitude of videos covering various higher-level physics topics. These are helpful in providing instruction to students outside of the classroom.
Practical Physics offers a wide array of experiments that enable students to get hands-on experience with concepts in physics, enriching students' understanding and refining students' ability to visualize the forces and science at play in the real world.
ComPADRE is a digital library of teaching resources for physics and astronomy educators.
American Association of Physics Teachers will keep you posted on conferences, projects, and competitions as well as just about everything you need to stay up to date with teaching physics.
Engineering Practices & Design
Today's science students must understand engineering practices and design solutions to help them prepare for everyday life and career paths. Enrich your STEM curriculum with these engineering resources.
TeachEngineering is a website that guides teachers in nurturing students' abilities to create innovations to challenges in any subject. Some activities include how-to videos on YouTube.
NASA Engineering Design Process aids teachers in helping students to understand that engineers must imagine and plan before they begin to build and experiment in a variety of challenges for K-2, 3-5, and 6-8. The site also provides plenty of guidance for supporting students in the engineering design process.
Science Buddies offers educators an exhaustive description of the engineering method with a side-by-side comparison against the scientific method.
TryEngineering has 100+ engineering lesson plans for teachers. Students interested in pursuing engineering careers will find the university and careers portals useful.
EngineerGirl by the National Academy of Engineering offers a wealth of information on engineering professions for girls and women.
Although this list is by no means comprehensive, we hope it will inspire and energize your science teaching and classroom this year. Be sure to visit HelpTeaching.com and utilize our growing library of K-12 science worksheets, lessons, and questions!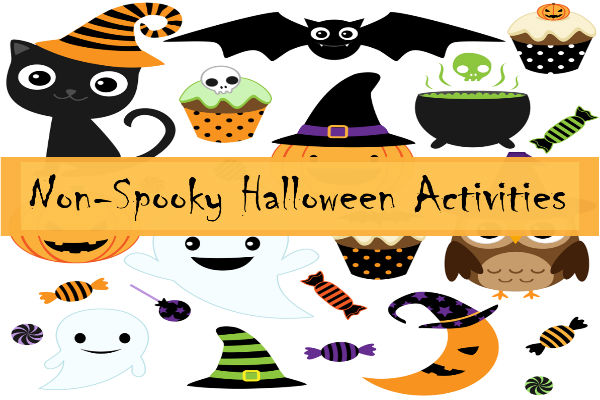 For kids who dislike ghosts, ghouls, and skeletons, Halloween can be a rough season. It's hard to know what's lurking around the corner at pumpkin patches, corn mazes, trunk or treats, and even the local grocery store. Still, that doesn't mean you have to skip Halloween altogether. There are plenty of ways to celebrate Halloween without bringing in the darker side of the season.
1. Paint pumpkins
For some kids, carving pumpkins can be too spooky, especially with their crazy faces, but what's stopping you from painting a pumpkin? Choose some bright colors and focus on funny faces or cute patterns, such as dots and stripes.
2. Bob for apples
If you're having a Halloween party, throw in a traditional bobbing for apples game. While it may not be the most hygienic, kids will have fun trying to capture the apples with their mouths.
3. Watch a pet parade
Check your local newspaper or activity guide for a pet costume parade. These parades are usually free from spooky costumes and, instead, focus on adorable animals in silly costumes.
4. Head to a fall festival
Many fall festivals are held during the day and focus on the fun side of the season. To ensure the festival will be free from spookiness, consider attending one sponsored by a church where it's less likely that ghosts, skeletons, guts, and gore will make an appearance.
5. Read a cute Halloween story
Read a story such as The Legend of Spookley the Square Pumpkin which focuses more on accepting your differences and fitting in than trying to scare kids on Halloween. Another cute Halloween book is Pumpkin Cat by Anne Mortimer.
6. Hold a non-spooky costume party
Invite some friends over for a costume party where only fun, happy costumes are allowed. Consider coming up with a theme, such as favorite cartoon characters or storybook characters.
7. Trick or treat with friends and family
Rather than going trick or treating around your neighborhood, set up a time where you can trick or treat at the homes of different friends and family members. Do it during the day so you won't see any scary masks or other costumed people out and about.
8. Have Halloween craft time
Rather than making a spooky bat, Frankenstein, or other scary craft, just pull out some orange and black paint and construction paper, along with some glue and googly eyes, and let kids come up with their own creations.
9. Make silly monsters
Monsters don't have to be scary. Focus on crafting monsters with silly faces rather than scary ones. You can give them cute names too.
10. Create leaf art
Go outside and gather some leaves. Make leaf creatures by adding eyes, noses, arms, and legs or use the leaves to make collages and other fun pictures.
11. Paint with a pumpkin
Cut out different shapes from a pumpkin and use those shapes as stamps. Dip them in paint and press them on paper to create unique works of art.
12. Make slime
Slime is often associated with Halloween, but that doesn't mean it has to be spooky. Make or buy some slime and have fun getting your hands messy.
13. Play in a sensory bin
Slowly introduce kids to some of the spookier aspects of Halloween through a themed sensory bin. You can throw in a few small plastic bats, ghosts, or spiders if your child can handle them in small doses. You may also want to add plastic pumpkins, some dirt, or black beans. For extra texture, add some orange or black water beads.
14. Go on a candy hunt
One of the best parts of Halloween is getting to trick or treat, but you don't have to find candy in traditional ways. Hide candy around your house or in your yard and send kids on a fun scavenger hunt to find it or set up different trick or treat stations in each room of your house.
15. Focus on educational activities
Try Help Teaching's 100 Educational Pumpkin Activities to bring math, science, and literacy practice to the holiday.
If you do decide to head out to some more traditional Halloween events, be sure to call beforehand to see if there will be any spooky elements there and walk ahead of your child in any corn mazes or on any paths so you can be prepared to turn around if any scary elements appear. You may also want to bring along some head phones or a pair of sunglasses to help your child tune out the spooky sights and sounds.
Do you have any favorite non-spooky activities for Halloween? If so, share them for others to enjoy!