Currently Browsing
How To

When I was in high school, I was fascinated by astronomy. I didn't know much about it, but was curious to learn more about our universe. My school offered a program that allowed students to design and follow their own curriculum under the guidance of an advisor. I spent my senior year taking traditional math and science classes, visiting observatories, researching, writing, studying star charts and the night skies, and attending lectures. The most memorable was one taught by the late Clyde Tombaugh, discoverer of Pluto. This all happened before online learning was available and the first exoplanet was discovered.
Adults are self-directed learners. When your boss asks you to take on a new project, you don't toss up your arms and say, "I can't do it." Rather, you develop an action plan and get to work. If you encounter something of interest, you learn more by reading, watching videos, listening to podcasts, or interacting with others in person and virtually. You have learned how to learn.
Knowing how to learn is an essential skill in our lives as adults, so shouldn't we empower our students and children to do the same? Given the right tools, guidance, and motivation, the potential for student success is limitless.
Encouraging Self-Directed Learning
Babies and toddlers are natural self-learners. They're constantly putting together information to come up with their own conclusions about how the world works, but once children enter school they lose a bit of that self-motivation and instead focus on teachers and parents to show them the way. Self-directed learning places adults in the role of a manager or an impartial counselor rather than a teacher, asking questions and setting up activities to help children make discoveries on their own.
1. You can encourage children to participate in self-directed learning activities by:
2. Having students set learning goals at the beginning of the school year
3. Encouraging students to self-evaluate and monitor their academic performance
4. Setting up self-paced lessons for students to work through on their own
5. Assigning research projects where students choose the topic
6. Posing questions for students to answer
7. Presenting problems for students to solve
8. Letting students teach the class about something that interests them
Teaching students to ask "Why?" and to not accept "I don't know" as an answer
For students to be truly successful with self-directed learning, you must provide them with tools to help keep them on track.
When students first start learning on their own, they'll need a lot of support and encouragement. For students to be truly successful with self-directed learning, you must provide them with tools to help keep them on track. For example, they must have strong study skills and know how to set effective learning goals. As they develop these skills, you'll be able to move further into the background and set them free to learn on their own.
Benefits of Self-Directed Learning
Whether you are looking to supplement your child's education, find a new way to introduce or review content, or create a classroom culture of "can," here are just a few of the benefits of self-directed learning.
Increase Ownership of Learning
With self-directed learning, students must be active participants in their education. At its best, this means students have the opportunity to wonder, ponder, and be creative. Students control the pace of their learning, allowing them to spend more time on what they need and want to learn. Students can focus on topics that fascinate them, then cast wide nets and explore topics they know little about.
Foster Metacognition
Becoming a successful learner involves understanding how you learn. This can be difficult for students of all ages as we must confront our weaknesses as well as our strengths. Part of the self-directed learning process should include setting goals and reflecting upon how well we achieved those goals. Through this process students come to understand the strategies that make them successful learners.
Develop Career Readiness Skills
Time management. The ability to work both autonomously and collaboratively. Problem solving. Strategic planning. Decision making. These are all skills required in the workplace and components of a well-planned, self-directed learning model. We ask our students to apply what they learn in the classroom to real-world situations. Self-directed learning can help students develop the real-world skills they will need once they leave the classroom.
Nurture an Appreciation for Learning
Ultimately, perhaps the greatest benefit of self-directed learning is gaining an appreciation for learning, turning students into lifelong learners. Some 1,800+ confirmed exoplanets since high school later and I am still learning about astronomy, albeit using more powerful technology. I didn't go on to become an astronomer, but I still gaze at the night sky and marvel at the beauty of it.
Sites with FREE lessons: Help Teaching, Khan Academy, CK-12, PBS Learning Media, YouTube EDU, and TED-Ed.
Today's students have access to a wealth of online resources for self-directed learning. Get started by checking out the Ultimate Guide to Free Online Self-Learning which includes great sites that feature free lessons developed for students.

Most parenting decisions involve asking a lot of questions and searching for the best answers. This is particularly true when it comes to making decisions about your children's education.  Today, parents have many options when it comes to choosing a type of schooling. What is the best choice? Public school, charter school, private school, virtual school, or homeschooling? Every family should conduct its own research and make a decision that meets the needs of their children.
If you're thinking about homeschooling your son or daughter, what questions should you ask before making the decision? Here are some of the most important ones to consider:
What is the reason you are considering homeschooling?
Give some thought as to why homeschooling appeals to you. Is it because a friend or someone else in the family has homeschooled? Is it because your child came home after a bad day at school and asked to be homeschooled? Is it because you've read a few articles, and you're considering trying it? All of these can be valid reasons to think about homeschooling, but they are not sufficient answers. They need support. Just because one family homeschooled successfully doesn't mean that it will work well for you. One bad day at school isn't enough to decide to leave it behind.
Take time to analyze why you may want to homeschool. Instead of a single bad day, is your child consistently suffering at school because of learning difficulties, bullying, or other problems? Instead of a relative homeschooling successfully, do you know multiple families who are doing it well? Instead of a few articles, have you read multiple books, attended a few workshops, or gone online and consulted multiple web sites?
John Holt, considered the original "father" of homeschooling, once wrote, "Why do people take or keep their children out of school? Mostly for three reasons: they think that raising their children is their business not the government's; they enjoy being with their children and watching and helping them learn, and don't want to give that up to others; they want to keep them from being hurt mentally, physically and spiritually.
What are the homeschooling laws in your state?
Although homeschooling is 100 percent legal in every state (since 1993), the laws are different in each state.  The laws vary greatly from very lenient (Alaska, Connecticut, Idaho, Illinois, Indiana, Michigan, Missouri, New Jersey, Oklahoma, and Texas) to very strict (Massachusetts, New York, North Dakota, Pennsylvania, Rhode Island, and Vermont). You can find the laws for your state by either checking your department of education, the Home School Legal Defense Association or A to Z Homes Cool.
How much do you personally know about homeschooling?
There are a lot of myths and misunderstandings about home education and they can be very misleading when you're trying to make the best decision. For example, do you think that only religious people homeschool—or only hippies do? Do you believe that homeschooling costs a great deal or takes a huge amount of time? Have you heard that homeschoolers can't go to the prom, join sports teams, attend college or join the military? None of these statements are true. Believing that they are can lead to confusion—and poor decision making. Doing solid research about homeschooling can help dispel these myths and make it easier to make wiser decisions.
How does your child/partner/family feel about homeschooling?
Any family that homeschools has to do it as a unit—if a partner doesn't agree with the choice, or if a child is against being homeschooled, it can be a real uphill battle. To get everyone "on board" with the decision means lots of discussions and sharing of thoughts, opinions, facts, and ideas. If your child is old enough, involving him or her in the decision making will help your child feel validated and listened to. Listen to each other's concerns and questions, and find the answers together. Homeschooling is so much easier when the family is a team.
Do you know any of the current stats about homeschooling?
While national numbers may not seem to affect you directly, they can give you an idea of how homeschooling trends are developing across the country. According to the National Centers for Educational Statistics, 1.77 million children were homeschooled in 2012, an 18 percent increase over the numbers in 2007. The numbers have continued to climb with each passing year. (Note: Many experts believe there are many more homeschooling students than this, as this statistic only reflects state-registered homeschoolers, and many of families decline to register.)
According to the National Home Education Research Institute in Oregon, homeschoolers also score above average on SAT and ACT exams. Also, according to a study conducted at the University of St. Thomas, homeschoolers were shown to graduate college at a rate of 66.7 percent, which is almost 10 percent higher than students who attended traditional public school.
Making the best choice for your children's education is never an easy decision, regardless of what you ultimately choose. Asking the right questions and getting reliable answers is the first step to figuring out the answers. Happy researching!
To learn more about homeschooling, check out Homeschooling 101: Sports and Other Extracurricular Activities and An Introduction to the Laws and Legalities of Homeschooling.
Tamra Orr is the author of six books on the topic of homeschooling, including Homeschooling FAQs: 101 Questions Every Parent Should Ask and After Homeschool: Fifteen Homeschoolers Out in the Real World. In addition, she homeschooled her four children from Kindergarten through high school graduation.
8 January //
Posted in How To //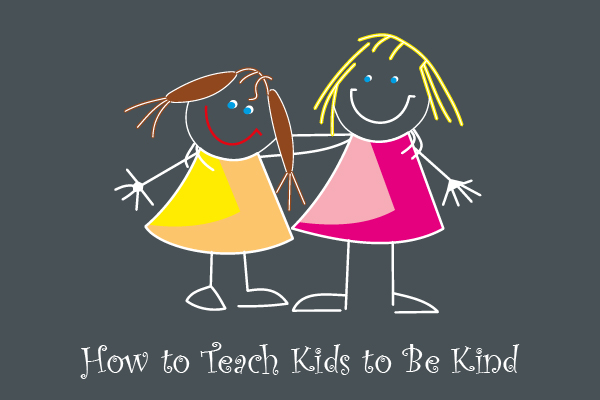 Every day, stories about bad guys fill the news, but it's the stories of kindness that really stand out. Whether it's a fast food employee helping a customer or a group of students checking on a Grandma in the Window, these stories show the importance of being kind. Unfortunately, showing kindness isn't the norm. Harvard's Making Caring Common project found that 80 percent of middle and high school students thought achievement and happiness were more important than caring for others. Still, teachers and parents can help turn those numbers around by teaching kids to be kind.
Modeling Kindness
The first step in teaching kids to be kind is to model kindness. That means it's time to end the "Mommy Wars", set aside the political differences, stop pointing out what everyone else is doing wrong, and start focusing on what they're doing right. You can model kindness by:

Saying please and thank you
Regularly telling others what you appreciate about them
Speaking to others in a pleasant tone, even if they upset you
Treating others, including children, with respect
Pitching in when you see a need (without complaining)
Giving random compliments to others
Keeping your negative thoughts to yourself
Doing unto others as you would have them do unto you
Kids tend to model the behaviors of the adults around them. If they see you regularly being kind, they will begin to exhibit kindness in their own lives. Of course, no one's perfect. There will be moments when you tell someone off, hurt someone's feelings, or fail to help someone in need. Taking the time to apologize when you were less than kind can also help kids learn a lesson about the importance of kindness.
Offering Positive Praise
Just like adults, kids need validation. They want to know that they're appreciated and that they're doing the right things. According to Greater Good in Action, kids actually have a propensity towards being kind. Parents and teachers can encourage kids to act on that propensity. Instead of focusing on what kids are always doing wrong, take some time to focus on what they're doing right, particularly when it comes to kindness. Say things like:
"You are a very helpful person."
"I appreciated it when you said 'Please' before you asked me for…"
"It was a great idea to…"
"Thanks. That was very kind of you."
"I like the way that you thought about others."
Don't praise kids every time they act kindly, otherwise they are likely to act a certain way just to receive the praise. Instead, try to point out a few positive moments every week to let kids know you appreciate how kind and helpful they are.
When kids decide not to act kindly, focus more on how it made the other person feel rather than criticizing or punishing the kids. For example, "Did you notice that James looked sad when you called him a name?" or "When you ask me for something without saying please, it makes me feel unimportant."
Thinking about Kindness
While many kids are born with an innate desire to be kind, parents and teachers still need to plant seeds of kindness in their minds. Talk to kids about what they think it means to be kind. Ask them to share memories of acts of kindness. You can open the conversation with these writing prompts, which also make great discussion questions.
Providing Opportunities to Be Kind
Of course the greatest way to teach kids to be kind is to give them plenty of opportunities to show kindness. These can be big acts of kindness, such as collecting money for charity or taking bags of food to a food pantry, or smaller acts of kindness, such as picking up trash on the playground or giving a friend a hug when they are sad.
Some ways kids can show kindness every day include:
Holding the door open for strangers
Smiling at people who make eye contact with them
Keeping a gratitude journal and regularly writing what they are thankful for
Writing thank you notes to others
Complimenting others
Waving hello when they see someone they know
Calling family members they do not see often
Writing notes or drawing pictures for family and friends
Asking if they can help when they see someone tackling a big job
Offering to let a classmate go first
Saying please and thank you
Doing their chores without being asked
Doing things they see that need done without being asked
Throwing away trash they find on the ground
Saying "I love you"
Taking some time to pet and talk to their pets
Check on elderly neighbors
Some big ways to encourage kids to be kind include:
Donating some of their clothes or toys to charity
Serving a meal at a homeless shelter
Visiting a nursing home or sending cards and flowers to the residents
Using allowance money to buy something for someone in need
Paying for someone's meal at a restaurant (with allowance money or your help)
Offering to do chores or yard work for an elderly or disabled neighbor
Donating books to a preschool or library
Cleaning up litter in the park or around the school
Sending cards and care packages to deployed servicemen and women
Collecting money for a favorite charity
Donating food or toys to a local animal shelter
Participating in a 5K run or walk for charity
Speaking out against bullying as part of an anti-bullying campaign
Volunteering to tutor another student
Making your neighbors gifts for the holidays or on their birthdays
If you encourage kids to show kindness when they are young, they are more likely to grow up to be kind adults. If you want to take the conversation on kindness a step further, check out Edutopia's Eight Steps Toward a Kinder World. Remember, kindness matters.

The impact of Martin Luther King, Jr. on American society and politics is immeasurable. His efforts to bring equality to all races living in America led to lasting change and still hold an important place in all American history curricula. As we celebrate the legacy of Dr. King on the third Monday of January every year, it is important to find fresh ways to teach our students about his life, while still incorporating some of the essential reading, writing, and thinking skills students need.
Let's look at Dr. King's most memorable speech with a focus on historical thinking skills.
Close Reading:
Close reading asks students to determine a source's point of view and purpose.  For example, Dr. King's famous I Have a Dream speech includes the sections:
And so even though we face the difficulties of today and tomorrow, I still have a dream. It is a dream deeply rooted in the American dream.

I have a dream that one day this nation will rise up and live out the true meaning of its creed: "We hold these truths to be self-evident, that all men are created equal."

I have a dream that one day on the red hills of Georgia, the sons of former slaves and the sons of former slave owners will be able to sit down together at the table of brotherhood.

I have a dream that one day even the state of Mississippi, a state sweltering with the heat of injustice, sweltering with the heat of oppression, will be transformed into an oasis of freedom and justice.

I have a dream that my four little children will one day live in a nation where they will not be judged by the color of their skin but by the content of their character.
Students can break down each line to determine the vision that Dr. King had for his country. They can then summarize the entire section by analyzing the interpretation for each line.
To help students see the speech from an ELA perspective, Presentation Magazine offers a compositional analysis of the speech.
Contextualization:
Contextualizing is the skill that asks students to look at the facts and events surrounding a particular document that may have influenced its creator. To fully understand the context of Dr. King's message we must look at race relations and segregation in America in 1963. Teaching Tolerance offers a five lesson teacher's guide to their film A Time for Justice: America's Civil Rights Movement which chronicles the civil rights movement from the 1954 ruling in Brown vs. the Board of Education to the 1965 passage of the Voting Rights Act. The guide includes primary sources, interactive activities, and the background information that give Dr. King's words context.
For upper elementary students, Scholastic provides a brief overview of the same era. It provides context for Dr. King's speech, but does not require a lot of class time to convey much of the same information.
Corroboration:
Corroborating a source's content is when students locate other sources that back up or contradict the source being analyzed. In trying to corroborate Dr. King's words, students can be presented with various speeches.
Here are two examples:
The first is by Alabama governor George Wallace, that says, in part,
and I say . . . segregation today . . . segregation tomorrow . . . segregation forever.
The second example is from President John Kennedy, which says:
This afternoon, following a series of threats and defiant statements, the presence of Alabama National Guardsmen was required on the University of Alabama to carry out the final and unequivocal order of the United States District Court of the Northern District of Alabama. That order called for the admission of two clearly qualified young Alabama residents who happened to have been born Negro.
Students should use excerpts of these speeches to corroborate Dr. King's characterization of a country that is divided and unequal. Students can also use these speeches to make a claim about American society in the 1960s.
Sourcing:
To properly source a document, students must determine if the who, when, and where of a document makes it more or less reliable. All three of our speeches were given in 1963. We know from our contextualizing, that America was in a state of racial turmoil at the time. In our corroborating, we learn that the speeches by President Kennedy and Governor Wallace highlight the issues stated by Dr. King. All sources seem to be a reliable source of history of the time they were created.
Dr. Martin Luther King is a monumental figure in American history. His contributions cannot be overlooked. With some of the sources and activities above, you can honor his work and memory, while still integrating the skills our students need. To learn more about Dr. Martin Luther King, Jr., have students listen to the Read-Aloud: Martin Luther King, Jr. which offers a short overview of his life. For more on historical thinking skills, check out Help Teaching's Online Self Paced Lessons on Sourcing and Corroboration, and well as two different lessons on Contextualizing.
Since 2013, Help Teaching has brought you our Top 100 Free Education Sites. We're continually updating our list to provide you with the best resources. Not only have we rounded up the top free sites for teaching math, science, English, and social studies, but we've also added some of our favorite computer science and coding sites and, to promote the expansion of Help Teaching's ESL section, we've added our favorite language sites.
No time to go through the whole list? Just use "Quick Links" section to jump straight to the section that interests you and bookmark this article for a reference later.
QUICK LINKS:
10 Awesome Education Sites
Whatever the grade-level or subject area, these websites have something to offer. From high-quality lesson plans to entertaining games and educational videos, they represent some of the best educational websites in existence.
PowerMyLearning gives parents, teachers, and students a way to find some of the best free learning activities online. By creating an account they can save activities and browse activities by standard. Users can also recommend activities to add to the site.
Code.org has gained recognition with its Hour of Code initiative. The website offers free, easy lessons to help kids learn some of the basics of coding. The lessons also help teach critical thinking and problem-solving skills.
Google is something most teachers know about, but many haven't taken the time to explore all of their awesome free resources for education. There are some fun activities too, such as Build with Chrome where kids can build with LEGO-style blocks online.
Kidblog offers a simple, safe blogging platform for teachers. While there may be fancier systems out there, there's something to be said for simplicity and Kidblog does its job well.
FunBrain helps students learn through fun games related to math and reading. They'll also find books and other entertaining resources.
Scholastic has developed a reputation for its high-quality educational books and materials and its website does not disappoint, offering lesson plans, interactive activities, and articles designed to help teachers and parents.
Gooru helps students take control of their own learning by providing them with information about how they learn best.
Edutopia focuses on helping educators grow. From articles and blogs from those working in the field to informational videos and classroom guides, educators in all areas of education will stay on top of the latest trends and find tips to help them improve.
DIY.org encourages kids to learn new skills. Teachers and parents can challenge them to set goals and complete tasks on the site.
Edudemic helps teachers with technology. Both technology experts and those just getting started will find plenty of tips and resources on this site.
Coding
Every day, in classrooms around the world, kids are learning how to code. Coding is a valuable skill that helps teach kids to think logically and develop the critical thinking and reasoning skills they need for our increasingly technological world. These resources offer free coding activities for kids.

Code.org is home to the Hour of Code. In just an hour, kids can complete a fun coding game. There are many games to choose from, including those that feature popular characters kids love.
Tynker offers its own free Hour of Code activities and games for kids to enjoy.
CodeCombat is an online, multiplayer game that requires kids to write code to play.
Kodu Game Lab is a visual programming tool that kids can download to create games of their own.
CS Unplugged teaches the principles of coding, but not in the traditional way. The site offers a large selection of offline activities designed to help kids develop these critical thinking skills.
Reading
Find games and activities for early readers, as well as texts for advanced readers, in this collection of high-quality reading websites. In addition to these sites, Help Teaching offers a large collection of public domain and original reading passages organized by grade-level, word count, and Lexile level.
CommonLit contains a wealth of free fiction and non-fiction texts for use in the classroom. Texts are organized by grade-level and theme.

Media Literacy Clearinghouse introduces students to a new type of literacy – media literacy. With all of the new technology and messages appearing every day, it's important for kids to be media literate.
Awesome Stories uses non-traditional reading materials, such as biographies and primary source texts, to get students learning through reading. Students can use the site to help with research and teachers can use the texts as part of lesson plans. Creating an account allows users to access audio versions of many of the titles as well, making it an ideal site for auditory learners and those with learning disabilities.
ReadWriteThink gets students to participate in critical thinking and reading activities through its lesson plans and interactive student resources.
Book Adventure is a free online reading program that provides students with incentives for reading.
Bookopolis is essentially a GoodReads for kids. The site allows students to read reviews written by their peers and helps them find the perfect book.
Writing
Whether students need an outlet for their creative writing or want to brush up on their grammar skills, one of these resources will get the job done.

ToonDoo gives kids a place to create their own cartoons and store them online. It features tons of clipart and other artistic effects to make the comics visually appealing.
Voki features animated characters that students can customize and manipulate to speak their words. It's a great tool to help with creative thinking, writing, and storytelling.
Grammar Bytes tests students' knowledge of grammar through simple multiple-choice activities and rewards them with cheesy virtual prizes.
Purdue OWL is an online writing lab from Purdue University that provides students, particularly those in high school and college, with everything they need to know about writing a paper, including grammar advice and paper formatting guides.
Social Studies
Teachers can find primary source documents and high-quality lesson plans, as well as discover ways to connect students to history, geography, government, and other areas of social studies online.

Chronas is a new history resource that seeks to give students a better understanding of history. It organizes Wikipedia information visually and chronologically to create a unique digital textbook.
GeoGuessr tests kids' geography skills. Using images from Google's Street View, it plops players down in the middle of the street and asks them to figure out where they are.
National Archives: DocsTeach allows teachers to incorporate primary source documents and other historical texts into a variety of critical thinking and thought-mapping activities. Pre-made activities are also provided. Students can complete the activities online or through the DocsTeach app available for the iPad.
iCivics offers high-quality and engaging games for students to play while they learn about civics. Lesson plans help teachers incorporate the games in the classroom.
HSTRY gives students the chance to create free interactive timelines and engage in collaborative learning.
What Was There? allows students to type in any city, state, or country to view an archive of historical photographs and other documents. It's a unique way to help them learn about history.
Math
Not all websites focus on elementary math skills. While many of these games do work well for elementary-age students, they also offer games and lesson plans for students tackling subjects such as algebra, geometry, and calculus.

Math is Fun is full of math resources for kids and teachers. It also includes an illustrated dictionary of math terms to help students understand difficult concepts.
Numberphile features short videos about numbers. They help kids explore complex math topics and make math more fun.
Math Games offers a large collection of math games and questions organized by grade-level and skill. It also includes a progress-tracking feature so teachers and parents can see what kids know.
AAA Math features online interactive math lessons for students in kindergarten through 8th grade.
Yummy Math connects math with the real world through timely news stories and other reading passages.
Math Forum offers online professional development opportunities and other resources to help math teachers improve their skills.

Science
Help students understand science with this collection of videos, games, experiments, and creative science activities.

PhET features many engaging simulations to help kids learn difficult concepts in science and math.
Wonderopolis shows kids a wonder of the day, and then gives them a chance to test their knowledge or join in on a discussion related to that wonder. Kids will be surprised by all of the cool facts that they learn and they may spark some interesting discussions in the classroom.
Molecular Workbench contains hundreds of simulations, curriculum models, and assessments designed to improve the teaching of science.
Science Made Simple gives kids science experiment ideas and other science project topics. It also offers help when preparing for a science fair.
The Science Spot offers lesson plans, activities, and student examples from one teacher's science classroom, as well as daily science trivia challenges and daily science starters.

BioDigital is a human visualization platform that allows students to explore the human body in really cool ways.
For even more science-specific resources, check out the Ultimate Guide to Teaching Science.
Art
Art museums around the world have made it their mission to teach students about art. These websites introduce students to art theory, let them explore classic works of art, and even give them the chance to create art of their own.

Artsonia bills itself as the world's largest kids art museum. All of the artwork has been created by kids and, while the site is free, parents can also purchase products featuring their kids' artwork.
Artsology helps kids learn to appreciate the arts by providing them with the opportunity to play games, conduct investigations, and explore different forms of art.
NGAKids Art Zone allows kids to explore popular art movements, themes, and artists and offers guides to help teachers as well.
Tate Kids gives kids a chance to explore famous works of art, play art-related games, and even create their own works of art to add to their online gallery.
Music
Encourage kids to think beyond One Direction and their other favorite artists and experience new types of music. Kids can learn about the symphony and classical music or even build their own musical skills by learning through ear training or playing instruments online.

Andrew & Polly is an indie children's music duo that has created a podcast called Ear Snacks designed to help kids learn through music, sound, and unique experiences.
Classics for Kids regularly highlights famous composers and provides teachers with activities to use in the classroom.
KIDiddles has lyrics and audio files for over 2,000 kids songs for music teachers, or any teachers, to use in their classrooms.
Good Ear may not look like an awesome site, but it contains a lot in its simple design. This website provides virtual ear training to help serious student musicians learn to recognize the differences between notes.
Virtual Musical Instruments lets kids play instruments online. Instruments include the guitar, piano, pan flute, drums, and bongos.
Health and Safety
Health and safety are important to kids. Whether kids want to know more about keeping their bodies healthy or staying safe online, these websites have them covered.

KidsHealth is the top website for kids to learn about their bodies and their health. It features easy-to-read articles and kid-friendly graphics to help kids learn about a whole host of topics related to health and safety.
CDC BAM! focuses on teaching kids about their bodies. BAM stands for body and mind and all of the resources on the site help kids learn more about their bodies and keeping their minds sharp.
McGruff the Crime Dog has been helping kids learn about safety for decades. His interactive website features games, articles, and videos about safety for kids.
NetSmartzKidz and its sister site, Netsmartz, promotes online safety. Kids and adults can learn all about staying safe online and avoiding dangers such as cyber bullying.
StopBullying.gov helps prevent bullying in all forms by providing teachers, parents, and students with resources to educate them about bullying and let them know what to do when bullying occurs.
PE Central is a physical education teacher's ultimate resource. It includes lesson plans, assessment ideas, and other resources.
Early Education
Don't forget about your younger learners too. Many websites, including our own Early Education collection, offer games and activities designed to help toddlers and preschoolers build their basic skills.

Preschool Express is full of crafts, activities, bulletin board designs, and finger plays for early education teachers and parents to use with kids.
Starfall promotes beginning reading and number skills with fun stories and activities.
Funbrain Jr. brings the fun and quality of Funbrain to a younger audience with its early learning games.
Songs for Teaching offers a large selection of fun songs to help teach preschool students.
Super Simple Learning's resource section includes free flashcards, coloring pages, worksheets, and other resources for children, teachers, and parents.
Educational Games
Kids love to play games online. Why not encourage the practice by introducing them to some fun educational games websites? They'll have fun and you'll know they're learning.


Arcademic Skill Builders offers a series of racing games for kids focused on math and ELA skills. Best of all, many of the games are multiplayer so kids can create rooms and play against their friends.
Quizalize lets teachers turn content into fun quiz games for students. It's free to create quizzes, but teachers can also buy inexpensive quizzes from other teachers in the marketplace.
Cool Math Games is the ultimate site for kids who want to play math-oriented games. These arcade-style games are a lot of fun and many accompany the lessons found on the site.
Primary Games has a lot of educational games for kids to play mixed in with some "just for fun" games too. All of the games are kid-friendly.
Games for Change gets kids thinking about problem-solving and social issues by providing them with unique games to play. Many of the games help kids solve world problems or introduce them to social issues.
Educational News
It's important to keep up with the news. These websites cover the latest education news and also provide kid-friendly news sites to use with students.


Education World's main page highlights the latest news in the world of education, including interesting research and controversy.
Education Week publishes a weekly newspaper all about education. Its website highlights many of those stories so you can access them for free.
Smithsonian TweenTribune features unique news stories for kids. Stories are organized by Lexile level and cover topics related to kids' interests.
Time for Kids gives students and teachers access to many of the articles from Time for Kids magazine, even if they don't subscribe. Stories focuses on world news stories and pop culture.
DOGO News promotes "fodder for young minds" by sharing unique news stories, including stories of people doing good around the world.
Educating Yourself
With the introduction of open courseware and TED talks, educating yourself online has never been easier. Find access to actual college courses and learn what you want to know from the experts in the field. At HelpTeaching, we have launched our own line of online K-12 lessons that students can use for self-directed learning.


TED features videos and other resources from some of the world's greatest leaders, innovators, and thinkers. If you want to learn more about a particular field, chances are there's an expert talking about it.
Khan Academy offers free online courses in a wide variety of subjects. It offers the most content in math, but also has courses in science, economics, test prep, and more.
Open Education Consortium allows you to search for open courses around the world. It also provides news on the open courseware movement.
MIT OpenCourseWare gives you access to courses from one of the nation's most prestigious colleges.
Coursera helps you find and sign up to take free online courses from some of the world's top universities and other experts.
Youtube has been around for a long time, but that only supports its awesomeness. You'll find a lot of video tutorials on everything from fixing a car to learning how to beat a difficult level on Angry Birds. Don't forget to check out Help Teaching's YouTube channel with online lessons too.
For more resources, don't forget to check out the Ultimate Guide to Self-Learning for Kids and the Ultimate Guide to Self-Learning for Teens and Adults.
Homework Help and Study Skills
For general homework questions and help studying for that big test, students should check out this collection of websites. Teachers will also find study skills lessons to go over with students in class.

BJ Pinchbeck's Homework Helper features information, resources, and links designed to help students with their homework, as well as resources for parents and teachers.
HomeworkSpot provides students with links, resources, games, and reference materials to help them build their skills and complete their homework.
Fact Monster Homework Center connects kids with reference materials and tools to help them successfully complete their homework.
Shmoop offers homework help, literature guides, and a ton of other resources for students. The site's writers incorporate a lot of humor in their writing too, making the site incredibly entertaining.
Howtostudy.org features articles on different study skills and test-taking strategies. There's even a subject-based "How to Write" section to help students learn how to write all kinds of informational texts.
Don't forget Help Teaching's Study Skills and Strategies worksheets either!
Lesson Planning
Lesson planning can be time consuming, but with high-quality pre-created lesson plans, lesson plan templates, and a place to store their lesson plans, teachers can simplify the process.

The Differentiator provides teachers with lesson plan ideas to help them incorporate higher-order thinking skills, change up the products students create, and add to the resources they use. This helps ensure teachers aren't presenting the same lessons all the time and that they reach students in many different ways.
Buck Institute for Education (BIE) helps teachers learn more about project-based learning. It also offers a collection of PBL activities for teachers to use in the classroom.
Makerspaces.com provides teachers with tips, tricks, and resources to create a Makerspace in their schools.
ShareMyLesson offers lesson plans and other resources shared by teachers, educators, and educational companies around the world.
Classroom Management
If teachers want students to learn, they must have good classroom management. These resources help keep students in control and encourage behavior that promotes learning.

ClassDojo is a classroom management system that allows teachers to set goals for students, track their progress, and reward them for that progress. Parents can also access reports to see how their children are doing.
Remind gives teachers a free, easy, and safe way to share important information with parents and students via text message. All phone numbers are kept private and parents must opt-in to receive messages.
BouncyBalls is an online game where the noise level makes the balls bounce. The more balls bouncing, the noisier the classroom is, reminding students to quiet down and focus on their work.
NEA Classroom Management offers a classroom management survival guide, as well as articles and resources to help with specific areas of classroom management.
Super Teachers Tools contains free resources such as seating chart makers and countdown timers that can help teachers implement solid classroom management strategies.
Language
Whether students are looking to learn a foreign language or improve their English language skills, these sites are designed to help.

Internet Polyglot offers free videos, games, and other resources to help language learners memorize words in a new language. It also offers over 4,000 vocabulary lessons.
Busy Teacher features thousands of articles, worksheets, slideshow presentations, and other resources designed to help English language learners and teachers. All resources are available to view and download for free.
Google Translate is a free translation service provided by Google. You can translate a few words at a time or a whole document. While not 100% accurate, it can be a good place for language learners to start.
Open Culture contains a collection of the best free language learning courses and resources online.
Did you favorite sites make the list? If not, share them in the comments. Maybe they'll make 2018's list of the 100 Best Free Education Sites. Remember to check out Help Teaching for all of your worksheet and printable needs too.