Currently Browsing
How To
Ripley's Believe It or Not, Weird But True, and other enterprises like them have made an entire business of highlighting the odd, wacky, and incredible things the human body can do. Yet, engaging high school students in a topic that they may feel they already know enough about (after all, don't we walk around in these bodies every day?!) can be a challenge. Bring anatomy and physiology alive in the classroom setting with these strategies and resources that will draw students in, hold their interest, and maximize their learning.
The Importance of Anatomy & Physiology
Anatomy, or the study of the structure of body parts, and physiology, or the study of the function of body parts, may be offered as a separate course in some high schools or may be integrated into various topics within a biology course, including botany and the human body. Therefore, neither anatomy or physiology is completely new for students in the upper grades. The key is to explore this wide range of topics in a way that students find fresh. But why are anatomy and physiology so important?
The study of the structure and function of the body is crucial for the basis of health and medicine. Today's technology for diagnosis and management, pharmaceutical development and application, and techniques for the treatment or prevention of disease—all depend on anatomy and physiology. Understanding the anatomy, physiology, and pathophysiology of our own bodies make us all more science literate—more capable of asking the right questions, understanding relevant concepts, and making sound decisions about our health.
An anatomy and physiology course integrates both the life sciences and the physical sciences of physics and chemistry—much like biochemistry—and provides a natural interdisciplinary approach to topics from the simple to the complex, allowing students to begin to understand the relationships between various branches of science.
The field of anatomy and physiology is a wonderful example of exploring a single entity—the human body—by breaking the overwhelming expanse of it into systems. The systems can then be examined independently and relative to one another. The skills of analysis, synthesis, and making connections can also be applied across disciplines.
Learning anatomy can be a huge exercise in memorization because of the many structures in the body, such as the skeletal and muscular systems. Developing techniques and ability for memorization will serve students in any subject.
An Approach to Teaching Anatomy and Physiology
Not every student in a biology or anatomy and physiology course is interested in pursuing a career in health and medicine in college or professional school. So how do you keep all the students in your classroom engaged in learning? First, students need to feel that the subject matter has relevance in their world. That's the easiest part; every student in your classroom has a body!
1. Introduce material with a story. Be clear about objectives for the lesson or unit. This may include a list of vocabulary terms and key concepts. Then find resources that will lay a foundation of interest while touching upon these terms and concepts. A news story, podcast, or segment from a network program could fit the bill perfectly. A quick online search can bring up interesting stories that cover just about any organ system.
Body Pods podcast. A series of seven podcasts, each is a unique focus on a part of the body and is produced through a collaboration of an artist and a scientist in the field.
LiveScience online. Read about some of the strangest medical reports, affecting systems from the eye to the gut.
ABC News online. This article covers baffling medical conditions.
Present only the portion that is relevant to the current topic. While some students may find themselves squeamish with any content dealing with the body, do exercise caution in avoiding exploitative or insensitive material.
2. Conduct laboratory activities that allow students to use their own bodies. Everyone has been medically examined using equipment that they may find intimidating and foreign, so allowing students to use simple items to take physiological measurements makes real science reachable. When students understand what these numbers mean and what normal ranges and abnormal values indicate, concepts can be solidified. Get started with these classroom activities:
3.  When real-life experience is impossible, look for the next best thing. Images, animations, videos, and simulations abound in the world of anatomy and physiology for both states of health and disease.
The Visible Body. This website has apps of images and simulations that cost, but there is also free content available.
Videos Medical. A YouTube channel, this video series shows blood moving through a beating heart or bones and muscles putting the body in motion.
MedLinePlus Surgical Procedures. These videos show actual surgeries, from angioplasty to knee replacement. Warning: Some videos can be quite graphic, so preview thoroughly before introducing to students.
4. Explore and solve a medical mystery. Use case studies as a culminating activity to reinforce vocabulary and concepts. Alternatively, case studies could be the primary method for covering a unit. Although a complete inquiry process would most likely take much longer than allowable in a course, allowing students to form groups under a system of their choice would allow for more in-depth examination and understanding. Groups work independently then present their case study, course of action, and conclusions to the entire class. Students work together to learn the anatomical structures and major physiological concepts of their system, common disorders and diseases of the system, and methods and techniques used to examine and assess the system. Students could broaden their resources, reaching out to experts in the field locally or digitally, as available.
Remember to make instruction effective by engaging students right from the beginning, checking in using assessments and questioning, allowing for collaborative learning, and providing feedback throughout the learning process.
For more great anatomy and physiology teaching resources, try our biology worksheets and online biology lessons.
Dana Johnson is a freelance editor and writer specializing in science education. Using every bit of her experience as a corporate and government scientist, high school science teacher, and academic specialist, Dana creates, reviews, and edits premium science materials for secondary and higher education. She currently serves as Help Teaching's biology subject matter expert. When not working away at her laptop, Dana loves reading, journaling in long hand, gardening, and patronizing the arts.

The impact of Martin Luther King, Jr. on American society and politics is immeasurable. His efforts to bring equality to all races living in America led to lasting change and still hold an important place in all American history curricula. As we celebrate the legacy of Dr. King on the third Monday of January every year, it is important to find fresh ways to teach our students about his life, while still incorporating some of the essential reading, writing, and thinking skills students need.
Let's look at Dr. King's most memorable speech with a focus on historical thinking skills.
Close Reading:
Close reading asks students to determine a source's point of view and purpose.  For example, Dr. King's famous I Have a Dream speech includes the sections:
And so even though we face the difficulties of today and tomorrow, I still have a dream. It is a dream deeply rooted in the American dream.

I have a dream that one day this nation will rise up and live out the true meaning of its creed: "We hold these truths to be self-evident, that all men are created equal."

I have a dream that one day on the red hills of Georgia, the sons of former slaves and the sons of former slave owners will be able to sit down together at the table of brotherhood.

I have a dream that one day even the state of Mississippi, a state sweltering with the heat of injustice, sweltering with the heat of oppression, will be transformed into an oasis of freedom and justice.

I have a dream that my four little children will one day live in a nation where they will not be judged by the color of their skin but by the content of their character.
Students can break down each line to determine the vision that Dr. King had for his country. They can then summarize the entire section by analyzing the interpretation for each line.
To help students see the speech from an ELA perspective, Presentation Magazine offers a compositional analysis of the speech.
Contextualization:
Contextualizing is the skill that asks students to look at the facts and events surrounding a particular document that may have influenced its creator. To fully understand the context of Dr. King's message we must look at race relations and segregation in America in 1963. Teaching Tolerance offers a five lesson teacher's guide to their film A Time for Justice: America's Civil Rights Movement which chronicles the civil rights movement from the 1954 ruling in Brown vs. the Board of Education to the 1965 passage of the Voting Rights Act. The guide includes primary sources, interactive activities, and the background information that give Dr. King's words context.
For upper elementary students, Scholastic provides a brief overview of the same era. It provides context for Dr. King's speech, but does not require a lot of class time to convey much of the same information.
Corroboration:
Corroborating a source's content is when students locate other sources that back up or contradict the source being analyzed. In trying to corroborate Dr. King's words, students can be presented with various speeches.
Here are two examples:
The first is by Alabama governor George Wallace, that says, in part,
and I say . . . segregation today . . . segregation tomorrow . . . segregation forever.
The second example is from President John Kennedy, which says:
This afternoon, following a series of threats and defiant statements, the presence of Alabama National Guardsmen was required on the University of Alabama to carry out the final and unequivocal order of the United States District Court of the Northern District of Alabama. That order called for the admission of two clearly qualified young Alabama residents who happened to have been born Negro.
Students should use excerpts of these speeches to corroborate Dr. King's characterization of a country that is divided and unequal. Students can also use these speeches to make a claim about American society in the 1960s.
Sourcing:
To properly source a document, students must determine if the who, when, and where of a document makes it more or less reliable. All three of our speeches were given in 1963. We know from our contextualizing, that America was in a state of racial turmoil at the time. In our corroborating, we learn that the speeches by President Kennedy and Governor Wallace highlight the issues stated by Dr. King. All sources seem to be a reliable source of history of the time they were created.
Dr. Martin Luther King is a monumental figure in American history. His contributions cannot be overlooked. With some of the sources and activities above, you can honor his work and memory, while still integrating the skills our students need. To learn more about Dr. Martin Luther King, Jr., have students listen to the Read-Aloud: Martin Luther King, Jr. which offers a short overview of his life. Also, you may enjoy our free Martin Luther King, Jr. printables. For more on historical thinking skills, check out Help Teaching's Online Self Paced Lessons on Sourcing and Corroboration, and well as two different lessons on Contextualizing.
As students gear up for state tests and finals, it's time to start taking a look at how they study. Knowing how to study not only helps boost students' performance on major exams, it also helps them go into the exam with confidence. Even students who already know how to study can stand to re-evaluate their skills to make sure they're maximizing their brain power. These strategies for improving study skills will not only help students learn how to study, they'll also help make their study time more effective.
1. Start Early
Despite its popularity, cramming for an exam rarely works. Focusing on a lot of the same information at once may make students feel confident that they know it, but it usually doesn't stick. Instead of cramming for exams, students should start studying early and gradually review the information over time. This helps them learn and review a range of information at once and in smaller amounts, making it easier for the information to stick. It also removes some of the stress because they can get a good night's sleep the night before the test rather than staying up all night studying.
2. Find Your Optimal Study Environment
Sometimes students know the basics of studying, but they don't do it in the best environment. They may think they can study with the TV on and music blaring or while sitting in the library with their friends, but that's not always the case. Students should conduct an honest and thorough evaluation of their study environment to see whether it's really working for them. One way to do this is to read a paragraph in the normal study environment, test what they remember, and then switch to a quieter environment, read another paragraph and see if they remember more or less.
A few questions to ask when finding the optimal study environment include:
What do I hear around me? Does it distract me from what I'm reading/doing?
What do I smell around me? Does it make me feel positive or negative?
How is the lighting? Is it too dark? Too bright?
Am I comfortable? Too comfortable?
Do I have all the resources I need around me?
What objects/sounds/smells/etc. take me away from my studying in this environment?
Answering these questions will help students determine whether their study environment is working and what they need to add or remove to create the optimal study environment.
3. Learn How to Study
Of  course students can study all they want in their optimal study environment, but it won't do any good if they don't know how to study. Studying involves more than re-reading highlighted notes or flipping through a stack of flashcards. HowtoStudy.com offers a guide to help students learn how to study. The guide covers aspects of studying such as creating a study plan, taking effective notes, managing stress, and learning how to effectively study and brush up on your skills before a test. While the guide has been designed for college students, many of its principles also work well for students in middle school and high school. Too often students get to college without knowing how to study, so it's good to teach them how to study while the stakes are lower and they have their parents and teachers around to support them.
4. Think Positive
When students have trouble with a subject and develop a negative attitude, no amount of studying will work. Instead, the negativity will overpower most of the learning that takes place. The goal of studying is to help students learn to master difficult concepts and become more confident in the material and they must approach studying with that mindset.
Parents and teachers can help encourage students to think positive by encouraging them with phrases such as "I know you can get this" or "you're almost there." Adding motivational quotes, posters, or other positive pictures and phrases to the study environment can also help students subconsciously think more positively about themselves and their abilities. When studying, students also shouldn't start with the most difficult material they need to learn. Instead, they should start with easier material so they experience success early on and, therefore, are more motivated to keep going.
5. Use Study Skills Worksheets and Organizers
Study skills worksheets and organizers, like those found as part of Help Teaching's free printables collection, can help students learn the key words, vocabularies, and strategies needed to become better at studying. These worksheets will also help students by helping them with concepts such as creating a study calendar, learning what foods to eat while studying, and even just getting a handle on the vocabulary related to studying.
Focusing on the details involved with studying before actually looking at the material can help students vastly improve their study skills and, therefore, improve their performance on major exams. The following resources offer more advice to help students make studying more effective:
Have some study tips or resources that you love? Share them in the comments.
If you're a teacher, you start the school year with a list full of things you want to accomplish with your students. If you're a parent, that list may have started the day your child was born. Whatever it is you want to accomplish, now's the perfect time to refocus, re-energize, and get started. These resolutions for teachers and parents will help ensure that you, your students and children grow and excel in the new year.
I Will Enjoy My Children
Whether you see them at home or spend all day with them in the classroom, children can try your patience. It's easy to focus on the frustrations they cause rather than the joy they can bring. Make it a point to focus on the positive rather than the negatives. You can do this by:
Sharing in their accomplishments
Pointing out what makes them special
Reinforcing positive behavior rather than punishing negative behavior
Choosing not to yell, call names, or overreact to negative situations
I Will Know My Children
How well do your really know your students? What about your children? Have you taken time to just sit and chat with them lately? It's easy to get caught up in everything that's going on and forget that children simply want to spend time letting you get to know them. This doesn't mean simply asking them to share their favorite color or their favorite foods, it means taking a vested interest in them, their friends, and the activities they enjoy.
Both at home and in the classroom, give children time to express their feelings. Let them know they're free to come to you to share their ups and downs. If they don't come to you, go to them and encourage them to share. Make yourself a part of their daily activities too. If they're going out with their friends, ask them questions about their friends and what they did. If they're playing on a smartphone or tablet, spend some time playing along with them or monitoring their use. Not only will you make them feel important, you'll also quickly know when something is not right.
I Will Not Overcommit
What's filling your schedule this year? If you're a parent, your days may be filled with juggling meetings, sporting events, and making time for your children to see their friends. If a teacher, you may fill your time with grading papers, writing engaging lesson plans, attending meetings, and then fitting in trips to the gym and family time once you get home. Despite your full schedule, it's hard to say no to the requests that pour in. However, if you're feeling stressed and overwhelmed, chances are your children or students are feeling stressed and overwhelmed too.
Remember, you children don't have to participate in every extra-curricular activity and you don't have to attend every single meeting. In the classroom, you don't have to try every new idea you hear or assign tons of homework that you'll later have to grade. Instead, focus on a few key things and do them to the best of your ability. Not only will you feel less overwhelmed, you'll help set a positive example for your children and your students.
I Will Not Feel Guilty
You live in a world that loves to make teachers and parents feel guilty for not doing enough. Viral videos and blog posts highlight teachers and parents making a difference in the lives of children all over the world. Facebook offers a place for teachers and parents to highlight every craft project, every good decision, and every milestone. Pinterest features thousands of pins to make you feel like you have to do it all. However, it doesn't make you less of a teacher or less of a parent.
Resolve not to feel guilty. You may not use every lesson idea or recipe you pin. Your Facebook posts may focus more on failures more than successes, and you may not make headlines for your achievements with your students and your kids. However, that doesn't mean you're not doing a good job. Instead of feeling guilty, focus on doing the best you can with the time, energy, and resources you have. You don't have to do it all.
I Will Listen to Myself
As teachers and parents, sometimes you spend so much time listening to your children and your students that you forget to listen to yourself. Instead of tuning out your body and your mind, you need to take time to listen to yourself so that you can ensure you stay healthy and fulfilled enough to interact with children on a daily basis. Maybe your body is telling you that you've been staying up too late grading papers or that you have been eating too many meals on the go. Maybe your gut is telling you not to take that promotion at work or that you need to take a vacation. Teach yourself to listen to and follow these cues. After all, if you don't listen to yourself it's hard for anything else to fall into place.
What other resolutions are you planning to stick with in the new year? Share them here and maybe inspire some others too!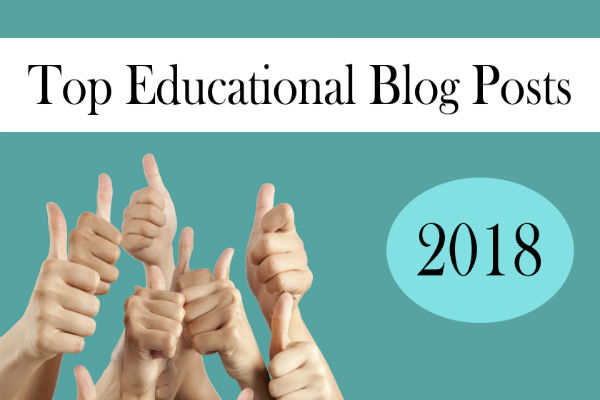 In the world of education, 2018 was full of teachers striking for fair pay and benefits, students speaking out against gun control, and schools becoming more inclusive.  But while the world of education is always changing, some traditional components remain the same. As our top educational blog posts of 2018 show, there will always be students who struggle with procrastination, teachers looking for new teaching resources and ways to fund their classroom needs, and parents looking for materials to help their children learn and grow.
Looking for resources to enhance your science curriculum? Look no further than the Ultimate Guide to Teaching Science which contains resources for teaching science in grades K-12. Resources are organized by subject and topics such as breaking science news, NGSS standards, and science activities.
Since 2013, Help Teaching has brought you the best websites for education. The list has grown well beyond 100 sites and features categories such as reading, writing, science, math, coding, language, lesson planning, and educational games. Resources span all grades from K-12.
Summer is a time to relax, have fun, and get outside. It's also a time when kids experience boredom. While it's okay for kids to be bored sometimes, our list of 100 Summer Activities will limit those moments by giving kids plenty of activities to enjoy during the summer. Some require a bit of travel while others can be enjoyed right at home. If you live in a warmer climate, you can enjoy all of the activities year round.
Kids need time to exercise and practice physical fitness, but they don't have to do it alone. Our 100 Fitness Activities for Families encourages families to get active together. Go for a bike ride. Learn a new yoga pose. Find tons of ways to get physically fit.
SEL is definitely one of the current buzzwords in the world of education. By focusing on the whole child rather than just academic skills, parents and teachers can help kids and teens become more aware of themselves, their emotions, and how their actions affect others. Find some simple activities to bring SEL into the home and classroom.
As with all kids with exceptional skills, working with kids with autism requires some extra care and knowledge. 7 Things to Remember When Working with Kids with Autism gives teachers the tips they need to experience success with kids who are on the spectrum and helps kids with autism receive the quality education they deserve.
Kindness matters. We live in a world where put downs fill the Internet, political leaders regularly share negativity, and if you don't like someone, it's okay to say it, but that's not okay. Parents and teachers can set a positive example and start changing the landscape by teaching kids to be kind.
Teaching requires resources and resources cost money. As school districts cut budgets, teachers need to find creative ways to get materials for their classrooms. This list goes beyond simply making Donors Choose requests and helps teachers find ways to raise funds for classroom needs.
Few people would turn down the chance to make a little extra dough, especially if they have a classroom to fill or children to support. We've rounded up some ways that parents and teachers can earn some extra money throughout the year. Some are simple while others require more of a time commitment.
This year, Help Teaching hosted its 2nd annual scholarship competition. Over 600 high school and college students submitted original pieces and 10 finalists were chosen. The winner of the scholarship, Tatiana Rusev, won a $1,000 college scholarship. Now it's time to think ahead. Help Teaching has begun accepting entries for the 2019 scholarship competition.
Online learning has become more popular and that has increased the popularity of the Ultimate Guide to Free Online Self-Learning for Kids and its companion post the Ultimate Guide to Free Online Self-Learning for Teens and Adults. Both posts are great for homeschool and public or private school students, with free online courses, informational websites, videos, and other resources covering a range of subject areas.
One of the keys to doing well on the SAT is knowing the test. Our comprehensive guide to conquering the SAT introduces students to the test and provides links to tests, worksheets, and other resources to help ensure they're prepared to ace the test.
Although Fortnite has enjoyed success as the trendy video game this year, Minecraft has remained a popular game in classrooms and for younger students. However, not all Minecraft fun has to take place online. Our post takes some of the Minecraft characters and skills and puts them into offline activities with 10 ways to bring Minecraft into the classroom.
Did you watch the Geminid meteor shower in December? How about the super blue blood moon in January? Every year there are tons of space events to watch with kids. Keep watching the post to find more.
Pi Day is everyone's favorite math holiday, but it's not the only one. If you missed some math holiday this year, be sure to bookmark the 11 Prime Days to Celebrate Math Holidays to catch them all in 2019.
Keeping in line with math topics, the top STEM competitions give students a chance to show of their math, science, technology, and engineering skills. Use the list to find the perfect competition for your students to enter.
Children benefit from seeing the world. Sure, travel may be stressful, but 9 Benefits of Traveling with Children highlights all of the positives children gain as well. You'll quickly see that they outweigh the negative.
Banned books are a touchy subject. Despite some of their controversial content, they provide an opportunity to students to think more deeply and gain insight into hot-button issue. Do you teach banned books? If not, maybe you should consider it.
At Help Teaching, we're committed to providing teachers, parents, and other educators with all of the tools and resources they need to do an amazing job. What topics would you like to see covered in 2019? Share your thoughts in the comments.