Currently Browsing
How To
Did you know it's possible to have fun and learn at the same time? While it's great for kids to play with toys, their young minds are at the prime stage for taking in information and learning new skills. The solution? Toys that allow kids to learn while they play. This year when you shop for holiday and birthday gifts, opt for something with educational value.
Need help finding ideas? We've rounded up some of the top educational toys for kids of all ages.
Disclosure: HelpTeaching partnered with the companies of some our top picks to provide items for a giveaway, but all items were chosen for their quality educational value.
Babies
Even though babies won't remember whether you bought them a gift for Christmas or their birthday, sometimes you still want to get them something. Instead of adding another stuffed animal to their collection, try one of these options.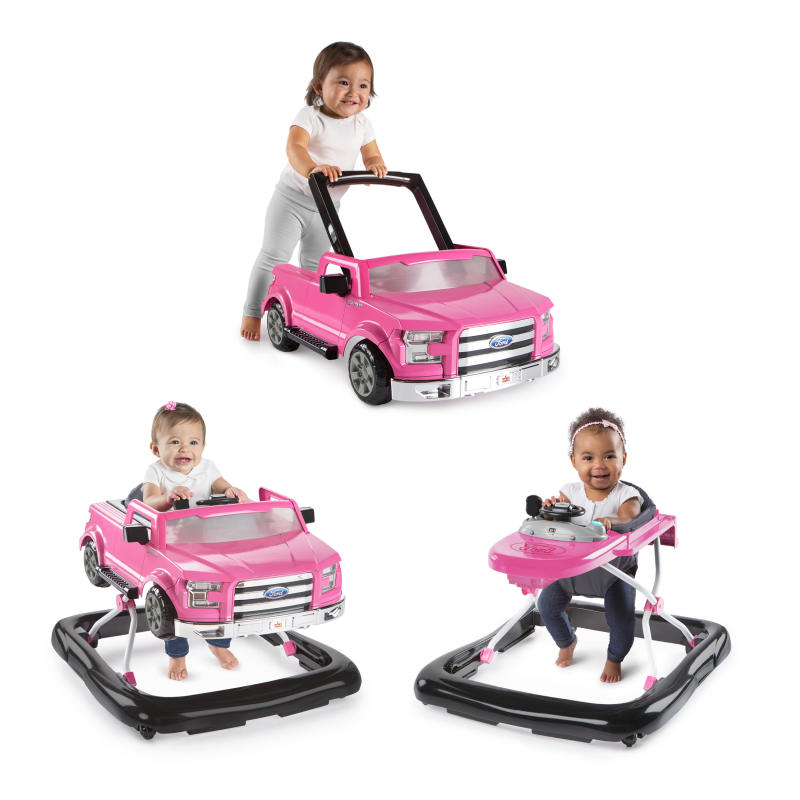 TOP PICK: 3 Ways to Play Walker – Ford F-150 – Never underestimate the power of observation. This walker allows babies to explore the world around them in three different ways, including a normal walker and push-behind mode. The steering wheel and authentic truck sounds and lights make the walker even more adorable.
Baby's First Blocks: Nothing beats a classic shape sorting toy for babies and toddlers. Baby's First Blocks from Fisher-Price features a handy tub to collect the shapes and a handle for carrying it. Babies and toddlers will learn to grab, manipulate, and match the shapes.
Skip Hop Activity Mirror: Mirrors are great toys for babies. They allow them to explore the world around them and also begin to recognize their own face. This mirror from Skip Hop is just one of many baby mirrors that can be attached to the seat of a car or the bar of a stroller for babies to enjoy.
Munchkin Mozart Magic Cube: Babies love music and this magic cube combines music with lessons in cause and effect and tempo to create a fun learning experience for babies. They can press different parts of the cube to add instruments to the orchestra and see lights flash with the tempo of the music.
Go Car: This car comes with a handle to make it easy for babies to hold on to it and control the way it moves. It also glides smoothly on different surfaces, helping babies begin to learn about the concept of movement.
What's Inside Toy Box?: With the What's Inside Toy Box, babies begin to learn that objects have names and also build motor skills as they reach in and pull out objects or put objects back in. Additionally, this toy can help teach object permanence.
All About Me Personalized Photo Book: Babies can learn the names and faces of loved ones, pets, and other special people or places in their lives with this photo book. Parents can insert photographs in protected compartments so babies can flip through and look at them.
Toddlers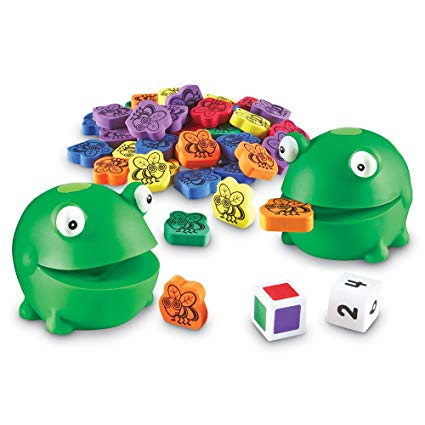 TOP PICK: Froggy Feeding Fun – Little kids can boost their fine motor skills, learn their colors, and practice their counting skills with this fun frog feeding game. Simply roll the dice and feed the frogs the correct flies. Note that the fly pieces may present a choking hazard so kids should be supervised while playing.
Start Up Circuits: Toddlers who enjoy playing with switches will enjoy these toys that help them begin to understand how circuits work. Simply flip the switch to make each object work.
Wooden Building Blocks: Blocks are a favorite for toddlers because they help them build motor skills and begin to understand geometrical concepts. This set from Pidoko Kids features 50 colorful blocks in different shapes and comes with a container for carrying them all.
Personalized Name Puzzle: One of the first things a toddler learns how to spell is his/her name. Help develop that skill and help your toddler start learning how to complete puzzles with a personalized name puzzle.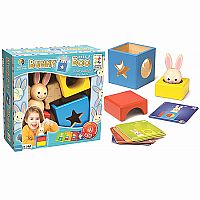 Color Discovery Boxes: Color Discovery Boxes help toddlers learn their colors and begin to categorize objects. Each box contains multiple objects to represent the color. Mix the objects up and have toddlers sort them and put them back where they belong.
Bunny Peek a Boo: This fun game helps toddlers learn about prepositions and object placement. They must look at the cards and try to create the scene with the bunny and various blocks. Parents are encouraged to give clues and talk about where the bunny is. For example, "The bunny is behind the box."
Learn the Alphabet Dough Mats: You can print out and laminate your own dough mats or you can buy these handy mats which feature uppercase and lowercase letters. These help kids learn letters and build fine motor skills.
Size and Sequence Farm Puzzles: Size and Sequence Farm Puzzles have toddlers put the puzzle pieces in order by size. This set of puzzles helps them learn how to organize objects from smallest to largest.
Dress Up Career Set: Toddlers can learn a lot from dressing up, especially when they dress up to represent different careers. With this set, your toddler can pretend to be someone else nearly every day of the week.
Seek A Boo: Seek A Boo is a fun game designed to get toddlers and preschoolers moving and help them learn how to categorize objects. Basically, it works like a game of "I Spy" where kids must find a circle that meets a particular description. Adults and kids can take turns coming up with questions.
Preschoolers
TOP PICK: Heads Talk Tails Walk – ThinkFun's game of silly sounds and movement has kids try to match hidden head cards to the correct bodies. If the body parts don't match, kids have to try and act out their crazy new animals.

Yeti Forgetti Memory Game – This hide and peek memory game gets kids in on the action. Cards direct kids to shuffle the igloos and try to find the locations of the different yetis in the game while watching out for the evil snow crab for a twist on a classic shell game.
Bear Counters: Bear Counters and counting cubes can be used by preschoolers in a variety of ways. Not only are they good for counting practice, but they can also be used for creating patterns and measuring.
Fun Express Happy Kids Hand Puppets: This adorable set of hand puppets features kids from different ethnic backgrounds. It's great to include with a puppet theater and to use to act out social stories to help get preschoolers thinking about their actions and emotions.
Toss Across: If you're looking for a fun game to get kids moving, try Toss Across, a game that helps kids practice their throwing skills and learn about patterns while playing a game of tic tac toe.
Periodic Table Blocks: Make block play a little more educational by having kids learn the elements of the periodic table at the same time. These square blocks are great for building and also feature the names, symbols, and atomic numbers of various elements.
Mosaic Mysteries Pattern Puzzle: Kids can build fine motor skills and create patterns when they play with the Mosaic Mysteries Pattern Puzzle, an activity that features connecting tiles to create a mosaic.
Early Elementary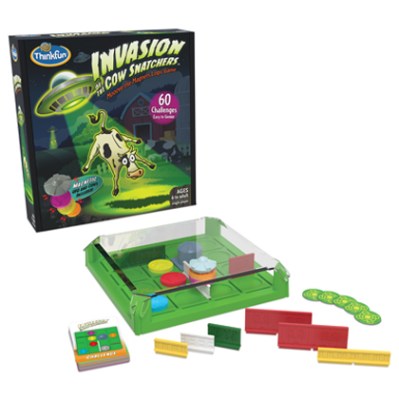 TOP PICK: Invasion of the Cow Snatchers – Kids can build their logic and problem-solving skills with this exciting STEM game from ThinkFun. While the game can be enjoyed by kids as young as 6, even older kids, teens, and adults will enjoy trying to solve some of the genius level challenges.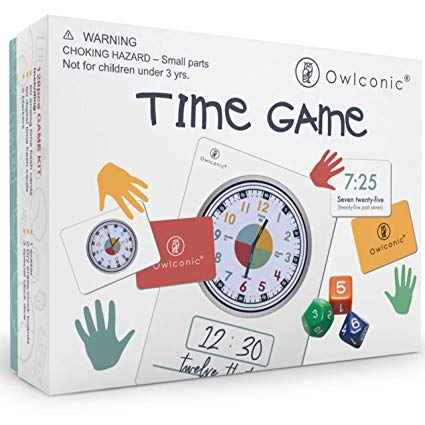 TOP PICK: Owlconic Telling Time Teaching Game – For teachers and homeschool parents looking for new ways to help kids learn to tell time, this telling time game is exactly what you need. It helps kids make connections between digital and analog time while also working on memory skills and fractions.
Teaching Talking Cash Register: This cash register is a favorite of kids because it offers many functions. Kids can play store or open a real store and the cash register will help them add up totals and calculate change. It also features a fun scanner.
Melissa and Doug Magnetic Human Body: Kids can learn the different parts of the human body by taking them on and off the wooden form. It's a great, non-gory way for kids to begin to explore what makes up the body.
Magformers: Magformers feature fun tiles that connect to one another. Kids can use them to build unique structures.
Magnetic Science: Magnetic Science contains 38 pieces to help kids explore magnets and their various uses.
Precision School Balance: With a balance, kids can practice weighing items and comparing different weights. For example, is a carrot heavier than four quarters?
Dive into Shapes: Using a series of rods and balls, kids can build their understanding of geometry as they try to recreate the shapes on the cards.
Sum Swamp: Sum Swamp is a fun game that helps kids build their addition and subtraction skills.
Paper Airplane Conversion Kit: With the help of a grown-up, kids can use this kit to make a variety of paper planes and see how long they fly electronically.
Beaker Creatures: Learning Resources has created a fun science toy where kids can conduct experiments to reveal hidden creatures. Kids simply pop a reactor pod into the chamber, complete the steps, and discover a surprise. They learn about the scientific method and following directions at the same time.
Upper Elementary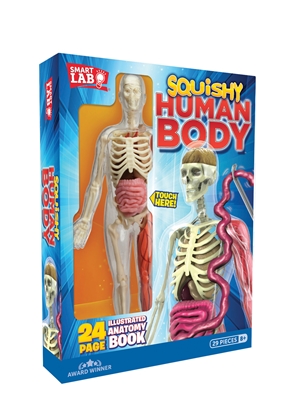 TOP PICK: Squishy Human Body – SmartLab Toys helps kids explore the body through this unique model. The body includes 21 vital organs, bones, and body parts, as well as a 24-page anatomy book and other resources to help kids explore the model.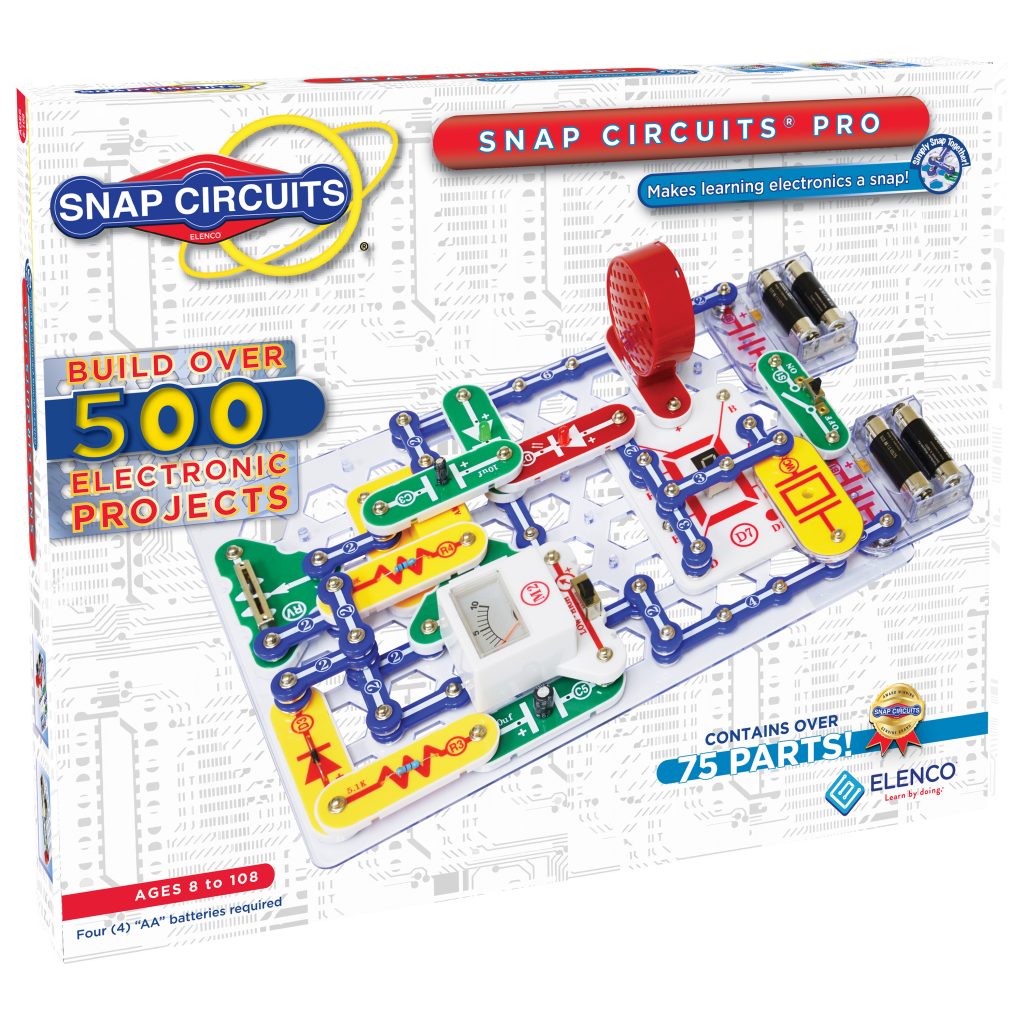 TOP PICK: Snap Circuits Pro – With over 75 snap-together parts and 500 exciting projects to complete, kids can learn all about electronic circuits and the basics of electricity. This kit is great for building STEM, problem-solving, and logic skills.
Adopt an Animal: Start teaching your child about giving back and becoming more aware of the world by adopting an animal. The kit comes with a certificate and a stuffed animal.
Kiwi Crate offers maker kits for kids up to age 16. Try Doodle or Tinker Crate for ages 9-16 and Kiwi for ages 5-8. Sign up for a monthly subscription box. Each box comes with fun STEM and STEAM activities for kids.
Tin Can Robot: Take an ordinary tin can and turn it into something cool with the Tin Can Robot kit. Using this kit, kids can build their own robot.
Star Wars Death Star Electronic Lab: Star Wars fans will love the challenge of the Death star Electronic Lab which has them connect circuits to help bring the Death Star to life.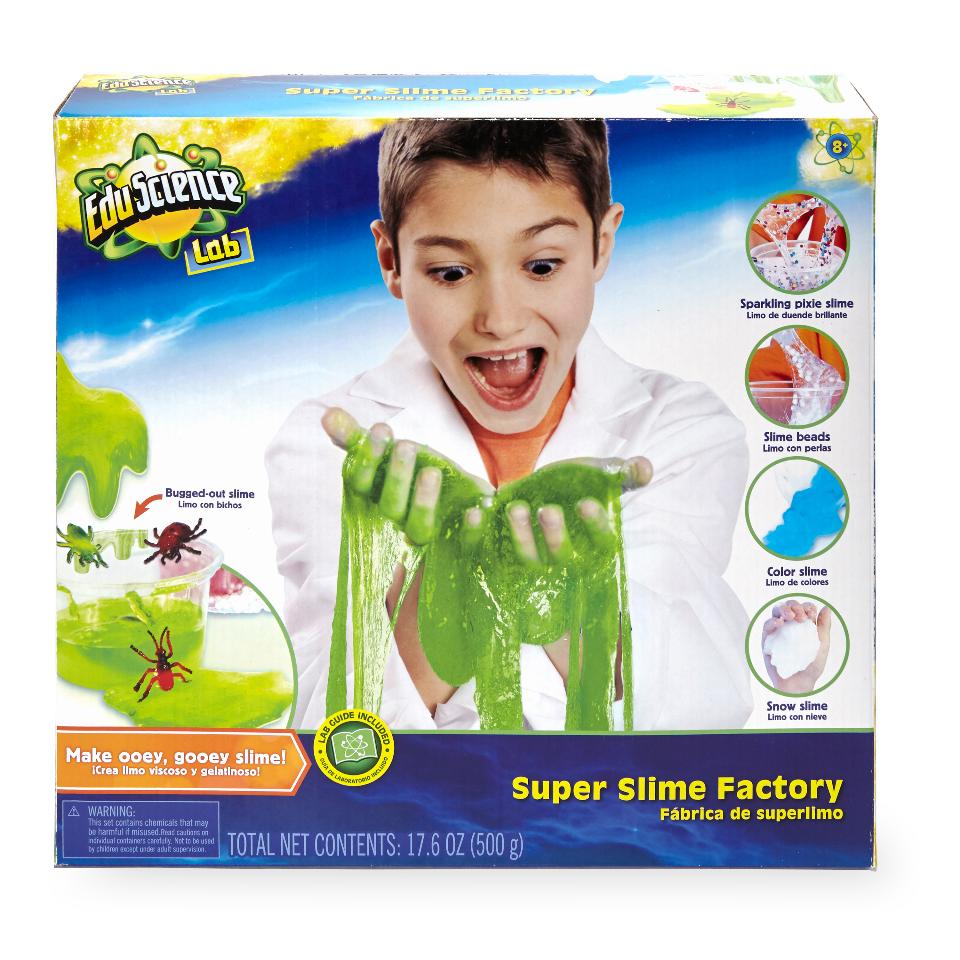 Super Slime Factory: Slime is all the rage these days and the Super Slime Factory gives kids the chance to make their own slime while learning a bit about the science that goes into the process.
Qwirkle: Qwirkle is a fun game with a dominoes-like feel. Kids must match the shapes and colors, but they also have to use a bit of strategy to win the game.
Keva Contraptions: With Keva, kids can learn about engineering and geometry. This set allows kids to build unique contraptions and also comes with two balls. Perhaps kids will use them to make an epic marble run.
Create a Maze: With the Create-a-Maze set, kids are tasked with re-creating the maze on a card and then trying to get a ball through the maze.
Klutz LEGO Chain Reactions Craft Kit: This book and LEGO set helps kids learn how to build simple machines and put them to use, introducing them to the laws of physics at the same time.
For preschoolers through upper elementary school students, you can also put together a craft kit, full of supplies, such as googly eyes, stickers, craft sticks, and glitter glue, to make a variety of crafts and to encourage kids to use their imaginations.
Pre-Teens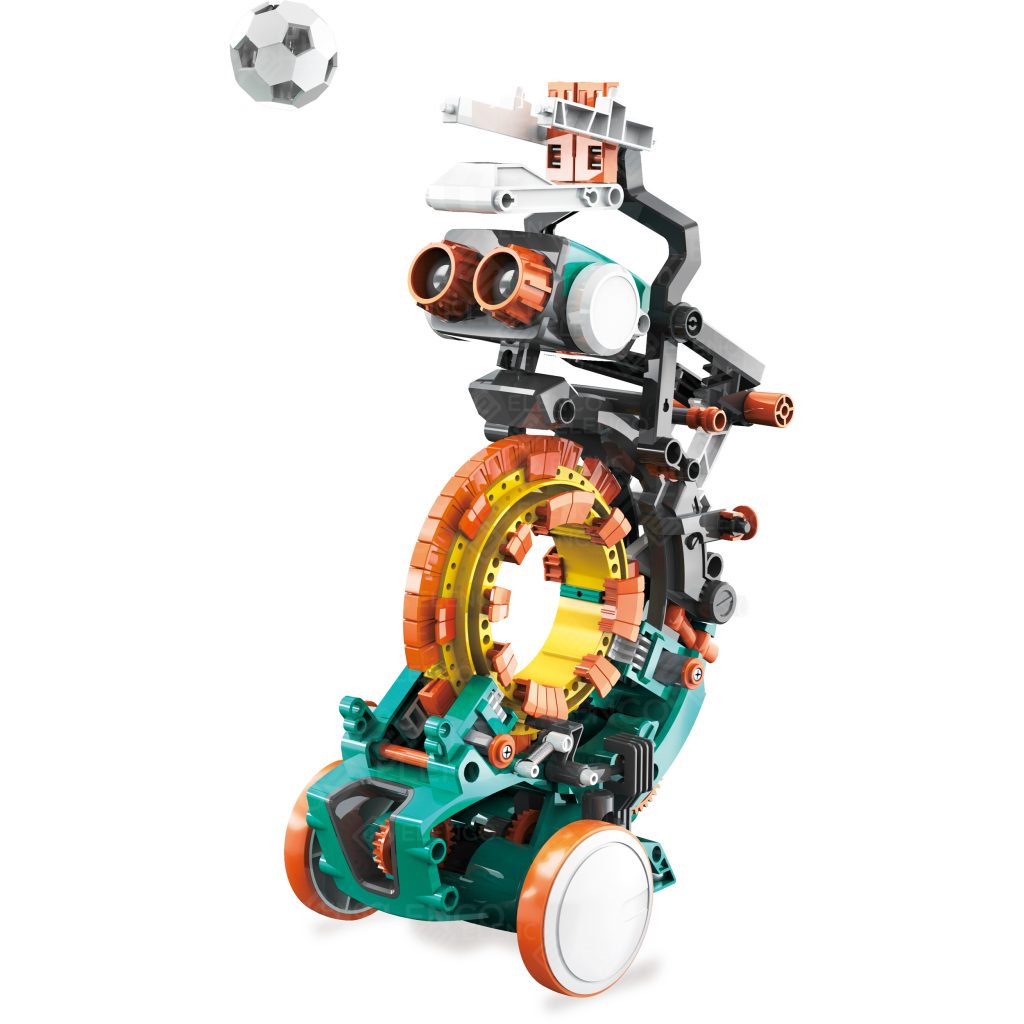 TOP PICK: Elenco Teach Tech Mech-5 Coding Robot – This STEM coding robot introduces kids and teens to the principles of mechanical engineering. They work with their robot to get it to perform tasks such as kicking, throwing, lifting, and even drawing.
TOP PICK: Science Academy Deluxe Squishy Ball Lab – Encourage kids and tweens to get their hands dirty and make their own squishy stress balls. The kit is great for boosting STEM skills and getting in some sensory fun.

Kano Computer: Pre-teens who enjoy coding and working with electronics, but are not quite ready to work on a full-fledged computer will appreciate Kano Computer, which allows them to build their own mini computer.
Perfume Maker: A lot of science goes into the creation of perfume. This set allows pre-teens to make their own scents while learning at the same time.
Spa Soaps Kit: Let pre-teens make their own spa soaps, and then use them to host a spa party for their friends. Better yet, they can package their soaps and give them as gifts to others.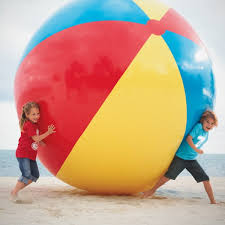 Giant Inflatable Ball: Encourage pre-teens to get outside and be active by purchasing a giant inflatable ball. They can make up their own fun games to go with the ball too.
Boxed Book Sets : If you know a pre-teen loves to read or has a favorite series, consider purchasing a boxed set. The Giver trilogy by Lois Lowry is a great set to consider.
Eco-Friendly Bean Bag: Instead of a normal bean bag, opt for an eco-friendly bean bag. The gift will teach pre-teens about being more environmentally conscious.
Build Your Own Pinball: Kids and teens can learn about engineering by building their own pinball game with this fun set.
Teens

Displates: Give teens a unique gift that teaches them to value creativity and different art forms. Displates come in different styles and relate to interests such as popular movies and TV shows or musical instruments.
Ion: A Compound Building Game – Know a teen struggling with chemistry? Find some STEM fun and refresh that chem knowledge with a fun game that has kids and teens collect cards and build chemical compounds.
Quadcopter: What's more fun than a drone? A drone with a camera. Teens can make their own videos and take pictures as they fly their drones.
Marvel Puzzle: Have a superhero fan? Give them a superhero puzzle so they can enjoy some of their favorite skills and they put their puzzle-solving skills to the test.
Codenames Disney: Codenames is a fun word association game. Purchase the Disney version or another themed-version and play it with your teen.
Die Cast Spirograph: Spirograph may seem like a kids' toy, but this version of the classic drawing kit is super sleek. Teens may find creating their own spiral shapes relaxing.
Games: World of Puzzles: Purchase a subscription to a magazine such as Games: World of Puzzles. This fun magazine includes many different puzzles for teens and adults to solve.
Game of Phones: Teens are always on their phones. Get them to interact with one another with this fun game which has them use their phones to send messages and complete challenges.
My Cinema Lightbox: A lightbox is a fun way to get teens to write. They can come up with creative messages or even practice spelling vocabulary words.
In addition to the gifts listed above, consider purchasing apps and other digital gifts for teens or giving them a gift card to purchase music and apps for their phones or tablets.
Do you know of any must-have educational gifts for kids or teens? If so, we'd love to hear your ideas. Share them in the comments!
*This list may contain affiliate links and some companies provided products for review, but all views expressed are our own.

Whether you don't have family nearby or are tired of the traditional turkey and stuffing, this is the year to try something new. From celebrating friends to participating in a 5K, there are many alternative ways to celebrate this Thanksgiving. Who knows? These alternative traditions could become your or your children's traditions for years to come.
Celebrate Friendsgiving
Instead of shelling out hundreds of dollars to travel home or eating a TV dinner alone, gather together some friends for a Friendsgiving. A Friendsgiving is typically celebrated on the day before or the day after Thanksgiving, but you can also celebrate it on the actual day. The goal is to gather together with friends and enjoy a meal together.
A traditional Friendsgiving works similar to a potluck. One friend agrees to host and provide the turkey, chicken or ham. The other guests bring side dishes and desserts. If you're not much of a cook, store-bought dishes are completely acceptable. You could even all go in together and purchase a full Thanksgiving dinner from your local grocery store or favorite restaurant.
For a unique take on a Thanksgiving meal, try a progressive dinner where a different friend hosts each course of the meal. This works particularly well if you all live close together. If no one has the space to host, head to a local diner or a restaurant like Denny's (as declared in Tim Allen's The Santa Clause, they're always open).
Give Back to Others
Instead of eating at home on Thanksgiving, spend some time giving back to others. You can go the traditional service route and sign up to serve Thanksgiving dinner at a local soup kitchen or try something a little different. Giving back also teaches kids an important lesson about the value of serving others and may help them realize they have a lot to be thankful for. Some ways to give back to others on Thanksgiving include:
Deliver food boxes or turkey dinners to people in need
Collecting holiday gifts for children
Put together care packages to send to members of the military
Send cards to people you miss
Visit a local nursing home
Provide a treat to the staff at a local hospital
Go to a restaurant and leave your server a large tip
Clean out your cupboards to gather food for a local food pantry
Contact a local college and offer to host students who stayed on campus during the holidays
Get Fit
On Thanksgiving morning, thousands of people gather to participate in "Turkey Trots" around the United States. These 5Ks have become a Thanksgiving tradition of their own. Gather some friends together and enter the race together or run solo and meet new friends along the route. Many 5Ks also have special fun runs or walks, so kids can join in the fun too. If you're not a fan of running, you can always walk the 5K or volunteer to help out with the race in another way. When the race is over, treat yourself to a hearty Thanksgiving meal.
If you're missing your family's annual touch football game, organize one of your own. Meet your friends at a local park or advertise the game on a local events page so others without family in the area can join you.
Have a Movie Marathon
Thanksgiving is a big day for movie releases. Head to your local movie theater and spend the day hopping from theater to theater to enjoy them all. Just be sure you purchase a ticket for each movie. If you prefer a cheaper option, invite some friends to your house for a Christmas movie marathon or a showing of "A Charlie Brown Thanksgiving." If kids are included, pull out all of your old holiday favorites, such as "Rudolph the Red-Nosed Reindeer" and "Frosty the Snowman."
Go International
Many other countries celebrate their own versions of Thanksgiving throughout the year. Introducing elements of other cultures can also turn itno a mini-geography lesson for kids. Consider adopting one of these traditions for Thanksgiving:
In Jewish culture, some families build a hut from branches called a Sukkot. Then they eat a meal beneath the hut.
In China, families enjoy mooncakes, filled flaky pastries. The cakes were often used to deliver secret messages.
In Korea, families honor the deceased. They hold a memorial service and occasionally visit a graveyard before feasting on Songpyeon.
In Liberia, chicken and mashed cassavas replace turkey and mashed potatoes on the Thanksgiving table.
In Ancient Rome, citizens celebrated Ceres, the goddess of corn. Ceres is also where we get the word cereal, so perhaps you could incorporate some sugary cereal into your Thanksgiving meal.
However you decide to celebrate Thanksgiving this year, take some time to write down what you're thankful for. One thing is for sure – we're thankful for you!
Do you have any alternative Thanksgiving traditions? Share them in the comments!

Celebrating the contributions of veterans in your community is an easy way to thank those brave men and women for their service, while helping students understand the proper way to show gratitude for those who give their time, effort, and sadly, sometimes their lives for our country and values. Below are some great activities that show the proper respect for our soldiers and also help students learn about the history of Veteran's Day.
Hold a Veteran's Day Ceremony
There's no better way to show the importance of this day than to devote 30 minutes to a whole school ceremony highlighting the special place that veterans hold in our country. The US Department of Veteran's Affairs has created a handy step by step guide to hold an assembly in your school, including instructions on how to post the colors and suggestions for remarks and speakers.
If you can't host vets in person, consider a video call or a pre-recorded video featuring interviews.
Take a Vet to School Day
The History Channel has a Take a Vet to School Day program, complete with How To Guides and Planning Guides by grade. Of course, you don't have to involve a national program to invite veterans into your classroom. Invite your students' relatives to sit in on class for a celebration of their service. Have the children read letters of thanks and ask the vets to say a few words. It's a day your students and the servicemen and women will not forget.
Make Crafts and Care Packages to Commemorate Veteran's Day
Younger students will love to use their creativity to show their thanks and respect for veterans. Celebrate the social studies themes of Election and Veteran's Days with a display that encompasses both events. Ask your students to write thank you cards expressing gratitude to our service members. Contact the local VFW or Veteran's Hospital to act as an intermediary and deliver the cards. You can use this thank you card template or download free thank you cards from Operation We Are Here to get started. Or maybe your class can send items to military personnel stationed overseas. Many organizations will assist in sending care packages to soldiers, such as Any Soldier, Operation Gratitude,  and Adopt a Soldier.
Teach Your Students About the Contribution of Women in the Military
Too often we are saddled with stereotypes of the past that are unfortunately passed on to our children. There has always been a vibrant and vital role of women in our military, but it's important to emphasize the history and facts of those contributions. The Pennsylvania Veterans Museum has a terrific lesson plan about the role of women in the military. The Veteran's History Project has a mini unit on the role of women in World War II.
Take a Virtual Field Trip to the National World War II Museum in New Orleans
This museum offers numerous opportunities for distance learning, including as many as 15 virtual field trips on topics that include Pearl Harbor, D-Day, Iwo Jima, African Americans, and Science and Technology. They also offer Skype programs that provide a lesson plan and Skype session with a museum expert who will guide your students through the content.
It's so important to ingrain a sense of respect for our service members. There is no better way to do that than to use appropriate, creative resources to show young people how special our soldiers really are. This is another great opportunity to discuss citizenship and patriotism. For more on that topic, check out 10 Activities to Celebrate Constitution and Citizenship Day.
Do you have any lessons/activities you use to help students understand Veteran's Day or show gratitude to those who serve our country? If so, we would love to hear them.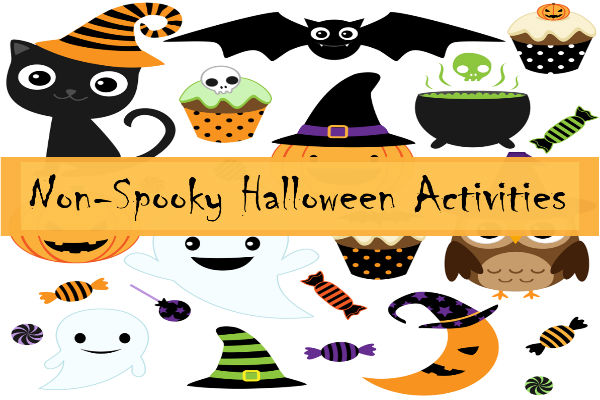 For kids who dislike ghosts, ghouls, and skeletons, Halloween can be a rough season. It's hard to know what's lurking around the corner at pumpkin patches, corn mazes, trunk or treats, and even the local grocery store. Still, that doesn't mean you have to skip Halloween altogether. There are plenty of ways to celebrate Halloween without bringing in the darker side of the season.
1. Paint pumpkins
For some kids, carving pumpkins can be too spooky, especially with their crazy faces, but what's stopping you from painting a pumpkin? Choose some bright colors and focus on funny faces or cute patterns, such as dots and stripes.
2. Bob for apples
If you're having a Halloween party, throw in a traditional bobbing for apples game. While it may not be the most hygienic, kids will have fun trying to capture the apples with their mouths.
3. Watch a pet parade
Check your local newspaper or activity guide for a pet costume parade. These parades are usually free from spooky costumes and, instead, focus on adorable animals in silly costumes.
4. Head to a fall festival
Many fall festivals are held during the day and focus on the fun side of the season. To ensure the festival will be free from spookiness, consider attending one sponsored by a church where it's less likely that ghosts, skeletons, guts, and gore will make an appearance.
5. Read a cute Halloween story
Read a story such as The Legend of Spookley the Square Pumpkin which focuses more on accepting your differences and fitting in than trying to scare kids on Halloween. Another cute Halloween book is Pumpkin Cat by Anne Mortimer. Elementary Librarian has a great list of Halloween read-alouds for more ideas.
6. Hold a non-spooky costume party
Invite some friends over for a costume party where only fun, happy costumes are allowed. Consider coming up with a theme, such as favorite cartoon characters or storybook characters.
7. Trick or treat with friends and family
Rather than going trick or treating around your neighborhood, set up a time where you can trick or treat at the homes of different friends and family members. Do it during the day so you won't see any scary masks or other costumed people out and about.
8. Have Halloween craft time
Rather than making a spooky bat, Frankenstein, or other scary craft, just pull out some orange and black paint and construction paper, along with some glue and googly eyes, and let kids come up with their own creations.
9. Make silly monsters
Monsters don't have to be scary. Focus on crafting monsters with silly faces rather than scary ones. You can give them cute names too.
10. Create leaf art
Go outside and gather some leaves. Make leaf creatures by adding eyes, noses, arms, and legs or use the leaves to make collages and other fun pictures.
11. Paint with a pumpkin
Cut out different shapes from a pumpkin and use those shapes as stamps. Dip them in paint and press them on paper to create unique works of art.
12. Make slime
Slime is often associated with Halloween, but that doesn't mean it has to be spooky. Make or buy some slime and have fun getting your hands messy.
13. Play in a sensory bin
Slowly introduce kids to some of the spookier aspects of Halloween through a themed sensory bin. You can throw in a few small plastic bats, ghosts, or spiders if your child can handle them in small doses. You may also want to add plastic pumpkins, some dirt, or black beans. For extra texture, add some orange or black water beads.
14. Go on a candy hunt
One of the best parts of Halloween is getting to trick or treat, but you don't have to find candy in traditional ways. Hide candy around your house or in your yard and send kids on a fun scavenger hunt to find it or set up different trick or treat stations in each room of your house.
15. Focus on educational activities
Try Help Teaching's 100 Educational Pumpkin Activities to bring math, science, and literacy practice to the holiday.
If you do decide to head out to some more traditional Halloween events, be sure to call beforehand to see if there will be any spooky elements there and walk ahead of your child in any corn mazes or on any paths so you can be prepared to turn around if any scary elements appear. You may also want to bring along some head phones or a pair of sunglasses to help your child tune out the spooky sights and sounds.
Do you have any favorite non-spooky activities for Halloween? If so, share them for others to enjoy!

A lot goes into electing a president. The 24 hour news cycle has certainly improved the public consciousness about campaigning and each political party's convention, but there is still much undiscovered territory for students, especially the role of the Electoral College in electing the 45th chief executive. As the 2020 presidential election nears, here are some terrific resources for teaching students of all ages how the next president will be chosen.
How did we get here?
Scholastic provides the "Road to the White House" that chronicles the journey from campaign to convention and through the election in an entertaining and illustrative interactive tour. Students of all ages will appreciate this journey as a refresher of how the United States narrowed a long list of candidates down to just two major party contenders in the last 12 months.
What are "blue and red states"?
When discussing an historical topic, teachers often rely on textbooks or handouts to explain common vocabulary terms in advance to avoid student confusion. But when discussing current events or "general knowledge" topics, we sometimes forgo a primer on the jargon  necessary for understanding. Scholastic has provided a concise list of need to know terms as you discuss the electoral process to ensure no one is left behind when you reference "GOP" or a party's "platform".
What is the  Electoral College?
Here is where your electoral adventure takes a turn toward surprise, and maybe even befuddlement.  Many students may not know what the Electoral College is and why it determines the next president.
One way to explain this system is to use music. Musical Media for Education has a song about the Electoral College, which includes a lyrics list so your students can follow along with the song.
Or, if you're old school like I am, Schoolhouse Rock has an excellent Electoral College song for use in your class ($) that covers the electoral system in their typical entertaining manner.
Does my vote even count?
Once your students understand the role of the Electoral College, they may wonder if their votes even count. Show them this Ted-Ed video about the electoral college and importance of voting, particularly in certain states.
Is this the best way to determine the leader of the free world?
This all may be a bit jarring for your students. They may have valid questions about whether this is the best, most democratic way to choose a leader. Go over the history of the Electoral College from the House of Representatives website. This History Channel video also gives more background on why the founding fathers implemented this system.
There are some detractors of this system. The major arguments are chronicled by Scholastic. This is a great opportunity to hold a debate or to ask students to write a claim about the validity of this system using a selection of documents from this post.
What do the electors do when they meet?
The meeting of the Electoral College is not a clandestine event. C-SPAN has video of the 2008 meeting of the electors from Illinois and Arizona. This is a terrific primary source that gives the students a glimpse into our democratic process.
How can a candidate win the election?
The best way to understand how an election is won is top ask the students to win an election themselves. iCivics has a fun election game to help students win the White House, as well as ideas for mock elections in the classroom.
Students can also track the race to 270 electoral votes with an interactive electoral map. This would also be handy for a research project that asks the students to predict the results of the election by tracking each state's past voting habits.
The Washington Post has an Electoral College curriculum that encompasses all of the above questions in one handy document with numerous resources. In addition, Help Teaching offers numerous free election worksheets, including a presidential election quiz and electoral vote activities for both the 2008 and 2012 elections.
With so much attention paid to the popular vote and so much polling data on all of the major networks, it can be easy for students to be unfamiliar with the electoral process. Don't let this election pass without giving them a primer on one of the most important components of our democratic system!
28 September //
Posted in How To //
Tags :

It's fall and that means it's time for… pumpkin everything. Pumpkin spice lattes, pumpkin bread, visiting the pumpkin patch, carving pumpkins, you know the drill. Since pumpkins are already all around you, why not make them a part of your lesson plans too? We've rounded up 100 activities you can use to bring pumpkins into the classroom.
Math
Bring a set of pumpkins into the classroom and have students order the pumpkins from smallest to largest by size, stem height, weight, or another attribute.
Give each student a pumpkin and have students measure the pumpkin. How tall is it? How wide is it? What is its diameter? How much does it weigh? Practice estimation skills by having students how much it will weigh before they weigh it.
Use a balance to compare the weight of a pumpkin to other objects in the classroom. For example, how many counting bears does it take to equal the weight of the pumpkin?
Practice counting skills by counting pumpkins. You can count the number of pumpkins you see at the pumpkin patch or bring in small pumpkin candies for children to count and group.
Sing the "Five Little Pumpkins" song ("Five little pumpkins sitting on a gate, the first one said, 'Oh my, it's getting late…'")
Most pumpkins have seeds inside. Place students in groups and give each group a small pumpkin. Cut open the pumpkins and have students count the number of seeds inside. Then each group can add their results to a graph. Practice estimation skills by having students predict how many seeds they will find before they look in the pumpkin.
Make a pumpkin seeds counting book. Wash and dry pumpkin seeds and have students glue the correct number of seeds to each page of a counting book. You can also use dried pumpkin parts to make a book about the life cycle of a pumpkin.
Did you know that the largest pumpkin ever grown weighed over 2,000 pounds? Research the largest pumpkins in history, compare their characteristics, or create a graph to see how much they would have to grow a day to reach that size.
Turn a pumpkin into a geoboard. Add push pins to the pumpkin and stretch rubber bands around the pins to make different shapes.
Bake a pumpkin pie (or something else with pumpkin in it) or make a no-bake pumpkin recipe to help students work on measuring and reading directions.
Make a shape-o-lantern. Cut out different shapes (circles, triangles, rectangles, etc.) in different colors of construction paper and have students glue them together to make their own shape-o-lantern.
Play an online pumpkin math game, such as Farmer Fred's Pumpkin Patch or Pumpkin Multiples.
Determine how much a pumpkin will cost by setting a price per weight, weighing a pumpkin, and determining the final total.
Find two sets of three pumpkins that are nearly identical in size and color. Make a grid on a large piece of cardboard or by placing tape on the ground and play a game of pumpkin tic-tac-toe.
Science
Study the life cycle of a pumpkin. How does a pumpkin grow from a seed to a full-grown pumpkin?
Create a diagram of a pumpkin and label the different parts (stem, seed, vine, etc.)
Conduct a pumpkin investigation. Have students analyze the pumpkin and describe the outside, the inside, how many seeds it has, how many lines it has, and other important features.
Discover what happens to a pumpkin when you drop it from different heights. Does it break apart more when dropped from higher heights? What factors cause it to break apart or stay together?
Use candy pumpkins and toothpicks to create bridges and other amazing structures. Talk with students about what makes one structure sturdier than others.
Get a large tub of water and predict whether a pumpkin will sink or float. Place it in the water and see what it does. Try different sizes, shapes, and varieties of pumpkins. You could also empty out a pumpkin or poke holes in it to see if that changes the results.
How long does it take a pumpkin to decompose? Place a piece of pumpkin into a container of dirt and regular monitor it. How long does it take the pumpkin to completely disappear?
Monitor a rotting pumpkin by having students keep a pumpkin outdoors. Have students regularly go outside to observe the pumpkin. In a journal, students can draw a picture of the pumpkin and write a brief description.
Grow a plant inside a pumpkin. Open it up and leave some of the guts inside, add some soil and a few plant seeds, and wait for your plant to sprout. Discuss with students what elements of the pumpkin might help a plant grow inside it.
Create a pumpkin elevator. Challenge students to build a structure they can use to lift a heavy pumpkin. Reward students who can lift the heaviest pumpkin and lift a pumpkin the highest.
Make a pumpkin volcano. Scoop out a pumpkin, put in some baking soda, add a bit of vinegar, and watch the pumpkin erupt. To make it more fun, add a few small holes for the foam to seep out of.
Roast some pumpkin seeds with students. Have them look at the seeds before they are roasted and after they are roasted and note how they change.
Dissolve candy pumpkins in different liquids (water, oil, vinegar, and soda). See how long it takes the pumpkin to completely dissolve.
Empty a pumpkin, light a candle, and put it inside. Then put the lid on the pumpkin. Talk to students about why the candle goes out. Carve the pumpkin, light a candle, and put it inside. Talk to students about why the candle stays lit.
Language Arts
Write an acrostic using the word PUMPKIN. Have students come up with a word or sentence related to pumpkins for each letter.
How many words can you make from the letters in the word PUMPKIN? Challenge students to come up with as many words as possible. To make it easier you could add another word, such as PUMPKIN PATCH or PUMPKIN PIE.
Have students draw and write a description of the ultimate jack-o-lantern. How big would it be? How would they decorate it?
If a pumpkin could talk, what would it say? Have students write a short story about a talking pumpkin.
Read a fiction book about pumpkins. Good books to start with include Spookley the Square Pumpkin and Too Many Pumpkins.
Have students look at the inside and outside of the pumpkin and describe both with adjectives. Is it slimy on the inside? Bumpy on the outside?
Create a recipe for a sweet treat using pumpkins or pumpkin candy. Students' recipes could be something they could actually try to make or something crazy.
Write pumpkin metaphors and similes, where students compare themselves or other objects to a pumpkin. For example, I am like a pumpkin because sometimes I feel bumpy.
Write a poem on a pumpkin. Give each student a pumpkin and a permanent marker and let them write poems about fall or pumpkins right on the outside of the pumpkin.
Create an advertisement for a pumpkin. Have students try to persuade others to buy their pumpkins (or pumpkins from their pumpkin patch) by creating a poster to advertise them or create a make-believe commercial.
Research the largest pumpkins in history, pumpkin festivals around the world, or another element related to pumpkins and write an informational report.
Organize nouns related to pumpkins based on whether they are a person, place, or thing. For example, "farmer (person), pumpkin patch (place), seed (thing)."
Learn vocabulary words related to a pumpkin patch. Some words include: vine, seed, tractor, pulp, tendril, hay, pick.
Write the letters of the alphabet around the edge of a construction paper pumpkin. Call out a letter of the alphabet. Using a hole punch or dot marker, have students find and mark the letter.
Social Studies
Visit a pumpkin patch and talk about the role the pumpkin patch plays in your community.
Create a map that shows how to get to a local pumpkin patch or have students create a map after they visit the pumpkin patch. Students can also follow a map through a corn maze at the pumpkin patch.
Discuss with students the path a pumpkin takes to get from a seed to a pumpkin pie on the dinner table.
Did you know that 90% of pumpkins grown in the United States come from a 90-mile radius around Peoria, Illinois? Do some research on the state of Illinois and its pumpkin crop.
Do some research to figure out the top 5-10 pumpkin producing countries in the world.
Decorate pumpkins to represent different flags of the world or different states in the United States.
Paint a world globe onto a pumpkin. Use it to talk about concepts such as the equator, longitude, and latitude.
Why do people put out jack-o-lanterns on Halloween? Do some research to figure out the reason behind the tradition.
How have pumpkins been used throughout history? Have each student find one use and write a report on it.
Eat pumpkin like the Native Americans by cutting it and roasting it over a fire.
Read the book The Pumpkin People and talk about different personalities and types of people that exist in the world or choose other Halloween books to read.
Play a game of pumpkin trivia. Put together a set of historical questions about pumpkins and see how much students know.
Music
Sing the song "5 Little Pumpkins."
Sing the "I'm a Little Pumpkin" song to the tune of "I'm a Little Teapot." (I'm a little pumpkin, orange and round)
Use two paper plates taped together with beans inside and painted orange to create pumpkin tambourines.
Use soft mallets to tap on pumpkins and see what sounds they make. Do they make different sounds once they have been cut open?
Replace the black dots on music notes with tiny pumpkin pictures on a silly tune about fall or Halloween for beginning learners to play.
Make up a clapping or stomping rhythm as kids spell out the word pumpkin.
Fill a plastic tube with dried pumpkin seeds to make a musical shaker.
Play a game of musical pass the pumpkin. Have students stand in a circle and pass around the pumpkin while music plays. Whoever is holding the pumpkin when the music stops is out.
Say a rhyme such as "Peter, Peter Pumpkin Eater" while having students clap along. Try to say the rhyme faster and slower.
Have students make up a pumpkin dance, a dance that they think a big, round pumpkin might do or a dance they can do while holding a pumpkin.
Play students part of the soundtrack from "It's the Great Pumpkin, Charlie Brown" and talk about the different sounds you hear.
Sing the song "Where is Thumbkin?" but insert pumpkin and pull out a pumpkin or two as you say the lines.
Physical Education
Play a game of PUMPKIN instead of HORSE. Students shoot baskets and try to avoid getting the letters in "PUMPKIN," earning one letter for each missed shot.
Set up a hopscotch game using construction paper cutouts of pumpkins instead of squares.
Create a pumpkin workout where each letter of the word PUMPKIN stands for a different activity. For example, "P" could stand for 10 push ups.
Hold a pumpkin rolling challenge. Give each student a pumpkin to roll from one end of the room to the other. See who can roll his/her pumpkin first.
Hold a pumpkin lifting challenge. See which student can lift the heaviest pumpkin or carry the most pumpkins at once.
Play a game of "Steal from the Pumpkin Patch." Give each student two flags to hang out of their pockets and have students try to steal the other team's pumpkin from the patch without getting their flags stolen.
Play a round of pumpkin bowling. Set up empty soda bottles and roll a pumpkin to try and knock them down.
Follow the pumpkin path by laying down construction paper pumpkins around the room. Challenge students to walk around the room by only stepping on the pumpkins.
Have students try to walk around the room while balancing a pumpkin on their heads.
Pass a pumpkin around the room, but don't let students use their hands. A smaller pumpkin works best for this game.
Go on a walk through a pumpkin patch.
Play pumpkin ring toss and have students try to land a cardboard ring on a pumpkin's stem.
Hold a pumpkin relay race, where students must race while holding a pumpkin, and pass the pumpkin to a different team member at certain points in the race.
Have a pumpkin toss. Let two students toss a small pumpkin back and forth. With each successful toss, they take a step back. The pair of students who toss the pumpkin back and forth the longest win.
Art
Get out the finger paints and let students paint their pumpkins however they want.
Use yarn or string and have students wrap their pumpkins to create fun designs.
Blow up an orange balloon and wrap it in yarn coated in glue. Once the glue dries, pop the balloon and remove it. Add a stem and leaf to complete the pumpkin.
Cut an apple in half, dip it in orange paint, and stamp it on paper. Add faces and stems to create pumpkin faces.
Tear up pieces of orange tissue paper or construction paper. Have students glue them onto a pumpkin shape.
Remove and dry the seeds from a pumpkin. Have students glue the seeds to construction paper to create patterns or fun pictures.
Place a piece of construction paper on a pumpkin paper and rub a crayon on it to create a fun pumpkin rubbing.
Make construction paper pumpkins with a variety of different faces which will also help students learn about emotions.
Cut out construction paper shapes and tape them to pumpkins to make different pumpkin animals.
Cut strips of orange paper and arrange them to create a pumpkin shape (gluing them at the top and bottom of the pumpkin. Add a construction paper stem and leaf.
Make a thumbprint pumpkin patch, by having students put orange thumbprints on a piece of paper, and then drawing in stems and leaves.
Sponge paint a white paper plate with orange paint. Add a construction paper stem and let students draw or glue on construction paper shapes to make a face.
Practice mixing red and yellow paint to make orange, and then use the orange paint to paint a picture of a pumpkin.
Glue googly eyes and stems onto orange pom poms to make a pom pom pumpkin patch.
Have students make construction paper pumpkins and cut out pictures from magazines to glue on for the facial features.
Have students make a fence out of construction paper strips and glue on five construction paper pumpkins to accompany the song "Five Little Pumpkins."
Have students create a square pumpkin to go along with the story Spookley the Square Pumpkin.
Paint rocks orange and paint on faces with black paint to make small jack-o-lanterns.
Make pumpkin sculptures by stacking pumpkins in unique ways and gluing them together with hot glue (used with teacher supervision).
Let kids use a hammer and a nail or a drill (with supervision) to make holes in a pumpkin. Add a candle to see how the light shines through.
Have more pumpkin ideas? We'd love to hear them. Share them in comments. Visit Help Teaching for more fun fall activities and printables. Happy Fall from Help Teaching!
Teachers work a lot. In fact, many teachers work well beyond their contracted hours grading papers, planning lessons, and overseeing extracurricular activities. Add in trying to spend time with a spouse or raise children and it becomes clear that there just aren't enough hours in the day. For teachers, anything that can save a little time can be life-changing. If you find yourself giving up sleep or foregoing fun activities to get classroom work done, try some of the time-saving tips for teachers below to gain a little more margin in your life.
Embrace the 40 Hour Workweek
Many teachers have taken on Angela Watson's 40 Hour Teacher Workweek which focuses on strategies to help keep school at school and allows teachers to spend more time with their families and friends. There's always a waitlist to join the latest cohort, but you don't have to officially join the movement to try it out. Look for Facebook groups and blogs from teachers who have taken on the challenge and start by implementing some of their strategies.
Develop Routines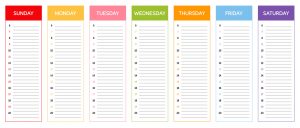 The more routines you have in place in your classroom and at home, the less time you have to spend planning. For example, maybe you always teacher grammar on Wednesdays or your students spend every Friday brushing up on their math facts. At home, you can plan to eat pizza every Friday or tacos every Tuesday and be sure to always have the ingredients on hand (or a delivery app on your phone) ready to go.
Stop Reinventing the Wheel
While it's true that every group of students has different needs, that doesn't mean that you need to write an entirely new curriculum every year. If you have lessons that have consistently worked well, keep using them rather than trying to come up with something fun and new. And remember that you don't have to have an exciting, fun lesson every day. In fact, spacing out the exciting lessons and filling the time in between with practice opportunities and reinforcement can help improve student retention.
Additionally, don't feel like you have to create everything yourself. Did you see the perfect rubric or slideshow presentation online? Use it. If you find the perfect resource on TeachersPayTeachers, buy it. You don't have to feel bad because you didn't create it yourself. Sites like HelpTeaching.com exist to help teachers save time by providing worksheets, video lessons, and other activities for their classrooms.
Get Digital Assistance
In today's digital world there are tons of resources designed to save teachers time. You can keep up with an entire class of parents at once by using a service like Remind or quickly log behavior issues (positive and negative) with Class Dojo. There are also numerous Word, Excel, and Google templates designed to make record-keeping easier.
If you teach online for a service like VIPKid or have to keep detailed notes about your students and their performance, consider signing up for a service like Feedback Panda. Their templates make it easy to record student progress, write detailed course notes, and quickly review critical information about students.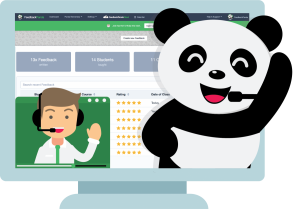 Pay Attention to When and What You Grade
How many times have you brought a bag of papers home to grade only to take it back the next day with the papers ungraded? Even when teachers don't look at the work they bring home, they spend a lot of time thinking about it. If you're feeling stressed or have other things to get done, just leave the work at school. Then you don't have to spend time worrying that you should be grading them because it's not an option. Additionally, try to set due dates for larger assignments at times when you know you'll be able to get the grading done and don't be afraid to extend a due date if your week is filling up. Your students likely won't complain about the extra time to get the work done.
Along with looking at when you grade, think about what you grade. Do you really need to grade every paper? If the students' quality of work wasn't up to par, consider chucking the assignment and trying again. If something was just for practice or participation, slap a check mark on it and hand it back, only adding comments if there are serious issues.  If you give a writing assignment, rather than marking every error, provide more general feedback at the end. You can also look for ways to give students feedback on their work in class rather than offering a formal grade or implement peer grading for assignments that carry a lower weight.
Learn to Say No
It's definitely easier said than done, but knowing your limits and learning how to say no can help you free up time in your schedule. Does a parent want you to tutor a student after school? Maybe you can suggest some resources for the student to review at home instead. Does your principal need someone to chair another committee? Maybe you can suggest a colleague who'd be better suited for the job. Do your kids want you to cart them around to activity after activity? Maybe you can have them choose one activity every 6 weeks or ask their friends' parents to help carpool so you don't have to be responsible for drop off and pick up every time.
Take Care of Yourself 
Even though self-care takes time, taking time to take care of yourself can actually add more time to your schedule. When you are tired and stressed, you work at a slower pace and likely don't think as clearly. Taking a few hours every week to focus on relaxing and recharging can make it easier to get everything on your list done without feeling overwhelmed.
Embrace Imperfection
The problem with Instagram and Pinterest is they can make teachers feel like they have to have the perfect classroom, the perfect lesson, the perfect… everything. At the end of the day, your students and loved ones don't care if you had a Pinterest-worthy lesson or the most Instagrammable classroom decor. They just want someone who loves and cares about them. So if you don't have a classroom full of color-coordinated flexible seating, your walls aren't covered with your professionally designed anchor charts, and you don't have a Cricut-made t-shirt for every occasion, it's okay.* That's probably not what your students will remember anyway.
*And if you can maintain that Pinterest-worthy classroom, have a Cricut-made t-shirt for every occasion, or create anchor charts that show amazing graphic design skill, there's nothing wrong with that either as long as it doesn't come at the expense of taking care of you.
Since 2013, Help Teaching has brought you our Top 100 Free Education Sites. We're continually updating our list to provide you with the best resources. Not only can you find the top free sites for teaching math, science, English, and social studies, but we've also added some of our favorite computer science and coding sites, language sites, and homeschooling sites.
No time to go through the whole list? Just use "Quick Links" section to jump straight to the section that interests you and bookmark this article for a reference later.
QUICK LINKS:
10 Awesome Education Sites
Whatever the grade-level or subject area, these websites have something to offer. From high-quality lesson plans to entertaining games and educational videos, they represent some of the best educational websites in existence.
Code.org has gained recognition with its Hour of Code initiative. The website offers free, easy lessons to help kids learn some of the basics of coding. The lessons also help teach critical thinking and problem-solving skills.
Google is something most teachers know about, but many haven't taken the time to explore all of their awesome free resources for education. There are some fun activities too, such as Google Experiments where kids can create all kinds of unique simulations and games online.
FunBrain helps students learn through fun games related to math and reading. They'll also find books and other entertaining resources.
Scholastic has developed a reputation for its high-quality educational books and materials and its website does not disappoint, offering lesson plans, interactive activities, and articles designed to help teachers and parents.
Gooru helps students take control of their own learning by providing them with information about how they learn best.
Edutopia focuses on helping educators grow. From articles and blogs from those working in the field to informational videos and classroom guides, educators in all areas of education will stay on top of the latest trends and find tips to help them improve.
DIY.org encourages kids to learn new skills. Teachers and parents can challenge them to set goals and complete tasks on the site.
Science Bob gets kids interested in science by providing experiments, research, Q&A, and other info all focused on science.
Teachers Pay Teachers isn't technically a free site since teachers sell materials. However, there are plenty of free downloads on the site. You may find the perfect free worksheet, lesson lan, or classroom time-filler.
Ted-Ed goes beyond traditional Ted Talks by offering lessons to accompany many of those videos. In addition, you'll find animated videos and resources for elementary,middle, and high school students too.
Coding
Every day, in classrooms around the world, kids are learning how to code. Coding is a valuable skill that helps teach kids to think logically and develop the critical thinking and reasoning skills they need for our increasingly technological world. These resources offer free coding activities for kids.

Code.org is home to the Hour of Code. In just an hour, kids can complete a fun coding game. There are many games to choose from, including those that feature popular characters kids love.
Tynker offers its own free Hour of Code activities and games for kids to enjoy.
CodeCombat is an online, multiplayer game that requires kids to write code to play.
Kodu Game Lab is a visual programming tool that kids can download to create games of their own.
CS Unplugged teaches the principles of coding, but not in the traditional way. The site offers a large selection of offline activities designed to help kids develop these critical thinking skills.
Reading
Find games and activities for early readers, as well as texts for advanced readers, in this collection of high-quality reading websites. In addition to these sites, Help Teaching offers a large collection of public domain and original reading passages organized by grade-level, word count, and Lexile level.
CommonLit contains a wealth of free fiction and non-fiction texts for use in the classroom. Texts are organized by grade-level and theme.

Media Literacy Clearinghouse introduces students to a new type of literacy – media literacy. With all of the new technology and messages appearing every day, it's important for kids to be media literate.
Awesome Stories uses non-traditional reading materials, such as biographies and primary source texts, to get students learning through reading. Students can use the site to help with research and teachers can use the texts as part of lesson plans. Creating an account allows users to access audio versions of many of the titles as well, making it an ideal site for auditory learners and those with learning disabilities.
ReadWriteThink gets students to participate in critical thinking and reading activities through its lesson plans and interactive student resources.
Book Adventure is a free online reading program that provides students with incentives for reading.
Bookopolis is essentially a GoodReads for kids. The site allows students to read reviews written by their peers and helps them find the perfect book.
Writing
Whether students need an outlet for their creative writing or want to brush up on their grammar skills, one of these resources will get the job done.

Make Beliefs Comix gives kids a place to create their own cartoons and store them online. It features tons of clipart and other artistic effects to make the comics visually appealing.
Voki features animated characters that students can customize and manipulate to speak their words. It's a great tool to help with creative thinking, writing, and storytelling.
Grammar Bytes tests students' knowledge of grammar through simple multiple-choice activities and rewards them with cheesy virtual prizes.
Purdue OWL is an online writing lab from Purdue University that provides students, particularly those in high school and college, with everything they need to know about writing a paper, including grammar advice and paper formatting guides.
Social Studies
Teachers can find primary source documents and high-quality lesson plans, as well as discover ways to connect students to history, geography, government, and other areas of social studies online.

GeoGuessr tests kids' geography skills. Using images from Google's Street View, it plops players down in the middle of the street and asks them to figure out where they are.
National Archives: DocsTeach allows teachers to incorporate primary source documents and other historical texts into a variety of critical thinking and thought-mapping activities. Pre-made activities are also provided. Students can complete the activities online or through the DocsTeach app available for the iPad.
iCivics offers high-quality and engaging games for students to play while they learn about civics. Lesson plans help teachers incorporate the games in the classroom.
Sutori gives students the chance to create free interactive timelines and engage in collaborative learning.
What Was There? allows students to type in any city, state, or country to view an archive of historical photographs and other documents. It's a unique way to help them learn about history.
Math
Not all websites focus on elementary math skills. While many of these games do work well for elementary-age students, they also offer games and lesson plans for students tackling subjects such as algebra, geometry, and calculus.

Math is Fun is full of math resources for kids and teachers. It also includes an illustrated dictionary of math terms to help students understand difficult concepts.
Numberphile features short videos about numbers. They help kids explore complex math topics and make math more fun.
Math Games offers a large collection of math games and questions organized by grade-level and skill. It also includes a progress-tracking feature so teachers and parents can see what kids know.
AAA Math features online interactive math lessons for students in kindergarten through 8th grade.
Yummy Math connects math with the real world through timely news stories and other reading passages.
Math Forum offers online professional development opportunities and other resources to help math teachers improve their skills.

Science
Help students understand science with this collection of videos, games, experiments, and creative science activities.

PhET features many engaging simulations to help kids learn difficult concepts in science and math.
Wonderopolis shows kids a wonder of the day, and then gives them a chance to test their knowledge or join in on a discussion related to that wonder. Kids will be surprised by all of the cool facts that they learn and they may spark some interesting discussions in the classroom.
Molecular Workbench contains hundreds of simulations, curriculum models, and assessments designed to improve the teaching of science.
Science Made Simple gives kids science experiment ideas and other science project topics. It also offers help when preparing for a science fair.
The Science Spot offers lesson plans, activities, and student examples from one teacher's science classroom, as well as daily science trivia challenges and daily science starters.

BioDigital is a human visualization platform that allows students to explore the human body in really cool ways.
For even more science-specific resources, check out the Ultimate Guide to Teaching Science.
Art
Art museums around the world have made it their mission to teach students about art. These websites introduce students to art theory, let them explore classic works of art, and even give them the chance to create art of their own.

Artsonia bills itself as the world's largest kids art museum. All of the artwork has been created by kids and, while the site is free, parents can also purchase products featuring their kids' artwork.
Artsology helps kids learn to appreciate the arts by providing them with the opportunity to play games, conduct investigations, and explore different forms of art.
NGAKids Art Zone allows kids to explore popular art movements, themes, and artists and offers guides to help teachers as well.
Tate Kids gives kids a chance to explore famous works of art, play art-related games, and even create their own works of art to add to their online gallery.
Music
Encourage kids to think beyond One Direction and their other favorite artists and experience new types of music. Kids can learn about the symphony and classical music or even build their own musical skills by learning through ear training or playing instruments online.

Andrew & Polly is an indie children's music duo that has created a podcast called Ear Snacks designed to help kids learn through music, sound, and unique experiences.
Classics for Kids regularly highlights famous composers and provides teachers with activities to use in the classroom.
KIDiddles has lyrics and audio files for over 2,000 kids songs for music teachers, or any teachers, to use in their classrooms.
Good Ear may not look like an awesome site, but it contains a lot in its simple design. This website provides virtual ear training to help serious student musicians learn to recognize the differences between notes.
Virtual Musical Instruments lets kids play instruments online. Instruments include the guitar, piano, pan flute, drums, and bongos.
Health and Safety
Health and safety are important to kids. Whether kids want to know more about keeping their bodies healthy or staying safe online, these websites have them covered.

KidsHealth is the top website for kids to learn about their bodies and their health. It features easy-to-read articles and kid-friendly graphics to help kids learn about a whole host of topics related to health and safety.
CDC BAM! focuses on teaching kids about their bodies. BAM stands for body and mind and all of the resources on the site help kids learn more about their bodies and keeping their minds sharp.
NetSmartzKidz and its sister site, Netsmartz, promotes online safety. Kids and adults can learn all about staying safe online and avoiding dangers such as cyber bullying.
StopBullying.gov helps prevent bullying in all forms by providing teachers, parents, and students with resources to educate them about bullying and let them know what to do when bullying occurs.
PE Central is a physical education teacher's ultimate resource. It includes lesson plans, assessment ideas, and other resources.
Early Education
Don't forget about your younger learners too. Many websites, including our own Early Education collection, offer games and activities designed to help toddlers and preschoolers build their basic skills.

Preschool Express is full of crafts, activities, bulletin board designs, and finger plays for early education teachers and parents to use with kids.
Starfall promotes beginning reading and number skills with fun stories and activities.
Funbrain Jr. brings the fun and quality of Funbrain to a younger audience with its early learning games.
Songs for Teaching offers a large selection of fun songs to help teach preschool students.
Super Simple Learning's resource section includes free flashcards, coloring pages, worksheets, and other resources for children, teachers, and parents.
Educational Games
Kids love to play games online. Why not encourage the practice by introducing them to some fun educational games websites? They'll have fun and you'll know they're learning.


Arcademic Skill Builders offers a series of racing games for kids focused on math and ELA skills. Best of all, many of the games are multiplayer so kids can create rooms and play against their friends.
Quizalize lets teachers turn content into fun quiz games for students. It's free to create quizzes, but teachers can also buy inexpensive quizzes from other teachers in the marketplace.
Cool Math Games is the ultimate site for kids who want to play math-oriented games. These arcade-style games are a lot of fun and many accompany the lessons found on the site.
Primary Games has a lot of educational games for kids to play mixed in with some "just for fun" games too. All of the games are kid-friendly.
Games for Change gets kids thinking about problem-solving and social issues by providing them with unique games to play. Many of the games help kids solve world problems or introduce them to social issues.
Educational News
It's important to keep up with the news. These websites cover the latest education news and also provide kid-friendly news sites to use with students.


Education World's main page highlights the latest news in the world of education, including interesting research and controversy.
Education Week publishes a weekly newspaper all about education. Its website highlights many of those stories so you can access them for free.
Smithsonian TweenTribune features unique news stories for kids. Stories are organized by Lexile level and cover topics related to kids' interests.
Time for Kids gives students and teachers access to many of the articles from Time for Kids magazine, even if they don't subscribe. Stories focuses on world news stories and pop culture.
DOGO News promotes "fodder for young minds" by sharing unique news stories, including stories of people doing good around the world.
Educating Yourself
With the introduction of open courseware and TED talks, educating yourself online has never been easier. Find access to actual college courses and learn what you want to know from the experts in the field. At HelpTeaching, we have launched our own line of online K-12 lessons that students can use for self-directed learning.


TED features videos and other resources from some of the world's greatest leaders, innovators, and thinkers. If you want to learn more about a particular field, chances are there's an expert talking about it.
Khan Academy offers free online courses in a wide variety of subjects. It offers the most content in math, but also has courses in science, economics, test prep, and more.
Open Education Consortium allows you to search for open courses around the world. It also provides news on the open courseware movement.
MIT OpenCourseWare gives you access to courses from one of the nation's most prestigious colleges.
Coursera helps you find and sign up to take free online courses from some of the world's top universities and other experts.
Youtube has been around for a long time, but that only supports its awesomeness. You'll find a lot of video tutorials on everything from fixing a car to learning how to beat a difficult level on Angry Birds. Don't forget to check out Help Teaching's YouTube channel with online lessons too.
For more resources, don't forget to check out the Ultimate Guide to Self-Learning for Kids and the Ultimate Guide to Self-Learning for Teens and Adults.
Homework Help and Study Skills
For general homework questions and help studying for that big test, students should check out this collection of websites. Teachers will also find study skills lessons to go over with students in class.

HomeworkSpot provides students with links, resources, games, and reference materials to help them build their skills and complete their homework.
Fact Monster Homework Center connects kids with reference materials and tools to help them successfully complete their homework.
Shmoop offers homework help, literature guides, and a ton of other resources for students. The site's writers incorporate a lot of humor in their writing too, making the site incredibly entertaining.
Howtostudy.org features articles on different study skills and test-taking strategies. There's even a subject-based "How to Write" section to help students learn how to write all kinds of informational texts.
Don't forget Help Teaching's Study Skills and Strategies worksheets either!
Lesson Planning
Lesson planning can be time consuming, but with high-quality pre-created lesson plans, lesson plan templates, and a place to store their lesson plans, teachers can simplify the process.

The Differentiator provides teachers with lesson plan ideas to help them incorporate higher-order thinking skills, change up the products students create, and add to the resources they use. This helps ensure teachers aren't presenting the same lessons all the time and that they reach students in many different ways.
ShareMyLesson offers lesson plans and other resources shared by teachers, educators, and educational companies around the world.
Classroom Management
If teachers want students to learn, they must have good classroom management. These resources help keep students in control and encourage behavior that promotes learning.

ClassDojo is a classroom management system that allows teachers to set goals for students, track their progress, and reward them for that progress. Parents can also access reports to see how their children are doing.
Remind gives teachers a free, easy, and safe way to share important information with parents and students via text message. All phone numbers are kept private and parents must opt-in to receive messages.
BouncyBalls is an online game where the noise level makes the balls bounce. The more balls bouncing, the noisier the classroom is, reminding students to quiet down and focus on their work.
NEA Classroom Management offers a classroom management survival guide, as well as articles and resources to help with specific areas of classroom management.
Super Teachers Tools contains free resources such as seating chart makers and countdown timers that can help teachers implement solid classroom management strategies.
Language
Whether students are looking to learn a foreign language or improve their English language skills, these sites are designed to help.

Internet Polyglot offers free videos, games, and other resources to help language learners memorize words in a new language. It also offers over 4,000 vocabulary lessons.
Busy Teacher features thousands of articles, worksheets, slideshow presentations, and other resources designed to help English language learners and teachers. All resources are available to view and download for free.
Google Translate is a free translation service provided by Google. You can translate a few words at a time or a whole document. While not 100% accurate, it can be a good place for language learners to start.
Open Culture contains a collection of the best free language learning courses and resources online.
Homeschool
Homeschool curriculum can be expensive. Thankfully, there are plenty of free resources out there to help offset the cost. You'll also find lots of tips, tricks, and other resources to help make your hoeschooling journey successful.

Homeschool.com bills itself as the #1 resource for homeschooling and with good reason. The website is full or articles about homeschooling, local homeschooler groups and even free curriculum and homeschool mom planner.
Beestar offers online elementary math and reading exercises. With a free account, kids can access a set number of free worksheets a day. There are also competitions kids can enter for a small fee.
Brainly gives students a place to ask questions and get answers. Think of it as a moderated Reddit or Yahoo! Answers for kids and teens. Most of the content on the site is free, although some verified answers require a subscription.
CK-12 is a platform that offers free online textbooks and resources for students and teachers. Why pay for curriculum when you can get free, customized resources online?
Hillsdale College provides free online courses to help people learn more about the principles of American democracy and study some of the authors and artists who were part of America's foundation.
Life Skills
There are some skills that aren't taught in high school, but they're extremely important for students to learn. These sites help students gain these essential skills.


Practical Money Skills bills itself as a site that offers financial education for everyone. The site includes free articles and learning modules for students, lesson plans for teachers, and a host of fun games, including many related to athletics.
Gen i Revolution offers free personal finance and economics education for students through the form of a game. Students go through real-life scenarios and use the selection of characters and skills available to them to set things right in the financial world of the game.
Everyday Life from GCF Learn Free features multiple interactive tutorials designed to take students through everyday life activities, including work shills and getting around town.
Overcoming Obstacles is a free life skills curriculum for students in grades K-12. Their resources include strategies for teaching social and emotional skills. Teachers and parents must register for a free account to access the curriculum.
For more resources, check out Help Teaching's selection of free life and money skills worksheets.
Did you favorite sites make the list? If not, share them in the comments. Maybe they'll make 2019's list of the 100 Best Free Education Sites. Remember to check out Help Teaching for all of your worksheet and printable needs too.
Starting a new job can be stressful, but new teachers face obstacles like no other profession. In an occupation that relies so heavily on experience, a beginner can get lost before building up enough wisdom to overcome the daily stresses that arise in the classroom. Here are five simple ways to keep your confidence high and your classroom management strong whether you're in-person, online, or a mixture of both.
1. Use positive reinforcement to encourage students to succeed
Students of all backgrounds respond when there is a reward for positive behaviors. Verbal praise for a specific student's positive actions will often spur others to do the same. Tangible rewards such as stickers for the young students and homework passes for the older ones also do the trick. Make it a great honor to the students to have their work displayed in the class. My first experience in the classroom was a ninth grade Global History class in a tough Bronx, NY high school. After a rough September, I began a unit on Ancient Greece in October. I divided the students into small groups and designated each a Greek city – state to emulate. They would work in their groups for the length of the unit, with daily medals given for the top three "city-states" for quality of work, effort, and behavior. This Olympic simulation harnessed the energy in the room and gave even the most difficult student something to strive for: a place in the daily medal ceremony.
2. Set high standards and hold the students (and yourself) to them
We often set the bar too low for our students. It is important to set high – yet achievable – standards for them each day and each marking period. After the first marking period ends, work with each student to set a specific goal that improves upon an area in which they struggled in the first part of the year. Have them write a reflective piece as to why they didn't do well and how they plan to do better. Make sure to monitor their progress frequently with one on one conferences. Include their parents in the goal setting process. When students achieve their goals, it gives you another reason to use positive reinforcement to encourage others to work harder. I've had many students who didn't try hard because school was just too hard for them. When asked to examine the specific difficulty that was holding them back, some responded with telling answers. Vocabulary, reading comprehension, and a quiet place to do homework were just a few of the common issues we faced together. Identifying the problem made it possible to at least address it, and, in many cases, we did just that.
3. Don't fight battles that you can't win
It is very important to enforce rules and not to look weak in front of the assembled class, but some battles need to be lost in order to win the war. Not every student should be treated the same. What works as a punishment or a behavior modifier for one student will not work for all of them. For example, not every student is capable of handling direct and public criticism. Sometimes behaviors are best corrected in private or with only vague references to specific offenders. Students often respond to subtle cues, like your proximity to the misbehaver, a tap on the shoulder, or stern look. Even when a student acts out in an inappropriate way, it is not always necessary to correct the behavior with a lecture and punishment on the spot. End the disruption and deal with the fallout later. Word will surely get back to the rest of the class when the punishment or modification is doled out. Causing a scene to reestablish your credibility is not required.
4. Do not take on more responsibilities than you can handle
The first year of teaching is stress filled and requires an intense devotion to your craft. It is not recommended that you coach, take extra classes, or advise a club while you're in educational boot camp.
During my first year of teaching I put my higher education quest on hold while I battled to become a better educator. Despite my need for more income, I avoided all opportunities to earn unless it was paid training. I spent my free time planning, grading, researching, and reflecting. Every second was time well spent.
5. Learn from more veteran teachers
All teachers, new or veteran, should be observing their colleagues and sharing best practices, but the new teacher has special needs that others do not. Questions a new teacher should ask a colleague every day include "How else could I have handled that?" and "What did you do when…?"
If you have a problem student, seek out other teachers who have him in class or who have had him in the past. If there's a topic that you just can't pin down how to present, go to another teacher who has done it before. Pick a friend's brain before the first parent-teacher conference. Ask your union representative about the contract and how it affects those low on seniority. If your district has a new teacher center, go to every meeting and share your experiences with others.
It takes time to overcome a lot of the anxieties of a first year teacher, but it's easier to have faith and confidence in yourself when you know you're on the right path. Staying true to your training and the simple advice above will go a long way towards setting the course for stability and success.
What advice would you give to new teachers? Share your comments with us and be sure to check out our back-to-school tips for teachers as well.
It's back-to-school time and we know you're determined to start the year off right. But whether you're a new or veteran teacher, you still need some time to stop and get back into the back-to-school frame of mind. Armed with these 10 back to school tips for teachers, the new school year is bound to be a success no matter what it looks like!
1. This Year is Not Last Year
Whether your last year of teaching was great or terrible, head into this school year knowing that it will be different. That doesn't mean that if you had a great year last year, you won't have a great year this year. It just means you need to look at the year with fresh eyes. You will have different students with different interests and unique personalities. What worked for your students last year may not work this year and ideas that flopped last year may be this year's biggest successes.
Don't fall into the trap of thinking, "This year will be a breeze. I'll just use the same lesson plans, same activities and same materials I used last year." Instead, keep what you did last year as a backup, but go into the school year prepared to start over focused on a new group of students and their individual needs.
2. Get to Know Your Students
It takes time to get to know your students. Plan to spend a lot of time getting to know your students during the first week of school. This involves more than just learning their names. Find out their learning styles, what their interests are, and how they feel about the subject you teach. Create a few short tests or tasks to figure out where students are at so you know where to start the curriculum and to make sure no students are left behind if you'd planned to start much further ahead in the curriculum.
3. Make Students Feel Welcome
As you get to know your students, you should also make them feel welcome in your classroom. If you receive class rosters in advance, welcome students before they even step through your door by sending them a short letter or calling them and letting them know how excited you are to have them in your class. For a smaller class, post students' names around the room or give students a special gift on the first day of school. Greet every student with a smile and a handshake as they walk in the door and let them know that it is going to be a great year.
4. Communicate with Parents
The beginning of the school year is the perfect time to get parents on your side. You may not have many discipline problems during the first week of school, but you can still make phone calls or send e-mails to parents. During the first two weeks of school, make it a point to contact every student's parent at least once to share something positive. This will let parents know that you truly care about their children and that not every phone call from the school will be for something bad. Once students get wind that you contact parents for positives, they may be more motivated to behave in the hopes that they get another good phone call home.
5. Set the Tone
The first few days of school are usually a little more relaxed, but they are also important days for teachers to use to set the tone for the rest of the school year. In the midst of ice-breakers and administrative tasks, make sure students are clear about the rules and expectations for your classroom and start following those rules from day one. While you may not want to give homework on the first day, students should also start learning on day one. Plan an activity to introduce students to what you will be teaching and help them understand that learning is the main focus of your classroom.
6. Be Organized
If you are not organized at the beginning of the school year, it will be hard to get organized once the school year begins. Set up any folders, bins and other systems of organization you plan to use during the school year. Figure out how you will take attendance, collect and hand back student work, store extra copies of handouts and organize forms and other professional papers.
You can also get organized digitally. Create folders on your computer for each class period or to hold lesson plans and resources for specific units. Set up accounts for students on any websites you plan to use and make sure you remember your passwords for any accounts you plan to access regularly. Clean up your website and make sure your gradebook is ready to go. If you already have student and parent e-mail addresses, you can also make sure they are easily accessible in the computer.
7. Stock Up on Supplies
Even though students have school supply lists, chances are many of them will forget their supplies. Back-to-school time is the perfect time to stock up on pencils, paper, notebooks, markers and other materials you may need throughout the school year. Many large discount stores offer deep discounts on these items during the weeks leading up to the start of school. While it may seem crazy to buy 100 notebooks or 1000 pencils at once, in the middle of the school year you will love that you do not have to pay full-price to restock these items in your classroom.
8. Get Ahead While You Have Time
The beginning of the school year is the perfect time to get ahead. While you cannot plan detailed lessons before you get to know your students, you can determine the general sequence of what you plan to teach and do some lesson planning in advance. You can also start to fill out the paperwork for a grant you know you'll want to apply for, and make initial contacts for any field trips you know you are going to take. As you are going through your to-do list or organizing your classroom, if you start to set something aside to do later, stop and ask yourself if there is any part of it you can do now in order to make it easier to finish up later.
9. Ease into It
Don't throw yourself into the new school year. Instead, ease into it. If you can, gradually start setting your alarm earlier and earlier so it's not so much of a shock on the first day of school. Instead of rushing to get everything done two or three days before school starts, take a few hours each day a week or two before school starts and get a little bit of prepping done here and there. That large essay or massive homework assignment you want to give students can wait too. Instead of arming yourself with loads of papers to grade the first week of school, give a smaller assignment that you can check in class or have students take online. If students had a summer assignment to complete, check off those who brought it in and then give them a week to polish it, giving you some time to adjust to the new school year before being swamped with projects to grade.
10. Think Positive
Maybe you have to teach seven out of eight periods a day. Maybe you were saddled with multiple preps. Maybe your class roster contains some of the most notorious discipline problems in the school. Maybe your school performed poorly last year and the pressure is on to do well this year. Whatever issues you may face this school year, you must go into the year thinking positive.
Yes, you may have a full load of classes, but you get to influence that many more students. Prepping for multiple classes is hard, but at least you don't have to teach the same thing all day. Those discipline problems are going to test your patience, but you're guaranteed not to have a dull moment and maybe you'll actually turn them around. And those test scores? With your amazing teaching skills, of course they're going to go up.
You can be organized, have a cabinet full of supplies, and know exactly what to do during the first week of school, but if you have a negative attitude, none of it will matter. Whether this is your first year of teaching or your last year before you get to enjoy retirement, think positive. This school year will be successful and, if it's not, it'll be over in around 180 days. Then you'll get to start again.
You can always ease students into the learning process with Back-to-School worksheets from HelpTeaching. We've also shared some special tips for new teachers.
What back to school tips and tricks would you share with teachers? Leave them in the comments!