Currently Browsing
How To
This year, the HelpTeaching.com Scholarship received hundreds of entries. Students from all over the United States and Canada submitted stories, poems, and informational articles on topics such as understanding disabilities, making new friends, and taking care of the environment. After reviewing all of the entries, we have this year's finalists and the winner of this year's college scholarship. All of the finalists' entries have been published on HelpTeaching.com and the winner will receive $1,000 to apply towards college tuition expenses.
Honorable Mention
Although these pieces didn't quite make the cut, we felt they were still worthy of recognition.
Jessica Shenning, a freshman at Georgia State University, shared a short story about a little girl who enjoys baking with her mother and learns how to bake a special treat of her own. Read Learning to Bake >>
Jamie Lee, a student at the University of Virginia, wrote a story that reminds kids "there's no place like home."  Read There's No Place Like Home >>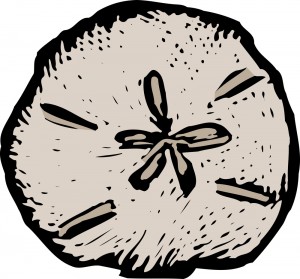 Lydia Colon, a senior at New Smyrna Beach High School, wrote about finding sand dollars in the ocean. Read Sand Dollars >>
Elise Carlson, a doctoral student at the University of Central Florida, focused on a slightly more taboo topic – toilets. Her piece helps kids learn how a toilet works. Read How a Toilet Works >>
Finalists
If you've ever wondered how slime is made or the chemistry behind it, Jasmine Ma, a student at Middle College High School @ San Joaquin Delta College, has the answer. Her piece The Science of Slime helps kids learn more about the sticky substance.
Read more >>
Dianne Mercado's informational piece about the intertidal zone helps students learn about the different seasons found there. Dianne is a student at the University of Central Florida.
Learn more about the intertidal zone >>
Have you ever wanted to play the marimba? High school senior Molly Goins shares valuable information about the beautiful percussion instrument in her short piece.
Discover what it is>>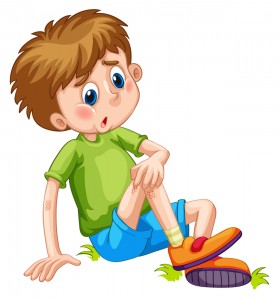 When you get a cut or a scrape, your body goes through a special process to help it heal. Amber Katharine Voightschild, a high school sophomore and homeschool student, describes the process in her informational text.
Find out how your body responds >>
Graduate student Jenn Sisko wrote an informational article about the rocks that make up the Appalachian Mountain chain. Jenn attends Hamline University.
Discover how the mountain range formed >>
Lauren Collins, a recent high school graduate, and soon-to-be freshman at William Woods University wrote a piece about the first Thanksgiving from the perspective of one of the attendees, a native American girl.
Read more about the event >>
Farmer Flynn and his barnyard friends help kids learn more about where their food comes from and share tips for healthy eating in a short piece by Haein Kim, sophomore at Duke University.
Find out how what you eat makes your body healthier >>
As the polar ice cap begins to melt, the life of a polar bear becomes more difficult. Juan Restrepo, a student at Lees-McRae College, wrote a short story about a young polar bear named Uffo and his struggle to survive.
Learn more about Uffo and his mother >>
How much do you know about the human heart? Courtney Varela, a student at Swansboro High School, knows a lot and she put her knowledge into a creative short story for kids. After reading the story, kids will be able to know more about their own hearts too.
Discover more about the human heart >>
Winner
Although the title sounds like a song from The Sound of Music, this short informational piece by Lucy Henneker actually shares information about a famous mathematician, Maria Gaetana Agnesi. Lucy is an incoming freshman at Wheaton College.
Read the winning piece >>
Watch for more details about the 2010 HelpTeaching.com Scholarship and start preparing your stories now! Don't forget to check out 2017's winner and finalists and the winning pieces from 2018 too.
16 June //
Posted in How To //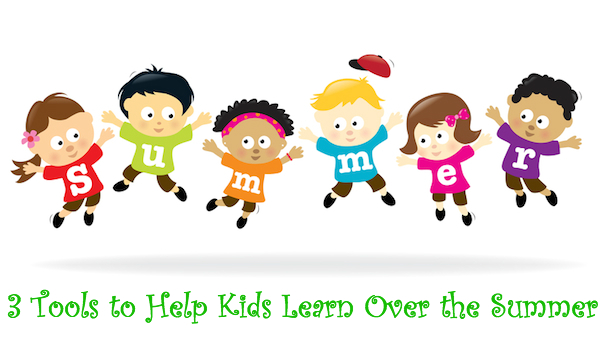 Learning can take place anywhere, not just in the classroom. Summertime offers many opportunities for kids to gain knowledge.You can help them learn by introducing them to three simple tools designed to get them interested in learning, even if they don't realize that's what they're doing.
1. Ask Questions
Sometime during the toddler years, kids go through a "why" phase. They use the question "Why?" to help them figure out the world and everything in it. Unfortunately, many kids quickly grow out of that stage. To help kids learn over the summer, re-introduce them to the art of asking questions. It may seem annoying to have a child who is constantly asking how and why things happen, but when you realize those questions help them learn, it's much easier to handle.
To help kids learn to ask questions, start by asking questions yourself. For example, if you're at the zoo and see a zookeeper standing by an animal cage, take the time to ask the zookeeper a question. You don't have to be at a zoo or museum to ask a question either. Ask questions of people all around you – your mechanic, the teller at the bank, the person stocking shelves in the grocery store. Even if you already know the answer to some of the questions you ask, you'll show your children how easy it is to ask questions on their own. They'll also discover that people are usually more than willing to answer the questions they ask.
2. Introduce them to Experts
When it comes to asking questions, one of the best places to find an answer is an expert on the topic of the question. The summer is a great time to help kids gain access to experts in many different career fields, not only to ask questions, but also to observe them as they work. Since
kids aren't in school all day, they have more time to see how different adults spend their time. While many jobs don't aren't ideal for having a kid underfoot, some workplaces may allow children to shadow
a family member or close family friend for a day. Spending a day on the job can help kids learn more than simply reading a book or watching a video. It also gives them access to multiple experts in an industry and many of them will be ready to teach kids what they know.
When it comes to introducing kids to experts, think beyond careers and focus on interests and hobbies, too. For example, if your child is interested in the Civil War, see if you can set up an interview with a local Civil War reenactor. If your child wants to become a stronger swimmer, contact the swim team of a local college and see if a student would be willing to sit down with your child and give him some advice. Many adults who have hobbies would be more than happy to
take some time to sit down with your child and share about their interests.
Don't forget about classes either. Many groups hold special classes during the summer. If your child is interested in cooking, for example, you may find a cooking class taught by a local chef. If your child likes sports, look for a sports camp that features a professional athlete or coach. These classes often cost money, but the cost is worth it if your child gets to interact
with someone at the top of their field.
3. Watch Videos
Of course sometimes your local area won't offer special summer classes or experts that are of interest to your child. Thankfully, kids have the internet. Online they can find tons of videos related to their interests, many of them featuring some of the top people in the field. For example, TED Talks and Big Think have been known to feature some of the world's greatest scientists and thinkers. Websites such as Top Documentary Films also can help kids learn by allowing them to access documentaries for free.
Since it's summer, you may not want your kids sitting in front of the computer or TV screen all day. That's where videos from sites like YouTube come in handy. Many YouTube channels (such as these channels for social studies) contain short videos designed to help kids get snippets of knowledge. A simple search for how-to videos can also help kids pick up a new skill by watching short videos. Maybe this summer they'll learn to play the guitar, take ballroom dancing lessons, or discover how to make homemade ice cream. With millions of how-to videos on YouTube, kids can learn almost anything.
Sure, you want your kids to relax during the summer, but you don't want them to stop learning. By connecting these tools with other summer learning activities you can ensure kids are being filled with knowledge over the summer.
For more resources to get kids learning on their own this summer, share our Ultimate Guide to Free Online Self-Learning for Kids, which is full of free videos, courses, and other materials to help kids explore their interests and find answers to their most pressing questions.
What tools do you use to help kids learn over the summer? We'd love to hear your ideas!
Science surrounds us and summer offers the perfect time for families to explore science in action. Avoid the summer slump and try some of these suggestions for summer science adventures with your child. Most of these activities are low-cost or free, but be sure to check with your local library before heading out to learn about free and discount passes to museums and other local attractions.
1. Participate in a Citizen Science Project
Science is collaborate by nature, so join in and lend a hand by participating in a citizen science project. Project participants support scientific research by:
These are just a few of citizen science projects looking for volunteers and many welcome help from children working with the guidance of an adult. Search for other citizen science projects at Zooniverse and SciStarter.
2. Become a National Park Service Junior Ranger
With parks from Maine to California and everywhere in-between, the National Park Service offers an affordable option for hands-on summer science fun. Fourth grade students qualify for free annual park passes through the Every Kid in a Park program. The Junior Rangers Program gives kids the opportunity to explore nature, attend ranger guided programs, and complete activities for each park. If your budding park ranger completes a Junior Ranger Program, each park offers a patch or badge and a certificate of completion. Can't visit a particular park? Visit the NPS's on-line WebRangers page.
3. Visit a Science Center
There are many fabulous science museums that offer kids access to interactive learning opportunities. For those fortunate enough to be within driving distance to a NASA center, consider a visit. Learn about space exploration, aeronautics, and ongoing missions and discoveries. Many of the centers, including Johnson Space Center in Houston, TX, Kennedy Space Center in Cape Canaveral, FL, and the Jet Propulsion Laboratory in Pasadena, CA, welcome visitors and offer tours. If you can't travel to a visitor center, then be sure to visit NASA Wavelength and explore the vast collection of educational resources NASA has to offer.
With centers across the nation, the Audubon Society provides outdoor adventure for all ages. Visit a sanctuary, go on a hike, and explore the local lands and wildlife. Many centers offer nature themed programs designed exclusively for children and families as well as summer camps. Centers are open to the public, but those with memberships may visit for free and receive discounts on programs and camps. Find an Audubon Center near you.
4. Try Hands-On Science Activities
Hands-on science activities at home are a great way to have some summer fun, spend family time together, and even learn a little something new. Science at home is affordable and typically can be conducted with household objects and resources. Follow your child's lead and try experiments related to his or her interests. Get started with these science activities for kids or browse this collection of home science activities from Scientific American.
5. Star Watch
Grab a blanket and the bug spray and head outside for some star gazing. If possible, get away from light pollution, you will be amazed at what you can see once your eyes adjust to the dark on a clear night. Bring a star chart and try to locate a few stars, planets, constellations, and galaxies. Use binoculars to identify surface features of the moon. If that isn't spectacular enough for your aspiring astronomer, try counting the number of "shooting stars" during a meteor shower. August's Perseids meteor shower is a great one to enjoy on a warm summer evening. Check out this year's not-to-miss celestial events to watch with kids.
Looking for more ideas for summer fun with your children? Be sure to read 100 Summer Activities for Kids!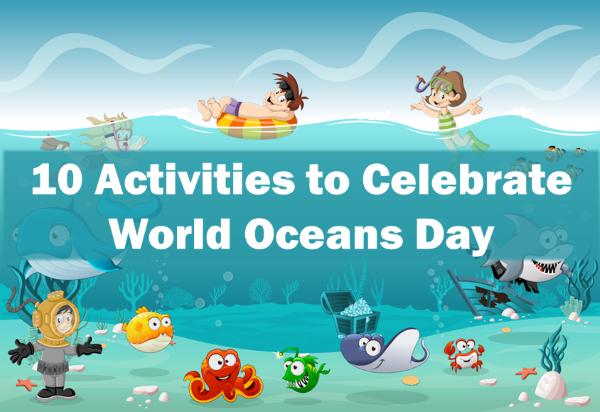 World Oceans Day is June 8th and there is still time to celebrate! Put on a blue shirt and forge ahead with these ten fun ways to celebrate World Oceans Day with your class or family.

1. Skipper your crew to a World Oceans Day event in your area. From art contests to film festivals to hands-on exhibits, there are ocean activities taking place around the world.
2. Navigate your way to the World Oceans Day website and check out their last minute celebration ideas. Find ways to help keep plastic out of oceans and landfills with your students or family.
3. Google is charting new territory with its Oceans Street View images. Allow students to explore this stunning collection.
4. Set course to Adrift.org and challenge students to predict the path of floating pollution before they try this engaging interactive.
5. The Smithsonian has made great headway in compiling this diverse collection of ocean-related lesson plans for educators.
6. For landlubbers who can't venture out to sea, dive into an ocean-themed book for a reading adventure worthy of the high seas. Get started with one of these nautical tales.
Nautical Novels and Seaworthy Stories
The Rainbow Fish by Marcus Pfister
Swimmy by Leo Lionni
Flotsam by David Wiesner
Mr. Popper's Penguins by Richard and Florence Atwater (Worksheet)
Treasure Island by Robert Louis Stevenson (Worksheet)
Moby Dick by Herman Melville
Billy Budd by Herman Melville
The Pearl by John Steinbeck (Worksheet)
Kon-Tiki by Thor Heyerdahl
20,000 Leagues Under the Sea by Jules Verne
The Odyssey by Homer (Worksheet)
The Old Man and the Sea by Ernest Hemingway
7. Ahoy! Teachers, students, and families can join an Ocean Guardian Program and plan a school or community conservation project, submit ocean-themed artwork, stories, or poetry, and even become involved in diving!
8. If you are swamped with lesson planning, check out Help Teaching's collection of pre-made, ocean-themed worksheets. Or, have your students try our online lessons on Ocean Vocabulary Words, Ocean Zones, Tsunamis, or Tides.
9. Set your bearings to your local aquarium. Students of all ages will enjoy viewing and interacting with the amazing variety of sea life on display.
10. Head to the beach! What better way to celebrate World Oceans Day than by digging in the sand, discovering tide pools, and surfing the waves?
Have other suggestions for celebrating World Oceans Day with students and children? Share them in the comments! Read The Ultimate Guide to Teaching Science for more ways to invigorate your science curriculum and teaching.
Whether you have a full-time job and want to make a little money on the side or you would like to earn an income while being a stay-at-home mom or homeschooling your kids, opportunities abound. Getting a minimum wage job is not always cost-effective, nor is it easy to find one with an accommodating schedule. Instead of traditional jobs, numerous teachers and parents are becoming micropreneurs, creating income opportunities that fit their own unique interests, skills and scheduling needs.
Tutor
Tutoring is an easy way for teachers to make money on the side. You can choose to work for a tutoring company and have them help find clients or simply advertise around your neighborhood. During the school year, parents may hire tutors to help their children improve in a specific subject area. Many also seek out tutors in the summer to help their children get ahead or keep them from losing information during their time away from school. And while tutoring may be best suited for teachers, it is not limited to certified educators. If you have a bachelor's degree in an area where students need help, you may be qualified to tutor students who need help. Companies such as WyzAnt and Club Z can help you find local students to tutor in your area.
If you have children at home or cannot find students to tutor in your local area, you can also tutor online. Sign up with an online tutoring service such as Tutor.com or TutorVista.com. They will connect you with students who need help in the areas you are qualified to teach. You may also find opportunities to teach students from other countries how to speak English such as through VIPKID or a similar service.
Write a Book
Everyone has a story to tell and, with the Internet, it has never been easier. Turn your advice, creative story ideas or special area of interest into an e-book. Do not be intimidated by the idea of writing a book. E-books do not have to be hundreds of pages long. In fact, many e-books are as short as 20,000 words or around 30 pages long. That may be the perfect length to write out your parenting tips, a guide to local events and attractions or a how-to guide related to one of your hobbies. If you are not a strong writer, put your ideas down on paper and then hire another freelance writer or editor to help you shape them into a book. You can then sell your book through online platforms such as Smashwords, CreateSpace or Lulu.
Create Educational Materials
Teachers and homeschooling parents are always creating their own worksheets, quizzes, lesson plans and other educational materials. You can profit from those materials by selling them on a website such as Teachers Pay Teachers. Remember that all materials must be entirely your own, not created using question banks, such as those you will find at HelpTeaching.com or any other copyright-protected artwork.
If you are a certified teacher, you may also be able to make money by creating materials for educational companies. Many educational websites, textbook publishers and educational software designers contract with teachers to have them design lesson plans, worksheets and test questions or have them review materials to ensure they will work well in the classroom. This work can often be done remotely and on a part-time basis during the school year.
Get Crafty
If creating educational materials is not your cup of tea or you have other talents, consider getting crafty. Sell your crochet-work, knitting or creative craft projects online using Etsy or another online shopping platform. If you are into stamping or scrapbooking, turn your skills into making stationery and pre-designed scrapbooks. Not sure what to make? Take a stroll around your local craft store for inspiration. A foam circle, some ribbon and artificial flowers could turn into a new wreath-making business. Wood and some paint could become kitschy signs and fun home décor. Flipping furniture is also a big trend. Browse thrift stores on the weekend for desks, hutches, bookshelves, tables, old chairs, and other pieces of furniture to re-stain, paint, and turn into something new.
Be a Tester
When companies launch new websites or products, they need people to test them out. Earn some money on the side by becoming a tester. UserTesting.com hires testers to review websites and answer a few questions about them. Software companies such as Microsoft also hire individuals to test out new products and websites. Not only can you earn money for your work, but you can be one of the first to experience cool new products and websites.
Complete Random Tasks
In some cases, companies have random tasks that they are willing to pay people to do. While the tasks may only pay a few pennies or a few dollars to complete, the more you complete, the more the earnings add up. Websites such as Amazon Mechanical Turk have you complete random tasks, such as verifying website addresses or finding search results. You can also do some field research through apps such as Field Agent and Gigwalk. These apps send you to local businesses to search for products, verify addresses and take photos, giving you the opportunity to earn a few bucks for each task you complete.
Want to control the type of tasks you complete? Try a site like Fiverr where you offer services and products for $5. Review websites, write poems, create logos or offer to do anything else you think is worth $5. If you can get enough people to take you up on your offer, you could earn decent money. If you have a specific skill, such as the ability to design webpages, work as a copywriter or complete the work of a virtual assistant you can also advertise your services and your price for those services on a website such as Upwork.
Drive and Make Deliveries
Decompress after school by hitting the road and driving for a company such as Uber or Lyft. Some companies, such as Grubhub also hire delivery drivers to pick up orders from restaurants and deliver them to customers. Want to be a professional shopper? Sign up for a service like Instacart.
Give Feedback
You can also earn money by giving feedback to companies through surveys and focus groups. While not all survey websites are legitimate or will result in significant earnings, some can provide a decent part-time income. Survey Police is a website that can help you determine whether the online survey companies you find are legitimate. If you are social and like participating in online conversations, try a website like Crowdtap, where you can take surveys, participate in discussions and occasionally try free products to earn points that can be redeemed for gift cards and other items. Searching in the ETC column of your local Craigslist jobs board will often reveal local focus groups that can pay up to $100 for participation, usually in the form of gift cards.  However, be careful not to give out confidential information until you have verified that the opportunity is legitimate. Don't forget to check out local hospitals and universities for medical and psychological studies you may be able to participate in as well.
Run Errands
Driving around town anyway? Make money by running errands for others at the same time. TaskRabbit pays individuals in major cities to run errands and complete tasks for users. Tasks range from grocery shopping to dog walking and home repairs. You may even find long-term work through the TaskRabbit app. If you find you enjoy running errands, you may even be able to start your own local business, advertising to busy executives, those who have difficulty leaving their homes and even other busy moms. Craigslist is also a place to find random jobs, such as walking dogs or helping move boxes.
Babysit
The last thing many teachers and parents want to do during their time off is spend more time around children, but if you have children of your own, babysitting may be the perfect way to earn extra cash while keeping your children at home with you. During the summer, working parents of elementary-aged children are often looking for affordable care. You can also serve as a drop-in babysitter, offering to watch local children for a small fee while their parents go to appointments or need to have some time to themselves for a few hours. Connect with a website such as Care.com or Sitter City so people needing sitters can easily find you.
Re-Sell
Chances are you have items lying around your own house that can help you make money. Sell those unused kids toys and clothes kids have outgrown using websites such as Craigslist, local swap groups on Facebook or a Just Between Friends or other kids' consignment sales. Look for free items and good deals on Craigslist and at local garage sales, and then resell those items online or at a larger sale. Do your research by looking up current prices online to make sure you are getting a good deal on the items you buy and sell.
Rent Out Your Home
Have an extra room? A mother-in-law suite you don't use? Consider renting out your home on a site such as Airbnb. Just make sure you have time to prepare your home for guests and are willing to share with people before you create your listing. If you have family or friends in the area that will let you stay with them one weekend a month, you could even offer up your whole home to renters every so often.
Add an Idea of Your Own
If none of the ideas above appeal to you, there's nothing stopping you from starting your own business. All you need to get started is an idea and some funding. While the idea should come from you, the Internet can help with the funding process. Crowd-funding platforms such as Kickstarter.com, Indiegogo.com and GoFundMe are designed to help you find the funds you need to write the next Great American Novel, produce a video, design the latest, greatest invention or even start a cool new business venture. All you have to do is create a project proposal and start soliciting support from family, friends and individuals around the world.
Making money during the summer, part-time or online requires thinking outside of the box and taking a look at what you have to offer. Make a list of all of your interests, hobbies and skills. Then think of ways you could get other people to pay you for using those interests, hobbies and skills. You may not start off making a lot of money, but as you build experience and get more people interested in what you have to offer, your summer job could turn into a way to fund a summer vacation, add a significant amount of money to your budget or even become a new full-time career.
Looking for ways to get the whole family involved? Check out Money-Making Ideas for Families.
==========
A former 8th grade English teacher, turned freelance writer, Stacy Zeiger is focused on helping educators and parents find ways to improve their students' and children's education. As a stay-at-home mom and military wife, Stacy has unique experiences to bring to her work. She regularly blogs about education and parenting, develops creative educational activities, writes lesson plans and creates workbooks for all age-levels and subject areas.