Currently Browsing
How To
Being a mom has always been hard work. That said, these days it can feel more challenging than ever. Surveys show moms are still generally expected to handle most chores around the home, even when both spouses have full-time jobs.
With so much to do, moms often put their own needs last, but it's not okay to neglect self-care. On the contrary, attending to your own needs is essential. If you don't take care of yourself, you won't be able to take care of others in the long run.
That's why busy moms should keep the following self-care tips in mind. From saving time by having meals delivered for kids to combining self-care activities, even if you have a packed schedule, they'll help you find time for yourself.
Make it a Priority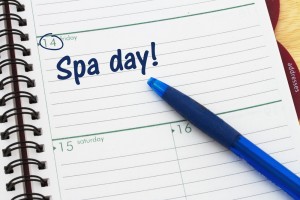 Odds are good there are certain tasks throughout the week that, if you don't literally enter them into a schedule, are at least prioritized in your mental to-do list. Self-care needs to be one of them.
Passively telling yourself you'll make room for a rewarding or relaxing experience isn't enough to make yourself actually follow through on your plans. When you're in the middle of a busy week, it becomes easy to forget about self-care if it's not treated with the same priority as your other major responsibilities.
Make a point of scheduling self-care activities every week. Doing so makes you more likely to actually find time for them.
Exercise with Friends
Staying fit is key to self-care. Experts consistently find that working out is simply one of the healthiest and most effective ways to reduce stress in your life. So is spending time with friends.
If you don't think you have time for both activities in a typical week, you can combine them by working out with a friend or family member. This is a simple way to optimize your self-care routine when you have a busy schedule.
Choose Playlists Wisely
You probably have many weekly tasks that give you the opportunity to listen to music, podcasts, or audiobooks. Whether you're driving or prepping a meal, use this time wisely.
Studies show that listening to music you enjoy helps reduce stress. Additionally, learning about interesting topics can also yield major mental health benefits. The main point to remember is that you shouldn't choose what you listen to randomly. Put together a few playlists featuring your favorite tunes, podcasts, or books, and listen to them when you're completing regular chores.
Get Enough Sleep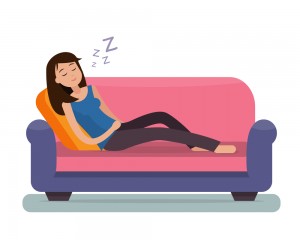 Don't fall prey to the idea that you need to skip sleep to get everything done!
Yes, it's easy to think you're being more productive by going to bed later or getting up earlier, but in the long run, lack of sleep will prevent you from being your best self. You're much better off getting a full eight hours every night.
Ask for Help
You also shouldn't give in to the urge to be Supermom. You're human, and that means you may need some help from time to time. Getting comfortable with asking for help will make it easier to find more time for self-care. Whether it's a spouse, friend, or another family member, there's a good chance someone in your life can take on a few of your responsibilities when you're simply too busy to handle everything on your plate. You can also look for ways to reduce your workload, such as having meals delivered instead of prepping them yourself all of the time.
If you want to be a good mother, partner, and employee, you need to be as mentally and physically healthy as possible. These tips will help you reach that goal.
Rae Steinbach is a graduate of Tufts University with a combined International Relations and Chinese degree. After spending time living and working abroad in China, she returned to NYC to pursue her career and continue curating quality content. Rae is passionate about travel, food, and writing for Yumble.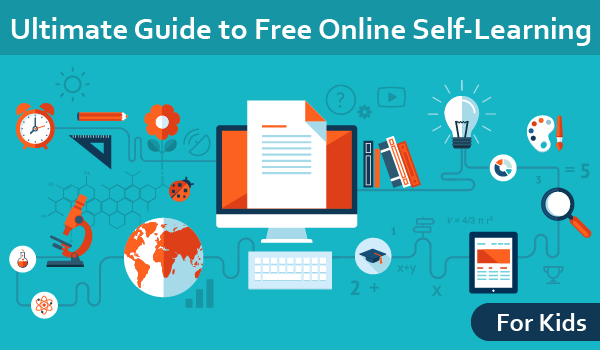 From random facts to courses from top universities, the Internet is full of places to learn. The key is knowing where to find them. HelpTeaching.com offers a large selection of free online self-paced lessons for math, science, social studies, and English, but there are many other resources out there as well. We have gathered links to help kids in grades pre-K through sixth grade learn online. The 70+ resources are organized by type (videos, online courses, reference materials, and more). Kids can learn by exploring these resources on their own or teachers can incorporate them into lessons to help enhance learning in the classroom.
Books
Magic Keys has made a wealth of storybooks available to kids. Storybooks are organized by age level (younger children, older children, young adult). It's one of the few story sites out there that doesn't just focus on younger readers. Many of its stories also feature character lessons for kids, making them even more beneficial for kids!
Pre-K through 2nd Grade
Most public libraries now offer free access to eBooks only, but you typically need a library card to access them. These resources offer kid free access to quality textbooks, non-fiction eBooks, and important documents – no library card required.
International Children's Digital Library provides access to thousands of free digital books for children. These books come from around the world, making it easy for kids to find fairy tales, folklore, and other resources to help them explore different cultures.
Reading Bear offers free learning resources for early readers, including presentations on short and long vowels. The fun presentations are all free and cover all major phonics rules.
Unite for Literacy offers many read-alouds for kids. Most of the books are non-fiction picture books that focus on using simple sentences and key vocabulary words.
StoryJumper has a library full of digital fiction and non-fiction books for kids. It also gives kids the opportunity to create their own books.
3rd through 6th Grade
National Geographic Life offers reading passage for kids at beginner/elementary, pre-intermediate/intermediate, and upper-intermediate/advanced levels. Passages feature audio recordings and reading comprehension questions.
100 Milestone Documents introduces kids to 100 documents that play an important role in American history. Through this site, kids can access the text of documents such as the Declaration of Independence and the Patent for Cotton Gin.
Scholastic: Listen and Read features 15 non-fiction books to help kids learn about people in their community, animals, and the job of the president. Audio is provided to help kids as they read.
Literacy Wagoll teaches kids "what a good one looks like" by providing them with samples of exemplar writing. A variety of essay types and other styles of writing are provided.

Courses/Lessons
You don't have to pay for expensive tutors or pay the tuition to an Ivy League university to get kids access to high-quality courses. These resources feature courses put together by top universities and other experts in the field to help kids learn about a whole host of subjects. Whether kids want to learn how to solve complex math problems or learn how to play the piano, there's a free course available.
HelpTeaching.com's own collection of math, science, and English lessons combines entertaining video and text-based lessons with short, interactive quizzes. Teachers and parents can choose lessons for kids to complee on their own or can incorporate them into whole class and small group based lessons. Lessons are organized by subject, grade-level, and length. Teachers and parents can also create their own tests and quizzes to accompany the lessons, and then administer them using our Test Room feature.
Pre-K through 2nd Grade
Starfall is a free resource designed to teach kids to read. By watching its free videos, listening to the songs, and reading the short stories, kids may even learn to read on their own.
E-learning for Kids features a wealth of free lessons for kids in many different subject areas. Access to lessons is available in five different languages.
3rd through 6th Grade
English Grammar 101 is full of free grammar lessons for kids and adults. Lessons are also great for ESL students.
Code.org has gained a lot of recognition for its free coding courses. Even the President has completed an hour of code and your kids can too.
Kid Courses is an organization focused on presenting free online courses for kids. Its standout lessons are called MathLibs, but they also offer lessons in art and rhetoric.
Canvas Network is a collection of MOOC courses from universities around the world. Many of the courses it offers may be of interest to upper elementary and middle school students too.
DiscoveryK12 is a free learning portal for homeschool families. An account is required, but all course materials are completely free.
LearnZillion focuses on presenting engaging video lessons to teach the Common Core. Creating an account is free and gives kids access to all of the lessons.
Kids Guitar Zone helps kids who want to learn to play the guitar do it for free. The site features 10 lessons to get kids started.
ChessKid is designed to help kids learn to play chess online. With this site, kids get free chess lessons and can test their skills against other kids from around the world.
All Ages
Grammar Monster has a large collection of free grammar lessons and activities to help kids learn about punctuation, parts of speech, and other elements of grammar on their own. While the majority of the lessons are appropriate for kids, a few do contain references to adult subjects (namely quotes involving alcohol), so parents and teachers should preview lessons before assigning them to kids.
CoolMath offers free interactive lessons for pre-algebra, algebra, and pre-calculus. Not only are the lessons fun, but the site also offers a host of free math games for kids to play.
AAA Math offers free online math lessons for kids. Lessons cover a variety of grade-levels and skills.
Hoffman Academy offers 100 free piano lessons for kids. Each lesson is accompanied by practice opportunities.
Free Piano Lessons for Kids features 22 lessons designed to teach kids how to play the piano. Kids will learn how to sit at the piano and even how to play a few songs.
CK12 is an awesome learning portal for kids. It combines videos, textbooks, and other lesson materials to help kids learn online. This resource is a high-quality, interactive site for kids. It offers fun simulations, plenty of practice opportunities, and other activities designed to motivate kids to learn. We especially love the BrainFlex challenge which encourages kids to build their skills while they're out of school.

Videos
Videos appeal to video and auditory learners. Some videos bring experts in a field directly into the home or classroom. Other videos use creative strategies and images to help kids learn difficult concepts and skills. The skills don't have to be academic either. With videos kids can learn how to cook, how to crochet, or even how to ride a bike.

EarthCam gives kids access to webcams from around the world. They can see what is going on live at thousands of destinations. Kids at this age can't drive and parents often don't have the time or resources to travel around the world with their kids. By looking at the webcams, kids can experience the world in real-time without leaving the house.
Pre-K through 2nd Grade
Universal Kids allows kids to watch episodes of some of its most popular shows.
PBS Kids videos give young kids access to episodes of some of their favorite PBS shows. The best part is that these shows are also educational.
Super Simple Learning is a company focused on creating educational songs for kids. Their website features free videos of many of their songs.
3rd through 6th Grade
Khan Academy gives kids one piece of information, "you can learn anything." It gives them the opportunity to learn with thousands of videos on a variety of topics.
WatchKnowLearn features free educational videos organized by subject area. Parents and teachers will also find videos aligned to the Common Core State Standards.
NEO K12 is a site full of educational videos on topics ranging from physical science to ancient history. Games and lessons are also included to help kids learn even more.
All Ages
BrainPop is a staple in many schools. While access to the full site requires a subscription, kids can still watch many of the fun videos for free.
TeacherTube is a website similar to YouTube. The difference is that all of the videos are designed to be educational.
Explore.org encourages kids to explore the world through webcams. Kids can view live webcams from around the world or watch informational films.
The Kid Should See This is focused on providing high-quality educational videos for kids. These videos focus on innovative technology and other cool ideas.
My Education Key features video lectures from colleges and other educational institutions. Content covers a range of age levels from kindergarten through college.
MIT K12 gives kids a look at science in the real world through its collection of videos.
Make Me Genius helps kids learn about science through free videos, PowerPoint presentations, and other resources.

Reference Materials
If kids want to conduct research using an encyclopedia, they no longer have to search for the correct volume, looking up the definition of a word doesn't require thumbing through a massive dictionary, and most kids today have never even seen an almanac. All of these resources, which are chock full of information can be accessed for free online.

Awesome Library has organized thousands of high-quality resources for kids. They can explore by topic or keyword to find information they need. When kids use a standard search engine, you can't guarantee the results will be kid-friendly, but all of the resources that appear in an Awesome Library search have been reviewed and approved. This gives kids the freedom to search for what they want in a safe space.
Encyclopedias
Enyclopedia Smithsonian takes the Smithsonian's amazing collections and turns them into an interactive encyclopedia. Kids can search by keyword or browse by topic.
Encyclopedia Britannica is one of the top encyclopedia companies in history and kids can access its content online. The site also includes the most current world news.
DKFindout! takes the content from DK readers and makes it more interactive. Kids can learn about a whole host of topics in an encyclopedia style.
Again But Slower takes a Wikipedia page and simplifies it to make it easier to read.
Dictionaries
Internet Picture Dictionary looks simple, but it's a great free dictionary designed to help kids learn new words. It's particularly helpful for kids learning English as a second language.
Visual Dictionary Online gives kid a new view of the dictionary. They see words connected to images which helps them make connections and gain a better understanding of key words.
Merriam Webster is one of the leading names in reference sources. Its online site gives kids free access to a dictionary, thesaurus, and more.
Search Engines and Misc. Facts
Boolify helps kids learn how to conduct more successful online searches using fun puzzle-style pieces.
Infoplease.com is an virtually every type of reference book all rolled into one. Kids can also find a calculator, spell checker, and other key resources.
Safe Search Kids performs a safe Google search for kids and also offers internet safety guides for kids, parents, and teens.
Kiddle offers a safe visual search engine for kids with websites, videos, images, and kpedia entries in the results.
Atlases and Almanacs
Owl & Mouse – Atlas introduces kids to the world through maps and facts for every country.
Farmer's Almanac for Kids makes the traditional Farmer's Alamanc accessible to kids. It features information on the weather and resources to help them learn about the world around them.

General Knowledge/Trivia
Learning doesn't always have to have a particular focus. Sometimes kids learn the most just by hearing random facts and bits of information. These small morsels of knowledge don't only serve as conversation starters, they can also inspire kids to want to learn more about a topic.

FAQ Kids gives kids a place to find answers to their questions. Questions are organized by category. The site itself is simply designed, but the answers are anything but simple. Many of them are 2-3 paragraphs long and contain facts to back them up.
Pre-K through 2nd Grade
Duckster features short encyclopedia-style entries on many different topics. All are written in kid-friendly language.
DLTK's Crafts for Kids is more than just crafts. It's a site full of educational printables and other information for kids, along with fun crafts and activities.
Squigly's Playhouse gives kids a place to play and learn. They can learn through games, fun facts, or crafts and activities.
3rd through 6th Grade
National Geographic helps kids learn about nature and the world through its interactive content. Kids can play games, read articles, and watch videos
ScienceKids.co.nz is focused on helping kids enjoy science. They'll learn facts about a variety of topics and find fun experiments to complete.
FactMonster is full of facts for kids. Facts are organized by topic and there's even a special homework help section.
Facts for Kids helps kids learn unique facts about people, places, history, and animals.
Fun Trivia is a quiz site designed for kids and adults. Kids can learn all kinds of facts by taking many of the fun quizzes on the site.
All Ages
Kids World Fun features lots of tips for kids, a "Did you know?" section, and even quotes of the day.
Cool Kid Facts introduces kids to fun facts on a variety of topics. Kids can learn about science, geography, history, or animals.
Funology wants kids to have fun. It provides them with recipes, experiments, and facts to help them have fun while learning.
Do you have any favorites from the resources above? Share them in the comments!

Learning doesn't have to take place in a traditional classroom setting. With the help of the Internet, teens and adults can gain a wealth of information and build new skills on their own. From free textbooks to courses from top universities, HelpTeaching.com has gathered the best free online resources to help you learn online for free. Whether you're 16 or 96, there's no excuse to not learn something new today.
We've organized our resources by category and have noted whether each resource is best for teens (T), college (C), or everyone (E) to help you find exactly what you need.
Books
Reading is one of the best ways to gain new information. These resources provide free access to some of the best-known books in history and high-quality academic textbooks. Rather than spending hundreds of dollars on these books, teens and adults can learn from them for free.

Spectra, a comic book series from The American Physical Society, helps teens learn about physics in a very engaging format. At least eight different volumes can be accessed for free on Physics Central and will help teens learn how physics applies to every day and superhero life. T
Textbooks
Bookboon delivers textbooks on subjects such as IT, language, technology, and career advice in a free PDF format. These books are ideal for adult and community college learners. C
Textbook Revolution contains a database of free textbooks for many different subject areas. Books are organized by subject and searchable by title. C
Free Tech Books is a list of links to free technology-based books. Many books cover advanced topics related to engineering, computers, and mathematics. C
Open Stax provides college students with free, open source textbooks designed to meet their course standards and objectives. Books focus on science and math courses. C
Open Textbook Library was created to draw attention to the open textbook movement. Its collection includes a selection of free textbooks covering different subject areas, including some appropriate for high school. E
Classic Texts and Literature
The Harvard Classics are a collection of fifty books designed to cover the major areas of philosophy, religion, history, and literature. Many organizations, including Bartleby, offer access to them for free. E
Project Gutenberg has thousands of free eBooks featuring texts in the public domain. Books include classic literature and non-fiction pieces. E
Bookstacks is a free collection of literature that features titles from authors such as Agatha Christie, Charles Dickens, and Leo Tolstoy. E
Google Books allows users to look up published books by title and preview many of those books for free. It's a great resource for research. E
BookRix offers a large selection of free eBooks for download. Many books are works of fiction published by Indie authors. E
Free Booksy helps users find free eBooks for Nook and Kindle. Sign up for the free e-mail list or read the blog to see which books are available for free on certain days of the week. E
Read Any Book allows users to read a variety of eBooks by both Indie and well-known authors for free in their free online e-reader. E
Audio
Free audio learning resources make it easy for teens and adults to learn on the go. Audio books and podcasts are great to listen to while running or riding in the car. They can also be more entertaining than learning from a more traditional text.

Gutenberg Audio has a large collection of audio versions of public domain books. Many of the books are in English, but the site also has a huge selection of audio books in other languages, such as Chinese, Spanish, Hungarian, Tagalog, and more. E
Loyal Books, formerly Books Should be Free, features thousands of free audio books for download. Many books are fiction, but there's also a large selection of non-fiction books to choose from. E
Internet Archive: Audio isn't just limited to eBooks. It also features recordings of famous speeches and popular songs throughout history. E
Librivox is a site full of public domain audio books. All books are read by volunteers. You can download one to listen to or volunteer to record books yourself. C
Learn Out Loud offers a collection of free audio books, audio courses, and other learning materials. Be sure to search under the "Free Stuff" tab because the site does offer some books for sale. C
Podcasts are more popular than ever these days and many educational podcasts are still going strong. Browse the available podcasts on iTunes to learn something new. E
Podbean offers a platform for hosting and listening to free podcasts. You'll find podcasts on a range of topics. E
Videos
Videos offer a wide range of learning opportunities. Many video series help teens and adults build practical skills, such as how to fix flat tire or how to cook an omelet. Other videos feature lectures and narration from experts in the field.

Top Documentary Films makes many fascinating documentaries available for free. Documentaries are available on topics such as health, politics, human rights, and religion. E
DIY Network helps you spruce up your home by providing free online episodes of its most popular shows and video-based blogs with tips and tricks. C
Ted Talks have become well-known for the expert advice they contain. Watch as experts in their fields share their wisdom with you. E
BrightTalk focuses on providing free business and webinars to those interested in the business world. Find resources in areas such as finance, human resources, marketing, and information technology. C
All Things Science has transferred its wealth of science-based videos to Daily Motion. There teens and adults can learn about scientific innovations and see how science connects to daily life. E
CosmoLearning combines free online courses with videos and documentaries to help students learn about a variety of subjects. E
MIT Video brings the quality of MIT lectures to your computer. The videos all focus on science and technology-related content with over 100 channels of specific topics to choose from. C
@Google Talks are similar to Ted Talks and feature many professionals sharing their knowledge. This includes talks with celebrities and musicians too. E
Videolectures.net takes college lectures, academic talks, and conference videos, and organizes them into a free video site. The site has over 20,000 videos in many different languages. C
Courses/Lessons
Finding the time and the money to take college courses can be expensive. Through the MOOC and Open Course movements, teens and adults can access courses from the top universities for free. These resources help people reap the benefits from experts in the field and make it easier to explore topics of interest.

HelpTeaching.com's own collection of math, science, and English lessons combines entertaining video and text-based lessons with short, interactive quizzes. Teachers and parents can choose lessons for kids to complee on their own or can incorporate them into whole class and small group based lessons. Lessons are organized by subject, grade-level, and length. Teachers and parents can also create their own tests and quizzes to accompany the lessons, and then administer them using our Test Room feature.
Subject-Specific Courses
OER Commons is a large collection of free open education resources designed for students in primary school through adult learners. Best of all, you can combine resources to create your own textbook or course and then share it with others or save it for future reference. E
iCivics features a collection of free lesson plans and games decided to help teens learn about civics. T
A Crash Course in World History teaches you the history of the world in 42 episodes. E
My Own Business, Inc. helps adults by providing them with all the information they need to start their own business. C
SBA Learning Center is designed to teach wanna-be business owners the ins and outs of owning a small business. There's even a section geared towards young entrepreneurs. E
Excel Easy contains a large selection of lessons designed to help computer users learn how to navigate through the various features of Excel. This is a quality resource for teachers, students, and even those in the business world. E
College Courses
MIT Open Courseware allows you to access the content of MIT courses from the comfort of your own home. Search by topic, course number, or department. C
Open Culture has collected links to thousands of free courses, movies, and other educational materials available online. Their resources include free certificate courses. E
iTunes U is a collection of courses, audio files, and video designed to help you learn on your computer or any of your Apple devices. E
Wikiversity is a collection of educational photos, projects, and lesson ideas designed to help people learn from one another. E
Course Buffet finds open courses, tags them, and makes them easier for users to access. You'll find top courses from many universities. C
Coursera partners with over 100 universities and other educational organizations to provide over 1,000 free online courses. E
EdX is another site that makes it easy to find free open courses from top universities. While all courses are free, you can also earn college credit for some courses by paying a small fee. C
OEDB offers free open courses from many top universities. It also includes information on financial aid and scholarships to help those who want to go back to school. E
Reference Materials
Looking up a random piece of information doesn't have to require pulling out a dictionary or buying an entire set of encyclopedias. Free online reference materials make it easy for teens and adults to look up information such as the definition of a word, stats on a particular country, or the peak growing season in a region.

Almanac.com is a go-to resource for all things nature and weather-related. It also offers resources on cooking, baking, home, and health. Just as people used to use the paper-based version of the Farmer's Almanac for information in the past, you will find this website to be a handy reference. E
Dictionaries
Dictionary.com offers a free, online dictionary. You can also learn by checking out the word of the day. E
RhymeZone is a great resource for budding poets and others who like to rhyme. Simply type in a word and find a list of words that rhyme. E
Freelang provides free foreign language dictionaries which can be useful when attempting to learn a foreign language. E
Encyclopedias
Encyclopedia.com allows you to search over 100 different encyclopedias and other reference books to get the best information. E
Wikipedia is definitely one of the most popular encyclopedias online. It's a great source for initial research, but facts should always be double-checked. E
Other Reference Sources
Goodreads contains reviews of books and also has a search feature that allows users to find quotes from popular books. It's a great resource, particularly when writing a paper. E
Internet Public Library for teens helps teens finds books, websites, and other resources for learning. It's also a great site for homework help. T
Ref Desk highlights some of the best reference websites and organizes different reference resources into categories to make it easy to find whatever you need. E
World Atlas offers maps from around the world, along with articles about where to travel and key information about different countries. E
General Knowledge/Trivia
Life-long learners aren't always focused on taking a course or learning about a specific topic. Many times, they simply enjoy gathering random information. The Internet is full of many free resources designed to provide them with just that. Not all of the information is useful, but it is certainly interesting, and you never know when a piece of information, like 10 different ways to use a gumball, could come in handy.

Mental Floss is a magazine and a website dedicated to providing readers with random facts and information. You can learn all about history, literature, and science, as well as fun facts about pop culture topics, such as television shows and movies. E
How-To
HowStuffWorks explains just what you think it would – how stuff works. Search by keyword or category. E
WikiHow is a how-to website that teaches you how to do almost anything you want to do with step-by-step instructions, pictures, and videos. E
Instructables offers instructions for all sorts of DIY projects. They range from home projects to crafts and science experiments. E
LearnThat.com focuses on helping you learn new information related to business, personal finance, and technology. It does so through a series of blogs and video tutorials. C
Questions and Answers
Whyzz is focused on providing answers to questions. Type in a question to search the Whyzz database for answers. E
Quora bills itself as the best answer to any question. On this site, you can search for answers to a question that has already been asked or post your own question and wait for others to answer. C
Trivia
Buzzfeed is known for its funny videos and slideshows. While a lot of its content is humorous, it's also a great place to learn something new. C
Bored.com encourages you to end boredom by learning something new. It is full of fun articles and activities. E
Daily Infographic highlights an infographic each day, making it a good way to learn a large amount of information at once. E
Homework Help
Shmoop offers a series of online courses and study guides designed to help high school students. Each comes with a dose of Shmoop-style humor. T
SparkNotes is known for its literature guides, but also offers many study guides for other subjects and major standardized tests. T
CPM Homework Help offers help with math homework at the high school level, focusing on courses such as algebra and calculus. T
No matter how old you are, you're never too old to learn. For more free educational resources, check out the Ultimate Guide to Free Online Self-Learning for Kids. Don't forget to check out our Ultimate Guide to Teaching Science and Top 100 Free Education Sites too.
What are some of your favorite resources for self-learning? We'd love to hear them!
Starting a new job can be stressful, but new teachers face obstacles like no other profession. In an occupation that relies so heavily on experience, a beginner can get lost before building up enough wisdom to overcome the daily stresses that arise in the classroom. Here are five simple ways to keep your confidence high and your classroom management strong whether you're in-person, online, or a mixture of both.
1. Use positive reinforcement to encourage students to succeed
Students of all backgrounds respond when there is a reward for positive behaviors. Verbal praise for a specific student's positive actions will often spur others to do the same. Tangible rewards such as stickers for the young students and homework passes for the older ones also do the trick. Make it a great honor to the students to have their work displayed in the class. My first experience in the classroom was a ninth grade Global History class in a tough Bronx, NY high school. After a rough September, I began a unit on Ancient Greece in October. I divided the students into small groups and designated each a Greek city – state to emulate. They would work in their groups for the length of the unit, with daily medals given for the top three "city-states" for quality of work, effort, and behavior. This Olympic simulation harnessed the energy in the room and gave even the most difficult student something to strive for: a place in the daily medal ceremony.
2. Set high standards and hold the students (and yourself) to them
We often set the bar too low for our students. It is important to set high – yet achievable – standards for them each day and each marking period. After the first marking period ends, work with each student to set a specific goal that improves upon an area in which they struggled in the first part of the year. Have them write a reflective piece as to why they didn't do well and how they plan to do better. Make sure to monitor their progress frequently with one on one conferences. Include their parents in the goal setting process. When students achieve their goals, it gives you another reason to use positive reinforcement to encourage others to work harder. I've had many students who didn't try hard because school was just too hard for them. When asked to examine the specific difficulty that was holding them back, some responded with telling answers. Vocabulary, reading comprehension, and a quiet place to do homework were just a few of the common issues we faced together. Identifying the problem made it possible to at least address it, and, in many cases, we did just that.
3. Don't fight battles that you can't win
It is very important to enforce rules and not to look weak in front of the assembled class, but some battles need to be lost in order to win the war. Not every student should be treated the same. What works as a punishment or a behavior modifier for one student will not work for all of them. For example, not every student is capable of handling direct and public criticism. Sometimes behaviors are best corrected in private or with only vague references to specific offenders. Students often respond to subtle cues, like your proximity to the misbehaver, a tap on the shoulder, or stern look. Even when a student acts out in an inappropriate way, it is not always necessary to correct the behavior with a lecture and punishment on the spot. End the disruption and deal with the fallout later. Word will surely get back to the rest of the class when the punishment or modification is doled out. Causing a scene to reestablish your credibility is not required.
4. Do not take on more responsibilities than you can handle
The first year of teaching is stress filled and requires an intense devotion to your craft. It is not recommended that you coach, take extra classes, or advise a club while you're in educational boot camp.
During my first year of teaching I put my higher education quest on hold while I battled to become a better educator. Despite my need for more income, I avoided all opportunities to earn unless it was paid training. I spent my free time planning, grading, researching, and reflecting. Every second was time well spent.
5. Learn from more veteran teachers
All teachers, new or veteran, should be observing their colleagues and sharing best practices, but the new teacher has special needs that others do not. Questions a new teacher should ask a colleague every day include "How else could I have handled that?" and "What did you do when…?"
If you have a problem student, seek out other teachers who have him in class or who have had him in the past. If there's a topic that you just can't pin down how to present, go to another teacher who has done it before. Pick a friend's brain before the first parent-teacher conference. Ask your union representative about the contract and how it affects those low on seniority. If your district has a new teacher center, go to every meeting and share your experiences with others.
It takes time to overcome a lot of the anxieties of a first year teacher, but it's easier to have faith and confidence in yourself when you know you're on the right path. Staying true to your training and the simple advice above will go a long way towards setting the course for stability and success.
What advice would you give to new teachers? Share your comments with us and be sure to check out our back-to-school tips for teachers as well.

The Social Studies classroom is built around primary source exploration. The use of primary sources can lead to incredible analysis, discussion, and higher-level thinking. Use the five sources below in your classroom to engage your students and explore new and exciting methods of critical thinking and active learning.
The theme of revolution is very apparent in today's world. The causes of these revolutions reflect the very same issues that have faced people for centuries: equality and protection of rights. While the Magna Carta was not written with regular folks in mind, it certainly has been used that way throughout history. American revolutionaries used this document from 1215 to reinforce their rights as citizens and subjects of the British crown.
Excerpts of the Magna Carta can be used to analyze modern international and national incidents. Two standout sections that can be used in a modern discussion about Ferguson, Missouri, the Assad regime in Syria, or historical analysis of Stalinist Russia are:
"No freeman shall be taken, imprisoned, disseised, outlawed, banished, or in any way destroyed, nor will We proceed against or prosecute him, except by the lawful judgment of his peers or by the law of the land."
"To no one will We sell, to no one will We deny or delay, right or justice."
Help Teaching's library of printable worksheets includes a quiz on the English Monarchy that would serve as an apt companion to a Magna Carta discussion.
The rights granted to Americans in the first ten amendments to the Constitution are so influential that they can be used across disciplines. These rights are the basis for so many other successful governments across the world that activities related to this document are easy to find and engaging to teach. The Bill of Rights can be analyzed to help your students think beyond the basics and improve their higher-level thinking. Another resource offered by Help Teaching is an application of the liberties offered in the Bill of Rights.
As he left office, President George Washington was able to encapsulate the conflicts that would soon bubble over in the country he helped to build and protect. This speech gives the students a glimpse into the future of the United States, while also allowing them to engage in critical thinking activities. Students can make inferences and draw conclusions about what may happen next in American history based on Washington's speech. Help Teaching offers a worksheet that analyzes this historic speech and asks students to compare it to a modern speech given by British Prime Minister Tony Blair.
This document ended a world war and started another. It is directly responsible for the anger and desperation that allowed Adolph Hitler to gain power. The Treaty of Versailles can lead to an engaging lesson on long and short-term effects or the spoils of war, and allow students to hypothesize and experiment with historical events. These activities would be greatly enhanced with a graphic organizer or a KWL chart that organizes their knowledge base and learning objectives into manageable chunks.
The struggle for women's equality does not garner the same attention as other mistreated groups in many Social studies curricula, but covering the 19th amendment assists the females in the class to take more ownership of the content and exposes the students to women's issues that still plague the country and the world today. The 19th Amendment can also be used in a larger unit on women's history. Help Teaching offers a worksheet that can help you to map the unit.
These documents not only had an impact on a specific era, they also connect to so many more events, people, and themes that play a major role in the world today. They also assist teachers in engaging students with critical thinking and higher learning activities. Help Teaching's library of informational text analysis worksheets will help further your successful implementation of engaging documents in the classroom, For more tips on using graphic organizers with documents, check out Graphic Organizers in the Social Studies Classroom.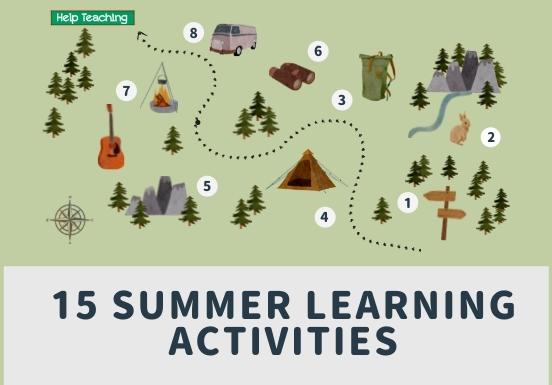 Summer's here! It's time for fun in the sun, family vacations, and… learning. While you want to give your kids a chance to relax, you don't want them to lose all they learned during the school year. To help keep their minds sharp, incorporate some learning into their summer activities. Not sure where to start? We've got plenty of ideas to help your kids learn during the summer while still having fun!
Elementary School
Give your elementary student a chance to have some hands-on fun this summer.
Head Outside
Start by getting out of the house and observing the world around you. Set up a scavenger hunt and have your kids scour the neighborhood in search of certain colors, sights, or sounds. Draw a map and see if they can navigate their way from point A to point B.
Explore Science
While you're outside, take some time to explore the world of science. Talk about how the flowers boom and the animals that you see. Discuss the weather and notice changes in nature when it rains. For more ideas, try some of these science exploration ideas.
Visit the Library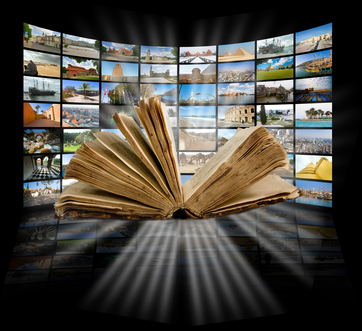 Stop by your local library and give your kids a chance to look for some new books to read. Look for books by favorite authors or head to the non-fiction section and check out books on your child's current favorite topic. Need some book suggestions? Our Black History Month Reading List offers a few titles to get kids started. Once they've found their books, encourage them to read on rainy days or take along a book when you head to the beach or the park.
Play Online Games
When you're taking a break from laying in the sun or playing at the park, let your kids sit down at the computer and play some games. For both math and reading games, check out Funbrain.com or head to Math Game Time for some math-based play. The websites for your child's favorite TV shows also often have fun, educational games for them to play. For more games, check out the sites found on our list of free education websites also offer plenty of free games and other fun learning activities for kids to enjoy.
Build their Character
Who says all learning has to be academic? During the school year, your child's teacher and friends have a big influence on her life. Use the summer to build some key character values. These values will help them when they face conflicting viewpoints and character trials during the school year. You can work on building manners by having a dinner party, helping out others by volunteering, and asking "what would you do?" questions that incorporate scenarios related to honesty, respect, and other character traits. For older elementary and middle school students, you can incorporate some of the resources found in this blog post on character education.
Middle School
Pull your middle schooler away from the video games and phone and have some educational fun.
Read a Book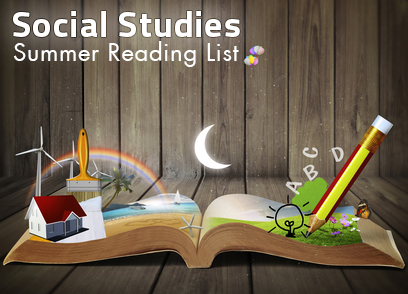 Your middle schooler isn't immune from reading a book either. While he may not want to be caught dead at the library, you can still pick up a few books and make him set aside some time to read every day. If your middle schooler doesn't like reading, choose a few graphic novels or look for non-fiction books that focus on his current interests. Check out our social studies summer reading suggestions to get him started and let him learn a bit about history while he reads.
Conduct a Science Experiment
Have some fun with science experiments this summer too. The kitchen offers a great place to start and gives your pre-teens and teens a chance to learn how to cook at the same time. Science Buddies offers a large selection of cooking & food science fair activities. These free science websites offer plenty of experiments to last the entire summer. If you're ambitious, organize a neighborhood science fair and get all of the other kids on the block involved in conducting experiments too.
Get Online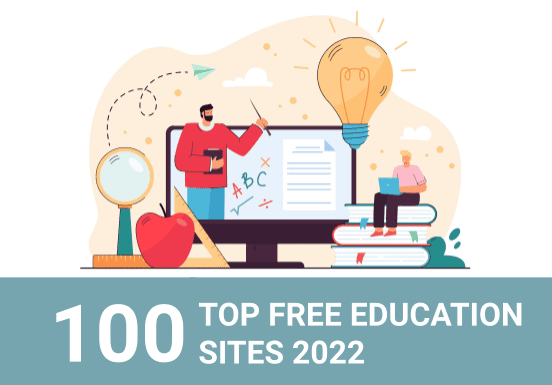 Chances are your middle schooler will want to spend most of the summer on the computer or her phone talking to her friends. Let her go online, but encourage activities beyond socializing, such as visiting some of the top Free education sites. Encourage your middle schooler to build a new skill, such as learning how to code at Code.org or donate to charity while building vocabulary skills through websites like Free Rice.
Work on Executive Functioning Skills
The summer offers a great chance to build some skills that will help your middle schooler succeed when school starts back up again. Work on some of the same executive functioning skills that teachers work on during the school year, such as setting up a routine and using a planner to help keep your middle schooler organized.
Take a Trip
For your family vacation, let your middle schooler do the navigating and build map-reading skills at the same time. Can't afford a vacation? Bring some maps into your home and plan a dream vacation anyway.
High School
Don't let your teen sleep all day this summer.
Watch a Movie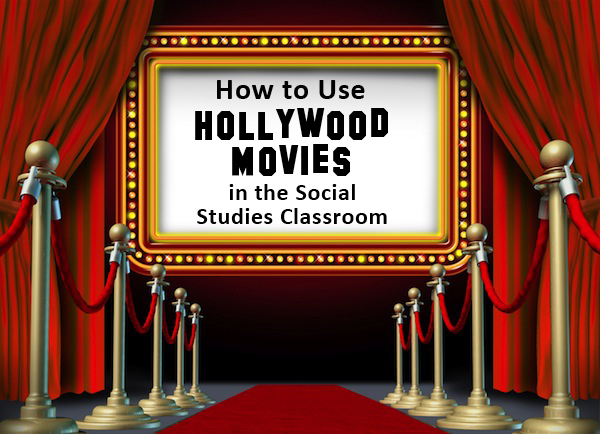 Getting your teen out of bed can be enough a challenge during the summer. Give in and let him spend time on the couch watching educational movies. Try out some of these movies about historical events or some educational YouTube channels.
Conduct Research
Use the summer as a chance to get your teen to explore some of his or her interests through mini research projects. Explore a specific period of history, look further into a concept they discovered in a movie, or just encourage them to find the answers to the questions they have on their own.
Enlighten their Devices
If you can't pull your teen away from his phone this summer, make the phone more educational. Add educational apps or even force your teen to learn before texting or using Instagram and Snapchat with an app such as StudyLock, which requires teens to answer academic questions before using their devices. You can also encourage learning through silly apps.
Volunteer
Get your teen out of the house and do something to help others. The summer is full of volunteer opportunities. Your teen can work with a summer camp, help out at a food pantry, go on a mission trip, or even just do some yard work for elderly neighbors.
Make Some Money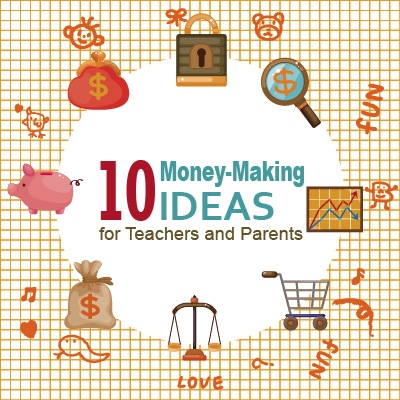 Of course, summer is also a great time for your teen to make some money. Getting a job will teach your teen about managing money, working with others, and building real-world skills. If a traditional job, such as working at a grocery store or fast food restaurant, doesn't appeal to your teen, encourage her to get creative. Have a yard sale, sell a craft, or start your own family business. If you're home with your teen all summer, use your free time to make some extra money too with these money-making ideas.
Have more ideas for keeping kids learning during the summer? Share them in the comments.
For more ideas, we suggest 100 Fitness Activities for Families and 100 Summer Activities for Kids.
15 June //
Posted in How To //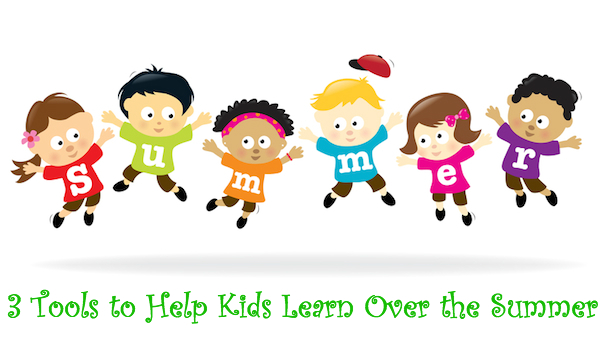 Learning can take place anywhere, not just in the classroom. Summertime offers many opportunities for kids to gain knowledge.You can help them learn by introducing them to three simple tools designed to get them interested in learning, even if they don't realize that's what they're doing.
1. Ask Questions
Sometime during the toddler years, kids go through a "why" phase. They use the question "Why?" to help them figure out the world and everything in it. Unfortunately, many kids quickly grow out of that stage. To help kids learn over the summer, re-introduce them to the art of asking questions. It may seem annoying to have a child who is constantly asking how and why things happen, but when you realize those questions help them learn, it's much easier to handle.
To help kids learn to ask questions, start by asking questions yourself. For example, if you're at the zoo and see a zookeeper standing by an animal cage, take the time to ask the zookeeper a question. You don't have to be at a zoo or museum to ask a question either. Ask questions of people all around you – your mechanic, the teller at the bank, the person stocking shelves in the grocery store. Even if you already know the answer to some of the questions you ask, you'll show your children how easy it is to ask questions on their own. They'll also discover that people are usually more than willing to answer the questions they ask.
2. Introduce them to Experts
When it comes to asking questions, one of the best places to find an answer is an expert on the topic of the question. The summer is a great time to help kids gain access to experts in many different career fields, not only to ask questions, but also to observe them as they work. Since
kids aren't in school all day, they have more time to see how different adults spend their time. While many jobs don't aren't ideal for having a kid underfoot, some workplaces may allow children to shadow
a family member or close family friend for a day. Spending a day on the job can help kids learn more than simply reading a book or watching a video. It also gives them access to multiple experts in an industry and many of them will be ready to teach kids what they know.
When it comes to introducing kids to experts, think beyond careers and focus on interests and hobbies, too. For example, if your child is interested in the Civil War, see if you can set up an interview with a local Civil War reenactor. If your child wants to become a stronger swimmer, contact the swim team of a local college and see if a student would be willing to sit down with your child and give him some advice. Many adults who have hobbies would be more than happy to
take some time to sit down with your child and share about their interests.
Don't forget about classes either. Many groups hold special classes during the summer. If your child is interested in cooking, for example, you may find a cooking class taught by a local chef. If your child likes sports, look for a sports camp that features a professional athlete or coach. These classes often cost money, but the cost is worth it if your child gets to interact
with someone at the top of their field.
3. Watch Videos
Of course sometimes your local area won't offer special summer classes or experts that are of interest to your child. Thankfully, kids have the internet. Online they can find tons of videos related to their interests, many of them featuring some of the top people in the field. For example, TED Talks and Big Think have been known to feature some of the world's greatest scientists and thinkers. Websites such as Top Documentary Films also can help kids learn by allowing them to access documentaries for free.
Since it's summer, you may not want your kids sitting in front of the computer or TV screen all day. That's where videos from sites like YouTube come in handy. Many YouTube channels (such as these channels for social studies) contain short videos designed to help kids get snippets of knowledge. A simple search for how-to videos can also help kids pick up a new skill by watching short videos. Maybe this summer they'll learn to play the guitar, take ballroom dancing lessons, or discover how to make homemade ice cream. With millions of how-to videos on YouTube, kids can learn almost anything.
Sure, you want your kids to relax during the summer, but you don't want them to stop learning. By connecting these tools with other summer learning activities you can ensure kids are being filled with knowledge over the summer.
For more resources to get kids learning on their own this summer, share our Ultimate Guide to Free Online Self-Learning for Kids, which is full of free videos, courses, and other materials to help kids explore their interests and find answers to their most pressing questions.
What tools do you use to help kids learn over the summer? We'd love to hear your ideas!
The summer months bring relief and joy for students, but also lots of free time to be filled. There is no better way to spend these hours and days than with a book, especially one that educates. Below are book recommendations based on age and genre that will help keep your child or student busy and engaged throughout the summer.
Disclaimer: This post contains affiliate links and we may earn a small commission off any books purchased. However, all recommendations are our own.
Kids
Activity Book: "The Complete Book of U.S. History"
This book clocks in at over 350 pages and is chock full of exercises and activities to keep young minds sharp. (Ages 8 and up)
African-American Studies: "What Color is My World?: The Lost History of African-American Inventors" by Kareem Abdul-Jabbar and Raymond Obstfeld
NBA Hall of Famer Kareem Abdul-Jabbar writes of obscure African – American inventors in this well-illustrated story. (Ages 8 and up)
Presidential: "So You Want to Be President?" by Judith St. George
Does your little one ever wonder what it takes to become president? St. George chronicles every president in an interesting and humorous manner, accompanied by wonderful illustrations. (Ages 6–8)
Biography: "The Story of Ruby Bridges" by Robert Coles
The story of the first African American child to integrate Frantz Elementary School in New Orleans. (Ages 4-8)
Culture: "Homes Around the World" by Max Moore
Learn about different and unusual residences around the world. (Ages 5–7)
Teens
Historical Fiction: "The Boy in the Striped Pajamas" by John Boyne.
This acclaimed book introduces the Holocaust in a gentle manner and opens the door to discussion about such a sensitive topic.
Mystery: Chasing Lincoln's Killer" by James L. Swanson.
This is a young adult version of "manhunt", the same author's account of the search for President Lincoln's assassin. "Chasing Lincoln's Killer" uses trial manuscripts and interviews to build a compelling and completely true thriller.
US History: "Don't Know Much About History" by Kenneth C. Davis
This updated edition of the bestseller that answers all of your questions about American history in a very entertaining way.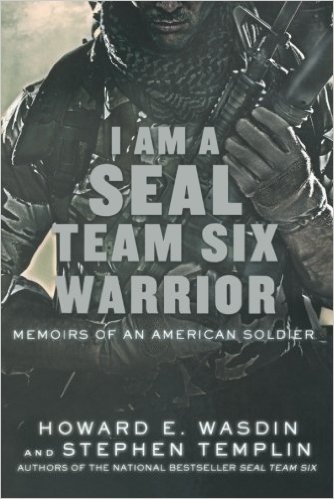 Current Events: "I am a SEAL Team Six Warrior: Memoirs of an American Soldier" by Howard E. Wasdin and Stephen Templin
Learn the grueling training involved in joining the unit who found Osama bin Laden in this firsthand account from former Team Six member and author, Howard Wasdin.
World History Compilation: "A Little History of the World" by E.H. Gombrich
With illustrations on every page, Gombrich brings history to life for young adults.
The summer allows students to learn at their own pace and explore topics that interest them. Interesting and educational books are just the recipe to feed a hungry mind. You can also get kids interested in Social Studies websites and movies to help keep them learning throughout the summer.Got other suggestions for this list? Share them with others by commenting below.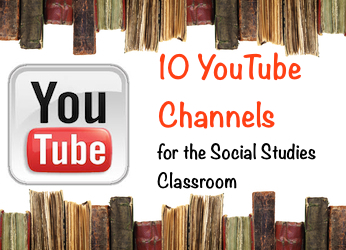 21stcentury students are constantly plugged into technology, making it the teachers' responsibility to use their interests to engage them in the classroom. YouTube gives educators the ability to use a familiar website and an interesting medium to teach about themes and concepts that relate to their subject areas.
While there are thousands of great videos scattered about YouTube, these are ten channels that house a collection that will improve your lessons and your students' understanding of social studies.
This series, produced by ABC at the turn of the century, breaks down major moments in American history with archived film footage and interviews with participants and regular people who lived through those moments. The small chunks of information make this series an invaluable tool for reinforcing concepts with visual primary sources.
These videos also work well for a world history class, as events like World War II and the Cold War are an important part of that curriculum, too.
These videos give a fast-paced, thorough and entertaining overview of many different topics in history, literature, economics, and other key subjects. You can also find related resources and more easily search some of the videos on the Crash Course website.  It's important to note that most of these videos are not appropriate for elementary and middle school students, but there is a Crash Course Kids series that might be okay.
This channel helps viewers gain a quick overview of key events in history through short, illustrated videos. Each video is narrated and told in a story format to make it more engaging for students.
What makes Twitter and Facebook so popular? Why do kids prefer to text message in code than write in full length English? It's because they prefer bite sized chunks of information and the movement towards these small doses of content is exemplified by the Khan Academy. Here you will find a huge library of lectures ranging from five to 20 minutes that use relevant and interesting visuals to teach about a specific topic. Wondering what that FICA Tax is that's taken out of your paycheck? Watch this. Need a quick primer on how communism is different than capitalism? Here ya go.
It is hard to spend time on current events due to time and curriculum constraints, but whenever there is a historical topic that connects to a modern one, we should make it a priority to discuss that connection. For example, the AP has dozens of very short videos on the current situation in North Korea that can be used in conjunction with a Cold War unit.
This channel provides a breathtaking database of presidential speeches and occasions that can accent any lesson in modern American History. From clips of the famous Kennedy – Nixon presidential debates to President Clinton's take on gun control after the Columbine school shooting, these videos make it simple to enhance an already stellar lesson plan with relevant primary source video.
Search through the playlists available on this channel and marvel at the resources they have compiled. Heartbreaking stories of loss, uplifting stories of love, and everything in between.
I don't know exactly what to make of this, but it may be the most creative mixture of pop culture and history that I have ever seen. The team at History for Music Lovers rewrites songs from the last forty years of pop music to teach about a historical figure or period. They also film music videos, complete with costumes and plots, to accompany their song parodies.
Watch The French Revolution, as sung to Lady Gaga's Bad Romance, William the Conquerer set to Justin Timberlake's Sexy Back, or  relive the Eighties with Billy Idol's Eyes without a Face transformed to The Crusades.
Some of the songs will be before your students' time, but the effort and creativity on display is sure to break any generational walls.
The Biography Channel on You Tube has endless "mini – bios", all around five minutes in length; a perfect amount of time to spend on a video clip within a lesson plan.
Help Teaching's YouTube channel features videos on a range of subjects including social studies.  You can also find ad-free versions of the videos on our online lessons page. Best of all, each lesson is accompanied by worksheets to help assess what students have learned.
You Tube may provide students with music videos and clips of teens getting pranked by their friends, but it also can be a tool for learning. Use the channels above to augment your materials and find your own to show students that the web is also a place for education.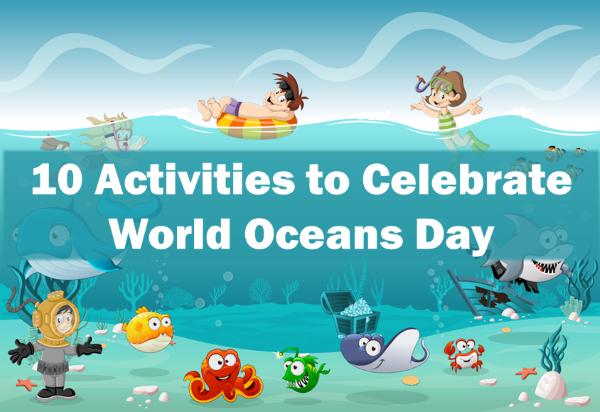 Each year on June 8th, we observe World Oceans Day to draw attention to how important our planet's seas and oceans are to life and livelihoods. Did you know, for example, that the up to 50% of our oxygen comes from the ocean? And if you thought rainforests were the most biodiverse ecosystems on the planet, think again – it's actually our oceans, which makes sense since they cover 70% of the Earth's surface.
So this World Oceans Day, help your students understand just how important it is to protect it, sustainably use its resources, and how we can benefit from learning more about it. So put on a blue shirt and forge ahead with these ten fun ways to celebrate World Oceans Day with your class or family.
1. Skipper Your Crew to a World Oceans Day Event
Check out World Ocean Day's website to find out what events are going on in your area. You can also list your own events and learn more about youth initiatives. From art contests to film festivals to hands-on exhibits, there are ocean activities taking place around the world and students can discover a whole community of passionate youth working to protect our oceans for future generations.
2. "Fish are Friends, Not Food"
Who doesn't love battered or crumbed fish, juicy mussels, moreish shrimp, and the versatility of tuna? Did you know that the oceans are the main source of protein for a billion people around the world? That puts enormous pressure on fish stocks, the majority of which are overfished and in their populations in decline. 
While this can all sound pretty depressing, you can teach students how to make informed decisions as consumers and teach their families how to be ocean warriors using their wallets at stores and restaurants. Discover which fish are the most eco-friendly to buy and consume. You can then do this worksheet on ocean zones so students know where the fish they buy is coming from.
3. Say No to Plastic
Plastics are one of the biggest threats to ocean health and one of the easiest things to change from a lifestyle perspective. Each year, trillions of pieces of plastic enter the world's river systems and water ways and end up in the oceans. They slowly gather into gyres, some of which are bigger than the state of Texas.
Plastics in the oceans aren't just a hazard to its inhabitants that eat it or get tangled up in it, but they break down into micro-plastics which then enter the food chain and we humans end up eating!
This year, teach your students about the impact of single-use plastics, like drinking straws and packaging, and the importance of recycling and responsibly disposing plastic. When done, you can then organize a beach clean up. If the ocean is too far away from you, remember, plastics can travel for hundreds of miles before entering the oceans, so even a plastic clean-up along rivers, streams, or your community will benefit the oceans.
4. Ocean Explorers
It's much easier to protect something when you've got a connection to it. Google has an amazing feature called Google Ocean in which you can explore the vast waters much like street view has changed the way we explore areas of land. Discover images, locations, and other media with this this stunning collection.
If you're able to, set your bearings to your local aquarium. Students of all ages will enjoy viewing and interacting with the amazing variety of sea life on display.
5. Where the Currents Go
The currents of the world play a huge role in the kinds of ecosystems and animals that are found in a region. First, teach your students about currents and use our Currents worksheet to reinforce their understanding. Then, for some extra fun and impactful awareness, take a look at Adrift.org. This amazing interactive website shows just how far plastics can travel in the ocean, and drives home the lesson that one's mindless actions at home can have a big impact on others around the world. Challenge your students to predict the path of pollution before seeing where it actually lands up.
6. Sail Over to the Smithsonian
We love the Smithsonian and the wealth of information available for students and teachers. This World Oceans Day, check out its diverse collection of ocean-related lesson plans for educators. From the impact of oil spills, to light penetration, and marine environments, to name just some, there's something for all subjects and all grades from K-12.
7. Dive into an Ocean-themed Reading Adventure
For landlubbers who can't venture out to sea, dive into an ocean-themed book for a reading adventure worthy of the high seas. Get started with one of these nautical tales.
 

Nautical Novels and Seaworthy Stories
The Rainbow Fish by Marcus Pfister
Swimmy by Leo Lionni
Flotsam by David Wiesner
Mr. Popper's Penguins by Richard and Florence Atwater (Worksheet)
Treasure Island by Robert Louis Stevenson (Worksheet)
Moby Dick by Herman Melville
Billy Budd by Herman Melville
The Pearl by John Steinbeck (Worksheet)
Kon-Tiki by Thor Heyerdahl
20,000 Leagues Under the Sea by Jules Verne
The Odyssey by Homer (Worksheet)
The Old Man and the Sea by Ernest Hemingway

 
8. Action Starts with Awareness
Ahoy! Teachers, students, and families can join an Ocean Guardian Program and plan a school or community conservation project, submit ocean-themed artwork, stories, or poetry, and even become involved in diving!
9. A Good Day for the Beach
Head to the beach! What better way to celebrate World Oceans Day then by digging in the sand, discovering tide pools, and surfing the waves? It's a perfect opportunity for students to explore the environment while also teaching them the importance of not interferring with the local ecosystem by removing shells, catching small creatures, or turning over rocks.
10. There's No Place Like Home
Movies like Finding Nemo are often box-office hits and seen by millions of people around the world. Unfortunately, while creating awareness, it can also increase the demand for the creatures featured in the films. Without careful research, would-be hobbyists can end up fuelling the illegal capture and trade of wildlife or products such as shells and coral, or worse yet, killing creatures through lack of knowledge.
Marine creatures belong in their natural environment and should only be kept by experts. Rather than buy marine creatures for enjoyment at home, visit a local aquarium that's contributing to research and protection.
Lessons and Resources
If you are swamped with lesson planning, check out Help Teaching's collection of pre-made, ocean-themed worksheets. Or, have your students try our online lessons on Ocean Vocabulary Words, Ocean Zones, Tsunamis, or Tides. Our friends over at Kidskonnect.com has a large collection of facts and worksheets for kids about Oceans too!
Have other suggestions for celebrating World Oceans Day with students and children? Share them in the comments! Read The Ultimate Guide to Teaching Science for more ways to invigorate your science curriculum and teaching.