Currently Browsing
How To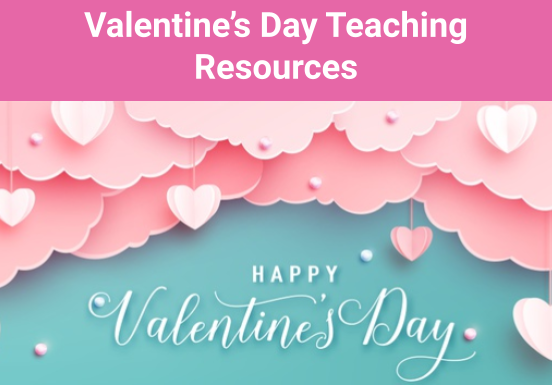 Flowers, candy, and cards decorated with hearts are used by many to express love to that special someone.  The day offers many fun and creative ways to teach about friendships, poetry and prose, marriage, and relationships.
History of Valentine's Day
Despite flowers being the number one gift given on Valentine's Day, the holiday's origin is not so rosy. 
The real Valentine
The most noted theory about how Valentine's Day began, is rooted in Ancient Rome. In the third century CE, the Roman emperor Claudius II wanted to develop a fierce team of young men to be soldiers in his legions. It was his belief that when young men are in love, this makes them weak. Naturally, a man with a wife and children tended to be more cautious in how he fought on the battlefield. So, Claudius outlawed marriage for young men serving in the Roman armies.
Well, not everyone or everything can be commanded by an emperor. As Claudius found out, he could outlaw love, but he could not stop it. Young men and women still fell in love and wanted to marry. A brave Christian priest named Valentine, who thought the law was horribly unjust, risked his life to perform the banned wedding ceremonies in secret.
News of Valentine's clandestine ceremonies made its way back to the emperor.  The cleric was arrested, and while in prison, Valentine sent a love letter to a young woman — possibly his jailor's daughter — who visited him during his imprisonment.  He allegedly signed it "From your Valentine", hence the expression.  He was executed soon afterward.  Centuries later, when the Roman Catholic Church made the kindly priest a saint, St. Valentine's feast day — February 14 — was chosen because it was the day he was put to death.
Literature of love
It wasn't until almost 1,000 years later that the first known Valentine's Day poem was written.  It also was penned by a prisoner, and was sent from the Tower of London to the prisoner's wife in 1415.
My very gentle Valentine,
Since for me you were born too soon,
And I for you was born too late.
God forgives him who has estranged
Me from you for the whole year.
I am already sick of love,
My very gentle Valentine.
Well, not the most remarkable of poems, but it's good for a first effort.
Everyone is familiar with Shakespeare's love sonnets, most notably number 18 which starts out famously: 
Shall I compare thee to a summer's day?
Thou art more lovely and more temperate.
And there's Scotland's remarkable bard Robert Burns: 
O my Luve is like a red, red rose
That's newly sprung in June;
O my Luve is like the melody
That's sweetly played in tune.
So fair art thou, my bonnie lass,
So deep in luve am I;
And I will luve thee still, my dear,
   Till a' the seas gang dry.
And then there are the first love poems written by school kids:
Roses are red
Violets are blue
Faces like yours
Belong in the zoo
The economics of true love
In the 21st century, greeting card companies each year produce over a billion cards of love and affection just for St. Valentine's Day.  The impact that Valentine's Day has on the U.S. economy is stunning.  In 2019, more than $20.7 billion was spent on the holiday.  It's thought the most expensive Valentine's Day gift ever purchased is a heart shaped 1001 Nights Diamond Purse.  Decorated with over 4500 yellow, pink and transparent diamonds totalling 38,192 carats, the retail value of the gift is a gobsmacking $3.8 million.
Valentine's Day symbols
Red Roses: the most popular flower of Valentine's Day, this enduring symbol of passion, beauty, and love has the power to impress anyone when a dozen of the long-stemmed variety are wrapped in a large bouquet.  An ancient Roman legend has it that a beautiful maiden, Rodanthe, locked herself indoors while being pursued by overzealous suitors. When they eventually broke down her door, an enraged goddess Diana changed Rodanthe into a beautiful red rose and turned the suitors into thorns.
Cupid: He was the son of Venus (goddess of love) and Mercury (the winged messenger of the gods).  This mischievous little god carried around a quiver of arrows tipped with love potion.  Anyone struck by one of Cupid's arrows would fall in love with the first person they saw.
Chocolates: Since ancient times, chocolates have been associated with sensuality and fertility.  This is perhaps because when eaten, chocolate stimulates the production of a hormone that is similar to the chemical produced when a person is in love.
Valentine's Day Around the World
Although Valentine's Day started as a Catholic feast day, the saint's death and the tradition of love that he exemplified is celebrated worldwide by people of many faiths. People send cards, flowers, and candy in many countries.
In the Philippines, Valentine's Day is the time when many young couples marry in an event sponsored by the government as a form of public service
In Ghana, February 14 is celebrated as "National Chocolate Day". The Ghana government established this day in 2007 to increase tourism in the country, as Ghana is among the largest cocoa-producing countries in the world.
In Bulgaria on February 14, the "day of winemakers" (San Trifon Zartan) is celebrated. Young and old couples celebrate their love with a glass of local wine.
In Denmark, Valentine's Day is not limited to roses and chocolates. Friends and lovers exchange handmade cards with pressed white flowers that are called snowdrops
In Estonia, February 14 is celebrated as a friendship day known as Sobrapaev. This festival includes everyone, from couples to singles
In Japan on February 14, women buy gifts and chocolates for their male companions. Men can't return gifts until March 14, which is called the "white day".
In England on Valentine's Day, women used to place five bay leaves on their pillows. It was believed this would bring them dreams of their future husbands.
In Slovenia, St. Valentine is a patron saint of spring.  It's thought that on February 14, plants start to regenerate.  This day marks the first day of working in the fields for the New Year.  Slovenians also believe that birds 'propose' to each other on this day, and to witness this occasion, one must walk barefoot through the frozen fields.
Resources for Teaching about and around Valentine's Day
Help Teaching has many fun educational resources which use the holiday to teach math and English.
Worksheets
KidsKonnect.com has Valentine's Day Facts and Worksheets, and check out these free resources from BusyTeacher.org:
Lesson plans
Videos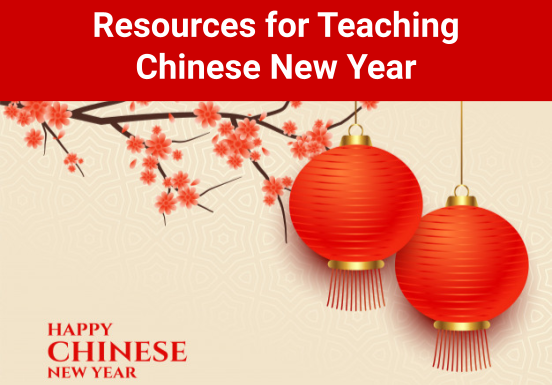 Each year, Chinese New Year takes place. It's a tradition that spans over 4,000 years! Read more to learn about its history, practice, and why it doesn't fall on the day you'd think!
An annual tradition celebrated for more than 4,000 years
There will be hands filled with red packets of money and streets filled with dancing dragons as people worldwide, predominately of Chinese descent, welcome the Year of the Ox.  Known to the Chinese as Lunar New Year, what we in the West call Chinese New Year falls on Friday, February 12, 2021, and celebrations will climax with the Lantern Festival on February 26.
What is Chinese New Year?
Also called Spring Festival, the holiday marks the beginning of the lunar Chinese calendar. The Chinese New Year is packed with tradition, family gatherings, superstition, and great food. Each day has a special name and tradition. The standard public holiday for mainland China is seven days from Chinese New Year's Eve to the sixth day of the lunar calendar new year.
Since all stores in China are closed during the first five days of the Spring Festival, and some remain closed until the very end, people have to stock up on New Year supplies ahead of time.  Spring Festival really gets underway on Lunar New Year's Eve (this year on February 11) with a reunion dinner which is considered the most important meal of the year.  After dinner, the children receive red envelopes, and the family stays up late to await the New Year.
Each day of Spring Festival is unique
New Year (February 12 this year) starts off with a bang as firecrackers punctuate a day of greetings and blessings among neighbors. The original name for Spring Festival was Yuán Dàn (Yuán means "the beginning"). In ancient times, the Chinese recorded and analyzed the weather, stars and moon to predict the fortunes of the year, a practice known as zhàn suì. On Lunar New Year people may celebrate with Tu Su wine. Tradition holds that it is forbidden to sweep or clean on this day, so that good fortune will not be swept away.
The next day of Spring Festival is called "to the in-law's".  On this day, a married daughter must bring her husband and children to her parents' home along with a gift bag of crackers and candies, which her mother will divide between neighbors.  This simple gesture by the daughter expresses her longing for her hometown.
Day of the Rat
Following "in-laws" day is the "Day of the Rat".  In 2021 it so happens to fall on February 14, Valentine's Day, appropriately because, according to folktales, this is the day that rats marry.  On this day people will leave out some grains and crackers to share their harvest with the rats.  They will then retire early so as not to disturb the "wedding".  The hope is if they do this, the rats will not disturb them during the coming year either.
Day of the Sheep
The fourth day of Lunar New Year is the "Day of the Sheep".  In the Chinese creation story, sheep were created on the fourth day.  On this day the Chinese would traditionally pray to the god of wealth on this day.  At midnight, people will welcome the god into their home by opening the windows and feasting until daybreak.  Special foods for this feast are kumquats and sugarcanes — meant to represent a sweet life and successful road ahead — plus cakes, a whole pig, chicken, fish, and soup.  Superstition says it's forbidden to slaughter a sheep on this day. 
Take a break
"Day of the Sheep" is followed by "Break Five", when after praying to the god of wealth, markets and stores open again.  A traditional dish of dumplings are eaten on "Break Five".  Some say that the taboos of other days can be done on the fifth.  Others claim it's wrong to work on this day.
Day of the Horse
Day six of Spring Festival is known as the "Day of the Horse" because this noble beast was created on the sixth day.  On this day people will send the spirit of poverty away.  This frail-looking man who likes to drink thin porridge and turned his clothing into rags on purpose is chased away by burning scraps and offering banana boat candles.  It's also believed that the god of bathrooms will visit to check on a home's cleanliness, so everyone in the house is expected to clean on this day.
Day of the Human
Day seven of Lunar New Year is called "Day of the Human" because — you guessed it — humans were created on the seventh day.  Originating in the Han dynasty, "Day of the Human" traditions include wearing a hair accessory called rén sheng and eating seven gem porridge.  This delicious dish includes seven types of vegetables: kale, leek, mustard leaves, celery, garlic, spring vegetable and thick leaf vegetables.
Day of the Millet
After the "Day of the Human", it's "Day of the Millet".  Legend has it that this is the millet grain's birthday.  Ancient Chinese society was agrarian and, therefore, people highly valued the grain.  On this day, pets such as fish and birds are released back into the wild as a gesture of respect for nature.  Today, some families visit rural areas to learn about agriculture.  Fair weather on this day is a sign of a fruitful harvest, but a gray sky warns of losses ahead.
Providence Health
The ninth day of Lunar New Year is called Providence Health.  It's the birthday of the sovereign god of the universe, the Jade Emperor.  The main activities on this day are ceremonies for the Jade Emperor.  In some places, women will bring perfumed flower candles to natural wells and harbors and offer prayers to the gods.  Everyone must fast and bathe before praying.
Stone Festival
The Stone Festival is the tenth day of Lunar New Year.  In some places the night before, people freeze a clay jar onto a smooth stone.  On the morning of the tenth day, ten youths will carry the jar around, and if the stone doesn't fall, it's an omen of a good harvest.  A traditional lunch on Stone Festival is a meal of baked bread.  It is believed that after the luncheon, the road to wealth will be open and smooth for that year, unless one uses stone tools, such as rollers and millstones, on the day.
Son-in Law Day
The eleventh day is Son-in-law Day when fathers will invite their daughters and sons-in-law to dinner.
Lantern Festival preparations
On days twelve, thirteen, and fourteen, people make preparations for the Lantern Festival by purchasing lanterns and constructing light sheds.  The old adage goes: "make noise on the 11th, build light sheds on the 12th, light the lantern on the 13th, light is bright on the 14th, a full moon on the 15th, end the light on the 16th".  When spoken in Chinese, the saying has a nice rhythm.
The Lantern Festival
Lunar New Year culminates in the five-day Lantern Festival.  The most important activity during the festival is creating lanterns.  Lantern Riddles is a game played by writing riddles on lanterns.  As it is a full moon that day, moon-gazing amidst lanterns is the best way to celebrate.  Traditional food includes glutinous rice balls called yuan xiao.  Either boiled, steamed or fried, they represent reunions.  Lanterns are lit by those hoping to add children to their families.
New Year Oddities
Beyond the usual Spring Festival traditions, the holiday is full of interesting quirks and customs.
The world's largest annual movement of humans happens before and after Lunar New Year. It's so big, it has its own name — Chunyun. It's when all of China travels at once. The Chinese push their way into packed buses or stand for hours on a crowded train to visit loved ones.
There are some things you can and can't do over the Lunar New Year in China — simply because of how they sound. Footwear purchases are a no-no for the entire lunar month, as the word for shoes sounds like "losing" in Cantonese. One can, though, invert the Chinese character for luck to make "dao" (which sounds like "arrival") and put it on your door to bring in good fortune.
Ever wonder why firecrackers are associated with Lunar New Year? Legend has it that the half-dragon, half-lion monster "Nian" comes out of hiding and attacks people (especially children) during the Lunar New Year. So the firecrackers are used to scare him away (apparently he has sensitive ears).
In Chinese culture red is associated with luck and prosperity, but it's also used for protective purposes. In addition to being spooked by loud noises, "Nian" is frightened by the color red.
Lunar New Year has its own movie genre
The "hesuipian" film genre in China and Hong Kong is devoted to Lunar New Year.  The films are usually uplifting comedies focusing on families and happy endings to make viewers feel warm and fuzzy.  Kind of like Christmas movies in the West.
Resources for Teaching about and around Chinese New Year
Help Teaching has many fun educational resources which use the holiday to teach math and English.
KidsKonnect.com has Chinese New Year Facts & 30+ Worksheets, and check out these free resources from BusyTeacher.org.
Here are some fun Chinese New Year learning activities from ReadWriteThink, and this Chinese New Year Fan Dance hands-on lesson from Teacher.org integrates social studies concepts with performing arts.  Students will delve into customs of Chinese New Year by exploring traditional artifacts and dance.
The Asia Society is planning virtual celebrations for 2021, and the Smithsonian American Art Museum is ringing in the Year of the Ox with online celebrations.  The Southern Oregon Chinese Cultural Association presents the Year of the Ox virtual celebrations, and New York's Metropolitan Museum of Art is streaming a 12-hour broadcast event completely free (and no registration is required).  From art making classes to online dance and music, puppet shows and talks, there are many ways to celebrate.  Usher in the Year of the Ox with online events provided by The Museum of Chinese in America Lunar New Year Family Festival.
However you choose to celebrate or learn about Chinese New Year, we at Help Teaching offer you this traditional greeting: 恭 禧 發 財 or "Gong Xi Fa Cai" (pronounced goong ssee fah tsign), which is Mandarin for "wishing you great happiness and prosperity".
2 February //
Posted in How To //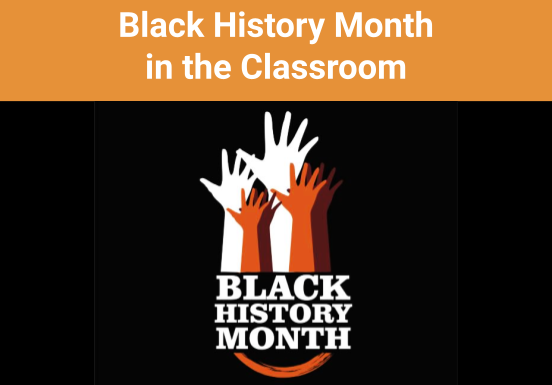 When commemorating and celebrating Black History Month, it is critical to involve your students in activities that get them thinking critically about all the facets of the African American experience.  Lessons should incorporate history, politics, human experience, art, and  literature.
The history of people of African descent in the U.S. is American history, and Black History Month offers the opportunity to dig deeper.  Each February gives us a chance to support students as they discover the impact African Americans have had on culture, society, politics, and science.  The key for social studies teachers is to avoid pigeonholing the achievements of Black Americans to just one month.  Although the emphasis during February is on African American history, this subject should be included in social studies education year round.
Origins of Black History Month
Those who have no record of what their forebears have accomplished lose the inspiration which comes from the teaching of biography and history

Carter G. Woodson
The distinguished Black author, editor, publisher, and historian Dr. Carter Godwin Woodson (1875 – 1950), penned these words as he worked to establish Negro History Week (the precursor to Black History Month) back in the opening decades of the 20th century. Woodson believed that African Americans should be aware of their past so they can participate intelligently in the country's affairs. He strongly held that Black history, which others have tried so hard to obliterate, provides a strong foundation for young African Americans to build on to become productive citizens.
Woodson's numerous scholarly books and many magazine articles on the contributions of Blacks to the development of America supported his message that Blacks should be proud of their heritage and that all Americans should also understand it.  This championing of African American history earned him the nickname the "Father of Black History".
Expand Your Horizons
While teachers typically tend to stay with the same few topics during Black History Month (think civil rights, historical Black leaders, and significant achievements), there are also plenty of other important concepts to consider introducing your students to, such as:
The Black Family: Representation, Identity, and Diversity (grades 9-12) (National Archives Museum Online panel discussion, Thursday, February 25, 2021, 7-8 p.m. EST)
African American History Month Teaching DO's and DON'Ts*
DO…
Incorporate Black history year-round, not just in February. Use February to dig deeper into history and make connections with the past.
Continue Learning. Explore how to provide an in-depth and thorough understanding of Black history. What textbooks include is limited, so use the textbook as one of many resources, but be sure to explore multiple resources and allow for opportunities to learn along with your students.
Reinforce that "Black" history is American history. Make Black history relevant to all students.
Connect issues in the past to current issues to make history relevant to students' lives. Making the subject matter relevant to student's lives drives the point of a lesson home.
Include the political and social context of the community's struggle for social justice. For example, talk about Daisy Bates' political affiliations and her political ideologies. You see her bravery not as just a personal act but as coming out of community determination.
DON'T…
Stop your "regular" curriculum, to do a separate lesson on Rosa Parks, on the Civil Rights Act or on Martin Luther King Jr. This trivializes and marginalizes anything you are teaching, making these leaders a token of their culture and ethnicity. Students will get the message that the diversion is not as important as the "regular" curriculum.
Focus on superficial cultural traits based on stereotypes. It's okay to celebrate Black music, but teachers should also explore the political and social contexts that give rise to musical forms like hip hop.
Talk about Black history in solely "feel-good" language, or as a thing of the past. This fails to help students examine how racism manifests itself today. Be sure to draw connections between how events or people's actions in the past affect society today.
Limit the presentation to lectures or reading. Be sure to allow students an opportunity for discussion and reflection.
Shy away from controversial, ambiguous, or unresolved issues. Share the real-life experiences about racial realities in developmentally appropriate ways.
Think that you can't talk about black history because you're a white educator. You do not need to be a person of color to talk about race. But you do need to be comfortable in your own skin, build your knowledge about the topic and be in alliance with educators of color for support and feedback.
Don't simply focus on the famous people. Use Black History Month as an opportunity to highlight the often-unacknowledged contributions that people of color make every day.
*source: www.Tolerance.org
Resources for Teaching Black History Month
Help Teaching has the following resources
Civil Rights Test (HS)
Triangular Trade (MS)
Benjamin Banneker (older ES)
Pre-Civil War – African-American History (older ES)
Nat Turner (older ES)
Sojourner Truth (older ES)
Underground Railroad (older ES)
Harriet Tubman (older ES)
Discrimination and Slavery in the 1800s (MS)
Frederick Douglass (older ES)
Frederick Douglass Quotes (HS)
Abolitionists (MS)
Emancipation Proclamation (older ES)
Civil War Amendments (13, 14, 15) (MS)
Jim Crow Laws (MS)
Booker T. Washington (older ES)
Granville T. Woods (older ES)
Buffalo Soldiers (MS)
W.E.B. Du Bois (MS)
W.E.B Du Bois Quotes (HS)
The Great Migration (HS)
Harlem Renaissance (HS)
Tulsa Race Riots (MS)
Tuskegee Airmen (MS)
The Civil Rights Movement (older ES)
King Quotes (grades 11-12) 
Letter from Birmingham Jail (grades 11-12)
Medgar Evers (MS)
Madam C.J. Walker (MS)
School Desegregation (older ES)
Greensboro Sit-Ins (older ES)
The Freedom Rides (MS)
Emmett Till (older ES)
Malcolm X (MS)
John Lewis: Civil Rights Icon (HS)
Selma March (older ES)
Civil Rights Test (HS)
Shirley Chisholm (MS)
Maya Angelou (MS)
Maya Angelou's poem "On The Pulse Of Morning" (MS)
George Floyd Demonstrations (HS)
Read-Aloud: Martin Luther King, Jr. (older ES)
People of Peace: Martin Luther King, Jr. (HS)
Martin Luther King Jr. Spelling (younger ES)
A Dream Like Martin Luther King Writing Prompts (younger ES)
Martin Luther King Jr. Writing Prompt (older ES)
Martin Luther King Jr. Timeline (older ES)
Martin Luther King Jr. Words (older ES)
Martin Luther King Jr. Reading Passage (older ES)
Martin Luther King Jr. Reading Passage (older ES)
Juneteenth (self-contained lesson) (MS)
The Civil War Amendments (13-15) (self-contained lesson) (MS)
You may also find this list of Black History Month Readings – 30 Titles for Grades K-12 helpful.
KidsKonnect.com has the following resources
BusyTeacher.org has the following free ESL resources
These groups and institutions can also help you teach about African American history
Brimming with comprehensive, cross-curricular content, including videos, primary source images and documents, compelling photo galleries, interactive maps, artwork, music, and more, this virtual collection invites students into an engaging exploration of some of the most significant events of the Civil Rights Movement.
Students discover the purpose of Black History Month as well as other historical facts, firsts, and figures about the month-long celebration with a downloadable backgrounder.
Help students understand the significance of the 1963 March on Washington and the role it played in the Civil Rights Movement with this collection of multimedia educational resources.
Use this collection of interviews from National Public Radio (NPR) with high school students to chronicle seminal people and events in the hip-hop movement.
Maya Angelou's talent was not defined by just one medium. Throughout her life, she was a poet, novelist, dancer, playwright, actor, and educator. In this lesson from PBS NewsHour Extra, students learn more about her extraordinary life.
Students in all grades can make decisions as they follow Harriet Tubman and escape from a slave owner in this online interactive.
To help those who may not know why, where, when or how to begin this conversation, USC Rossier has created Speak Up: Opening a Dialogue With Youth About Racism — a collection of interviews, resource guides, and op-eds aimed at answering some of the questions that can make these topics difficult, and prompt needed discussions about identity, inequality and education for children of color.
Examine social media's influence in America's Civil Rights movement and its role in democratizing the media.  The video answers the question, "How does social media support the work of social change protesters?"
These are just a few of the many free resources available online for teaching about African American history.
Image source: Vectoreezy.com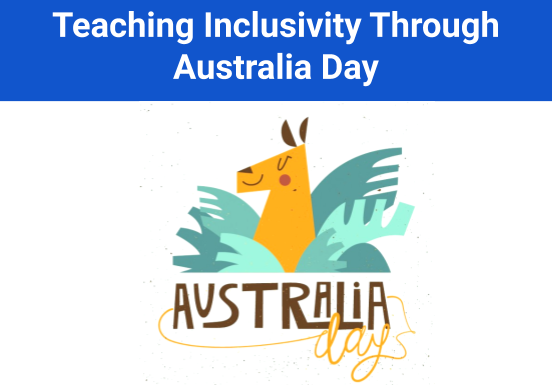 In the American mind, little is known about the "land down under" when compared to their knowledge of other parts of the world. So here's where you learn about Australia, Australia Day, and why it's controversial for some.
Australian History
Most Americans' knowledge of Australia is limited to the unusual animals like the kangaroo and duck-billed platypus, Hollywood's Crocodile Dundee, and "put another shrimp on the barbie".
But any understanding of Australia Day must begin with knowledge of the colonial history of the country and an overview of how that narrative is intertwined with the culture and history of the first people to settle the continent thousands of years before the arrival of Europeans.
The First People of Australia
Although it is considered among the world's oldest cultures, Aboriginal Australians have a rich, vibrant, and living culture today. Aboriginal peoples form two groups: those descended from people who already inhabited the continent when Great Britain began colonizing the island in 1788, and the Torres Strait Islander peoples, who are descended from residents of the Torres Strait Islands, part of modern-day Queensland, Australia.
Academics believe there is evidence of complex social behaviors among the native people including cremation, personal ornamentation in the form of shell beads, and long-distance trade. Watercraft were used for some travel by aboriginals to Bali and Timor, and this is thought to be the earliest confirmed seafaring in the world.
Traditional scholarship holds that Australia's indigenous peoples were hunter-gatherers who did not practice agriculture. Recently, though, some historians and archaeologists have argued that native peoples did use agricultural practices. Despite being nomadic, aboriginals were very much attached to their home territory.
Aboriginal peoples understood the world through interpretation of "the Dreaming" (or "dream-time"), a concept embodying the past, present, and future. This comprehensive belief system includes creation at the dawn of time when supernatural beings made the land with flora, fauna, and humans. These beings also gave rules for social life.
Aborigines make up nearly 800,000 out of a total Australian population of 25 million.  Per capita, they suffer higher rates of suicide, alcohol abuse, domestic violence, and incarceration when compared to the general populace.  This is the legacy of British colonial rule which decimated the aboriginal population through the introduction of new diseases such as  smallpox, measles, and influenza, the acquisition of native lands by British settlers, and direct and violent conflict.  It's estimated that in the ten years following the arrival of the British, the indigenous population was reduced by 90%.  Since aboriginal culture connects with the land, the annexation of native lands was particularly disastrous for indigenous peoples. 
European Knowledge of Australia
As far back as the 2nd century CE, the Roman mathematician, astronomer, and geographer Ptolemy, despite no observational evidence, hypothesized the existence of terra australis incognita ("the unknown land of the south").  This southern land intrigued medieval European scholars for centuries.  From the 16th century, European cartographers and navigators began including this "Australia" on maps, and as sailing technology advanced, it was inevitable that Europeans would eventually reach the continent.
British Arrival in Australia
By the 1700's, Great Britain was ascending to the place of unrivaled dominance of the high seas. By 1770, Captain James Cook planted the Union Jack on what is now called Possession Island, claiming the eastern half of the continent for the British. On January 26, 1788, Captain Arthur Phillip, commander of the First Fleet of convict ships from England arrived at Sydney Cove to establish the colony of New South Wales. January 26 has become known as Australia Day by the general population, but also as "Invasion Day" by Aboriginal Australians (more about this below).
Through the 1800's, the British control and colonization of the continent continued rapidly, and this meant persecution of native peoples, including dozens of massacres throughout the 19th and early 20th centuries.  By 1901, the various British Australian colonies federated to form the Commonwealth of Australia which was given "dominion" status in the British Empire in 1907.  By the 1940's, most of the constitutional ties with the United Kingdom were severed, and the Australia Act of 1986 dissolved the rest.  Today, Australia has a federal democratic parliamentary system of government but remains a constitutional monarchy with the British sovereign as a figurehead.
Famous Australians and Their Accomplishments
Daisy May Bates (born Margaret Dwyer in Ireland in 1859) was an Australian journalist, welfare worker, and lifelong student of Australian Aboriginal culture and society. Revered among some aboriginal people, Bates was referred to by the name Kabbarli, or "grandmother."
Vincent Lingiari (born in 1908) was an Australian Aboriginal rights activist. Early in life he was a stockman at Wave Hill Station, a pastoral lease in the Northern Territory. A pastoral lease, or run, is when Australian government-owned Crown land is leased out for the purpose of livestock grazing. Aboriginal workers were paid only in rations, tobacco and clothing. In 1966, after workers demanded higher pay and improved working conditions, Lingiari led the workers in the Wave Hill walk-off, also known as the Gurindji strike. In 1976, Lingiari was named a Member of the Order of Australia for his services to native aboriginal peoples.
Rupert Murdoch (born in Melbourne in 1931) is an American media mogul and billionaire. He owns hundreds of local, national, and international publishing outlets worldwide, including in the United Kingdom (The Sun and The Times), in Australia (The Daily Telegraph, Herald Sun and The Australian), and in the United States (The Wall Street Journal and The New York Post). He also owns book publisher HarperCollins and television network Fox News.
Germaine Greer (born in Melbourne in 1939) is among Australia's most controversial authors seen by many as one of the major voices of the radical feminist movement in the second half of the 20th century.  Her first book, The Female Eunuch, published in 1970, made her a household name.  Greer has also championed the environment.  Her book, White Beech: The Rainforest Years, is the story of her efforts to restore part of a rainforest in the Numinbah Valley in Australia.
Emily Kame Kngwarreye (born in Alhalkere country in 1910) one of the country's most significant contemporary artists.  She grew up in a remote desert area known as Utopia.  Kngwarreye began painting late in life (age 80), however she was a prolific artist producing over 3,000 paintings in her eight-year painting career.  That's an average of one painting per day.  Her work was inspired by her cultural life as an aboriginal elder, and her custodianship of the women's Dreaming sites in her clan country.  She died in 1996.
Australia Day
January 26 is an important date in Australia's history, but its meaning has changed over time.  Australia Day started in 1808 as a celebration for pardoned convicts and gradually developed into a celebration of Australia that reflects the nation's diverse people.  However, for many Aboriginal and Torres Strait Islander people, the date has long symbolized sorrow and mourning.
Opposition to Australia Day
Aboriginal leaders formally met for the first time in Sydney in 1938 to mark a Day of Mourning to protest the mistreatment of native peoples by the British and white Australians. They also were seeking full citizen rights for aboriginal people. 50 years later, many native leaders renamed Australia Day as 'Invasion Day'. Protests have been held almost every year on Australia Day with some calling it "Survival Day" to emphasize that despite British colonization, aboriginal culture has survived.
Protesters have pushed for treaties between native and non-native Australians and recognition in the county's constitution.  They also want the date of Australia Day to be altered or abolished.  Victoria state is working toward a first-of-its-kind treaty with its aboriginal population that would recognize the sovereignty of Aboriginal Australians and include compensation.  However, federal Australia itself has never made such a treaty.  It's the only country in the British Commonwealth not to have ratified a treaty with its indigenous peoples.
Changing the Date
For many Australians, January 26 is a symbol of inequity and institutionalized racism. However, a survey by the Institute of Public Affairs says 69% of Australians want the date to remain unchanged.
Several dates have been proposed, including January 1, when the Commonwealth of Australia was born in 1901 and Australia, as one united nation, was created. Some feel, though, that this date change would do nothing to address the unfair treatment of native peoples in the past and present.
Some have argued that Australia's "National Sorry Day" (observed each year on May 26) should be a new date for Australia Day. National Sorry Day memorializes the mistreatment of Aboriginal and Torres Strait Islander people.
Another, more tongue-in-cheek, suggestion for a new Australia Day date is May 8.  Say the date quickly and you've got the word "mate".  Proposers say being a mate can surmount cultural and racial barriers.
Resources for Teaching about Australia
Help Teaching has created many educational resources including
KidsKonnect.com has worksheets on
Check out these free resources from BusyTeacher.org.
There are free curriculum resources from Australians Together. Cool Australia has produced 52 lessons that investigate racism, privilege, truth-telling, cultural pride, and resilience. Mr. Donn has produced many worksheets and activities about Australia. In Clarendon Learning's "All About Australia" lesson plan, students learn Australian history and culture.
The National Museum of Australia has loads of free resources for teaching about Australia. You will find plenty of resources for teaching specifically about Australia's indigenous population at the Aussie Educator website. ABC Education offers free educational content including videos, digibooks, games and audio lessons about many aspects of Australian history and culture.
Australia is a wonderfully diverse place worthy of study.  G'day, Mate!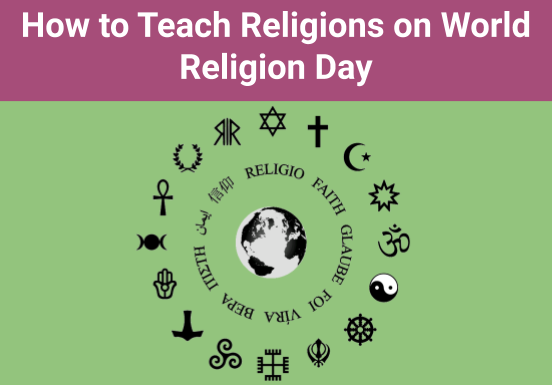 Did you know the third January of each year is World Religion Day? It's a perfect time to foster tolerance and diversity. We offer tips and advice on navigating religious studies in the classroom.
Religion is important to many
It's estimated that seven billion of the world's nearly eight billion people adhere to some kind of religious faith or spiritual belief system. Religion is an important part of many people's lives, and to ignore its study is to cut out a major part of our understanding of societies and cultures. Even for the non-religious person, knowing about the many religious beliefs around us is important to help explain history and the motivations for people's behavior.
What is religion?
Religion is a set of ideas about our world and our place in it. It addresses questions such as: Where have I come from? Who am I? What is my purpose? These are all questions raised by children and young people in their formative years. The non-religious among us also hold a set of beliefs about the world and each individual's place in it, therefore traditional non-religious worldviews can successfully be studied within the context of religion. Atheism, for example, is a belief that a supreme being does not exist. It is an existential belief similar in scope to the way a Christian, Jew or Muslim believes God does exist.
The big three monotheistic religions
Almost everyone is familiar with "the Big Three" faiths — Christianity, Islam, and Judaism. But did you know these religions, though they appear quite dissimilar to the casual observer, spring from a common source? All three trace their foundations back to a BCE figure called Abraham. He is revered in all three faiths as the originator of a new kind of understanding about God, namely monotheism. 4.3 billion Christians, Muslims and Jews claim Abraham as the beginning of their spiritual lineage.
Eastern religions
Faiths which have their origins in east, south and southeast Asia include Buddhism, Hinduism, Sikhism, and Confucianism. Hinduism, which has no specific founder and is believed to have originated in the Indus River valley, is considered among the oldest of the world's religions with roots and customs dating back more than four millennia. With about 900 million followers, Hinduism is the third-largest religion behind Christianity and Islam. Like some other oriental religions, Hindus are polytheists — they believe there are multiple gods who perform various functions. However, Hindus also believe there is one supreme god whose three main forms are Brahma (the creator), Vishnu (the sustainer) and Shiva (the destroyer).
Another popular eastern religion is Buddhism which dates from the 6th or 5th centuries BCE. Buddhism is a non-theistic religion; in other words, adherents have no belief in a creator god. Buddhism, founded by the sage Siddhartha Gautama, is considered a philosophy and a moral discipline. It's thought there are about half a billion Buddhists worldwide.
There are many religions, or perhaps we should more rightly call them philosophical systems, which have their roots in ancient China. Confucianism is maybe the most well-known. Confucius (551 to 479 BCE) was a philosopher whose teachings focus on ethics, good behavior, and moral character. Like some other religions from the Far East, such as Taoism and Shinto, one aspect of Confucianism is ancestor worship.
Other religions
Here are some religions you may not be aware of:
Folk religions
Some less familiar belief systems which are based upon tradition and culture still exist today in many lands. Although the practice of folk religions can be influenced by organized religious doctrines, it does not adhere to authorized accepted truths. Folk religion does not have the organizational structure of established religions, and its practice is often restricted to a certain geographic area. Many people within the Han ethnic background practice the Chinese folk religion Shenism which includes elements of Taoism, Confucianism, Chinese mythology, and Buddhist beliefs about karma. This blending of elements from various sources is typical of folk religions.
Folk religions are sometimes called tribal religions when they are practised by a particular people group.
Teaching about religion vs. religious instruction
Worldwide, the teaching of religion in state schools varies widely. Many countries have compulsory religious education, some offer parents the option of withdrawing their children from religious education classes, and some state schools have no teaching about religion. In our Western pluralistic society, there are many shades of religious education in state schools with most (as in the U.S.) avoiding the subject except in the context of social studies curriculum, and others making religious studies compulsory.
The teaching of religion also varies greatly in sectarian and parochial schools. These schools are free to teach a chosen faith as the "right" one. Often, sectarian schools seek to instill its brand of religious practice into students, but will also teach students about other faiths in a comparative way. Some sectarian schools have a greater emphasis on making disciples of a particular faith, while other sectarian schools are satisfied with tolerating all religions.
Ask the experts
You might want to consider inviting faith leaders into your classroom to tell students about their religious beliefs. If you do this, it is wise to include clergy from at least the "big three" — Christianity, Islam and Judaism — but you may also consider inviting an atheist, agnostic or humanist to speak. If you live in an urban area, it's probably not hard to find leaders of Buddhist, Hindu and Sikh communities who would be willing to visit your classroom. This might be harder in rural areas, so consider connecting online with leaders of faith communities.
Keep parents/guardians informed
Let the parents and guardians of your students know ahead of time what and how religions will be studied. In this way, parents can nuance what you are teaching in the classroom with their own beliefs. Some parents may want their child to opt out of those lessons dealing with religion, so be prepared with an appropriate response. Let your school administrator know what you will be doing with regard to teaching about religions, and follow the school's guidance on the issue.
Teachers and administrators may find this article from ADL helpful when assessing options for instruction about religions in U.S. public schools. The National Education Association also offers some advice here.
So, whether you are teaching students that all religions (or no religion) are equally valuable, or that your private/parochial school's religion is the true one, Help Teaching has many resources you can use, as do many other reliable institutions.
Online Resources
Help Teaching
Here are some of our recommended resources:
Other educational content providers
KidsKonnect.com has countless worksheets and activities on various religions
The National Geographic Society's resource library has many interesting resources for teaching about religions including
The BBC has produced six short videos based on Bible stories for elementary-age students. Each is told with a humorous twist.
The Institute for Social Policy and Understanding offers a set of resources for community educators called American Muslims 101.
Teach about religions can be an exciting and rewarding experience for the teacher and the student.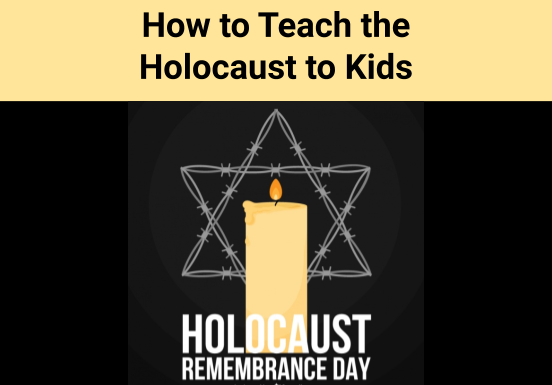 On January 27, 2021, the world observes Holocaust Remembrance Day to remember the millions of Jewish people and other minorities who were systematically persecuted and murdered by Nazi Germany. Learn how to teach this dark (but important to know) period of history to kids.
What was the Holocaust?
Auschwitz-Birkenau, Buchenwald, Treblinka: these and the names of the other Nazi concentration, labor, and extermination camps raise the spectre of a living hell of hopelessness, human degradation, and gripping fear.  The Holocaust was an unprecedented, systematic, and total genocide perpetrated by Nazi Germany and its collaborators, with the goal of completely wiping out the Jews and other "undesirable" minorities. 
The primary motivation for the genocide was the Nazis' anti-Semitic, racist ideology that positioned them as superior to all other races.  Between 1933 and 1941, Nazi Germany followed a policy that stripped the Jews of their rights and their property, and subsequently branded and concentrated the Jewish population. This policy had broad support in Germany and much of occupied Europe.
In 1941, following Germany's invasion of the Soviet Union, the Third Reich and their collaborators launched the systematic mass murder of Jews. By 1945, nearly six million Jews had been executed according to Adolph Hitler's "final solution". The Nazis also murdered a quarter of a million handicapped persons and over 200,000 Roma. Soviet civilians, Jehovah's Witnesses, homosexuals, and those the authorities deemed "asocial" were also killed. When totaling all civilians killed, not as collateral damage due to military conflict, but those murdered in cold blood by the Nazis and their collaborators, the total dead reaches a staggering 11 million.
Most of Europe's Jewish population was exterminated by 1945.  A civilization that had flourished for millennia was no more.  The dazed and emaciated survivors were bereaved beyond measure.  They gathered whatever strength which remained and rebuilt. They never sought out justice – for what justice could ever be achieved after such a heinous crime?  Rather, they turned to rebuilding.  Their new families were forever under the shadow of absent loved ones.  Their new life stories were forever twisted by terrible physical and psychological wounds.
The human tragedy of the Holocaust would be unimaginable if it hadn't, in fact, happened.
What is Holocaust Remembrance Day?
International Holocaust Remembrance Day, is an international memorial day held every January 27. It commemorates the tragedy of the Holocaust that occurred during the Second World War. This day of remembrance was so designated by the United Nations General Assembly on November 1, 2005. January 27 was chosen because that was the day in 1945 when Auschwitz-Birkenau, the largest Nazi concentration and death camp, was liberated by the Soviet Army.
The January 27 International Holocaust Remembrance Day should not be confused with Holocaust Remembrance Day, or Holocaust Day, (known in Hebrew as Yom HaShoah).  This memorial day occurs on the 27th day of the Hebrew month of Nisan (which falls in April or May).  This day is observed in Israel and by many Jewish communities in the United States and elsewhere.  The date is tied to both the Warsaw Ghetto Uprising, which began 13 days earlier in 1943, and to the Israeli Independence Day, which happened eight days later in 1948.
Holocaust survivors
It's estimated that approximately 67,000 survivors of the Holocaust are living in the United States and about 400,000 survivors worldwide. With most eyewitnesses to Nazi atrocities now in their 80s and 90s, it's imperative that our society keep their story alive to that it never happens again.  You can do this with your students by using some of the resources highlighted below.  Help Teaching has scanned the many websites which offer Holocaust content, and the best are listed here.
Teaching about the Holocaust
If you are nervous about teaching this very sensitive subject, you are not alone.  Teaching Holocaust history calls for a high level of sensitivity and a keen understanding of the complex subject matter.  The photographic and film images can produce emotional reactions in students (and adults, too).  The heart-wrenching stories of survivors may have an unforgettable impact on students.  Here are some articles you might find helpful:
Holocaust Resources
There are countless resources out there for all grade levels.  Here are a few.
From Help Teaching
From KidsKonnect
Online resources
These groups and institutions offer resources to help you teach about the Holocaust:
Online events
Here's a sampling of the many live and recorded online events planned for this year:
Hollywood films about the Holocaust
A word of caution: Always preview any film you are going to show to students for appropriateness of content for the given age group.  The films recommended here best shown only to high school students.
The true story of the Ten Boom family, members of the Dutch Resistance during World War II who found shelter for dozens of Jews, including many children. Corrie Ten Boom and her sister were caught and sent to the Ravensbrück concentration camp.  (Rated "PG" for mild violent content; here is a critique of the film's elements)
Holocaust denial
Sadly, we must note that in recent decades, Holocaust denial has become more widespread and sophisticated worldwide. The Miami Herald reports one in ten young American adults thinks Jewish people caused the Holocaust. Another one in ten doesn't believe the Holocaust happened.  However, encouragingly, 80% of Millennials in a survey commissioned by the Conference on Jewish Material Claims Against Germany, responded they felt it is important to continue teaching about the Holocaust.  In October 2020, Facebook placed a ban on posts espousing Holocaust denial.
Holocaust denial is a form of historical revisionism which denies that the murder of six million Jews ever happened.  This phenomenon gained some popularity after World War Two among former supporters and participants of the Nazi regime who refused to accept responsibility for the crimes of genocide.
The general aim of Holocaust denial is to challenge and ridicule the history of Jewish suffering during the war.  Holocaust denial is the most extreme form of antisemitism.  Here are some classroom resources which specifically counteract this dangerous retooling of history: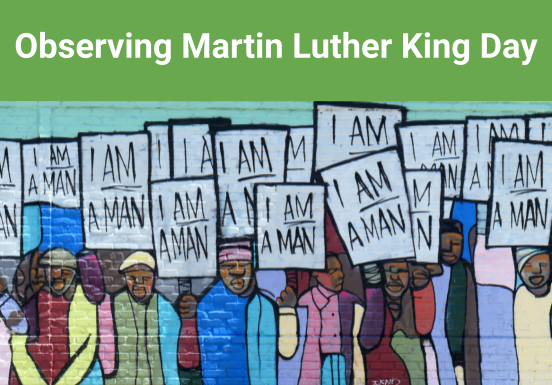 On the third Monday of January each year (in 2021, that's 18 January), Martin Luther King Day is observed and celebrated through service in the US. Learn more about MLK and his contribution to the Civil Rights Movement here!
Who was Martin Luther King, Jr.?
Born on January 15, 1929, the Rev. Dr. Martin Luther King, Jr. was a Christian pastor, a leader of the civil rights movement in America, Nobel laureate, and anti-war activist. King was the conscience of a nation as he stood up in the face of institutional racism leading millions to demonstrate against the injustices of American society. King's embodiment of the non-violent methods used to protest racial discrimination changed the course of history. He remains an inspiration to generations of people regardless of their racial and ethnic background.
His birth name was Michael, as was his father's.  After a trip to Germany, where the elder King became impressed by the life of the Reformation priest Martin Luther, Michael's father changed his name to Martin.  Soon the younger King would also adopt the name.  That's not the only thing Martin, Jr. would imitate from his father's life.  After undergoing seminary training, the young MLK would eventually join his father as co-pastor of Ebenezer Baptist Church in Atlanta.
Martin Luther King, Jr. was famous for many accomplishments, but perhaps his greatest legacy is not in his achievements but in his methods.  Nonviolence was the hallmark of King's success at leading a movement for civil rights for African Americans.  King fused his belief in the Christian doctrine of love, espoused by Jesus, with the non-violent political resistance demonstrated by Mohandas K. Gandhi.  King said this powerful combination gave him the method for social reform he needed.
Civil Rights Movement
King went to segregated schools in Georgia, and this experience of discrimination led him to become a strong proponent for civil rights for African Americans.  While serving as a pastor, he was also a member of the executive committee of the National Association for the Advancement of Colored People.  This prepared him to take on a leadership role in one of America's greatest non-violent demonstrations — the Montgomery Bus Boycott of 1955.
Montgomery bus boycott
The boycott began when a Black woman, Rosa Parks, refused to give up her seat in the "whites only" section of a bus.  This year-long political demonstration when Black passengers refused to ride on the city's bus services because they were treated as second class citizens to white passengers captured the nation's attention and catapulted King to fame.  During the boycott, King was arrested, his home was bombed, and he was subjected to personal abuse, as were other protesters.  Yet his unwavering commitment to non-violence in the face of police aggression set in motion a political movement the country had rarely before seen.
Greater leadership
By 1957, King became president of the Southern Christian Leadership Conference which bolstered the burgeoning civil rights movement.  For the next decade, MLK would travel more than six million miles giving speeches, leading demonstrations, and at times being imprisoned, physically threatened, and beaten.  He led voter registration drives, organized the peaceful March on Washington where he gave his famous "I Have a Dream" speech, and gave advice to Presidents Kennedy and Johnson.
Accomplished author
MLK wrote many books including Stride Toward Freedom, his first book.  It recounts the story of the Montgomery Bus Boycott.  The famous 1967 Massey Lectures which King gave through the Canadian Broadcasting Corporation are collected in The Trumpet of Conscience.  In the lectures, King addressed the Vietnam War and civil disobedience.  In 1963, he wrote the movement's seminal work "Letter from Birmingham Jail".  In a triumph of oratory, the letter is a scathing indictment of white church leaders who preach the love of God but do nothing to stop the injustices God despises.  King said that people have a moral responsibility to break unjust laws and to take direct action rather than waiting forever for justice to come through the courts.  The letter contains one of most memorable King quotes: "Injustice anywhere is a threat to justice everywhere."
Nobel Peace Prize
King was awarded five honorary degrees in his lifetime, was named "Man of the Year" by Time magazine in 1963, and received, at age 35, one of the world's most prestigious awards — the Nobel Peace Prize.  In his acceptance speech, King said, "…man must evolve for all human conflict a method which rejects revenge, aggression and retaliation. The foundation of such a method is love."
Tragic Death
On the evening of April 4, 1968, while standing on the balcony of his motel room in Memphis, Tennessee, where he was to lead a protest march in sympathy with striking garbage workers of that city, King was assassinated by a lone gunman.  He was just 39.
Honoring King's Legacy
Martin Luther King Jr. Day (officially Birthday of Martin Luther King, Jr., and sometimes referred to as MLK Day) is a federal holiday marking the birthday of the civil rights leader. It is observed each year on the third Monday of January. King's birthday is January 15. Known as "a day on, not a day off", the holiday is an opportunity for adults and children to spend their day off from work and school performing acts of service. Martin Luther King Jr. Day is the only federal holiday designated as a national day of service to encourage all Americans to volunteer to improve their communities.
In 1983, President Ronald Reagan signed a bill into law to create the federal holiday honoring King.  The national Martin Luther King Day of Service was started by U.S. Senator Harris Wofford and U.S. Representative John Lewis, who co-authored the King Holiday and Service Act.  This federal legislation was signed into law by President Bill Clinton in 1994.
Resources for Learning about Dr. King and the Civil Rights Movement
Help Teaching has created many educational resources for this holiday.
KidsKonnect.com has a library full of MLK-related activities
Check out these free resources from BusyTeacher.org.
These groups and institutions can also help you teach about MLK Day:
Learning at home and online
Watch the short video; then do any of the activities created by Discover EducationTry making these I Have a Dream mobiles from the National Constitution Center
Recommended Videos
Recommended Books
Service activities online
Webinars and online educational events
Or skip the video and download a pdf of the slides from the presentation
The Martin Luther King, Jr. Center for Nonviolent Social Change ("The King Center") presents a worldwide Teach-In on Building the Beloved Community. Friday, January 15, 2021.
The Town of Lexington, Massachusetts, will hold its 28th commemoration of Martin Luther King, Jr. Day with its 8th annual family-friendly day of volunteer activities supporting the underserved. Monday, January 18, 2021.
Fans of Minecraft will love the Minecraft March on Washington: Virtual Exploration Monday, January 18, 2021.
The State of New Jersey Dr. Martin Luther King, Jr. Commemorative Commission will host a Virtual Youth Conference "Youth, We Hear You!" Monday, January 18, 2021, 9 am to 2 pm.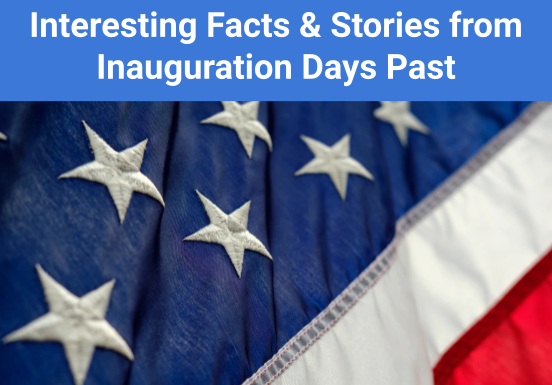 On Wednesday, January 20, 2021, at noon, President-elect Joe Biden will be inaugurated as the next president of the United States.  Learn all about Inauguration Days from the past here!
Biden will be sworn into office as the 46th commander-in-chief.  Inauguration Day is typically a day of pomp and circumstance, carefully planned out to reflect tradition and the orderly transfer of power.  (This year's activities will be limited due to the COVID-19 pandemic — see below).  However, through the years there have been some moments that stand out as atypical of the normal routine.  Here are some interesting facts and history from Inauguration Days past.
A Change in Date
For well over a century, the new president was sworn in on March 4. This extended lame-duck session led to numerous problems for incoming presidents, so the date of inauguration was established as January 20 by the passage of the 20th amendment to the U.S. Constitution.
A Change in Location
The first president who took the oath of office in the nation's current capital of Washington D.C. was Thomas Jefferson in 1801. Previously, George Washington took his first oath in New York. His second oath, along with John Adams' one and only, were administered in Philadelphia.
The Oath of Office
There have been numerous occasions when the oath of office had to be re-administered. The most recent and infamous example was in 2009. On that day, the oath was incorrectly read by Chief Justice John Roberts and repeated by President Barack Obama. Because the oath was not read and repeated exactly as stated in the Constitution, Obama and Roberts had a do-over "out of an abundance of caution". The oath has been repeated six other times in history due to a variety of issues. Four presidents – Rutherford  Hayes, Woodrow Wilson, Dwight Eisenhower, and Ronald Reagan – restated their oaths publicly because Inauguration Day took place on a Sunday, meaning only private ceremonies were held. Chester Arthur and Calvin Coolidge both took the oath privately following the sudden death of the sitting president, as did Lyndon Johnson in 1963 after the assassination of John F. Kennedy.  Lyndon Johnson's swearing-in is the only time a president has taken the oath while flying in an airplane.
The Inaugural Speech
The first inaugural speech was also the shortest (just 135 words). The longest speech is surrounded in intrigue as many believe it led to a tragic event. William Henry Harrison's almost two hour, 8,500-word speech took place on a cold, wet day. In 1841, President William Henry Harrison chose to forgo a coat and hat, and rode on horseback instead of in a covered carriage.  Many have attributed Harrison's death from pneumonia just thirty days later to these poor choices, but modern historians dispute this theory. They instead point to poor handling of sewage in the area around the White House water supply that would have had devastating effects on Harrison's gastrointestinal system.
Tragic results of Inauguration Day
There is, however, one death that is properly attributed to poor Inauguration Day weather. That sad designation belongs to Abigail Fillmore, wife of President Millard Fillmore, who, in 1853, remained at her husband's side throughout his successor's (Franklin Pierce) inauguration despite brutal wintry conditions. She developed pneumonia and died shortly after.
Coverage of the Inauguration
In 1845, James Polk's inaugural was the first covered by telegraph. The first inauguration to be photographed was in 1857 when James Buchanan took the oath. William McKinley was the first president to have his inauguration filmed by a motion picture camera, and Harry Truman was the first to be televised. Bill Clinton's second inauguration was the first to be live-streamed on the Internet.
Inaugural Balls
Every four years, much is made of the parties and inaugural balls. Fashion experts critique the outfits, gossip columnists cover the attendees, and pundits analyze the cost.  The first inaugural ball celebrated the beginning of James Madison's presidency in 1809.  Tickets were just $4.  In the 21st century, admission for two to the inaugural balls can cost upwards of $10,000!
The 2021 Inauguration's Special Circumstances
Inauguration Day has a long list of traditional and customary practices that presidents and their staffs have followed for years.  But nothing about the 2020 campaign and election season has been traditional.  The COVID-19 pandemic will affect how this inauguration will be handled.  Although a public ceremony is scheduled for January 20 at the U.S. Capitol, festivities will be limited to prevent the spread of the virus.  The live audience will be limited to members of Congress.  Public health measures such as mandatory face coverings, testing, temperature checks, and social distancing will be used for the ceremony.
Inaugural organizers are inviting communities around the United States to light buildings and ring church bells at 5:30 p.m. ET on the eve of the inauguration in a moment of "unity and remembrance" for those lost to the pandemic. A lighting ceremony at the Lincoln Memorial Reflecting Pool will be held simultaneously. Most traditional inaugural festivities will be conducted virtually. The parade, should it take place, will be historically limited, and other functions such as inaugural balls may not be held. The Biden Inaugural Committee has urged people not to physically gather in Washington for ceremonies.
You can sign up to receive details of the inauguration from the official Presidential Inauguration Committee 2021 website.
Resources for Teaching about Presidential Inaugurations
Free education resources
Video Resources
C-SPAN has also compiled videos of inaugural speeches. Here are some of the more notable ones:
Activities and worksheets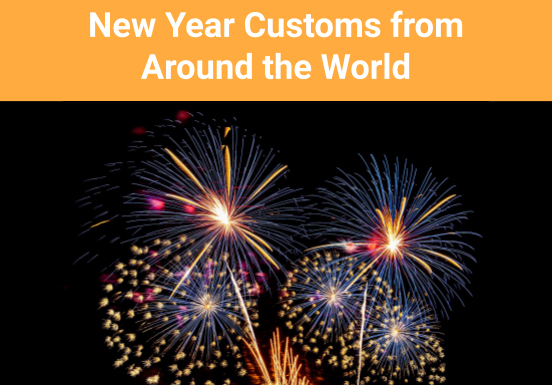 Every year, people around the world mark the passage of time with New Year's celebrations.  December 31 and January 1 find many more people than usual (even kids!) staying up well past their bedtimes. Learn more about this annual celebration here!
Around the world
Different cultures have different ways of celebrating the transition from the old year to the new.  It's worth noting that some cultures which use a different calendar in addition to the Western civil one (also called the Gregorian calendar), may still mark the transition from one year to the next on January 1, but the cultural celebrations happen as the new year begins on their traditional calendar (for example, Chinese New Year and Islamic New Year).
What the heck is Hogmanay?
Hogmanay is what the New Year celebration is called in Scotland.  The word's exact origin is unknown, but it may have come from the French word hoginane meaning "gala day".  The name might also have come from the Anglo-Saxon haleg monath meaning "holy month".  Some claim it came from the Scandinavian hoggo-nott meaning "yule".  A traditional part of Hogmanay is "first footing".  That's when someone visits friends or family immediately after midnight to become the first person to go into their house in the new year.  First footers traditionally bring a lump of coal to ensure the house remains warm in the coming months.
No sour grapes allowed, but lentils are okay
When the clock strikes midnight in Spain, people reach for grapes.  Tradition has it that you should eat one grape each time the clock chimes.  In Romania, people dress up as dancing bears at the New Year to chase away evil spirits.  In Brazil, eating a bowlful of lentils at New Year is a guarantee of good fortune for the year ahead.
Ring the bells
At midnight on December 31, Buddhist temples and individuals all over Japan ring bells 108 times to symbolize the 108 human sins in Buddhist belief, and to get rid of the 108 worldly desires regarding sense and feeling in every Japanese citizen.  In Seoul, South Korea, the large bell in the Bosingak pavilion (originally constructed in 1396!) is rung just once a year at midnight on December 31.
Smashing stuff
In Denmark, people smash a plate on a friend's doorstep to bring good luck over the next twelve months.  No one knows the origin of this strange tradition.  In Johannesburg, people like to begin the year without any unwanted items, so at the new year they chuck out old furniture by dropping it out of a window.
Speaking of dropping things…
In Times Square in New York City, the countdown to midnight finishes with a giant ball drop, when a glowing ball is lowered down a big flagpole to the cheers of a million people crammed into the streets below.  The ball is twelve feet in diameter, and weighs nearly 12,000 pounds.  It's covered with more than 2,600 Waterford Crystal triangles.  The ball has been lowered every year since 1907, except for 1942 and 1943, when the ceremony was cancelled due to World War Two.   There are many ways to watch the ball drop live. 
Who is first (and last) to celebrate?
The Republic of Kiribati is the first nation to ring in the new year.  This Pacific atoll nation straddles the 180th meridian.  Even though its easternmost islands lie west of the Hawaiian Islands, an odd eastward thrust of the International Date Line gives Kiribati this privilege.  Kiribati is the only nation on earth which is situated in all four hemispheres.
The uninhabited Baker Island and nearby Howland Island, both U.S. possessions in the Pacific, are the last to say goodbye to the old year.  American Samoa is the last inhabited place on the globe to welcome the new year.
Fireworks
Although restrictions on large crowds due to the pandemic may limit fireworks displays, many are still planned and can be enjoyed from afar. Sadly, the most famous fireworks display, held annually in Sydney, Australia will be toned down for New Year's Eve 2020 due to pandemic restrictions. In a normal year, the Sydney celebration would attract more than a million spectators to the city's harbor, and one billion viewers on television and internet streaming. Due to its time zone, Sydney is one of the first major cities in the world to enter the new year.
Most major cities have fireworks displays each year including Dubai, Singapore, Niagara Falls, Berlin, and Rio de Janeiro, where fireworks are launched at the city's famous Copacabana beach.  Again, fireworks displays in many of the world's great cities this year have been cancelled or curtailed due to the pandemic, but some will be streamed online.
Virtual celebrations
Kids can zoom into the New Year with the many virtual "Noon" Year's Eve celebrations offered by children's museums and other non-profit groups.  Here are a few:
How can I celebrate New Year in my classroom?
Since most schools are closed for the winter holidays during the week between Christmas and New Year, it is difficult to celebrate the new year in your classroom on January 1.  However, you can celebrate the new year as schools reopen a day or two later.
Turning over a new leaf
For all students, the new year affords an opportunity to start over.  This can be particularly helpful for those students who have had a rough time academically and behaviorally in the autumn term.  Giving them a chance to reset, form new goals, and develop a new attitude about learning may be just what they need to succeed in the New Year.
Roses, thorns and buds from 2020: This prompt helps kids reflect on the past and move forward to what's ahead.  Have each student share a highlight of 2020 (rose), a challenging or sad moment (thorn), and one thing they're looking forward to (bud) in 2021.  This can be done in group discussion or as a written assignment.  Connecticut Children's Medical Center has more great ideas.
Writing
Start a Journal: The new year is a great time for students of all ages to start writing a daily or weekly journal. Create a Journal Center for students who are just beginning to write (K through 2). In the center, place copies of a blank frame for drawing and a template for writing a journal entry that will be kept in a student's folder. The date and a prompt is posted in the center. Beginning writers go to the center, copy the date, read the prompt, draw a picture, write, or dictate to an aide, a classroom volunteer, or an older student assistant from another grade. Students may choose to share journal entries during time for sharing with the class.
Older elementary students will enjoy hearing Diary of a Worm by Doreen Cronin read out loud. This daily journal of a personified worm, reveals some of the good news and bad news about being a worm. The book models journal writing with humor. After reading, lead a discussion about the book asing questions such as: What do you think of the things the worm wrote about in his diary? What would you write about in your diary?
Check out Reading Rockets for more tips on journaling.
Making Predictions
Kids have great imaginations, so engage them with an opportunity to think about what the new year will be like in the area of science and technology.  What new inventions might be created?  What discoveries might be made?  What improvements to our lives might be coming?  You might want to start with a class discussion of some of the advances which are on the horizon in the areas of space exploration, undersea research, computers, and transportation.  Popular media such as Forbes, Interesting Engineering, and National Geographic usually offer summaries of trends in many areas this time of year.
New Year's activities for elementary children
KidsKonnect has a thick bundle of New Year worksheets and activities available for download.  This packet includes:
New Year Facts
New Year's Info by Numbers
Unique Traditions
Mapping New Year
New Year Ball Drop
Ancient Celebrations
Symbols and Meanings
New Year Around the World
My Resolution
From all of us at Help Teaching, best wishes for a healthy and prosperous New Year!
It's the most wonderful time of the year! Or so the song goes. There are many ways you can celebrate Christmas with your students. Let HelpTeaching assist you with resources, worksheets, activities, and links to educational content for every taste.
What is Christmas?
Christmas is a season of gift-giving, feasting with family, reconnecting with friends, and decorating homes with lights, wreaths, and trees. For others, it's all that and more. Christians celebrate Christmas because it marks the birth of their savior Jesus Christ. Christmas means different things to different people.
History of Christmas
The first recorded Christmas celebration was in Rome on December 25, 336 CE. That's more than 300 years after the time when Jesus was born. In the Roman calendar, December 25 was the winter solstice, which was considered a Pagan holiday. A fourth-century sermon by St. Augustine explains why Christian leaders felt this was a fitting day to celebrate Christ's birth: "Hence it is that He was born on the day which is the shortest in our earthly reckoning and from which subsequent days begin to increase in length. He, therefore, who bent low and lifted us up chose the shortest day, yet the one whence light begins to increase." The story of Jesus' birth is found in the Bible. Christians believe Jesus is God's son, so that's why his birth is so special.
Christmas remained a religious holiday in the West for many centuries gaining popularity in the middle ages. The non-religious aspects of Christmas developed over time and in the last hundred years or so, many people on all continents celebrate the holiday in a more secular way. Religious celebrations of Christmas are still held around the world.
Ho, Ho, Ho…
The jolly ol' big guy in the red flannel suit is one of the most familiar symbols of Christmas. The tradition of Santa Claus evolved from the true story of the Christian bishop who became Saint Nicholas. The real Nicholas dates from the fourth century CE, and his legendary secret gift-giving gave rise to the traditional Santa Claus, a name based on "Sinterklass", the Dutch rendering of Saint Nicholas.
Our modern image of Santa Claus came about through the blending of several images and stories in the 19th century. Clement Moore's poem "A Visit From St. Nicholas" (better known today as "The Night Before Christmas") was published in Troy, New York, in 1823. Moore's description of Santa as a "chubby and plump" elf whose reindeer-pulled sleigh lands on someone's roof became inspiration for cartoonist Thomas Nast's illustration of jolly St. Nick in 1863. The look of Santa in a red suit with a long white beard became seared in the American mind with the 1930's Coca-Cola advertisements created by artist Haddon Sundblom.
Around the world
Different cultures around the globe have a variety of ways to celebrate Christmas. Here are few traditions from around the world:
In Japan, despite only 1% of the population claiming to be Christian, people flock to Kentucky Fried Chicken for their Christmas meal. People order their boxes months in advance or stand in line for two hours or longer to get their "finger lickin' good" food.
Iceland celebrates not twelve, but thirteen days of Christmas. On each of the thirteen nights before Christmas, Icelandic children are visited by the Yule Lads who put either candy (if they've been good) or rotten potatoes in their shoes while they sleep.
In Brazil, many Christmas traditions come from Portugal, as Brazil was once a Portuguese colony. Nativity scenes, known as presépio, are very popular. They are set-up in churches and homes all through December.
In Uganda, the proper name for Christmas is Sekukkulu. Churches are the center of the celebrations with church bells ringing and carols sung by candlelight. A Christmas feast of matooke and grilled chicken is served. Matooke is a starchy variety of banana which is harvested green, peeled, and then steamed and mashed.
In New Zealand, Christmas comes in the middle of the summer vacation season, so lots of people spend time on the beach, camping, or at their baches (holiday homes). Kiwis often have a Christmas barbecue featuring grilled ham slices, venison, and shrimp. The Christmas tree in New Zealand is the pōhutukawa with its bright red flowers blooming in mid- to late December.
In Lebanon, Christians build manger scenes called nativity cribs in their homes. The crib is more popular than a Christmas tree. Santa Claus is known as Baba Noël, and people eat sugared almonds drunk with cups of strong coffee.
Christmas activities
There are loads of ways to keep your little elves busy right up to the big day, and to keep them engaged after they get tired of playing with their new toys in the days after Christmas. Take a look at Christmas: 12 delightful recipes for the best family time from the charity World Vision for recipes not just for food but for family enrichment, too.
Christmas cooking ideas
Christmas cooking is more than just baking cookies! And it can be a great learning experience for children.
Christmas craft ideas
Christmas, language arts, and math
Check out HelpTeaching's Christmas-themed worksheets and activities here. There are many seasonal worksheets and tests waiting for your students here.
Our friends at KidsKonnect have a sleigh full of Christmas worksheets and activities:
Christmas storytelling
Christmas has inspired so much great literature, and it will inspire your students to write creatively, too.
Virtual Christmas
61st Annual LA County Holiday Celebration. This free virtual Christmas Eve event will be streamed live 3-6 p.m., Pacific time
Thinking of hosting your students for an online holiday party? Consider these tips offered by TeachingDegree.org.
Merry Christmas from all of us at Help Teaching!