Currently Browsing
How To
13 March //
Posted in How To //
Tags :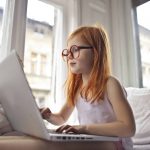 Teachers around the U.S. are scrambling to come up with lesson plans and resources for students as many school districts are making the decision to shutter schools for the next two to three weeks (or even more) to help slow the spread of COVID-19, the disease caused by the novel coronavirus, which has been declared a global pandemic.
Continue Reading this Entry
It's the beginning of a new school year and you're anxious to jump into the new curriculum. However, as many veteran teachers will tell you, before you jump headfirst into the new curriculum, it may be helpful to take some time to review. Of course, you can also review during the school year – before midterms, after covering a difficult subject, or simply when you want to see where your students are. One thing's for certain – reviewing can you save you a lot of time and headaches during the year. In addition to saving time and headaches, reviewing previously taught material offers other benefits as well.
Review Helps Students Gain Confidence
You don't start an AP Calculus course by having students find the derivative of a function. Instead, you build up to that skill by reviewing trigonometric functions and discussing limits. By starting with something students know, you help build their confidence to tackle more complex tasks.
Review Shows Where Students Are
Reviewing with students, also helps you gain a sense of where students are and what gaps may exist in the learning. For example, you may hope to move into a lesson about writing complex sentences and realize that students still don't understand the basic parts of speech (nouns, verbs, adjectives). While you may not be able to fill in all of the gaps before introducing new content, you will know the areas where you may have to spend a bit of extra time as you introduce new concepts throughout the school year. If only a few students have gaps, you may be able to provide them with worksheets, video lessons, and other resources to help catch them up.
Review Improves Retention
As a teacher, your goal isn't just to cover the standards, it's to ensure that students retain the information as well. By reviewing previously taught material with students, you help that material to begin to take root in their brains so that it's more likely to stick with them. For example, if students hear once that a comma goes inside quotation marks, they're not as likely to remember it, but if they hear it multiple times throughout the school year and are required to practice putting the comma inside quotation marks, they're more likely to remember that bit of information.
Strategies for Review
When it comes to reviewing material with students, the level of review will depend on the level each student is at and the amount of time you can build in for review. Pick and choose the following strategies based on your students' needs.
Let Students Conduct the Review
Give students a chance to show what they know and to make sense of the information themselves by allowing them to conduct a review. A few ways you can do this include:
Summarize
Give students a concept or briefly review information with students and have them summarize what they've learned or what they remember in their own words. As students share their summaries with one another, they'll gain a better understanding of the concept.
Organize
Give students a set of information and have them organize it in a way that makes sense. You could give students a paragraph that needs to be put back into order or a group of animals that need to be organized by habitat. As they organize the information, students will get the chance to review the material and make meaning out of it.
Elaborate
Give students a task that requires them to use information they need to review in a new way. For example, students could use the laws of physics to solve a problem.
Info Dump
At the beginning of a lesson, give students a chance to complete an info dump, where they write down or say everything they remember about a particular topic. Have students work in pairs or small groups so they can learn from one another. When you get into the actual lesson, you can touch on topics students remember and clear up any misunderstandings they may have.
Incorporate Short Video Lessons
Short video lessons are a quick way to help students review a concept before introducing a new one. Help Teaching's self-paced lessons feature short videos accompanied by practice questions and worksheets. Best of all, you can assign individual students lessons to watch based on their needs.
Play Fun Review Games
Download a slideshow template to create your own version of Jeopardy or Who Wants to Be a Millionaire? that includes questions related to material students need to review. If you don't have time to create an entire slideshow, just create a list of a few questions and have teams of students take turns answering them in the classroom. You can add excitement by letting students try to shoot a basket every time they get a question correct.
Choose a Topic of the Day
Start each day or class period with a particular topic students need to review. You may have students answer a question in their journals, read a short paragraph and complete reading response activities, or even complete a short worksheet, such as a daily grammar review or number sense worksheets. You only need about five minutes a day to conduct a short review.
Integrate Old Material with New Material
As you teach new material, build upon previous knowledge. You can do this through an info dump, short bell-ringer activities at the beginning of every lesson, or by simply pointing out how the skills build upon one another. Not only will students review the concepts, they'll begin to see how different skills and topics work together. This will help them begin to make critical connections on their own.
Very few people can read or hear something once and remember it forever. Instead, they need to regularly review material to keep it fresh in their brains. Don't think of review as a waste of time. Instead, try to build time in your schedule to review with students at the beginning of the school year and throughout the year.
Do you have any strategies you use to review? If so, we'd love to hear them. Share your ideas in the comments!
It's hard to believe Help Teaching has been providing teacher worksheets for tutors, homeschool parents, and teachers for over a decade. As we enter the new year, take some time to review some of our the top tips and resources we've shared over the past ten years. Who knows? Maybe you'll find a new teaching strategy or a fun lesson idea.
No matter what subject you teach, chances are you'll find something on our Top 100 Free Education Sites. Updated annually, this post features the top webistes for math, science, social studies, reading, writing, lesson planning, and more. Best of all, the resources are all free.
We've all had that one class that's difficult to control. Sometimes it lasts an enitre year. Other times, it's just for a season (full moon?). Thankfully there are ways to gain control of a difficult class so you can focus on teaching the material that needs to be taught.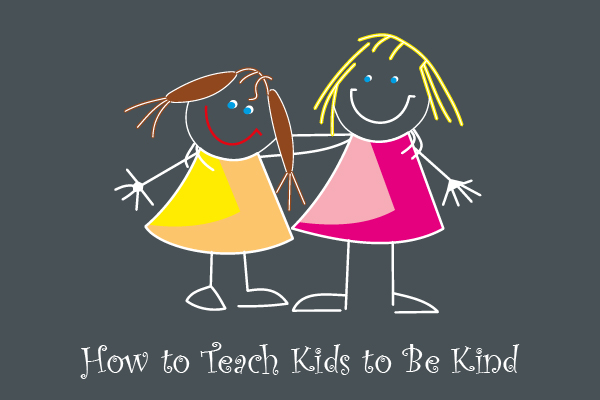 In today's increasingly digital world, sometimes it seems like kindness has disappeared. Kids are surrounded by politicans spouting insults, Internet trolls sharing negative opinions, and viral videos shaming everyday people. That's why it's increasingly important to take time to teach kids to be kind.
Over the past decade, STEM has become STEAM and has become a focus in the education community. The Ultimate Guide to Teaching Science shares videos, experiments, and lesson ideas designed to help improve the quality of instruction science teachers offer their students.
Pi Day is a great holiday, but it's not the only math day to celebrate with your students. Find other fun math days such as the 100th day of school and palindrome days. And don't forget – 2/22/22 will fall on a Tuesday, making it a great day to celebrate a math holiday in a couple years.
Throughout the course of their educational career, students learn a lot of things. Unfortunately, teachers can't cover it all. Our list of 30 Things I Wish I Learned in High School gives parents and teachers ideas of key life skills to review with students before they graduate and head out into the "real world."
Teacher compensation, or lack thereof, has been making headlines for over a decade. While strikes and union negotiations can help improve teacher pay, it still might not be enough. Thankfully, there are plenty of ways for teachers to make money on the side, whether it's tutoring with an online company or running a MLM business from home.
The Internet offers a wealth of information and resources for students. The Ultimate Guide to Free Online Self-Learning for Kids and its companion, The Ultimate Guide to Free Online Self-Learning for Teens and Adults, encourage students to head online and learn something new. The resources on the list include online courses, videos, informational websites, and even some educational games.
Emojis aren't just for text messages and social media posts. They can also be a great tool in the classroom. Teachers can use emojis to make math and reading content more engaging and to improve social and emotional learning skills.
Your teen can do basic algebra and geometry, but can they set up and manage a bank account? Write a stellar resume? These life skills will help teens ensure they have what it takes to experience success after graduation.

The holidays are the perfect time to curl up with the kids or gather all of your students on the rug and read a good book. Whether you celebrate Christmas, Hanukkah, or Kwanzaa, or just want a nice winter read, we've got something for you. Our holiday reading list includes classic tales, read-alouds, and even some more recent stories that may become new holiday traditions.
Christmas Stories
From classics like "How the Grinch Stole Christmas" and "The Polar Express" to more recent additions such as "The Elf on the Shelf" there are plenty of Christmas stories for kids to enjoy around the holidays. While these stories are listed by age, many of them will be enjoyed by the whole family.
K-2
The Sweet Smell of Christmas by Patricia M. Scarry (Worksheet)
Pine trees, gingerbread men, and hot cocoa are all traditional Christmas smells kids can experience as they sniff their way through this scratch & sniff Christmas story.
A Wish to Be a Christmas Tree by Colleen Monroe (Worksheet)
For years, the old pine tree has sat in the field, wishing to be a Christmas tree. Seeing him so sad gives the animals an idea to help him get his wish.
Merry Christmas, Mouse! by Laura Numeroff (Worksheet)
Mouse, from If You Give a Mouse a Cookie, decorates his Christmas tree in this simple counting book for young children.
The Elf on the Shelf by Carol V. Aebersold (Worksheet)
The Elf on the Shelf has become a tradition for many families. Even if you're not a fan of the elf, you can read this fun story with kids.
The Gingerbread Man by the Brothers Grimm (Read-Aloud)
"You can't catch me, I'm the gingerbread man!" This classic tale about a popular Christmas cookie is a great read during the holidays. Read it to kids or let them enjoy this read-aloud version on their own.
3-5
The Snowman by Raymond Briggs (Worksheet)
A boy builds a snowman who ends up taking him on an adventure in this classic Christmas story.
The Polar Express by Chris Van Allsburg (Worksheet)
"All aboard!" The Polar Express takes young boys and girls to the North Pole. After reading the book, watch the movie version with kids and compare the difference.
How the Grinch Stole Christmas by Dr. Seuss (Worksheet)
It's hard not to love this Christmas classic from Dr. Seuss about a Grinch whose heart grew two sizes that day.
'Twas the Night Before Christmas by Clement Clarke Moore (Read-Aloud)
'Twas the Night Before Christmas has been retold many times. Listen to the original version of the story, called "A Visit From St. Nicholas," in this read-aloud version.
The Elves and the Shoemaker by The Brothers Grimm (Read-Aloud)
A poor shoemaker wakes up one morning to find his day's work has already been done in this classic fairy tale by the Brothers Grimm. The read-aloud version is fun to listen to with kids.
6-8
The Gift of the Magi by O. Henry (Worksheet)
"One dollar and eighty-seven cents. That was all." Those lines begin the classic story about a young couple in love and the sacrifices they make for Christmas.
A Christmas Carol by Charles Dickens
Chances are you know a few Scrooges of your own. Read about the original Scrooge in this classic Christmas story. You can also find worksheets covering each stave of A Christmas Carol on Help Teaching's literature page.
Hanukkah Stories
Whether you celebrate Hanukkah or simply want to teach children more about these Jewish holidays, these books will introduce kids to the history and principles of The Festival of Lights.
K-2
The Latke Who Couldn't Stop Screaming by Lemony Snicket (Worksheet)
Lemony Snicket's The Latke Who Couldn't Stop Screaming is a hilarious story about a latke. As kids read the story, they'll also learn about the importance of Hanukkah.
How Do Dinosaurs Say Happy Chanukah? by Jane Yolen (Worksheet)
The How Do Dinosaurs Say series is popular with kids and How Do Dinosaurs Say Happy Chanukah is no exception. This simple story teaches kids about some of the traditions of Hanukkah.
Latkes and Applesauce by Fran Manushkin (Worksheet)
A lack of money and food won't stop a family from having a wonderful Hanukkah in this touching story about the holiday.
3-5
The Story of Hanukkah (Read-Aloud)
Give kids a refresher on the story behind Hanukkah. Our short read-aloud introduces them to the history of the holiday and explains why the Menorah is lit today.
The Purse of Gold (Read-Aloud)
This Jewish folktale isn't necessarily a Hanukkah story, but the moral of the story is a good one to teach kids around the holiday. A beggar finds a purse of gold, but kids have to listen to the read-aloud to discover what happens next.
Hershel and the Hanukkah Goblins by Eric Kimmel (Worksheet)
Every year the goblins come out and try to ruin Hanukkah for the village. This year, however, Hershel shows up to send them packing.
6-8
Hanukkah Haiku by Harriet Ziefert (Worksheet)
Experience the sights, sounds, and events of Hanukkah through a series of haiku. Once kids have read the haiku in the book, encourage them to write their own to share their experiences and thoughts about Hanukkah.
Hanukkah Mad Libs by Roger Price and Leonard Stern (Worksheet)
A Mad Libs book may not seem like a great choice, but these Mad Libs take Hanukkah events and allow kids to add their own words to create truly hilarious stories. While this book is more about creating than reading it's a great way to get often disinterested pre-teens and teens involved in the holiday.
Kwanzaa Stories
There aren't as many stories written about Kwanzaa as their are for other winter holidays, but we've found a few to help kids learn about the holiday. All of the books promote the holiday's theme of celebrating black heritage and living life in a positive way.
Li'l Rabbit's Kwanzaa by Donna L. Washington (Worksheet)
Inspired by Brer Rabbit stories, Li'l Rabbit's Kwanzaa tells the story of a rabbit who wants to make his Kwanzaa better. Throughout the story, he learns some important lessons about the holiday.
Seven Spools of Thread: A Kwanzaa Story by Angela Shelf Medearis (Worksheet)
This story tells the tale of seven brothers who are always fighting. When their father dies, he leaves them with a seemingly impossible task. As they complete the task, the brothers learn the importance of working together.
Seven Days of Kwanzaa by Angela Shelf Medearis
In this informational book, kids will learn about the key principles of Kwanzaa. They'll also crafts, recipes, and other activities related to the holiday.
In addition to these stories, Help Teaching's Kwanzaa Reading Passage gives kids a brief overview of the holiday and the seven principles it celebrates and our Lessons page features a read-aloud story to represent each principle of Kwanzaa, including: Anansi Writes a Song (Kuumba), Anansi and His Sons (Umoja), The Collared Crow (Imani), The Feast (Ujamaa), The Great Drum (Ujima), The Three Tests (Kujichagulia), and The Name of the Tree (Nia).
We know there are many other great holiday books for kids. What are some of your favorites?
Even the most seasoned teachers have encountered a class they just can't reign in. If you're currently facing a troublesome group of students, don't give up hope. Here are five simple methods for taking back control of your classroom, while still maintaining your sanity and professionalism.
#1 Take advantage of the support systems in place
There are various school support personnel in every school district and many of them can provide you with valuable feedback. From guidance counselors to school psychologists and social workers, there is usually someone who could offer advice on how to work with a specific student, or suggest methods that work with a particular issue. Also, you may not be the only one dealing with these issues. Talk to other teachers who may teach the same students as you to see what strategies they use that work.
Parents and guardians are part of the support systems too. The best phone call you make will be to parents and guardians. Communication with parents is the most effective method for eliminating bad behavior in the classroom. Make phone calls whenever necessary, and remember to call parents back when the behavior improves. You're more likely to get them on your side if you take time to note the positive.
#2 Don't use threats to change negative behaviors
It's tempting to scream,"If this doesn't stop right now, every single one of you will be assigned detention today!" or "The next person who utters even one word will get a zero on this test!" Threats don't go over well with students and are nearly impossible to enforce as a teacher. Don't succumb to the ease of idle threats. Instead, pause before making the threat and think of other strategies that might work in the moment.
#3 Follow your code of conduct
Students should be aware of the teacher's or the school's code of conduct. A code of conduct should outline the consequences for specific behaviors in the classroom. If tardiness is the reason you're losing control of your class, follow the written code of conduct to correct the misbehavior. This shows students there are direct effects for their actions, leaves a paper trail of your decision making, and often triggers an automatic phone call home. Using an already published and readily available list of consequences also eliminates accusations of unfairness or favoritism.
#4 Engage ringleaders in positive behaviors
When a classroom veers out of control it can often be traced to a few ringleaders who influence the entire class. Those students should be dealt with directly, including all the steps listed above. They should also be given a chance to be a positive member of the classroom. Give them responsibility and go out of your way to compliment positive behaviors. This tells them the consequence that resulted from their poor behavior is not personal and there is ample opportunity to gain attention for the right reasons.
#5 Mix it up and engage the class with your lessons
The best recipe for classroom management is a good lesson plan. Look inward and ask yourself: Are my lessons stale? Can I find materials that are more engaging? Are the students being asked to be passive or active learners? Trying something different can be daunting because no one likes to experiment with the unknown in an already difficult situation, but it is our professional responsibility to give our students the best chance at success, even if that means changing what has worked in the past. One way to reinvigorate your lessons is to use engaging materials, such as graphic organizers or text analysis worksheets, which are part of Help Teaching's free printable worksheets collection, to encourage higher level thinking and more active student participation.
A difficult class is never a lost cause. Follow these steps to ensure that you've exhausted all of your options so you – and your class – have the best chance at success for the entire school year. Read 5 Rules for the First Day of School for more advice on how to create a welcoming classroom.

Did you know that experts estimate there will be 1.4 million computing jobs open in 2020 and only 400,000 students to fill them? Since 2013, Computer Science Education Week has been held during the second week of December. This week is designed to make students and teachers more aware of computer science and the importance of building computing skills at early age. While enrolling all students in regular coding and other computer science classes may be the ideal solution, you can still take small steps to encourage students to take notice of computer science and help them discover how much fun it can be.
Participate in an Hour of Code
In 2014, the Hour of Code gained a lot of publicity when President Obama sat down to join students as part of the event. This year, and all year long, you can also participate in an hour of code. Organize your own Hour of Code event at your school or join up with an existing group. If you're not sure of what you're doing, search for local volunteers to come work with your students during the event. For a less formal option, simply have your students complete one of the coding tutorials available through Code.org where they code with popular characters from Star Wars, Minecraft, or even Anna and Elsa from Frozen.
Don't be afraid to go beyond an Hour of Code either. Many different apps and websites offer a series of lessons designed to teach students how to code or to think in ways that are related to the language of coding. A few of them to try in your classroom include:
Elementary
Kodable – a fun app that comes with an extensive coding curriculum
ScratchJr – a free app that teaches kids to think like a coder while completing fun tasks
Tynker – another provider of an Hour of Code resources featuring brands and characters kids love
Secondary
Hopscotch – an app that allows kids to make and publish their own games
CodeCombat – an online, multiplayer game that requires kids to write code to play
Kodu Game Lab – a visual programming tool that kids can download to create games
Hold a Computer Science Career Day
Students often hear that there are tons of job in the tech industry, but do they know what those jobs look like? Invite parents and other community members to your school for a Computer Science Career Day. Your speakers can rotate among classes to share what their jobs are like or they can set up tables in booths and talk to students as they approach them. If you can't find individuals to come to school, then have students research different tech jobs or companies and share their findings with the class.
Show a Video
Take some time to show kids a video related to computer science. There are tons of Ted Talks related to technology that could inspire kids to consider a career in computer science. A few videos you might want to use include:
Have Fun with a MaKey MaKey Kit
While a MaKey MaKey kit does not involve a lot of coding, it does encourage kids to think outside of the box and imagine the cool things they can do when they combine computers with everyday objects. You can turn students' experiments with the kit into writing assignments, science experiments, marketing proposals, and other educational activities.
Connect Computer Science to Students' Interests
Your students may not be interested in computer science, but they may be interested in playing football, playing with their toys, or drawing and coloring. Chances are they don't realize how much computer science can play a role in these activities. For example, it takes a lot of technology to take video of a football game, freeze it, and move it around on the screen. Give students the task of researching how technology plays a role in their favorite hobbies. They may discover that coders help create 3D models of their favorite toys or that they can create some amazing art with lines of code.
Get Away from the Computer
While learning how to code can benefit students, thinking in the language of coding is even more important. By promoting logic and creative thinking skills, you can give students the mental skills they'll need to be successful in a computer science field. CS Unplugged offers a large selection of activities designed to help kids develop these critical thinking skills. These include tasks such as learning about The Turing Test and discovering how difficult it is for computers to draw lines and circles.
For more resources to help you bring Computer Science into the classroom, check out Code.org and the Computer Science Education Week website. If you use some of these activities in your classroom, share them to Facebook or Twitter with the hashtags #CSEdWeek and #HourOfCode.
Every teacher wants their classroom to be a place of joy, harmony and inclusion, particularly during the winter holiday season. But with students of many faiths and cultures represented in today's classrooms, it can sometimes be tricky to stay sensitive to everyone's needs and step around the pitfalls of stereotyping and tokenism.
Teachers are on the vanguard of diversity education, so it's our job to balance awareness, representation and sensitivity when it comes to winter holiday celebrations in the classroom. These four key principles will help you develop your own strategy for holiday celebrations that engage students from a wide variety of cultures.
Don't Assume, Stereotype, or Tokenize
First and foremost, remember that holiday activities will often require care and thought toward equitability because of how they bring real-world traditions into the classroom. That can make a great opportunity for fun and interesting learning, but its benefits must be equitable.
How to pull off this balancing act? The first step is to check your assumptions and privilege. Don't assume that a student celebrates any particular holiday based on their ethnicity or heritage. Likewise, don't assume that everyone celebrates a winter holiday. Some students' religious traditions may not have winter holidays or any holidays at all, and many will likely celebrate the same holiday in different ways.
One good way to get started is to open up a discussion to any student who wants to talk about their celebrations or traditions, keeping in mind that not all children will be comfortable talking about theirs. Remember that students shouldn't be expected to be experts on the holidays they or their families celebrate. Student-led discussions of different celebrations can be great, but avoid putting any student on the hot seat to talk about or explain a particular tradition.
Build Diversity into Your Lesson Plans
Good holiday lesson plans should celebrate differences. A unit on different holiday celebrations, for example, can provide some fun and interesting lesson opportunities. The holiday season is the perfect time to bring in guest speakers to talk to the class about how they celebrate holidays, since many students will be eager for a change of pace, and speakers can often provide interesting and in-depth insights to add to discussions. Parents or community leaders make great guest speakers, and some will probably be eager to share their traditions.
If you want to examine certain traditions but can't fit in guest speakers, try reading books or watching films or YouTube videos as part of your investigations into how different cultures celebrate. For older students, breaking the class into groups to learn about and report on various holiday traditions can be a good way to create student interest and sharpen research skills. If interesting and diverse activities are available, field trips to community holiday events can be another excellent option.
Think Outside the Usual Holiday Cliches
There's nothing wrong with reindeer, Santa hats and sugar cookies, but try to diversify your decorations and not focus them on a single holiday. At the same time, be careful about using symbols from cultures you're not familiar with—do your research first and make sure you're not using them in an offensive or inappropriate way. When in doubt, it's best to politely ask someone with knowledge of the specific cultural tradition.
Soliciting student input on decorations or letting students hang their own crafts can offer a lot of great possibilities to let kids express themselves and feel represented in the classroom. Holiday STEM projects offer more great ideas since they often focus on things like winter weather that can be examined outside of a cultural or religious context. (Plus, they often use interesting and fun tools like student microscopes.)
In classes with a strong multicultural focus, one idea is to make the winter holidays a single piece of a rolling year-round investigation into holidays from many different traditions. This can be a good way to include students whose traditions don't have any winter holidays, or for whom winter holidays aren't a focal point of the year.
Consider Forms of Inclusion Outside of Religion and Culture
There are many ways to create a diverse and harmonious classroom besides acknowledging religious differences. The holidays are a great time to focus on what brings us together, and that means paying special attention to students with a full range of physical, cultural, social and emotional needs. Consider factors such as:
Dietary restrictions. Some traditional western Christmas food, for example, contains peanuts and other foods that may not be acceptable to students whose traditions include dietary rules.
Emotional and social needs. Holidays can be an emotionally stressful time for many students, so it's important to be able to point students toward the necessary resources.
Needs of neurodivergent students and students with disabilities. The hustle and bustle of holiday activities can be difficult and overstimulating for students with some conditions, so make sure that diverse learners are getting the support they need.
Socioeconomic differences are another area that you may need to be particularly careful about addressing during the holidays. Questions about giving and receiving gifts can create uncomfortable moments for students from disadvantaged backgrounds, so be prepared to steer class discussions away from these topics if they come up, or to offer support to students who need it.
Cheryl Stevens is the Community Relations Specialist for AmScope. She oversees all company-wide outreach programs and initiatives. Her passion in life is helping others see the value in and implement STEM programs for children at an early age.
17 November //
Posted in How To //
When it comes to traveling with children, sometimes it feels like the parenting world is split in two: those who absolutely believe in traveling with their children and those who absolutely don't. If you find yourself in the latter group or somewhere in the middle, maybe it's time to reconsider your stance. As an experienced travel parent who has exposed her daughter to 32 countries, I can tell you firsthand that traveling with your children is one of the best decisions you will ever make.
Here are some benefits of traveling with children:
1. Cultural Understanding
Traveling with children teaches them to understand and accept people and things that are different. As they are exposed to cultural differences early in their life, they develop a sense of ease within these settings, and learn to understand and respect what other people and places look like and sound like, connecting with those different to them on a humanitarian level. This understanding of the other can then be applied to all people and places of the world. Suddenly their world looks very different, as they begin to understand these differences more than a child whose cultural understanding is limited to those humans that they come across at the corner park or local ice cream shop.
2. Global View
Traveling with children expands their worldview. Even if the travel is domestic travel, it still teaches the children that other places, people, and ways of life exist. Children who travel know that the world is bigger than library story-hour.
3. Bilingual Skills
Developing bilingual skills from travel is one of the greatest gifts you can give your children. This is the gift of a skill that can be monetized later on in the workplace, but also one that allows for interactions with and understandings of a different culture, which, along with cultural understanding and global viewpoint, fosters confidence, and an intimate membership into the 'other' community, leading to friendships, opportunities, and a sense of belonging which would otherwise be off limits.
4. Friendships
Traveling with children allows them the opportunity to make more friends in different places and of different backgrounds. And as a child, isn't the goal to have the most friends?
5. Opportunities
Traveling with children grants them more opportunities, because they are familiar with more places and people, have a wider network of contacts, and understand that more jobs exist. It develops different abilities that are applied to the workplace, and further illuminates dreams and possibilities.
6. Education
Traveling is the best education. Wherever you travel to, education is all around. From calculating mileage or converting currency or weighing luggage to nature walks and ocean discoveries, cultural immersion, weather patterns, utilizing social skills, communication skills, history, and geography, there are many educational travel activities kids can enjoy.
7. Personal Growth
Traveling puts you around different people and places, and stretches your comfort zone with the unfamiliar. This leads to personal growth in terms of independence, responsibility, and comfort with foreign surroundings.
8. Global Citizenship & Responsibility
When we see other parts of our state, country, or world, we begin to understand how other places operate, and their needs, challenges, and successes. We see what different places look like in terms of environments and cultures. As we explore and learn and see, we also connect, bond, and begin to develop and assume a sense of moral responsibility and obligation for challenges we see in the world, as collective humans. This changes our perspective on gratitude, materialism, and humanity, and encourages us to think and act for the collective whole, and make a difference in this world, sharing with those who have less, and helping those in need.
9. Compassion
Finally, the most important benefit of traveling with children is the ultimate lesson and value that it instills, which is cultivating compassion. The more we see, smell, feel, touch, and taste, the more we understand. And the more we understand, the more we respect. And the more we respect, the more we love. Traveling with children shows them that there are so many different ways to be, look, think, which in turn, if you are doing it right, instill ideals of eternal compassion, for our human race, and for our planet.
Crystal Blue Savante is a cultural anthropologist, international educator, and worldschooler who has traveled the globe with her children. She runs the blog enlightened globetrekker.
Did you know it's possible to have fun and learn at the same time? While it's great for kids to play with toys, their young minds are at the prime stage for taking in information and learning new skills. The solution? Toys that allow kids to learn while they play. This year when you shop for holiday and birthday gifts, opt for something with educational value.
Need help finding ideas? We've rounded up some of the top educational toys for kids of all ages.
Disclosure: HelpTeaching partnered with the companies of some our top picks to provide items for a giveaway, but all items were chosen for their quality educational value.
Babies
Even though babies won't remember whether you bought them a gift for Christmas or their birthday, sometimes you still want to get them something. Instead of adding another stuffed animal to their collection, try one of these options.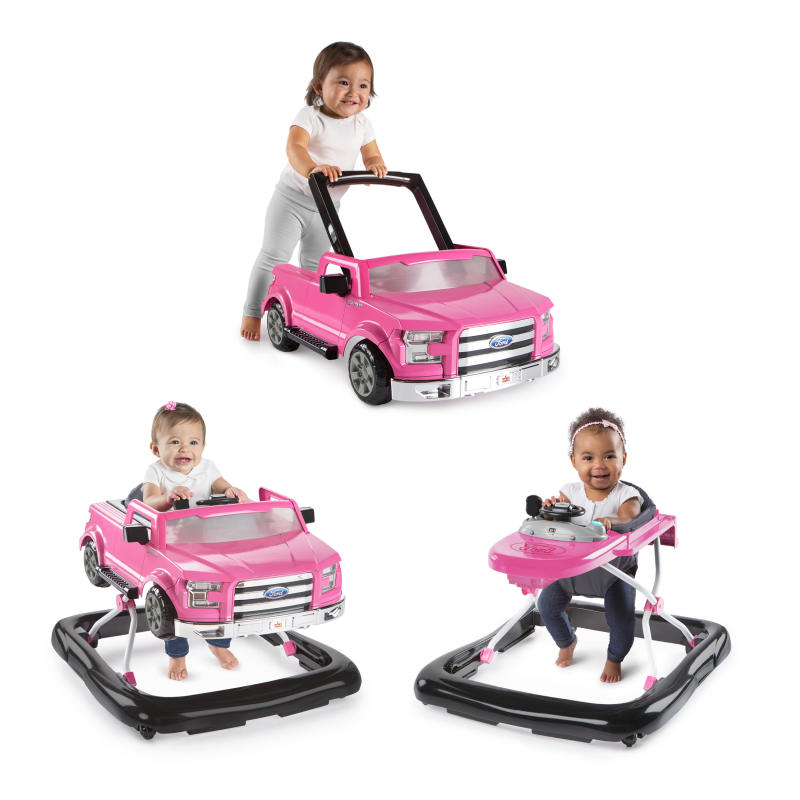 TOP PICK: 3 Ways to Play Walker – Ford F-150 – Never underestimate the power of observation. This walker allows babies to explore the world around them in three different ways, including a normal walker and push-behind mode. The steering wheel and authentic truck sounds and lights make the walker even more adorable.
Baby's First Blocks: Nothing beats a classic shape sorting toy for babies and toddlers. Baby's First Blocks from Fisher-Price features a handy tub to collect the shapes and a handle for carrying it. Babies and toddlers will learn to grab, manipulate, and match the shapes.
Skip Hop Activity Mirror: Mirrors are great toys for babies. They allow them to explore the world around them and also begin to recognize their own face. This mirror from Skip Hop is just one of many baby mirrors that can be attached to the seat of a car or the bar of a stroller for babies to enjoy.
Munchkin Mozart Magic Cube: Babies love music and this magic cube combines music with lessons in cause and effect and tempo to create a fun learning experience for babies. They can press different parts of the cube to add instruments to the orchestra and see lights flash with the tempo of the music.
Go Car: This car comes with a handle to make it easy for babies to hold on to it and control the way it moves. It also glides smoothly on different surfaces, helping babies begin to learn about the concept of movement.
What's Inside Toy Box?: With the What's Inside Toy Box, babies begin to learn that objects have names and also build motor skills as they reach in and pull out objects or put objects back in. Additionally, this toy can help teach object permanence.
All About Me Personalized Photo Book: Babies can learn the names and faces of loved ones, pets, and other special people or places in their lives with this photo book. Parents can insert photographs in protected compartments so babies can flip through and look at them.
Toddlers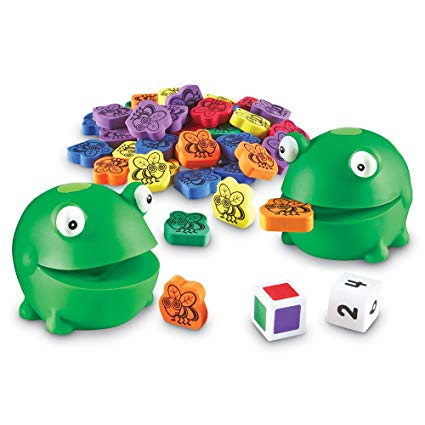 TOP PICK: Froggy Feeding Fun – Little kids can boost their fine motor skills, learn their colors, and practice their counting skills with this fun frog feeding game. Simply roll the dice and feed the frogs the correct flies. Note that the fly pieces may present a choking hazard so kids should be supervised while playing.
Start Up Circuits: Toddlers who enjoy playing with switches will enjoy these toys that help them begin to understand how circuits work. Simply flip the switch to make each object work.
Wooden Building Blocks: Blocks are a favorite for toddlers because they help them build motor skills and begin to understand geometrical concepts. This set from Pidoko Kids features 50 colorful blocks in different shapes and comes with a container for carrying them all.
Personalized Name Puzzle: One of the first things a toddler learns how to spell is his/her name. Help develop that skill and help your toddler start learning how to complete puzzles with a personalized name puzzle.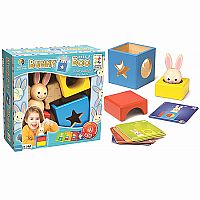 Color Discovery Boxes: Color Discovery Boxes help toddlers learn their colors and begin to categorize objects. Each box contains multiple objects to represent the color. Mix the objects up and have toddlers sort them and put them back where they belong.
Bunny Peek a Boo: This fun game helps toddlers learn about prepositions and object placement. They must look at the cards and try to create the scene with the bunny and various blocks. Parents are encouraged to give clues and talk about where the bunny is. For example, "The bunny is behind the box."
Learn the Alphabet Dough Mats: You can print out and laminate your own dough mats or you can buy these handy mats which feature uppercase and lowercase letters. These help kids learn letters and build fine motor skills.
Size and Sequence Farm Puzzles: Size and Sequence Farm Puzzles have toddlers put the puzzle pieces in order by size. This set of puzzles helps them learn how to organize objects from smallest to largest.
Dress Up Career Set: Toddlers can learn a lot from dressing up, especially when they dress up to represent different careers. With this set, your toddler can pretend to be someone else nearly every day of the week.
Seek A Boo: Seek A Boo is a fun game designed to get toddlers and preschoolers moving and help them learn how to categorize objects. Basically, it works like a game of "I Spy" where kids must find a circle that meets a particular description. Adults and kids can take turns coming up with questions.
Preschoolers
TOP PICK: Heads Talk Tails Walk – ThinkFun's game of silly sounds and movement has kids try to match hidden head cards to the correct bodies. If the body parts don't match, kids have to try and act out their crazy new animals.

Yeti Forgetti Memory Game – This hide and peek memory game gets kids in on the action. Cards direct kids to shuffle the igloos and try to find the locations of the different yetis in the game while watching out for the evil snow crab for a twist on a classic shell game.
Bear Counters: Bear Counters and counting cubes can be used by preschoolers in a variety of ways. Not only are they good for counting practice, but they can also be used for creating patterns and measuring.
Fun Express Happy Kids Hand Puppets: This adorable set of hand puppets features kids from different ethnic backgrounds. It's great to include with a puppet theater and to use to act out social stories to help get preschoolers thinking about their actions and emotions.
Toss Across: If you're looking for a fun game to get kids moving, try Toss Across, a game that helps kids practice their throwing skills and learn about patterns while playing a game of tic tac toe.
Periodic Table Blocks: Make block play a little more educational by having kids learn the elements of the periodic table at the same time. These square blocks are great for building and also feature the names, symbols, and atomic numbers of various elements.
Rainbow Mosaic Pattern Puzzle: Kids can build fine motor skills and create patterns when they play with the Rainbow Mosaic Pattern Puzzle, an activity that features connecting tiles that kids snap together to create a mosaic on the floor.
Early Elementary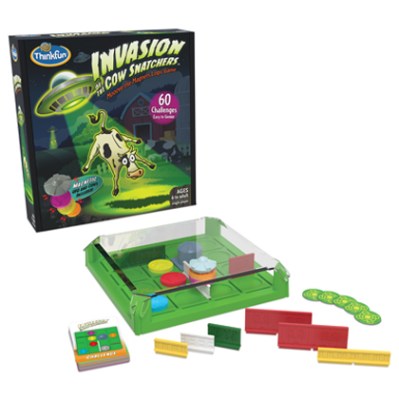 TOP PICK: Invasion of the Cow Snatchers – Kids can build their logic and problem-solving skills with this exciting STEM game from ThinkFun. While the game can be enjoyed by kids as young as 6, even older kids, teens, and adults will enjoy trying to solve some of the genius level challenges.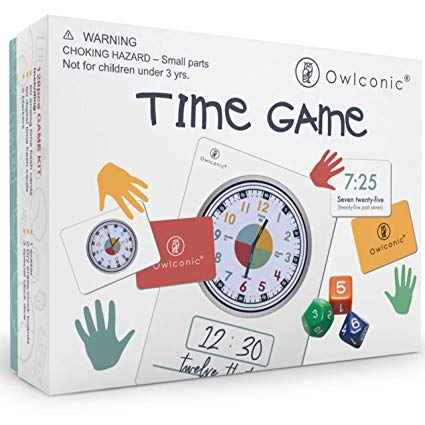 TOP PICK: Owlconic Telling Time Teaching Game – For teachers and homeschool parents looking for new ways to help kids learn to tell time, this telling time game is exactly what you need. It helps kids make connections between digital and analog time while also working on memory skills and fractions.
Teaching Talking Cash Register: This cash register is a favorite of kids because it offers many functions. Kids can play store or open a real store and the cash register will help them add up totals and calculate change. It also features a fun scanner.
Melissa and Doug Magnetic Human Body: Kids can learn the different parts of the human body by taking them on and off the wooden form. It's a great, non-gory way for kids to begin to explore what makes up the body.
Magformers: Magformers feature fun tiles that connect to one another. Kids can use them to build unique structures.
Magnetic Science: Magnetic Science contains 38 pieces to help kids explore magnets and their various uses.
Precision School Balance: With a balance, kids can practice weighing items and comparing different weights. For example, is a carrot heavier than four quarters?
Dive into Shapes: Using a series of rods and balls, kids can build their understanding of geometry as they try to recreate the shapes on the cards.
Sum Swamp: Sum Swamp is a fun game that helps kids build their addition and subtraction skills.
Electric Plane Launcher: With the help of a grown-up, kids can put together the electric plane launcher, and then make a variety of paper planes and see how far they fly.
Beaker Creatures: Learning Resources has created a fun science toy where kids can conduct experiments to reveal hidden creatures. Kids simply pop a reactor pod into the chamber, complete the steps, and discover a surprise. They learn about the scientific method and following directions at the same time.
Upper Elementary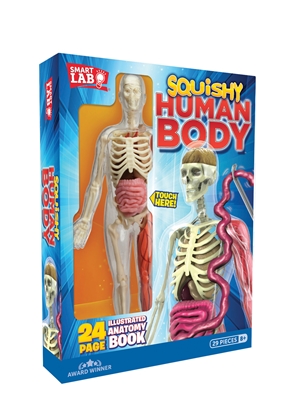 TOP PICK: Squishy Human Body – SmartLab Toys helps kids explore the body through this unique model. The body includes 21 vital organs, bones, and body parts, as well as a 24-page anatomy book and other resources to help kids explore the model.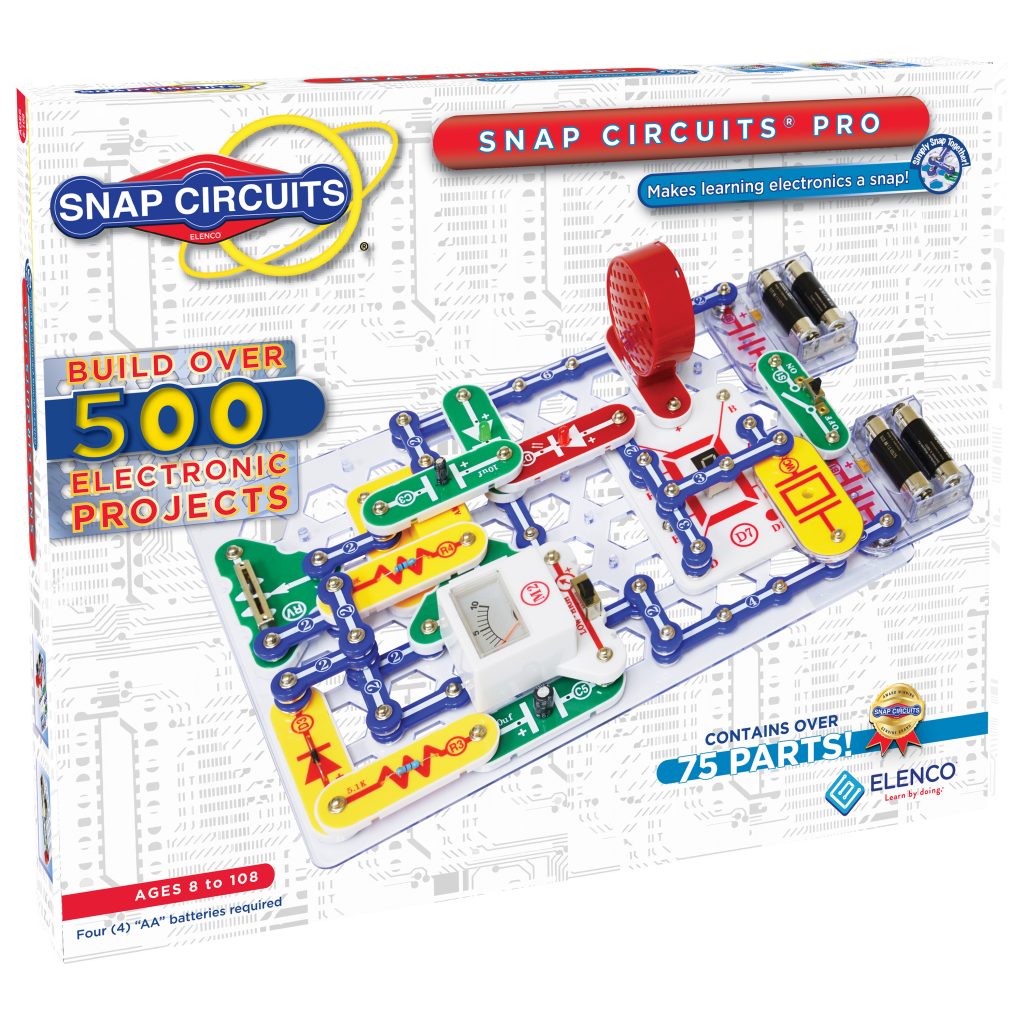 TOP PICK: Snap Circuits Pro – With over 75 snap-together parts and 500 exciting projects to complete, kids can learn all about electronic circuits and the basics of electricity. This kit is great for building STEM, problem-solving, and logic skills.
Adopt an Animal: Start teaching your child about giving back and becoming more aware of the world by adopting an animal. The kit comes with a certificate and a stuffed animal.
Kiwi Crate offers maker kits for kids up to age 16. Try Doodle or Tinker Crate for ages 9-16 and Kiwi for ages 5-8. Sign up for a monthly subscription box. Each box comes with fun STEM and STEAM activities for kids.
Tin Can Robot: Take an ordinary tin can and turn it into something cool with the Tin Can Robot kit. Using this kit, kids can build their own robot.
Star Wars Death Star Electronic Lab: Star Wars fans will love the challenge of the Death star Electronic Lab which has them connect circuits to help bring the Death Star to life.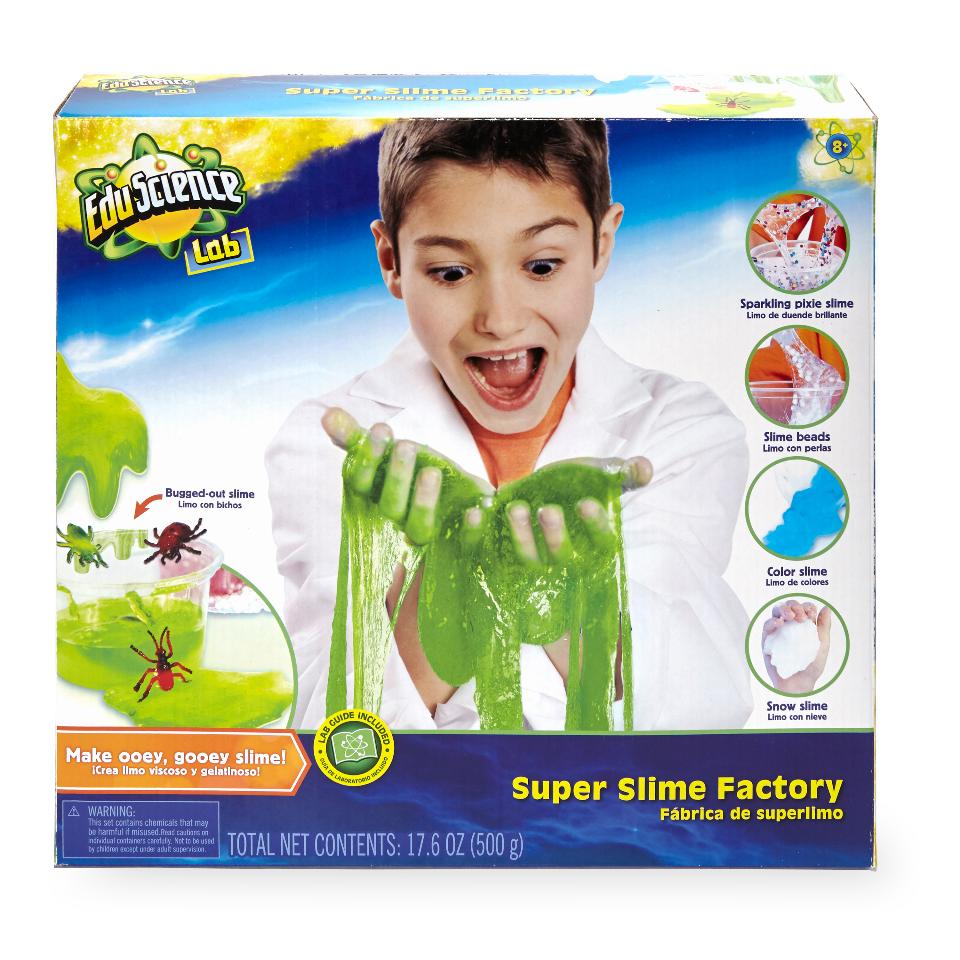 Super Slime Factory: Slime is all the rage these days and the Super Slime Factory gives kids the chance to make their own slime while learning a bit about the science that goes into the process.
Qwirkle: Qwirkle is a fun game with a dominoes-like feel. Kids must match the shapes and colors, but they also have to use a bit of strategy to win the game.
Keva Contraptions: With Keva, kids can learn about engineering and geometry. This set allows kids to build unique contraptions and also comes with two balls. Perhaps kids will use them to make an epic marble run.
Create a Maze: With the Create-a-Maze set, kids are tasked with re-creating the maze on a card and then trying to get a ball through the maze.
Klutz LEGO Chain Reactions Craft Kit: This book and LEGO set helps kids learn how to build simple machines and put them to use, introducing them to the laws of physics at the same time.
For preschoolers through upper elementary school students, you can also put together a craft kit, full of supplies, such as googly eyes, stickers, craft sticks, and glitter glue, to make a variety of crafts and to encourage kids to use their imaginations.
Pre-Teens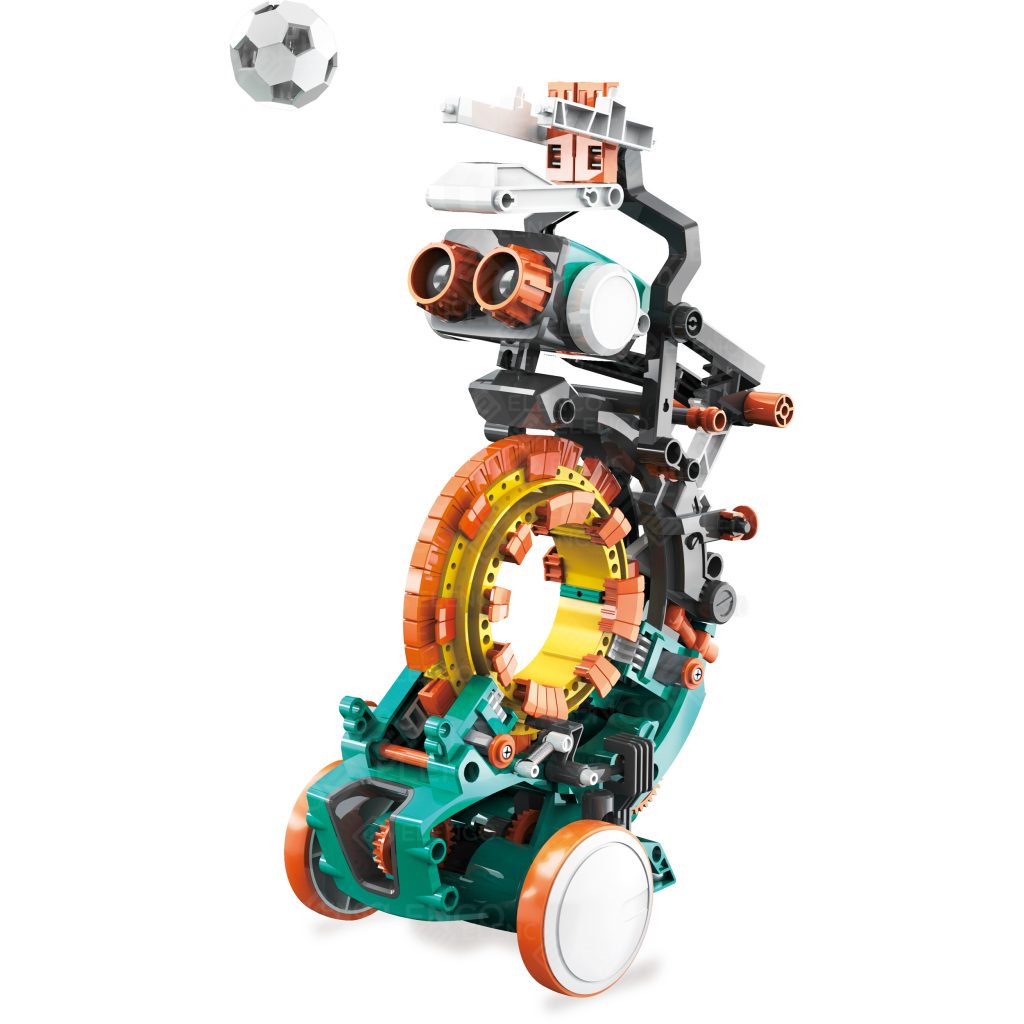 TOP PICK: Elenco Teach Tech Mech-5 Coding Robot – This STEM coding robot introduces kids and teens to the principles of mechanical engineering. They work with their robot to get it to perform tasks such as kicking, throwing, lifting, and even drawing.
TOP PICK: Science Academy Deluxe Squishy Ball Lab – Encourage kids and tweens to get their hands dirty and make their own squishy stress balls. The kit is great for boosting STEM skills and getting in some sensory fun.

Kano Computer: Pre-teens who enjoy coding and working with electronics, but are not quite ready to work on a full-fledged computer will appreciate Kano Computer, which allows them to build their own mini computer.
Perfume Maker: A lot of science goes into the creation of perfume. This set allows pre-teens to make their own scents while learning at the same time.
Spa Soaps Kit: Let pre-teens make their own spa soaps, and then use them to host a spa party for their friends. Better yet, they can package their soaps and give them as gifts to others.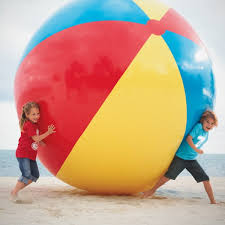 Giant Inflatable Ball: Encourage pre-teens to get outside and be active by purchasing a giant inflatable ball. They can make up their own fun games to go with the ball too.
Boxed Book Sets : If you know a pre-teen loves to read or has a favorite series, consider purchasing a boxed set. The Giver trilogy by Lois Lowry is a great set to consider.
Eco-Friendly Bean Bag: Instead of a normal bean bag, opt for an eco-friendly bean bag. The gift will teach pre-teens about being more environmentally conscious.
Build Your Own Pinball: Kids and teens can learn about engineering by building their own pinball game with this fun set.
Teens

Displates: Give teens a unique gift that teaches them to value creativity and different art forms. Displates come in different styles and relate to interests such as popular movies and TV shows or musical instruments.
Ion: A Compound Building Game – Know a teen struggling with chemistry? Find some STEM fun and refresh that chem knowledge with a fun game that has kids and teens collect cards and build chemical compounds.
Quadcopter: What's more fun than a drone? A drone with a camera. Teens can make their own videos and take pictures as they fly their drones.
Marvel Puzzle: Have a superhero fan? Give them a superhero puzzle so they can enjoy some of their favorite skills and they put their puzzle-solving skills to the test.
Codenames Disney: Codenames is a fun word association game. Purchase the Disney version or another themed-version and play it with your teen.
Die Cast Spirograph: Spirograph may seem like a kids' toy, but this version of the classic drawing kit is super sleek. Teens may find creating their own spiral shapes relaxing.
Games: World of Puzzles: Purchase a subscription to a magazine such as Games: World of Puzzles. This fun magazine includes many different puzzles for teens and adults to solve.
Game of Phones: Teens are always on their phones. Get them to interact with one another with this fun game which has them use their phones to send messages and complete challenges.
My Cinema Lightbox: A lightbox is a fun way to get teens to write. They can come up with creative messages or even practice spelling vocabulary words.
In addition to the gifts listed above, consider purchasing apps and other digital gifts for teens or giving them a gift card to purchase music and apps for their phones or tablets.
Do you know of any must-have educational gifts for kids or teens? If so, we'd love to hear your ideas. Share them in the comments!
*This list may contain affiliate links and some companies provided products for review, but all views expressed are our own.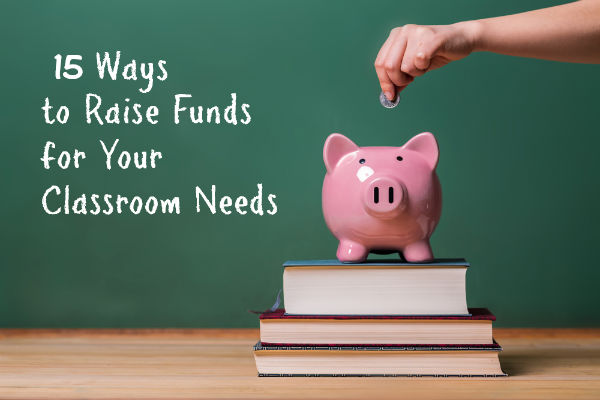 Teachers truly are miracle workers. Not only do they work hard to turn around struggling students and help exceptional students succeed, but they often do it with a limited budget and a lack of quality materials. That's why sites like Pinterest are full of ideas for turning household goods and recyclables into fun classroom projects. Sometimes, however, teachers need more than recycled goods. That's when money – and a bit of goodwill – comes into play. If you desperately need funding for your classroom, we're here to help with a list of websites and other resources to provide the money you need.
Note: Before posting any fundraisers for your classroom, check your school or district guidelines. Some districts require that teachers receive approval from administration or the board before fundraising.
DonorsChoose.org
DonorsChoose.org gives teachers the opportunity to post their classroom needs and allows others to contribute to those needs. Friends, family, and community members who know about the project can contribute, but the project will also be visible to a wealth of donors who regularly work with the site to help fund classroom projects. While teachers can request virtually anything, projects with lower costs, longer deadlines, and clear academic goals have the highest funding rates. Once teachers receive the materials from DonorsChoose, they must fill out a documentation and thank you package to send to donors. Successfully completing the documentation earns teachers more points to submit new project requests.
TeacherLists.com
TeacherLists.com gives teachers a place to post their classroom supply lists so parents can easily access them. While the goal of the site is just to share school supply lists, teachers can also create lists for other reasons, giving parents and other school supporters gift ideas for Christmas or Teacher Appreciation Week. Teachers can also win free supplies by referring other teachers to the site. For example, getting one new teacher to sign up earns teachers a selection of Wet Ones hand sanitizing wipes.
Classwish
Classwish offers multiple ways for teachers to get resources for their classrooms. At the basic level, teachers create wish lists and share those lists with potential donors to help get the items and the funds they need. The site also helps schools partner with local businesses to create workplace giving or matching gift programs. Parents, friends, and others can also send greeting card gift certificates to help meet their classroom needs.
Adopt-A-Classroom
Through Adopt-a-Classroom teachers can get their classroom needs in the hands of donors who want to help meet those needs. Similar to DonorsChoose, teachers post their latest projects and other classroom needs to their Adopt-A-Classroom profile. They can then share those needs through social media or promote their page within the community to get people to donate. Donors who regularly visit the site can also search for different teachers' needs and donate.
DigitalWish
With DigitalWish teachers can ask for donations to help bring technology into the classroom. While teachers may not receive new computers or high-end equipment, they can receive cool software and smaller digital items, such as handheld video cameras, to help bring their classrooms into the 21st century. The site also regularly offers grants to help teachers get specific products and works with companies to provide deep discounts for teachers.
PledgeCents
Jumping on the crowdfunding bandwagon, PledgeCents helps teachers use the power of crowdfunding to fund their classroom needs. After setting up a project, teachers share it through social media sites and encourage others to share it as well. As the project starts to go viral, more and more people can donate to it, helping teachers reach their goals a few dollars at a time. Since the goal of PledgeCents is to get others involved, teachers should not be shy about asking for donations and should work hard to present a compelling case to get their needs met.
Freecycle
While Freecycle might not help you meet specific classroom needs, it could help you find free resources for your classroom. On Freecycle, people give away things for free. By connecting with a local group, you could find free classroom furniture, boxes and other random objects for craft projects, or even request specific items for a classroom project. Getting some items for free could help free up money in the budget for other classroom supplies.
TeachersPayTeachers
One way to get extra funds for the classroom is just to make extra money. TeachersPayTeachers allows teachers to sell lesson plans, worksheets, and other educational materials. By adding and promoting their materials, teachers can make a little extra cash to use in the classroom. They'll also find free lesson plans, worksheets, and other resources to use with their students. You can also now raise funds to purchase things on the site through the TpT ClassFund.
DoSomething.org
While teachers can't start campaigns on DoSomething.org, their students can.  Designed to help teens and young adults fund their causes, teachers can help students get started using DoSomething.org. Through the site, students can find funding and support for school fundraisers, community service projects, and other ideas designed to help others and make the world a better place. If students don't have their own cause, teachers can help them find an existing cause to support. This works great for character education classes and school clubs.
Amazon Lists
If you have an Amazon account, you can set up a wish list full of items you need in your classroom through Amazon Lists. Share the link with parents, friends, or even total strangers and ask them to purchase something from your list. Items purchased from your list can be shipped directly to you at the address you select. The address will be hidden from senders so safety is not an issue. Don't have a strong network of support? Connect with a page such as Teacher Amazon Gifting which encourages teachers to support one another by purchasing items from wishlists or tweet out a link to your list with #SupportATeacher and #clearthelist.
GoFundMe Education
GoFundMe allows teachers to post fundraisers for their classrooms on its cloud-funding platform. The site includes categories for teachers, teams and clubs, and students and parents.
SimpleFund
SimpleFund gives parents and students a chance to raise funds for schools by using their cell phones. They earn funds by reading articles, watching videos, and downloading apps.
Class Tag
Class Tag helps you raise money as you communicate with parents. Every time you engage with parents, you earn coins within the program. Those coins can be redeemed for classroom supplies.
Shoparoo
Shoparoo uses grocery receipts to help schools earn money. Parents simply download the app and upload their receipts every time they shop. Then the school earns money.
What other websites, resources, or methods have you used to help fund your classroom needs?