Currently Browsing
How To
Whether you have a full-time job and want to make a little money on the side or you would like to earn an income while being a stay-at-home mom or homeschooling your kids, opportunities abound. Getting a minimum wage job is not always cost-effective, nor is it easy to find one with an accommodating schedule. Instead of traditional jobs, numerous teachers and parents are becoming micropreneurs, creating income opportunities that fit their own unique interests, skills and scheduling needs.
Tutor
Tutoring is an easy way for teachers to make money on the side. You can choose to work for a tutoring company and have them help find clients or simply advertise around your neighborhood. During the school year, parents may hire tutors to help their children improve in a specific subject area. Many also seek out tutors in the summer to help their children get ahead or keep them from losing information during their time away from school. And while tutoring may be best suited for teachers, it is not limited to certified educators. If you have a bachelor's degree in an area where students need help, you may be qualified to tutor students who need help. Companies such as WyzAnt and Club Z can help you find local students to tutor in your area.
If you have children at home or cannot find students to tutor in your local area, you can also tutor online. Sign up with an online tutoring service such as Tutor.com or TutorVista.com. They will connect you with students who need help in the areas you are qualified to teach. You may also find opportunities to teach students from other countries how to speak English such as through VIPKID or a similar service.
Write a Book
Everyone has a story to tell and, with the Internet, it has never been easier. Turn your advice, creative story ideas or special area of interest into an e-book. Do not be intimidated by the idea of writing a book. E-books do not have to be hundreds of pages long. In fact, many e-books are as short as 20,000 words or around 30 pages long. That may be the perfect length to write out your parenting tips, a guide to local events and attractions or a how-to guide related to one of your hobbies. If you are not a strong writer, put your ideas down on paper and then hire another freelance writer or editor to help you shape them into a book. You can then sell your book through online platforms such as Smashwords, CreateSpace or Lulu.
Create Educational Materials
Teachers and homeschooling parents are always creating their own worksheets, quizzes, lesson plans and other educational materials. You can profit from those materials by selling them on a website such as Teachers Pay Teachers. Remember that all materials must be entirely your own, not created using question banks, such as those you will find at HelpTeaching.com or any other copyright-protected artwork.
If you are a certified teacher, you may also be able to make money by creating materials for educational companies. Many educational websites, textbook publishers and educational software designers contract with teachers to have them design lesson plans, worksheets and test questions or have them review materials to ensure they will work well in the classroom. This work can often be done remotely and on a part-time basis during the school year.
Get Crafty
If creating educational materials is not your cup of tea or you have other talents, consider getting crafty. Sell your crochet-work, knitting or creative craft projects online using Etsy or another online shopping platform. If you are into stamping or scrapbooking, turn your skills into making stationery and pre-designed scrapbooks. Not sure what to make? Take a stroll around your local craft store for inspiration. A foam circle, some ribbon and artificial flowers could turn into a new wreath-making business. Wood and some paint could become kitschy signs and fun home décor. Flipping furniture is also a big trend. Browse thrift stores on the weekend for desks, hutches, bookshelves, tables, old chairs, and other pieces of furniture to re-stain, paint, and turn into something new.
Be a Tester
When companies launch new websites or products, they need people to test them out. Earn some money on the side by becoming a tester. UserTesting.com hires testers to review websites and answer a few questions about them. Software companies such as Microsoft also hire individuals to test out new products and websites. Not only can you earn money for your work, but you can be one of the first to experience cool new products and websites.
Complete Random Tasks
In some cases, companies have random tasks that they are willing to pay people to do. While the tasks may only pay a few pennies or a few dollars to complete, the more you complete, the more the earnings add up. Websites such as Amazon Mechanical Turk have you complete random tasks, such as verifying website addresses or finding search results. You can also do some field research through apps such as Field Agent and Gigwalk. These apps send you to local businesses to search for products, verify addresses and take photos, giving you the opportunity to earn a few bucks for each task you complete.
Want to control the type of tasks you complete? Try a site like Fiverr where you offer services and products for $5. Review websites, write poems, create logos or offer to do anything else you think is worth $5. If you can get enough people to take you up on your offer, you could earn decent money. If you have a specific skill, such as the ability to design webpages, work as a copywriter or complete the work of a virtual assistant you can also advertise your services and your price for those services on a website such as Upwork.
Drive and Make Deliveries
Decompress after school by hitting the road and driving for a company such as Uber or Lyft. Some companies, such as Grubhub also hire delivery drivers to pick up orders from restaurants and deliver them to customers. Want to be a professional shopper? Sign up for a service like Instacart.
Give Feedback
You can also earn money by giving feedback to companies through surveys and focus groups. While not all survey websites are legitimate or will result in significant earnings, some can provide a decent part-time income. Survey Police is a website that can help you determine whether the online survey companies you find are legitimate. If you are social and like participating in online conversations, try a website like Crowdtap, where you can take surveys, participate in discussions and occasionally try free products to earn points that can be redeemed for gift cards and other items. Searching in the ETC column of your local Craigslist jobs board will often reveal local focus groups that can pay up to $100 for participation, usually in the form of gift cards.  However, be careful not to give out confidential information until you have verified that the opportunity is legitimate. Don't forget to check out local hospitals and universities for medical and psychological studies you may be able to participate in as well.
Run Errands
Driving around town anyway? Make money by running errands for others at the same time. TaskRabbit pays individuals in major cities to run errands and complete tasks for users. Tasks range from grocery shopping to dog walking and home repairs. You may even find long-term work through the TaskRabbit app. If you find you enjoy running errands, you may even be able to start your own local business, advertising to busy executives, those who have difficulty leaving their homes and even other busy moms. Craigslist is also a place to find random jobs, such as walking dogs or helping move boxes.
Babysit
The last thing many teachers and parents want to do during their time off is spend more time around children, but if you have children of your own, babysitting may be the perfect way to earn extra cash while keeping your children at home with you. During the summer, working parents of elementary-aged children are often looking for affordable care. You can also serve as a drop-in babysitter, offering to watch local children for a small fee while their parents go to appointments or need to have some time to themselves for a few hours. Connect with a website such as Care.com or Sitter City so people needing sitters can easily find you.
Re-Sell
Chances are you have items lying around your own house that can help you make money. Sell those unused kids toys and clothes kids have outgrown using websites such as Craigslist, local swap groups on Facebook or a Just Between Friends or other kids' consignment sales. Look for free items and good deals on Craigslist and at local garage sales, and then resell those items online or at a larger sale. Do your research by looking up current prices online to make sure you are getting a good deal on the items you buy and sell.
Rent Out Your Home
Have an extra room? A mother-in-law suite you don't use? Consider renting out your home on a site such as Airbnb. Just make sure you have time to prepare your home for guests and are willing to share with people before you create your listing. If you have family or friends in the area that will let you stay with them one weekend a month, you could even offer up your whole home to renters every so often.
Add an Idea of Your Own
If none of the ideas above appeal to you, there's nothing stopping you from starting your own business. All you need to get started is an idea and some funding. While the idea should come from you, the Internet can help with the funding process. Crowd-funding platforms such as Kickstarter.com, Indiegogo.com and GoFundMe are designed to help you find the funds you need to write the next Great American Novel, produce a video, design the latest, greatest invention or even start a cool new business venture. All you have to do is create a project proposal and start soliciting support from family, friends and individuals around the world.
Making money during the summer, part-time or online requires thinking outside of the box and taking a look at what you have to offer. Make a list of all of your interests, hobbies and skills. Then think of ways you could get other people to pay you for using those interests, hobbies and skills. You may not start off making a lot of money, but as you build experience and get more people interested in what you have to offer, your summer job could turn into a way to fund a summer vacation, add a significant amount of money to your budget or even become a new full-time career.
Looking for ways to get the whole family involved? Check out Money-Making Ideas for Families.
==========
A former 8th grade English teacher, turned freelance writer, Stacy Zeiger is focused on helping educators and parents find ways to improve their students' and children's education. As a stay-at-home mom and military wife, Stacy has unique experiences to bring to her work. She regularly blogs about education and parenting, develops creative educational activities, writes lesson plans and creates workbooks for all age-levels and subject areas.
20 May //
Posted in How To //
Tags :

School is out. The weather is nice. And your kids are… bored out of their minds. While blog posts about letting kids experiencing boredom this summer have gone viral, we know that sometimes they need a little help figuring out what to do. From activities designed to help kids learn and give back to their communities to those focused on making kids a little money and helping them have fun, we've gathered the ultimate list of over 100 summer activities for kids. Most of these activities can be done at home, so you don't have to spend the summer running your kids from place to place.
Educational Activities
To help prevent kids from experiencing the summer slide, engage them in some educational activities. Last year we shared 15 summer learning activities for all ages. This year, we have a few suggestions to add to that list.
Reading/Writing
1. Create and distribute a family or community newsletter
2. Keep a summer journal
3. Write and direct a play or puppet show.
4. Write letters to family and friends
5. Join a summer reading program, such as one found at your local library or Barnes and Noble.
6. Challenge yourself to finish all of the books on a list, such as the ASLC Summer Reading List.
Science
7. Spend rainy days looking at the resources found on the Ultimate Guide to Teaching Science.
8. Conduct a science experiment
9. Find out what plants are in your yard using a field guide or an app like Project Noah.
Math
10. Take a free summer math course, such as the Summer Math Challenge
11. Grab a measuring tape or ruler and start measuring random plants outside
12. Figure out the perimeter of the local pool
13. Count your steps as you walk and try to get in a certain number of steps each day
Other Activities
14. Plan a trip by getting out a map and tracking where you want to go. You don't have to go, just pretend
15. Go geocaching
16. Go letterboxing
17. Take a course or learn a new skill, using some of the resources on the Ultimate Guide to Free Online Self-Learning for Kids
18. Visit a museum. Many museums offer free days throughout the summer. Bank of America customers and military families can also get free admission to museums during the summer
Socially Responsible Activities
Summer is also a great time to teach kids to give back to the community through volunteering, taking care of the environment, and other socially responsible activities. Try out a few of these suggestions this summer.
Volunteering
19. Read stories to or play games with residents of a local nursing home
20. Spend time visiting the animals at a local animal shelter
21. Serve a meal as a family at a local food bank
22. Use a service like VolunteerMatch.org to find organizations in your area that need volunteers.
Helping Others
23. Visit with elderly neighbors
24. Offer to do chores for neighbors free of charge
25. Raise money for a local charity
26. Hold a neighborhood food drive
27. Donate items to a thrift store or charity
28. Do random acts of kindness
29. Take snacks to the local police or fire station
30. Offer to watch a friend's dog or cat while they go on vacation
Helping the Environment
31. Clean up trash in your neighborhood or at a local park
32. Start recycling cans and bottles at home and encourage neighbors to do the same
33. Plant a garden
34. Make bird feeders
35. Go the farmer's market. Check out Local Harvest to find one near you
36. Pick your own fruits or vegetables. Find a farm using Pick Your Own
37. Practice conserving water by taking shorter showers and watering plants in the evening
38. Start a compost pile
39. Raise butterflies
Money-Making Activities
While most kids aren't old enough to get an official summer job, they can use the summer to make some extra spending money. Encourage them to earn money to save up for a toy or other item they really want instead of just going out and buying it for them. Some suggestions for making money include:
40. Mow lawns
41. Sell lemonade
42. Make and sell crafts like bracelets
43. Ask parent or neighbors to do chores for pay
44. Bake and sell baked goods
45. Have a garage sale or toy swap
46. Walk dogs
47. Weed gardens and water plants
48. Play an instrument in a public place
49. Sell clothes and toys to a local consignment shop
Fun Activities
Of course, at the end of the day, summer is a chance for kids to have fun. There are lots of ways to have fun at home and in your local community.
Cooking and Food
50. Make a pitcher of sun tea
51. Make ice cream in a bag
52. Make sculptures using fruits and vegetables
53. Mix whipped cream and food coloring to make edible paint
54. Place different flavored fruit juices into paper cups, add a wooden stick, and freeze to make popsicles
Arts and Crafts
55. Paint or draw a picture.
56. Practice your photography skills by taking close-up photos of animals and plants
57. Host an art show featuring artwork created by kids
58. Make a picture or sculpture using items found in nature
59. Draw with sidewalk chalk
60. Create a sidewalk chalk mural
61. Paint on the house or sidewalk with water
62. Tie-dye a t-shirt
63. Put watered down paint into a squirt gun and spray it on paper outside
64. Collect and paint rocks
65. Gather leaves and create leaf rubbings
66. Dry out flowers by pressing them between two heavy books
67. Mix bubbles with food color to make popped bubble art
68. Paint your feet and walk on white paper outside
Community Events
69. Listen to music. Many towns offer free outdoor musical performances during the summer
70. Go to a fair or festival. Fairs and Festivals highlights many of these events around the United States
71. Attend a baseball game. Many minor league games offer inexpensive tickets
72. Host a neighborhood carnival with simple games such as ring toss and bean bag toss
73. Go bowling. Kids Bowl Free partners with local bowling alleys to let kids bowl free all summer
74. Take a picnic to a local park
75. See a movie. Many movie theaters, such as Cinemark's Summer Movie Clubhouse and Regal's Summer Movie Express play free or $1 kid movies during the summer. Cities and towns also often sponsor summer movies under the stars.
Rainy Day Activities
76. Play a board game
77. Make up a new card game
78. Design a new board game
79. Have a movie marathon
80. Visit a fun website, like those found on our Top Free 100 Education Sites
81. Jump in puddles
82. Make a rain gauge and measure how much rain you get
83. Redecorate your room
84. Set up a tent indoors and have an indoor camp out
Water Activities
85. Have a water balloon fight
86. Hold a wet sponge toss where you try to land wet sponges on a target on the ground
87. Run through the sprinkler
88. Buy a kiddie pool and soak your feet
89. Play "Does it sink or float?" in a kiddie pool
90. Fill a tub with water and use measuring cups and other water toys to play with it
91. Fill bottles with different amounts of water and blow across them to make music
92. Fill buckets, squirt guns, and other containers with water and have a water fight
Backyard Activities
93. Make a fort using cardboard boxes, sheets, or tree branches
94. Have a picnic in your backyard
95. Camp in your backyard
96. Make a mini-golf course using plastic tubs with holes cut in them
97. Lay on a blanket and watch the clouds
98. Blow bubbles using different items, such as slotted spoons and funnels as bubble wands
99. Grab glow sticks and play a game of glow tag in the dark
100. Make a stunt track for your toy cars in a pile of rocks or dirt
Fun with Friends
101. Have a neighborhood scavenger hunt and see who can find all the items first
102. Ride bikes around the neighborhood
103. Have a dance party
104. Challenge friends to competitions, such as who can stand on one foot for the longest or who can jump the highest
105. Make up a special summer song or chant
106. Start a game of kickball or capture the flag
Whether it's Make Something Monday, Wander Somewhere Wednesday, or Fabulous and Fun Friday, there's plenty of fun to be had all summer long. What do you love to do with your kids in the summer? Share your ideas in the comments to help our list grow!

Physical fitness is essential to our health. Yet, with full work schedules and equally busy children, fitting in the time for exercise too often falls to the bottom of the list. May is National Physical Fitness and Sports Month. That means it's the perfect time to make a commitment to yourself and your family to stay active. To help get you started, we've gathered a list of 100 activities to do with your family. Whether you have toddlers, tweens, or teens, taking time to improve your health and promote quality family time is worth every second!
Host Backyard Games
Whether you're in your yard or at a park, there's nothing like open space to inspire movement. While they may not always show it, your children will get a kick out of seeing you acting like a kid again. Consider inviting friends and neighbors to join you in these outdoor games. You can even combine these activities into a full-fledged backyard Olympics!
1. Make and run an obstacle course
2. Take on the high seas with a game of pirate ship
3. Design, build, and play your own mini-golf course
4. Seek treasure or discover nature with a scavenger hunt
5. Play a game of soccer, volleyball, flag football or another team sport
6. Run relay races
7. Strategize as a team in a game of capture the flag
8. Get messy – play in the mud, have a frozen t-shirt race, engage in a shaving cream battle, or even slip on a water slide covered in chocolate syrup
Lend A Hand
Volunteering can keep you moving while you help out others and your community. Depending on the volunteer opportunity your family may be packing, cleaning, stacking, running, or building! So lend a hand, teach your children the importance of social responsibility, and work in some physical fitness while your family spends meaningful time together. Sites like VolunteerMatch can help connect you with the right cause for your family.
9. Help out at a bottle and can drive
10. Clean up litter along roads or trails
11. Participate in a run or walk for charity
12. Join a community building project like Habitat for Humanity
13. Collect, organize, and distribute food through your local food bank
14. Volunteer at a meal center
15. Explore new places while giving back – plan a family volunteer vacation
16. Lend a helping hand around the yard or home of a grandparent or neighbor in need
Roll with Rainy Days
Rainy weather can be challenging for families with rambunctious children. Kids need to move, but a string of poor weather can dampen their spirits. Don't let the weather impede your fitness goals. Instead, roll with the rain and keep the family moving!
17. Play indoor hide-and-seek
18. Challenge the family to a game of fitness bingo
19. Build a blanket fort and play in it
20. Make cardboard box cars, then race them
21. Crank up the tunes and do a freeze dance (think musical chairs)
22. Have a pillow fight
23. Play follow-the-leader
24. Dress up and walk the runway in a family fashion show
25. Play charades or other movement games
26. Pretend to belt out tunes in a family a lip sync battle
27. Put on a family talent show
28. Read and act out a movement story or video together
29. Kick up your heels and play a dance video game
30. Get outside and go puddle jumping
Do Chores
They're not glamorous, but chores must be done. On the plus side, chores help burn calories. Divide tasks and make a morning of getting some things done around the home and yard. Turn on some background music and agree as a family on something fun to do together once the chores are finished.
31. Mow the lawn
32. Rake leaves – jump in the pile before picking it up
33. Try on old clothes, pass down or donate ones that no longer fit
34. Paint a room
35. Chop and stack wood
36. Walk the dog
37. Wash and clean out the car
38. Clean the windows
39. Sort through books, donate ones no longer wanted or needed
40. Vacuum the rugs and mop the floors
41. Run errands – walk if you can or park the car at the further spot in the lot
42. Plant a family tree
Get Adventurous
Teens may be more reluctant to spend time as a family than younger children. Engage them with these high adventure activities and embrace your wild side along the way! Due to the need for specialized equipment and professional instruction, adventure activities can be more expensive than other fitness options. However, check coupon sites as they often feature significant discounts to places that offer these activities.
43. Ride into the sunset on horseback
44. Rage the rapids on a rafting tour
45. Scale a wall at a rock gym
46. Get tangled up in a ropes course
47. Go mountain biking
48. Vacation by going on a family camping trip
49. Try indoor skydiving
50. Participate in a mud run or obstacle race as a team
51. Take a SCUBA certification course
52. Play laser tag
53. Train together for a CrossFit competition
Explore Someplace New
Getting kids out of their everyday environment can open their eyes to the larger world and spark excitement and curiosity. Whether you fly across the county to visit a new city or explore a local museum, a day of walking and discovering a new place adds up to a lot of steps! Be sure to check with your public library first, it may offer free or discounted passes to museums.
54. View works of art, explore history, or learn science at a museum
55. Visit a national park – families of 4th graders get free annual passes here
56. Take a walking tour of a city
57. Ride your bikes the length of a rail trail
58. Climb a mountain
59. Brave a cave tour
60. Put on costumes and join a historical reenactment
61. Go letterboxing or geocaching
62. Play on a playground your kids haven't been to before
Make A Splash
There is nothing like playing in water during the heat of summer. Kids can spend all day splashing in a pool or digging in the sand, so join them! Many communities have public beaches or pools that are free or at reduced cost for residents.
63. Run through the sprinkler
64. Ride the waves on a boogie or surf board
65. Try paddle boarding
66. Have a squirt gun battle
67. Team up for a water balloon fight
68. Paddle a river or lake in canoes, kayaks, or paddle boats
69. Jump over waves
70. Hit a home run with water balloon baseball
71. Register emerging swimmers for lessons
Take On Winter Weather
Winter brings a unique set of challenges to staying fit. Don't let the weather keep your family indoors. Rather, bundle up and take advantage of the fitness opportunities that come with snow and ice! By trying a new winter sport, your family may fall in love with an activity you can do together for years to come. If you don't own winter sporting equipment borrow from friends or look for places that offer daily rentals.
72. Downhill ski or snowboard
73. Cross-country ski
74. Go ice-skating
75. Build a snow family
76. Have a snowball fight
77. Make snow angles
78. Shovel the driveway
79. Shovel a neighbor's driveway
80. Explore the woods while snowshoeing
81. Go ice fishing
82. Hop on a sled
83. Try snow tubing
Create Healthy Eating Habits
Eating healthy is an essential part of any fitness plan. With hectic work, school, and extra-curricular schedules, setting aside time to prepare and share healthy meals can be challenging. But, we all must eat, so take the opportunity to teach your children lifelong eating habits while spending some quality time together!
84. Pack a healthy picnic and hike to a scenic spot
85. Take a cooking class as a family, check nearby grocery stores as some offer free programs
86. Set up a schedule where each family member is responsible for planning and cooking a meal
87. Involve children in packing their own lunches
88. Go to your local farmer's market together
89. Go fruit picking at a nearby farm or orchard, then try a new recipe with the fruit
90. Cook one meal a week that features locally grown, seasonal food
91. Gather favorite family recipes and publish them in a cookbook – check out Blurb
92. Plant a home vegetable garden or potted herb garden
93. Join a community garden
94. Volunteer at your child's school and help raise a school garden
95. Spice up dinnertime by planning a weekly themed meal night – from Meatless Mondays to Fancy Fridays, your kids will look forward to this new family tradition
Make Time for Mindfulness
The end of a harried day is the ideal time to come together as a family and create time for a few mindful moments. There are many wonderful free mindfulness videos and audio recordings available online or through your public library.
96. Practice yoga along with a video geared for kids or families
97. Dim the lights, get comfortable, and listen to a guided meditation recording
98. Try progressive muscle relaxation
99. Do some calming breathing exercises
100. Lay on a blanket in the yard or park and focus on the sounds around you or stargaze
How does your family stay fit and active? Share your ideas in the comments. Visit Help Teaching and browse our collection of free physical education printables!

Teacher Appreciation Week, which is held during the first full week in May, is a week designed to honor teachers. It is also a convenient time to take a moment to thank teachers for the hard work that they do. While a simple thank you will go a long way, accompanying it with a gift doesn't hurt. This year, think beyond the apples and homemade cookies and replace it with one of these ideas.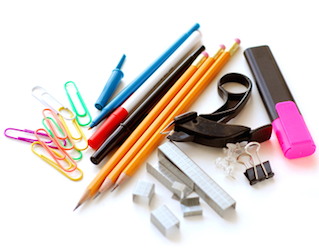 1. Classroom Supplies
Teachers spend a lot of their own money on classroom supplies. Even though the school year is almost over, you can help get through to the last day of school and start to stock them up for next year by giving a classroom supply basket. Pencils, crayons, glue, and markers are items teachers can always use more of, but you don't have to stick with the obvious. Encourage your favorite teacher to make a special wish list earlier in the year and purchase something off of the list wish list as a Teacher Appreciation Week gift. If you know there's something bigger the teacher wants, such as a set of books for the classroom or a large rug for circle time, get together with a group of parents to purchase it.
2. Books
Even though the school has its own library, many teachers also keep a classroom library stocked with books for students to read. These books are often purchased by the individual teacher and the expense can add up. Instead of giving the teacher a card, consider giving a book instead. Let your child help you pick the book since she will know what types of books the kids in the class like to read. For preschool, kindergarten, and first grade, popular picture books are always a good choice. However, you don't have to get a picture book or even a piece of fiction. You can also pick up a non-fiction text about one of your child's favorite topics. If you want to make the book a little more memorable, include your child's name or a short note inside the cover of the book so the teacher will always remember who it came from.
3. Educational Subscriptions
Having a lot of resources on hand can make a teacher's job much easier. Educational subscription services help provide teachers with those resources. Magazines, such as Highlights, Time for Kids or one of Scholastic's range of magazine options are a good choice. Don't forget about digital subscriptions either. Resources such as BrainPop can help a teacher save time by providing interactive lessons.
4. Gift Cards
Gift cards also help offset the amount of money teachers spend in the classroom. Consider a gift card to a teacher supply store, Dollar Tree, or even Amazon to help teachers get supplies they need. Bookstore gift cards can help teachers build up their classroom libraries. If you know a teacher who regularly uses apps in the classroom and like to try out new technology, iTunes or Google Play gift cards are another option to help them build up their library of resources.
Of course, the gift you give doesn't have to help the teacher in the classroom. You may want to give a gift card for a local coffee shop or movie theater. You can also help them relax with a gift card to a local spa. Fast food gift cards are handy for teachers who spend a lot of time at school and need to pick up dinner on the way home.
5. Handwritten Notes
If you don't want to spend a lot money, there is one handmade gift that is always accepted by teachers. A simple handwritten note thanking a teacher for their hard work and explaining the impact they have had can go a long way. Teachers don't always have a place to store all of the mugs and trinkets they receive, nor do they want a lot of homemade treats, but most have a special place to keep the notes from their students. Nothing makes a teacher feel better than to know they're making a difference.
If you need some inspiration for a note, consider using one of our teacher thank you note templates:
Teacher Thank You Note Template Grades K-3
Teacher Thank You Note Template Grades 4-8
Are you a teacher? What types of gifts do you appreciate most during Teacher Appreciation Week?

Since 1970, Earth Day has been raising public awareness of environmental issues. Today, our waterways are less polluted and our air is cleaner, yet there is still much work to be done before we can consider ourselves a sustainable society. This year, engage your students or children with one of these eco-friendly activities on Earth Day or the weeks leading up to it.
Activities for Children – Kindergarten to Grade 6
Plant a Tree
It may seem cliché, but planting a tree is a simple act that helps the environment and gets children outdoors enjoying the natural world on Earth Day. Coordinate with your school a place on the grounds where your class can plant a tree or check with your local conservation board for a public location. Apply for free trees through organizations like Trees for Schools (UK and Ireland only) and Trees for Wildlife or by having students write to local nurseries.
Raise a School Garden
April is National Garden Month, making Earth Day the perfect time to plant a school garden. Gardens are an excellent way to get kids moving, encourage healthy eating, and incorporate project-based learning into your curriculum. A school garden takes time and commitment, but in planning and raising a garden, you will sow seeds that will help your students reap a lifetime of rewards! Get started with these school gardening tips.
Don't Put Out the Trash
During the week leading up to Earth Day, arrange with the custodian not to remove the trash and recycling from your classroom. On Earth Day, have your students weigh the trash and recycling they generated (weigh trash separately from recycling). Over the next week, challenge your students to toss and use less, plus recycle more. After a week, have students weigh the trash and recycling again and calculate the decrease (hopefully!) in trash weight and increase in recycling weight. Extend the lessen for older students and have them calculate percent increase and decrease as well. Get started by assigning the lessons Reduce, Reuse, Recycle and The Trash Patrol, then read our America Recycles Activity Guide for more ideas.
Walk to School
It is good for the environment and our children's health. More and more schools are planning annual walk or bike to school days. Why not plan one for April 22 or use Earth Day to have your students start planning for National Walk to School Day in May? Visit the Walk & Bike to School website for more information on getting started.
Declare April 22 Waste-Free Lunch Day
With the help of your class and the EPA's Pack A Waste-Free Lunch site, make Earth Day a school-wide commitment to reducing the mounds of garbage generated during a typical school lunch. Have your class coordinate with administrators and cafeteria workers and help spread the word to students and parents about what can be done to minimize lunch waste.
Get your students excited for Earth Day by engaging them with these interactive lessons on Climate Literacy and Environmentalism by PBS Learning Media and with Help Teaching's self-paced science lessons.
Activities for Teens – Grades 7 to 12
Participate in a Citizen Science Project
Engage your children or students in authentic science by participating in an eco-themed crowd science collaboration. There are numerous projects running that allow students to participate with adult supervision, including the environmentally oriented: Forgotten Island, YardMap, The Lost Ladybug Project, and Globe at Night.
Take a Field Trip
What student doesn't love a field trip? Plan an inexpensive day out by arranging tours of your local landfill, recycling center, wastewater treatment facility, and/or power plant (even better – visit a plant that uses renewable energy and one that uses a nonrenewable source). Yes, it will be dirty, hot, and smelly, but what better way for students to develop an understanding of where energy comes from and trash goes than to see it for themselves?
Host an Environmental Career Fair
Enlist your students in finding local professionals working in environmental careers to visit the school on Earth Day. Arrange for a career fair that allows students to hear about green jobs and discuss job duties with the professionals. Have students prepare questions ahead of time and write thank-you notes after.
Conduct a School Energy Audit
Challenge students to work in small groups to perform an energy audit of their school. Each group can audit energy use for a given building space like the classroom, cafeteria, gymnasium, or auditorium. Groups can share their results and compare their findings, then use the data to prepare an energy action plan to present to school administration. National Wildlife Federation and Green Education Foundation both offer resources for energy audit projects for students.
Build a Rube Goldberg Machine
Ask your students to bring in a variety of cleaned items from their home recycling containers during the week leading up to Earth Day. On April 22, divide your students into teams and task them with designing and building a machine that completes a simple eco-friendly task such as turning off the lights or watering a plant. Provide basic materials, like string and wine, to aid in construction. Be sure and have your students demonstrate their machines for an audience and see if their projects can be displayed in the school lobby or library.
Launch a Project-Based Learning Unit
Spring has sprung and students are anxious to get outside, making Earth Day is the perfect time to embark on an environmentally focused project-based learning (PBL) initiative. BIE.org offers extensive PBL resources for teachers and students – start by using their search tool for project ideas.
Be sure to visit Help Teaching's Earth Science Printables and Lessons for free environmental science resources to use on Earth Day and year round!