Currently Browsing
Posts Tagged ' teaching '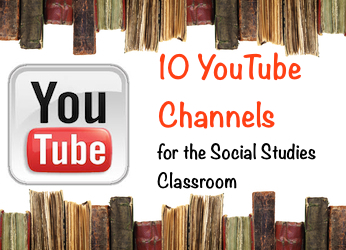 21stcentury students are constantly plugged into technology, making it the teachers' responsibility to use their interests to engage them in the classroom. YouTube gives educators the ability to use a familiar website and an interesting medium to teach about themes and concepts that relate to their subject areas.
While there are thousands of great videos scattered about YouTube, these are ten channels that house a collection that will improve your lessons and your students' understanding of social studies.
This series, produced by ABC at the turn of the century, breaks down major moments in American history with archived film footage and interviews with participants and regular people who lived through those moments. The small chunks of information make this series an invaluable tool for reinforcing concepts with visual primary sources.
These videos also work well for a world history class, as events like World War II and the Cold War are an important part of that curriculum, too.
These videos give a fast-paced, thorough and entertaining overview of many different topics in history, literature, economics, and other key subjects. You can also find related resources and more easily search some of the videos on the Crash Course website.  It's important to note that most of these videos are not appropriate for elementary and middle school students, but there is a Crash Course Kids series that might be okay.
This channel helps viewers gain a quick overview of key events in history through short, illustrated videos. Each video is narrated and told in a story format to make it more engaging for students.
What makes Twitter and Facebook so popular? Why do kids prefer to text message in code than write in full length English? It's because they prefer bite sized chunks of information and the movement towards these small doses of content is exemplified by the Khan Academy. Here you will find a huge library of lectures ranging from five to 20 minutes that use relevant and interesting visuals to teach about a specific topic. Wondering what that FICA Tax is that's taken out of your paycheck? Watch this. Need a quick primer on how communism is different than capitalism? Here ya go.
It is hard to spend time on current events due to time and curriculum constraints, but whenever there is a historical topic that connects to a modern one, we should make it a priority to discuss that connection. For example, the AP has dozens of very short videos on the current situation in North Korea that can be used in conjunction with a Cold War unit.
This channel provides a breathtaking database of presidential speeches and occasions that can accent any lesson in modern American History. From clips of the famous Kennedy – Nixon presidential debates to President Clinton's take on gun control after the Columbine school shooting, these videos make it simple to enhance an already stellar lesson plan with relevant primary source video.
Search through the playlists available on this channel and marvel at the resources they have compiled. Heartbreaking stories of loss, uplifting stories of love, and everything in between.
I don't know exactly what to make of this, but it may be the most creative mixture of pop culture and history that I have ever seen. The team at History for Music Lovers rewrites songs from the last forty years of pop music to teach about a historical figure or period. They also film music videos, complete with costumes and plots, to accompany their song parodies.
Watch The French Revolution, as sung to Lady Gaga's Bad Romance, William the Conquerer set to Justin Timberlake's Sexy Back, or  relive the Eighties with Billy Idol's Eyes without a Face transformed to The Crusades.
Some of the songs will be before your students' time, but the effort and creativity on display is sure to break any generational walls.
The Biography Channel on You Tube has endless "mini – bios", all around five minutes in length; a perfect amount of time to spend on a video clip within a lesson plan.
Help Teaching's YouTube channel features videos on a range of subjects including social studies.  You can also find ad-free versions of the videos on our online lessons page. Best of all, each lesson is accompanied by worksheets to help assess what students have learned.
You Tube may provide students with music videos and clips of teens getting pranked by their friends, but it also can be a tool for learning. Use the channels above to augment your materials and find your own to show students that the web is also a place for education.

Math is an inherently visual subject. Would you ask a first grade student to describe the properties of a triangle, but not allow her to draw one? Test a geometry student's understanding of the relationship between parallel lines and transversals, but provide no visual model for the question? Ask an algebra student to solve a quadratic equation, but never have him plot one on a graph? Math questions with graphics allow students to comprehend mathematical concepts more quickly and more completely than those without images.
Help Teaching maintains a database of hundreds of graphics that directly support Common Core math standards. So whether you are introducing kindergartners to counting or high school students to the Law of Sines, here are some suggestions on how to incorporate images into your standards aligned math questions or worksheets.
| | |
| --- | --- |
| | Visual Fraction Models support a range of grade one to six standards in the Geometry, Numbers & Operations – Fractions, and Number System domains. Students can develop an understanding of equal shares and fraction equivalence by comparing shaded models while older students can use models to hone critical thinking skills by solving real world problems. |
| | Base Ten Blocks provide a visual representation of place value and support Number & Operations in Base Ten domain standards for kindergarten through grade five. Base ten blocks can be used to represent ones, tens, hundreds, and thousands and build up to illustrating multi-digit arithmetic. Combine blocks with pictographs and their use can be extended to include Counting & Cardinality standards by having students use them to learn number names and count sequences. |
| | Grids and Graphs are mathematical staples when it comes to problem solving, so it comes as no surprise that the coordinate plane is mentioned across domains for middle and high school Common Core standards. For example, fifth graders can use Cartesian planes to learn to graph and locate coordinate pairs, directly supporting geometry standards while high school algebra students are expected to create and graph equations in two or more variables. |
| | Circle and Polygon diagrams effectively illustrate geometry concepts across all grade levels. Beginning with learning to name and identify attributes of shapes in kindergarten to understanding circle terminology in high-school geometry, the inclusion of shape graphics in geometry questions is essential to improving student comprehension of Common Core standards. |
| | Angle images directly support a wide range of geometry standards. Elementary students are expected to draw, recognize, and classify angles, while middle school students extend and apply this knowledge to describe geometric figures based upon their properties and solve multi-step problems to determine the measurement of an unknown angle. At the high school level, geometry students benefit from graphics to prove theorems like  vertical angles are congruent. |
These are just a few examples of the Help Teaching images available that support Common Core math standards. View our complete selection of images or browse our collection of questions featuring graphics. Have suggestions for new math additions? Post your comments below or send us a note.
Read "How to Write Higher-Order Math Questions" and "How to Use Questions with Images" for more tips on creating quality, standards aligned math content.
Maps are ubiquitous in the social studies classroom, but they aren't always used to their full capabilities. Social Studies teachers often fall into the trap of simply using maps when it's obvious, failing to remember how maps can be used for a variety of skill building assignments and to meet various common core standards. Maps can be used to improve so many academic areas that they can be used almost every day to improve a host of skills. Some examples of the benefits of maps are:
| | |
| --- | --- |
| | A map of the Silk Road can lead to a research assignment that uses graphic organizers. This allows the students to see how a map is a vessel for information, while allowing them to take ownership of that information by   researching the parts they find most interesting. |
| | A map showing the spread of the Black Death can help children improve their reading comprehension by properly using the symbols in the key, or it can be a used for chronological tracing of the path of the disease. Either way, the students see that a map is not just a collection of cities; a map tells a variety of stories within the confines of small area. |
| | A map of Latin America can help students understand where countries are by placing visual representation of the places they learn about. This may be the most common use of a map, but it's still very effective in showing students where the events that they learn about every year take place. |
| | A map of the Greek city-states can illustrate the impact of geography on history, a central theme of state assessments and standardized tests throughout the country. Maps that ask students to infer the effects of what they see on a map help to sharpen those skills and improve their critical thinking. |
| | A map of the Atlantic Ocean and the surrounding continents allow students to be active learners by asking them to show how this region was part of history. Ask them to trace the routes of the Atlantic Slave Trade themselves. History comes alive anytime kids are doing and not just listening or watching. |
Whether you use them for a homework assignment or entry into a deeper analysis of the great historical questions of our time, maps can do more for your lessons than you may be giving them credit for. The suggestions above touch upon the skills of analysis, reading comprehension, inference, compare and contrast, and many others.
By using a few words and a picture, a map can say so much more than text. By my count, maps can be used to meet five of the ten ELA Common Core Anchor Standards used to measure college and career readiness. Whether through their use in document based essay writing, compare and contrast activities, or as a summary of a historical event, maps can play the skill building role of a primary source reading passage.
Help Teaching has a full complement of historical and geographic maps to improve your lessons, projects, and assessments. You can create your own versions of the activities linked above that include your personal style of teaching. Few other websites have such a varied selection of maps to include in your lessons. There are also plenty of questions paired with maps that you can add to your tests and activities.
Got feedback for our maps or suggestions for new additions? Post your comments below or send us a note. Help us spread the word about our maps and printables by pinning our pages to Pinterest, liking on Facebook, and adding to your bookmarks.
In the world of education, there's nothing a teacher loves better than the word FREE and every teacher knows the internet is full of free content to use in the classroom. However, not every teacher knows how to find that content. Whether you teach early elementary school or are trying to keep seniors from checking out, many of these sites have been designed to help you.
Elementary School
Language Arts
1. Funbrain Reading offers games to help students brush up on their grammar and reading skills. Teachers and students will also find digital graphic novels and excerpts from popular children's books.
2. Scholastic Student Activities feature lesson plans and interactives for multiple grade-levels and subject areas. While the site covers multiple subject areas, many of the lesson plans are text-based, making them ideal for use in a language arts setting, particularly when it comes to introducing students to informational or non-traditional texts.
3. Merriam-Webster Word Central is designed to help kids practice their spelling skills. The site uses games, a build-your-own dictionary feature and lesson plans to help accomplish that purpose.
4. Paragraph Punch helps students learn to write a basic paragraph. This site is ideal for students in upper elementary school.
5. Storyline Online features videos of members of the Screen Actors Guild reading popular children's stories. It is a great site for getting students to read and also offers a new way to present books to students in the classroom.
Math
6. Math Playground is full of games designed to help kids practice their math skills. Activities feature a range of problem types and many are aligned to the Common Core State Standards.
7. Figure This encourages families to get involved in learning math skills by offering fun challenges for them to complete. Teachers can also adapt many of these challenges for use in the classroom to help students build some real-world math and problem-solving skills.
8. Math Cats offers a fun math fact every day, as well as numerous activities designed to help kids learn and explore more about basic math and problem-solving skills.
9. Funbrain Numbers contains multiple games for students. They can solve math problems while kicking soccer balls, racing cars and playing other arcade-style games.
Science
10. Wonderville helps kids learn about science by answering questions kids may have and exploring unique topics in science. The site also offers a section on "Neat Jobs," helping kids see some of the ways science is put to use in the real world.
11. Science Kids is full of fun science facts, experiments and other activities designed to help get kids interested in science. Teachers can also find lesson plans, videos and project ideas to bring science into their classrooms.
12. The Electronic Zoo allows kids to take a trip to the zoo without leaving the classroom. The site features information on all types of animals, from invertebrates to primates and many more.
13. Kitchen Chemistry shows kids how they can perform science experiments in their own homes. Teachers can adapt many of the experiments for use in the classroom as well.
Social Studies
14. BBC History provides games and activities to help make history fun for students. Special animations help students see what life was like during certain periods in history and interactive activities allow them to participate in history.
15. Geosense test students' knowledge of world geography. Kids can play by themselves or compete against each other.
16. Xpedition Hall is an online interactive museum from National Geographic. Students can learn about geography as they explore the museum and teachers can download a special guide to help them use the content in their classrooms.
17. Archiving Early America provides teachers with videos and images to use as they teach students about early American history. Some documents and biographies are also available.
Middle School
Language Arts
18. Essay Punch takes students through a series of exercises designed to help them learn how to write an essay, a crucial skill for all middle school students.
19. Scholastic News helps get upper elementary and middle school students interested in the news by providing them with news stories geared towards their interests and reading levels. This is a great site for finding informational texts for students as well.
20. VocabularySpellingCity gives students a place to practice their spelling and vocabulary words. While the free options on the site are limited, students and teachers can build vocabulary lists and take quizzes to help them learn the words.
21. Sheppard Software's language arts games help students brush up on their grammar and punctuation skills, as well as learn new vocabulary words and play fun word games.
Math
22. Aplusmath.com features flash cards, games and worksheets designed to help students brush up on their math skills. While the site covers elementary and middle school skills, the way its content is presented is better for middle school students.
23. AAA Math offers math lessons for students at multiple grade-levels. Teachers at the middle school level can find lessons and interactive activities on topics such as measurement, exponents and geometry.
24. CoolMath is not just for elementary students. Middle school students can also brush up on their basic math skills and practice basic algebra and geometry skills through these fun games and interactive lessons.
25. MathMovesU is full of activities, games, information and lesson plans designed to help get middle school students interested in math.
Science
26. Learner.org offers numerous interactives designed to help students understand complex scientific topics. While content is able for all grade-levels, some of most engaging interactives are geared toward students at the middle school level and cover topics such as DNA and divergent boundaries.
27. NASA Quest is focused on helping students learn to think critically and engaging them in scientific inquiry. Many of the activities found on this site are geared toward students in grade 5-9, making it an ideal resource to help students at the middle school level solve real-life scientific problems.
28. Physics Central offers a free comic book series called Spectra to help students learn about physics. The main character is a middle school student.
29. Exploratorium is a science museum that has filled its online site with websites, videos and other resources to help students learn more about science. Students can also view and interact with many of the museum's exhibits online.
Social Studies
30. Eyewitness to History provides teachers and students with lesson plans and media files designed to help them experience history. Students can access a wide variety of primary source materials to see history as it really was.
31. Teachable Moment helps take current events and use them to teach students valuable lessons. These lessons are especially beneficial in the middle school years when students are learning to think beyond themselves and develop their understanding of how they fit into the world around them.
32. Mr. Donn's Social Studies Site is full of lesson plans, quizzes, worksheets and other activities related to various countries, cultures and periods of history. Many of the resources are ideal for middle school students and their teachers.
33. Virtual Tourist helps students learn about geography by taking them on a behind-the-scenes tour of many different countries. This is not typical textbook information; instead, it is designed to help students actually see what a visit to these countries would actually be like.
High School
Language Arts
34. Grammar Bytes helps students brush up on their grammar skills by going through sets of interactive activities. Students are then rewarded with off-the-wall virtual prizes.
35. Project Gutenberg features thousands of public domain texts in the form of free eBooks. Teachers can find numerous fiction and non-fiction texts to use with high school students. Students can also find texts to use for book reports or to help them explore specific subject areas.
36. Purdue OWL is the online writing lab for Purdue University, but it also features a lot of information that can be helpful to high school students. This should be their go-to resource when writing papers, citing sources and learning how to avoid plagiarism.
37. A Word a Day provides students with a new vocabulary word each day. Teachers can use this site as an opening activity in the classroom or just to help students build their vocab skills. Archives of previously featured words are available as well.
Math
38. S.O.S. Mathematics offers over 2,000 pages of lessons and worksheets designed to help students improve their skills in high school math. Subjects covered include algebra, trigonometry, complex variables and matrix algebra.
39. Math Bits features tutorials related to high school math and computer programming. Students can also find information on how to operate graphing calculators.
40. Math Planet brings math to students through video lessons. Teachers can use these lessons in the classroom or students can watch them at home to help learn more about complicated math processes.
41. Analyzemath.com contains numerous free questions for math teachers to use in the classroom or students to use to brush up on their skills.
Science
42. PBS LearningMedia features a wealth of videos, audio files and lesson plans related to science. Students can see the scientific principles they are learning about in action. While an account is required to view most of the materials, creating an account is free.
43. ScienceGeek.net was designed by a high school science teacher to benefit his students. Students can find review sheets, worksheets and problems related to high school chemistry, A.P. Chemistry and biology.
44. NSTA: The Science Teacher allows high school science teachers free access to some of the articles from its magazine designed just for them. Some of these articles, such as those about careers in science, can be used with students in the classroom.
45. PhET offers a variety of interactive simulations to use with science students. Simulations are organized by topic and grade-level, making it easy for teachers to find simulations to use to help bring science to life for their students.
Social Studies
46. PowerPoint Palooza contains numerous PowerPoint presentations for teachers to bring directly into the classroom. Topics cover a wide range of history and include collections designed to be used in A.P. European History and A.P. American History courses.
47. Teach with Movies helps engage students, especially high-schoolers by helping teachers find movie clips that relate to core topics. Social studies is only one of the many subjects covered on this site.
48. Econedlink offers free economics lessons for students at all grade-levels, but a majority of the lessons are focused on students in grades 9-12. Many feature interactive handouts and quizzes to help test students' knowledge of economics.
49. Internet History Sourcebook is full of online texts for teachers to use in the classroom. These texts are geared toward major periods in history and ancient civilizations and get help students get a glimpse of history outside of the textbook.
50. Help Teaching offers a wide variety of free printable worksheets and activities that use unique map images.
Looking for more web-based teaching resources? Read Help Teaching's articles Ten Social Studies Web Resources and Free Interactive Web Resources for Teaching Science.