Currently Browsing
Posts Tagged ' teaching resources '

Looking to invigorate your science curriculum and teaching this year? Help Teaching's team of teachers understands the time and commitment it takes to prepare meaningful science classes and lab activities, not to mention stay up-to-date with the latest scientific advances. Updated for the 2018-2019 school year, we have gathered links to over 80 of our favorite resources to help support rookie and veteran science teachers and homeschooling parents alike.  This year we've added several new science sites and a new category for our favorite engineering sites. Happy Teaching!
QUICK LINKS:
Next Generation Science Standards
Whether or not your state has adopted the new science standards, they have been released and are the talk of the science teaching community.
Bozeman Science provides a free series of NGSS videos on each of the disciplinary core ideas. The videos give a clear overview of each standard as well as suggestions on how to teach the core ideas at the elementary, middle, and high school levels.
NGSS@NSTA provides current information about the implementation process and professional development opportunities, including free web seminars, to support science teachers looking to incorporate the standards into their curriculums.
NGSS is the primary resource for teachers looking to read and learn about the new science standards. Teachers may find the EQuIP Rubric overview page useful for identifying high-quality instructional materials that align to the standards.
The National Academies Press offers several NGSS-related publications useful for teachers, many of which can be downloaded for free after creating an account.
PBS LearningMedia NGSS links to a large collection of NGSS resources for professional development and classroom use.
Parent Q&A is a flyer designed to answer parent questions about the Next Generation Science Standards, but is also a nice overview for teachers and administrators.
The Concord Consortium features a unique tool that allows educators to navigate the NGSS by core idea, practice, and crosscutting concept and locate high-quality digital activities that support the standards.
Breaking Science News
Check these sources regularly to stay current with scientific research. Better yet, have your students read them as well!
Newsela website and app keep educators and students alike up-to-date with current events, including a large selection of STEM news stories at different reading comprehension levels. Registering for the free version of the platform allows teachers and students unlimited access to articles.
Scientific American maintains a section dedicated to education that includes activities, information on their program connecting teachers and scientists, tips on improving science literacy, and more.
Live Science will help keep you up to date with science headlines across disciplines.
BBC Science & Environment is the place to go for breaking science news. Whether you are a busy science teacher or student looking for the hottest topics in science, BBC has coverage for you.
Science Daily offers a compilation of breaking news articles for those interested in the latest research.
ScienceBlogs hosts posts from over sixty blogs, presenting a wide range of science news and viewpoints.
HuffPost Science will help keep you up to the minute with breaking science stories.
NewScientist shares topical new stories on all things science related.
Science Instruction
Like the scientific method, great science instruction takes systemic modifications. Read on for resources that will help invigorate your science teaching.
Good Thinking! The Science of Teaching Science by the Smithsonian Science Education Center houses a collection of must-watch videos for anyone who teaches science. These short, animated videos explore common student misconceptions on topics ranging from natural selection to chemical reactions.
NSTA Learning Center links science teachers with professional development resources by subject and grade. Be sure to peruse their collection of 4,000+ free articles, web seminars, podcasts, and modules available to support your professional growth.
What Works Clearinghouse reviews and summarizes education products and research to help educators make evidenced-based decisions when it comes to teaching.
SERC is working to improve STEM education by providing a rich assortment of professional development opportunities and resources for educators.
Understanding Science is a primer for teachers and students alike on what science is and how science really works.
BSCS Science Learning helps to transform science education by working with science educators worldwide to provide a variety of resources. They conduct research on improving science instruction, develop instructional materials, and offer professional development.
Help Teaching's library of printable science worksheets are ideal for practice and assessment. Our growing collection of self-paced science lessons for biology, chemistry, physics, and earth science are a great way to introduce topics and reinforce learning.
Science competitions and fairs can inspire students to pursue STEM careers while providing hands-on learning opportunities. Consider challenging your students to participate in a local science fair for one of these major science competitions: Young Scientist Challenge, ExploraVision, Regeneron STS, & Google Science Fair.
Science Activities
Science lends itself to hands-on activities that engage students in active learning. Save time and get inspired when preparing lessons this year by reading these links.
Science Friday partners with educators and scientists to create STEM activities, lessons, and resources for all learners. This site connects teachers with relevant, unique, and dynamic instructional materials, videos, stories, and more.
ScienceNetLinks brings together a large, searchable database of science lessons, interactive tools, news, and hands-on activities to support formal and informal science education.
Science Buddies is the place to look for science fair topics and activities. Not only does Science Buddies provide science fair project resources for students and teachers, but their growing collection of science activities are perfect for classroom and home use.
BIE maintains a library of science project-based learning units that encourage student inquiry and investigation.
Lawrence Hall of Science: 24/7 offers citizen science projects, hands-on activities, online games, and more for classroom and home exploration.
PBS LearningMedia has thousands of the best digital science teaching resources in an easily searchable platform by grade, subject, standard, and format.
Zooniverse brings together a collection of citizen-science, or people-powered, research projects where everyday people can contribute to real science.
Science Kids has a nice collection of experiments, science fair project ideas, games, videos, and images designed to get kids interested in science.
Annenberg Learner brings together a collection of science interactives that can readily support any science curriculum.
Virtual Microscope simulates the use of various types of microscopes for students through the examination of set image samples.
PhET Simulations supplement classroom learning with a large array of well-designed science interactives.
The Science Spot contains a vast library of information and resources pertaining to all areas in science, including forensic science and astronomy. This is an essential resource of middle school teachers and students as well as for high school teachers. This website also provides tips for implementing interactive science notebooks in the classroom.
Hook your students on science by sharing videos from Veritasium, Science360, SciShow, It's Okay to Be Smart, Untamed Science, and Help Teaching.
Collaborate and Explore
We teach our students that collaboration is an essential part of doing science. Practice what you teach with these links for connecting and sharing with teachers who have similar goals.
Teaching Channel is on a mission to create an environment where teachers can watch, share, and learn new techniques to help every student grow. Start by watching these science videos, then explore the entire site for more teaching inspiration.
Skype in the Classroom helps teachers connect with other educators and experts in their fields. Use Skype to bring your students on virtual field trips, interact with a virtual guest speaker, and collaborate with another class from across the country or around the world.
STEM on Google+, and STEM Educators are Google+ groups offering vibrant online communities of science teachers sharing resources and best practices.
Professional Learning Communities allow teachers to connect with others in their schools, districts, and communities who are dedicated to science education.
Google Educator Groups bring educators together, both online and offline, to share ideas on web-enabled learning.
AP Teacher Community connects and supports those instructing AP courses.
Astronomy
Don't miss out on the latest discoveries about the universe with these links.
NASA Education for educators opens a universe of information about space science through lessons, videos, professional development, and more. Get started by browsing astronomy teaching resources in NASA Wavelength.
Google Sky does for the view of space what Google Earth does for the view of your neighborhood.
Air and Space Live webcasts from the Smithsonian National Air and Space Museum brings a world and beyond of learning opportunities for anyone interested in astronomy.
If the Moon Were Only 1 Pixel dubs itself, "a tediously accurate scale model of the solar system," but don't be misled by the tagline. This interactive is beautiful in its simplicity and will engage your students on this virtual journey through our solar system.
National Optical Astronomy Observatory offers numerous space-based resources, programs, and resources for education purposes.
Biology
From life science to AP biology, helping students develop an understanding of the nature of life is essential for science literacy.
BioEd Online from Baylor College of Medicine offers science teachers resources that include lessons, videos, classroom slides, and a full library of magazines and storybooks for use with K-12 students as well as professional development courses for teachers.
BioInteractive by the Howard Hughes Medical Institute is a free collection of virtual labs, films, animations, apps, and more that are ideal for biology education.
Encyclopedia of Life offers an extensive collection of free resources on just about any organism.
The Biology Corner offers a wealth of teaching resources for biology teachers, including classroom presentations and lab handouts.
Ask a Biologist not only allows K-12 students to submit questions for biologists to answer, but also offers a wealth of biology-related articles, activities, games, and more.
Solve the Outbreak is a free app by the CDC that challenges students to solve epidemiology mysteries. It's fun, really!
Cells Alive brings microbiology to life through amazing photos, interactives, and videos.
BEN: BioSciEdNet managed by the American Association for the Advancement of Science, helps teachers to engage their students with animations and lab activities.
Biology4Kids offers clear explanations of many topics for elementary and middle school reading levels or for teachers searching for material covering the basics, from scientific study to cell biology.
American Physiological Society supports education through student activities and curricula, education projects that link teachers and physiologists, and teacher learning resources.
Chemistry
Teaching the central science takes knowledge, skill, and a bit of wow factor. Use these links to help make your class preparations a little easier.
American Chemical Society's education page is the place to find materials for teaching chemistry, professional development opportunities, and reports on chemistry education.
ScienceGeek.Net is chemistry teacher Andy Allan's personal website where he shares his collection of presentations, labs, and more.
Evan's Chemistry Corner provides worksheets, transparencies, and lab activities for Regents Chemistry in New York State, but these resources can be used in any high school chemistry classroom.
Kent Chemistry contains instructional pages covering topics in chemistry, along with accompanying videos, practice questions, worksheets, and lab activities. Both high school-level and AP chemistry are covered.
Illustrated Glossary of Organic Chemistry catalogs 1,500+ terms and is an essential resource for any organic chemistry course.
Periodic Videos from the University of Nottingham features videos and experiments on each element. Check out their 500 videos on YouTube as well.
Crash Course Chemistry contains a playlist of YouTube videos covering various topics in chemistry in a short amount of time.
Chemmy Bear contains a multitude of resources for AP chemistry, from handouts and activities to study cards and practice tests. This site is especially helpful for newer AP chemistry teachers and for teachers of honors chemistry courses.
Seasonal science "holidays" offer fun and engaging ways to incorporate STEM activities into your classroom. Celebrate science this year with these theme days and weeks:
World Space Week Stellar Activities October 4 – 10, 2018
Earth Science Week Fun Daily Activities October 14 – 20, 2018
National Chemistry Week – Chemistry & Forensics October 21 – 27, 2018
America Recycles Day Activity Guide November 15, 2018
Earth Day Activities for Kids April 22, 2019
World Oceans Day Activities June 8, 2019
Earth Science
Developing student understanding of the earth's structures and processes helps nurture an appreciation of the natural world.
EarthLabs supplies rigorous units on earth and environmental topics that focus on hands-on laboratory activities and data analysis. Each unit provides all the information, resources, and lessons necessary to elevate earth science and environmental lab instruction to the next level.
NOAA brings together a wonderful collection of resources about the oceans and atmosphere.
USGS Education compiles a wide variety of videos, maps, images, and interactives ideal for use in the earth science classroom.
ClimateChangeLIVE engages students with two electronic field trips for the classroom as well as supplemental materials and support for teachers.
COSEE is dedicated to helping build collaborations between students, teachers, and scientists interested in ocean studies.
Physics
Physics is daunting for many students. Great physics teachers actively engage students with the study of the interactions between energy and matter.
The Physics Classroom supplements physics instruction with tutorials, animations, teacher toolkits, and lab activities.
The Physics Front is an extensive collection of materials, including online tools and lesson plans for K-12 physics and physical science instruction.
PhysicsCentral shares everything from articles to posters to home projects to support those educating physics students at all levels.
APlusPhysics contains helpful video tutorials and webpages for students to learn from, covering topics ranging from high school physics to AP physics. The site also contains worksheets for teachers to print and distribute to students as well as activities that teachers can implement.
Burrows Physics' playlist contains a multitude of videos covering various higher-level physics topics. These are helpful in providing instruction to students outside of the classroom.
Practical Physics offers a wide array of experiments that enable students to get hands-on experience with concepts in physics, enriching students' understanding and refining students' ability to visualize the forces and science at play in the real world.
ComPADRE is a digital library of teaching resources for physics and astronomy educators.
American Association of Physics Teachers will keep you posted on conferences, projects, and competitions as well as just about everything you need to stay up to date with teaching physics.
Engineering Practices & Design
Today's science students must understand engineering practices and design solutions to help them prepare for everyday life and career paths. Enrich your STEM curriculum with these engineering resources.
TeachEngineering is a website that guides teachers in nurturing students' abilities to create innovations to challenges in any subject. Some activities include how-to videos on YouTube.
NASA Engineering Design Process aids teachers in helping students to understand that engineers must imagine and plan before they begin to build and experiment in a variety of challenges for K-2, 3-5, and 6-8. The site also provides plenty of guidance for supporting students in the engineering design process.
Science Buddies offers educators an exhaustive description of the engineering method with a side-by-side comparison against the scientific method.
TryEngineering has 100+ engineering lesson plans for teachers. Students interested in pursuing engineering careers will find the university and careers portals useful.
EngineerGirl by the National Academy of Engineering offers a wealth of information on engineering professions for girls and women.
Although this list is by no means comprehensive, we hope it will inspire and energize your science teaching and classroom this year. Be sure to visit HelpTeaching.com and utilize our growing library of K-12 science worksheets, lessons, and questions!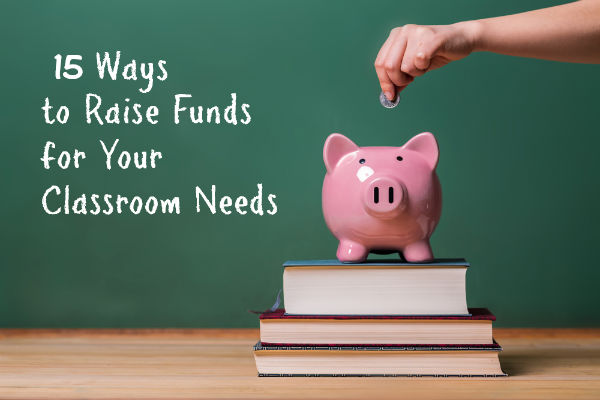 Teachers truly are miracle workers. Not only do they work hard to turn around struggling students and help exceptional students succeed, but they often do it with a limited budget and a lack of quality materials. That's why sites like Pinterest are full of ideas for turning household goods and recyclables into fun classroom projects. Sometimes, however, teachers need more than recycled goods. That's when money – and a bit of goodwill – comes into play. If you desperately need funding for your classroom, we're here to help with a list of websites and other resources to provide the money you need.
Note: Before posting any fundraisers for your classroom, check your school or district guidelines. Some districts require that teachers receive approval from administration or the board before fundraising.
DonorsChoose.org
DonorsChoose.org gives teachers the opportunity to post their classroom needs and allows others to contribute to those needs. Friends, family, and community members who know about the project can contribute, but the project will also be visible to a wealth of donors who regularly work with the site to help fund classroom projects. While teachers can request virtually anything, projects with lower costs, longer deadlines, and clear academic goals have the highest funding rates. Once teachers receive the materials from DonorsChoose, they must fill out a documentation and thank you package to send to donors. Successfully completing the documentation earns teachers more points to submit new project requests.
TeacherLists.com
TeacherLists.com gives teachers a place to post their classroom supply lists so parents can easily access them. While the goal of the site is just to share school supply lists, teachers can also create lists for other reasons, giving parents and other school supporters gift ideas for Christmas or Teacher Appreciation Week. Teachers can also win free supplies by referring other teachers to the site. For example, getting one new teacher to sign up earns teachers a selection of Wet Ones hand sanitizing wipes.
Classwish
Classwish offers multiple ways for teachers to get resources for their classrooms. At the basic level, teachers create wish lists and share those lists with potential donors to help get the items and the funds they need. The site also helps schools partner with local businesses to create workplace giving or matching gift programs. Parents, friends, and others can also send greeting card gift certificates to help meet their classroom needs.
Adopt-A-Classroom
Through Adopt-a-Classroom teachers can get their classroom needs in the hands of donors who want to help meet those needs. Similar to DonorsChoose, teachers post their latest projects and other classroom needs to their Adopt-A-Classroom profile. They can then share those needs through social media or promote their page within the community to get people to donate. Donors who regularly visit the site can also search for different teachers' needs and donate.
DigitalWish
With DigitalWish teachers can ask for donations to help bring technology into the classroom. While teachers may not receive new computers or high-end equipment, they can receive cool software and smaller digital items, such as handheld video cameras, to help bring their classrooms into the 21st century. The site also regularly offers grants to help teachers get specific products and works with companies to provide deep discounts for teachers.
Chalkfly
When people buy office supplies through Chalkfly, a percentage of their purchase is given to a teacher of their choice in the form of Chalkfly cash. This cash allows teachers to use Chalkfly to purchase supplies for their classrooms. So teachers can work with local businesses, parents, family, and friends to have them purchase some of their basic office supplies from Chalkfly to help them earn money for their classrooms. Teachers can also earn money back from their own purchases.
PledgeCents
Jumping on the crowdfunding bandwagon, PledgeCents helps teachers use the power of crowdfunding to fund their classroom needs. After setting up a project, teachers share it through social media sites and encourage others to share it as well. As the project starts to go viral, more and more people can donate to it, helping teachers reach their goals a few dollars at a time. Since the goal of PledgeCents is to get others involved, teachers should not be shy about asking for donations and should work hard to present a compelling case to get their needs met.
Freecycle
While Freecycle might not help you meet specific classroom needs, it could help you find free resources for your classroom. On Freecycle, people give away things for free. By connecting with a local group, you could find free classroom furniture, boxes and other random objects for craft projects, or even request specific items for a classroom project. Getting some items for free could help free up money in the budget for other classroom supplies.
TeachersPayTeachers
One way to get extra funds for the classroom is just to make extra money. TeachersPayTeachers allows teachers to sell lesson plans, worksheets, and other educational materials. By adding and promoting their materials, teachers can make a little extra cash to use in the classroom. They'll also find free lesson plans, worksheets, and other resources to use with their students.
DoSomething.org
While teachers can't start campaigns on DoSomething.org, their students can.  Designed to help teens and young adults fund their causes, teachers can help students get started using DoSomething.org. Through the site, students can find funding and support for school fundraisers, community service projects, and other ideas designed to help others and make the world a better place. If students don't have their own cause, teachers can help them find an existing cause to support. This works great for character education classes and school clubs.
Amazon Lists
If you have an Amazon account, you can set up a wish list full of items you need in your classroom through Amazon Lists. Share the link with parents, friends, or even total strangers and ask them to purchase something from your list. Items purchased from your list can be shipped directly to you at the address you select. The address will be hidden from senders so safety is not an issue.
GoFundMe Education
GoFundMe allows teachers to post fundraisers for their classrooms on its cloud-funding platform. The site includes categories for teachers, teams and clubs, and students and parents.
SimpleFund
SimpleFund gives parents and students a chance to raise funds for schools by using their cell phones. They earn funds by reading articles, watching videos, and downloading apps.
Class Tag
Class Tag helps you raise money as you communicate with parents. Every time you engage with parents, you earn coins within the program. Those coins can be redeemed for classroom supplies.
Shoparoo
Shoparoo uses grocery receipts to help schools earn money. Parents simply download the app and upload their receipts every time they shop. Then the school earns money.
What other websites, resources, or methods have you used to help fund your classroom needs?
Since 2013, Help Teaching has brought you our Top 100 Free Education Sites. We're continually updating our list to provide you with the best resources. Not only can you find the top free sites for teaching math, science, English, and social studies, but we've also added some of our favorite computer science and coding sites, language sites, and this year we've also added our favorite homeschooling sites.
No time to go through the whole list? Just use "Quick Links" section to jump straight to the section that interests you and bookmark this article for a reference later.
QUICK LINKS:
10 Awesome Education Sites
Whatever the grade-level or subject area, these websites have something to offer. From high-quality lesson plans to entertaining games and educational videos, they represent some of the best educational websites in existence.
Code.org has gained recognition with its Hour of Code initiative. The website offers free, easy lessons to help kids learn some of the basics of coding. The lessons also help teach critical thinking and problem-solving skills.
Google is something most teachers know about, but many haven't taken the time to explore all of their awesome free resources for education. There are some fun activities too, such as Build with Chrome where kids can build with LEGO-style blocks online.
FunBrain helps students learn through fun games related to math and reading. They'll also find books and other entertaining resources.
Scholastic has developed a reputation for its high-quality educational books and materials and its website does not disappoint, offering lesson plans, interactive activities, and articles designed to help teachers and parents.
Gooru helps students take control of their own learning by providing them with information about how they learn best.
Edutopia focuses on helping educators grow. From articles and blogs from those working in the field to informational videos and classroom guides, educators in all areas of education will stay on top of the latest trends and find tips to help them improve.
DIY.org encourages kids to learn new skills. Teachers and parents can challenge them to set goals and complete tasks on the site.
Edudemic helps teachers with technology. Both technology experts and those just getting started will find plenty of tips and resources on this site.
Teachers Pay Teachers isn't technically a free site since teachers sell materials. However, there are plenty of free downloads on the site. You may find hte perfect free worksheet, lesson lan, or classroom time-filler.
Ted-Ed goes beyond traditional Ted Talks by offering lessons to accompany many of those videos. In addition, you'll find animated videos and resources for elementary,middle, and high school students too.
Coding
Every day, in classrooms around the world, kids are learning how to code. Coding is a valuable skill that helps teach kids to think logically and develop the critical thinking and reasoning skills they need for our increasingly technological world. These resources offer free coding activities for kids.

Code.org is home to the Hour of Code. In just an hour, kids can complete a fun coding game. There are many games to choose from, including those that feature popular characters kids love.
Tynker offers its own free Hour of Code activities and games for kids to enjoy.
CodeCombat is an online, multiplayer game that requires kids to write code to play.
Kodu Game Lab is a visual programming tool that kids can download to create games of their own.
CS Unplugged teaches the principles of coding, but not in the traditional way. The site offers a large selection of offline activities designed to help kids develop these critical thinking skills.
Reading
Find games and activities for early readers, as well as texts for advanced readers, in this collection of high-quality reading websites. In addition to these sites, Help Teaching offers a large collection of public domain and original reading passages organized by grade-level, word count, and Lexile level.
CommonLit contains a wealth of free fiction and non-fiction texts for use in the classroom. Texts are organized by grade-level and theme.

Media Literacy Clearinghouse introduces students to a new type of literacy – media literacy. With all of the new technology and messages appearing every day, it's important for kids to be media literate.
Awesome Stories uses non-traditional reading materials, such as biographies and primary source texts, to get students learning through reading. Students can use the site to help with research and teachers can use the texts as part of lesson plans. Creating an account allows users to access audio versions of many of the titles as well, making it an ideal site for auditory learners and those with learning disabilities.
ReadWriteThink gets students to participate in critical thinking and reading activities through its lesson plans and interactive student resources.
Book Adventure is a free online reading program that provides students with incentives for reading.
Bookopolis is essentially a GoodReads for kids. The site allows students to read reviews written by their peers and helps them find the perfect book.
Writing
Whether students need an outlet for their creative writing or want to brush up on their grammar skills, one of these resources will get the job done.

ToonDoo gives kids a place to create their own cartoons and store them online. It features tons of clipart and other artistic effects to make the comics visually appealing.
Voki features animated characters that students can customize and manipulate to speak their words. It's a great tool to help with creative thinking, writing, and storytelling.
Grammar Bytes tests students' knowledge of grammar through simple multiple-choice activities and rewards them with cheesy virtual prizes.
Purdue OWL is an online writing lab from Purdue University that provides students, particularly those in high school and college, with everything they need to know about writing a paper, including grammar advice and paper formatting guides.
Social Studies
Teachers can find primary source documents and high-quality lesson plans, as well as discover ways to connect students to history, geography, government, and other areas of social studies online.

Chronas is a new history resource that seeks to give students a better understanding of history. It organizes Wikipedia information visually and chronologically to create a unique digital textbook.
GeoGuessr tests kids' geography skills. Using images from Google's Street View, it plops players down in the middle of the street and asks them to figure out where they are.
National Archives: DocsTeach allows teachers to incorporate primary source documents and other historical texts into a variety of critical thinking and thought-mapping activities. Pre-made activities are also provided. Students can complete the activities online or through the DocsTeach app available for the iPad.
iCivics offers high-quality and engaging games for students to play while they learn about civics. Lesson plans help teachers incorporate the games in the classroom.
Sutori gives students the chance to create free interactive timelines and engage in collaborative learning.
What Was There? allows students to type in any city, state, or country to view an archive of historical photographs and other documents. It's a unique way to help them learn about history.
Math
Not all websites focus on elementary math skills. While many of these games do work well for elementary-age students, they also offer games and lesson plans for students tackling subjects such as algebra, geometry, and calculus.

Math is Fun is full of math resources for kids and teachers. It also includes an illustrated dictionary of math terms to help students understand difficult concepts.
Numberphile features short videos about numbers. They help kids explore complex math topics and make math more fun.
Math Games offers a large collection of math games and questions organized by grade-level and skill. It also includes a progress-tracking feature so teachers and parents can see what kids know.
AAA Math features online interactive math lessons for students in kindergarten through 8th grade.
Yummy Math connects math with the real world through timely news stories and other reading passages.
Math Forum offers online professional development opportunities and other resources to help math teachers improve their skills.

Science
Help students understand science with this collection of videos, games, experiments, and creative science activities.

PhET features many engaging simulations to help kids learn difficult concepts in science and math.
Wonderopolis shows kids a wonder of the day, and then gives them a chance to test their knowledge or join in on a discussion related to that wonder. Kids will be surprised by all of the cool facts that they learn and they may spark some interesting discussions in the classroom.
Molecular Workbench contains hundreds of simulations, curriculum models, and assessments designed to improve the teaching of science.
Science Made Simple gives kids science experiment ideas and other science project topics. It also offers help when preparing for a science fair.
The Science Spot offers lesson plans, activities, and student examples from one teacher's science classroom, as well as daily science trivia challenges and daily science starters.

BioDigital is a human visualization platform that allows students to explore the human body in really cool ways.
For even more science-specific resources, check out the Ultimate Guide to Teaching Science.
Art
Art museums around the world have made it their mission to teach students about art. These websites introduce students to art theory, let them explore classic works of art, and even give them the chance to create art of their own.

Artsonia bills itself as the world's largest kids art museum. All of the artwork has been created by kids and, while the site is free, parents can also purchase products featuring their kids' artwork.
Artsology helps kids learn to appreciate the arts by providing them with the opportunity to play games, conduct investigations, and explore different forms of art.
NGAKids Art Zone allows kids to explore popular art movements, themes, and artists and offers guides to help teachers as well.
Tate Kids gives kids a chance to explore famous works of art, play art-related games, and even create their own works of art to add to their online gallery.
Music
Encourage kids to think beyond One Direction and their other favorite artists and experience new types of music. Kids can learn about the symphony and classical music or even build their own musical skills by learning through ear training or playing instruments online.

Andrew & Polly is an indie children's music duo that has created a podcast called Ear Snacks designed to help kids learn through music, sound, and unique experiences.
Classics for Kids regularly highlights famous composers and provides teachers with activities to use in the classroom.
KIDiddles has lyrics and audio files for over 2,000 kids songs for music teachers, or any teachers, to use in their classrooms.
Good Ear may not look like an awesome site, but it contains a lot in its simple design. This website provides virtual ear training to help serious student musicians learn to recognize the differences between notes.
Virtual Musical Instruments lets kids play instruments online. Instruments include the guitar, piano, pan flute, drums, and bongos.
Health and Safety
Health and safety are important to kids. Whether kids want to know more about keeping their bodies healthy or staying safe online, these websites have them covered.

KidsHealth is the top website for kids to learn about their bodies and their health. It features easy-to-read articles and kid-friendly graphics to help kids learn about a whole host of topics related to health and safety.
CDC BAM! focuses on teaching kids about their bodies. BAM stands for body and mind and all of the resources on the site help kids learn more about their bodies and keeping their minds sharp.
NetSmartzKidz and its sister site, Netsmartz, promotes online safety. Kids and adults can learn all about staying safe online and avoiding dangers such as cyber bullying.
StopBullying.gov helps prevent bullying in all forms by providing teachers, parents, and students with resources to educate them about bullying and let them know what to do when bullying occurs.
PE Central is a physical education teacher's ultimate resource. It includes lesson plans, assessment ideas, and other resources.
Early Education
Don't forget about your younger learners too. Many websites, including our own Early Education collection, offer games and activities designed to help toddlers and preschoolers build their basic skills.

Preschool Express is full of crafts, activities, bulletin board designs, and finger plays for early education teachers and parents to use with kids.
Starfall promotes beginning reading and number skills with fun stories and activities.
Funbrain Jr. brings the fun and quality of Funbrain to a younger audience with its early learning games.
Songs for Teaching offers a large selection of fun songs to help teach preschool students.
Super Simple Learning's resource section includes free flashcards, coloring pages, worksheets, and other resources for children, teachers, and parents.
Educational Games
Kids love to play games online. Why not encourage the practice by introducing them to some fun educational games websites? They'll have fun and you'll know they're learning.


Arcademic Skill Builders offers a series of racing games for kids focused on math and ELA skills. Best of all, many of the games are multiplayer so kids can create rooms and play against their friends.
Quizalize lets teachers turn content into fun quiz games for students. It's free to create quizzes, but teachers can also buy inexpensive quizzes from other teachers in the marketplace.
Cool Math Games is the ultimate site for kids who want to play math-oriented games. These arcade-style games are a lot of fun and many accompany the lessons found on the site.
Primary Games has a lot of educational games for kids to play mixed in with some "just for fun" games too. All of the games are kid-friendly.
Games for Change gets kids thinking about problem-solving and social issues by providing them with unique games to play. Many of the games help kids solve world problems or introduce them to social issues.
Educational News
It's important to keep up with the news. These websites cover the latest education news and also provide kid-friendly news sites to use with students.


Education World's main page highlights the latest news in the world of education, including interesting research and controversy.
Education Week publishes a weekly newspaper all about education. Its website highlights many of those stories so you can access them for free.
Smithsonian TweenTribune features unique news stories for kids. Stories are organized by Lexile level and cover topics related to kids' interests.
Time for Kids gives students and teachers access to many of the articles from Time for Kids magazine, even if they don't subscribe. Stories focuses on world news stories and pop culture.
DOGO News promotes "fodder for young minds" by sharing unique news stories, including stories of people doing good around the world.
Educating Yourself
With the introduction of open courseware and TED talks, educating yourself online has never been easier. Find access to actual college courses and learn what you want to know from the experts in the field. At HelpTeaching, we have launched our own line of online K-12 lessons that students can use for self-directed learning.


TED features videos and other resources from some of the world's greatest leaders, innovators, and thinkers. If you want to learn more about a particular field, chances are there's an expert talking about it.
Khan Academy offers free online courses in a wide variety of subjects. It offers the most content in math, but also has courses in science, economics, test prep, and more.
Open Education Consortium allows you to search for open courses around the world. It also provides news on the open courseware movement.
MIT OpenCourseWare gives you access to courses from one of the nation's most prestigious colleges.
Coursera helps you find and sign up to take free online courses from some of the world's top universities and other experts.
Youtube has been around for a long time, but that only supports its awesomeness. You'll find a lot of video tutorials on everything from fixing a car to learning how to beat a difficult level on Angry Birds. Don't forget to check out Help Teaching's YouTube channel with online lessons too.
For more resources, don't forget to check out the Ultimate Guide to Self-Learning for Kids and the Ultimate Guide to Self-Learning for Teens and Adults.
Homework Help and Study Skills
For general homework questions and help studying for that big test, students should check out this collection of websites. Teachers will also find study skills lessons to go over with students in class.

BJ Pinchbeck's Homework Helper features information, resources, and links designed to help students with their homework, as well as resources for parents and teachers.
HomeworkSpot provides students with links, resources, games, and reference materials to help them build their skills and complete their homework.
Fact Monster Homework Center connects kids with reference materials and tools to help them successfully complete their homework.
Shmoop offers homework help, literature guides, and a ton of other resources for students. The site's writers incorporate a lot of humor in their writing too, making the site incredibly entertaining.
Howtostudy.org features articles on different study skills and test-taking strategies. There's even a subject-based "How to Write" section to help students learn how to write all kinds of informational texts.
Don't forget Help Teaching's Study Skills and Strategies worksheets either!
Lesson Planning
Lesson planning can be time consuming, but with high-quality pre-created lesson plans, lesson plan templates, and a place to store their lesson plans, teachers can simplify the process.

The Differentiator provides teachers with lesson plan ideas to help them incorporate higher-order thinking skills, change up the products students create, and add to the resources they use. This helps ensure teachers aren't presenting the same lessons all the time and that they reach students in many different ways.
Buck Institute for Education (BIE) helps teachers learn more about project-based learning. It also offers a collection of PBL activities for teachers to use in the classroom.
Makerspaces.com provides teachers with tips, tricks, and resources to create a Makerspace in their schools.
ShareMyLesson offers lesson plans and other resources shared by teachers, educators, and educational companies around the world.
Classroom Management
If teachers want students to learn, they must have good classroom management. These resources help keep students in control and encourage behavior that promotes learning.

ClassDojo is a classroom management system that allows teachers to set goals for students, track their progress, and reward them for that progress. Parents can also access reports to see how their children are doing.
Remind gives teachers a free, easy, and safe way to share important information with parents and students via text message. All phone numbers are kept private and parents must opt-in to receive messages.
BouncyBalls is an online game where the noise level makes the balls bounce. The more balls bouncing, the noisier the classroom is, reminding students to quiet down and focus on their work.
NEA Classroom Management offers a classroom management survival guide, as well as articles and resources to help with specific areas of classroom management.
Super Teachers Tools contains free resources such as seating chart makers and countdown timers that can help teachers implement solid classroom management strategies.
Language
Whether students are looking to learn a foreign language or improve their English language skills, these sites are designed to help.

Internet Polyglot offers free videos, games, and other resources to help language learners memorize words in a new language. It also offers over 4,000 vocabulary lessons.
Busy Teacher features thousands of articles, worksheets, slideshow presentations, and other resources designed to help English language learners and teachers. All resources are available to view and download for free.
Google Translate is a free translation service provided by Google. You can translate a few words at a time or a whole document. While not 100% accurate, it can be a good place for language learners to start.
Open Culture contains a collection of the best free language learning courses and resources online.
Homeschool
Homeschool curriculum can be expensive. Thankfully, there are plenty of free resources out there to help offset the cost. You'll also find lots of tips, tricks, and other resources to help make your hoeschooling journey successful.

Homeschool.com bills itself as the #1 resource for homeschooling and with good reason. The website is full or articles about homeschooling, local homeschooler groups and even free curriculum and homeschool mom planner.
Beestar offers online elementary math and reading exercises. With a free account, kids can access a set number of free worksheets a day. There are also competitions kids can enter for a small fee.
Brainly gives students a place to ask questions and get answers. Think of it as a moderated Reddit or Yahoo! Answers for kids and teens. Most of the content on the site is free, although some verified answers require a subscription.
CK-12 is a platform that offers free online textbooks and resources for students and teachers. Why pay for curriculum when you can get free, customized resources online?
Hillsdale College provides free online courses to help people learn more about the principles of American democracy and study some of the authors and artists who were part of America's foundation.
Did you favorite sites make the list? If not, share them in the comments. Maybe they'll make 2019's list of the 100 Best Free Education Sites. Remember to check out Help Teaching for all of your worksheet and printable needs too.

Most students are required to take advanced math courses at the secondary level, but those courses often fail to teach the basics of personal finance. With credit card use and student loan debt at an all-time high, it's important that students are aware of how to manage their money.
Budgeting
Help teens create their own budget and hold them accountable for the purchases they make.
Being able to budget is an essential skill. Whether you are managing time, responsibilities, or money, exceeding your available resources will lead to difficulties rather quickly. Help Teaching's Budgeting Activity leads students on a brief tour of Peter's life as he tries to reign in his spending in the face of increasing expenses. This worksheet can be used to teach simple finance, the more advanced concept of scarcity, or as a metaphor for key life skills.
Along with the budgeting worksheet, help teens create their own budgets and hold them accountable for the purchases they make. They may not have to provide for their basic needs, but they can budget for music, apps, clothes, fast food, and other entertainment expenses.
Apps such as SmartyPig or iAllowance may also be useful tools when it comes to helping kids learn to budget and handle their money more effectively.
Credit Cards
Teens are being targeted by credit card companies much more frequently than in the past. Being able to understand the impact credit debt can have and the proper way to take advantage of credit are essential skills for any young adult.
It's important that students understand how to build a good credit history. Use the Narrative Procedure organizer to list and explain the 3 C's of credit. Use the Cause and Effect chart to display how bad credit decisions can have effect on your life years afterwards.
One engaging way to teach the different uses of credit cards is to compare and contrast different credit cards with a Venn Diagram. Have your students choose one cash back credit card and a card that accumulates miles for travel to see that cards can be beneficial if used properly.
Thirteen.org's It Costs What?! game and iGrad's Credit Card Simulator are great ways to run students through credit card simulators where they must choose the best credit card and learn about using credit cards responsibly at the same time. While Frontline's series of episodes, The Card Game, introduces students to the credit card industry and make the dangers of credit cards clear.
Long Term, High Principal Borrowing
Everyone will need to borrow money at some point in their life, some as early as 17 when they are responsible for student loans to secure tuition for college. Understanding interest rates, payment schedules, terms, and balloon payments are very important to making prompt and reliable payments and not owing more than you can afford. Many websites offer loan calculators to see how much that loan will really cost you.
SaveAndInvest.org offers its own selection of videos and worksheets designed to help teens understand borrowing and the cost of debt.
Investment Options
There are so many ways to grow your money, but many students are unaware of their options. Kids receive saving bonds or use a passbook saving account when they are young, but as they become adults those are not the only viable investment options. Help Teaching has an activity that will start them on the road to identifying investment options that will lead into a deeper research project.
Students can head to TheMint.org, too, to help them learn more about how to start building financial security today. This includes making investments and learning how to manage their money so it can work for them in the future.
Retirement
Students are rarely aware of the tenuous nature of Social Security. They know even less about pensions, IRAs, and 401(k)s. Beginning to save for retirement immediately upon finding a job is extremely important, but that urgency is unknown to teens. A simple but effective KWL chart can be a good introduction to retirement savings. Filling in the gaps of their knowledge can save them a lot of trouble forty years in the future.
Of course, it's never too early for students to start saving for retirement either. Dave Ramsey's article on How Teens Can Become Millionaires may help motivate students to seriously start thinking about how money connects to their future.
For more great suggestions on personal finance and other essential skills students need, check out 9 Life Skills Every Teens Needs. So many of us come out of high school barely able to write a check. Going through these concepts in personal finance can put a young adult on a much less tenuous road to financial stability.

Whether it's reading poems written by some of the greatest poets of all time or writing poems of their own, students spend a fair amount of time studying poetry in the ELA classroom. While the figurative language and eloquent verses found in poems may seem best-suited for ELA, their relevance extends across the curriculum. From science and math to social studies and foreign language courses, poetry can become an integral part of student learning outside of the ELA classroom.
Reading Poetry
Believe it or not, not all poetry centers around love and deep philosophical concepts. A lot of poetry has been written to explain the world around us, including mathematical and scientific concepts. Consider these lines by a famous poet:
This is now–this was erst,
Proposition the first–and Problem the first.
On a given finite Line
Which must no way incline;
To describe an equi–
–lateral Tri–
–A, N, G, L, E.
– From "A Mathematical Problem" by Samuel Taylor Coleridge
Throughout history, well-known poets have shared their thoughts about the world. Poetry has also been used to chronicle and commemorate many historic events. For example, many students can recite lines from "Paul Revere's Ride" by Henry Wadsworth Longfellow when asked to recall that infamous night during the American Revolution. Other references are more subtle. For example, these lines from the poem "O Captain! My Captain" by Walt Whitman were written about the death of Abraham Lincoln:
O Captain! my Captain! our fearful trip is done,
The ship has weather'd every rack, the prize we sought is won,
The port is near, the bells I hear, the people all exulting,
While follow eyes the steady keel, the vessel grim and daring;
But O heart! heart! heart!
O the bleeding drops of red,
Where on the deck the Captain lies,
Fallen cold and dead.
To find poetry to fit a specific time in history or concept in math or science, simply perform a quick internet search for poems in your subject area and you'll come up with numerous examples. You may also check out books of poetry created to help students learn about science, math, and social studies.
Some of our favorite resources include:
Math
Science
Social Studies
Writing Poetry
Writing poetry can be a way to assess students' understanding of particular concepts, It also helps teachers  incorporate creative thinking skills into the math, science, and social studies classrooms. Students may write poems about particular concepts, people, or events related to the subject area.
Three forms of poetry that work particularly well outside of the ELA classroom are:
Found poetry
Concrete poetry
List poetry
Found Poetry
Found Poetry involves taking lines from other sources and turning them into poetry. For example, students may turn words from the Declaration of Independence into a poem:
Life
Liberty
The Pursuit of Happiness
Truth.
All men are created equal
Truth.
Evils are sufferable.
Dissolve them.
Abolish them.
United.
Or students may take information from an article about space exploration and turn them into a poem:
What's next?
Stepped on the moon.
Sent rover to Mars.
What's next?
Retrieved pictures from Hubble Space Telescope.
Spent a year on the International Space Station.
What's next?
We have laid the foundation for success.
Going farther into the solar system than ever before.
What's next?
Concrete Poetry
Concrete poetry, also known as shape poetry, involves taking a poem and placing it into the shape of an object. Students may create poems to represent mathematical equations, specific shapes, or different areas of science. For example, a poem about photosynthesis may be written in the shape of the sun. The shape of the poem helps add additional meaning and ensure the content sticks in a student's memory.
Consider this poem about a triangle:
3
sides
three angles
sometimes equilateral
sometimes isosceles or right
List Poetry
List poetry is simply poetry created out of a list. The list doesn't just list items randomly. Instead, it's a carefully thought out poem, often containing repetition, to cover a topic. A student may write a list poem about a particular concept, a person, or even an event in science or history.
For example, the following list poem might have been written during a unit on the Civil Rights Movement:
Martyrs for the Cause
George Lee
Emmett Till
Medgar Evers
Addie Mae Collins
Denise McNair
Carole Robertson
Cynthia Wesley
Jimmie Lee Jackson
Dr. Martin Luther King Jr.
Paying Attention to the Words
Poetry is about more than rhyming a few words on the page. As you read poetry with students or have students write poems of their own, encourage them to pay attention to the words on the page. The figurative language, diction (word choice), and even the placement of the words on the page can help add deeper meaning to poems and encourage students to think critically and creatively about the content being taught.