Currently Browsing
Posts Tagged ' parent resources '
6 April //
Posted in How To //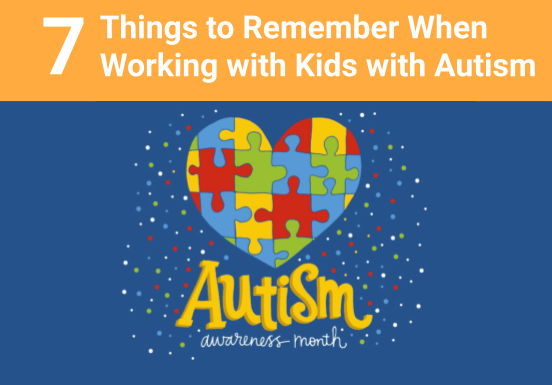 April is Autism Awareness Month, a time dedicated to raising awareness about autism within the community. Learn more about working with kids with autism.
As autism rates have risen over the years, so has awareness. However, as parents of children with autism know, a lot of myths and misunderstandings still exist. Whether you're a teacher, a principal, or someone who works in another capacity in the schools, it's important that you avoid the myths and develop an accurate understanding of what autism is and what it looks like to work with kids with autism.
1. Autism is a Spectrum
Perhaps one of the most challenging aspects of autism is that kids with autism are on a spectrum. There's a world of difference between kids with high-functioning autism versus low-functioning autism. Before assuming anything about a child with autism, learn where they are on the spectrum and what particular aspects of autism they demonstrate the most.
Are they socially awkward?
Do they have trouble understanding non-literal language?
Do they lack basic communication skills?
Do they have tics?
Is it difficult for them to make eye contact?
Do they express emotions inappropriately?
Not all children with autism will express all of these traits and some will express all of them and more.
2. Autism does not Signal a Lack of Intelligence
Many parents have sat through IEP (Individualized Education Plan) meetings where they listened to professionals discuss their child's lack of intelligence. For example, in a recent initial IEP meeting for a newly-diagnosed child with autism, the Child Study Team leader said, "We'll give him a series of tests to see where he is, but I'm sure he'll be low." This assumption was made simply because the child had been diagnosed with autism. Imagine how surprised she was to learn that not only did the student not score low, but he was working above grade-level in multiple subject areas.
Kids with autism may struggle academically, but often their struggles do not signal a lack of intelligence. Rather, they signal their struggle to adapt to the educational system. In many cases, kids with autism solve problems and communicate differently than what is expected. Sometimes teachers and other educational professionals think they got the answer wrong, when really they just thought about it differently.
3. Autism Often Confuses Other Kids
Several years ago, Sesame Street introduced its first autistic character, Julia. While Julia represents a character to whom many children with autism relate, she also serves as a tool to help teach other kids how to interact with kids who have autism. Kids don't always know how to act around kids who are different or who don't do what's expected. Teachers can use models like Julia and other activities to help kids understand what autism is and how to interact with their peers who have autism. After all, everyone has differences. Some of those differences are just more noticeable than others.  Learn more on this topic in "Educating Children about Autism in an Inclusive Classroom" from the University of Prince Edward Island.
4. Autism is Unpredictable
One thing about working with kids with autism is that you are never quite sure how they will react. Sometimes, you'll expect them to react negatively to a loud concert and they'll be fine. Other times, you will think a certain activity will be easy for them and it will become a major challenge. When you work with kids with autism, you must be flexible. You must also learn to recognize their cues so you can adjust a situation to avoid making it a bigger problem.
5. Autism Requires Predictability
Imagine living every day without knowing what's going to happen. For kids with autism, that's often a reality. They are not always in control of their emotions and navigating life can be confusing. Surprises lurk around almost every corner. However, the adults in their lives can help limit those surprises by developing routines for them to follow. For some kids, just knowing the general schedule of the school day will help. For others, parents and teachers will need to develop a detailed schedule that includes the smallest of events, such as brushing their teeth and going to the bathroom. If the schedule is going to change for any reason, adults should also try to take time to warn the child about the change in advance. For example, a child expecting to do math at 10:15 may be upset if he goes out for early recess instead. Even though recess is fun, the disruption to his routine could outweigh that fun.
6. Autism Requires Parents and Educators to Work as a Team
Educators have a lot of students to focus on, but when working with a child with autism, it is essential they take the time to develop a relationship with the child's parents and work as a team to ensure they are working in that child's best interests. Educators should respect a parent's position as an expert on the child, while parents should respect an educator's professional expertise and observations in the classroom. Educators must also be careful not to criticize parents of autistic children for making decisions related to their child. They must also take into consideration the child's autism when making observations about the child's appearance or behavior. For example, a note home saying "Please ensure your child wears socks each day" may seem innocent, but it may not take into consideration the fact that the parent is encouraging the child to become more independent in dressing himself and letting him go to school without socks when he forgets is part of that process.
Some of the information above may overwhelm educators. "I have 25 students in my class. How can I spend this much time on the needs of just one?" At the end of the day, it's not that hard. Just as you get to know your other students, get to know your students who have autism. Learn their quirks. Get to know their personality. Focus on their diagnosis, but at the same time don't focus on their diagnosis. Just treat them as human beings.
There are lots of resources available to help educators work with children with autism. One of them is the School Community Tool Kit from Autism Speaks. It contains a wealth of resources, information sheets, worksheets, and activities to help the many different people in a school community understand autism.
For educators looking for help with behavior modification, check out Insights to Behavior, a free resource full of activities to help educators create behavior plans for students, as well as find activities to help with some of the social and emotional challenges kids with autism face.
You can find additional books, videos, toys, and information sheets in the Autism Speaks Resource Library. If you're looking for more educational resources, you may appreciate Help Teaching's Life Skills or Study Skills worksheets or use Help Teaching's Test Maker platform to develop tests, quizzes, and worksheets that can meet the needs of your autistic students.
Resources for working with kids with autism
The internet is bristling with free resources to help teach your students with autism!
Teachers and parents will benefit from professional development in this area:
At-home learning
This is just a small sampling of the resources available to you as you face the challenge of teaching a student with autism.
Image source: Vecteezy
Did you know it's possible to have fun and learn at the same time? While it's great for kids to play with toys, their young minds are at the prime stage for taking in information and learning new skills. The solution? Toys that allow kids to learn while they play. This year when you shop for holiday and birthday gifts, opt for something with educational value.
Need help finding ideas? We've rounded up some of the top educational toys for kids of all ages.
Disclosure: HelpTeaching partnered with the companies of some our top picks to provide items for a giveaway, but all items were chosen for their quality educational value.
Babies
Even though babies won't remember whether you bought them a gift for Christmas or their birthday, sometimes you still want to get them something. Instead of adding another stuffed animal to their collection, try one of these options.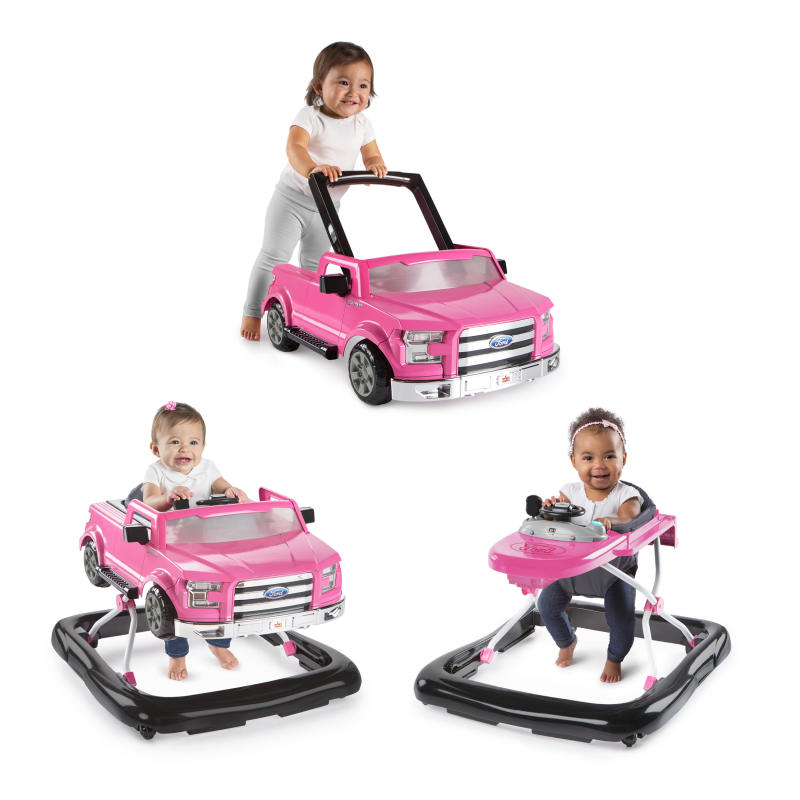 TOP PICK: 3 Ways to Play Walker – Ford F-150 – Never underestimate the power of observation. This walker allows babies to explore the world around them in three different ways, including a normal walker and push-behind mode. The steering wheel and authentic truck sounds and lights make the walker even more adorable.
Baby's First Blocks: Nothing beats a classic shape sorting toy for babies and toddlers. Baby's First Blocks from Fisher-Price features a handy tub to collect the shapes and a handle for carrying it. Babies and toddlers will learn to grab, manipulate, and match the shapes.
Skip Hop Activity Mirror: Mirrors are great toys for babies. They allow them to explore the world around them and also begin to recognize their own face. This mirror from Skip Hop is just one of many baby mirrors that can be attached to the seat of a car or the bar of a stroller for babies to enjoy.
Munchkin Mozart Magic Cube: Babies love music and this magic cube combines music with lessons in cause and effect and tempo to create a fun learning experience for babies. They can press different parts of the cube to add instruments to the orchestra and see lights flash with the tempo of the music.
Go Car: This car comes with a handle to make it easy for babies to hold on to it and control the way it moves. It also glides smoothly on different surfaces, helping babies begin to learn about the concept of movement.
What's Inside Toy Box?: With the What's Inside Toy Box, babies begin to learn that objects have names and also build motor skills as they reach in and pull out objects or put objects back in. Additionally, this toy can help teach object permanence.
All About Me Personalized Photo Book: Babies can learn the names and faces of loved ones, pets, and other special people or places in their lives with this photo book. Parents can insert photographs in protected compartments so babies can flip through and look at them.
Toddlers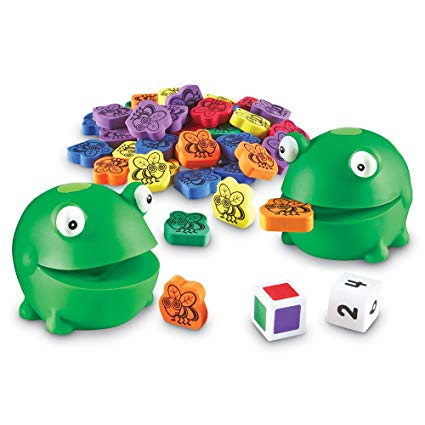 TOP PICK: Froggy Feeding Fun – Little kids can boost their fine motor skills, learn their colors, and practice their counting skills with this fun frog feeding game. Simply roll the dice and feed the frogs the correct flies. Note that the fly pieces may present a choking hazard so kids should be supervised while playing.
Start Up Circuits: Toddlers who enjoy playing with switches will enjoy these toys that help them begin to understand how circuits work. Simply flip the switch to make each object work.
Wooden Building Blocks: Blocks are a favorite for toddlers because they help them build motor skills and begin to understand geometrical concepts. This set from Pidoko Kids features 50 colorful blocks in different shapes and comes with a container for carrying them all.
Personalized Name Puzzle: One of the first things a toddler learns how to spell is his/her name. Help develop that skill and help your toddler start learning how to complete puzzles with a personalized name puzzle.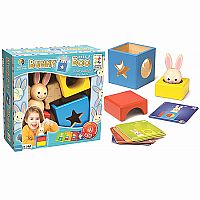 Color Discovery Boxes: Color Discovery Boxes help toddlers learn their colors and begin to categorize objects. Each box contains multiple objects to represent the color. Mix the objects up and have toddlers sort them and put them back where they belong.
Bunny Peek a Boo: This fun game helps toddlers learn about prepositions and object placement. They must look at the cards and try to create the scene with the bunny and various blocks. Parents are encouraged to give clues and talk about where the bunny is. For example, "The bunny is behind the box."
Learn the Alphabet Dough Mats: You can print out and laminate your own dough mats or you can buy these handy mats which feature uppercase and lowercase letters. These help kids learn letters and build fine motor skills.
Size and Sequence Farm Puzzles: Size and Sequence Farm Puzzles have toddlers put the puzzle pieces in order by size. This set of puzzles helps them learn how to organize objects from smallest to largest.
Dress Up Career Set: Toddlers can learn a lot from dressing up, especially when they dress up to represent different careers. With this set, your toddler can pretend to be someone else nearly every day of the week.
Seek A Boo: Seek A Boo is a fun game designed to get toddlers and preschoolers moving and help them learn how to categorize objects. Basically, it works like a game of "I Spy" where kids must find a circle that meets a particular description. Adults and kids can take turns coming up with questions.
Preschoolers
TOP PICK: Heads Talk Tails Walk – ThinkFun's game of silly sounds and movement has kids try to match hidden head cards to the correct bodies. If the body parts don't match, kids have to try and act out their crazy new animals.

Yeti Forgetti Memory Game – This hide and peek memory game gets kids in on the action. Cards direct kids to shuffle the igloos and try to find the locations of the different yetis in the game while watching out for the evil snow crab for a twist on a classic shell game.
Bear Counters: Bear Counters and counting cubes can be used by preschoolers in a variety of ways. Not only are they good for counting practice, but they can also be used for creating patterns and measuring.
Fun Express Happy Kids Hand Puppets: This adorable set of hand puppets features kids from different ethnic backgrounds. It's great to include with a puppet theater and to use to act out social stories to help get preschoolers thinking about their actions and emotions.
Toss Across: If you're looking for a fun game to get kids moving, try Toss Across, a game that helps kids practice their throwing skills and learn about patterns while playing a game of tic tac toe.
Periodic Table Blocks: Make block play a little more educational by having kids learn the elements of the periodic table at the same time. These square blocks are great for building and also feature the names, symbols, and atomic numbers of various elements.
Mosaic Mysteries Pattern Puzzle: Kids can build fine motor skills and create patterns when they play with the Mosaic Mysteries Pattern Puzzle, an activity that features connecting tiles to create a mosaic.
Early Elementary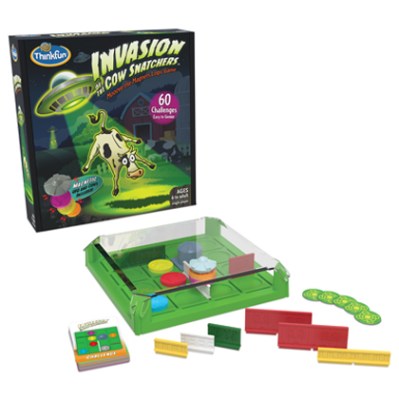 TOP PICK: Invasion of the Cow Snatchers – Kids can build their logic and problem-solving skills with this exciting STEM game from ThinkFun. While the game can be enjoyed by kids as young as 6, even older kids, teens, and adults will enjoy trying to solve some of the genius level challenges.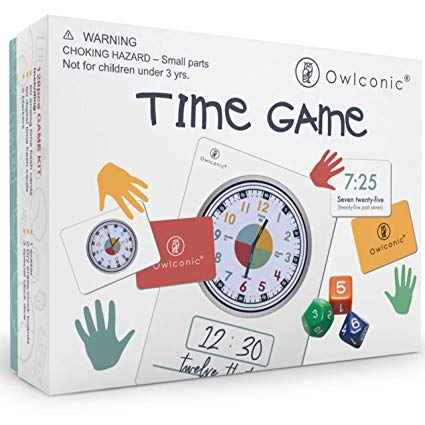 TOP PICK: Owlconic Telling Time Teaching Game – For teachers and homeschool parents looking for new ways to help kids learn to tell time, this telling time game is exactly what you need. It helps kids make connections between digital and analog time while also working on memory skills and fractions.
Teaching Talking Cash Register: This cash register is a favorite of kids because it offers many functions. Kids can play store or open a real store and the cash register will help them add up totals and calculate change. It also features a fun scanner.
Melissa and Doug Magnetic Human Body: Kids can learn the different parts of the human body by taking them on and off the wooden form. It's a great, non-gory way for kids to begin to explore what makes up the body.
Magformers: Magformers feature fun tiles that connect to one another. Kids can use them to build unique structures.
Magnetic Science: Magnetic Science contains 38 pieces to help kids explore magnets and their various uses.
Precision School Balance: With a balance, kids can practice weighing items and comparing different weights. For example, is a carrot heavier than four quarters?
Dive into Shapes: Using a series of rods and balls, kids can build their understanding of geometry as they try to recreate the shapes on the cards.
Sum Swamp: Sum Swamp is a fun game that helps kids build their addition and subtraction skills.
Paper Airplane Conversion Kit: With the help of a grown-up, kids can use this kit to make a variety of paper planes and see how long they fly electronically.
Beaker Creatures: Learning Resources has created a fun science toy where kids can conduct experiments to reveal hidden creatures. Kids simply pop a reactor pod into the chamber, complete the steps, and discover a surprise. They learn about the scientific method and following directions at the same time.
Upper Elementary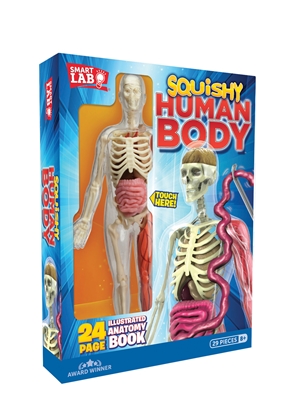 TOP PICK: Squishy Human Body – SmartLab Toys helps kids explore the body through this unique model. The body includes 21 vital organs, bones, and body parts, as well as a 24-page anatomy book and other resources to help kids explore the model.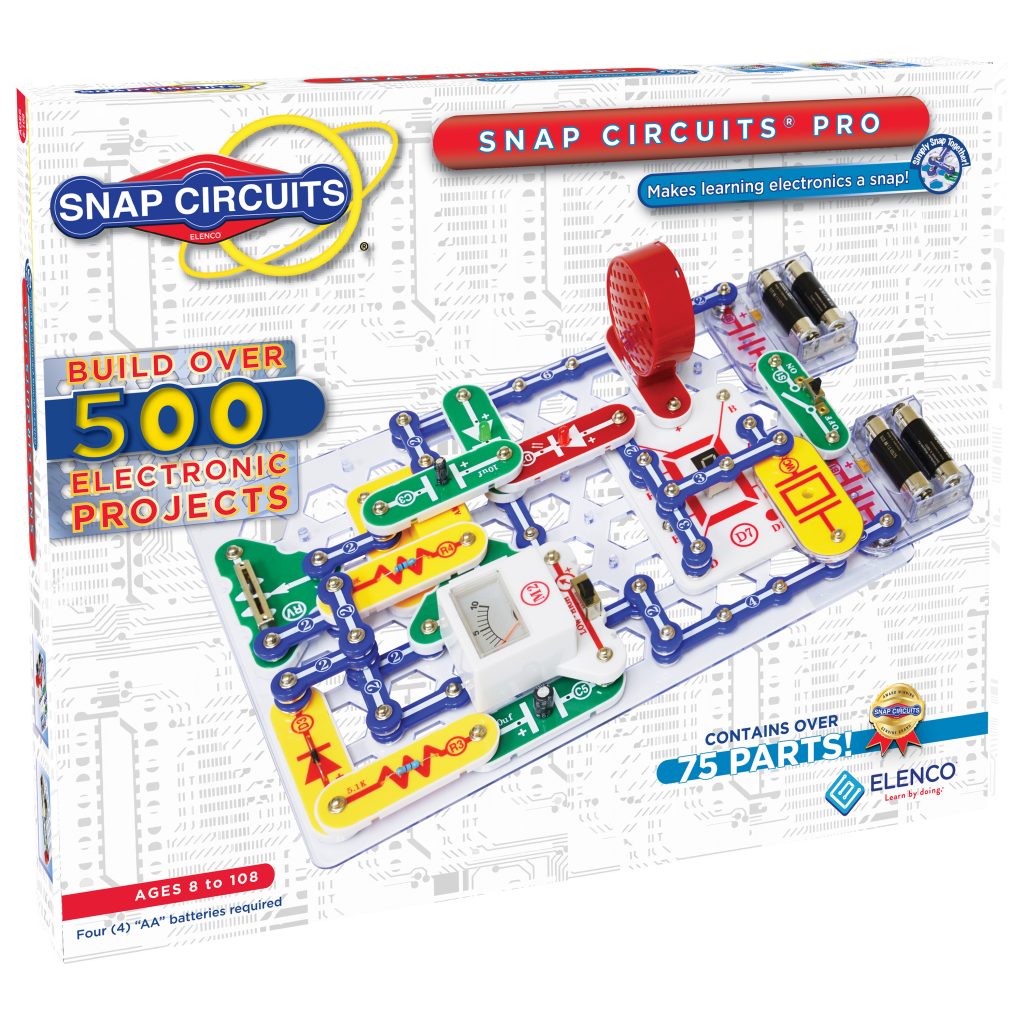 TOP PICK: Snap Circuits Pro – With over 75 snap-together parts and 500 exciting projects to complete, kids can learn all about electronic circuits and the basics of electricity. This kit is great for building STEM, problem-solving, and logic skills.
Adopt an Animal: Start teaching your child about giving back and becoming more aware of the world by adopting an animal. The kit comes with a certificate and a stuffed animal.
Kiwi Crate offers maker kits for kids up to age 16. Try Doodle or Tinker Crate for ages 9-16 and Kiwi for ages 5-8. Sign up for a monthly subscription box. Each box comes with fun STEM and STEAM activities for kids.
Tin Can Robot: Take an ordinary tin can and turn it into something cool with the Tin Can Robot kit. Using this kit, kids can build their own robot.
Star Wars Death Star Electronic Lab: Star Wars fans will love the challenge of the Death star Electronic Lab which has them connect circuits to help bring the Death Star to life.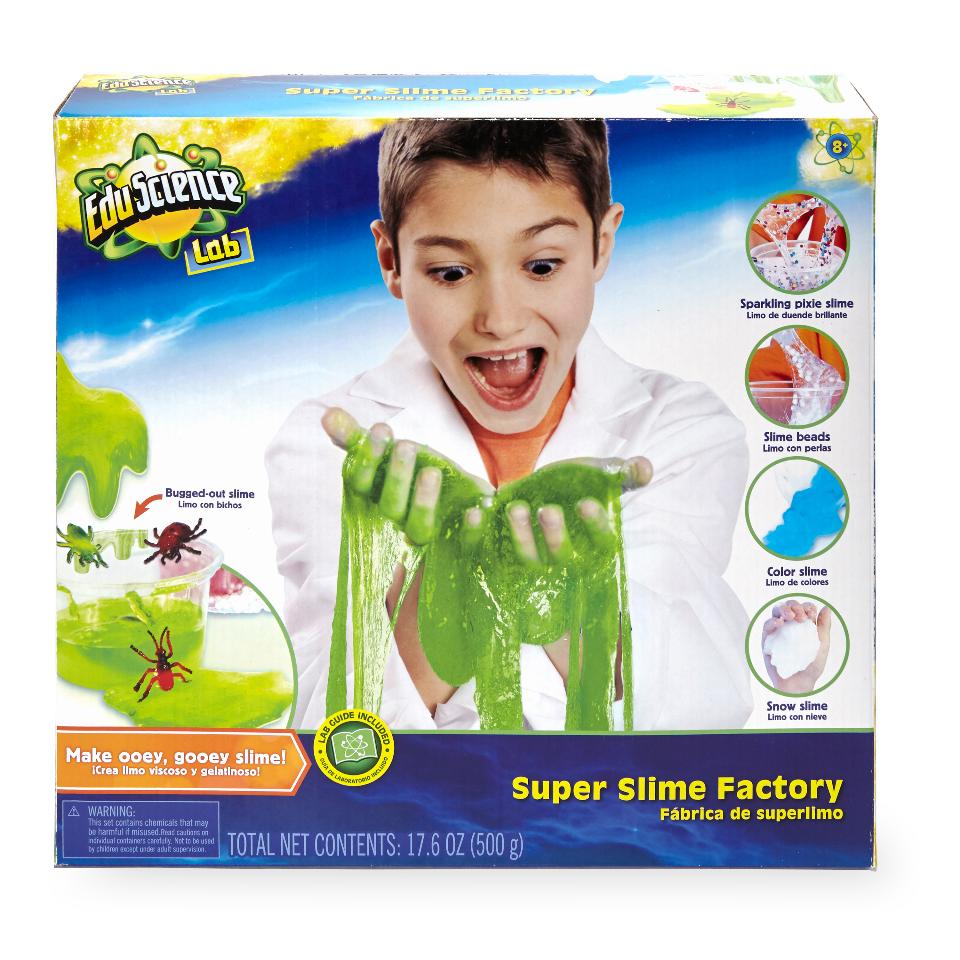 Super Slime Factory: Slime is all the rage these days and the Super Slime Factory gives kids the chance to make their own slime while learning a bit about the science that goes into the process.
Qwirkle: Qwirkle is a fun game with a dominoes-like feel. Kids must match the shapes and colors, but they also have to use a bit of strategy to win the game.
Keva Contraptions: With Keva, kids can learn about engineering and geometry. This set allows kids to build unique contraptions and also comes with two balls. Perhaps kids will use them to make an epic marble run.
Create a Maze: With the Create-a-Maze set, kids are tasked with re-creating the maze on a card and then trying to get a ball through the maze.
Klutz LEGO Chain Reactions Craft Kit: This book and LEGO set helps kids learn how to build simple machines and put them to use, introducing them to the laws of physics at the same time.
For preschoolers through upper elementary school students, you can also put together a craft kit, full of supplies, such as googly eyes, stickers, craft sticks, and glitter glue, to make a variety of crafts and to encourage kids to use their imaginations.
Pre-Teens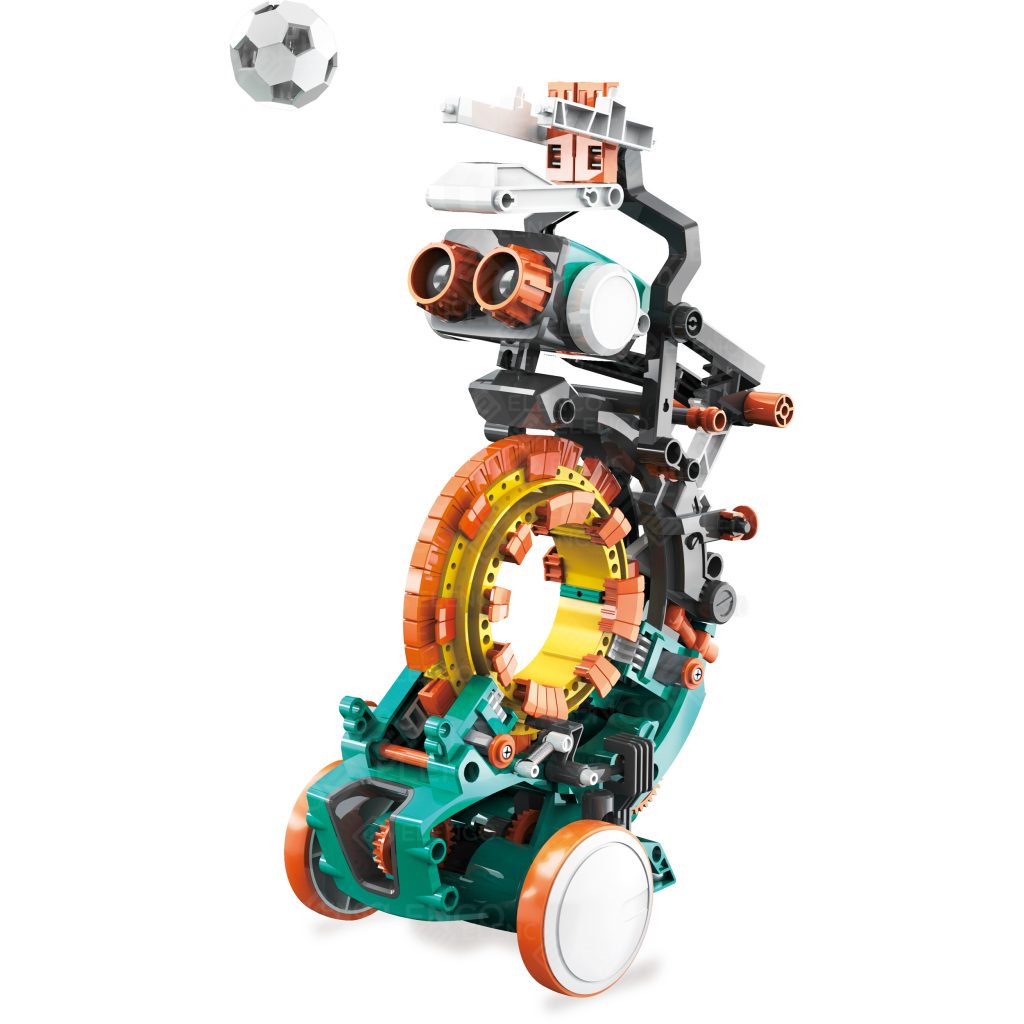 TOP PICK: Elenco Teach Tech Mech-5 Coding Robot – This STEM coding robot introduces kids and teens to the principles of mechanical engineering. They work with their robot to get it to perform tasks such as kicking, throwing, lifting, and even drawing.
TOP PICK: Science Academy Deluxe Squishy Ball Lab – Encourage kids and tweens to get their hands dirty and make their own squishy stress balls. The kit is great for boosting STEM skills and getting in some sensory fun.

Kano Computer: Pre-teens who enjoy coding and working with electronics, but are not quite ready to work on a full-fledged computer will appreciate Kano Computer, which allows them to build their own mini computer.
Perfume Maker: A lot of science goes into the creation of perfume. This set allows pre-teens to make their own scents while learning at the same time.
Spa Soaps Kit: Let pre-teens make their own spa soaps, and then use them to host a spa party for their friends. Better yet, they can package their soaps and give them as gifts to others.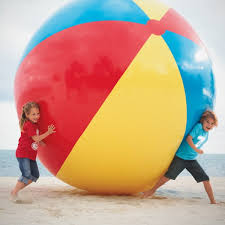 Giant Inflatable Ball: Encourage pre-teens to get outside and be active by purchasing a giant inflatable ball. They can make up their own fun games to go with the ball too.
Boxed Book Sets : If you know a pre-teen loves to read or has a favorite series, consider purchasing a boxed set. The Giver trilogy by Lois Lowry is a great set to consider.
Eco-Friendly Bean Bag: Instead of a normal bean bag, opt for an eco-friendly bean bag. The gift will teach pre-teens about being more environmentally conscious.
Build Your Own Pinball: Kids and teens can learn about engineering by building their own pinball game with this fun set.
Teens

Displates: Give teens a unique gift that teaches them to value creativity and different art forms. Displates come in different styles and relate to interests such as popular movies and TV shows or musical instruments.
Ion: A Compound Building Game – Know a teen struggling with chemistry? Find some STEM fun and refresh that chem knowledge with a fun game that has kids and teens collect cards and build chemical compounds.
Quadcopter: What's more fun than a drone? A drone with a camera. Teens can make their own videos and take pictures as they fly their drones.
Marvel Puzzle: Have a superhero fan? Give them a superhero puzzle so they can enjoy some of their favorite skills and they put their puzzle-solving skills to the test.
Codenames Disney: Codenames is a fun word association game. Purchase the Disney version or another themed-version and play it with your teen.
Die Cast Spirograph: Spirograph may seem like a kids' toy, but this version of the classic drawing kit is super sleek. Teens may find creating their own spiral shapes relaxing.
Games: World of Puzzles: Purchase a subscription to a magazine such as Games: World of Puzzles. This fun magazine includes many different puzzles for teens and adults to solve.
Game of Phones: Teens are always on their phones. Get them to interact with one another with this fun game which has them use their phones to send messages and complete challenges.
My Cinema Lightbox: A lightbox is a fun way to get teens to write. They can come up with creative messages or even practice spelling vocabulary words.
In addition to the gifts listed above, consider purchasing apps and other digital gifts for teens or giving them a gift card to purchase music and apps for their phones or tablets.
Do you know of any must-have educational gifts for kids or teens? If so, we'd love to hear your ideas. Share them in the comments!
*This list may contain affiliate links and some companies provided products for review, but all views expressed are our own.
30 June //
Posted in How To //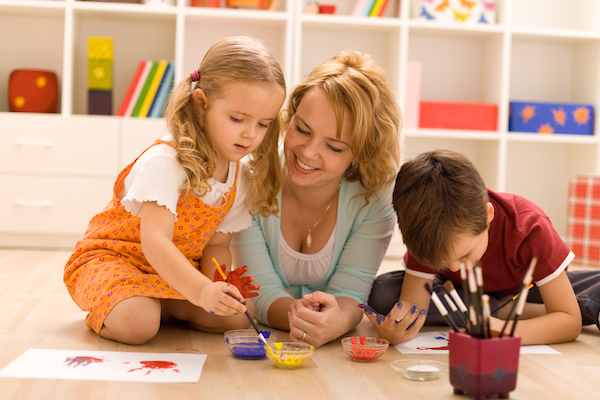 "All work and no play makes Jack a dull boy." As an adult, you carry a lot of weight on your shoulders. There are bills to pay, mouths to feed, and needs to meet, but at the end of the day, what is most important is taking care of yourself. One way to do that is to take some time to embrace your inner child. Pull out the coloring books, unpack your old board games, and enjoy the activities you did when you were a kid.
Color
Crayola recently came out with a line of adult coloring books, but they're not the first to jump on the adult coloring bandwagon. For years, adults have found coloring to be a great way to relax and work through complex emotions.
Get Crafty
Remember when you created handprint turkeys and cotton ball sheep in elementary school? You can do the same now too, just in a more refined way. One of the reason Pinterest has become so popular is because so many recognize the fun that comes from creating something. Even if your creation becomes the latest Cake Wreck or Pinterest Fail, you'll still have a lot of fun in the process.
Build Something
Along the same lines, take your playing with building blocks to the next level and actually build something you can keep. You don't have to build anything big, but you can make a simple wood shelf or a step stool without spending too much time or money. Some companies even create building blocks for adults so you can create LEGO-inspired furniture for your home or you can use the LEGO Architecture series to re-create famous landmarks to display around your home.
Put Together a Puzzle
If look at the puzzle shelf of a toy store, you'll find that most of the puzzles weren't designed with kids in mind. Whether it's a simple 100-piece puzzle that you can just throw together to clear your mind or a 2,000 piece challenge, you can find an inexpensive puzzle to complete. Don't want a lot of puzzles cluttering up your house? Look for a local puzzle exchange to swap puzzles with other puzzle lovers.
Play a Board Game
Games like Monopoly, Sorry, and Chutes and Ladders aren't just for kids. Adults can enjoy playing them too. Play a round or two with your kids or invite a few friends over for a game night. You'll soon find that you're just as competitive as you were during your younger days.
Play a Digital Game
Kids aren't the ones playing Facebook games and racking up millions dollars in in-app purchases for games like Angry Birds and Candy Crush. Adults love these games too. Not only are they addicting, but they offer a bit of mental release during the day. If you're not a big fan of the newer games, go back to some of the classics. You can play games like Oregon Trail and Number Munchers online.
Conduct an Experiment
Why should kids be the only ones who can put Mentos into Diet Coke or use smoke to suck an egg into a bottle? The same science experiments you performed in elementary and middle school are just as fun as an adult. You can also come up with your own science experiments or play around with a Makey Makey kit. Just remember that safety always comes first. You want to have fun, not end up as the latest posthumous recipient of a Darwin Award.
Read a Picture Book
Reading a special picture book can transport you right back to when you were a child and read that same picture book with a loved one. Not only are picture books connected with special memories, they are also full of timeless themes and examples that even adults can learn from. So if you've lost a pet, you can pick up a book such as The Tenth Good Thing about Barney and remember that when you're sad, it helps to think of the good things. Or if you've had a bad day, you can pick up Alexander and the Terrible, Horrible, No Good, Very Bad Day and learn that "some days are like that. Even in Australia."
Keep a Diary
If you were ever an angst-filled pre-teen, you know the importance of the pink diary with the little lock and key. Whenever something bad happened, you raced to your room so you could pour your emotions on the page. However, angst-filled pre-teen girls aren't the only ones allowed to keep a diary. Buy a special journal or get a cheap spiral notebook and take time to regularly write down your thoughts. If you're not sure what to write about, write a response to a specific response to get your thoughts flowing. Keeping a diary can help you get out many of your heavy emotions, make you more self-aware, and serve as a great memento for your kids to read one day.
Dance
When was the last time you turned on some music and danced like no one was watching? Maybe you spend some time dancing every day. If so, great! If not, why not? Kids dance all the time and so can you. Not only is dancing fun, it's a great way to get some exercise and rid yourself of the stress from your day. Dance in the car. Dance in the grocery store. Dance while you're cooking dinner or cleaning the house. Don't worry about being seen, just let the music take control.
Give Yourself Permission to Feel Like a Kid Again
At the end of the day, you just have to give yourself permission to be a kid again. If you see kids doing something and think, "Hey, that looks like fun," don't just stand on the sidelines and watch. Instead, join in and have fun with them. You'll be glad you did.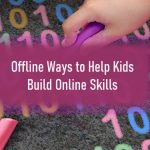 In a world that is increasingly reliant on technology, it feels like kids are always in front of screens. While you want them to learn how to thrive in a technologically-centered world, you also don't want them to spend their entire lives online. Thankfully, there's good news. Many of the critical thinking and communication skills kids need to thrive online can also be developed offline. So get kids to put down the screens and do some offline learning that will help them next time they log back on.
Practice Typing
Muscle memory is a big part of being able to type well. It's similar to playing an instrument like the guitar or piano. Your fingers learn where to go.
Print or draw a copy of a keyboard and practice moving your fingers to type the same set of words over and over again.
Make a Maze
Create a maze and write steps to help someone get through it.
One way is to create a LEGO maze and write instructions to get through it using the fewest commands possible.
Give Instructions
Similar to a maze, work on communication skills by having kids give someone else instructions on how to do something. Make a LEGO figure, draw the same picture, make a peanut butter and jelly sandwich, etc.
Play a Guessing Game
Come up with a number and see how quickly kids can guess it. Play 20 questions and have them use yes/no questions to try to figure out what you're thinking of (easier if it's a specific topic, like Pokemon characters). If you want to take the activity further, talk about the decisions that were made in the process.
Find Multiple Ways to Complete a Task
For example, ask kids to fold a sheet of paper to create 16 equal rectangles. Then ask them to find another way to do the same thing. Can they come up with three ways? Four ways?
Play If, Then Simon Says
Take Simon Says to the next level by turning it into an If, Then game. Don't think this is just for little kids. If you throw in some tricky if, then statements it can be challenging even for older kids. Even high school students enjoy a good game of Simon Says as a brain break every now and then.
Create a Visual Sequence
Take a story kids have read or an experience they've had and turn it into a visual sequence using only arrows and singular images to describe what happened.
Make a Binary Alphabet Creation
Using the binary alphabet, have kids make a bracelet, a LEGO sequence, or a code on graph paper (coloring in the squares a different color for each number) to write a message in binary. Then see if you can guess what it says.
Have Fun with Emojis
Draw pictures of emojis to tell a story. Play emoji Pictionary. Make faces that mimic emojis and try to guess what emoji each person is trying to make. Find more educational uses for emojis with 15 Ways to Emoji-fy Your Teaching.
Solve Riddles and Logic Puzzles
Ask kids riddles and see if they can answer them or print off some logic grid puzzles or logic challenges for kids to solve.

Some fun riddles and puzzles you can find on HelpTeaching include:
For more great ideas, CS Unplugged offers lesson plans and resources to help kids learn computer science skills online. If you have a Minecraft fan at home, you might also enjoy 10 Offline Ways to Bring Minecraft into the Classroom.
What favorite games or activities do you have to help kids learn tech skills offline?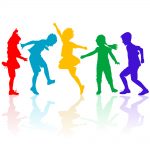 Disclaimer: This post contains affiliate links, but all reviews and opinions are our own.
Dancing along to a song or singing a tune sounds like a simple activity to pass the time, but for children, it's so much more. Numerous research studies have found that music is a major contributor to children's growth and development. Combined with movement, music accelerates the development of cognitive, physical, emotional and social skills that can prepare a child for the big world.
Let's take a look at the positive effects of song and dance to the development of children and how you can help your child reap these benefits.
Moving and Singing
Music has the ability to get us moving and it can also put us in the mood to simply sit back and relax. Play a happy, upbeat tune and you can see little children bouncing along to it. Turn the volume down and choose a soothing classical piece and you'll find babies falling asleep without a fuss. Such is the effect of music on human behavior, and this is something you can use to help your child develop.
Moving along to music improves coordination among different body parts, allowing your child to develop motor skills. They learn to control movement, develop different muscle groups and get a good exercise. Dancing is great for muscle development, balance and strength. When children dance in a group, they also develop spatial awareness, allowing them to become less clumsy while paying more attention to others in the same space.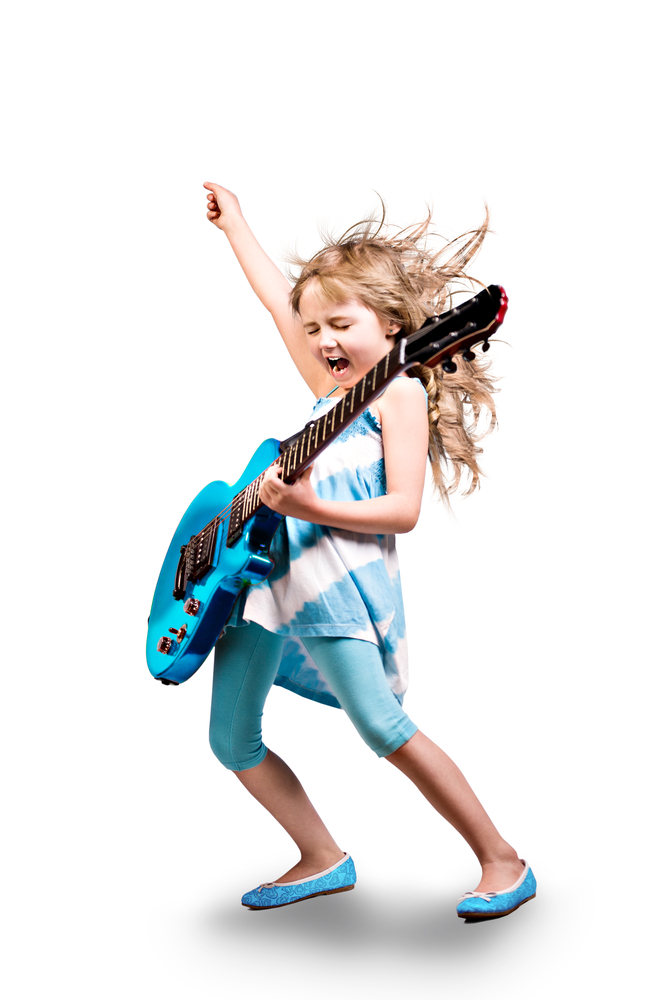 Young children with good gross motor skills are also able to hone their fine motor skills more quickly. This helps them when learning how to write and play a musical instrument such as an acoustic guitar, ukulele or a piano.
Singing, while not often seen as a strenuous physical activity, is actually a good aerobic exercise as well. Singing and dancing are aerobic exercises that improve the efficiency of the body's cardiovascular system. They increase the amount of oxygen in the blood and make you alert, and trigger the release of hormones that are linked to feelings of happiness.
Soothing babies by singing lullabies and nursery rhymes is also a good way to develop emotional regulation in children.
Musical Activities at Home
Making song and dance a part of the everyday life at home is probably the best way to reap the benefits early on. Here are some fantastic ideas to make music and movement a family affair.
Let your child play with toys that make sounds. We're not just talking about toy instruments such as rattles and xylophones for babies. Even a simple wooden spoon can make a sound when hit against a bowl, so let your child experiment and discover the different sounds they can make using a variety of objects.

Sing together. It really doesn't matter if you think you sound like a goat – what matters is you for a bond with your child as they learn how to sing along! Start with popular nursery rhymes (such as "Twinkle, Twinkle" and "Baa, Baa, Black Sheep"), the birthday song, the alphabet song, and other fun songs for children.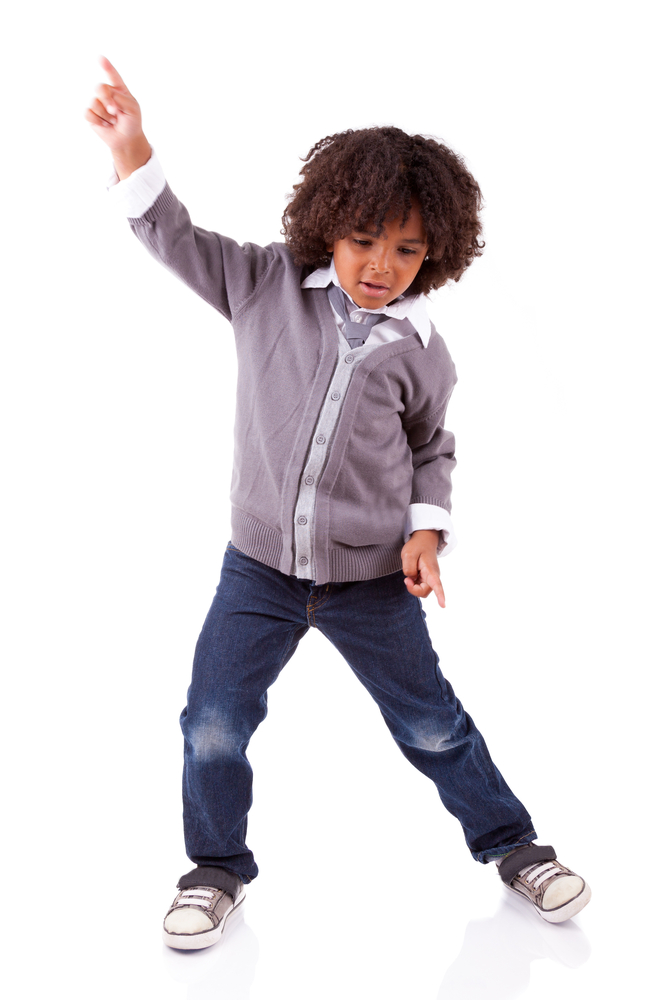 Incorporate music into your child's everyday routine. Make up a wakeup time song, a snacktime song, a bathtime rhyme, a lunch ditty, a bedtime song, a pick-up-your-toys-time song and what have you. It makes these activities more enjoyable for little children too.

Get dancing, get bonding. Encourage your child to move along to music by doing some dancing yourself. Infants and toddlers make simple movements that are fine-tuned as they grow. Dance with your child and you'll be doing it until they have dancing children of their own!
What's your experience with music and raising your kids? Tell us your story! If you're looking to help kids learn piano, check out Skoove, a program which offers online interactive lessons and tutorials and resources to help people of all ages learn to play.
It's hard to believe Help Teaching has been providing teacher worksheets for tutors, homeschool parents, and teachers for over a decade. As we enter the new year, take some time to review some of our the top tips and resources we've shared over the past ten years. Who knows? Maybe you'll find a new teaching strategy or a fun lesson idea.
No matter what subject you teach, chances are you'll find something on our Top 100 Free Education Sites. Updated annually, this post features the top webistes for math, science, social studies, reading, writing, lesson planning, and more. Best of all, the resources are all free.
We've all had that one class that's difficult to control. Sometimes it lasts an enitre year. Other times, it's just for a season (full moon?). Thankfully there are ways to gain control of a difficult class so you can focus on teaching the material that needs to be taught.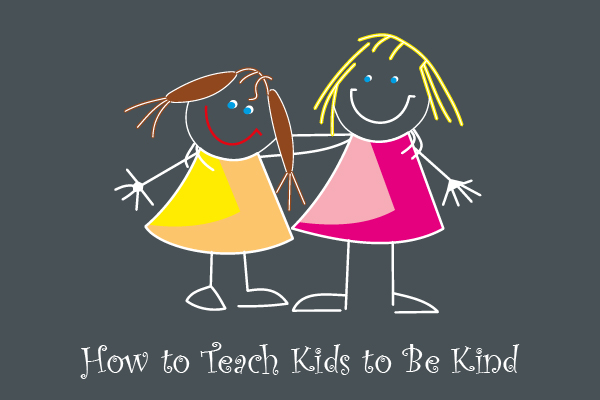 In today's increasingly digital world, sometimes it seems like kindness has disappeared. Kids are surrounded by politicans spouting insults, Internet trolls sharing negative opinions, and viral videos shaming everyday people. That's why it's increasingly important to take time to teach kids to be kind.
Over the past decade, STEM has become STEAM and has become a focus in the education community. The Ultimate Guide to Teaching Science shares videos, experiments, and lesson ideas designed to help improve the quality of instruction science teachers offer their students.
Pi Day is a great holiday, but it's not the only math day to celebrate with your students. Find other fun math days such as the 100th day of school and palindrome days. And don't forget – 2/22/22 will fall on a Tuesday, making it a great day to celebrate a math holiday in a couple years.
Throughout the course of their educational career, students learn a lot of things. Unfortunately, teachers can't cover it all. Our list of 30 Things I Wish I Learned in High School gives parents and teachers ideas of key life skills to review with students before they graduate and head out into the "real world."
Teacher compensation, or lack thereof, has been making headlines for over a decade. While strikes and union negotiations can help improve teacher pay, it still might not be enough. Thankfully, there are plenty of ways for teachers to make money on the side, whether it's tutoring with an online company or running a MLM business from home.
The Internet offers a wealth of information and resources for students. The Ultimate Guide to Free Online Self-Learning for Kids and its companion, The Ultimate Guide to Free Online Self-Learning for Teens and Adults, encourage students to head online and learn something new. The resources on the list include online courses, videos, informational websites, and even some educational games.
Emojis aren't just for text messages and social media posts. They can also be a great tool in the classroom. Teachers can use emojis to make math and reading content more engaging and to improve social and emotional learning skills.
Your teen can do basic algebra and geometry, but can they set up and manage a bank account? Write a stellar resume? These life skills will help teens ensure they have what it takes to experience success after graduation.

Parent-teacher conferences can make parents, students, and even veteran teachers feel like they are on pins and needles. As parents, we want our children to be successful and happy. We love to hear about their accomplishments and it can be challenging to accept feedback on areas needing improvement. Developing a strong partnership with your children's teachers is essential to ensuring academic progress. Enter your next parent-teacher conference prepared, with an open mind, and ready to collaborate with these five tips.
Involve Your Child
While some teachers invite students to sit in on parent meetings and some schools have moved to student-led models, many still offer traditional parent-teacher only conferences. Yet, this doesn't mean your child shouldn't be part of the conversation. After all, the meeting is about her success! Chances are your child will have some apprehension and curiosity about what goes on during the meeting. Alleviate the stress by talking with her beforehand. Ask your child if there is anything she would like you to share with the teacher. Maybe there is something she has enjoyed about being in class that the teacher would appreciate hearing. Or, if there is a concern she isn't comfortable voicing on her own, this is an opportunity to bring it up. This is also a good chance to look over student work together. After the conference, reassure your child that you and her teacher as working as a team to help her succeed. Emphasize the positives that came out of the meeting as well as share any strategies that will be implemented going forward.
Do Your Homework
Your child has been working away at school and doing her homework. The teacher has pulled together student work samples, gathered data, and discussed your child's progress with other teachers and specialists involved in her education. Now, it is your time to prepare for parent-teacher conferences! Start by looking over some of your child's work. Read a writing sample. Try a few of the math questions from the last test. Develop a solid sense of the work your child is doing.
Next, write a list of questions you want to ask during the conference. The teacher may answer many of your questions during the natural progression of the meeting, but having a checklist will help prevent you from wishing you had remembered to ask about something. Some questions to consider include:
Is my child performing at grade level?
Is my child making sufficient academic progress?
Where does my child sit?
How is my child's individualized education plan (IEP) being followed?
Do you have any concerns about my child's social-emotional development?
How much time should my child spend on homework?
What can I do at home to better support my child's learning?
Does my child show strong interest in any topic or subject?
Is there anything I should share with next year's teacher?
Finally, jot down about what you would like to share about your child with her teacher. Perhaps your child is passionate about a particular sport or book series. Sharing this information may help the teacher better connect with the student. If there are changes in the home environment or medical concerns that may impact your child's performance at school, let the teacher know. Include information from last year's teacher on strategies that helped your child succeed in class.
Respect Time Limits
Whether your conference time is set for ten minutes or thirty minutes, be mindful of time limitations.  Show up ten minutes before your allotted meeting time. Use that time to look over your prepared questions. Spend a few minutes admiring the student work displayed in the hallway. During the conference, the teacher will most likely have an agenda and keep the conversation moving forward. If a topic comes up that needs to be discussed in more detail, make a note, but allow the conversation to progress. While discussing your child's academic progress is the purpose of having a parent-teacher conference, it should not be at the expense of another family's conference time. When you reach the end of your time, leave things on a positive note and exit the room. Doing so allows the teacher to make her own notes about the conference, prepare for the next meeting, and keeps things running on schedule.
Have a Conversation
A parent-teacher conference should be a conversation rather than a confrontation. Both of you share a common goal, the academic success and well-being of your child.  View the meeting as a collaborative session between teammates. Like any productive conversat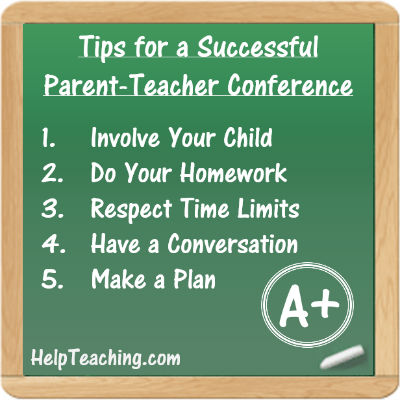 ion, a good conference should involve both participants listening and speaking. The teacher will most likely lead the flow of the conversation. Listen actively to what the teacher says. Take notes that you can refer to later and record actions items that you need to follow through on after the conference ends. Ask questions and share information about your child where they naturally fit in the conversation. Towards the end of the conference, read through the notes you prepared ahead of time and bring up any items that were not mentioned. Don't forgot to discuss anything your child asked you to share with her teacher!
Make a Plan
The final couple minutes of the conference should be spent developing an action plan for how you and the teacher will best support your child going forward. This may include scheduling a follow-up meeting to further discuss anything that came up during the conference which couldn't be fully covered in the allotted time. Review the things that you and the teacher will do to support your child as well as any expectations that need to be communicated with your child. Make sure you know the best method of contacting the teacher and determine a timeframe for when you will next check-in on your child's progress.
Family engagement is vital to student success. Your parent-teacher conference attendance shows your child that you care about them and what goes on at school, as well as opens a dialog with the teacher. Share your tips on how to have a successful conference in the comments.
If you enjoyed this article, read 7 Tips for Learning with Kids. HelpTeaching.com also offers free, printable study skills worksheets to help promote effective learning strategies.
20 March //
Posted in How To //

During spring break, many families try to squeeze in a getaway. One way to have a fun family adventure is to incorporate education into your trips. There are so many places across America that offer a terrific spring or summer-like atmosphere, while opening your children's eyes to the history of this country and other learning opportunities.
Museum Sleepover
Numerous museums across the country offer overnight excursions inside of their buildings! What better way to become acquainted with different aspects of culture and history than to sleep next to exhibits and artifacts?
Three different Smithsonian affiliated museums in the Washington D.C. area offer sleepovers, with dates scheduled through the end of August. The American History Museum, Natural History Museum, and the Air and Space Museum's Udvar-Hazy Center all offer overnight stays that includes tours, games, crafts, and more.
For families in the Northeast, head over to Pier 86 on the west side of Manhattan and spend the night on the Intrepid! The Intrepid Sea, Air, and Space Museum offers fun activities, including a ride in a flight simulator!
The Field Museum in Chicago hosts "Dozin' with the Dinos", a nighttime exploration with museum scientists that make the exhibits come alive!
Living History Museums
There may be no better way to understand what bygone eras were like than to actually experience them. These attractions bring history to life by showing what daily life and major events were like in a specific period.
One of the best known of these types of attractions is the world's largest living history museum, Colonial Wiliamsburg. It features hundreds of reconstructed and historically furnished buildings, with costumed guides who tell stories of the people who lived there in the 1700s.
Columbia State Historical Park is a living gold rush era town. It contains "residents" in 1850s attire, and tons of exhibits, activities, and experiences you would find in a gold rush museum.
Connor Prairie Interactive History Park in Fishers, IN recreates life on a rural community in the 19th century. This attraction also offers a look at Native American life at this time. Kids will love the interactive nature of life on a prairie, as they can work like a farmhand, become a craftsman, or ride in a helium filled balloon high overhead.
Landmarks
We've seen them on television, we've always meant to go there, but many Americans have not seen some of our most famous landmarks. The stories and the history behind these places and modern marvels are well worth the trip.
The Gateway Arch in St. Louis, MO is a magnificent architectural creation that also serves as a monument to Thomas Jefferson's plans for American expansion and the role of St. Louis as a gateway to the west.
Mount Rushmore in Keystone, SD offers so much more than the breathtaking mountain sculpture of four of America's presidents. Vacationers can learn about the natural history of the surrounding area, as well as methods used to sculpt the chief executives. There is also ample information available on the Native American tribes who called this area home.
It's never too late to enjoy the summertime, and it's never too early to refocus on education and learning. Make a last ditch effort to get away and take advantage of all of the creative educational – and fun – opportunities our country has to offer.
8 November //
Posted in How To //

If you're a parent, you know there are very few times you have your kids' undivided attention. However, when you're traveling, you have a captive audience. Whether you're going by plane, train, or automobile, family travel offers an amazing opportunity to connect with your kids and engage them in educational activities. The next time you head off to grandma's house for Thanksgiving or fly to Florida for vacation, put away the smartphones and tablets for a bit, and try out some of these educational travel activities with your kids.
Toddler – Preschool
"I Spy"
At this age, a key skill for toddlers and preschoolers is being able to take what they're learning and connect it to the real world. While you travel, you can use the ever-changing landscape to help them make some of those connections. Play a simple game of "I Spy," but don't just look for colors. During the game, you can say "I spy…"
a shape
a number
a letter
a particular animal
Let your kids join in and pick things that they spy too. If they have trouble seeing out the window, then randomly place stickers around the car for them to spy as you drive. You can get reusable stickers if you're worried about them sticking too much.
Find 100
Another type of seek-and-find game is "Find 100." In this game, you challenge kids to find 100 of something during the trip. This helps reinforce counting skills. For kids who are just learning to count, you can keep a tally for them or adjust the number to 5, 10, or 20. You can also add in an additional challenge by seeing who can find that number of objects first. Things kids can look for include:
animals
shapes
letters
items of a certain color
types of cars
restaurants
trees
You can extend the activity by having kids complete a 100 Chart, coloring in the numbers to find a mystery picture.
Virtual Hide and Seek
Toddlers and preschoolers love to play hide and seek, but the game is kind of hard to play in the car. You can, however, play a virtual game of hide and seek where they pretend to hide somewhere in another location and you try to guess where they are. For example, if they pretend to hide somewhere at home, you could say, "I'm looking in the bathtub. Is that where you're hiding?" If guessing proves impossible, have them give you clues to figure it out.
Motion Games
Kids need to move around, but that's pretty hard if they're strapped into a car seat or stuck on an airplane. However, their arms and legs are usually free to wave and kick, so you can take some of their favorite movement songs and adapt them to fit in the car. Some songs that make great car motion games include:
The Wheels on the Bus
The Itsy Bitsy Spider
If You're Happy and You Know It (change "Stomp Your Feet" to something else)
Alice the Camel
If you're traveling for the holidays, you can also look for holiday-themed songs and finger plays that include motions. For example, Five Little Turkeys or Way Up High in the Apple Tree for Thanksgiving and Up on the Housetop or a modified We Wish You a Merry Christmas for Christmas.  When you stop for a rest stop, kids can stretch their bodies with a fun movement story.
Elementary
The Alphabet Game
There are many different versions of the alphabet game. To play you can start off with a phrase, such as:
I'm going to the store and I need to buy…
I'm going on a trip and I need to pack…
I'm going on a trip and I will visit…
I'm hungry and I'm going to eat…
Take turns adding to the list, letter by letter, repeating all the previous items as you go. At the end, see who can recite the entire list without making a mistake.
License Plate Meanings
License plates are often random combinations of letters and numbers. Pick a random license plate while driving and make up a meaning for the letters and words on the license plate. For example, JCAI26 could be "Just Cruisin' Along Interstate 26". You can make the descriptions completely random or try to base them off the type of car or people you see in the car. For more fun, make up a story about the people in the car. What are their names? Where are they going?
Math Quiz
Use the trip as an opportunity to brush up on basic math facts. For younger children, start by stringing addition problems. For example, "What's 2+2? What's 4+4? What's 8+8?" For older children, call out basic multiplication or division problems. If you have multiple children in the car, pull out a stopwatch and see how many problems they can solve in a minute. Use our Worksheet Generator to print out some basic math worksheets before you go.
Twenty Questions
Twenty questions is one of those classic games that kids have been playing for ages. Simply think of a person, place, or thing. Then the other people in the car can ask up to 20 yes/no questions to figure out what it is. You may be surprised how easy it is to figure something out by asking simple questions.
Family Spelling Bee
Who is the best speller in the family? A family trip is the perfect opportunity to find out. Hold a family spelling bee, taking turns spelling words to see who can spell the most words correctly. You can use random words or pick words related to a particular holiday or location. For even more fun, bring along a dictionary and let your children randomly pick out words to see if they can stump you.
All Ages
Listen to a Story
A car or plane trip is a great time to enjoy a good book. If you're riding in the car, download a novel that the whole family can enjoy and listen to it on your trip. If you can't find a book to download, bring along a few books to read and take turns reading aloud to the rest of the family. Not only will you get to enjoy a good book, you'll help your children learn the importance of reading. If you don't want to read an entire novel, check out funny storytellers, such as Bill Harley or the Story Pirates podcast.
Tell a Story
Instead of listening to a book or story, you can always make up your own. You can start by making up your own version of a popular fairy tale or embellish a story from your childhood. To get your children involved, tell a story where every person tells one sentence of the story and the others add on to it. If you're worried you won't know what to tell a story about, take a look at our writing prompts for some inspiration. You can print out a few to take along on your trip.
Would You Rather?
Would you rather have leaves for hair or mushrooms growing out of your ears? These kinds of silly questions are great for kids of all ages. They teach kids to think creatively and learn how to back up their opinions. If you're not sure you can come up with questions on the fly, let your kids do the work or just look up a few before you go. Sites with great Would You Rather questions for kids include:
Listen to Educational Songs
Turn on some music the whole family can enjoy and learn from at the same time. If you have satellite radio, you can listen to a station like Kids Place Live which is full of fun indie music for kids and call-in radio shows for kids, much of which is educational. You can also purchase fun kids' CDs or download albums full of educational songs. Some good ones that parents will enjoy too include:
Road Trip Bingo
Print out or create your own version of Road Trip Bingo to play. As you travel, kids can look for the items on their bingo boards and cross them off as they see them. The first one to get five in a row wins the game. To play the game multiple times, put the bingo boards in plastic sheet protectors and bring along dry erase markers for kids to use to mark each item off. Then you can wipe the board clean in between each game.
How Far Away Is it?
To help make the time go faster, have kids guess how far away different places, landmarks, or rest stops are. For example, if you see a tunnel in the distance say, "How far away is it?" Then watch the odometer to see whose guess was the closest. You can also give kids a map or let them look at the map on a smartphone or tablet to help them figure out exactly how far away a particular landmark is.
These are just a few ways to engage kids in learning activities as you travel during the holidays and year-round. Of course, you can also print out some of your favorite Help Teaching worksheets and put them in a binder for kids to work on during the drive.
Do you have educational activities you enjoy with your kids while traveling? If so, we'd love to hear them. Share them in the comments below.
4 October //
Posted in How To //
Twenty years ago, schools had fire drills and tornado drills. Today, they've added drills for handling bomb threats and active shooters. In addition to these types of tragedies, students also have to deal with suicides, overdoses, car accidents, and other tragic events that take the lives of their peers. As parents and educators, we have a responsibility to help students work through these tragedies and provide them with the support and resources they need.
Give Them Hope
We live in a world that is full of evil, but not everyone who lives in the world is evil. In fact, there's a lot of good going on every day. Talk about some of the positive things students are doing in the classroom and in the community. Look at resources such as the Good News Network which highlight the positive things that are going on in the world. Draw their attention to the Random Acts of Kindness movement and talk about how they can spread kindness and do good work in their community every day.
Give Them Safety
When tragedy strikes, many kids and teens worry that it could happen to them. Take some time to reassure kids that despite the attention these events get in the news, they are rare and not likely to happen where you live. Explain some of the procedures you have in place to protect students should something bad happen and, if they are not convinced, encourage them to come up with some ideas of their own. Let them know that while you cannot promise bad things will never happen, you will do all that you can to ensure that students are safe and taken care of.
Give Them Relief
Often, kids and teens don't know how to express negative emotions in a healthy way or are afraid to let them out. Instead, they bottle them up inside. Even if kids and teens are able to share how they're feeling, the weight of those feelings can weigh them down. Recognize that when tragedy strikes, some students may need help shedding some of the heaviness they feel. During these times, extend a bit of grace to students. Give them an extra day to complete homework or even offer a homework pass. Overlook minor outbursts. Provide plenty of opportunities and activities, such as coloring pages, silly games, meditation activities, and brain breaks, where students can decompress and unwind.
Give Them Attention
"I try to talk, but no one listens to me!" Many kids and teens have uttered this phrase. Make it your goal to ensure students never say this about you. When tragedies strike, make yourself available. Be willing to listen without judgement and answer any questions they may have. If you don't have the answers, offer to help them find the answers or direct them to someone who can help. If students do not want to talk, that's okay too, but regularly check in with them and let them know your door is always open. If you work in a school, set up a safe space where students can go to talk or collect their thoughts during the day and let them go without judgement. Will some students take advantage of the opportunity? Yes. However, the benefits to those who need it will far outweigh the few who take advantage of the situation.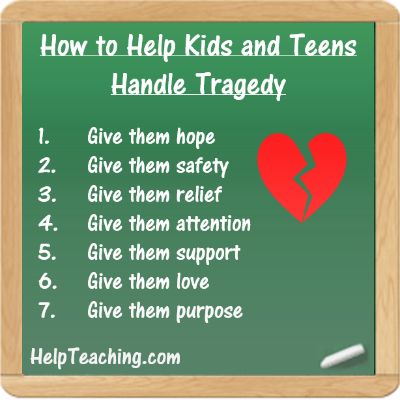 Give Them Support
As students talk and share their feelings, let them know that you are there for them and that you always have their best interest in mind. If students express needs or desires, take them seriously and try to offer whatever support you can. Don't be afraid to ask students, "What do you need from me?" They may not have an answer right away and you can encourage them to share those needs with you when they arise. If a student says, "I just need you to lay off my case for a few days," then respect that. If a student says, "I need you to be very positive," then be that that person. If a student says, "I need you to understand that this a big deal," then let them know that you recognize the magnitude of what they're facing. Avoid phrases such as "get over it," "move on," or "let's try not to think about it right now." Those phrases downplay what kids and teens are feeling and can come off as very insensitive.
Give Them Love
Adults show love to students in different ways. Parents might want to give their kids extra hugs, tell them that they're proud of them, and say "I love you" every day. Teachers may want to smile at students, write positive notes to give to them (or send home to parents), and incorporate their interests in class. There are many different ways to show kids you care about them.
Give Them Purpose
Tragedies often leave kids and teens feeling hopeless. Finding ways for them to help after the tragedy can help relieve some of that hopelessness. Students may write letters of encouragement and support to families who have lost loved ones. They may collect bottled water and toiletries to send to people affected by a hurricane. They may collect money to send to an organization that is providing aid. Organizations such as the American Red Cross often create lists of items that they need. News organizations and people on social media are full of ways people can help too. Before donating money or supplies, do a little research to make sure the request is legitimate. If it is, give students a chance to help. Doing so may help them work through some of the negative emotions they're dealing with.
Do you have any advice for parents and teachers who are helping kids work through difficult situations? If so, please share it in the comments.