Parent-teacher conferences can make parents, students, and even veteran teachers feel like they are on pins and needles. As parents, we want our children to be successful and happy. We love to hear about their accomplishments and it can be challenging to accept feedback on areas needing improvement. Developing a strong partnership with your children's teachers is essential to ensuring academic progress. Enter your next parent-teacher conference prepared, with an open mind, and ready to collaborate with these five tips.
Involve Your Child
While some teachers invite students to sit in on parent meetings and some schools have moved to student-led models, many still offer traditional parent-teacher only conferences. Yet, this doesn't mean your child shouldn't be part of the conversation. After all, the meeting is about her success! Chances are your child will have some apprehension and curiosity about what goes on during the meeting. Alleviate the stress by talking with her beforehand. Ask your child if there is anything she would like you to share with the teacher. Maybe there is something she has enjoyed about being in class that the teacher would appreciate hearing. Or, if there is a concern she isn't comfortable voicing on her own, this is an opportunity to bring it up. This is also a good chance to look over student work together. After the conference, reassure your child that you and her teacher as working as a team to help her succeed. Emphasize the positives that came out of the meeting as well as share any strategies that will be implemented going forward.
Do Your Homework
Your child has been working away at school and doing her homework. The teacher has pulled together student work samples, gathered data, and discussed your child's progress with other teachers and specialists involved in her education. Now, it is your time to prepare for parent-teacher conferences! Start by looking over some of your child's work. Read a writing sample. Try a few of the math questions from the last test. Develop a solid sense of the work your child is doing.
Next, write a list of questions you want to ask during the conference. The teacher may answer many of your questions during the natural progression of the meeting, but having a checklist will help prevent you from wishing you had remembered to ask about something. Some questions to consider include:
Is my child performing at grade level?
Is my child making sufficient academic progress?
Where does my child sit?
How is my child's individualized education plan (IEP) being followed?
Do you have any concerns about my child's social-emotional development?
How much time should my child spend on homework?
What can I do at home to better support my child's learning?
Does my child show strong interest in any topic or subject?
Is there anything I should share with next year's teacher?
Finally, jot down about what you would like to share about your child with her teacher. Perhaps your child is passionate about a particular sport or book series. Sharing this information may help the teacher better connect with the student. If there are changes in the home environment or medical concerns that may impact your child's performance at school, let the teacher know. Include information from last year's teacher on strategies that helped your child succeed in class.
Respect Time Limits
Whether your conference time is set for ten minutes or thirty minutes, be mindful of time limitations.  Show up ten minutes before your allotted meeting time. Use that time to look over your prepared questions. Spend a few minutes admiring the student work displayed in the hallway. During the conference, the teacher will most likely have an agenda and keep the conversation moving forward. If a topic comes up that needs to be discussed in more detail, make a note, but allow the conversation to progress. While discussing your child's academic progress is the purpose of having a parent-teacher conference, it should not be at the expense of another family's conference time. When you reach the end of your time, leave things on a positive note and exit the room. Doing so allows the teacher to make her own notes about the conference, prepare for the next meeting, and keeps things running on schedule.
Have a Conversation
A parent-teacher conference should be a conversation rather than a confrontation. Both of you share a common goal, the academic success and well-being of your child.  View the meeting as a collaborative session between teammates. Like any productive conversat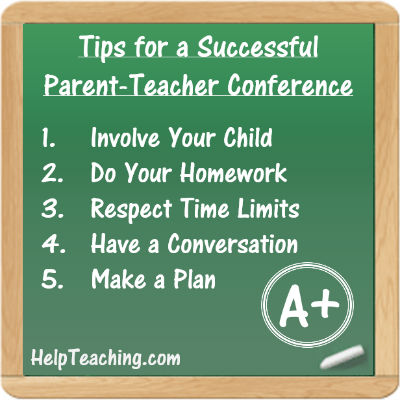 ion, a good conference should involve both participants listening and speaking. The teacher will most likely lead the flow of the conversation. Listen actively to what the teacher says. Take notes that you can refer to later and record actions items that you need to follow through on after the conference ends. Ask questions and share information about your child where they naturally fit in the conversation. Towards the end of the conference, read through the notes you prepared ahead of time and bring up any items that were not mentioned. Don't forgot to discuss anything your child asked you to share with her teacher!
Make a Plan
The final couple minutes of the conference should be spent developing an action plan for how you and the teacher will best support your child going forward. This may include scheduling a follow-up meeting to further discuss anything that came up during the conference which couldn't be fully covered in the allotted time. Review the things that you and the teacher will do to support your child as well as any expectations that need to be communicated with your child. Make sure you know the best method of contacting the teacher and determine a timeframe for when you will next check-in on your child's progress.
Family engagement is vital to student success. Your parent-teacher conference attendance shows your child that you care about them and what goes on at school, as well as opens a dialog with the teacher. Share your tips on how to have a successful conference in the comments.
If you enjoyed this article, read 7 Tips for Learning with Kids. HelpTeaching.com also offers free, printable study skills worksheets to help promote effective learning strategies.
Try HelpTeaching out today for free.
No credit card required.