Currently Browsing
Posts Tagged ' activities for children '
8 January //
Posted in How To //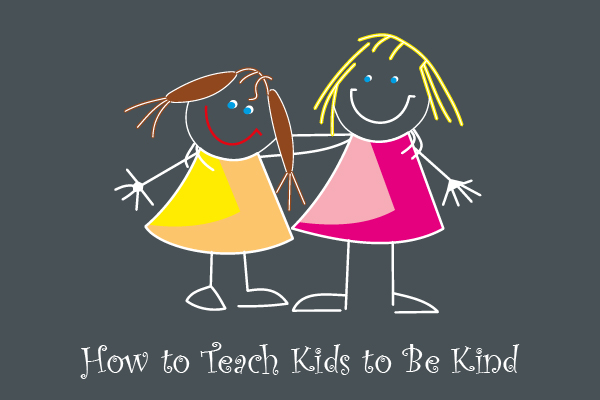 Every day, stories about bad guys fill the news, but it's the stories of kindness that really stand out. Whether it's a fast food employee helping a customer or a group of students checking on a Grandma in the Window, these stories show the importance of being kind. Unfortunately, showing kindness isn't the norm. Harvard's Making Caring Common project found that 80 percent of middle and high school students thought achievement and happiness were more important than caring for others. Still, teachers and parents can help turn those numbers around by teaching kids to be kind.
Modeling Kindness
The first step in teaching kids to be kind is to model kindness. That means it's time to end the "Mommy Wars", set aside the political differences, stop pointing out what everyone else is doing wrong, and start focusing on what they're doing right. You can model kindness by:

Saying please and thank you
Regularly telling others what you appreciate about them
Speaking to others in a pleasant tone, even if they upset you
Treating others, including children, with respect
Pitching in when you see a need (without complaining)
Giving random compliments to others
Keeping your negative thoughts to yourself
Doing unto others as you would have them do unto you
Kids tend to model the behaviors of the adults around them. If they see you regularly being kind, they will begin to exhibit kindness in their own lives. Of course, no one's perfect. There will be moments when you tell someone off, hurt someone's feelings, or fail to help someone in need. Taking the time to apologize when you were less than kind can also help kids learn a lesson about the importance of kindness.
Offering Positive Praise
Just like adults, kids need validation. They want to know that they're appreciated and that they're doing the right things. According to Greater Good in Action, kids actually have a propensity towards being kind. Parents and teachers can encourage kids to act on that propensity. Instead of focusing on what kids are always doing wrong, take some time to focus on what they're doing right, particularly when it comes to kindness. Say things like:
"You are a very helpful person."
"I appreciated it when you said 'Please' before you asked me for…"
"It was a great idea to…"
"Thanks. That was very kind of you."
"I like the way that you thought about others."
Don't praise kids every time they act kindly, otherwise they are likely to act a certain way just to receive the praise. Instead, try to point out a few positive moments every week to let kids know you appreciate how kind and helpful they are.
When kids decide not to act kindly, focus more on how it made the other person feel rather than criticizing or punishing the kids. For example, "Did you notice that James looked sad when you called him a name?" or "When you ask me for something without saying please, it makes me feel unimportant."
Thinking about Kindness
While many kids are born with an innate desire to be kind, parents and teachers still need to plant seeds of kindness in their minds. Talk to kids about what they think it means to be kind. Ask them to share memories of acts of kindness. You can open the conversation with these writing prompts, which also make great discussion questions.
Providing Opportunities to Be Kind
Of course the greatest way to teach kids to be kind is to give them plenty of opportunities to show kindness. These can be big acts of kindness, such as collecting money for charity or taking bags of food to a food pantry, or smaller acts of kindness, such as picking up trash on the playground or giving a friend a hug when they are sad.
Some ways kids can show kindness every day include:
Holding the door open for strangers
Smiling at people who make eye contact with them
Keeping a gratitude journal and regularly writing what they are thankful for
Writing thank you notes to others
Complimenting others
Waving hello when they see someone they know
Calling family members they do not see often
Writing notes or drawing pictures for family and friends
Asking if they can help when they see someone tackling a big job
Offering to let a classmate go first
Saying please and thank you
Doing their chores without being asked
Doing things they see that need done without being asked
Throwing away trash they find on the ground
Saying "I love you"
Taking some time to pet and talk to their pets
Check on elderly neighbors
Some big ways to encourage kids to be kind include:
Donating some of their clothes or toys to charity
Serving a meal at a homeless shelter
Visiting a nursing home or sending cards and flowers to the residents
Using allowance money to buy something for someone in need
Paying for someone's meal at a restaurant (with allowance money or your help)
Offering to do chores or yard work for an elderly or disabled neighbor
Donating books to a preschool or library
Cleaning up litter in the park or around the school
Sending cards and care packages to deployed servicemen and women
Collecting money for a favorite charity
Donating food or toys to a local animal shelter
Participating in a 5K run or walk for charity
Speaking out against bullying as part of an anti-bullying campaign
Volunteering to tutor another student
Making your neighbors gifts for the holidays or on their birthdays
If you encourage kids to show kindness when they are young, they are more likely to grow up to be kind adults. If you want to take the conversation on kindness a step further, check out Edutopia's Eight Steps Toward a Kinder World. Remember, kindness matters.

Between work and school, families don't get to spend a lot of quality time together during the week. However, during school break, school is removed from the equation, opening up a bit more free time and giving families a chance to slow down and enjoy each other's company. These family-centered activities will help you use school breaks as an opportunity to enjoy some positive interaction with your kids, bring some learning into your household, and accomplish something pretty incredible in the process.
No activity will fit every family perfectly, but these activities can be easily adapted to work for your family. They're all designed to get you working together and interacting with your kids during the school break.
1. Writing Stories
Use school break as the opportunity to write a story together as a family. It could be a story about the ultimate family vacation, an exaggerated event of something that happened to a member of your family, or a new fairy tale that you'll pass along to generations. You can purchase a blank storybook from a teaching supply or craft store and fill it with your own words or pictures, or just type up the story on the computer and print it out for everyone to enjoy. Want to take it a step further? Turn your story into a short play or movie.
Not interested in writing an elaborate story? Sit around and play the "finish the story" game where you each take turns adding lines to an oral story. You can also check out Help Teaching's Seasonal and Holiday worksheets which feature story starters and images designed to spark kids' imaginations so they can write short creative stories, as well as other fun learning activities to keep kids' brains sharp during school breaks.
2. Going on a Treasure Hunt
If there's somewhere your kids have always wanted to visit, why not turn it into a treasure hunt or a map-reading adventure? You can use some of Help Teaching's free geography printables to brush up on your map-reading skills. Then you can work with your kids to create a map and follow it to the treasure or the special place. While you may have to drive the car, your kids can still a good bit of the navigating.
If you don't want to travel too far, look for geocaching or letterboxing activities in your area. With these activities kids must learn to read coordinates and uncover clues to help find unique messages, treasures, and other fun items left by other people.
3. Creating a New Invention
Let kids combine science, creativity, and problem-solving to come up with their own inventions during school break. With a kit like those from MaKey MaKey kids can make all kinds of computer-programmed inventions, such as a game controller made from Play-Doh or a piano made from bananas. The possibilities are endless and will get kids to not only have fun, but to make something really cool in the process.
While MaKey MaKey is really cool, you don't have to spend money on an expensive kit either. Get kids to use items around the house to come up with simple inventions. For example, they may use a plastic soda bottle to make a holder for their MP3 player or a special wrist brace from a coat hanger and a sock. Did you know that the popsicle was invented by an 11-year-old and a 6-year-old invented a fanny pack for video games? Think of the cool things your kids could invent with your help. If you don't have the materials on hand to make it, draw a photo and write a description of the invention so you can build it later.
4. Designing a Program
Similar to creating a new invention, help kids build their tech skills by learning to code and creating computer programs. As a family, you can use programs such as Scratch, Hopscotch, and Tynker to create games, stories, and fun animations. You may also have fun building and interacting in a virtual world with a program like Minecraft or just have fun building virtual cities and other LEGO creations as you play around with Build with Chrome. While computer-based activities may not seem like a family-centered activity, you can always pull up an extra chair to the computer desk and talk to each other as you design and build collaboratively.
5. Conducting Research
Maybe you've always wanted to explore your family's history or there's a topic you and your kids share an interest in. Use school break as a time to conduct a family-centered research project. Just like kids complete group projects at school, you can assign roles and have each family member contribute to the research. Then you can come together to share what you've learned. While you may not write a traditional research report, you could add details of the research to a family scrapbook or write a short book about your findings to add to your bookshelf.
6. Decorating Your Home
School breaks also give you a chance to enjoy some fun decorating projects around the home. While you may not want your kids' help with decorating your living room, you could work on creating fun decorations for their own rooms or even let kids re-arrange or redecorate their entire room. Help Teaching's art worksheets provide activities such as color wheels and quizzes on colors and tints to help get kids thinking about the color schemes they want in their rooms. You can work with them to draw up blueprints, head to the hardware store to find paint chips, and go to the fabric store to look for swatches, and then put it all together into a fun new room design. Even if funds don't allow kids to really re-decorate their rooms, it can be fun for them to dream.
Which activity are you going to do with your kids during their next school break? Share your project ideas and results in the comments.

Did you know that experts estimate there will be 1.4 million computing jobs open in 2020 and only 400,000 students to fill them? Since 2013, Computer Science Education Week has been held during the second week of December. This week is designed to make students and teachers more aware of computer science and the importance of building computing skills at early age. While enrolling all students in regular coding and other computer science classes may be the ideal solution, you can still take small steps to encourage students to take notice of computer science and help them discover how much fun it can be.
Participate in an Hour of Code
In 2014, the Hour of Code gained a lot of publicity when President Obama sat down to join students as part of the event. This year, and all year long, you can also participate in an hour of code. Organize your own Hour of Code event at your school or join up with an existing group. If you're not sure of what you're doing, search for local volunteers to come work with your students during the event. For a less formal option, simply have your students complete one of the coding tutorials available through Code.org where they code with popular characters from Star Wars, Minecraft, or even Anna and Elsa from Frozen.
Don't be afraid to go beyond an Hour of Code either. Many different apps and websites offer a series of lessons designed to teach students how to code or to think in ways that are related to the language of coding. A few of them to try in your classroom include:
Elementary
Kodable – a fun app that comes with an extensive coding curriculum
ScratchJr – a free app that teaches kids to think like a coder while completing fun tasks
Tynker – another provider of an Hour of Code resources featuring brands and characters kids love
Secondary
Hopscotch – an app that allows kids to make and publish their own games
CodeCombat – an online, multiplayer game that requires kids to write code to play
Kodu Game Lab – a visual programming tool that kids can download to create games
Hold a Computer Science Career Day
Students often hear that there are tons of job in the tech industry, but do they know what those jobs look like? Invite parents and other community members to your school for a Computer Science Career Day. Your speakers can rotate among classes to share what their jobs are like or they can set up tables in booths and talk to students as they approach them. If you can't find individuals to come to school, then have students research different tech jobs or companies and share their findings with the class.
Show a Video
Take some time to show kids a video related to computer science. There are tons of Ted Talks related to technology that could inspire kids to consider a career in computer science. A few videos you might want to use include:
Have Fun with a MaKey MaKey Kit
While a MaKey MaKey kit does not involve a lot of coding, it does encourage kids to think outside of the box and imagine the cool things they can do when they combine computers with everyday objects. You can turn students' experiments with the kit into writing assignments, science experiments, marketing proposals, and other educational activities.
Connect Computer Science to Students' Interests
Your students may not be interested in computer science, but they may be interested in playing football, playing with their toys, or drawing and coloring. Chances are they don't realize how much computer science can play a role in these activities. For example, it takes a lot of technology to take video of a football game, freeze it, and move it around on the screen. Give students the task of researching how technology plays a role in their favorite hobbies. They may discover that coders help create 3D models of their favorite toys or that they can create some amazing art with lines of code.
Get Away from the Computer
While learning how to code can benefit students, thinking in the language of coding is even more important. By promoting logic and creative thinking skills, you can give students the mental skills they'll need to be successful in a computer science field.  CS Unplugged offers a large selection of activities designed to help kids develop these critical thinking skills. These include tasks such as learning about The Turing Test and discovering how difficult it is for computers to draw lines and circles.
For more resources to help you bring Computer Science into the classroom, check out Code.org and the Computer Science Education Week website. If you use some of these activities in your classroom, share them to Facebook or Twitter with the hashtags #CSEdWeek and #HourOfCode.
8 November //
Posted in How To //

If you're a parent, you know there are very few times you have your kids' undivided attention. However, when you're traveling, you have a captive audience. Whether you're going by plane, train, or automobile, family travel offers an amazing opportunity to connect with your kids and engage them in educational activities. The next time you head off to grandma's house for Thanksgiving or fly to Florida for vacation, put away the smartphones and tablets for a bit, and try out some of these educational travel activities with your kids.
Toddler – Preschool
"I Spy"
At this age, a key skill for toddlers and preschoolers is being able to take what they're learning and connect it to the real world. While you travel, you can use the ever-changing landscape to help them make some of those connections. Play a simple game of "I Spy," but don't just look for colors. During the game, you can say "I spy…"
a shape
a number
a letter
a particular animal
Let your kids join in and pick things that they spy too. If they have trouble seeing out the window, then randomly place stickers around the car for them to spy as you drive. You can get reusable stickers if you're worried about them sticking too much.
Find 100
Another type of seek-and-find game is "Find 100." In this game, you challenge kids to find 100 of something during the trip. This helps reinforce counting skills. For kids who are just learning to count, you can keep a tally for them or adjust the number to 5, 10, or 20. You can also add in an additional challenge by seeing who can find that number of objects first. Things kids can look for include:
animals
shapes
letters
items of a certain color
types of cars
restaurants
trees
You can extend the activity by having kids complete a 100 Chart, coloring in the numbers to find a mystery picture.
Virtual Hide and Seek
Toddlers and preschoolers love to play hide and seek, but the game is kind of hard to play in the car. You can, however, play a virtual game of hide and seek where they pretend to hide somewhere in another location and you try to guess where they are. For example, if they pretend to hide somewhere at home, you could say, "I'm looking in the bathtub. Is that where you're hiding?" If guessing proves impossible, have them give you clues to figure it out.
Motion Games
Kids need to move around, but that's pretty hard if they're strapped into a car seat or stuck on an airplane. However, their arms and legs are usually free to wave and kick, so you can take some of their favorite movement songs and adapt them to fit in the car. Some songs that make great car motion games include:
The Wheels on the Bus
The Itsy Bitsy Spider
If You're Happy and You Know It (change "Stomp Your Feet" to something else)
Alice the Camel
If you're traveling for the holidays, you can also look for holiday-themed songs and finger plays that include motions. For example, Five Little Turkeys or Way Up High in the Apple Tree for Thanksgiving and Up on the Housetop or a modified We Wish You a Merry Christmas for Christmas.  When you stop for a rest stop, kids can stretch their bodies with a fun movement story.
Elementary
The Alphabet Game
There are many different versions of the alphabet game. To play you can start off with a phrase, such as:
I'm going to the store and I need to buy…
I'm going on a trip and I need to pack…
I'm going on a trip and I will visit…
I'm hungry and I'm going to eat…
Take turns adding to the list, letter by letter, repeating all the previous items as you go. At the end, see who can recite the entire list without making a mistake.
License Plate Meanings
License plates are often random combinations of letters and numbers. Pick a random license plate while driving and make up a meaning for the letters and words on the license plate. For example, JCAI26 could be "Just Cruisin' Along Interstate 26″. You can make the descriptions completely random or try to base them off the type of car or people you see in the car. For more fun, make up a story about the people in the car. What are their names? Where are they going?
Math Quiz
Use the trip as an opportunity to brush up on basic math facts. For younger children, start by stringing addition problems. For example, "What's 2+2? What's 4+4? What's 8+8?" For older children, call out basic multiplication or division problems. If you have multiple children in the car, pull out a stopwatch and see how many problems they can solve in a minute. Use our Worksheet Generator to print out some basic math worksheets before you go.
Twenty Questions
Twenty questions is one of those classic games that kids have been playing for ages. Simply think of a person, place, or thing. Then the other people in the car can ask up to 20 yes/no questions to figure out what it is. You may be surprised how easy it is to figure something out by asking simple questions.
Family Spelling Bee
Who is the best speller in the family? A family trip is the perfect opportunity to find out. Hold a family spelling bee, taking turns spelling words to see who can spell the most words correctly. You can use random words or pick words related to a particular holiday or location. For even more fun, bring along a dictionary and let your children randomly pick out words to see if they can stump you.
All Ages
Listen to a Story
A car or plane trip is a great time to enjoy a good book. If you're riding in the car, download a novel that the whole family can enjoy and listen to it on your trip. If you can't find a book to download, bring along a few books to read and take turns reading aloud to the rest of the family. Not only will you get to enjoy a good book, you'll help your children learn the importance of reading. If you don't want to read an entire novel, check out funny storytellers, such as Bill Harley or the Story Pirates podcast.
Tell a Story
Instead of listening to a book or story, you can always make up your own. You can start by making up your own version of a popular fairy tale or embellish a story from your childhood. To get your children involved, tell a story where every person tells one sentence of the story and the others add on to it. If you're worried you won't know what to tell a story about, take a look at our writing prompts for some inspiration. You can print out a few to take along on your trip.
Would You Rather?
Would you rather have leaves for hair or mushrooms growing out of your ears? These kinds of silly questions are great for kids of all ages. They teach kids to think creatively and learn how to back up their opinions. If you're not sure you can come up with questions on the fly, let your kids do the work or just look up a few before you go. Sites with great Would You Rather questions for kids include:
Listen to Educational Songs
Turn on some music the whole family can enjoy and learn from at the same time. If you have satellite radio, you can listen to a station like Kids Place Live which is full of fun indie music for kids and call-in radio shows for kids, much of which is educational. You can also purchase fun kids' CDs or download albums full of educational songs. Some good ones that parents will enjoy too include:
Road Trip Bingo
Print out or create your own version of Road Trip Bingo to play. As you travel, kids can look for the items on their bingo boards and cross them off as they see them. The first one to get five in a row wins the game. To play the game multiple times, put the bingo boards in plastic sheet protectors and bring along dry erase markers for kids to use to mark each item off. Then you can wipe the board clean in between each game.
How Far Away Is it?
To help make the time go faster, have kids guess how far away different places, landmarks, or rest stops are. For example, if you see a tunnel in the distance say, "How far away is it?" Then watch the odometer to see whose guess was the closest. You can also give kids a map or let them look at the map on a smartphone or tablet to help them figure out exactly how far away a particular landmark is.
These are just a few ways to engage kids in learning activities as you travel during the holidays and year-round. Of course, you can also print out some of your favorite Help Teaching worksheets and put them in a binder for kids to work on during the drive.
Do you have educational activities you enjoy with your kids while traveling? If so, we'd love to hear them. Share them in the comments below.

November 15 is America Recycles Day. According to the U.S. Environmental Protection Agency (EPA), Americans recycled about 34% of their trash in 2014. The good news is this is a significant increase over the less than 10% that was recycled in 1980. The bad news is that a lot of our garbage still isn't being recycled. Although we have come a long way in our recycling practices, we still have a long way to go. America Recycles Day is an opportunity to educate students about the importance of recycling, and more importantly, involve them in the process.
Create Recycling Infographics
Ask your students to research recycling facts and statistics, then create infographics based on their findings. Younger students can get creative and make poster infographics to display around school. Older students can craft digital infographics to post on school websites, classroom blogs, or social media. Get started by assigning HelpTeaching's lessons, Reduce, Reuse, Recycle and The Trash Patrol, then by visiting the EPA's Reduce, Reuse, Recycle website. Then use an infographic maker like Visme or Piktochart to present them. Below is a sample infographic for a reference.
Host a Bottle and Can Drive
Bottle and can drives are great ways to encourage recycling and raise awareness, plus they double as fundraisers for schools and organizations. Students can help organize the event by contacting the local recycling center ahead of time, spreading the word in your community, sorting on the day of the drive, and arranging for collection bins and transportation of collected materials to the recycling center. For another simple and profitable way to encourage recycling, set up an ink cartridge recycling program at your school.
Attend an Event
Whether you are looking to get your children involved in a recycling event, enter a contest, or participate in a community clean up day, you can find something to do on America Recycles Day. There are over 2,000 events registered for America Recycles Day.  Find one to attend in your area here.
Reduce Food Waste
With the approach of Thanksgiving, America Recycles Day is perfectly timed to encourage children to reduce food waste. Learn about composting or start a compost at home or school. Have students create a step-by-step plan to explain how they plan to reduce food waste at home. Better yet, have your students organize a food rescue program or donations for the local food pantry. Get started with these tips.
Get Crafty
If you plan on having your students create crafts for holiday decorations or gifts, then consider having them do so using materials that would otherwise be tossed out. Here is an excellent list of recycled crafts for kids. Also, use this writing prompt for eco-friendly gift ideas.
Reduce Electronic Waste
E-waste is an ever growing concern and electronic items should never go in your daily recycling container. But, your students' old phones, tablets, and MP3 players can help someone else. Encourage students to donate unwanted electronics for worthy causes. Shelter Alliance and Cell Phones for Soldiers are just a couple organizations that accept cell phones donations. Learn more about how and where to recycle and donate electronics here.
Host a Clothing Swap
According to the EPA, almost five percent of municipal solid waste comes from clothing, footwear, and textiles. Consider organizing a neighborhood or church clothing swap where children (and adults!) can bring clean, gently worn items and swap for "new" items that fit. Anything left over can be donated to local organizations like The Salvation Army or Dress for Success. Also, see about coordinating swap boxes with local sports leagues for common sports items that children outgrow, like cleats. Athletes can leave outgrown pairs of cleats and in turn, take a pair from the box that fits.
Inform Others
Over 60% of America's garbage isn't being recycled. Some people still don't understand the importance of recycling. Others don't realize how much of their trash is actually recyclable. Encourage your students to inform people about the importance of recycling. Write letters to the editor of the local newspaper, give speeches at city council meetings, or create pamphlets to give out to their neighbors. Encourage people to check with their local recycling provider to make sure they are following correct recycling guidelines.
Finally, and most importantly, ask your students to brainstorm ideas on how to best promote recycling in their school and community. Their excitement for the projects they develop, plan, and complete will be the most successful and rewarding activities!
Looking for more science activities for your students? Read 10 Engaging Earth Day Activities for Kids or try our free Earth Science worksheets and lessons.