Currently Browsing
Posts Tagged ' activities for children '
Engineering is a key component of many STEM classes, but it can be an intimidating subject to teach for parents and teachers not primarily trained in the field. The good news is kids are often drawn to building and taking things apart, skills that can be nurtured with simple engineering activities. We've gathered a list of 101 of our favorite hands-on activities that will get kids excited about the engineering design process. With some basic materials, and a bit of curiosity, kids will be designing, creating, testing, and improving solutions to engineering problems in no time!
Transportation
Whether your kids like boats that float or cars that go, these building activities will surely be a hit with those fascinated by forms of transportation.
Storytime STEAM with Don't Let the Pigeon Drive the Bus! Preschool Steam
How to Make a Recycled Balloon Car Left Brain Craft Brain
Square Wheels Exploratorium
Rubber Band Car DIY Figment Creative Labs
Absorb the Shock! Scientific American
Propeller-Powered Zipline Racers Instructables
Straw Boats: Engineering Challenge for Kids The Science Kiddo
Making Simple Boats that Float Teach Preschool
Build a Paddle Boat Rookie Parenting
Cork Raft Building Challenge for Kids Kitchen Counter Chronicles
Simple Cardboard Airplane Craft for Kids Hands On: As We Grow
Egg Crate Airplane Engineering Project Schooling Active Monkeys
Design a Submarine Museum of Science and Industry, Chicago
Food Fun
From marshmallows to spaghetti, using food can make for affordable and fun engineering projects.
One Minute Marshmallow Engineering Challenge Steam Powered Family
Family Movie Night & S'mores STEM Challenge No Time For Flash Cards
Leaning Tower of Pasta TeachEngineering
How Strong is Spaghetti? Frugal Fun for Boys and Girls
Candy House – Making a Stable Structure Science Sparks
Design Challenge with Sticks, Clay, and a Mandarin TinkerLab
Engineering with Food: Preschool STEM My Mundane & Miraculous Life
Engineer a Gumdrop Structure Creative Child
Edible Rovers eGFI
Back to Nature
Get kids out of the house or classroom and into nature with these activities perfectly suited for the outdoors.
Outdoor Engineering: Building Stick Forts Little Bins Little Hands
Playground Sized DIY Marble Run Babble Dabble Do
Log Pile House Building Challenge Inspiration Laboratories
How to Make a Homemade Water Wall for Kids Happy Hooligans
Mudbrick Houses Imagine Childhood
Speedy Shelter PBS Kids Design Squad Global
Build a Shelter from the Sun and Test it with UV-Sensitive Beads Buggy and Buddy
Design A Seed Engineering Challenge Share it! Science News
Backyard Pulley an Engineering Challenge for Kids Kids STEAM Lab
DIY Solar Oven The Craft Train
Backyard Railroad Engineering: Outdoor STEM Challenge for Kids Adventure in a Box
Robots Rock
Be sure to ask kids what problems their robots will solve before they design, build, and test these marvelous bots.
Build Your Own Robot Arm TryEngineering
Robo Arm PBS Kids Design Squad Global
Squishy Circuit Robot: Electrical Engineering Design Challenge Lemon Lime Adventures
Homemade Spinning Brushbot Research Parent
Upcycled Toy Car Marker Bots Left Brain Craft Brain
How to Make a Minion Scribble Bot Science Sparks
Drawing Robot: Learn How to Create Robot Art Rosie Research
Build Your Own Underwater Robot Science Buddies
Engineer a Bee eGFI
Simple Things
Sometimes the simplest things can make for the best engineering projects. Challenge kids to design and build with simple materials ranging from cups to straws to newspapers.
Newspaper Engineering Challenge for Kids The Educators' Spin On It
100 Cup Challenge Busy Kids Happy Mom
Building With Straws: A STEM Activity Kids Activities Blog
Straw Geodesic Dome Babble Dabble Do
Building a Straw House Deceptively Educational
Fun and Easy Straw Rocket STEM Activity for Toddlers Engineering Emily
DIY Magnetic Marble Run for the Fridge Door Go Science Girls
How to Make an Indoor Boomerang What We Do All Day
Indoor Snowball Structures: Engineering for Little Hands One Time Through
How to Make a Bubble Blower Machine Teach Beside Me
Balancing Dinosaur STEAM Activity for Kids Rainy Day Mum
DIY Marble Mazes for Preschool Kids Coffee Cups and Crayons
Build a Cardboard Scissor Lift Scientific American
C is for Catapult! Go Science Girls
How to Build the Eiffel Tower: An Engineering Project for Kids KC Edventures
How to Make Homemade Fidget Spinner STEM Little Explorers
3D Shapes and Shapes Out of Straws and Pipe Cleaners Meaningful Mama
Spider Web Construction Rainy Day Mum
Building Toothpick Bridges Eva Varga
Teaching Tip: Turn a simple engineering activity into a lesson plan by having students follow the engineering design process. Ask students to:

Define the problem
Do background research
Brainstorm and select a potential solution
Create a prototype
Test and evaluate the prototype
Improve upon the prototype
Communicate the results

Get started with this engineering design challenge printable.
Holiday and Seasonal
Incorporate engineering into your lessons with these activities themed around holidays and the seasons.
Christmas Engineering Activity for Kids Fun-A-Day
Gingerbread Steam Project The Homeschool Scientist
Candy Can Construction Bridge Preschool Powol Packets
Build a Cornstarch Block Christmas Tree Gift of Curiosity
Paper Circuit Snowman Rosie Research
Sugar Cube Igloo Project The Crafty Classroom
November STEM: Giant Balloons, Thanksgiving Parades, & Engineering Get Caught Engineering
Halloween Robot Spider Craft Inspiration Laboratories
Candy Heart Catapult Stir the Wonder
Easter Catapult STEM Activity and Easter Science for Kids Little Bins Little Hands
PEEPS Parachute STEAM Challenge in Early Childhood The Preschool Toolbox
Engineering STEAM Activity: Build a Leprechaun Trap Kids STEAM Lab
Reverse Engineering
If your kids are constantly taking things apart, reverse engineering may be just the thing for them!
Reverse Engineer a Solar Toy From Engineer to Stay at Home Mom
Reverse Engineering a Fidget Spinner From Engineer to Stay at Home Mom
Recycled Toy Robot Project with Reverse Engineered Toys Brain Power Boy
Reverse Engineering Project: Disassemble, Sketch & Recap TeachEngineering
Disassemble a Click Pen TeachEngineering
Tinkering for Kids – Waffle Iron Confidence Meets Parenting
STEM Tinkering Activity: Taking Apart an Old Toy Little Worlds Big Adventures
Toy Take Apart Exploratorium
Your Kids Should Be Taking Apart Electronics! There's Just One Mommy
Making the World a Better Place
Engineering projects should solve problems using design solutions. These activities will allow kids to explore how they can improve people's lives in meaningful ways.
Earthquake Rollers Scientific American
Convenient Carrier PBS Kids Designer Squad Global
Articulated Grabber Engineering Project for Kids Instructables
Build a Lung Model US Patent and Trademark Office
Make Your Own Water Filters TeachEngineering
Solving a 'Windy' Problem Science Buddies
How to Make an Articulated Hand Go Science Girls
Building for Hurricanes eGFI
Tornado Tower Made for STEAM
Just for Fun
These engineering activities don't fall into one of the above categories, but they do make for great learning opportunities for kids!
Engineering Kids | Rube Goldberg Machine TinkerLab
Using Pool Noodles to Build a Playhouse From ABCs to ACTs
PVC Pipe House Building Project Engineering STEM Activity Little Bins Little Hands
STEAM Challenge: Build a structure you can balance on one finger (or your nose!) Gift of Curiosity
Build a Satellite NASA Jet Propulsion Laboratory
How to Make Projector Using Smartphone and Magnifying Glass STEM Little Explorers
Pneumatic Machine Made for STEAM
Cardboard Automata Exploratorium
How to Make a Water Wheel Home Science Tools
Global Cardboard Challenge Imagination.org
If you enjoyed this article, try our Ultimate Guide to Teaching Science and our science worksheets and lessons for more great teaching resources.
28 January //
Posted in How To //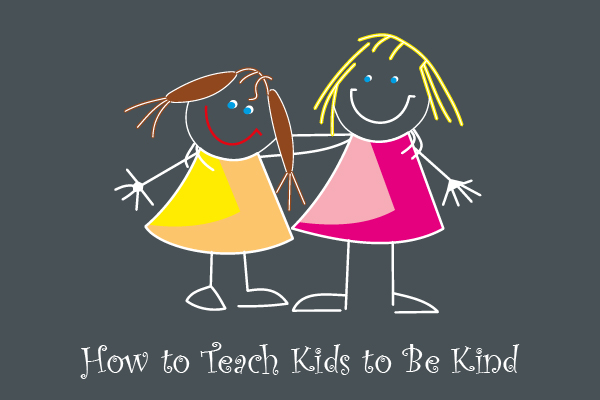 Every day, stories about bad guys fill the news, but it's the stories of kindness that really stand out. Whether it's a fast food employee helping a customer or a group of students checking on a Grandma in the Window, these stories show the importance of being kind. Unfortunately, showing kindness isn't the norm. Harvard's Making Caring Common project found that 80 percent of middle and high school students thought achievement and happiness were more important than caring for others. Still, teachers and parents can help turn those numbers around by teaching kids to be kind.
Modeling Kindness
The first step in teaching kids to be kind is to model kindness. That means it's time to end the "Mommy Wars", set aside the political differences, stop pointing out what everyone else is doing wrong, and start focusing on what they're doing right. You can model kindness by:

Saying please and thank you
Regularly telling others what you appreciate about them
Speaking to others in a pleasant tone, even if they upset you
Treating others, including children, with respect
Pitching in when you see a need (without complaining)
Giving random compliments to others
Keeping your negative thoughts to yourself
Doing unto others as you would have them do unto you
Kids tend to model the behaviors of the adults around them. If they see you regularly being kind, they will begin to exhibit kindness in their own lives. Of course, no one's perfect. There will be moments when you tell someone off, hurt someone's feelings, or fail to help someone in need. Taking the time to apologize when you were less than kind can also help kids learn a lesson about the importance of kindness.
Offering Positive Praise
Just like adults, kids need validation. They want to know that they're appreciated and that they're doing the right things. According to Greater Good in Action, kids actually have a propensity towards being kind. Parents and teachers can encourage kids to act on that propensity. Instead of focusing on what kids are always doing wrong, take some time to focus on what they're doing right, particularly when it comes to kindness. Say things like:
"You are a very helpful person."
"I appreciated it when you said 'Please' before you asked me for…"
"It was a great idea to…"
"Thanks. That was very kind of you."
"I like the way that you thought about others."
Don't praise kids every time they act kindly, otherwise they are likely to act a certain way just to receive the praise. Instead, try to point out a few positive moments every week to let kids know you appreciate how kind and helpful they are.
When kids decide not to act kindly, focus more on how it made the other person feel rather than criticizing or punishing the kids. For example, "Did you notice that James looked sad when you called him a name?" or "When you ask me for something without saying please, it makes me feel unimportant."
Thinking about Kindness
While many kids are born with an innate desire to be kind, parents and teachers still need to plant seeds of kindness in their minds. Talk to kids about what they think it means to be kind. Ask them to share memories of acts of kindness. You can open the conversation with these writing prompts, which also make great discussion questions.
Providing Opportunities to Be Kind
Of course the greatest way to teach kids to be kind is to give them plenty of opportunities to show kindness. These can be big acts of kindness, such as collecting money for charity or taking bags of food to a food pantry, or smaller acts of kindness, such as picking up trash on the playground or giving a friend a hug when they are sad.
Some ways kids can show kindness every day include:
Holding the door open for strangers
Smiling at people who make eye contact with them
Keeping a gratitude journal and regularly writing what they are thankful for
Writing thank you notes to others
Complimenting others
Waving hello when they see someone they know
Calling family members they do not see often
Writing notes or drawing pictures for family and friends
Asking if they can help when they see someone tackling a big job
Offering to let a classmate go first
Saying please and thank you
Doing their chores without being asked
Doing things they see that need done without being asked
Throwing away trash they find on the ground
Saying "I love you"
Taking some time to pet and talk to their pets
Check on elderly neighbors
Some big ways to encourage kids to be kind include:
Donating some of their clothes or toys to charity
Serving a meal at a homeless shelter
Visiting a nursing home or sending cards and flowers to the residents
Using allowance money to buy something for someone in need
Paying for someone's meal at a restaurant (with allowance money or your help)
Offering to do chores or yard work for an elderly or disabled neighbor
Donating books to a preschool or library
Cleaning up litter in the park or around the school
Sending cards and care packages to deployed servicemen and women
Collecting money for a favorite charity
Donating food or toys to a local animal shelter
Participating in a 5K run or walk for charity
Speaking out against bullying as part of an anti-bullying campaign
Volunteering to tutor another student
Making your neighbors gifts for the holidays or on their birthdays
If you encourage kids to show kindness when they are young, they are more likely to grow up to be kind adults. If you want to take the conversation on kindness a step further, check out Edutopia's Eight Steps Toward a Kinder World. Remember, kindness matters.
Kids may have a couple weeks off from school, but that doesn't mean they have to take time off from learning. If you're clever, you can make the holiday activities kids already enjoy a little bit more academic. Best of all, kids won't even realize that they're learning. Use our ideas to add some educational elements to your holidays.
#1 Take a Nature Walk
Bundle up and head outside to take a nature walk. As kids walk, talk to them about the changes nature goes through during the winter (trees losing their leaves, animals digging up food they've hidden). You could even make up a scavenger hunt to give kids something to look for as they walk. A few suggestions include:
Find something red
Find some animal tracks
Find an animal nest
Find an animal searching for food
#2 Play in the Snow
Even playing in the snow can be a fun learning opportunity. Talk to kids about geometry, engineering, and architecture as they build snowmen and snow forts. Learn about angles and trajectory as they attempt to throw snowballs to hit a target. Bring some snow inside and talk about the states of matter as you heat it up in a pan, watching it turn from snow to water to steam. Put the melted snow in the freezer and discover what happens when it refreezes.
#3 Do a Science Experiment
Take some time do conduct a science experiment or two in your own home. Before starting, refresh kids' knowledge of The Scientific Method and controls and variables with Help Teaching's worksheets. Then check out our Science Activities You Will Want to Do with Your Kids or the Ultimate Guide to Teaching Science to discover fun experiments and other activities.
#4 Make Christmas Cookies
Let kids help with the measuring when you do your annual cookie baking. If you're willing to mess up a small batch of cookies, have kids "accidentally" add too much baking soda or butter and let them see how it affects the final outcome. For large batches of cookies, give older kids a chance to figure out the amount of ingredients needed for doubling the recipe.
#5 Go Shopping
When you do some of your Christmas shopping, take the kids along and let them do some shopping of their own. When you do, put them on a budget. Kids will get a good lesson adding up prices and learning to control their spending as they try to buy something for everyone with the small amount of money they have.
#6 Watch a Christmas Movie
Even watching Christmas movies can be educational. After watching a favorite holiday movie with your kids, take some time to ask a few questions about it. If one of your movies of choice is the classic A Christmas Carol, use Help Teaching's general A Christmas Carol or Characters in a Christmas Carol worksheet to give you some ideas of the kinds of questions to ask.
#7 Head to the Library
In the midst of all their holiday fun, kids could benefit from some downtime spent lounging on the couch with a good book. Head to your local library and have kids pick out a few books to enjoy during the holidays. If your kids don't like to read, the library also likely has a large selection of magazines, graphic novels, and even educational movies for them to watch. Our Winter Holidays Reading List contains a good list of holiday stories you may want to check out.
#8 Make Your Own Christmas Gifts
Give kids a chance to express their creativity by making Christmas gifts for their friends and family. Head to your local craft store to help kids get inspired. An empty shoebox could become a jewelry box, while some colorful rubber bands could become the materials to make a trendy bracelet. Find lots of ideas and resources in our Ultimate Guide to Crafts for Kids. While creative skills may not seem academic, honing those skills can help kids keep their minds sharp and ready to do some creative problem-solving when they get back to math or science class.
#9 Enlighten their Devices
Gifting your kids with a new smartphone or tablet this holiday? Before handing it over, add the StudyLock app. In order to unlock their device, kids must answer a few questions, helping keep their brains sharp before they get lost in text messages and social networking. You'll find more quality apps for kids and teens in our Guide to Quality Screen Time for Babies, Children, and Teens.
#10 Volunteer
Learning isn't limited to math, science, or reading activities. You can also use the holidays to teach kids valuable character lessons. During the holidays, plenty of organizations need volunteers to help with their holiday events. Donate a toy to a local toy drive, sign up to serve a meal or help clean up at a local homeless shelter, or even adopt a family in need. The lesson kids learn by helping out may be more valuable than any lesson they would learn in school.
What other strategies do you use to keep kids learning during the holidays? Share them with others in the comments below.

Did you know that experts estimate there will be 1.4 million computing jobs open in 2020 and only 400,000 students to fill them? Since 2013, Computer Science Education Week has been held during the second week of December. This week is designed to make students and teachers more aware of computer science and the importance of building computing skills at early age. While enrolling all students in regular coding and other computer science classes may be the ideal solution, you can still take small steps to encourage students to take notice of computer science and help them discover how much fun it can be.
Participate in an Hour of Code
In 2014, the Hour of Code gained a lot of publicity when President Obama sat down to join students as part of the event. This year, and all year long, you can also participate in an hour of code. Organize your own Hour of Code event at your school or join up with an existing group. If you're not sure of what you're doing, search for local volunteers to come work with your students during the event. For a less formal option, simply have your students complete one of the coding tutorials available through Code.org where they code with popular characters from Star Wars, Minecraft, or even Anna and Elsa from Frozen.
Don't be afraid to go beyond an Hour of Code either. Many different apps and websites offer a series of lessons designed to teach students how to code or to think in ways that are related to the language of coding. A few of them to try in your classroom include:
Elementary
Kodable – a fun app that comes with an extensive coding curriculum
ScratchJr – a free app that teaches kids to think like a coder while completing fun tasks
Tynker – another provider of an Hour of Code resources featuring brands and characters kids love
Secondary
Hopscotch – an app that allows kids to make and publish their own games
CodeCombat – an online, multiplayer game that requires kids to write code to play
Kodu Game Lab – a visual programming tool that kids can download to create games
Hold a Computer Science Career Day
Students often hear that there are tons of job in the tech industry, but do they know what those jobs look like? Invite parents and other community members to your school for a Computer Science Career Day. Your speakers can rotate among classes to share what their jobs are like or they can set up tables in booths and talk to students as they approach them. If you can't find individuals to come to school, then have students research different tech jobs or companies and share their findings with the class.
Show a Video
Take some time to show kids a video related to computer science. There are tons of Ted Talks related to technology that could inspire kids to consider a career in computer science. A few videos you might want to use include:
Have Fun with a MaKey MaKey Kit
While a MaKey MaKey kit does not involve a lot of coding, it does encourage kids to think outside of the box and imagine the cool things they can do when they combine computers with everyday objects. You can turn students' experiments with the kit into writing assignments, science experiments, marketing proposals, and other educational activities.
Connect Computer Science to Students' Interests
Your students may not be interested in computer science, but they may be interested in playing football, playing with their toys, or drawing and coloring. Chances are they don't realize how much computer science can play a role in these activities. For example, it takes a lot of technology to take video of a football game, freeze it, and move it around on the screen. Give students the task of researching how technology plays a role in their favorite hobbies. They may discover that coders help create 3D models of their favorite toys or that they can create some amazing art with lines of code.
Get Away from the Computer
While learning how to code can benefit students, thinking in the language of coding is even more important. By promoting logic and creative thinking skills, you can give students the mental skills they'll need to be successful in a computer science field.  CS Unplugged offers a large selection of activities designed to help kids develop these critical thinking skills. These include tasks such as learning about The Turing Test and discovering how difficult it is for computers to draw lines and circles.
For more resources to help you bring Computer Science into the classroom, check out Code.org and the Computer Science Education Week website. If you use some of these activities in your classroom, share them to Facebook or Twitter with the hashtags #CSEdWeek and #HourOfCode.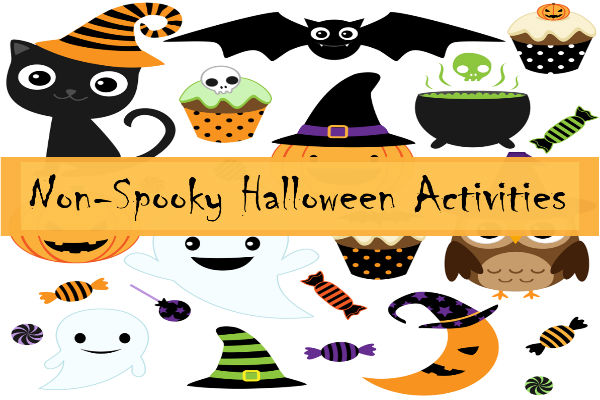 For kids who dislike ghosts, ghouls, and skeletons, Halloween can be a rough season. It's hard to know what's lurking around the corner at pumpkin patches, corn mazes, trunk or treats, and even the local grocery store. Still, that doesn't mean you have to skip Halloween altogether. There are plenty of ways to celebrate Halloween without bringing in the darker side of the season.
1. Paint pumpkins
For some kids, carving pumpkins can be too spooky, especially with their crazy faces, but what's stopping you from painting a pumpkin? Choose some bright colors and focus on funny faces or cute patterns, such as dots and stripes.
2. Bob for apples
If you're having a Halloween party, throw in a traditional bobbing for apples game. While it may not be the most hygienic, kids will have fun trying to capture the apples with their mouths.
3. Watch a pet parade
Check your local newspaper or activity guide for a pet costume parade. These parades are usually free from spooky costumes and, instead, focus on adorable animals in silly costumes.
4. Head to a fall festival
Many fall festivals are held during the day and focus on the fun side of the season. To ensure the festival will be free from spookiness, consider attending one sponsored by a church where it's less likely that ghosts, skeletons, guts, and gore will make an appearance.
5. Read a cute Halloween story
Read a story such as The Legend of Spookley the Square Pumpkin which focuses more on accepting your differences and fitting in than trying to scare kids on Halloween. Another cute Halloween book is Pumpkin Cat by Anne Mortimer.
6. Hold a non-spooky costume party
Invite some friends over for a costume party where only fun, happy costumes are allowed. Consider coming up with a theme, such as favorite cartoon characters or storybook characters.
7. Trick or treat with friends and family
Rather than going trick or treating around your neighborhood, set up a time where you can trick or treat at the homes of different friends and family members. Do it during the day so you won't see any scary masks or other costumed people out and about.
8. Have Halloween craft time
Rather than making a spooky bat, Frankenstein, or other scary craft, just pull out some orange and black paint and construction paper, along with some glue and googly eyes, and let kids come up with their own creations.
9. Make silly monsters
Monsters don't have to be scary. Focus on crafting monsters with silly faces rather than scary ones. You can give them cute names too.
10. Create leaf art
Go outside and gather some leaves. Make leaf creatures by adding eyes, noses, arms, and legs or use the leaves to make collages and other fun pictures.
11. Paint with a pumpkin
Cut out different shapes from a pumpkin and use those shapes as stamps. Dip them in paint and press them on paper to create unique works of art.
12. Make slime
Slime is often associated with Halloween, but that doesn't mean it has to be spooky. Make or buy some slime and have fun getting your hands messy.
13. Play in a sensory bin
Slowly introduce kids to some of the spookier aspects of Halloween through a themed sensory bin. You can throw in a few small plastic bats, ghosts, or spiders if your child can handle them in small doses. You may also want to add plastic pumpkins, some dirt, or black beans. For extra texture, add some orange or black water beads.
14. Go on a candy hunt
One of the best parts of Halloween is getting to trick or treat, but you don't have to find candy in traditional ways. Hide candy around your house or in your yard and send kids on a fun scavenger hunt to find it or set up different trick or treat stations in each room of your house.
15. Focus on educational activities
Try Help Teaching's 100 Educational Pumpkin Activities to bring math, science, and literacy practice to the holiday.
If you do decide to head out to some more traditional Halloween events, be sure to call beforehand to see if there will be any spooky elements there and walk ahead of your child in any corn mazes or on any paths so you can be prepared to turn around if any scary elements appear. You may also want to bring along some head phones or a pair of sunglasses to help your child tune out the spooky sights and sounds.
Do you have any favorite non-spooky activities for Halloween? If so, share them for others to enjoy!