Currently Browsing
Posts Tagged ' activities for children '

Earth Science Week is October 14-20, and it is the perfect time to show our appreciation for our home planet! Each day of the week focuses on specific geoscience-themed celebrations. To help you and your students partake in this year's events, we have put together a list of activities for each day of Earth Science Week.
Contests
STEM contests and competitions are a fun way to engage students in learning. The American Geosciences Institute offers several contests as part of Earth Science Week. Students in kindergarten through fifth grade may enter a visual arts contest, while an essay contest is open to students in sixth through ninth grade, and a photography contest and a video contest are open to all ages.
International EarthCache Day – Sunday
What better way to kick of Earth Science Week than with a scavenger hunt? EarthCaching is geocaching with a geoscience twist. Gather the kids, their phones or any portable devise with GPS technology, and head outdoors to find some educational treasures.
EarthCaching – An Educator's Guide
The EarthCaching Educator's Guide, put out by the Geological Society of America, provides all the background information, tips, and lesson plans required for parents and teachers to get their students started with earthcaching.
EarthCache Listings
Ready to find an earthcache? Consult this searchable list to locate a nearby earthcache.
Earth Science Literacy Day – Monday
Earth Science Literacy Day focuses on the "Big Ideas" that we should all understand about earth science. Start by watching the Big Idea videos by the American Geosciences Institute. Then, why not take the opportunity to hook children on learning about our planet through reading? Below are a few of our favorite fiction books that feature geoscience themes. Most of these books complement Big Idea 6: Life Evolves on Earth and Big Idea 8: Natural Hazards Affect Humans!
Saturday Night at the Dinosaur Stomp by Carol Diggory Shields
Young children will enjoy the creative rhyming and variety of dinosaurs dancing it up at the dinosaur stomp. Adults will enjoy the way geologic time is interwoven throughout this rollicking story.
Dinosaurs Before Dark by Mary Pope Osborne
The beloved Magic Tree House series begins in the prehistoric past with Dinosaurs Before Dark. Early readers that have already started the series can skip the later geo-themed books, Vacation Under the Volcano or Earthquake in the Early Morning.
I Survived the Destruction of Pompeii, AD 79 by Lauren Tarshis
Older elementary students who are fans of adventure and historical fiction will flip through the pages of this story about the eruption of Mount Vesuvius. Related books in this series include, I Survived the San Francisco Earthquake, 1906 and I Survived the Joplin Tornado, 2011.
The City of Ember by Jeanne DuPrau
What better way to appreciate what the earth's surface offers us than to take it away? Middle school readers will want to keep the lights on and find out what happens when the power goes out in the underground city of Ember.
Ashfall by Mike Mullin
High school students who enjoy disaster fiction will be drawn into the post-apocalyptic world of Ashfall. However, in this novel, the force that destroys the earth as we know isn't aliens or governments, it's our very own Yellowstone supervolcano.
No Child Left Inside Day – Tuesday
Time to go outside! Geoscience happens outdoors, so take advantage of this day and get your students and children outside with these activities.
Outdoor Education Stations
Coordinate an outdoor geoscience activity with a local earth science organization or setup education stations in your own backyard or school grounds.
Every Kid in a Park
If you teach or know any fourth grade students, take this day to get them signed up for the Every Kid in a Park program. The pass allows all U.S. fourth grade and home-school equivalent students and their families to visit hundreds of national parks, forests, and wildlife refuges for free. Bonus, the pass is good through the end of August, making it the perfect motivational tool for getting outside all year long!
Earth Observation Day – Tuesday
Take advantage of Earth Observation Day by engaging your students in practical applications of Earth Science data. Introduce your students to remote sensing with one of these lessons or activities or connect with a remote sensing scientist. Visit the Earth Observation Day website to get started!
National Fossil Day – Wednesday
If you are fortunate enough to have fossils on-hand for students to examine, then today is the day to do so! If not, don't worry, students can still participate in National Fossil Day with these activities.
Online Fossil Activities
Take students on an interactive adventure to the past without leaving the classroom with the Fossil Mysteries interactive. View fossils on exhibit at the Smithsonian's National Museum of Natural History with the NMNH virtual tour. Explore online paleontology games and activities from the American Museum of Natural History. Try our free Fossils online lesson too.
Art and Photography Contest
Get creative by entering the National Fossil Day Art Content. The winning submission for each age group will be featured on the official National Fossil Day website.
Geoscience for Everyone Day – Thursday
How do we manage our mineral resources? Can we predict natural hazards? Could we survive on Mars? These are all issues geoscientists grapple with on a daily basis. Geoscience for Everyone Day is set aside for students to learn about geoscience careers.
Career Exploration
Allow your student to explore future career paths today. Science Buddies offers a great collection of job overviews and education and training information for those interested in Earth and Environmental Science careers.  PBS' Dragonfly TV features videos about Real Scientists, including an ocean scientist, meteorologist, marine geologist, and paleontologist.
Geologic Map Day – Friday
Geologic Map Day is dedicated to the important role geologic mapping plays in society. Geologic maps tell us much more than the location of roads and landmarks. Instead, they tell us about the history of the earth below our feet – the types of rocks and their ages, fault lines, and folds, all essential information for land-use planning.
Learn About Geologic Maps
For those unfamiliar with geologic maps, a primer is in order. Start by reading the Geologic Maps site by the US Geological Survey and the National Parks Service, then, explore the One Geology Portal.
Interpret a Geologic Map
Get hands-on and try interpreting a geologic map. Okay, it's not quite that simple, but there are some excellent tools and lessons available. Start with the Visible Geology interactive, What's Under My Feet, Geologic Maps and Groundwater, or Geologic Maps & Earthquakes.
International Archaeology Day – Saturday
Earth Science Week wraps up with International Archaeology Day, the perfect opportunity for families to experience the real-world intersection of geoscience and history.
Attend an Archaeology Day Event
The Archaeological Institute of America's website has an interactive map and searchable database of Archaeology Day events happening around the world. Chances are there is a family-friendly tour, open house, fair, or exhibit near you.
Join a Dig!
Some archaeological sites allow volunteers to join in the dig free of charge. Search for potential volunteer opportunities here. If you and your students can't participate in a dig, then go virtual with InteractiveDigs.com.
Looking for more ways to learn about planet Earth? Visit HelpTeaching.com and try our free Earth Science printables and lessons.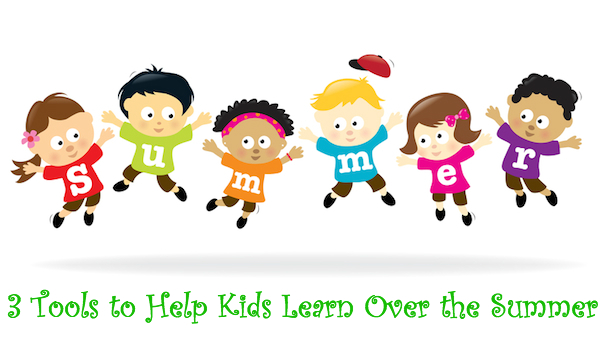 Learning can take place anywhere, not just in the classroom. Summertime offers many opportunities for kids to gain knowledge.You can help them learn by introducing them to three simple tools designed to get them interested in learning, even if they don't realize that's what they're doing.
1. Ask Questions
Sometime during the toddler years, kids go through a "why" phase. They use the question "Why?" to help them figure out the world and everything in it. Unfortunately, many kids quickly grow out of that stage. To help kids learn over the summer, re-introduce them to the art of asking questions. It may seem annoying to have a child who is constantly asking how and why things happen, but when you realize those questions help them learn, it's much easier to handle.
To help kids learn to ask questions, start by asking questions yourself. For example, if you're at the zoo and see a zookeeper standing by an animal cage, take the time to ask the zookeeper a question. You don't have to be at a zoo or museum to ask a question either. Ask questions of people all around you – your mechanic, the teller at the bank, the person stocking shelves in the grocery store. Even if you already know the answer to some of the questions you ask, you'll show your children how easy it is to ask questions on their own. They'll also discover that people are usually more than willing to answer the questions they ask.
2. Introduce them to Experts
When it comes to asking questions, one of the best places to find an answer is an expert on the topic of the question. The summer is a great time to help kids gain access to experts in many different career fields, not only to ask questions, but also to observe them as they work. Since
kids aren't in school all day, they have more time to see how different adults spend their time. While many jobs don't aren't ideal for having a kid underfoot, some workplaces may allow children to shadow
a family member or close family friend for a day. Spending a day on the job can help kids learn more than simply reading a book or watching a video. It also gives them access to multiple experts in an industry and many of them will be ready to teach kids what they know.
When it comes to introducing kids to experts, think beyond careers and focus on interests and hobbies, too. For example, if your child is interested in the Civil War, see if you can set up an interview with a local Civil War reenactor. If your child wants to become a stronger swimmer, contact the swim team of a local college and see if a student would be willing to sit down with your child and give him some advice. Many adults who have hobbies would be more than happy to
take some time to sit down with your child and share about their interests.
Don't forget about classes either. Many groups hold special classes during the summer. If your child is interested in cooking, for example, you may find a cooking class taught by a local chef. If your child likes sports, look for a sports camp that features a professional athlete or coach. These classes often cost money, but the cost is worth it if your child gets to interact
with someone at the top of their field.
3. Watch Videos
Of course sometimes your local area won't offer special summer classes or experts that are of interest to your child. Thankfully, kids have the internet. Online they can find tons of videos related to their interests, many of them featuring some of the top people in the field. For example, TED Talks and Big Think have been known to feature some of the world's greatest scientists and thinkers. Websites such as Top Documentary Films also can help kids learn by allowing them to access documentaries for free.
Since it's summer, you may not want your kids sitting in front of the computer or TV screen all day. That's where videos from sites like YouTube come in handy. Many YouTube channels (such as these channels for social studies) contain short videos designed to help kids get snippets of knowledge. A simple search for how-to videos can also help kids pick up a new skill by watching short videos. Maybe this summer they'll learn to play the guitar, take ballroom dancing lessons, or discover how to make homemade ice cream. With millions of how-to videos on YouTube, kids can learn almost anything.
Sure, you want your kids to relax during the summer, but you don't want them to stop learning. By connecting these tools with other summer learning activities you can ensure kids are being filled with knowledge over the summer.
For more resources to get kids learning on their own this summer, share our Ultimate Guide to Free Online Self-Learning for Kids, which is full of free videos, courses, and other materials to help kids explore their interests and find answers to their most pressing questions.
What tools do you use to help kids learn over the summer? We'd love to hear your ideas!
Science surrounds us and summer offers the perfect time for families to explore science in action. Avoid the summer slump and try some of these suggestions for summer science adventures with your child. Most of these activities are low-cost or free, but be sure to check with your local library before heading out to learn about free and discount passes to museums and other local attractions.
1. Participate in a Citizen Science Project
Science is collaborate by nature, so join in and lend a hand by participating in a citizen science project. Project participants support scientific research by:
These are just a few of citizen science projects looking for volunteers and many welcome help from children working with the guidance of an adult. Search for other citizen science projects at Zooniverse and SciStarter.
2. Become a National Park Service Junior Ranger
With parks from Maine to California and everywhere in-between, the National Park Service offers an affordable option for hands-on summer science fun. Fourth grade students qualify for free annual park passes through the Every Kid in a Park program. The Junior Rangers Program gives kids the opportunity to explore nature, attend ranger guided programs, and complete activities for each park. If your budding park ranger completes a Junior Ranger Program, each park offers a patch or badge and a certificate of completion. Can't visit a particular park? Visit the NPS's on-line WebRangers page.
3. Visit a Science Center
There are many fabulous science museums that offer kids access to interactive learning opportunities. For those fortunate enough to be within driving distance to a NASA center, consider a visit. Learn about space exploration, aeronautics, and ongoing missions and discoveries. Many of the centers, including Johnson Space Center in Houston, TX, Kennedy Space Center in Cape Canaveral, FL, and the Jet Propulsion Laboratory in Pasadena, CA, welcome visitors and offer tours. If you can't travel to a visitor center, then be sure to visit NASA Wavelength and explore the vast collection of educational resources NASA has to offer.
With centers across the nation, the Audubon Society provides outdoor adventure for all ages. Visit a sanctuary, go on a hike, and explore the local lands and wildlife. Many centers offer nature themed programs designed exclusively for children and families as well as summer camps. Centers are open to the public, but those with memberships may visit for free and receive discounts on programs and camps. Find an Audubon Center near you.
4. Try Hands-On Science Activities
Hands-on science activities at home are a great way to have some summer fun, spend family time together, and even learn a little something new. Science at home is affordable and typically can be conducted with household objects and resources. Follow your child's lead and try experiments related to his or her interests. Get started with these science activities for kids or browse this collection of home science activities from Scientific American.
5. Star Watch
Grab a blanket and the bug spray and head outside for some star gazing. If possible, get away from light pollution, you will be amazed at what you can see once your eyes adjust to the dark on a clear night. Bring a star chart and try to locate a few stars, planets, constellations, and galaxies. Use binoculars to identify surface features of the moon. If that isn't spectacular enough for your aspiring astronomer, try counting the number of "shooting stars" during a meteor shower. August's Perseids meteor shower is a great one to enjoy on a warm summer evening. Check out this year's not-to-miss celestial events to watch with kids.
Looking for more ideas for summer fun with your children? Be sure to read 100 Summer Activities for Kids!
The summer months bring relief and joy for students, but also lots of free time to be filled. There is no better way to spend these hours and days than with a book, especially one that educates. Below are book recommendations based on age and genre that will help keep your child or student busy and engaged throughout the summer.
Kids
Activity Book: "The Complete Book of U.S. History"
This book clocks in at over 350 pages and is chock full of exercises and activities to keep young minds sharp. (Ages 8 and up)
African-American Studies: "What Color is My World?: The Lost History of African-American Inventors" by Kareem Abdul-Jabbar and Raymond Obstfeld
NBA Hall of Famer Kareem Abdul-Jabbar writes of obscure African – American inventors in this well-illustrated story. (Ages 8 and up)
Presidential: "So You Want to Be President?" by Judith St. George
Does your little one ever wonder what it takes to become president? St. George chronicles every president in an interesting and humorous manner, accompanied by wonderful illustrations. (Ages 6–8)
Biography: "The Story of Ruby Bridges" by Robert Coles
The story of the first African American child to integrate Frantz Elementary School in New Orleans. (Ages 4-8)
Culture: "Homes Around the World" by Max Moore
Learn about different and unusual residences around the world. (Ages 5–7)
Teens
Historical Fiction: "The Boy in the Striped Pajamas" by John Boyne.
This acclaimed book introduces the Holocaust in a gentle manner and opens the door to discussion about such a sensitive topic.
Mystery: Chasing Lincoln's Killer" by James L. Swanson.
This is a young adult version of "manhunt", the same author's account of the search for President Lincoln's assassin. "Chasing Lincoln's Killer" uses trial manuscripts and interviews to build a compelling and completely true thriller.
US History: "Don't Know Much About History" by Kenneth C. Davis
This updated edition of the bestseller that answers all of your questions about American history in a very entertaining way.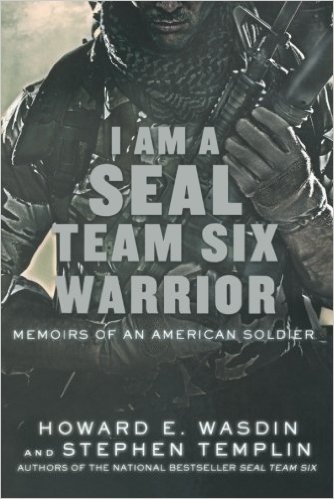 Current Events: "I am a SEAL Team Six Warrior: Memoirs of an American Soldier" by Howard E. Wasdin and Stephen Templin
Learn the grueling training involved in joining the unit who found Osama bin Laden in this firsthand account from former Team Six member and author, Howard Wasdin.
World History Compilation: "A Little History of the World" by E.H. Gombrich
With illustrations on every page, Gombrich brings history to life for young adults.
The summer allows students to learn at their own pace and explore topics that interest them. Interesting and educational books are just the recipe to feed a hungry mind. You can also get kids interested in Social Studies websites and movies to help keep them learning throughout the summer.Got other suggestions for this list? Share them with others by commenting below.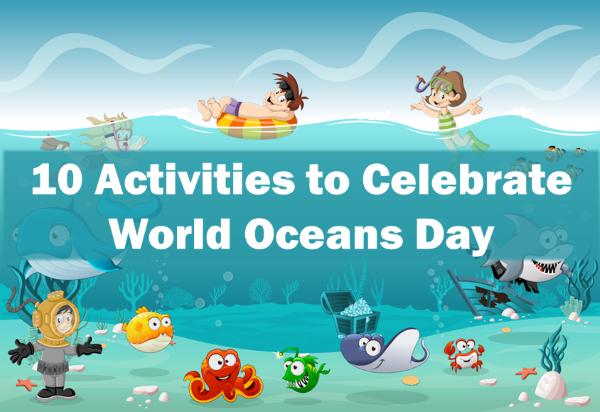 World Oceans Day is June 8th and there is still time to celebrate! Put on a blue shirt and forge ahead with these ten fun ways to celebrate World Oceans Day with your class or family.

1. Skipper your crew to a World Oceans Day event in your area. From art contests to film festivals to hands-on exhibits, there are ocean activities taking place around the world.
2. Navigate your way to the World Oceans Day website and check out their last minute celebration ideas. Find ways to help keep plastic out of oceans and landfills with your students or family.
3. Google is charting new territory with its Oceans Street View images. Allow students to explore this stunning collection.
4. Set course to Adrift.org and challenge students to predict the path of floating pollution before they try this engaging interactive.
5. The Smithsonian has made great headway in compiling this diverse collection of ocean-related lesson plans for educators.
6. For landlubbers who can't venture out to sea, dive into an ocean-themed book for a reading adventure worthy of the high seas. Get started with one of these nautical tales.
Nautical Novels and Seaworthy Stories
The Rainbow Fish by Marcus Pfister
Swimmy by Leo Lionni
Flotsam by David Wiesner
Mr. Popper's Penguins by Richard and Florence Atwater (Worksheet)
Treasure Island by Robert Louis Stevenson (Worksheet)
Moby Dick by Herman Melville
Billy Budd by Herman Melville
The Pearl by John Steinbeck (Worksheet)
Kon-Tiki by Thor Heyerdahl
20,000 Leagues Under the Sea by Jules Verne
The Odyssey by Homer (Worksheet)
The Old Man and the Sea by Ernest Hemingway
7. Ahoy! Teachers, students, and families can join an Ocean Guardian Program and plan a school or community conservation project, submit ocean-themed artwork, stories, or poetry, and even become involved in diving!
8. If you are swamped with lesson planning, check out Help Teaching's collection of pre-made, ocean-themed worksheets. Or, have your students try our online lessons on Ocean Vocabulary Words, Ocean Zones, Tsunamis, or Tides.
9. Set your bearings to your local aquarium. Students of all ages will enjoy viewing and interacting with the amazing variety of sea life on display.
10. Head to the beach! What better way to celebrate World Oceans Day than by digging in the sand, discovering tide pools, and surfing the waves?
Have other suggestions for celebrating World Oceans Day with students and children? Share them in the comments! Read The Ultimate Guide to Teaching Science for more ways to invigorate your science curriculum and teaching.