Currently Browsing
Posts Tagged ' activities for children '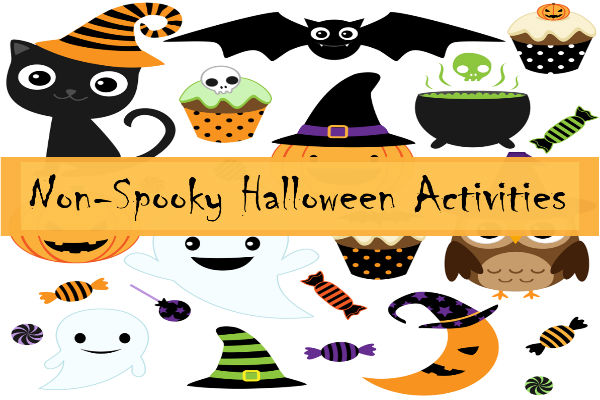 For kids who dislike ghosts, ghouls, and skeletons, Halloween can be a rough season. It's hard to know what's lurking around the corner at pumpkin patches, corn mazes, trunk or treats, and even the local grocery store. Still, that doesn't mean you have to skip Halloween altogether. There are plenty of ways to celebrate Halloween without bringing in the darker side of the season.
1. Paint pumpkins
For some kids, carving pumpkins can be too spooky, especially with their crazy faces, but what's stopping you from painting a pumpkin? Choose some bright colors and focus on funny faces or cute patterns, such as dots and stripes.
2. Bob for apples
If you're having a Halloween party, throw in a traditional bobbing for apples game. While it may not be the most hygienic, kids will have fun trying to capture the apples with their mouths.
3. Watch a pet parade
Check your local newspaper or activity guide for a pet costume parade. These parades are usually free from spooky costumes and, instead, focus on adorable animals in silly costumes.
4. Head to a fall festival
Many fall festivals are held during the day and focus on the fun side of the season. To ensure the festival will be free from spookiness, consider attending one sponsored by a church where it's less likely that ghosts, skeletons, guts, and gore will make an appearance.
5. Read a cute Halloween story
Read a story such as The Legend of Spookley the Square Pumpkin which focuses more on accepting your differences and fitting in than trying to scare kids on Halloween. Another cute Halloween book is Pumpkin Cat by Anne Mortimer.
6. Hold a non-spooky costume party
Invite some friends over for a costume party where only fun, happy costumes are allowed. Consider coming up with a theme, such as favorite cartoon characters or storybook characters.
7. Trick or treat with friends and family
Rather than going trick or treating around your neighborhood, set up a time where you can trick or treat at the homes of different friends and family members. Do it during the day so you won't see any scary masks or other costumed people out and about.
8. Have Halloween craft time
Rather than making a spooky bat, Frankenstein, or other scary craft, just pull out some orange and black paint and construction paper, along with some glue and googly eyes, and let kids come up with their own creations.
9. Make silly monsters
Monsters don't have to be scary. Focus on crafting monsters with silly faces rather than scary ones. You can give them cute names too.
10. Create leaf art
Go outside and gather some leaves. Make leaf creatures by adding eyes, noses, arms, and legs or use the leaves to make collages and other fun pictures.
11. Paint with a pumpkin
Cut out different shapes from a pumpkin and use those shapes as stamps. Dip them in paint and press them on paper to create unique works of art.
12. Make slime
Slime is often associated with Halloween, but that doesn't mean it has to be spooky. Make or buy some slime and have fun getting your hands messy.
13. Play in a sensory bin
Slowly introduce kids to some of the spookier aspects of Halloween through a themed sensory bin. You can throw in a few small plastic bats, ghosts, or spiders if your child can handle them in small doses. You may also want to add plastic pumpkins, some dirt, or black beans. For extra texture, add some orange or black water beads.
14. Go on a candy hunt
One of the best parts of Halloween is getting to trick or treat, but you don't have to find candy in traditional ways. Hide candy around your house or in your yard and send kids on a fun scavenger hunt to find it or set up different trick or treat stations in each room of your house.
15. Focus on educational activities
Try Help Teaching's 100 Educational Pumpkin Activities to bring math, science, and literacy practice to the holiday.
If you do decide to head out to some more traditional Halloween events, be sure to call beforehand to see if there will be any spooky elements there and walk ahead of your child in any corn mazes or on any paths so you can be prepared to turn around if any scary elements appear. You may also want to bring along some head phones or a pair of sunglasses to help your child tune out the spooky sights and sounds.
Do you have any favorite non-spooky activities for Halloween? If so, share them for others to enjoy!

Earth Science Week is October 13-19, and it is the perfect time to show our appreciation for our home planet! Each day of the week focuses on specific geoscience-themed celebrations. To help you and your students partake in this year's events, we have put together a list of activities for each day of Earth Science Week.
Contests
STEM contests and competitions are a fun way to engage students in learning. The American Geosciences Institute offers several contests as part of Earth Science Week. Students in kindergarten through fifth grade may enter a visual arts contest, while an essay contest is open to students in sixth through ninth grade, and a photography contest and a video contest are open to all ages.
International EarthCache Day – Sunday
What better way to kick of Earth Science Week than with a scavenger hunt? EarthCaching is geocaching with a geoscience twist. Gather the kids, their phones or any portable devise with GPS technology, and head outdoors to find some educational treasures.
EarthCaching – An Educator's Guide
The EarthCaching Educator's Guide, put out by the Geological Society of America, provides all the background information, tips, and lesson plans required for parents and teachers to get their students started with earthcaching.
EarthCache Listings
Ready to find an earthcache? Consult this searchable list to locate a nearby earthcache.
Earth Science Literacy Day – Monday
Earth Science Literacy Day focuses on the "Big Ideas" that we should all understand about earth science. Start by watching the Big Idea videos by the American Geosciences Institute. Then, why not take the opportunity to hook children on learning about our planet through reading? Below are a few of our favorite fiction books that feature geoscience themes. Most of these books complement Big Idea 6: Life Evolves on Earth and Big Idea 8: Natural Hazards Affect Humans!
Saturday Night at the Dinosaur Stomp by Carol Diggory Shields
Young children will enjoy the creative rhyming and variety of dinosaurs dancing it up at the dinosaur stomp. Adults will enjoy the way geologic time is interwoven throughout this rollicking story.
Dinosaurs Before Dark by Mary Pope Osborne
The beloved Magic Tree House series begins in the prehistoric past with Dinosaurs Before Dark. Early readers that have already started the series can skip the later geo-themed books, Vacation Under the Volcano or Earthquake in the Early Morning.
I Survived the Destruction of Pompeii, AD 79 by Lauren Tarshis
Older elementary students who are fans of adventure and historical fiction will flip through the pages of this story about the eruption of Mount Vesuvius. Related books in this series include, I Survived the San Francisco Earthquake, 1906 and I Survived the Joplin Tornado, 2011.
The City of Ember by Jeanne DuPrau
What better way to appreciate what the earth's surface offers us than to take it away? Middle school readers will want to keep the lights on and find out what happens when the power goes out in the underground city of Ember.
Ashfall by Mike Mullin
High school students who enjoy disaster fiction will be drawn into the post-apocalyptic world of Ashfall. However, in this novel, the force that destroys the earth as we know isn't aliens or governments, it's our very own Yellowstone supervolcano.
No Child Left Inside Day – Tuesday
Time to go outside! Geoscience happens outdoors, so take advantage of this day and get your students and children outside with these activities.
Outdoor Education Stations
Coordinate an outdoor geoscience activity with a local earth science organization or setup education stations in your own backyard or school grounds.
Every Kid in a Park
If you teach or know any fourth grade students, take this day to get them signed up for the Every Kid in a Park program. The pass allows all U.S. fourth grade and home-school equivalent students and their families to visit hundreds of national parks, forests, and wildlife refuges for free. Bonus, the pass is good through the end of August, making it the perfect motivational tool for getting outside all year long!
Earth Observation Day – Tuesday
Take advantage of Earth Observation Day by engaging your students in practical applications of Earth Science data. Introduce your students to remote sensing with one of these lessons or activities or connect with a remote sensing scientist. Visit the Earth Observation Day website to get started!
National Fossil Day – Wednesday
If you are fortunate enough to have fossils on-hand for students to examine, then today is the day to do so! If not, don't worry, students can still participate in National Fossil Day with these activities.
Online Fossil Activities
Take students on an interactive adventure to the past without leaving the classroom with the Fossil Mysteries interactive. View fossils on exhibit at the Smithsonian's National Museum of Natural History with the NMNH virtual tour. Explore online paleontology games and activities from the American Museum of Natural History. Try our free Fossils online lesson too.
Art and Photography Contest
Get creative by entering the National Fossil Day Art Content. The winning submission for each age group will be featured on the official National Fossil Day website.
Geoscience for Everyone Day – Thursday
How do we manage our mineral resources? Can we predict natural hazards? Could we survive on Mars? These are all issues geoscientists grapple with on a daily basis. Geoscience for Everyone Day is set aside for students to learn about geoscience careers.
Career Exploration
Allow your student to explore future career paths today. Science Buddies offers a great collection of job overviews and education and training information for those interested in Earth and Environmental Science careers.  PBS' Dragonfly TV features videos about Real Scientists, including an ocean scientist, meteorologist, marine geologist, and paleontologist.
Geologic Map Day – Friday
Geologic Map Day is dedicated to the important role geologic mapping plays in society. Geologic maps tell us much more than the location of roads and landmarks. Instead, they tell us about the history of the earth below our feet – the types of rocks and their ages, fault lines, and folds, all essential information for land-use planning.
Learn About Geologic Maps
For those unfamiliar with geologic maps, a primer is in order. Start by reading the Geologic Maps site by the US Geological Survey and the National Parks Service, then, explore the One Geology Portal.
Interpret a Geologic Map
Get hands-on and try interpreting a geologic map. Okay, it's not quite that simple, but there are some excellent tools and lessons available. Start with the Visible Geology interactive, What's Under My Feet, Geologic Maps and Groundwater, or Geologic Maps & Earthquakes.
International Archaeology Day – Saturday
Earth Science Week wraps up with International Archaeology Day, the perfect opportunity for families to experience the real-world intersection of geoscience and history.
Attend an Archaeology Day Event
The Archaeological Institute of America's website has an interactive map and searchable database of Archaeology Day events happening around the world. Chances are there is a family-friendly tour, open house, fair, or exhibit near you.
Join a Dig!
Some archaeological sites allow volunteers to join in the dig free of charge. Search for potential volunteer opportunities here. If you and your students can't participate in a dig, then go virtual with InteractiveDigs.com.
Looking for more ways to learn about planet Earth? Visit HelpTeaching.com and try our free Earth Science printables and lessons.
The words "fall" or "autumn" may bring visions of colorful leaves, falling temperatures, and apple picking, but many students are still lamenting the loss of summer and the beginning of the school year. The fall season is perfect for getting students out of the back-to-school slump and engaging them in themed learning activities that span the curriculum. Whether you are a teacher looking to enliven your fall curriculum or a parent wanting to spend quality time with your children, these activities will help you and your students celebrate the season and hopefully learn something new along the way.
Language Arts Activities
1. Write about Fall. Writing about fall is a great way for students to get back in the habit of writing every day while developing sensory writing skills. Take your students outside and encourage them to write about the sounds and sights of fall. Challenge them to describe the tastes and smells of their favorite fall foods. Use our fall writing prompts, fall haiku, or autumn acrostic to get started.
2. Fall into Reading. Summer reading has passed, but that doesn't mean that students shouldn't continue to read throughout fall! Younger students will enjoy autumn-themed picture books like Fall is Not Easy, Leaf Man, and The Little Yellow Leaf. Students of all ages should read at least one piece of literature honoring Hispanic Heritage Month which begins on September 15. Help Teaching offers fall reading resources including this rebus story and fall reading comprehension passages.
Social Studies Activities
3. Recognize Constitution and Citizen Day. The United States Constitution was signed on September 17, 1787. Use this important date in history to discuss civics and citizenship with your students. Get started with these activities for Constitution and Citizen Day.
4. Contemplate Columbus Day. Columbus Day is a federal holiday that doesn't come without controversy. Take the opportunity to broaden your students' knowledge of the holiday beyond the Nina, Pinta, and Santa Maria with one of these Columbus Day activities.
5. Be a Historical Detective. Autumn is harvest time. What better way to celebrate the harvest, than to step back in time and learn about what happened during the first Thanksgiving with this historical interactive by Plimoth Plantation.
Math Activities
6. Measure Earth's Tilt. The Earth's 23.5o tilt is largely responsible for the changing seasons and offers a perfect opportunity to connect geometry and measurement concepts with real-world learning.  Elementary students can first learn about measuring angles with protractors then use their new skills to measure shadows on the fall equinox with this lesson. Middle and high school students can further investigate the impacts of Earth's angular tilt on the seasons with the PBS LearningMedia lesson, Seasons on Earth.
7. Tell a Math Story. Once upon a time there was a lonely even prime number named Two. Math Storytelling Day falls each fall on September 25 and is a great way to combine math and literacy skills. Read a math-themed story to your students or have them write and share their own stories. Find more ideas for Math Storytelling Day in this article on celebrating math holidays.
8. Collect Fall Data. From kindergarten on, today's math students must learn how to collect, represent, and interpret data. Take advantage the autumn's offerings and have your students work with real data that comes with the season. Count and graph the number of acorns that fall off an oak tree each week. Plot and track hurricane paths. Measure morning air temperature at the same time each day and calculated changes in temperature over the season. Estimate then measure pumpkin weights. Ask your students to brainstorm ideas of fall data they would like to collect, represent, and interpret!
Science Activities
9. Dispel Student Misconceptions. The seasons are caused by the changing distance of the Earth from the sun. It is the same season everywhere on Earth. These are a couple common misconceptions about the seasons. Take a few minutes to watch 'Tis the Season for a Reason by the Smithsonian Science Education Center to learn more on student misconceptions about the changing seasons and tips on improving instruction.
10. Learn about the Autumnal Equinox. The official first day of any season is an astronomical event. The autumnal equinox falls around September 22-23 each year and is one of two days a year with almost equal amounts of daylight and darkness. Assign students this self-paced lesson on Solstices and Equinoxes so they can explore the astronomical science behind the changing seasons.
11. Keep a Weather Journal. Recognizing patterns in the natural world is an essential skill for today's science student. Young students can keep a daily weather journal by drawing pictures of the weather they see each day. Have elementary students make qualitative observations in weather patterns during the fall and draw connections between daily and seasonal changes in temperature. Try our printable on investigating daily temperature changes. Middle school students can take quantitative weather measurements and analyze patterns in data.
12. Observe the Night Sky.  Clear, cool fall nights are ideal for getting children outside to observe the sky. Folklore names each full moon, so make an effort to get out and see the Harvest Moon, the full moon closest to fall equinox. Students can learn about the moon's surface features before going out, then try to locate maria, highlands, and craters. Be sure to also encourage students to watch one of the fall meteor showers.
General Activities
13. Compose a Fall Song. What sounds do you associate with fall? Maybe you think of rustling leaves, rumbling harvesting machinery, or honking geese migrating. Challenge your students to work in groups to compose original songs featuring the sounds of fall. Encourage them to use not only instruments, but also leaves, acorns, and other natural materials of the season. Use this lesson on parts of a song to help get students started.
14. Go to a Fair. Each fall, farmers and artisans gather at traditional fairs to display their best produce, animals, and creations and to participate in good-natured competition. Take your children and see how large a pumpkin really can grow, watch a livestock show, and see modern and antique agricultural machinery in action. Kick off your trip by having your child complete this lesson on fair vocabulary words.
15. Get Crafty with Nature. Mother nature supplies an abundance of nature materials to create with in the fall. Try one of these nature crafts using pinecones, apples, leaves and other fall finds. Explore our Ultimate Guide to Crafts for Kids for more crafty ideas.
What are your favorite fall learning activities enjoyed by your students and children? Share them in the comments! Be sure to visit Help Teaching and check our library of seasons worksheets.
16 June //
Posted in How To //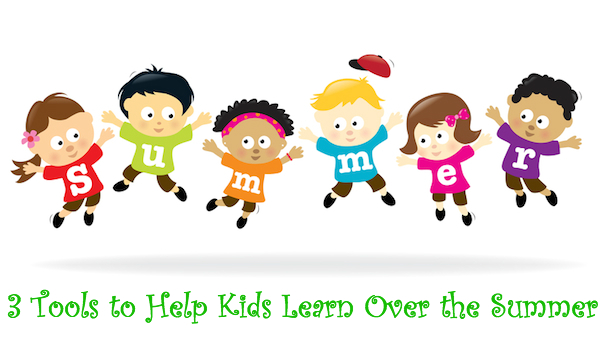 Learning can take place anywhere, not just in the classroom. Summertime offers many opportunities for kids to gain knowledge.You can help them learn by introducing them to three simple tools designed to get them interested in learning, even if they don't realize that's what they're doing.
1. Ask Questions
Sometime during the toddler years, kids go through a "why" phase. They use the question "Why?" to help them figure out the world and everything in it. Unfortunately, many kids quickly grow out of that stage. To help kids learn over the summer, re-introduce them to the art of asking questions. It may seem annoying to have a child who is constantly asking how and why things happen, but when you realize those questions help them learn, it's much easier to handle.
To help kids learn to ask questions, start by asking questions yourself. For example, if you're at the zoo and see a zookeeper standing by an animal cage, take the time to ask the zookeeper a question. You don't have to be at a zoo or museum to ask a question either. Ask questions of people all around you – your mechanic, the teller at the bank, the person stocking shelves in the grocery store. Even if you already know the answer to some of the questions you ask, you'll show your children how easy it is to ask questions on their own. They'll also discover that people are usually more than willing to answer the questions they ask.
2. Introduce them to Experts
When it comes to asking questions, one of the best places to find an answer is an expert on the topic of the question. The summer is a great time to help kids gain access to experts in many different career fields, not only to ask questions, but also to observe them as they work. Since
kids aren't in school all day, they have more time to see how different adults spend their time. While many jobs don't aren't ideal for having a kid underfoot, some workplaces may allow children to shadow
a family member or close family friend for a day. Spending a day on the job can help kids learn more than simply reading a book or watching a video. It also gives them access to multiple experts in an industry and many of them will be ready to teach kids what they know.
When it comes to introducing kids to experts, think beyond careers and focus on interests and hobbies, too. For example, if your child is interested in the Civil War, see if you can set up an interview with a local Civil War reenactor. If your child wants to become a stronger swimmer, contact the swim team of a local college and see if a student would be willing to sit down with your child and give him some advice. Many adults who have hobbies would be more than happy to
take some time to sit down with your child and share about their interests.
Don't forget about classes either. Many groups hold special classes during the summer. If your child is interested in cooking, for example, you may find a cooking class taught by a local chef. If your child likes sports, look for a sports camp that features a professional athlete or coach. These classes often cost money, but the cost is worth it if your child gets to interact
with someone at the top of their field.
3. Watch Videos
Of course sometimes your local area won't offer special summer classes or experts that are of interest to your child. Thankfully, kids have the internet. Online they can find tons of videos related to their interests, many of them featuring some of the top people in the field. For example, TED Talks and Big Think have been known to feature some of the world's greatest scientists and thinkers. Websites such as Top Documentary Films also can help kids learn by allowing them to access documentaries for free.
Since it's summer, you may not want your kids sitting in front of the computer or TV screen all day. That's where videos from sites like YouTube come in handy. Many YouTube channels (such as these channels for social studies) contain short videos designed to help kids get snippets of knowledge. A simple search for how-to videos can also help kids pick up a new skill by watching short videos. Maybe this summer they'll learn to play the guitar, take ballroom dancing lessons, or discover how to make homemade ice cream. With millions of how-to videos on YouTube, kids can learn almost anything.
Sure, you want your kids to relax during the summer, but you don't want them to stop learning. By connecting these tools with other summer learning activities you can ensure kids are being filled with knowledge over the summer.
For more resources to get kids learning on their own this summer, share our Ultimate Guide to Free Online Self-Learning for Kids, which is full of free videos, courses, and other materials to help kids explore their interests and find answers to their most pressing questions.
What tools do you use to help kids learn over the summer? We'd love to hear your ideas!
Science surrounds us and summer offers the perfect time for families to explore science in action. Avoid the summer slump and try some of these suggestions for summer science adventures with your child. Most of these activities are low-cost or free, but be sure to check with your local library before heading out to learn about free and discount passes to museums and other local attractions.
1. Participate in a Citizen Science Project
Science is collaborate by nature, so join in and lend a hand by participating in a citizen science project. Project participants support scientific research by:
These are just a few of citizen science projects looking for volunteers and many welcome help from children working with the guidance of an adult. Search for other citizen science projects at Zooniverse and SciStarter.
2. Become a National Park Service Junior Ranger
With parks from Maine to California and everywhere in-between, the National Park Service offers an affordable option for hands-on summer science fun. Fourth grade students qualify for free annual park passes through the Every Kid in a Park program. The Junior Rangers Program gives kids the opportunity to explore nature, attend ranger guided programs, and complete activities for each park. If your budding park ranger completes a Junior Ranger Program, each park offers a patch or badge and a certificate of completion. Can't visit a particular park? Visit the NPS's on-line WebRangers page.
3. Visit a Science Center
There are many fabulous science museums that offer kids access to interactive learning opportunities. For those fortunate enough to be within driving distance to a NASA center, consider a visit. Learn about space exploration, aeronautics, and ongoing missions and discoveries. Many of the centers, including Johnson Space Center in Houston, TX, Kennedy Space Center in Cape Canaveral, FL, and the Jet Propulsion Laboratory in Pasadena, CA, welcome visitors and offer tours. If you can't travel to a visitor center, then be sure to visit NASA Wavelength and explore the vast collection of educational resources NASA has to offer.
With centers across the nation, the Audubon Society provides outdoor adventure for all ages. Visit a sanctuary, go on a hike, and explore the local lands and wildlife. Many centers offer nature themed programs designed exclusively for children and families as well as summer camps. Centers are open to the public, but those with memberships may visit for free and receive discounts on programs and camps. Find an Audubon Center near you.
4. Try Hands-On Science Activities
Hands-on science activities at home are a great way to have some summer fun, spend family time together, and even learn a little something new. Science at home is affordable and typically can be conducted with household objects and resources. Follow your child's lead and try experiments related to his or her interests. Get started with these science activities for kids or browse this collection of home science activities from Scientific American.
5. Star Watch
Grab a blanket and the bug spray and head outside for some star gazing. If possible, get away from light pollution, you will be amazed at what you can see once your eyes adjust to the dark on a clear night. Bring a star chart and try to locate a few stars, planets, constellations, and galaxies. Use binoculars to identify surface features of the moon. If that isn't spectacular enough for your aspiring astronomer, try counting the number of "shooting stars" during a meteor shower. August's Perseids meteor shower is a great one to enjoy on a warm summer evening. Check out this year's not-to-miss celestial events to watch with kids.
Looking for more ideas for summer fun with your children? Be sure to read 100 Summer Activities for Kids!