Currently Browsing
Posts Tagged ' earth science '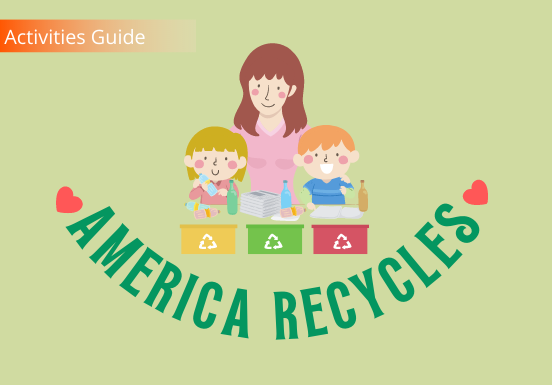 November 15 is America Recycles Day. According to the U.S. Environmental Protection Agency (EPA), Americans recycled about 32% of their trash last year. The good news is this is a significant increase over the less than 10% that was recycled in 1980. The bad news is that a lot of our garbage still isn't being recycled. Although we have come a long way in our recycling practices, we still have a long way to go. America Recycles Day is an opportunity to educate students about the importance of recycling, and more importantly, involve them in the process.
Create Recycling Infographics
Ask your students to research recycling facts and statistics, then create infographics based on their findings. Younger students can get creative and make poster infographics to display around school. Older students can craft digital infographics to post on school websites, classroom blogs, or social media. Get started by assigning HelpTeaching's lessons, Reduce, Reuse, Recycle and The Trash Patrol, then by visiting the EPA's Reduce, Reuse, Recycle website. Then use an infographic maker like Visme or Piktochart to present them. Below is a sample infographic for a reference.
Host a Bottle and Can Drive
Bottle and can drives are great ways to encourage recycling and raise awareness, plus they double as fundraisers for schools and organizations. Students can help organize the event by contacting the local recycling center ahead of time, spreading the word in your community, sorting on the day of the drive, and arranging for collection bins and transportation of collected materials to the recycling center. For another simple and profitable way to encourage recycling, set up an ink cartridge recycling program at your school.
Attend an Event
Whether you are looking to get your children involved in a recycling event, enter a contest, or participate in a community clean up day, you can find something to do on America Recycles Day. There are over 2,000 events registered for America Recycles Day. Find one to attend in your area here.
Reduce Food Waste
With the approach of Thanksgiving, America Recycles Day is perfectly timed to encourage children to reduce food waste. Learn about composting or start a compost at home or school. Have students create a step-by-step plan to explain how they plan to reduce food waste at home. Better yet, have your students organize a food rescue program or donations for the local food pantry. Get started with these tips.
Get Crafty
If you plan on having your students create crafts for holiday decorations or gifts, then consider having them do so using materials that would otherwise be tossed out. Here is an excellent list of recycled crafts for kids. Also, use this writing prompt for eco-friendly gift ideas.
Reduce Electronic Waste
E-waste is an ever growing concern and electronic items should never go in your daily recycling container. But, your students' old phones, tablets, and MP3 players can help someone else. Encourage students to donate unwanted electronics for worthy causes. Shelter Alliance and Cell Phones for Soldiers are just a couple organizations that accept cell phones donations. Learn more about how and where to recycle and donate electronics here.
Host a Clothing Swap
According to the EPA, almost five percent of municipal solid waste comes from clothing, footwear, and textiles. Consider organizing a neighborhood or church clothing swap where children (and adults!) can bring clean, gently worn items and swap for "new" items that fit. Anything left over can be donated to local organizations like The Salvation Army or Dress for Success. Also, see about coordinating swap boxes with local sports leagues for common sports items that children outgrow, like cleats. Athletes can leave outgrown pairs of cleats and in turn, take a pair from the box that fits.
Inform Others
Over 60% of America's garbage isn't being recycled. Some people still don't understand the importance of recycling. Others don't realize how much of their trash is actually recyclable. Encourage your students to inform people about the importance of recycling. Write letters to the editor of the local newspaper, give speeches at city council meetings, or create pamphlets to give out to their neighbors. Encourage people to check with their local recycling provider to make sure they are following correct recycling guidelines.
Finally, and most importantly, ask your students to brainstorm ideas on how to best promote recycling in their school and community. Their excitement for the projects they develop, plan, and complete will be the most successful and rewarding activities!
Looking for more science activities for your students? Read 10 Engaging Earth Day Activities for Kids or try our free Earth Science worksheets and lessons.

Don't let nebulous ideas slow you down as you count down to this October's World Space Week. Rather, shoot for the moon with these astronomical activities for celebrating World Space Week with your class or family.
Rendezvous with the International Space Station
Take this week to celebrate global cooperation in the near reaches of space by learning about the International Space Station (ISS). Check out the view from the space station. Get kids outside on a clear evening to look for the space station passing overhead. Visit NASA's Spot The Station site to find when to view the ISS from your location. Screen a few of NASA's Human Research Program videos with your students or read about Sleeping on the Space Station with this worksheet.
Mission Mars
The Red Planet continues to capture headlines and our imaginations. Take advantage of student interest in our planetary neighbor by exploring what we know about Mars. Have students participate in the Planet Four: Terrains citizen science project by examining and mapping images of Mars. Control a virtual rover with Experience Curiosity. Find more Mars-related games and activities at NASA's Mars Exploration site and try our reading passages, Earth vs. Mars and One-Way Ticket to Mars.
Moon to Mars, Mission Artemis
Artemis missions will land the first woman and first person of color on the Moon. The plan is to establish a sustainable base camp with an eventual plan and the giant next milestone: sending astronauts to Mars from the moonbase. While building the resources and technology for this goal, there are also plans of exploring all of the moon's surface, sending astronauts and space robotic explorers. According to the official Artemis mission page, at the top of this list is the moon's southern pole. Kick-off your unit with this Moon Surface Features lesson and navigate the surface with Google Moon.
Escape with Science Fiction
Read classic or modern science fiction with your students. Go beyond what is scientifically accurate or misrepresented and discuss themes as well as what the story conveys about society, both real and fictional. Use Help Teaching's Science Fiction Literature worksheets and Elements of Science Fiction lesson as a starting point. Then, ask your students to put on their creative thinking helmets and write a piece of science fiction. Here are some writing prompts worksheets to get you started:
Kindergarten and 1st Grade:
My Space Adventure
If I Were an Alien
2nd Grade
Alien Encounter
Journey Into Space
3rd Grade
Alien Welcome Committee
My Trip Into Space
4th and 5th Grade
The Colony
Pluto Poem
One Way Ticket to Mars
Finally, decelerate by watching a sci-fi movie! Perhaps your high school students will enjoy the interplanetary adventure The Martian.
Visit an Observatory
If you have access to a telescope, World Space Week is a great time to use it! Students may not have ever had the opportunity to actually observe planets, stars, or the Moon up-close through a telescope. If your school has a telescope, plan an viewing party with students and families. If you don't have access to a telescope, some libraries offer telescope lending or viewing opportunities. Likewise, many observatories offer public viewing options and accommodate student field trips. To find a local observatory, check with nearby universities or try one of these publicly accessible telescopes.
If you're still in need of fun ways to celebrate World Space Week, sojourn to the World Space Week website and download one of the educator resource guides or locate a nearby event for more out of this world activities!
Looking for additional space science education resources? Visit HelpTeaching.com and try our astronomy printables and lessons.

Earth Science Week is October 13-19, and it is the perfect time to show our appreciation for our home planet! Each day of the week focuses on specific geoscience-themed celebrations. To help you and your students partake in this year's events, we have put together a list of activities for each day of Earth Science Week.
Contests
STEM contests and competitions are a fun way to engage students in learning. The American Geosciences Institute offers several contests as part of Earth Science Week. Students in kindergarten through fifth grade may enter a visual arts contest, while an essay contest is open to students in sixth through ninth grade, and a photography contest and a video contest are open to all ages.
International EarthCache Day – Sunday
What better way to kick of Earth Science Week than with a scavenger hunt? EarthCaching is geocaching with a geoscience twist. Gather the kids, their phones or any portable devise with GPS technology, and head outdoors to find some educational treasures.
EarthCaching – An Educator's Guide
The EarthCaching Educator's Guide, put out by the Geological Society of America, provides all the background information, tips, and lesson plans required for parents and teachers to get their students started with earthcaching.
EarthCache Listings
Ready to find an earthcache? Consult this searchable list to locate a nearby earthcache.
Earth Science Literacy Day – Monday
Earth Science Literacy Day focuses on the "Big Ideas" that we should all understand about earth science. Start by watching the Big Idea videos by the American Geosciences Institute. Then, why not take the opportunity to hook children on learning about our planet through reading? Below are a few of our favorite fiction books that feature geoscience themes. Most of these books complement Big Idea 6: Life Evolves on Earth and Big Idea 8: Natural Hazards Affect Humans!
Saturday Night at the Dinosaur Stomp by Carol Diggory Shields
Young children will enjoy the creative rhyming and variety of dinosaurs dancing it up at the dinosaur stomp. Adults will enjoy the way geologic time is interwoven throughout this rollicking story.
Dinosaurs Before Dark by Mary Pope Osborne
The beloved Magic Tree House series begins in the prehistoric past with Dinosaurs Before Dark. Early readers that have already started the series can skip the later geo-themed books, Vacation Under the Volcano or Earthquake in the Early Morning.
I Survived the Destruction of Pompeii, AD 79 by Lauren Tarshis
Older elementary students who are fans of adventure and historical fiction will flip through the pages of this story about the eruption of Mount Vesuvius. Related books in this series include, I Survived the San Francisco Earthquake, 1906 and I Survived the Joplin Tornado, 2011.
The City of Ember by Jeanne DuPrau
What better way to appreciate what the earth's surface offers us than to take it away? Middle school readers will want to keep the lights on and find out what happens when the power goes out in the underground city of Ember.
Ashfall by Mike Mullin
High school students who enjoy disaster fiction will be drawn into the post-apocalyptic world of Ashfall. However, in this novel, the force that destroys the earth as we know isn't aliens or governments, it's our very own Yellowstone supervolcano.
No Child Left Inside Day – Tuesday
Time to go outside! Geoscience happens outdoors, so take advantage of this day and get your students and children outside with these activities.
Outdoor Education Stations
Coordinate an outdoor geoscience activity with a local earth science organization or setup education stations in your own backyard or school grounds.
Every Kid in a Park
If you teach or know any fourth grade students, take this day to get them signed up for the Every Kid in a Park program. The pass allows all U.S. fourth grade and home-school equivalent students and their families to visit hundreds of national parks, forests, and wildlife refuges for free. Bonus, the pass is good through the end of August, making it the perfect motivational tool for getting outside all year long!
Earth Observation Day – Tuesday
Take advantage of Earth Observation Day by engaging your students in practical applications of Earth Science data. Introduce your students to remote sensing with one of these lessons or activities or connect with a remote sensing scientist. Visit the Earth Observation Day website to get started!
National Fossil Day – Wednesday
If you are fortunate enough to have fossils on-hand for students to examine, then today is the day to do so! If not, don't worry, students can still participate in National Fossil Day with these activities.
Online Fossil Activities
Take students on an interactive adventure to the past without leaving the classroom with the Fossil Mysteries interactive. View fossils on exhibit at the Smithsonian's National Museum of Natural History with the NMNH virtual tour. Explore online paleontology games and activities from the American Museum of Natural History. Try our free Fossils online lesson too.
Art and Photography Contest
Get creative by entering the National Fossil Day Art Content. The winning submission for each age group will be featured on the official National Fossil Day website.
Geoscience for Everyone Day – Thursday
How do we manage our mineral resources? Can we predict natural hazards? Could we survive on Mars? These are all issues geoscientists grapple with on a daily basis. Geoscience for Everyone Day is set aside for students to learn about geoscience careers.
Career Exploration
Allow your student to explore future career paths today. Science Buddies offers a great collection of job overviews and education and training information for those interested in Earth and Environmental Science careers.  PBS' Dragonfly TV features videos about Real Scientists, including an ocean scientist, meteorologist, marine geologist, and paleontologist.
Geologic Map Day – Friday
Geologic Map Day is dedicated to the important role geologic mapping plays in society. Geologic maps tell us much more than the location of roads and landmarks. Instead, they tell us about the history of the earth below our feet – the types of rocks and their ages, fault lines, and folds, all essential information for land-use planning.
Learn About Geologic Maps
For those unfamiliar with geologic maps, a primer is in order. Start by reading the Geologic Maps site by the US Geological Survey and the National Parks Service, then, explore the One Geology Portal.
Interpret a Geologic Map
Get hands-on and try interpreting a geologic map. Okay, it's not quite that simple, but there are some excellent tools and lessons available. Start with the Visible Geology interactive, What's Under My Feet, Geologic Maps and Groundwater, or Geologic Maps & Earthquakes.
International Archaeology Day – Saturday
Earth Science Week wraps up with International Archaeology Day, the perfect opportunity for families to experience the real-world intersection of geoscience and history.
Attend an Archaeology Day Event
The Archaeological Institute of America's website has an interactive map and searchable database of Archaeology Day events happening around the world. Chances are there is a family-friendly tour, open house, fair, or exhibit near you.
Join a Dig!
Some archaeological sites allow volunteers to join in the dig free of charge. Search for potential volunteer opportunities here. If you and your students can't participate in a dig, then go virtual with InteractiveDigs.com.
Looking for more ways to learn about planet Earth? Visit HelpTeaching.com and try our free Earth Science printables and lessons.