Currently Browsing
Posts Tagged ' STEM '

Did you know that experts estimate there will be 1.4 million computing jobs open in 2020 and only 400,000 students to fill them? Since 2013, Computer Science Education Week has been held during the second week of December. This week is designed to make students and teachers more aware of computer science and the importance of building computing skills at early age. While enrolling all students in regular coding and other computer science classes may be the ideal solution, you can still take small steps to encourage students to take notice of computer science and help them discover how much fun it can be.
Participate in an Hour of Code
In 2014, the Hour of Code gained a lot of publicity when President Obama sat down to join students as part of the event. This year, and all year long, you can also participate in an hour of code. Organize your own Hour of Code event at your school or join up with an existing group. If you're not sure of what you're doing, search for local volunteers to come work with your students during the event. For a less formal option, simply have your students complete one of the coding tutorials available through Code.org where they code with popular characters from Star Wars, Minecraft, or even Anna and Elsa from Frozen.
Don't be afraid to go beyond an Hour of Code either. Many different apps and websites offer a series of lessons designed to teach students how to code or to think in ways that are related to the language of coding. A few of them to try in your classroom include:
Elementary
Kodable – a fun app that comes with an extensive coding curriculum
ScratchJr – a free app that teaches kids to think like a coder while completing fun tasks
Tynker – another provider of an Hour of Code resources featuring brands and characters kids love
Secondary
Hopscotch – an app that allows kids to make and publish their own games
CodeCombat – an online, multiplayer game that requires kids to write code to play
Kodu Game Lab – a visual programming tool that kids can download to create games
Hold a Computer Science Career Day
Students often hear that there are tons of job in the tech industry, but do they know what those jobs look like? Invite parents and other community members to your school for a Computer Science Career Day. Your speakers can rotate among classes to share what their jobs are like or they can set up tables in booths and talk to students as they approach them. If you can't find individuals to come to school, then have students research different tech jobs or companies and share their findings with the class.
Show a Video
Take some time to show kids a video related to computer science. There are tons of Ted Talks related to technology that could inspire kids to consider a career in computer science. A few videos you might want to use include:
Have Fun with a MaKey MaKey Kit
While a MaKey MaKey kit does not involve a lot of coding, it does encourage kids to think outside of the box and imagine the cool things they can do when they combine computers with everyday objects. You can turn students' experiments with the kit into writing assignments, science experiments, marketing proposals, and other educational activities.
Connect Computer Science to Students' Interests
Your students may not be interested in computer science, but they may be interested in playing football, playing with their toys, or drawing and coloring. Chances are they don't realize how much computer science can play a role in these activities. For example, it takes a lot of technology to take video of a football game, freeze it, and move it around on the screen. Give students the task of researching how technology plays a role in their favorite hobbies. They may discover that coders help create 3D models of their favorite toys or that they can create some amazing art with lines of code.
Get Away from the Computer
While learning how to code can benefit students, thinking in the language of coding is even more important. By promoting logic and creative thinking skills, you can give students the mental skills they'll need to be successful in a computer science field.  CS Unplugged offers a large selection of activities designed to help kids develop these critical thinking skills. These include tasks such as learning about The Turing Test and discovering how difficult it is for computers to draw lines and circles.
For more resources to help you bring Computer Science into the classroom, check out Code.org and the Computer Science Education Week website. If you use some of these activities in your classroom, share them to Facebook or Twitter with the hashtags #CSEdWeek and #HourOfCode.

Looking to invigorate your science curriculum and teaching this year? Help Teaching's team of teachers understands the time and commitment it takes to prepare meaningful science classes and lab activities, not to mention stay up-to-date with the latest scientific advances. Updated for the 2018-2019 school year, we have gathered links to over 80 of our favorite resources to help support rookie and veteran science teachers and homeschooling parents alike.  This year we've added several new science sites and a new category for our favorite engineering sites. Happy Teaching!
QUICK LINKS:
Next Generation Science Standards
Whether or not your state has adopted the new science standards, they have been released and are the talk of the science teaching community.
Bozeman Science provides a free series of NGSS videos on each of the disciplinary core ideas. The videos give a clear overview of each standard as well as suggestions on how to teach the core ideas at the elementary, middle, and high school levels.
NGSS@NSTA provides current information about the implementation process and professional development opportunities, including free web seminars, to support science teachers looking to incorporate the standards into their curriculums.
NGSS is the primary resource for teachers looking to read and learn about the new science standards. Teachers may find the EQuIP Rubric overview page useful for identifying high-quality instructional materials that align to the standards.
The National Academies Press offers several NGSS-related publications useful for teachers, many of which can be downloaded for free after creating an account.
PBS LearningMedia NGSS links to a large collection of NGSS resources for professional development and classroom use.
Parent Q&A is a flyer designed to answer parent questions about the Next Generation Science Standards, but is also a nice overview for teachers and administrators.
The Concord Consortium features a unique tool that allows educators to navigate the NGSS by core idea, practice, and crosscutting concept and locate high-quality digital activities that support the standards.
Breaking Science News
Check these sources regularly to stay current with scientific research. Better yet, have your students read them as well!
Newsela website and app keep educators and students alike up-to-date with current events, including a large selection of STEM news stories at different reading comprehension levels. Registering for the free version of the platform allows teachers and students unlimited access to articles.
Scientific American maintains a section dedicated to education that includes activities, information on their program connecting teachers and scientists, tips on improving science literacy, and more.
Live Science will help keep you up to date with science headlines across disciplines.
BBC Science & Environment is the place to go for breaking science news. Whether you are a busy science teacher or student looking for the hottest topics in science, BBC has coverage for you.
Science Daily offers a compilation of breaking news articles for those interested in the latest research.
ScienceBlogs hosts posts from over sixty blogs, presenting a wide range of science news and viewpoints.
HuffPost Science will help keep you up to the minute with breaking science stories.
NewScientist shares topical new stories on all things science related.
Science Instruction
Like the scientific method, great science instruction takes systemic modifications. Read on for resources that will help invigorate your science teaching.
Good Thinking! The Science of Teaching Science by the Smithsonian Science Education Center houses a collection of must-watch videos for anyone who teaches science. These short, animated videos explore common student misconceptions on topics ranging from natural selection to chemical reactions.
NSTA Learning Center links science teachers with professional development resources by subject and grade. Be sure to peruse their collection of 4,000+ free articles, web seminars, podcasts, and modules available to support your professional growth.
What Works Clearinghouse reviews and summarizes education products and research to help educators make evidenced-based decisions when it comes to teaching.
SERC is working to improve STEM education by providing a rich assortment of professional development opportunities and resources for educators.
Understanding Science is a primer for teachers and students alike on what science is and how science really works.
BSCS Science Learning helps to transform science education by working with science educators worldwide to provide a variety of resources. They conduct research on improving science instruction, develop instructional materials, and offer professional development.
Help Teaching's library of printable science worksheets are ideal for practice and assessment. Our growing collection of self-paced science lessons for biology, chemistry, physics, and earth science are a great way to introduce topics and reinforce learning.
Science competitions and fairs can inspire students to pursue STEM careers while providing hands-on learning opportunities. Consider challenging your students to participate in a local science fair for one of these major science competitions: Young Scientist Challenge, ExploraVision, Regeneron STS, & Google Science Fair.
Science Activities
Science lends itself to hands-on activities that engage students in active learning. Save time and get inspired when preparing lessons this year by reading these links.
Science Friday partners with educators and scientists to create STEM activities, lessons, and resources for all learners. This site connects teachers with relevant, unique, and dynamic instructional materials, videos, stories, and more.
ScienceNetLinks brings together a large, searchable database of science lessons, interactive tools, news, and hands-on activities to support formal and informal science education.
Science Buddies is the place to look for science fair topics and activities. Not only does Science Buddies provide science fair project resources for students and teachers, but their growing collection of science activities are perfect for classroom and home use.
BIE maintains a library of science project-based learning units that encourage student inquiry and investigation.
Lawrence Hall of Science: 24/7 offers citizen science projects, hands-on activities, online games, and more for classroom and home exploration.
PBS LearningMedia has thousands of the best digital science teaching resources in an easily searchable platform by grade, subject, standard, and format.
Zooniverse brings together a collection of citizen-science, or people-powered, research projects where everyday people can contribute to real science.
Science Kids has a nice collection of experiments, science fair project ideas, games, videos, and images designed to get kids interested in science.
Annenberg Learner brings together a collection of science interactives that can readily support any science curriculum.
Virtual Microscope simulates the use of various types of microscopes for students through the examination of set image samples.
PhET Simulations supplement classroom learning with a large array of well-designed science interactives.
The Science Spot contains a vast library of information and resources pertaining to all areas in science, including forensic science and astronomy. This is an essential resource of middle school teachers and students as well as for high school teachers. This website also provides tips for implementing interactive science notebooks in the classroom.
Hook your students on science by sharing videos from Veritasium, Science360, SciShow, It's Okay to Be Smart, Untamed Science, and Help Teaching.
Collaborate and Explore
We teach our students that collaboration is an essential part of doing science. Practice what you teach with these links for connecting and sharing with teachers who have similar goals.
Teaching Channel is on a mission to create an environment where teachers can watch, share, and learn new techniques to help every student grow. Start by watching these science videos, then explore the entire site for more teaching inspiration.
Skype in the Classroom helps teachers connect with other educators and experts in their fields. Use Skype to bring your students on virtual field trips, interact with a virtual guest speaker, and collaborate with another class from across the country or around the world.
STEM on Google+, and STEM Educators are Google+ groups offering vibrant online communities of science teachers sharing resources and best practices.
Professional Learning Communities allow teachers to connect with others in their schools, districts, and communities who are dedicated to science education.
Google Educator Groups bring educators together, both online and offline, to share ideas on web-enabled learning.
AP Teacher Community connects and supports those instructing AP courses.
Astronomy
Don't miss out on the latest discoveries about the universe with these links.
NASA Education for educators opens a universe of information about space science through lessons, videos, professional development, and more. Get started by browsing astronomy teaching resources in NASA Wavelength.
Google Sky does for the view of space what Google Earth does for the view of your neighborhood.
Air and Space Live webcasts from the Smithsonian National Air and Space Museum brings a world and beyond of learning opportunities for anyone interested in astronomy.
If the Moon Were Only 1 Pixel dubs itself, "a tediously accurate scale model of the solar system," but don't be misled by the tagline. This interactive is beautiful in its simplicity and will engage your students on this virtual journey through our solar system.
National Optical Astronomy Observatory offers numerous space-based resources, programs, and resources for education purposes.
Biology
From life science to AP biology, helping students develop an understanding of the nature of life is essential for science literacy.
BioEd Online from Baylor College of Medicine offers science teachers resources that include lessons, videos, classroom slides, and a full library of magazines and storybooks for use with K-12 students as well as professional development courses for teachers.
BioInteractive by the Howard Hughes Medical Institute is a free collection of virtual labs, films, animations, apps, and more that are ideal for biology education.
Encyclopedia of Life offers an extensive collection of free resources on just about any organism.
The Biology Corner offers a wealth of teaching resources for biology teachers, including classroom presentations and lab handouts.
Ask a Biologist not only allows K-12 students to submit questions for biologists to answer, but also offers a wealth of biology-related articles, activities, games, and more.
Solve the Outbreak is a free app by the CDC that challenges students to solve epidemiology mysteries. It's fun, really!
Cells Alive brings microbiology to life through amazing photos, interactives, and videos.
BEN: BioSciEdNet managed by the American Association for the Advancement of Science, helps teachers to engage their students with animations and lab activities.
Biology4Kids offers clear explanations of many topics for elementary and middle school reading levels or for teachers searching for material covering the basics, from scientific study to cell biology.
American Physiological Society supports education through student activities and curricula, education projects that link teachers and physiologists, and teacher learning resources.
Chemistry
Teaching the central science takes knowledge, skill, and a bit of wow factor. Use these links to help make your class preparations a little easier.
American Chemical Society's education page is the place to find materials for teaching chemistry, professional development opportunities, and reports on chemistry education.
ScienceGeek.Net is chemistry teacher Andy Allan's personal website where he shares his collection of presentations, labs, and more.
Evan's Chemistry Corner provides worksheets, transparencies, and lab activities for Regents Chemistry in New York State, but these resources can be used in any high school chemistry classroom.
Kent Chemistry contains instructional pages covering topics in chemistry, along with accompanying videos, practice questions, worksheets, and lab activities. Both high school-level and AP chemistry are covered.
Illustrated Glossary of Organic Chemistry catalogs 1,500+ terms and is an essential resource for any organic chemistry course.
Periodic Videos from the University of Nottingham features videos and experiments on each element. Check out their 500 videos on YouTube as well.
Crash Course Chemistry contains a playlist of YouTube videos covering various topics in chemistry in a short amount of time.
Chemmy Bear contains a multitude of resources for AP chemistry, from handouts and activities to study cards and practice tests. This site is especially helpful for newer AP chemistry teachers and for teachers of honors chemistry courses.
Seasonal science "holidays" offer fun and engaging ways to incorporate STEM activities into your classroom. Celebrate science this year with these theme days and weeks:
World Space Week Stellar Activities October 4 – 10, 2018
Earth Science Week Fun Daily Activities October 14 – 20, 2018
National Chemistry Week – Chemistry & Forensics October 21 – 27, 2018
America Recycles Day Activity Guide November 15, 2018
Earth Day Activities for Kids April 22, 2019
World Oceans Day Activities June 8, 2019
Earth Science
Developing student understanding of the earth's structures and processes helps nurture an appreciation of the natural world.
EarthLabs supplies rigorous units on earth and environmental topics that focus on hands-on laboratory activities and data analysis. Each unit provides all the information, resources, and lessons necessary to elevate earth science and environmental lab instruction to the next level.
NOAA brings together a wonderful collection of resources about the oceans and atmosphere.
USGS Education compiles a wide variety of videos, maps, images, and interactives ideal for use in the earth science classroom.
ClimateChangeLIVE engages students with two electronic field trips for the classroom as well as supplemental materials and support for teachers.
COSEE is dedicated to helping build collaborations between students, teachers, and scientists interested in ocean studies.
Physics
Physics is daunting for many students. Great physics teachers actively engage students with the study of the interactions between energy and matter.
The Physics Classroom supplements physics instruction with tutorials, animations, teacher toolkits, and lab activities.
The Physics Front is an extensive collection of materials, including online tools and lesson plans for K-12 physics and physical science instruction.
PhysicsCentral shares everything from articles to posters to home projects to support those educating physics students at all levels.
APlusPhysics contains helpful video tutorials and webpages for students to learn from, covering topics ranging from high school physics to AP physics. The site also contains worksheets for teachers to print and distribute to students as well as activities that teachers can implement.
Burrows Physics' playlist contains a multitude of videos covering various higher-level physics topics. These are helpful in providing instruction to students outside of the classroom.
Practical Physics offers a wide array of experiments that enable students to get hands-on experience with concepts in physics, enriching students' understanding and refining students' ability to visualize the forces and science at play in the real world.
ComPADRE is a digital library of teaching resources for physics and astronomy educators.
American Association of Physics Teachers will keep you posted on conferences, projects, and competitions as well as just about everything you need to stay up to date with teaching physics.
Engineering Practices & Design
Today's science students must understand engineering practices and design solutions to help them prepare for everyday life and career paths. Enrich your STEM curriculum with these engineering resources.
TeachEngineering is a website that guides teachers in nurturing students' abilities to create innovations to challenges in any subject. Some activities include how-to videos on YouTube.
NASA Engineering Design Process aids teachers in helping students to understand that engineers must imagine and plan before they begin to build and experiment in a variety of challenges for K-2, 3-5, and 6-8. The site also provides plenty of guidance for supporting students in the engineering design process.
Science Buddies offers educators an exhaustive description of the engineering method with a side-by-side comparison against the scientific method.
TryEngineering has 100+ engineering lesson plans for teachers. Students interested in pursuing engineering careers will find the university and careers portals useful.
EngineerGirl by the National Academy of Engineering offers a wealth of information on engineering professions for girls and women.
Although this list is by no means comprehensive, we hope it will inspire and energize your science teaching and classroom this year. Be sure to visit HelpTeaching.com and utilize our growing library of K-12 science worksheets, lessons, and questions!

Earth Science Week is October 14-20, and it is the perfect time to show our appreciation for our home planet! Each day of the week focuses on specific geoscience-themed celebrations. To help you and your students partake in this year's events, we have put together a list of activities for each day of Earth Science Week.
Contests
STEM contests and competitions are a fun way to engage students in learning. The American Geosciences Institute offers several contests as part of Earth Science Week. Students in kindergarten through fifth grade may enter a visual arts contest, while an essay contest is open to students in sixth through ninth grade, and a photography contest and a video contest are open to all ages.
International EarthCache Day – Sunday
What better way to kick of Earth Science Week than with a scavenger hunt? EarthCaching is geocaching with a geoscience twist. Gather the kids, their phones or any portable devise with GPS technology, and head outdoors to find some educational treasures.
EarthCaching – An Educator's Guide
The EarthCaching Educator's Guide, put out by the Geological Society of America, provides all the background information, tips, and lesson plans required for parents and teachers to get their students started with earthcaching.
EarthCache Listings
Ready to find an earthcache? Consult this searchable list to locate a nearby earthcache.
Earth Science Literacy Day – Monday
Earth Science Literacy Day focuses on the "Big Ideas" that we should all understand about earth science. Start by watching the Big Idea videos by the American Geosciences Institute. Then, why not take the opportunity to hook children on learning about our planet through reading? Below are a few of our favorite fiction books that feature geoscience themes. Most of these books complement Big Idea 6: Life Evolves on Earth and Big Idea 8: Natural Hazards Affect Humans!
Saturday Night at the Dinosaur Stomp by Carol Diggory Shields
Young children will enjoy the creative rhyming and variety of dinosaurs dancing it up at the dinosaur stomp. Adults will enjoy the way geologic time is interwoven throughout this rollicking story.
Dinosaurs Before Dark by Mary Pope Osborne
The beloved Magic Tree House series begins in the prehistoric past with Dinosaurs Before Dark. Early readers that have already started the series can skip the later geo-themed books, Vacation Under the Volcano or Earthquake in the Early Morning.
I Survived the Destruction of Pompeii, AD 79 by Lauren Tarshis
Older elementary students who are fans of adventure and historical fiction will flip through the pages of this story about the eruption of Mount Vesuvius. Related books in this series include, I Survived the San Francisco Earthquake, 1906 and I Survived the Joplin Tornado, 2011.
The City of Ember by Jeanne DuPrau
What better way to appreciate what the earth's surface offers us than to take it away? Middle school readers will want to keep the lights on and find out what happens when the power goes out in the underground city of Ember.
Ashfall by Mike Mullin
High school students who enjoy disaster fiction will be drawn into the post-apocalyptic world of Ashfall. However, in this novel, the force that destroys the earth as we know isn't aliens or governments, it's our very own Yellowstone supervolcano.
No Child Left Inside Day – Tuesday
Time to go outside! Geoscience happens outdoors, so take advantage of this day and get your students and children outside with these activities.
Outdoor Education Stations
Coordinate an outdoor geoscience activity with a local earth science organization or setup education stations in your own backyard or school grounds.
Every Kid in a Park
If you teach or know any fourth grade students, take this day to get them signed up for the Every Kid in a Park program. The pass allows all U.S. fourth grade and home-school equivalent students and their families to visit hundreds of national parks, forests, and wildlife refuges for free. Bonus, the pass is good through the end of August, making it the perfect motivational tool for getting outside all year long!
Earth Observation Day – Tuesday
Take advantage of Earth Observation Day by engaging your students in practical applications of Earth Science data. Introduce your students to remote sensing with one of these lessons or activities or connect with a remote sensing scientist. Visit the Earth Observation Day website to get started!
National Fossil Day – Wednesday
If you are fortunate enough to have fossils on-hand for students to examine, then today is the day to do so! If not, don't worry, students can still participate in National Fossil Day with these activities.
Online Fossil Activities
Take students on an interactive adventure to the past without leaving the classroom with the Fossil Mysteries interactive. View fossils on exhibit at the Smithsonian's National Museum of Natural History with the NMNH virtual tour. Explore online paleontology games and activities from the American Museum of Natural History. Try our free Fossils online lesson too.
Art and Photography Contest
Get creative by entering the National Fossil Day Art Content. The winning submission for each age group will be featured on the official National Fossil Day website.
Geoscience for Everyone Day – Thursday
How do we manage our mineral resources? Can we predict natural hazards? Could we survive on Mars? These are all issues geoscientists grapple with on a daily basis. Geoscience for Everyone Day is set aside for students to learn about geoscience careers.
Career Exploration
Allow your student to explore future career paths today. Science Buddies offers a great collection of job overviews and education and training information for those interested in Earth and Environmental Science careers.  PBS' Dragonfly TV features videos about Real Scientists, including an ocean scientist, meteorologist, marine geologist, and paleontologist.
Geologic Map Day – Friday
Geologic Map Day is dedicated to the important role geologic mapping plays in society. Geologic maps tell us much more than the location of roads and landmarks. Instead, they tell us about the history of the earth below our feet – the types of rocks and their ages, fault lines, and folds, all essential information for land-use planning.
Learn About Geologic Maps
For those unfamiliar with geologic maps, a primer is in order. Start by reading the Geologic Maps site by the US Geological Survey and the National Parks Service, then, explore the One Geology Portal.
Interpret a Geologic Map
Get hands-on and try interpreting a geologic map. Okay, it's not quite that simple, but there are some excellent tools and lessons available. Start with the Visible Geology interactive, What's Under My Feet, Geologic Maps and Groundwater, or Geologic Maps & Earthquakes.
International Archaeology Day – Saturday
Earth Science Week wraps up with International Archaeology Day, the perfect opportunity for families to experience the real-world intersection of geoscience and history.
Attend an Archaeology Day Event
The Archaeological Institute of America's website has an interactive map and searchable database of Archaeology Day events happening around the world. Chances are there is a family-friendly tour, open house, fair, or exhibit near you.
Join a Dig!
Some archaeological sites allow volunteers to join in the dig free of charge. Search for potential volunteer opportunities here. If you and your students can't participate in a dig, then go virtual with InteractiveDigs.com.
Looking for more ways to learn about planet Earth? Visit HelpTeaching.com and try our free Earth Science printables and lessons.

Don't let nebulous ideas slow you down as you count down to this October's World Space Week. Rather, shoot for the moon with these astronomical activities for celebrating World Space Week with your class or family.
Rendezvous with the International Space Station
Take this week to celebrate global cooperation in the near reaches of space by learning about the International Space Station (ISS). Check out the view from the space station. Get kids outside on a clear evening to look for the space station passing overhead. Visit NASA's Spot The Station site to find when to view the ISS from your location. Screen a few of NASA's Human Research Program videos with your students or read about Sleeping on the Space Station with this worksheet.
Mission Mars
The Red Planet continues to capture headlines and our imaginations. Take advantage of student interest in our planetary neighbor by exploring what we know about Mars. Have students participate in the Planet Four: Terrains citizen science project by examining and mapping images of Mars. Control a virtual rover with Experience Curiosity. Find more Mars-related games and activities at NASA's Mars Exploration site and try our reading passages, Earth vs. Mars and One-Way Ticket to Mars.
To the Moon
The Apollo days have pasted, but the Moon is likely to soon be a stepping stone for human missions to Mars. Read about Moon exploration plans, then launch into a Moon unit. No need to don a spacesuit, rather bring a piece of the Moon to your classroom with the Lunar and Meteorite Sample Disk Program. Educator's must be located in the United States and go through a certification process, but the effort will be well worth it! Kick off your unit with this Moon Surface Features lesson and navigate the surface with Google Moon.
Escape with Science Fiction
Read classic or modern science fiction with your students. Go beyond what is scientifically accurate or misrepresented and discuss themes as well as what the story conveys about society, both real and fictional. Use Help Teaching's Science Fiction Literature worksheets and Elements of Science Fiction lesson as a starting point. Then, ask your students to put on their creative thinking helmets and write a piece of science fiction. Here are some writing prompts worksheets to get you started:
Kindergarten and 1st Grade:
My Space Adventure
If I Were an Alien
2nd Grade
Alien Encounter
Journey Into Space
3rd Grade
Alien Welcome Committee
My Trip Into Space
4th and 5th Grade
The Colony
Pluto Poem
One Way Ticket to Mars
Finally, decelerate by watching a sci-fi movie! Perhaps your high school students will enjoy the interplanetary adventure The Martian.
Visit an Observatory
If you have access to a telescope, World Space Week is a great time to use it! Students may not have ever had the opportunity to actually observe planets, stars, or the Moon up-close through a telescope. If your school has a telescope, plan an viewing party with students and families. If you don't have access to a telescope, some libraries offer telescope lending or viewing opportunities. Likewise, many observatories offer public viewing options and accommodate student field trips. To find a local observatory, check with nearby universities or try one of these publicly accessible telescopes.
If you're still in need of fun ways to celebrate World Space Week, sojourn to the World Space Week website and download one of the educator resource guides or locate a nearby event for more out of this world activities!
Looking for additional space science education resources? Visit HelpTeaching.com and try our astronomy printables and lessons.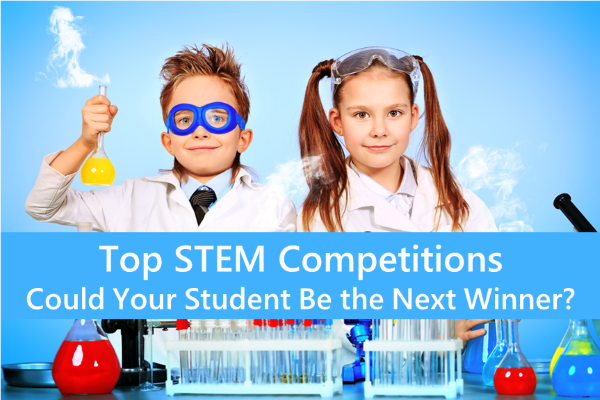 Science, technology, engineering, and math (STEM) contests and competitions benefit students in many ways. They can inspire students to pursue careers in STEM-related fields and challenge teachers and homeschool parents to take STEM education to the next level. Quality competitions provide students with hands-on practice and application of core STEM concepts they are studying and support project-based learning initiatives. Updated for the 2018 – 2019 school year, we've gathered a list of the top STEM competitions by age group to help you find the perfect opportunity for your students.
Before committing to entering any STEM competitions, consider the following criteria:
Curriculum Alignment – Does the competition directly support your curriculum and education standards? Do you have the classroom time to devote to working with students on their entries? If not, consider starting a school club dedicated to the project.
Cost – Many competitions cost nothing other than time, others require the purchase or donation of materials, and still others require travel and associated expenses. Determine your budget prior to selecting a competition to avoid student disappointment if funding is not available.
Timeline – Each competition will have a set competition timeline. In addition, some will require registration well before the submission deadline. Make sure the timeline works with your teaching schedule so students have ample time to complete quality projects.
Individual vs. Team – Science is collaborative and so are many STEM competitions. Decide if it is best for your students to compete individually, in small teams, or as a class, and then select a competition that fits those needs.
STEM Competitions for Multiple Age Groups
America Computer Science League – The ACSL challenges students in grades 3 – 12 to solve computer science and programming problems in this international competition divided into division by age group and computing experience.
ExploraVision – The National Science Teachers Association and Toshiba ask small teams of K-12 students to envision what a current technology will look like in the future. The ExploraVision competition has refocused over the past several years to align with Next Generation Science Standards.
FIRST – With school teams and clubs worldwide, hundreds of thousands of students grades K-12 participate annually in FIRST's hands-on robotics programs and competitions.
NASA Ames Space Settlement Contest – K-12 students design permanent orbital settlements. There are contest categories for students in each grade 6 – 12 and for individuals, small groups, and large groups.
National Science Bowl – Sponsored by the U.S. Department of Energy, the National Science Bowl challenges middle and high school students to face-off in a question-style science and math contest.
Science Olympiad – With competitions in all fifty states, the Science Olympiad is one of the best-established STEM competitions around for students in grades 6 – 12. Tournaments focus on teamwork and consist of standards-based challenges.
Team America Rocketry Challenge – Middle and high school students take part in designing, building, and flying rockets complete with "astronaut" eggs.
TEAMS – Middle and high school teams of four to eight students contend in this engineering-based competition that involves hands-on design challenges, multiple choice questions, and an essay based around an annual theme.
National Science Bee – This bee-styled tournament for elementary and middle school students covers science, math, and engineering topics and culminates in a national championship.
EngineerGirl Essay Content – Each fall the site posts an engineering related prompt for students grades 3 – 12 to write about. Despite the name, the content is open to all students in grades 3 – 12, not just girls!
Game-a-thon – From cards, to dice, to board games, games make for creative, hands-on learning. In this competition, students create games based on math concepts and submit videos of their games in action.
American Geosciences Institute Contests – In honor of October's Earth Science Week, the AGI offers several annual contests for kids that celebrate Earth through visual arts, a nice option to support STEAM curriculums.
VEX Robotics Competition – Get student teams designing and building robots in this popular game-based engineering competition.
MOEMS – This Math Olympiad for students in grades 4 – 8, allows students to compete in teams of up to 35 via an online monthly math test.
STEM Competitions for Middle School Students
Discovery Education 3M Young Scientist Challenge – In this competition, students in grades 5 – 8 create videos on unique solutions to everyday problems. Multiple levels of prizes are given, including a $25,000 grand prize.
Future City Competition – Middle school student teams use the engineering design process to create a city 100 years in the future that solves a sustainability issue. Competition elements include virtual city design, physical model construction, essay, and a presentation.
MATHCOUNTS – Each four-student middle school team creates a video that teaches the solution to and a real-world application of a math problem selected from the MATHCOUNT's handbook. MATHCOUNTS also offers "bee" style competitions and club programs.
eCYBERMISSION – This web-based competition, sponsored by the U.S. Army, is for teams of students in grades 6 – 9 and focuses on real-life applications of STEM.
STEM Competitions for High School Students
SourceAmerica Design Challenge – High school students innovate workplace technologies that diminish obstacles standing between people with disabilities and employment opportunities.
Google Science Fair – Students 13-18 perform in-depth investigations of real-world problems in this competition that awards many prizes in different age categories.
Imagine Cup – Microsoft's Imagine Cup challenges high school students worldwide to create software applications that help resolve some of the world's most challenging problems.
Mathworks Math Modeling (M3) Challenge – A free, internet-based math challenge for juniors and seniors that addresses a real-world problem. The competition offers numerous scholarships to top-placing teams.
Clean Tech Competition – Individuals and small student groups research, design, and produce papers around a real-world environmental theme that integrates eco-friendly energy sources.
Regeneron Science Talent Search – Billed as the oldest U.S. science and math competition, this one is limited to high school seniors who submit original science research. The top 300 entries earn cash prizes and finalists will go on to compete for $250,000.
Math Prize for Girls – This is a competitive math prize for high school girls, held at the Massachusetts Institute of Technology each fall. Only 300 students will be selected to compete and applicants must take an American Mathematics Competition exam prior to applying for this competition.
This is just a sampling of the many STEM competitions available. Many students also participate in local and regional science fairs that allow students to conduct and present authentic research and potentially compete at the national level in competitions like the Intel International Science and Engineering Fair and Broadcom MASTERS. However, most students will not win a national competition, so before entering students in a competition, consider the intrinsic value of participation. Look for well-organized competitions that offer clearly defined rules and judging criteria, as well as constructive feedback for all participants.
Remember to check out Help Teaching's collection of science worksheets and online lessons to support your science teaching needs. If you enjoyed reading this article, try our Ultimate Guide to Teaching Science.