Currently Browsing
Posts Tagged ' earth day '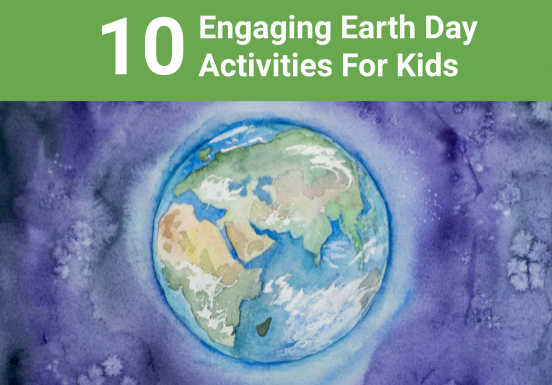 Earth Day is April 22. Since 1970, Earth Day has been raising public awareness of environmental issues. Learn more about the day, fun activities for kids, and resources available!
Since 1970, Earth Day has been raising public awareness of environmental issues. Today, our waterways are less polluted and our air is cleaner, yet there is still much work to be done before we can consider ourselves a sustainable society. This year, engage your students or children with one of these eco-friendly activities on Earth Day or the weeks surrounding it.
Activities for Children – Kindergarten to Grade 6
Plant a Tree
It may seem cliché, but planting a tree is a simple act that helps the environment and gets children outdoors enjoying the natural world on Earth Day. Coordinate with your school a place on the grounds where your class can plant a tree or check with your local conservation board for a public location. Apply for free trees through organizations like Trees for Schools (UK only) and Trees for Wildlife or by having students write to local nurseries.
Raise a School Garden
April is National Garden Month, making Earth Day the perfect time to plant a school garden. Gardens are an excellent way to get kids moving, encourage healthy eating, and incorporate project-based learning into your curriculum. A school garden takes time and commitment, but in planning and raising a garden, you will sow seeds that will help your students reap a lifetime of rewards! Get started with these school gardening tips.
Let the trash pile up!
During the week leading up to Earth Day, arrange with the custodian not to remove the trash and recycling from your classroom. On Earth Day, have your students weigh the trash and recycling they generated (weigh trash separately from recycling). Over the next week, challenge your students to toss and use less, plus recycle more. After a week, have students weigh the trash and recycling again and calculate the decrease (hopefully!) in trash weight and increase in recycling weight. Extend the lesson for older students and have them calculate percent increase and decrease as well. Get started by assigning the lessons Reduce, Reuse, Recycle and The Trash Patrol, then read our America Recycles Activity Guide for more ideas.
Walk to School
It is good for the environment and our children's health. More and more schools are planning annual walk- or bike-to-school days. Why not plan one for April 22 or use Earth Day to have your students start planning for National Walk to School Day in May? Visit the Walk & Bike to School website for more information on getting started.
Declare April 22 Waste-Free Lunch Day
With the help of your class and the EPA's Pack A Waste-Free Lunch site, make Earth Day a school-wide commitment to reducing the mounds of garbage generated during a typical school lunch. Have your class coordinate with administrators and cafeteria workers and help spread the word to students and parents about what can be done to minimize lunch waste.
Get your students excited for Earth Day by engaging them with these interactive lessons on Climate Literacy and Environmentalism by PBS Learning Media and with Help Teaching's self-paced science lessons.
Activities for Teens – Grades 7 to 12
Participate in a Citizen Science Project
Engage your children or students in authentic science by participating in an eco-themed crowd science collaboration. There are numerous projects running that allow students to participate with adult supervision, including the environmentally oriented: Forgotten Island, The Lost Ladybug Project, and Globe at Night.
Take a Field Trip
What student doesn't love a field trip? Plan an inexpensive day out by arranging tours of your local landfill, recycling center, wastewater treatment facility, and/or power plant (even better – visit a plant that uses renewable energy and one that uses a nonrenewable source). Yes, it will be dirty, hot, and smelly, but what better way for students to develop an understanding of where energy comes from and trash goes than to see it for themselves?
Host an Environmental Career Fair
Enlist your students in finding local professionals working in environmental careers to visit the school on Earth Day. Arrange for a career fair that allows students to hear about green jobs and discuss job duties with the professionals. Have students prepare questions ahead of time and write thank-you notes after.
Conduct a School Energy Audit
Challenge students to work in small groups to perform an energy audit of their school. Each group can audit energy use for a given building space like the classroom, cafeteria, gymnasium, or auditorium. Groups can share their results and compare their findings, then use the data to prepare an energy action plan to present to school administration. The National Wildlife Federation and Green Education Foundation both offer resources for energy audit projects for students.
Build a Rube Goldberg Machine
Ask your students to bring in a variety of cleaned items from their home recycling containers during the week leading up to Earth Day. On April 22, divide your students into teams and task them with designing and building a machine that completes a simple eco-friendly task such as turning off the lights or watering a plant. Provide basic materials, like string and wire, to aid in construction. Be sure and have your students demonstrate their machines for an audience and see if their projects can be displayed in the school lobby or library.  Find free lesson plans and ideas at RubeGoldberg.com.
Launch a Project-Based Learning Unit
Spring has sprung and students are anxious to get outside, making Earth Day the perfect time to embark on an environmentally focused project-based learning (PBL) initiative. BIE.org offers extensive PBL resources for teachers and students.
Be sure to visit Help Teaching's Earth Science Printables and Lessons for free environmental science resources to use on Earth Day and year round!
Additional Online Resources
The 50-year legacy of Earth Day can be effectively transmitted with these resources.  Hopefully, in another 50 years, your students will have witnessed the solutions to many of our planet's environmental problems.  Happy Earth Day!
Spring is here and chances are your students are bubbling with energy. Why not put that energy to great use and start a school garden? April is National Garden Month and, thanks to the farm-to-table movement, school gardens are more popular than ever. Gardens are an excellent way to get kids moving, encourage healthy eating, and incorporate project-based learning into your curriculum. A school garden takes time and commitment, but in planning and raising a garden, you will sow seeds that will help your students reap a lifetime of rewards!
1. Plant the Seed
Every good garden takes careful planning. The same is true for school gardens. In these times of tight budgets and resource allotments, you must first make your case for a garden before the administration or a school committee. School Garden Wizards offers resources to help you prepare and present your proposal. Once you gain approval, the work really begins! You will need community buy-in for labor and materials. This includes school staff, parents, local community partners, and most importantly – your students! Work with your students to develop a clear vision statement for the garden. Doing so will encourage students to take ownership of the garden and generate excitement for the project.
2. Stake Out a Curriculum
A school garden offers a rich project-based learning opportunity. Students can research the types of plants that grow well in your climate region, calculate garden area and soil volume, and journal about the garden growth. Plus, don't underestimate the benefits of cooperative learning that a garden project brings! Like any other topic you teach, the school garden project will require careful lesson planning and implementation. Fortunately, there are some excellent curriculum resources available. Here are some to help you plot out your curriculum:
3. Plot the Garden
Once you have support from the school administration and the excitement of your students, it's time to plot the garden! Get your students outside and walk the school grounds before selecting the garden location. Students can work in groups to develop proposals on where the garden should be located. They should consider the types of plants the class would like to grow, average amount of daily sunlight, proximity to a water source, space requirements, and soil quality. Groups can then present their proposals to the class and others involved in the project. Once a location is selected, students can use free online planning tools from Gardener's Supply Company or Garden Planner to design the garden.
4. Consider Growing Small
A school garden can be decorative plants located by the school entrance or a full-grown vegetable garden. Don't be intimidated by scale. Plan the type and size of garden that is right for your school and students. If you are tight on space and low on funds, start small and plant bulbs in the fall – the students will enjoy seeing them bloom in the spring. Herb gardens are wonderful for small spaces and produce a savory variety of flavors that can be shared with your school's food service department. Likewise, if a full-bloom garden is too much to tackle, consider small container gardens or potted plants. Have your students cultivate potted gardens that sit by classroom windowsills. A bonus of small container gardens is students can take home and care for potted plants over the summer, eliminating the need for summer garden maintenance on school grounds. KidsGardening.org offers resources on container gardening to get you started.
5. Apply for Grants
Although gardening is a reasonably affordable educational activity, there are still start-up and maintenance costs. Strong community buy-in at the school and local level should help bring in donations and minimize expenditures. However, there are grant opportunities and seed donation programs to help offset costs. These organizations offer or have offered grants or seeds in the past for school garden programs. Grant terms and deadlines vary, so read guidelines and eligibility requirements closely.
You can also look for local grant opportunities, companies that donate seeds, and consider fundraising projects like selling seedlings grown by your students. A local hardward store or landscaping company may be willing to donate materials or labor to help make your garden a reality, but you'll never know if you don't ask. Happy gardening!
Looking for more green activities for your students or children? Read 10 Engaging Earth Day Activities for Kids and America Recycles Day Activity Guide.