Currently Browsing
Posts Tagged ' activities '

Physical fitness is essential to our health and has a big influence on our mental wellness too. Yet, with full work schedules, equally busy children, and lockdown restrictions, making the time for exercise too often falls to the bottom of the list. While May is officially National Physical Fitness and Sports Month, any time of the year is good for becoming more active. And being physically active is way more fun and much less of a chore when done together, we've put together a list of 100 fitness activities for families. Whether you have toddlers, tweens, or teens, we've got you covered not just with fitness activities, but with improved family time too!
Host Backyard Games
Whether you're in your yard or at a park, there's nothing like open space to inspire movement. While they may not always show it, your children will get a kick out of seeing you acting like a kid again. Consider inviting friends and neighbors to join you in these outdoor games. You can even combine these activities into a full-fledged backyard Olympics!
1. Make and run an obstacle course
2. Take on the high seas with a game of pirate ship
3. Design, build, and play your own mini-golf course
4. Seek treasure or discover nature with a scavenger hunt
5. Play a game of soccer, volleyball, flag football or another team sport
6. Run relay races
7. Strategize as a team in a game of capture the flag
8. Get messy – play in the mud, have a frozen t-shirt race, engage in a shaving cream battle, or even slip on a water slide covered in chocolate syrup
Lend A Hand
Volunteering can keep you moving while you help out others and your community. Depending on the volunteer opportunity your family may be packing, cleaning, stacking, running, or building! So lend a hand, teach your children the importance of social responsibility, and work in some physical fitness while your family spends meaningful time together. Sites like VolunteerMatch can help connect you with the right cause for your family.

9. Help out at a bottle and can drive
10. Clean up litter along roads or trails
11. Participate in a run or walk for charity
12. Join a community building project like Habitat for Humanity
13. Collect, organize, and distribute food through your local food bank
14. Volunteer at a meal center
15. Explore new places while giving back – plan a family volunteer vacation
16. Lend a helping hand around the yard or home of a grandparent or neighbor in need.
Roll with Rainy Days
Rainy weather can be challenging for families with rambunctious children. Kids need to move, but a string of poor weather can dampen their spirits. Don't let the weather impede your fitness goals. Instead, roll with the rain and keep the family moving!
17. Play indoor hide-and-seek
18. Challenge the family to a game of fitness bingo
19. Build a blanket fort and play in it
20. Make cardboard box cars, then race them
21. Crank up the tunes and do a freeze dance (think musical chairs)
22. Have a pillow fight
23. Play follow-the-leader
24. Dress up and walk the runway in a family fashion show
25. Play charades or other movement games
26. Pretend to belt out tunes in a family a lip sync battle
27. Put on a family talent show
28. Read and act out a movement story or video together
29. Kick up your heels and play a dance video game
30. Get outside and go puddle jumping
Do Chores
They're not glamorous, but chores must be done. On the plus side, chores help burn calories. Divide tasks and make a morning of getting some things done around the home and yard. Turn on some background music and agree as a family on something fun to do together once the chores are finished.
31. Mow the lawn
32. Rake leaves – jump in the pile before picking it up
33. Try on old clothes, pass down or donate ones that no longer fit
34. Paint a room
35. Chop and stack wood
36. Walk the dog
37. Wash and clean out the car
38. Clean the windows
39. Sort through books, donate ones no longer wanted or needed
40. Vacuum the rugs and mop the floors
41. Run errands – walk if you can or park the car at the further spot in the lot
42. Plant a family tree
Get Adventurous
Teens may be more reluctant to spend time as a family than younger children. Engage them with these high adventure activities and embrace your wild side along the way! Due to the need for specialized equipment and professional instruction, adventure activities can be more expensive than other fitness options. However, check coupon sites as they often feature significant discounts to places that offer these activities.
43. Ride into the sunset on horseback
44. Rage the rapids on a rafting tour
45. Scale a wall at a rock gym
46. Get tangled up in a ropes course
47. Go mountain biking
48. Vacation by going on a family camping trip
49. Try indoor skydiving
50. Participate in a mud run or obstacle race as a team
51. Take a SCUBA certification course
52. Play laser tag
53. Train together for a CrossFit competition
Explore Someplace New
Getting kids out of their everyday environment can open their eyes to the larger world and spark excitement and curiosity. Whether you fly across the county to visit a new city or explore a local museum, a day of walking and discovering a new place adds up to a lot of steps! Be sure to check with your public library first, it may offer free or discounted passes to museums.
54. View works of art, explore history, or learn science at a museum
55. Visit a national park – families of 4th graders get free annual passes here
56. Take a walking tour of a city
57. Ride your bikes the length of a rail trail
58. Climb a mountain
59. Brave a cave tour
60. Put on costumes and join a historical reenactment
61. Go letterboxing or geocaching
62. Play on a playground your kids haven't been to before
Make A Splash
There is nothing like playing in water during the heat of summer. Kids can spend all day splashing in a pool or digging in the sand, so join them! Many communities have public beaches or pools that are free or at reduced cost for residents.
63. Run through the sprinkler
64. Ride the waves on a boogie or surf board
65. Try paddle boarding
66. Have a squirt gun battle
67. Team up for a water balloon fight
68. Paddle a river or lake in canoes, kayaks, or paddle boats
69. Jump over waves
70. Hit a home run with water balloon baseball
71. Register emerging swimmers for lessons
Take On Winter Weather
Winter brings a unique set of challenges to staying fit. Don't let the weather keep your family indoors. Rather, bundle up and take advantage of the fitness opportunities that come with snow and ice! By trying a new winter sport, your family may fall in love with an activity you can do together for years to come. If you don't own winter sporting equipment borrow from friends or look for places that offer daily rentals.
72. Downhill ski or snowboard
73. Cross-country ski
74. Go ice-skating
75. Build a snow family
76. Have a snowball fight
77. Make snow angles
78. Shovel the driveway
79. Shovel a neighbor's driveway
80. Explore the woods while snowshoeing
81. Go ice fishing
82. Hop on a sled
83. Try snow tubing
Create Healthy Eating Habits
Eating healthy is an essential part of any fitness plan. With hectic work, school, and extra-curricular schedules, setting aside time to prepare and share healthy meals can be challenging. But, we all must eat, so take the opportunity to teach your children lifelong eating habits while spending some quality time together!
84. Pack a healthy picnic and hike to a scenic spot
85. Take a cooking class as a family, check nearby grocery stores as some offer free programs
86. Set up a schedule where each family member is responsible for planning and cooking a meal
87. Involve children in packing their own lunches
88. Go to your local farmer's market together
89. Go fruit picking at a nearby farm or orchard, then try a new recipe with the fruit
90. Cook one meal a week that features locally grown, seasonal food
91. Gather favorite family recipes and publish them in a cookbook – check out Blurb
92. Plant a home vegetable garden or potted herb garden
93. Join a community garden
94. Volunteer at your child's school and help raise a school garden
95. Spice up dinnertime by planning a weekly themed meal night – from Meatless Mondays to Fancy Fridays, your kids will look forward to this new family tradition
Make Time for Mindfulness
The end of a harried day is the ideal time to come together as a family and create time for a few mindful moments. There are many wonderful free mindfulness videos and audio recordings available online or through your public library.
96. Practice yoga along with a video geared for kids or families
97. Dim the lights, get comfortable, and listen to a guided meditation recording
98. Try progressive muscle relaxation
99. Do some calming breathing exercises
100. Lay on a blanket in the yard or park and focus on the sounds around you or stargaze
How does your family stay fit and active? Share your ideas in the comments. Visit Help Teaching and browse our collection of free physical education printables!

Don't let nebulous ideas slow you down as you count down to this October's World Space Week. Rather, shoot for the moon with these astronomical activities for celebrating World Space Week with your class or family.
Rendezvous with the International Space Station
Take this week to celebrate global cooperation in the near reaches of space by learning about the International Space Station (ISS). Check out the view from the space station. Get kids outside on a clear evening to look for the space station passing overhead. Visit NASA's Spot The Station site to find when to view the ISS from your location. Screen a few of NASA's Human Research Program videos with your students or read about Sleeping on the Space Station with this worksheet.
Mission Mars
The Red Planet continues to capture headlines and our imaginations. Take advantage of student interest in our planetary neighbor by exploring what we know about Mars. Have students participate in the Planet Four: Terrains citizen science project by examining and mapping images of Mars. Control a virtual rover with Experience Curiosity. Find more Mars-related games and activities at NASA's Mars Exploration site and try our reading passages, Earth vs. Mars and One-Way Ticket to Mars.
Moon to Mars, Mission Artemis
Artemis missions will land the first woman and first person of color on the Moon. The plan is to establish a sustainable base camp with an eventual plan and the giant next milestone: sending astronauts to Mars from the moonbase. While building the resources and technology for this goal, there are also plans of exploring all of the moon's surface, sending astronauts and space robotic explorers. According to the official Artemis mission page, at the top of this list is the moon's southern pole. Kick-off your unit with this Moon Surface Features lesson and navigate the surface with Google Moon.
Escape with Science Fiction
Read classic or modern science fiction with your students. Go beyond what is scientifically accurate or misrepresented and discuss themes as well as what the story conveys about society, both real and fictional. Use Help Teaching's Science Fiction Literature worksheets and Elements of Science Fiction lesson as a starting point. Then, ask your students to put on their creative thinking helmets and write a piece of science fiction. Here are some writing prompts worksheets to get you started:
Kindergarten and 1st Grade:
My Space Adventure
If I Were an Alien
2nd Grade
Alien Encounter
Journey Into Space
3rd Grade
Alien Welcome Committee
My Trip Into Space
4th and 5th Grade
The Colony
Pluto Poem
One Way Ticket to Mars
Finally, decelerate by watching a sci-fi movie! Perhaps your high school students will enjoy the interplanetary adventure The Martian.
Visit an Observatory
If you have access to a telescope, World Space Week is a great time to use it! Students may not have ever had the opportunity to actually observe planets, stars, or the Moon up-close through a telescope. If your school has a telescope, plan an viewing party with students and families. If you don't have access to a telescope, some libraries offer telescope lending or viewing opportunities. Likewise, many observatories offer public viewing options and accommodate student field trips. To find a local observatory, check with nearby universities or try one of these publicly accessible telescopes.
If you're still in need of fun ways to celebrate World Space Week, sojourn to the World Space Week website and download one of the educator resource guides or locate a nearby event for more out of this world activities!
Looking for additional space science education resources? Visit HelpTeaching.com and try our astronomy printables and lessons.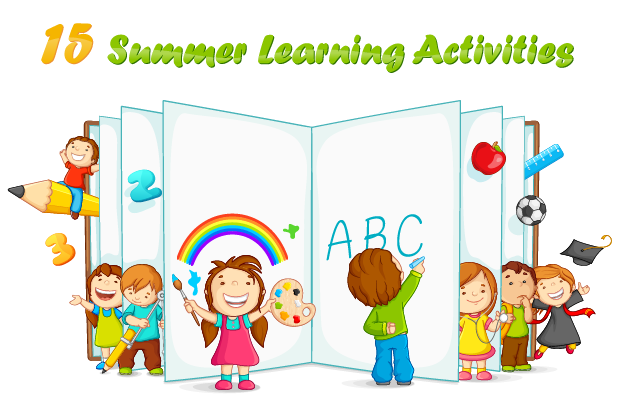 Summer's here! It's time for fun in the sun, family vacations, and… learning. While you want to give your kids a chance to relax, you don't want them to lose all they learned during the school year. To help keep their minds sharp, incorporate some learning into their summer activities. Not sure where to start? We've got plenty of ideas to help your kids learn during the summer while still having fun!
Elementary School
Give your elementary student a chance to have some hands-on fun this summer.
Head Outside
Start by getting out of the house and observing the world around you. Set up a scavenger hunt and have your kids scour the neighborhood in search of certain colors, sights, or sounds. Draw a map and see if they can navigate their way from point A to point B.
Explore Science
While you're outside, take some time to explore the world of science. Talk about how the flowers boom and the animals that you see. Discuss the weather and notice changes in nature when it rains. For more ideas, try some of these science exploration ideas.
Visit the Library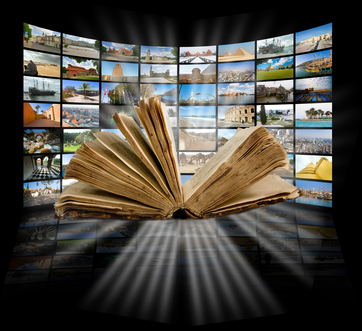 Stop by your local library and give your kids a chance to look for some new books to read. Look for books by favorite authors or head to the non-fiction section and check out books on your child's current favorite topic. Need some book suggestions? Our Black History Month Reading List offers a few titles to get kids started. Once they've found their books, encourage them to read on rainy days or take along a book when you head to the beach or the park.
Play Online Games
When you're taking a break from laying in the sun or playing at the park, let your kids sit down at the computer and play some games. For both math and reading games, check out Funbrain.com or head to Math Game Time for some math-based play. The websites for your child's favorite TV shows also often have fun, educational games for them to play. For more games, check out the sites found on our list of free education websites also offer plenty of free games and other fun learning activities for kids to enjoy.
Build their Character
Who says all learning has to be academic? During the school year, your child's teacher and friends have a big influence on her life. Use the summer to build some key character values. These values will help them when they face conflicting viewpoints and character trials during the school year. You can work on building manners by having a dinner party, helping out others by volunteering, and asking "what would you do?" questions that incorporate scenarios related to honesty, respect, and other character traits. For older elementary and middle school students, you can incorporate some of the resources found in this blog post on character education.
Middle School
Pull your middle schooler away from the video games and phone and have some educational fun.
Read a Book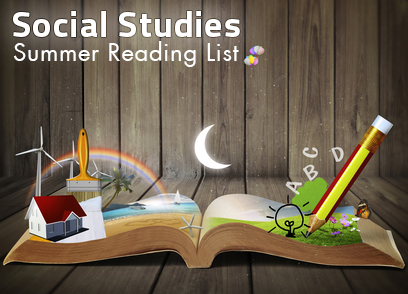 Your middle schooler isn't immune from reading a book either. While he may not want to be caught dead at the library, you can still pick up a few books and make him set aside some time to read every day. If your middle schooler doesn't like reading, choose a few graphic novels or look for non-fiction books that focus on his current interests. Check out our social studies summer reading suggestions to get him started and let him learn a bit about history while he reads.
Conduct a Science Experiment
Have some fun with science experiments this summer too. The kitchen offers a great place to start and gives your pre-teens and teens a chance to learn how to cook at the same time. Science Buddies offers a large selection of cooking & food science fair activities. These free science websites offer plenty of experiments to last the entire summer. If you're ambitious, organize a neighborhood science fair and get all of the other kids on the block involved in conducting experiments too.
Get Online
Chances are your middle schooler will want to spend most of the summer on the computer or her phone talking to her friends. Let her go online, but encourage activities beyond socializing, such as visiting some of the top Free education sites. Encourage your middle schooler to build a new skill, such as learning how to code at Code.org or donate to charity while building vocabulary skills through websites like Free Rice.
Work on Executive Functioning Skills
The summer offers a great chance to build some skills that will help your middle schooler succeed when school starts back up again. Work on some of the same executive functioning skills that teachers work on during the school year, such as setting up a routine and using a planner to help keep your middle schooler organized.
Take a Trip
For your family vacation, let your middle schooler do the navigating and build map-reading skills at the same time. Can't afford a vacation? Bring some maps into your home and plan a dream vacation anyway.
High School
Don't let your teen sleep all day this summer.
Watch a Movie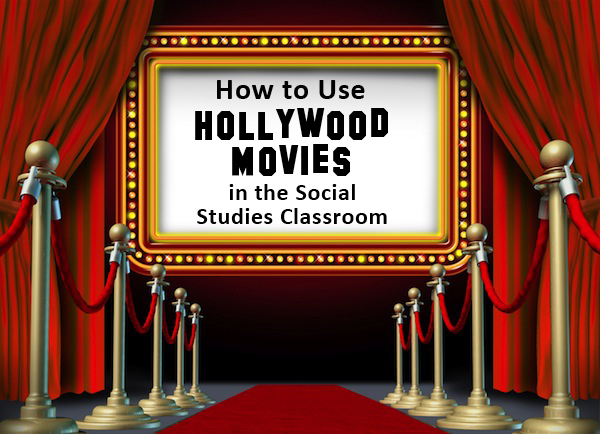 Getting your teen out of bed can be enough a challenge during the summer. Give in and let him spend time on the couch watching educational movies. Try out some of these movies about historical events or some educational YouTube channels.
Conduct Research
Use the summer as a chance to get your teen to explore some of his or her interests through mini research projects. Explore a specific period of history, look further into a concept they discovered in a movie, or just encourage them to find the answers to the questions they have on their own.
Enlighten their Devices
If you can't pull your teen away from his phone this summer, make the phone more educational. Add educational apps or even force your teen to learn before texting or using Instagram and Snapchat with an app such as StudyLock, which requires teens to answer academic questions before using their devices. You can also encourage learning through silly apps.
Volunteer
Get your teen out of the house and do something to help others. The summer is full of volunteer opportunities. Your teen can work with a summer camp, help out at a food pantry, go on a mission trip, or even just do some yard work for elderly neighbors.
Make Some Money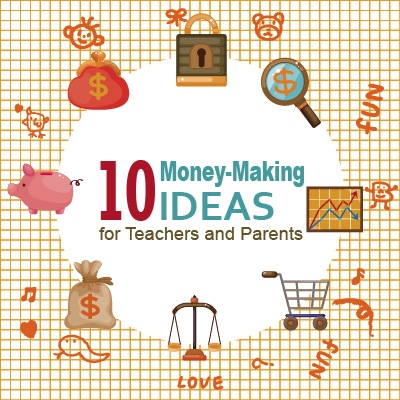 Of course, summer is also a great time for your teen to make some money. Getting a job will teach your teen about managing money, working with others, and building real-world skills. If a traditional job, such as working at a grocery store or fast food restaurant, doesn't appeal to your teen, encourage her to get creative. Have a yard sale, sell a craft, or start your own family business. If you're home with your teen all summer, use your free time to make some extra money too with these money-making ideas.
Have more ideas for keeping kids learning during the summer? Share them in the comments.
For more ideas, we suggest 100 Fitness Activities for Families and 100 Summer Activities for Kids.
It might start by simply hiding behind their mother as a toddler and progress into a sense of anxiety so strong it inhibits everything from classroom instruction to proper socialization.
While many children are boisterous and creative through imaginative play, some struggle deeply with shyness.
Shyness has positive points, but when it is so extreme that it affects their daily life in a negative way, then there may be ways to help.
Group activities for shy kids can be very beneficial when executed correctly. Timid kids can learn to find strength in numbers and to be accepted in ways they previously feared.
It might seem the worst thing you could do is put a shy child in the middle of a team or arranged social circle – but in many instances it can also help.
Classroom Structure
While some kids may never be the spokesperson of the group, they may contribute ideas to a more outgoing member of the team and feel proud where they otherwise would've just been silent.
An attentive teacher will recognize a shy student who is struggling, and will often try to help.
One way to help is to arrange the classroom so that desks are in pairs or small clusters rather than individual rows. This promotes teamwork in the classroom – the various clusters of desks work together to come up with an answer, or they brainstorm together for an activity.
Leading the Way
Many shy children tend to be excellent students or independent workers.
Why not tap into these positives by asking them to mentor younger children?
Whether in the classroom or on the soccer field, the opportunity to build relationships with younger kids can make the shy child feel more comfortable and able to speak up more in other life situations.
This works even better if they can be paired with another to assist a handful of younger ones. This mentorship system is the core of the Montessori school structure – it has been known to raise confident and capable children, and in some instances, abolish shyness.
Get Active in the Classroom
Although it may seem a recipe for disaster, one of the best activities for shy kids is group physical activities or sports. They experience victories without having everything rest on their shoulders, but also learn the important lesson of other people counting on them to be confident and do well.
Team activities have proven time and again to be effective in bringing children out of their shell, and don't include the pressure of individual sports like gymnastics or figure skating.
When Shyness is a Problem
If a child is so shy that they are experiencing anxiety attacks, problems even walking into the schoolyard or signs of depression, encourage the child's parents to seek the help of a health care provider right away.
While many kids are shy and go through life in a simpler, quieter way, shyness can sometimes lead to more serious issues. Sometimes even a one-time therapy session with a quality counselor can get to the bottom of the situation and help the little one to feel more confident and secure in who they are.
—————————
Sarah Antrim is a blogger and social media manager for ActivityHero, a website that helps parents find, plan and book kids classes and summer camps. She blogs extensively about kids activities, providing parents fun and time-saving tips on how to engage kids. As a mother of two, Sarah firmly believes in the company's mission to keep kids active & healthy.