Currently Browsing
Posts Tagged ' teaching tips '
If you're a teacher, you start the school year with a list full of things you want to accomplish with your students. If you're a parent, that list may have started the day your child was born. Whatever it is you want to accomplish, now's the perfect time to refocus, re-energize, and get started. These resolutions for teachers and parents will help ensure that you, your students and children grow and excel in the new year.
I Will Enjoy My Children
Whether you see them at home or spend all day with them in the classroom, children can try your patience. It's easy to focus on the frustrations they cause rather than the joy they can bring. Make it a point to focus on the positive rather than the negatives. You can do this by:
Sharing in their accomplishments
Pointing out what makes them special
Reinforcing positive behavior rather than punishing negative behavior
Choosing not to yell, call names, or overreact to negative situations
I Will Know My Children
How well do your really know your students? What about your children? Have you taken time to just sit and chat with them lately? It's easy to get caught up in everything that's going on and forget that children simply want to spend time letting you get to know them. This doesn't mean simply asking them to share their favorite color or their favorite foods, it means taking a vested interest in them, their friends, and the activities they enjoy.
Both at home and in the classroom, give children time to express their feelings. Let them know they're free to come to you to share their ups and downs. If they don't come to you, go to them and encourage them to share. Make yourself a part of their daily activities too. If they're going out with their friends, ask them questions about their friends and what they did. If they're playing on a smartphone or tablet, spend some time playing along with them or monitoring their use. Not only will you make them feel important, you'll also quickly know when something is not right.
I Will Not Overcommit
What's filling your schedule this year? If you're a parent, your days may be filled with juggling meetings, sporting events, and making time for your children to see their friends. If a teacher, you may fill your time with grading papers, writing engaging lesson plans, attending meetings, and then fitting in trips to the gym and family time once you get home. Despite your full schedule, it's hard to say no to the requests that pour in. However, if you're feeling stressed and overwhelmed, chances are your children or students are feeling stressed and overwhelmed too.
Remember, you children don't have to participate in every extra-curricular activity and you don't have to attend every single meeting. In the classroom, you don't have to try every new idea you hear or assign tons of homework that you'll later have to grade. Instead, focus on a few key things and do them to the best of your ability. Not only will you feel less overwhelmed, you'll help set a positive example for your children and your students.
I Will Not Feel Guilty
You live in a world that loves to make teachers and parents feel guilty for not doing enough. Viral videos and blog posts highlight teachers and parents making a difference in the lives of children all over the world. Facebook offers a place for teachers and parents to highlight every craft project, every good decision, and every milestone. Pinterest features thousands of pins to make you feel like you have to do it all. However, it doesn't make you less of a teacher or less of a parent.
Resolve not to feel guilty. You may not use every lesson idea or recipe you pin. Your Facebook posts may focus more on failures more than successes, and you may not make headlines for your achievements with your students and your kids. However, that doesn't mean you're not doing a good job. Instead of feeling guilty, focus on doing the best you can with the time, energy, and resources you have. You don't have to do it all.
I Will Listen to Myself
As teachers and parents, sometimes you spend so much time listening to your children and your students that you forget to listen to yourself. Instead of tuning out your body and your mind, you need to take time to listen to yourself so that you can ensure you stay healthy and fulfilled enough to interact with children on a daily basis. Maybe your body is telling you that you've been staying up too late grading papers or that you have been eating too many meals on the go. Maybe your gut is telling you not to take that promotion at work or that you need to take a vacation. Teach yourself to listen to and follow these cues. After all, if you don't listen to yourself it's hard for anything else to fall into place.
What other resolutions are you planning to stick with in the new year? Share them here and maybe inspire some others too!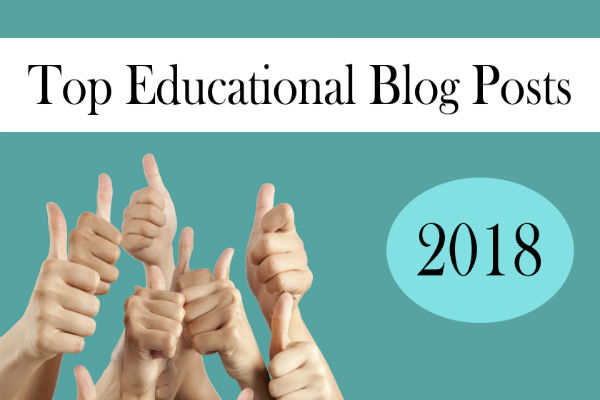 In the world of education, 2018 was full of teachers striking for fair pay and benefits, students speaking out against gun control, and schools becoming more inclusive.  But while the world of education is always changing, some traditional components remain the same. As our top educational blog posts of 2018 show, there will always be students who struggle with procrastination, teachers looking for new teaching resources and ways to fund their classroom needs, and parents looking for materials to help their children learn and grow.
Looking for resources to enhance your science curriculum? Look no further than the Ultimate Guide to Teaching Science which contains resources for teaching science in grades K-12. Resources are organized by subject and topics such as breaking science news, NGSS standards, and science activities.
Since 2013, Help Teaching has brought you the best websites for education. The list has grown well beyond 100 sites and features categories such as reading, writing, science, math, coding, language, lesson planning, and educational games. Resources span all grades from K-12.
Summer is a time to relax, have fun, and get outside. It's also a time when kids experience boredom. While it's okay for kids to be bored sometimes, our list of 100 Summer Activities will limit those moments by giving kids plenty of activities to enjoy during the summer. Some require a bit of travel while others can be enjoyed right at home. If you live in a warmer climate, you can enjoy all of the activities year round.
Kids need time to exercise and practice physical fitness, but they don't have to do it alone. Our 100 Fitness Activities for Families encourages families to get active together. Go for a bike ride. Learn a new yoga pose. Find tons of ways to get physically fit.
SEL is definitely one of the current buzzwords in the world of education. By focusing on the whole child rather than just academic skills, parents and teachers can help kids and teens become more aware of themselves, their emotions, and how their actions affect others. Find some simple activities to bring SEL into the home and classroom.
As with all kids with exceptional skills, working with kids with autism requires some extra care and knowledge. 7 Things to Remember When Working with Kids with Autism gives teachers the tips they need to experience success with kids who are on the spectrum and helps kids with autism receive the quality education they deserve.
Kindness matters. We live in a world where put downs fill the Internet, political leaders regularly share negativity, and if you don't like someone, it's okay to say it, but that's not okay. Parents and teachers can set a positive example and start changing the landscape by teaching kids to be kind.
Teaching requires resources and resources cost money. As school districts cut budgets, teachers need to find creative ways to get materials for their classrooms. This list goes beyond simply making Donors Choose requests and helps teachers find ways to raise funds for classroom needs.
Few people would turn down the chance to make a little extra dough, especially if they have a classroom to fill or children to support. We've rounded up some ways that parents and teachers can earn some extra money throughout the year. Some are simple while others require more of a time commitment.
This year, Help Teaching hosted its 2nd annual scholarship competition. Over 600 high school and college students submitted original pieces and 10 finalists were chosen. The winner of the scholarship, Tatiana Rusev, won a $1,000 college scholarship. Now it's time to think ahead. Help Teaching has begun accepting entries for the 2019 scholarship competition.
Online learning has become more popular and that has increased the popularity of the Ultimate Guide to Free Online Self-Learning for Kids and its companion post the Ultimate Guide to Free Online Self-Learning for Teens and Adults. Both posts are great for homeschool and public or private school students, with free online courses, informational websites, videos, and other resources covering a range of subject areas.
One of the keys to doing well on the SAT is knowing the test. Our comprehensive guide to conquering the SAT introduces students to the test and provides links to tests, worksheets, and other resources to help ensure they're prepared to ace the test.
Although Fortnite has enjoyed success as the trendy video game this year, Minecraft has remained a popular game in classrooms and for younger students. However, not all Minecraft fun has to take place online. Our post takes some of the Minecraft characters and skills and puts them into offline activities with 10 ways to bring Minecraft into the classroom.
Did you watch the Geminid meteor shower in December? How about the super blue blood moon in January? Every year there are tons of space events to watch with kids. Keep watching the post to find more.
Pi Day is everyone's favorite math holiday, but it's not the only one. If you missed some math holiday this year, be sure to bookmark the 11 Prime Days to Celebrate Math Holidays to catch them all in 2019.
Keeping in line with math topics, the top STEM competitions give students a chance to show of their math, science, technology, and engineering skills. Use the list to find the perfect competition for your students to enter.
Children benefit from seeing the world. Sure, travel may be stressful, but 9 Benefits of Traveling with Children highlights all of the positives children gain as well. You'll quickly see that they outweigh the negative.
Banned books are a touchy subject. Despite some of their controversial content, they provide an opportunity to students to think more deeply and gain insight into hot-button issue. Do you teach banned books? If not, maybe you should consider it.
At Help Teaching, we're committed to providing teachers, parents, and other educators with all of the tools and resources they need to do an amazing job. What topics would you like to see covered in 2019? Share your thoughts in the comments.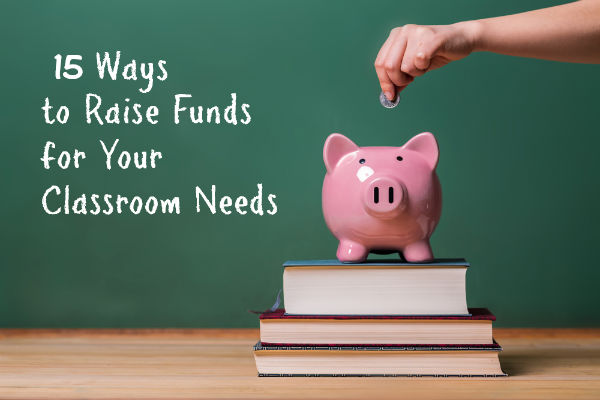 Teachers truly are miracle workers. Not only do they work hard to turn around struggling students and help exceptional students succeed, but they often do it with a limited budget and a lack of quality materials. That's why sites like Pinterest are full of ideas for turning household goods and recyclables into fun classroom projects. Sometimes, however, teachers need more than recycled goods. That's when money – and a bit of goodwill – comes into play. If you desperately need funding for your classroom, we're here to help with a list of websites and other resources to provide the money you need.
Note: Before posting any fundraisers for your classroom, check your school or district guidelines. Some districts require that teachers receive approval from administration or the board before fundraising.
DonorsChoose.org
DonorsChoose.org gives teachers the opportunity to post their classroom needs and allows others to contribute to those needs. Friends, family, and community members who know about the project can contribute, but the project will also be visible to a wealth of donors who regularly work with the site to help fund classroom projects. While teachers can request virtually anything, projects with lower costs, longer deadlines, and clear academic goals have the highest funding rates. Once teachers receive the materials from DonorsChoose, they must fill out a documentation and thank you package to send to donors. Successfully completing the documentation earns teachers more points to submit new project requests.
TeacherLists.com
TeacherLists.com gives teachers a place to post their classroom supply lists so parents can easily access them. While the goal of the site is just to share school supply lists, teachers can also create lists for other reasons, giving parents and other school supporters gift ideas for Christmas or Teacher Appreciation Week. Teachers can also win free supplies by referring other teachers to the site. For example, getting one new teacher to sign up earns teachers a selection of Wet Ones hand sanitizing wipes.
Classwish
Classwish offers multiple ways for teachers to get resources for their classrooms. At the basic level, teachers create wish lists and share those lists with potential donors to help get the items and the funds they need. The site also helps schools partner with local businesses to create workplace giving or matching gift programs. Parents, friends, and others can also send greeting card gift certificates to help meet their classroom needs.
Adopt-A-Classroom
Through Adopt-a-Classroom teachers can get their classroom needs in the hands of donors who want to help meet those needs. Similar to DonorsChoose, teachers post their latest projects and other classroom needs to their Adopt-A-Classroom profile. They can then share those needs through social media or promote their page within the community to get people to donate. Donors who regularly visit the site can also search for different teachers' needs and donate.
DigitalWish
With DigitalWish teachers can ask for donations to help bring technology into the classroom. While teachers may not receive new computers or high-end equipment, they can receive cool software and smaller digital items, such as handheld video cameras, to help bring their classrooms into the 21st century. The site also regularly offers grants to help teachers get specific products and works with companies to provide deep discounts for teachers.
Chalkfly
When people buy office supplies through Chalkfly, a percentage of their purchase is given to a teacher of their choice in the form of Chalkfly cash. This cash allows teachers to use Chalkfly to purchase supplies for their classrooms. So teachers can work with local businesses, parents, family, and friends to have them purchase some of their basic office supplies from Chalkfly to help them earn money for their classrooms. Teachers can also earn money back from their own purchases.
PledgeCents
Jumping on the crowdfunding bandwagon, PledgeCents helps teachers use the power of crowdfunding to fund their classroom needs. After setting up a project, teachers share it through social media sites and encourage others to share it as well. As the project starts to go viral, more and more people can donate to it, helping teachers reach their goals a few dollars at a time. Since the goal of PledgeCents is to get others involved, teachers should not be shy about asking for donations and should work hard to present a compelling case to get their needs met.
Freecycle
While Freecycle might not help you meet specific classroom needs, it could help you find free resources for your classroom. On Freecycle, people give away things for free. By connecting with a local group, you could find free classroom furniture, boxes and other random objects for craft projects, or even request specific items for a classroom project. Getting some items for free could help free up money in the budget for other classroom supplies.
TeachersPayTeachers
One way to get extra funds for the classroom is just to make extra money. TeachersPayTeachers allows teachers to sell lesson plans, worksheets, and other educational materials. By adding and promoting their materials, teachers can make a little extra cash to use in the classroom. They'll also find free lesson plans, worksheets, and other resources to use with their students.
DoSomething.org
While teachers can't start campaigns on DoSomething.org, their students can.  Designed to help teens and young adults fund their causes, teachers can help students get started using DoSomething.org. Through the site, students can find funding and support for school fundraisers, community service projects, and other ideas designed to help others and make the world a better place. If students don't have their own cause, teachers can help them find an existing cause to support. This works great for character education classes and school clubs.
Amazon Lists
If you have an Amazon account, you can set up a wish list full of items you need in your classroom through Amazon Lists. Share the link with parents, friends, or even total strangers and ask them to purchase something from your list. Items purchased from your list can be shipped directly to you at the address you select. The address will be hidden from senders so safety is not an issue.
GoFundMe Education
GoFundMe allows teachers to post fundraisers for their classrooms on its cloud-funding platform. The site includes categories for teachers, teams and clubs, and students and parents.
SimpleFund
SimpleFund gives parents and students a chance to raise funds for schools by using their cell phones. They earn funds by reading articles, watching videos, and downloading apps.
Class Tag
Class Tag helps you raise money as you communicate with parents. Every time you engage with parents, you earn coins within the program. Those coins can be redeemed for classroom supplies.
Shoparoo
Shoparoo uses grocery receipts to help schools earn money. Parents simply download the app and upload their receipts every time they shop. Then the school earns money.
What other websites, resources, or methods have you used to help fund your classroom needs?
20 September //
Posted in How To //
Do you have a student who frequently forgets to bring materials home or hand in homework? Have you ever wondered why a student who seems to grasp a concept is unable to apply the idea to new topics? Do you worry that the chaotic state of your child's room is the physical manifestation of his scattered mind? Chances are these students are still developing key areas of their executive functioning skills.
These neurological processes help us perform daily tasks that require organization and self-regulation. The ability to manage our executive functioning skills develops throughout childhood and the teen years and often needs to be explicitly taught and practiced. Don't assume your student has mastered these essential skills; rather, look for opportunities to nurture them and help set students up for success in and out of the classroom. After all, executive functioning skills are some of the foundations for learning.
September: Time to Organize – Organizational Skills
Developing systems of organization from the first day of school is a crucial part a successful school year. Teachers and parents should think of themselves as organizational coaches and help students master basic strategies for managing materials and ideas.
Backpacks are the mainstay of student organization from kindergarten through college. Help students develop the routine of emptying their backpacks at the end of each day and sorting materials into those that stay at home, those that return to school, and those that will be recycled.
Provide time at the end of each class or day for students to fill-in planners. Many schools provide paper planners, but students who tend to lose materials may benefit from an electronic planner app.
Provide time at the end of each week for students to clean desks and lockers.
Checklists are wonderful tools for organization. Have students tape school-to-home checklists in their lockers or keep home-to-school checklists in folders in their backpacks.
Organizing information is just as critical as organizing materials. Teach note taking styles like Cornell Notes and how to use graphic organizers.
October: Setting Goals
Students have been in school for a month, you know them a bit better, and parent conferences are on the horizon. It is time to set meaningful academic, social, and/or behavioral goals. Students should be included in the process of setting goals; after all, they are the ones striving to achieve them!
Keep goals specific and meaningful. For example, "I will spend ten minutes at the end of each school day filling in my planner and prioritizing my homework," is an achievable goal for a student who is struggling with remembering homework assignments.
Guide students in setting goals and have them complete goal-setting worksheets. Have students review their progress on a regular basis.
If achieving goals were easy, we wouldn't need them. Be a role model by setting a personal or professional goal and sharing your achievements and setbacks with your child or students. Likewise, setting a goal as a class or family can model the process with the safety of knowing it is a group effort.
November: Make a Plan and Stick with It – Planning & Prioritizing
The natural extension of setting goals is seeing them through. However, it is one thing to set a goal; it is a different thing to come up with a plan to achieve it. With the increased expectation that students complete long-term research papers and project-based learning assignments, learning how to plan a strategy for completion and see it through is more critical than ever.
Give students a few minutes at the end of each day to prioritize their nightly homework in planners by numbering assignments from first to last. Starting with the most difficult work is often a good choice so students are mentally fresh.
Help students create step-by-step timelines for long term assignments. Encourage brainstorming and outlining prior to writing.
Share scoring rubrics with students before they begin assignments. Rubrics provide a visual map of expectations and are perfect starting points for planning projects, writing assignments, and encouraging students to reflect critically on their work.
Engage students with games and activities that involve strategic planning, like chess and capture the flag.
December: But I Don't Have Time! – Time Management
Our children are busier than ever. They juggle full school schedules, sports, lessons, and clubs, not to mention friends and family. Mastering good time management strategies becomes essential as students move into middle and high school and demands increase.
Students need to develop a sense of how long it takes to complete homework. Ask students to track the time each assignment takes by writing the total time they worked on an assignment in their planners next to each subject. This will enable students to estimate more accurately the time required to complete work and plan accordingly.
Most schools adhere to a recommended time for homework each night, typically ten minutes per grade level. If you child consistently takes longer then the recommended time to complete work, even with good time management practices, consult with her teacher. A trial run of modified assignments, that either reduces the workload or grading only the work completed within a set time, may decrease student frustration and increase learning.
January: Procrastination – Initiating Work
Getting back into a routine after a vacation can be a challenge for any of us, but students who have weak task initiation skills may find it particularly difficult. Use these tips to help students avoid procrastination and get started on tasks.
Ask students to write down the task they need to accomplish, estimate the time it will take to complete the work, and track start and finish time. Start with small tasks that are readily achievable.
Use verbal and nonverbal cues to signal the start of new tasks. For example, prompt students with keywords like "now" or "first" and gently tap your fingers on their desks.
Build in breaks. Let students know that after they have worked for a set time they will have a fun break activity. Younger students or those with attentional difficulties may need to start with short 5 – 10 minute effort times. Make brain breaks a part of your daily classroom schedule.
Don't punish students by taking away recess. Exercise is crucial and often students who struggle in the classroom need these movement opportunities the most.
February: I Can't Take it Anymore – Emotional Control
It is the depth of winter and the novelty of a new school year has long since worn off. Many students, parents, and teachers alike have reached their breaking points. It is time for all of us to focus on developing our emotional control skills.
Consult with the school counselor, most have some type of mindfulness training. Ask for classroom tips or invite her into the classroom to teach your students relaxation and anxiety reduction strategies.
Dim the lights, get your students comfortable, and play a guided relaxation audio like this free one for children.
Present typical scenarios where students may become frustrated or upset, such as playground confrontations, transition times, and test days. Have students take turns role-playing these situations and suggest simple go to phrases or methods for handling each scenario.
March: Bend that Mind – Cognitive Flexibility
Think back to your own student years where you were required to switch from subject to subject every fifty minutes, translate a math word problem into a numeric equation, then recognize a theme in a novel and write an essay using supporting details. All of these situations require students to shift from one way of thinking to another within a relatively short period, how exhausting! Those who struggle with cognitive flexibility are more likely to hit learning roadblocks and have difficulty finding alternate solutions to those problems.
Give students the opportunity to shift their thinking by announcing transitions ahead of time, following a set schedule, and including them in decision-making processes about schedules and routines.
Stretch their cognitive flexibility by asking children to think outside the box. Classroom warm-up times are perfect for challenging thinking with shifting activities including: visual word puzzles; word searches; optical illusions; puns, jokes, and riddles; board and card games like Spot It; and even some strategy-based online games.
Always guide students in making connections between big ideas and details. Some of us are bottom up thinkers and others are top down, either way, recognizing the 

interconnectedness

 of themes and details across subjects is essential to learning.
April: Thinking about Thinking – Metacognition
Educating a child is in large part, about training the student to think. Metacognition can be a difficult skill to foster because it asks students to reflect upon their own work. All of us want to succeed and reflecting critically about ourselves can be a difficult and emotional process.
Have students draft "How I Learn Best" letters to next year's teacher reflecting on what they have discovered about their learning styles over the year. See to it that the letters make it into the hands of next year's teachers.
Requiring students to submit study strategy reflection forms with tests and projects encourages them to evaluate the effectiveness of their efforts and contemplate how they can adjust their tactics to improve upon work quality the next time.
Encourage students to check over their work and require them to make corrections after assessments. Teach editing skills and require re-writes of papers.
Reflect on your own teaching or parenting methods periodically. If a student isn't progressing toward a goal as you would like, examine what you can do differently to support her in obtaining that goal.
Praise children's efforts, not their abilities. Carol Dweck's book, Mindset, is a must-read for parents and teachers.
May: What Did I Forget? Working Memory
Working memory is the keystone bridging long and short-term memory. Students with weak working memory skills will struggle with retaining and applying the concepts they learn. As final exams approach, even those students with strong working memories may reach their upper limits of retaining information.
Find the memorization strategies that work best for your subject and teach them to your students. Give students the time to practice and develop these techniques into habits. Read Help Teaching's Memorization Strategies Checklist for some suggestions.  
Permit students to write information, like mnemonics and key words, on the test before answering questions. This frees up working memory and allows students to focus on applying what they studied with the knowledge that they can still refer to the information as needed.
Students with diagnosed working memory weakness may require classroom accommodations like the ability to audio record lectures, have copies of teacher notes, or access to word banks on tests. Parents and teachers should work closely to develop and implement these accommodations. 
June: Bringing it Home – Strategies for Summer Vacation
Routine, routine, routine. The structure of the school year has been removed and children, especially those with weak executive functioning skills, require predictability in their routines. Develop the routine for summer, from set meal and bedtimes to consistent daily childcare, and stick with it. Keep systems in place that were used successfully during the school year. For example, if your child does well with a planner, work together to fill out a family calendar at the start of each week with where she will be each day and what activities are planned. Simply giving your child the control of knowing what each day will bring will hopefully minimize meltdowns, anxiety, and disorganization. Mostly, praise your children's efforts, acknowledge their progress, and enjoy your time with these fabulous people.
Be sure to check out our study skills worksheets to support your teaching needs.
It's back-to-school time! This year, we know you're determined to start the year off right. Whether you're a new or veteran teacher, you still need some time to stop and get back into the back-to-school frame of mind. Armed with these 10 tips, the new school year is bound to be a success.
1. This Year is Not Last Year
Whether your last year of teaching was great or terrible, head into this school year knowing that it will be different. That doesn't mean that if you had a great year last year, it won't be a great year this year. It just means you need to look at the year with fresh eyes. You will have different students with different interests and unique personalities. What worked for your students last year may not work this year and ideas that flopped last year may be this year's biggest successes.
Don't fall into the trap of thinking, "This year will be a breeze. I'll just use the same lesson plans, same activities and same materials I used last year." Instead, keep what you did last year as a backup, but go into the school year prepared to start over focused on a new group of students and their individual needs.
2. Get to Know Your Students
It takes time to get to know your students. Plan to spend a lot of time getting to know your students during the first week of school. This involves more than just learning their names. Find out their learning styles, what their interests are, and how they feel about the subject you teach. Create a few short tests or tasks to figure out where students are at so you know where to start the curriculum and to make sure no students are left behind if you'd planned to start much further ahead in the curriculum.
3. Make Students Feel Welcome
As you get to know your students, you should also make them feel welcome in your classroom. If you receive class rosters in advance, welcome students before they even step through your door by sending them a short letter or calling them and letting them know how excited you are to have them in your class. For a smaller class, post students' names around the room or give students a special gift on the first day of school. Greet every student with a smile and a handshake as they walk in the door and let them know that it is going to be a great year.
4. Communicate with Parents
The beginning of the school year is the perfect time to get parents on your side. You may not have many discipline problems during the first week of school, but you can still make phone calls or send e-mails to parents. During the first two weeks of school, make it a point to contact every student's parent at least once to share something positive. This will let parents know that you truly care about their children and that not every phone call from the school will be for something bad. Once students get wind that you contact parents for positives, they may be more motivated to behave in the hopes that they get another good phone call home.
5. Set the Tone
The first few days of school are usually a little more relaxed, but they are also important days for teachers to use to set the tone for the rest of the school year. In the midst of ice-breakers and administrative tasks, make sure students are clear about the rules and expectations for your classroom and start following those rules from day one. While you may not want to give homework on the first day, students should also start learning on day one. Plan an activity to introduce students to what you will be teaching and help them understand that learning is the main focus of your classroom.
6. Be Organized
If you are not organized at the beginning of the school year, it will be hard to get organized once the school year begins. Set up any folders, bins and other systems of organization you plan to use during the school year. Figure out how you will take attendance, collect and hand back student work, store extra copies of handouts and organize forms and other professional papers.
You can also get organized digitally. Create folders on your computer for each class period or to hold lesson plans and resources for specific units. Set up accounts for students on any websites you plan to use and make sure you remember your passwords for any accounts you plan to access regularly. Clean up your website and make sure your gradebook is ready to go. If you already have student and parent e-mail addresses, you can also make sure they are easily accessible in the computer.
7. Stock Up on Supplies
Even though students have school supply lists, chances are many of them will forget their supplies. Back-to-school time is the perfect time to stock up on pencils, paper, notebooks, markers and other materials you may need throughout the school year. Many large discount stores offer deep discounts on these items during the weeks leading up to the start of school. While it may seem crazy to buy 100 notebooks or 1000 pencils at once, in the middle of the school year you will love that you do not have to pay full-price to restock these items in your classroom.
8. Get Ahead While You Have Time
The beginning of the school year is the perfect time to get ahead. While you cannot plan detailed lessons before you get to know your students, you can determine the general sequence of what you plan to teach and do some lesson planning in advance. You can also start to fill out the paperwork for a grant you know you'll want to apply for, and make initial contacts for any field trips you know you are going to take. As you are going through your to-do list or organizing your classroom, if you start to set something aside to do later, stop and ask yourself if there is any part of it you can do now in order to make it easier to finish up later.
9. Ease into It
Don't throw yourself into the new school year. Instead, ease into it. If you can, gradually start setting your alarm earlier and earlier so it's not so much of a shock on the first day of school. Instead of rushing to get everything done two or three days before school starts, take a few hours each day a week or two before school starts and get a little bit of prepping done here and there. That large essay or massive homework assignment you want to give students can wait too. Instead of arming yourself with loads of papers to grade the first week of school, give a smaller assignment that you can check in class or have students take online. If students had a summer assignment to complete, check off those who brought it in and then give them a week to polish it, giving you some time to adjust to the new school year before being swamped with projects to grade.
10. Think Positive
Maybe you have to teach seven out of eight periods a day. Maybe you were saddled with multiple preps. Maybe your class roster contains some of the most notorious discipline problems in the school. Maybe your school performed poorly last year and the pressure is on to do well this year. Whatever issues you may face this school year, you must go into the year thinking positive.
Yes, you may have a full load of classes, but you get to influence that many more students. Prepping for multiple classes is hard, but at least you don't have to teach the same thing all day. Those discipline problems are going to test your patience, but you're guaranteed not to have a dull moment and maybe you'll actually turn them around. And those test scores? With your amazing teaching skills, of course they're going to go up.
You can be organized, have a cabinet full of supplies, and know exactly what to do during the first week of school, but if you have a negative attitude, none of it will matter. Whether this is your first year of teaching or your last year before you get to enjoy retirement, think positive. This school year will be successful and, if it's not, it'll be over in around 180 days. Then you'll get to start again.
You can always ease students into the learning process with Back-to-School worksheets from HelpTeaching.