Currently Browsing
Posts Tagged ' teaching tips '
Whether you're a new teacher entering the classroom for the first time or a veteran teacher with experience to spare, we're all looking for ways to improve our performance and better serve our students. Setting goals for development before the year begins enables you to track your evolution and share your progress with colleagues.
1. Keep a reflective journal
All teachers grudgingly completed reflections while studying in college and most have long since stopped the practice. Reflecting on a method, assignment, or lesson can do wonders for how you handle a similar situation later in the year or in your career. Even though we think we've seen it all, a written account of your thoughts at that precise moment carries more weight than you think.
2. Share best practices
Professional development never gives us enough time to network with colleagues, but sharing best practices can be the best way to develop your talent and skill for teaching. Sharing worksheets, methods, or projects can have an immediate impact on how you deliver your information and how your students respond to it.
3. Observe colleagues
Sometimes you just have to be there. Sitting and watching another teacher deliver a lesson is the best way to see what other methods work and how you can adapt them to fit your style.
4. Use social media for new ideas
Social media isn't just for sharing your vacation pictures; it can also connect you to teachers and ideas from around the world. Services like Diigo, Classroom 2.0, and TeachAde provide a platform for sharing methods, links, and advice with qualified colleagues.
5. Go for training
With budgets shrinking all over, opportunities for training have decreased, but if you're offered the chance to spend a day learning new methods or receiving new – and often free – resources, take it! The one day of teaching you miss will be repaid tenfold by the experience and wisdom you gain.
Taking the time to be a better teacher isn't as hard as it seems. Use these suggestions as a guide to starting the year off on a good note.
It's back-to-school time and we know you're determined to start the year off right. But whether you're a new or veteran teacher, you still need some time to stop and get back into the back-to-school frame of mind. Armed with these 10 tips, the new school year is bound to be a success.
1. This Year is Not Last Year
Whether your last year of teaching was great or terrible, head into this school year knowing that it will be different. That doesn't mean that if you had a great year last year, you won't have a great year this year. It just means you need to look at the year with fresh eyes. You will have different students with different interests and unique personalities. What worked for your students last year may not work this year and ideas that flopped last year may be this year's biggest successes.
Don't fall into the trap of thinking, "This year will be a breeze. I'll just use the same lesson plans, same activities and same materials I used last year." Instead, keep what you did last year as a backup, but go into the school year prepared to start over focused on a new group of students and their individual needs.
2. Get to Know Your Students
It takes time to get to know your students. Plan to spend a lot of time getting to know your students during the first week of school. This involves more than just learning their names. Find out their learning styles, what their interests are, and how they feel about the subject you teach. Create a few short tests or tasks to figure out where students are at so you know where to start the curriculum and to make sure no students are left behind if you'd planned to start much further ahead in the curriculum.
3. Make Students Feel Welcome
As you get to know your students, you should also make them feel welcome in your classroom. If you receive class rosters in advance, welcome students before they even step through your door by sending them a short letter or calling them and letting them know how excited you are to have them in your class. For a smaller class, post students' names around the room or give students a special gift on the first day of school. Greet every student with a smile and a handshake as they walk in the door and let them know that it is going to be a great year.
4. Communicate with Parents
The beginning of the school year is the perfect time to get parents on your side. You may not have many discipline problems during the first week of school, but you can still make phone calls or send e-mails to parents. During the first two weeks of school, make it a point to contact every student's parent at least once to share something positive. This will let parents know that you truly care about their children and that not every phone call from the school will be for something bad. Once students get wind that you contact parents for positives, they may be more motivated to behave in the hopes that they get another good phone call home.
5. Set the Tone
The first few days of school are usually a little more relaxed, but they are also important days for teachers to use to set the tone for the rest of the school year. In the midst of ice-breakers and administrative tasks, make sure students are clear about the rules and expectations for your classroom and start following those rules from day one. While you may not want to give homework on the first day, students should also start learning on day one. Plan an activity to introduce students to what you will be teaching and help them understand that learning is the main focus of your classroom.
6. Be Organized
If you are not organized at the beginning of the school year, it will be hard to get organized once the school year begins. Set up any folders, bins and other systems of organization you plan to use during the school year. Figure out how you will take attendance, collect and hand back student work, store extra copies of handouts and organize forms and other professional papers.
You can also get organized digitally. Create folders on your computer for each class period or to hold lesson plans and resources for specific units. Set up accounts for students on any websites you plan to use and make sure you remember your passwords for any accounts you plan to access regularly. Clean up your website and make sure your gradebook is ready to go. If you already have student and parent e-mail addresses, you can also make sure they are easily accessible in the computer.
7. Stock Up on Supplies
Even though students have school supply lists, chances are many of them will forget their supplies. Back-to-school time is the perfect time to stock up on pencils, paper, notebooks, markers and other materials you may need throughout the school year. Many large discount stores offer deep discounts on these items during the weeks leading up to the start of school. While it may seem crazy to buy 100 notebooks or 1000 pencils at once, in the middle of the school year you will love that you do not have to pay full-price to restock these items in your classroom.
8. Get Ahead While You Have Time
The beginning of the school year is the perfect time to get ahead. While you cannot plan detailed lessons before you get to know your students, you can determine the general sequence of what you plan to teach and do some lesson planning in advance. You can also start to fill out the paperwork for a grant you know you'll want to apply for, and make initial contacts for any field trips you know you are going to take. As you are going through your to-do list or organizing your classroom, if you start to set something aside to do later, stop and ask yourself if there is any part of it you can do now in order to make it easier to finish up later.
9. Ease into It
Don't throw yourself into the new school year. Instead, ease into it. If you can, gradually start setting your alarm earlier and earlier so it's not so much of a shock on the first day of school. Instead of rushing to get everything done two or three days before school starts, take a few hours each day a week or two before school starts and get a little bit of prepping done here and there. That large essay or massive homework assignment you want to give students can wait too. Instead of arming yourself with loads of papers to grade the first week of school, give a smaller assignment that you can check in class or have students take online. If students had a summer assignment to complete, check off those who brought it in and then give them a week to polish it, giving you some time to adjust to the new school year before being swamped with projects to grade.
10. Think Positive
Maybe you have to teach seven out of eight periods a day. Maybe you were saddled with multiple preps. Maybe your class roster contains some of the most notorious discipline problems in the school. Maybe your school performed poorly last year and the pressure is on to do well this year. Whatever issues you may face this school year, you must go into the year thinking positive.
Yes, you may have a full load of classes, but you get to influence that many more students. Prepping for multiple classes is hard, but at least you don't have to teach the same thing all day. Those discipline problems are going to test your patience, but you're guaranteed not to have a dull moment and maybe you'll actually turn them around. And those test scores? With your amazing teaching skills, of course they're going to go up.
You can be organized, have a cabinet full of supplies, and know exactly what to do during the first week of school, but if you have a negative attitude, none of it will matter. Whether this is your first year of teaching or your last year before you get to enjoy retirement, think positive. This school year will be successful and, if it's not, it'll be over in around 180 days. Then you'll get to start again.
You can always ease students into the learning process with Back-to-School worksheets from HelpTeaching.
Starting a new job can be stressful, but new teachers face obstacles like no other profession. In an occupation that relies so heavily on experience, a beginner can get lost before building up enough wisdom to overcome the daily stresses that arise in the classroom. Here are five simple ways to keep your confidence high and your classroom management strong.
1. Use positive reinforcement to encourage students to succeed
Students of all backgrounds respond when there is a reward for positive behaviors. Verbal praise for a specific student's positive actions will often spur others to do the same. Tangible rewards such as stickers for the young students and homework passes for the older ones also do the trick. Make it a great honor to the students to have their work displayed in the class. My first experience in the classroom was a ninth grade Global History class in a tough Bronx, NY high school. After a rough September, I began a unit on Ancient Greece in October. I divided the students into small groups and designated each a Greek city – state to emulate. They would work in their groups for the length of the unit, with daily medals given for the top three "city-states" for quality of work, effort, and behavior. This Olympic simulation harnessed the energy in the room and gave even the most difficult student something to strive for: a place in the daily medal ceremony.
2. Set high standards and hold the students (and yourself) to them
We often set the bar too low for our students. It is important to set high – yet achievable – standards for them each day and each marking period. After the first marking period ends, work with each student to set a specific goal that improves upon an area in which they struggled in the first part of the year. Have them write a reflective piece as to why they didn't do well and how they plan to do better. Make sure to monitor their progress frequently with one on one conferences. Include their parents in the goal setting process. When students achieve their goals, it gives you another reason to use positive reinforcement to encourage others to work harder. I've had many students who didn't try hard because school was just too hard for them. When asked to examine the specific difficulty that was holding them back, some responded with telling answers. Vocabulary, reading comprehension, and a quiet place to do homework were just a few of the common issues we faced together. Identifying the problem made it possible to at least address it, and, in many cases, we did just that.
3. Don't fight battles that you can't win
It is very important to enforce rules and not to look weak in front of the assembled class, but some battles need to be lost in order to win the war. Not every student should be treated the same. What works as a punishment or a behavior modifier for one student will not work for all of them. For example, not every student is capable of handling direct and public criticism. Sometimes behaviors are best corrected in private or with only vague references to specific offenders. Students often respond to subtle cues, like your proximity to the misbehaver, a tap on the shoulder, or stern look. Even when a student acts out in an inappropriate way, it is not always necessary to correct the behavior with a lecture and punishment on the spot. End the disruption and deal with the fallout later. Word will surely get back to the rest of the class when the punishment or modification is doled out. Causing a scene to reestablish your credibility is not required.
4. Do not take on more responsibilities than you can handle
The first year of teaching is stress filled and requires an intense devotion to your craft. It is not recommended that you coach, take extra classes, or advise a club while you're in educational boot camp.
During my first year of teaching I put my higher education quest on hold while I battled to become a better educator. Despite my need for more income, I avoided all opportunities to earn unless it was paid training. I spent my free time planning, grading, researching, and reflecting. Every second was time well spent.
5. Learn from more veteran teachers
All teachers, new or veteran, should be observing their colleagues and sharing best practices, but the new teacher has special needs that others do not. Questions a new teacher should ask a colleague every day include "How else could I have handled that?" and "What did you do when…?"
If you have a problem student, seek out other teachers who have him in class or who have had him in the past. If there's a topic that you just can't pin down how to present, go to another teacher who has done it before. Pick a friend's brain before the first parent-teacher conference. Ask your union representative about the contract and how it affects those low on seniority. If your district has a new teacher center, go to every meeting and share your experiences with others.
It takes time to overcome a lot of the anxieties of a first year teacher, but it's easier to have faith and confidence in yourself when you know you're on the right path. Staying true to your training and the simple advice above will go a long way towards setting the course for stability and success.

Whether it's reading poems written by some of the greatest poets of all time or writing poems of their own, students spend a fair amount of time studying poetry in the ELA classroom. While the figurative language and eloquent verses found in poems may seem best-suited for ELA, their relevance extends across the curriculum. From science and math to social studies and foreign language courses, poetry can become an integral part of student learning outside of the ELA classroom.
Reading Poetry
Believe it or not, not all poetry centers around love and deep philosophical concepts. A lot of poetry has been written to explain the world around us, including mathematical and scientific concepts. Consider these lines by a famous poet:
This is now–this was erst,
Proposition the first–and Problem the first.
On a given finite Line
Which must no way incline;
To describe an equi–
–lateral Tri–
–A, N, G, L, E.
– From "A Mathematical Problem" by Samuel Taylor Coleridge
Throughout history, well-known poets have shared their thoughts about the world. Poetry has also been used to chronicle and commemorate many historic events. For example, many students can recite lines from "Paul Revere's Ride" by Henry Wadsworth Longfellow when asked to recall that infamous night during the American Revolution. Other references are more subtle. For example, these lines from the poem "O Captain! My Captain" by Walt Whitman were written about the death of Abraham Lincoln:
O Captain! my Captain! our fearful trip is done,
The ship has weather'd every rack, the prize we sought is won,
The port is near, the bells I hear, the people all exulting,
While follow eyes the steady keel, the vessel grim and daring;
But O heart! heart! heart!
O the bleeding drops of red,
Where on the deck the Captain lies,
Fallen cold and dead.
To find poetry to fit a specific time in history or concept in math or science, simply perform a quick internet search for poems in your subject area and you'll come up with numerous examples. You may also check out books of poetry created to help students learn about science, math, and social studies.
Some of our favorite resources include:
Math
Science
Social Studies
Writing Poetry
Writing poetry can be a way to assess students' understanding of particular concepts, It also helps teachers  incorporate creative thinking skills into the math, science, and social studies classrooms. Students may write poems about particular concepts, people, or events related to the subject area.
Three forms of poetry that work particularly well outside of the ELA classroom are:
Found poetry
Concrete poetry
List poetry
Found Poetry
Found Poetry involves taking lines from other sources and turning them into poetry. For example, students may turn words from the Declaration of Independence into a poem:
Life
Liberty
The Pursuit of Happiness
Truth.
All men are created equal
Truth.
Evils are sufferable.
Dissolve them.
Abolish them.
United.
Or students may take information from an article about space exploration and turn them into a poem:
What's next?
Stepped on the moon.
Sent rover to Mars.
What's next?
Retrieved pictures from Hubble Space Telescope.
Spent a year on the International Space Station.
What's next?
We have laid the foundation for success.
Going farther into the solar system than ever before.
What's next?
Concrete Poetry
Concrete poetry, also known as shape poetry, involves taking a poem and placing it into the shape of an object. Students may create poems to represent mathematical equations, specific shapes, or different areas of science. For example, a poem about photosynthesis may be written in the shape of the sun. The shape of the poem helps add additional meaning and ensure the content sticks in a student's memory.
Consider this poem about a triangle:
3
sides
three angles
sometimes equilateral
sometimes isosceles or right
List Poetry
List poetry is simply poetry created out of a list. The list doesn't just list items randomly. Instead, it's a carefully thought out poem, often containing repetition, to cover a topic. A student may write a list poem about a particular concept, a person, or even an event in science or history.
For example, the following list poem might have been written during a unit on the Civil Rights Movement:
Martyrs for the Cause
George Lee
Emmett Till
Medgar Evers
Addie Mae Collins
Denise McNair
Carole Robertson
Cynthia Wesley
Jimmie Lee Jackson
Dr. Martin Luther King Jr.
Paying Attention to the Words
Poetry is about more than rhyming a few words on the page. As you read poetry with students or have students write poems of their own, encourage them to pay attention to the words on the page. The figurative language, diction (word choice), and even the placement of the words on the page can help add deeper meaning to poems and encourage students to think critically and creatively about the content being taught.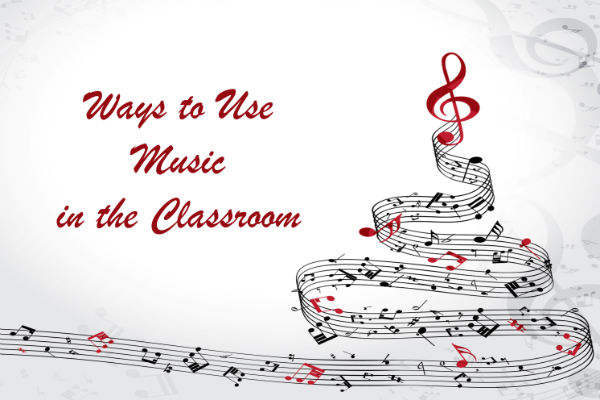 Music education plays an important role in schools. Music classes help students build focus and discipline, rhythm and coordination, and creative language and thinking skills. With all the benefits music offers, it shouldn't just be relegated to the music classroom. Teachers in all grade-levels and subject areas can reap the benefits of bringing music into their own classrooms.
1. Music to Jog Memories
In the 70s, 80s, and 90s, elementary students learned how a bill became a law by listening to "I'm Just a Bill" and learned the purpose of words such as and, but, and or with "Conjunction Junction." Schoolhouse Rock songs were a staple in classrooms and helped kids learn a lot of fun new concepts.
Today, lots of musicians have branched out into the world of educational song writing. Even popular groups such as They Might Be Giants and Barenaked Ladies have albums written designed to help kids learn. Other popular educational music collections include:
A YouTube search will likely produce even more educational songs from amateur artists. For example, you may find a song to help you teach digraphs or short vowel sounds.
If you can't find a song that fits your topic, make one up on your own set to the tune of a popular children's song.
In the classroom, you can use educational songs to spice up the content and give students a way to remember important concepts. If you can't find a song that fits your topic, make one up set to the tune of a popular children's song. For example, this song uses the tune of "The Farmer in the Dell" to teach students about long vowel sounds. Singing about the planets to the tune of "The Wheels on the Bus" or rapping the parts of speech may not win you a Grammy, but it will likely help your students tell the difference between a noun and a verb or remember the order of the planets.
2. Music as an Example
From language arts to social studies, music can be used to help spark discussion, provide illustrations, and enhance your discussion of a topic. For example, if you're studying the Civil Rights Movement, bring in some protest songs. Often songs from a particular era or related to a particular topic can provide more specific examples and convey deep emotions. They're also a great way to open a lesson and hook students from the very start.

Even popular music can serve as an example in the classroom. In the language arts classroom, you can pull songs with lyrics to represent different types of figurative language. You can also find songs that relate to particular themes. In math and science, you can also pull out lines from songs that have to do with particular concepts students are learning. You might be surprised where you'll find a reference to isosceles triangles or the periodic table. Steven Galbraith, a member of the Mathematics Department at the University of Auckland, has even put together The List of Unintentionally Mathematical Songs to help you start finding songs to use in your classroom and Scientific American and NewScientist have highlighted a few pop songs inspired by science.
Encourage your students to bring music into the classroom too. They're likely to notice a lot of references to what you're learning in the songs they like to listen to. For example, rap songs are chock full of allusions and clever one liners, pop music is full of metaphors and similes, and country music offers a lot of imagery. While a song may have nothing to do with what you're learning, one or two lines may fit perfectly in a lesson. Just be sure to preview a song before playing it in class as some music your students enjoy may not be entirely school appropriate.
3. Music for Energy and Relaxation
If you want to keep students' minds sharp for a particularly important lesson, put on an upbeat tune and have them get out of their seats and dance before getting to work.
Beyond helping students learn specific information, you can use music to help improve the learning environment. Both upbeat and softer music play a role in stimulating students and improving their focus. If you want to keep students' minds sharp for a particularly important lesson, put on an upbeat tune and have them get out of their seats and dance before getting to work. This will help wake them up and increase their attention before getting down to business. An upbeat song also works well as a way to transition between two topics or to re-energize students after they have been sitting for a long time. You can even play upbeat songs as students enter the classroom to get them excited about learning or play farewell songs at the end of class as a creative way to end the day and signal to students that it's okay to start packing up.
When you want students to feel calm and relaxed, try playing softer music. Classical music has been shown to be as effective as Valium for heart patients and has been attributed with lowering crime rates in dangerous neighborhoods. With these examples, imagine how much it could improve classroom management and focus in your classroom. Play classical music during tests to help reduce the amount of anxiety in the room or during seatwork time to remind students to be calm and focused. While students may push to listen to more popular music during these times, the softness and steady rhythms provided by classical pieces are more ideal and less distracting to students.
Do you have any favorite songs you like to play for students? If so, we'd love to hear about them.