Back-to-School, Thanksgiving, and Fall Tests and Worksheets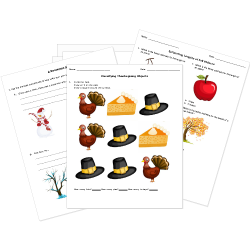 Connect learning to the seasons and holidays with our large collection of seasonal worksheets. Find seasonal vocabulary, reading passages, and writing activities. Seasonal math worksheets incorporate special images and scenarios to provide students with timely activities and holiday problems.
Don't see a printable you need? Use our Test Maker™ to create your own printable that fits your needs. Browse questions or use our advanced search to find existing questions while filtering by grade levels and keywords. You can also create your own questions.
Worksheets labeled with are Common Core Standards aligned and accessible to Pro subscribers only. Become a Subscriber to access hundreds of standards aligned worksheets.
Related: Alternative Thanksgiving Traditions
Thanksgiving Math and ELA Worksheets
Grades 2-3
Grades 4-5
Grades 6-8
Halloween Math and ELA Worksheets
Kindergarten
Grade 1
Grade 2
Fall Math and ELA Worksheets
Back to School Math and ELA Worksheets
Games and Puzzles
Elementary Science - Seasonal Worksheets
© Copyright Notice: All worksheets contain copyrighted work and are designed for use by individual teachers, tutors, and parents. Worksheets and/or questions may not be replicated or redistributed in any way outside HelpTeaching.com, regardless of intended usage, without explicit permission.