Currently Browsing
Posts Tagged ' code '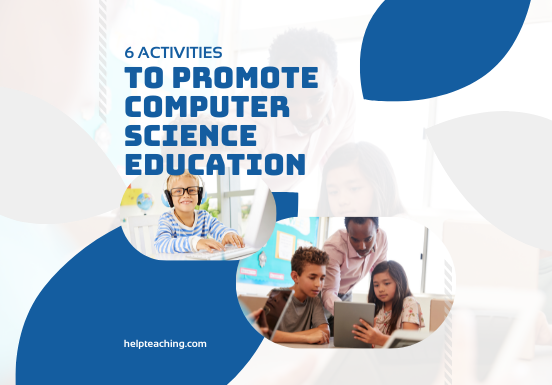 Since 2013, Computer Science Education Week has been held during the second week of December. This week is designed to make students and teachers more aware of computer science and the importance of building computing skills at an early age. While enrolling all students in regular coding and other computer science classes may be the ideal solution, you can still take small steps to encourage students to take notice of computer science and help them discover how much fun it can be. Here's our pick of activities to promote computer science education.
Participate in an Hour of Code
In 2014, the Hour of Code gained a lot of publicity when President Obama sat down to join students as part of the event. This year, and all year long, you can also participate in an hour of code. Organize your own Hour of Code event at your school or join up with an existing group. If you're not sure of what you're doing, search for local volunteers to come work with your students during the event. For a less formal option, simply have your students complete one of the coding tutorials available through Code.org where they code with popular characters from Star Wars, Minecraft, or even Anna and Elsa from Frozen.
Don't be afraid to go beyond an Hour of Code either. Many different apps and websites offer a series of lessons designed to teach students how to code or to think in ways that are related to the language of coding. A few of them to try in your classroom include:
Elementary
Kodable – a fun app that comes with an extensive coding curriculum
ScratchJr – a free app that teaches kids to think like a coder while completing fun tasks
Tynker – another provider of an Hour of Code resources featuring brands and characters kids love
Secondary
Hopscotch – an app that allows kids to make and publish their own games
CodeCombat – an online, multiplayer game that requires kids to write code to play
Kodu Game Lab – a visual programming tool that kids can download to create games
Hold a Computer Science Career Day
Students often hear that there are tons of job in the tech industry, but do they know what those jobs look like? Invite parents and other community members to your school for a Computer Science Career Day. Your speakers can rotate among classes to share what their jobs are like or they can set up tables in booths and talk to students as they approach them. If you can't find individuals to come to school, then have students research different tech jobs or companies and share their findings with the class.
Show a Video
Take some time to show kids a video related to computer science. There are tons of Ted Talks related to technology that could inspire kids to consider a career in computer science. A few videos you might want to use include:
Have Fun with a MaKey MaKey Kit
While a MaKey MaKey kit does not involve a lot of coding, it does encourage kids to think outside of the box and imagine the cool things they can do when they combine computers with everyday objects. You can turn students' experiments with the kit into writing assignments, science experiments, marketing proposals, and other educational activities.
Connect Computer Science to Students' Interests
Your students may not be interested in computer science, but they may be interested in playing football, playing with their toys, or drawing and coloring. Chances are they don't realize how much computer science can play a role in these activities. For example, it takes a lot of technology to take video of a football game, freeze it, and move it around on the screen. Give students the task of researching how technology plays a role in their favorite hobbies. They may discover that coders help create 3D models of their favorite toys or that they can create some amazing art with lines of code.
Get Away from the Computer
While learning how to code can benefit students, thinking in the language of coding is even more important. By promoting logic and creative thinking skills, you can give students the mental skills they'll need to be successful in a computer science field. CS Unplugged offers a large selection of activities designed to help kids develop these critical thinking skills. These include tasks such as learning about The Turing Test and discovering how difficult it is for computers to draw lines and circles.
For more resources to help you bring Computer Science into the classroom, check out Code.org and the Computer Science Education Week website. If you use some of these activities in your classroom, share them to Facebook or Twitter with the hashtags #CSEdWeek and #HourOfCode.