Currently Browsing
Posts Tagged ' summer activities '

School is out. The weather is nice. And your kids are… bored out of their minds. While blog posts about letting kids experiencing boredom have gone viral, we know that sometimes they need a little help figuring out what to do. From activities designed to help kids learn and give back to their communities to those focused on making kids a little money and helping them have fun, we've gathered the ultimate list of over 100 summer activities for kids. Best of all, most of these activities can be done at home, so you don't have to spend the summer running your kids from place to place.
Educational Activities
To help prevent kids from experiencing the summer slide, engage them in some educational activities. Last year we shared 15 summer learning activities for all ages. This year, we have a few suggestions to add to that list.
Reading/Writing
1. Create and distribute a family or community newsletter
2. Keep a summer journal
3. Write and direct a play or puppet show.
4. Write letters to family and friends
5. Join a summer reading program, such as one found at your local library or Barnes and Noble.
6. Challenge yourself to finish all of the books on a list, such as the American Library Association's Summer Reading List.
Science
7. Spend rainy days looking at the resources found on the Help Teaching Ultimate Guide to Teaching Science.
8. Conduct a science experiment
9. Find out what plants are in your yard using a field guide or an app like Project Noah.
Use Help Teaching's library of science worksheets to reinforce science concepts and introduce new ideas.
Math
10. Take a free summer math course, such as the Summer Math Challenge
11. Grab a measuring tape or ruler and start measuring random plants outside
12. Figure out the perimeter of the local pool
13. Count your steps as you walk and try to get in a certain number of steps each day
Use Help Teaching's library of math worksheets to keep numbers fresh in your child's mind.
Other Activities
14. Plan a trip by getting out a map and tracking where you want to go. You don't have to go, just pretend
15. Go geocaching
16. Go letterboxing
17. Take a course or learn a new skill, using some of the resources in Help Teaching's Ultimate Guide to Free Online Self-Learning for Kids
18. Visit a museum. Many museums offer free days throughout the summer. Bank of America customers and military families can also get free admission to museums during the summer
Socially Responsible Activities
Summer is also a great time to teach kids to give back to the community through volunteering, taking care of the environment, and other socially responsible activities. Try out a few of these suggestions this summer.
Volunteering
19. Read stories to or play games with residents of a local nursing home
20. Spend time visiting the animals at a local animal shelter
21. Serve a meal as a family at a local food bank
22. Use a service like VolunteerMatch.org to find organizations in your area that need volunteers.
Helping Others
23. Visit with elderly neighbors
24. Offer to do chores for neighbors free of charge
25. Raise money for a local charity
26. Hold a neighborhood food drive
27. Donate items to a thrift store or charity
28. Do random acts of kindness
29. Take snacks to the local police or fire station
30. Offer to watch a friend's dog or cat while they go on vacation
Helping the Environment
31. Clean up trash in your neighborhood or at a local park
32. Start recycling cans and bottles at home and encourage neighbors to do the same
33. Plant a garden
34. Make bird feeders
35. Go the farmer's market. Check out Local Harvest to find one near you
36. Pick your own fruits or vegetables. Find a farm using Pick Your Own
37. Practice conserving water by taking shorter showers and watering plants in the evening
38. Start a compost pile
39. Raise butterflies
Money-Making Activities
While most kids aren't old enough to get an official summer job, they can use the summer to make some extra spending money. Encourage them to earn money to save up for a toy or other item they really want instead of just going out and buying it for them. Some suggestions for making money include:
40. Mow lawns
41. Sell lemonade
42. Make and sell crafts like bracelets
43. Ask parent or neighbors to do chores for pay
44. Bake and sell baked goods
45. Have a garage sale or toy swap
46. Walk dogs
47. Weed gardens and water plants
48. Play an instrument in a public place
49. Sell clothes and toys to a local consignment shop
Fun Activities
Of course, at the end of the day, summer is a chance for kids to have fun. There are lots of ways to have fun at home and in your local community.
Cooking and Food
50. Make a pitcher of sun tea
51. Make ice cream in a bag
52. Make sculptures using fruits and vegetables
53. Mix whipped cream and food coloring to make edible paint
54. Place different flavored fruit juices into paper cups, add a wooden stick, and freeze to make popsicles
Arts and Crafts
55. Paint or draw a picture.
56. Practice your photography skills by taking close-up photos of animals and plants
57. Host an art show featuring artwork created by kids
58. Make a picture or sculpture using items found in nature
59. Draw with sidewalk chalk
60. Create a sidewalk chalk mural
61. Paint on the house or sidewalk with water
62. Tie-dye a t-shirt
63. Put watered down paint into a squirt gun and spray it on paper outside
64. Collect and paint rocks
65. Gather leaves and create leaf rubbings
66. Dry out flowers by pressing them between two heavy books
67. Mix bubbles with food color to make popped bubble art
68. Paint your feet and walk on white paper outside
Choose from the many Help Teaching arts related and music related worksheets
Community Events
69. Listen to music. Many towns offer free outdoor musical performances during the summer
70. Go to a fair or festival. Fairs and Festivals highlights many of these events around the United States
71. Attend a baseball game. Many minor league games offer inexpensive tickets
72. Host a neighborhood carnival with simple games such as ring toss and bean bag toss
73. Go bowling. Kids Bowl Free partners with local bowling alleys to let kids bowl free all summer
74. Take a picnic to a local park
75. See a movie. Many movie theaters offer summer matinee discounts, such as Regal's Summer Movie Express which screens kid movies for $1 on selected days during the summer. Cities and towns also often sponsor summer movies under the stars.
Rainy Day Activities
76. Play a board game, or — better yet — design a new one!
77. Make up a new card game
78. Make personalized word search puzzles with Help Teaching's word search generator
79. Have a movie marathon
80. Visit a fun website, like those found on our Top Free 100 Education Sites
81. Jump in puddles
82. Make a rain gauge and measure how much rain you get
83. Redecorate your room
84. Set up a tent indoors and have an indoor camp out
Water Activities
85. Have a water balloon fight
86. Hold a wet sponge toss where you try to land wet sponges on a target on the ground
87. Run through the sprinkler
88. Buy a kiddie pool and soak your feet
89. Play "Does it sink or float?" in a kiddie pool
90. Fill a tub with water and use measuring cups and other water toys to play with it
91. Fill bottles with different amounts of water and blow across them to make music
92. Fill buckets, squirt guns, and other containers with water and have a water fight
Backyard Activities
93. Make a fort using cardboard boxes, sheets, or tree branches
94. Have a picnic in your backyard
95. Camp in your backyard
96. Make a mini-golf course using plastic tubs with holes cut in them
97. Lay on a blanket and watch the clouds
98. Blow bubbles using different items, such as slotted spoons and funnels as bubble wands
99. Grab glow sticks and play a game of glow tag in the dark
100. Make a stunt track for your toy cars in a pile of rocks or dirt
Fun with Friends
101. Have a neighborhood scavenger hunt and see who can find all the items first
102. Ride bikes around the neighborhood
103. Have a dance party
104. Challenge friends to competitions, such as who can stand on one foot for the longest or who can jump the highest
105. Make up a special summer song or chant
106. Start a game of kickball or capture the flag
Whether it's Make Something Monday, Wander Somewhere Wednesday, or Fabulous and Fun Friday, there's plenty of fun to be had all summer long. What do you love to do with your kids in the summer? Share your ideas in the comments to help our list grow!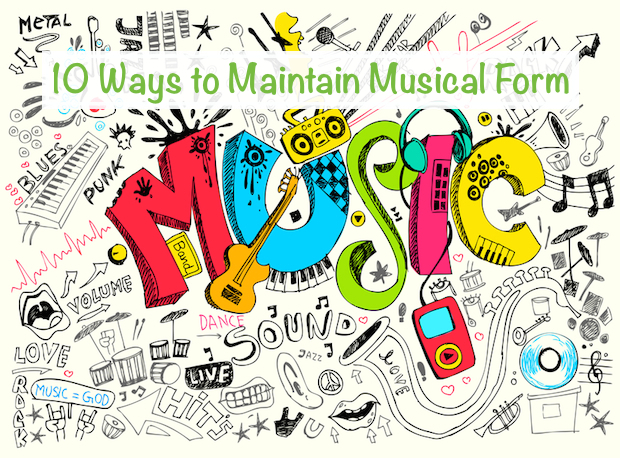 School's out and band directors aren't  hounding anyone to practice, but that doesn't mean kids should put their instruments away. It's very important to maintain your musical skills during the summer. Don't put off practicing until "tomorrow," because soon tomorrow will become the first day of the new school year and the musical "lip" will be lost.  Once the lip is lost,  it's hard to find it again.
It only takes 10 minutes a day to keep up musical momentum, particularly if honing skills, rather than halfheartedly playing familiar songs over and over is the focus. Seriously, ten minutes! While it may not seem like much, it can be very effective. We have many ideas to help keep up the musical skill level that kids have attained during the school year.
The 10-Minute Practice
Spend 10 minutes a day on one of the following exercises, or a combination of exercises, can help keep a musician in tip-top musical shape.  Note, if using a combination of exercises, spend at least 2.5 minutes on each exercise to benefit musical muscles. Alternating days on exercises is fine, too. Any practice is better than no practice.
1. Long Tones
Long tones are exactly what the term sounds like: holding tones for a long time. Starting off in the easiest range of the instrument (voices count!) is best, and the note chosen should be held as long as possible. Seeing spots means it's too long, but having a lot of air left over means the tone isn't held long enough. Long tones help keep the embouchure in shape and the lungs strong.
2. Practice with Volume
Playing high notes softly requires quite a bit of control on an instrument, and even the most non-musically inclined person can instantly tell the difference between a "good" high note and a "bad" one. If a high note is played with too much volume the sound will distort and crack (and babies will scream, dogs will bark, and glasses will break).  Keep the corners of the mouth firm when blowing high notes and, over time, notes will become easier to play and nicer to hear.
3. High Note Practice Using Register/Octave Key (Woodwinds)
The best method for woodwind players to practice high notes and keep control is to play a low note first, and then add the register or octave key for the higher pitch. Start with the lowest note, then lift one finger at a time while blowing from low to high. For a challenge, start from high, then play to low.
4. Blowing High Notes (Brass)
A common mistake younger brass players make is thinking high notes mean a LOT of air and a LOT of pressure, when the opposite is true. Low notes use more air than high notes on all wind instruments. The secret to playing well-controlled high notes is using a small amount of air while blowing out a fast and narrow air stream. One way to test air flow is to hold the index finger 8 inches in front and try to blow on the fingernail. The air on the nail will feel like a small breeze blowing all around, and if it were a real candle, it will remain lit.
There is a noticeable difference in air flow when putting the same finger less than an inch in front of the lips and blowing at the fingernail.  The air will feel like a straight, narrow, pointed beam of cold air. Notice how the embouchure changed when blowing far away and close to the lips. When playing high notes, aim for the thin, stream of cold air.
5. Buzzing (Brass)
Brass players can "buzz" into the mouthpieces to keep up facial muscle strength. Putting the lips tightly together and blowing to make a "bzzz" sound is the first step in learning the instrument, and keeping up the embouchure. It's not as easy as it sounds, as the lips need to remain straight, and the "bzzz" sound should sound consistent. This needs to be done through the mouthpiece while taking breaks when the lips become tired.
6. Silent Fingering
Need something quiet to do? Try silent fingering. The mouthpiece or reed is not needed for this exercise. The instrument should be held with proper posture, while the fingers move up and down the keys. Use the same pressure on the keys as if this were "real" playing. Moving the fingers up and down the keys will build up muscle strength and technique. This can be done with or without looking at music.
7. Silent Tonguing
Silent tonguing doesn't mean sticking your tongue out at anyone, but rather instrumental tonguing practice. This can be done with just the mouthpiece while watching TV, or with just the mouth alone. If using a mouthpiece, blow softly. Combine this with silent fingering for a double challenge.
8. Learn a New Piece
Open up to the challenge of learning a new piece of music this summer, one that is at a higher level than normal.  Work through a small section at a time until it is mastered. Working small instead of playing the piece from front to back over and over will ensure a better understanding of the music. Picking different sections to work on at a time rather than playing the music in order can help stave off boredom.
9. Sight Read
The lungs, hands, fingers, lips, and tongue aren't the only things that need practice, the brain needs it too! Sight reading is the ability to read through music correctly (or close to it) upon first sight. Some musicians are better at this than others, and this is because they can read music differently than others. Many musicians look at every note individually, rather than ahead at each measure. Instead of seeing four eighth notes, think of 2 sets of 2 notes. Four groups of sixteenth notes are easier to grasp quickly than counting sixteen eighth notes. Grab some new music and play through it without stopping. Do this a few times over a week, and then go back and look at the music and notice any patterns in rhythms or notes.
10. Have a Recital or Talent Show
Arrange a recital in the garage or back yard for friends and neighbors. A month ahead of time invite friends to play or perform, and invite other friends to be in the audience. Throw in a few programs, punch, and cookies and there's one happening music party.  Not only will this be memorable and fun, but the crowd will be wowed by the techniques that have been practiced!
Keep it Up!
Practicing shouldn't be a drag or a chore, but rather a fun challenge. It's easy to become frustrated when playing an instrument, and everyone fumbles and occasionally makes mistakes. By working through trouble spots diligently, progress will be quickly made.  Practicing 10 minutes a day, five days a week, for two and a half months, clocks in 500 minutes worth of practice, which is almost eight and a half hours! Adding just a few more minutes to the day will make even more of a difference.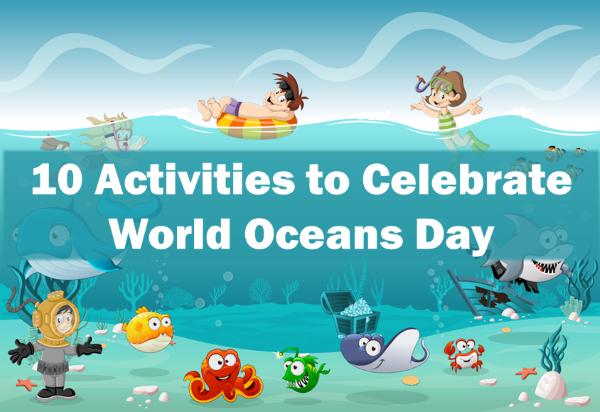 Each year on June 8th, we observe World Oceans Day to draw attention to how important our planet's seas and oceans are to life and livelihoods. Did you know, for example, that the up to 50% of our oxygen comes from the ocean? And if you thought rainforests were the most biodiverse ecosystems on the planet, think again – it's actually our oceans, which makes sense since they cover 70% of the Earth's surface.
So this World Oceans Day, help your students understand just how important it is to protect it, sustainably use its resources, and how we can benefit from learning more about it. So put on a blue shirt and forge ahead with these ten fun ways to celebrate World Oceans Day with your class or family.
1. Skipper Your Crew to a World Oceans Day Event
Check out World Ocean Day's website to find out what events are going on in your area. You can also list your own events and learn more about youth initiatives. From art contests to film festivals to hands-on exhibits, there are ocean activities taking place around the world and students can discover a whole community of passionate youth working to protect our oceans for future generations.
2. "Fish are Friends, Not Food"
Who doesn't love battered or crumbed fish, juicy mussels, moreish shrimp, and the versatility of tuna? Did you know that the oceans are the main source of protein for a billion people around the world? That puts enormous pressure on fish stocks, the majority of which are overfished and in their populations in decline. 
While this can all sound pretty depressing, you can teach students how to make informed decisions as consumers and teach their families how to be ocean warriors using their wallets at stores and restaurants. Discover which fish are the most eco-friendly to buy and consume. You can then do this worksheet on ocean zones so students know where the fish they buy is coming from.
3. Say No to Plastic
Plastics are one of the biggest threats to ocean health and one of the easiest things to change from a lifestyle perspective. Each year, trillions of pieces of plastic enter the world's river systems and water ways and end up in the oceans. They slowly gather into gyres, some of which are bigger than the state of Texas.
Plastics in the oceans aren't just a hazard to its inhabitants that eat it or get tangled up in it, but they break down into micro-plastics which then enter the food chain and we humans end up eating!
This year, teach your students about the impact of single-use plastics, like drinking straws and packaging, and the importance of recycling and responsibly disposing plastic. When done, you can then organize a beach clean up. If the ocean is too far away from you, remember, plastics can travel for hundreds of miles before entering the oceans, so even a plastic clean-up along rivers, streams, or your community will benefit the oceans.
4. Ocean Explorers
It's much easier to protect something when you've got a connection to it. Google has an amazing feature called Google Ocean in which you can explore the vast waters much like street view has changed the way we explore areas of land. Discover images, locations, and other media with this this stunning collection.
If you're able to, set your bearings to your local aquarium. Students of all ages will enjoy viewing and interacting with the amazing variety of sea life on display.
5. Where the Currents Go
The currents of the world play a huge role in the kinds of ecosystems and animals that are found in a region. First, teach your students about currents and use our Currents worksheet to reinforce their understanding. Then, for some extra fun and impactful awareness, take a look at Adrift.org. This amazing interactive website shows just how far plastics can travel in the ocean, and drives home the lesson that one's mindless actions at home can have a big impact on others around the world. Challenge your students to predict the path of pollution before seeing where it actually lands up.
6. Sail Over to the Smithsonian
We love the Smithsonian and the wealth of information available for students and teachers. This World Oceans Day, check out its diverse collection of ocean-related lesson plans for educators. From the impact of oil spills, to light penetration, and marine environments, to name just some, there's something for all subjects and all grades from K-12.
7. Dive into an Ocean-themed Reading Adventure
For landlubbers who can't venture out to sea, dive into an ocean-themed book for a reading adventure worthy of the high seas. Get started with one of these nautical tales.



Nautical Novels and Seaworthy Stories
The Rainbow Fish by Marcus Pfister
Swimmy by Leo Lionni
Flotsam by David Wiesner
Mr. Popper's Penguins by Richard and Florence Atwater (Worksheet)
Treasure Island by Robert Louis Stevenson (Worksheet)
Moby Dick by Herman Melville
Billy Budd by Herman Melville
The Pearl by John Steinbeck (Worksheet)
Kon-Tiki by Thor Heyerdahl
20,000 Leagues Under the Sea by Jules Verne
The Odyssey by Homer (Worksheet)
The Old Man and the Sea by Ernest Hemingway
8. Action Starts with Awareness
Ahoy! Teachers, students, and families can join an Ocean Guardian Program and plan a school or community conservation project, submit ocean-themed artwork, stories, or poetry, and even become involved in diving!
9. A Good Day for the Beach
Head to the beach! What better way to celebrate World Oceans Day then by digging in the sand, discovering tide pools, and surfing the waves? It's a perfect opportunity for students to explore the environment while also teaching them the importance of not interferring with the local ecosystem by removing shells, catching small creatures, or turning over rocks.
10. There's No Place Like Home
Movies like Finding Nemo are often box-office hits and seen by millions of people around the world. Unfortunately, while creating awareness, it can also increase the demand for the creatures featured in the films. Without careful research, would-be hobbyists can end up fuelling the illegal capture and trade of wildlife or products such as shells and coral, or worse yet, killing creatures through lack of knowledge.
Marine creatures belong in their natural environment and should only be kept by experts. Rather than buy marine creatures for enjoyment at home, visit a local aquarium that's contributing to research and protection.
Lessons and Resources
If you are swamped with lesson planning, check out Help Teaching's collection of pre-made, ocean-themed worksheets. Or, have your students try our online lessons on Ocean Vocabulary Words, Ocean Zones, Tsunamis, or Tides.
Have other suggestions for celebrating World Oceans Day with students and children? Share them in the comments! Read The Ultimate Guide to Teaching Science for more ways to invigorate your science curriculum and teaching.
16 June //
Posted in How To //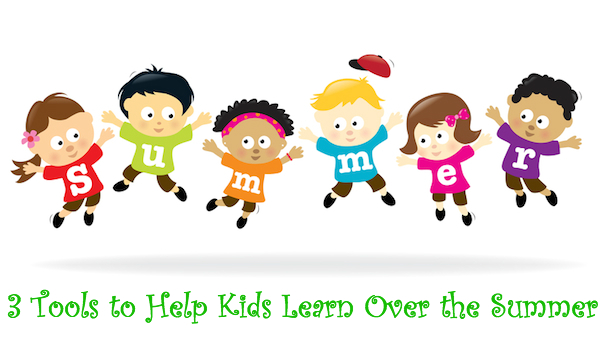 Learning can take place anywhere, not just in the classroom. Summertime offers many opportunities for kids to gain knowledge.You can help them learn by introducing them to three simple tools designed to get them interested in learning, even if they don't realize that's what they're doing.
1. Ask Questions
Sometime during the toddler years, kids go through a "why" phase. They use the question "Why?" to help them figure out the world and everything in it. Unfortunately, many kids quickly grow out of that stage. To help kids learn over the summer, re-introduce them to the art of asking questions. It may seem annoying to have a child who is constantly asking how and why things happen, but when you realize those questions help them learn, it's much easier to handle.
To help kids learn to ask questions, start by asking questions yourself. For example, if you're at the zoo and see a zookeeper standing by an animal cage, take the time to ask the zookeeper a question. You don't have to be at a zoo or museum to ask a question either. Ask questions of people all around you – your mechanic, the teller at the bank, the person stocking shelves in the grocery store. Even if you already know the answer to some of the questions you ask, you'll show your children how easy it is to ask questions on their own. They'll also discover that people are usually more than willing to answer the questions they ask.
2. Introduce them to Experts
When it comes to asking questions, one of the best places to find an answer is an expert on the topic of the question. The summer is a great time to help kids gain access to experts in many different career fields, not only to ask questions, but also to observe them as they work. Since
kids aren't in school all day, they have more time to see how different adults spend their time. While many jobs don't aren't ideal for having a kid underfoot, some workplaces may allow children to shadow
a family member or close family friend for a day. Spending a day on the job can help kids learn more than simply reading a book or watching a video. It also gives them access to multiple experts in an industry and many of them will be ready to teach kids what they know.
When it comes to introducing kids to experts, think beyond careers and focus on interests and hobbies, too. For example, if your child is interested in the Civil War, see if you can set up an interview with a local Civil War reenactor. If your child wants to become a stronger swimmer, contact the swim team of a local college and see if a student would be willing to sit down with your child and give him some advice. Many adults who have hobbies would be more than happy to
take some time to sit down with your child and share about their interests.
Don't forget about classes either. Many groups hold special classes during the summer. If your child is interested in cooking, for example, you may find a cooking class taught by a local chef. If your child likes sports, look for a sports camp that features a professional athlete or coach. These classes often cost money, but the cost is worth it if your child gets to interact
with someone at the top of their field.
3. Watch Videos
Of course sometimes your local area won't offer special summer classes or experts that are of interest to your child. Thankfully, kids have the internet. Online they can find tons of videos related to their interests, many of them featuring some of the top people in the field. For example, TED Talks and Big Think have been known to feature some of the world's greatest scientists and thinkers. Websites such as Top Documentary Films also can help kids learn by allowing them to access documentaries for free.
Since it's summer, you may not want your kids sitting in front of the computer or TV screen all day. That's where videos from sites like YouTube come in handy. Many YouTube channels (such as these channels for social studies) contain short videos designed to help kids get snippets of knowledge. A simple search for how-to videos can also help kids pick up a new skill by watching short videos. Maybe this summer they'll learn to play the guitar, take ballroom dancing lessons, or discover how to make homemade ice cream. With millions of how-to videos on YouTube, kids can learn almost anything.
Sure, you want your kids to relax during the summer, but you don't want them to stop learning. By connecting these tools with other summer learning activities you can ensure kids are being filled with knowledge over the summer.
For more resources to get kids learning on their own this summer, share our Ultimate Guide to Free Online Self-Learning for Kids, which is full of free videos, courses, and other materials to help kids explore their interests and find answers to their most pressing questions.
What tools do you use to help kids learn over the summer? We'd love to hear your ideas!