Currently Browsing
Posts Tagged ' self-learning '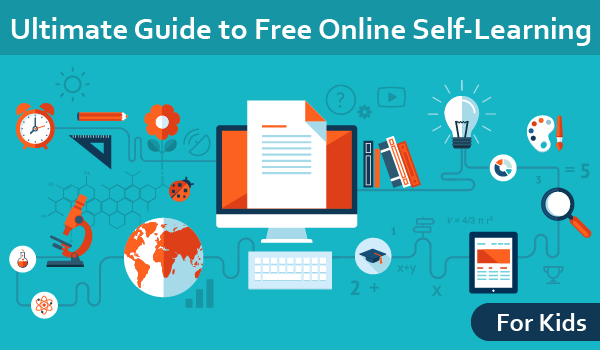 From random facts to courses from top universities, the Internet is full of places to learn. The key is knowing where to find them. HelpTeaching.com offers a large selection of free online self-paced lessons for math, science, social studies, and English, but there are many other resources out there as well. We have gathered links to help kids in grades pre-K through sixth grade learn online. The 70+ resources are organized by type (videos, online courses, reference materials, and more). Kids can learn by exploring these resources on their own or teachers can incorporate them into lessons to help enhance learning in the classroom.
Books
Magic Keys has made a wealth of storybooks available to kids. Storybooks are organized by age level (younger children, older children, young adult). It's one of the few story sites out there that doesn't just focus on younger readers. Many of its stories also feature character lessons for kids, making them even more beneficial for kids!
Pre-K through 2nd Grade
Most public libraries now offer free access to eBooks only, but you typically need a library card to access them. These resources offer kid free access to quality textbooks, non-fiction eBooks, and important documents – no library card required.
International Children's Digital Library provides access to thousands of free digital books for children. These books come from around the world, making it easy for kids to find fairy tales, folklore, and other resources to help them explore different cultures.
Reading Bear offers free learning resources for early readers, including presentations on short and long vowels. The fun presentations are all free and cover all major phonics rules.
Unite for Literacy offers many read-alouds for kids. Most of the books are non-fiction picture books that focus on using simple sentences and key vocabulary words.
StoryJumper has a library full of digital fiction and non-fiction books for kids. It also gives kids the opportunity to create their own books.
3rd through 6th Grade
National Geographic Life offers reading passage for kids at beginner/elementary, pre-intermediate/intermediate, and upper-intermediate/advanced levels. Passages feature audio recordings and reading comprehension questions.
100 Milestone Documents introduces kids to 100 documents that play an important role in American history. Through this site, kids can access the text of documents such as the Declaration of Independence and the Patent for Cotton Gin.
Scholastic: Listen and Read features 15 non-fiction books to help kids learn about people in their community, animals, and the job of the president. Audio is provided to help kids as they read.
Literacy Wagoll teaches kids "what a good one looks like" by providing them with samples of exemplar writing. A variety of essay types and other styles of writing are provided.

Courses/Lessons
You don't have to pay for expensive tutors or pay the tuition to an Ivy League university to get kids access to high-quality courses. These resources feature courses put together by top universities and other experts in the field to help kids learn about a whole host of subjects. Whether kids want to learn how to solve complex math problems or learn how to play the piano, there's a free course available.
HelpTeaching.com's own collection of math, science, and English lessons combines entertaining video and text-based lessons with short, interactive quizzes. Teachers and parents can choose lessons for kids to complee on their own or can incorporate them into whole class and small group based lessons. Lessons are organized by subject, grade-level, and length. Teachers and parents can also create their own tests and quizzes to accompany the lessons, and then administer them using our Test Room feature.
Pre-K through 2nd Grade
Starfall is a free resource designed to teach kids to read. By watching its free videos, listening to the songs, and reading the short stories, kids may even learn to read on their own.
E-learning for Kids features a wealth of free lessons for kids in many different subject areas. Access to lessons is available in five different languages.
3rd through 6th Grade
English Grammar 101 is full of free grammar lessons for kids and adults. Lessons are also great for ESL students.
Code.org has gained a lot of recognition for its free coding courses. Even the President has completed an hour of code and your kids can too.
Kid Courses is an organization focused on presenting free online courses for kids. Its standout lessons are called MathLibs, but they also offer lessons in art and rhetoric.
Canvas Network is a collection of MOOC courses from universities around the world. Many of the courses it offers may be of interest to upper elementary and middle school students too.
DiscoveryK12 is a free learning portal for homeschool families. An account is required, but all course materials are completely free.
LearnZillion focuses on presenting engaging video lessons to teach the Common Core. Creating an account is free and gives kids access to all of the lessons.
Kids Guitar Zone helps kids who want to learn to play the guitar do it for free. The site features 10 lessons to get kids started.
ChessKid is designed to help kids learn to play chess online. With this site, kids get free chess lessons and can test their skills against other kids from around the world.
All Ages
Grammar Monster has a large collection of free grammar lessons and activities to help kids learn about punctuation, parts of speech, and other elements of grammar on their own. While the majority of the lessons are appropriate for kids, a few do contain references to adult subjects (namely quotes involving alcohol), so parents and teachers should preview lessons before assigning them to kids.
CoolMath offers free interactive lessons for pre-algebra, algebra, and pre-calculus. Not only are the lessons fun, but the site also offers a host of free math games for kids to play.
AAA Math offers free online math lessons for kids. Lessons cover a variety of grade-levels and skills.
Hoffman Academy offers 100 free piano lessons for kids. Each lesson is accompanied by practice opportunities.
Free Piano Lessons for Kids features 22 lessons designed to teach kids how to play the piano. Kids will learn how to sit at the piano and even how to play a few songs.
CK12 is an awesome learning portal for kids. It combines videos, textbooks, and other lesson materials to help kids learn online. This resource is a high-quality, interactive site for kids. It offers fun simulations, plenty of practice opportunities, and other activities designed to motivate kids to learn. We especially love the BrainFlex challenge which encourages kids to build their skills while they're out of school.

Videos
Videos appeal to video and auditory learners. Some videos bring experts in a field directly into the home or classroom. Other videos use creative strategies and images to help kids learn difficult concepts and skills. The skills don't have to be academic either. With videos kids can learn how to cook, how to crochet, or even how to ride a bike.

EarthCam gives kids access to webcams from around the world. They can see what is going on live at thousands of destinations. Kids at this age can't drive and parents often don't have the time or resources to travel around the world with their kids. By looking at the webcams, kids can experience the world in real-time without leaving the house.
Pre-K through 2nd Grade
Universal Kids allows kids to watch episodes of some of its most popular shows.
PBS Kids videos give young kids access to episodes of some of their favorite PBS shows. The best part is that these shows are also educational.
Super Simple Learning is a company focused on creating educational songs for kids. Their website features free videos of many of their songs.
3rd through 6th Grade
Khan Academy gives kids one piece of information, "you can learn anything." It gives them the opportunity to learn with thousands of videos on a variety of topics.
WatchKnowLearn features free educational videos organized by subject area. Parents and teachers will also find videos aligned to the Common Core State Standards.
NEO K12 is a site full of educational videos on topics ranging from physical science to ancient history. Games and lessons are also included to help kids learn even more.
All Ages
BrainPop is a staple in many schools. While access to the full site requires a subscription, kids can still watch many of the fun videos for free.
TeacherTube is a website similar to YouTube. The difference is that all of the videos are designed to be educational.
Explore.org encourages kids to explore the world through webcams. Kids can view live webcams from around the world or watch informational films.
The Kid Should See This is focused on providing high-quality educational videos for kids. These videos focus on innovative technology and other cool ideas.
My Education Key features video lectures from colleges and other educational institutions. Content covers a range of age levels from kindergarten through college.
MIT K12 gives kids a look at science in the real world through its collection of videos.
Make Me Genius helps kids learn about science through free videos, PowerPoint presentations, and other resources.

Reference Materials
If kids want to conduct research using an encyclopedia, they no longer have to search for the correct volume, looking up the definition of a word doesn't require thumbing through a massive dictionary, and most kids today have never even seen an almanac. All of these resources, which are chock full of information can be accessed for free online.

Awesome Library has organized thousands of high-quality resources for kids. They can explore by topic or keyword to find information they need. When kids use a standard search engine, you can't guarantee the results will be kid-friendly, but all of the resources that appear in an Awesome Library search have been reviewed and approved. This gives kids the freedom to search for what they want in a safe space.
Encyclopedias
Enyclopedia Smithsonian takes the Smithsonian's amazing collections and turns them into an interactive encyclopedia. Kids can search by keyword or browse by topic.
Encyclopedia Britannica is one of the top encyclopedia companies in history and kids can access its content online. The site also includes the most current world news.
DKFindout! takes the content from DK readers and makes it more interactive. Kids can learn about a whole host of topics in an encyclopedia style.
Again But Slower takes a Wikipedia page and simplifies it to make it easier to read.
Dictionaries
Internet Picture Dictionary looks simple, but it's a great free dictionary designed to help kids learn new words. It's particularly helpful for kids learning English as a second language.
Visual Dictionary Online gives kid a new view of the dictionary. They see words connected to images which helps them make connections and gain a better understanding of key words.
Merriam Webster is one of the leading names in reference sources. Its online site gives kids free access to a dictionary, thesaurus, and more.
Search Engines and Misc. Facts
Boolify helps kids learn how to conduct more successful online searches using fun puzzle-style pieces.
Infoplease.com is an virtually every type of reference book all rolled into one. Kids can also find a calculator, spell checker, and other key resources.
Safe Search Kids performs a safe Google search for kids and also offers internet safety guides for kids, parents, and teens.
Kiddle offers a safe visual search engine for kids with websites, videos, images, and kpedia entries in the results.
Atlases and Almanacs
Owl & Mouse – Atlas introduces kids to the world through maps and facts for every country.
Farmer's Almanac for Kids makes the traditional Farmer's Alamanc accessible to kids. It features information on the weather and resources to help them learn about the world around them.

General Knowledge/Trivia
Learning doesn't always have to have a particular focus. Sometimes kids learn the most just by hearing random facts and bits of information. These small morsels of knowledge don't only serve as conversation starters, they can also inspire kids to want to learn more about a topic.

FAQ Kids gives kids a place to find answers to their questions. Questions are organized by category. The site itself is simply designed, but the answers are anything but simple. Many of them are 2-3 paragraphs long and contain facts to back them up.
Pre-K through 2nd Grade
Duckster features short encyclopedia-style entries on many different topics. All are written in kid-friendly language.
DLTK's Crafts for Kids is more than just crafts. It's a site full of educational printables and other information for kids, along with fun crafts and activities.
Squigly's Playhouse gives kids a place to play and learn. They can learn through games, fun facts, or crafts and activities.
3rd through 6th Grade
National Geographic helps kids learn about nature and the world through its interactive content. Kids can play games, read articles, and watch videos
ScienceKids.co.nz is focused on helping kids enjoy science. They'll learn facts about a variety of topics and find fun experiments to complete.
FactMonster is full of facts for kids. Facts are organized by topic and there's even a special homework help section.
Facts for Kids helps kids learn unique facts about people, places, history, and animals.
Fun Trivia is a quiz site designed for kids and adults. Kids can learn all kinds of facts by taking many of the fun quizzes on the site.
All Ages
Kids World Fun features lots of tips for kids, a "Did you know?" section, and even quotes of the day.
Cool Kid Facts introduces kids to fun facts on a variety of topics. Kids can learn about science, geography, history, or animals.
Funology wants kids to have fun. It provides them with recipes, experiments, and facts to help them have fun while learning.
Do you have any favorites from the resources above? Share them in the comments!

Learning doesn't have to take place in a traditional classroom setting. With the help of the Internet, teens and adults can gain a wealth of information and build new skills on their own. From free textbooks to courses from top universities, HelpTeaching.com has gathered the best free online resources to help you learn online for free. Whether you're 16 or 96, there's no excuse to not learn something new today.
We've organized our resources by category and have noted whether each resource is best for teens (T), college (C), or everyone (E) to help you find exactly what you need.
Books
Reading is one of the best ways to gain new information. These resources provide free access to some of the best-known books in history and high-quality academic textbooks. Rather than spending hundreds of dollars on these books, teens and adults can learn from them for free.

Spectra, a comic book series from The American Physical Society, helps teens learn about physics in a very engaging format. At least eight different volumes can be accessed for free on Physics Central and will help teens learn how physics applies to every day and superhero life. T
Textbooks
Bookboon delivers textbooks on subjects such as IT, language, technology, and career advice in a free PDF format. These books are ideal for adult and community college learners. C
Textbook Revolution contains a database of free textbooks for many different subject areas. Books are organized by subject and searchable by title. C
Free Tech Books is a list of links to free technology-based books. Many books cover advanced topics related to engineering, computers, and mathematics. C
Open Stax provides college students with free, open source textbooks designed to meet their course standards and objectives. Books focus on science and math courses. C
Open Textbook Library was created to draw attention to the open textbook movement. Its collection includes a selection of free textbooks covering different subject areas, including some appropriate for high school. E
Classic Texts and Literature
The Harvard Classics are a collection of fifty books designed to cover the major areas of philosophy, religion, history, and literature. Many organizations, including Bartleby, offer access to them for free. E
Project Gutenberg has thousands of free eBooks featuring texts in the public domain. Books include classic literature and non-fiction pieces. E
Bookstacks is a free collection of literature that features titles from authors such as Agatha Christie, Charles Dickens, and Leo Tolstoy. E
Google Books allows users to look up published books by title and preview many of those books for free. It's a great resource for research. E
BookRix offers a large selection of free eBooks for download. Many books are works of fiction published by Indie authors. E
Free Booksy helps users find free eBooks for Nook and Kindle. Sign up for the free e-mail list or read the blog to see which books are available for free on certain days of the week. E
Read Any Book allows users to read a variety of eBooks by both Indie and well-known authors for free in their free online e-reader. E
Audio
Free audio learning resources make it easy for teens and adults to learn on the go. Audio books and podcasts are great to listen to while running or riding in the car. They can also be more entertaining than learning from a more traditional text.

Gutenberg Audio has a large collection of audio versions of public domain books. Many of the books are in English, but the site also has a huge selection of audio books in other languages, such as Chinese, Spanish, Hungarian, Tagalog, and more. E
Loyal Books, formerly Books Should be Free, features thousands of free audio books for download. Many books are fiction, but there's also a large selection of non-fiction books to choose from. E
Internet Archive: Audio isn't just limited to eBooks. It also features recordings of famous speeches and popular songs throughout history. E
Librivox is a site full of public domain audio books. All books are read by volunteers. You can download one to listen to or volunteer to record books yourself. C
Learn Out Loud offers a collection of free audio books, audio courses, and other learning materials. Be sure to search under the "Free Stuff" tab because the site does offer some books for sale. C
Podcasts are more popular than ever these days and many educational podcasts are still going strong. Browse the available podcasts on iTunes to learn something new. E
Podbean offers a platform for hosting and listening to free podcasts. You'll find podcasts on a range of topics. E
Videos
Videos offer a wide range of learning opportunities. Many video series help teens and adults build practical skills, such as how to fix flat tire or how to cook an omelet. Other videos feature lectures and narration from experts in the field.

Top Documentary Films makes many fascinating documentaries available for free. Documentaries are available on topics such as health, politics, human rights, and religion. E
DIY Network helps you spruce up your home by providing free online episodes of its most popular shows and video-based blogs with tips and tricks. C
Ted Talks have become well-known for the expert advice they contain. Watch as experts in their fields share their wisdom with you. E
BrightTalk focuses on providing free business and webinars to those interested in the business world. Find resources in areas such as finance, human resources, marketing, and information technology. C
All Things Science has transferred its wealth of science-based videos to Daily Motion. There teens and adults can learn about scientific innovations and see how science connects to daily life. E
CosmoLearning combines free online courses with videos and documentaries to help students learn about a variety of subjects. E
MIT Video brings the quality of MIT lectures to your computer. The videos all focus on science and technology-related content with over 100 channels of specific topics to choose from. C
@Google Talks are similar to Ted Talks and feature many professionals sharing their knowledge. This includes talks with celebrities and musicians too. E
Videolectures.net takes college lectures, academic talks, and conference videos, and organizes them into a free video site. The site has over 20,000 videos in many different languages. C
Courses/Lessons
Finding the time and the money to take college courses can be expensive. Through the MOOC and Open Course movements, teens and adults can access courses from the top universities for free. These resources help people reap the benefits from experts in the field and make it easier to explore topics of interest.

HelpTeaching.com's own collection of math, science, and English lessons combines entertaining video and text-based lessons with short, interactive quizzes. Teachers and parents can choose lessons for kids to complee on their own or can incorporate them into whole class and small group based lessons. Lessons are organized by subject, grade-level, and length. Teachers and parents can also create their own tests and quizzes to accompany the lessons, and then administer them using our Test Room feature.
Subject-Specific Courses
OER Commons is a large collection of free open education resources designed for students in primary school through adult learners. Best of all, you can combine resources to create your own textbook or course and then share it with others or save it for future reference. E
iCivics features a collection of free lesson plans and games decided to help teens learn about civics. T
A Crash Course in World History teaches you the history of the world in 42 episodes. E
My Own Business, Inc. helps adults by providing them with all the information they need to start their own business. C
SBA Learning Center is designed to teach wanna-be business owners the ins and outs of owning a small business. There's even a section geared towards young entrepreneurs. E
Excel Easy contains a large selection of lessons designed to help computer users learn how to navigate through the various features of Excel. This is a quality resource for teachers, students, and even those in the business world. E
College Courses
MIT Open Courseware allows you to access the content of MIT courses from the comfort of your own home. Search by topic, course number, or department. C
Open Culture has collected links to thousands of free courses, movies, and other educational materials available online. Their resources include free certificate courses. E
iTunes U is a collection of courses, audio files, and video designed to help you learn on your computer or any of your Apple devices. E
Wikiversity is a collection of educational photos, projects, and lesson ideas designed to help people learn from one another. E
Course Buffet finds open courses, tags them, and makes them easier for users to access. You'll find top courses from many universities. C
Coursera partners with over 100 universities and other educational organizations to provide over 1,000 free online courses. E
EdX is another site that makes it easy to find free open courses from top universities. While all courses are free, you can also earn college credit for some courses by paying a small fee. C
OEDB offers free open courses from many top universities. It also includes information on financial aid and scholarships to help those who want to go back to school. E
Reference Materials
Looking up a random piece of information doesn't have to require pulling out a dictionary or buying an entire set of encyclopedias. Free online reference materials make it easy for teens and adults to look up information such as the definition of a word, stats on a particular country, or the peak growing season in a region.

Almanac.com is a go-to resource for all things nature and weather-related. It also offers resources on cooking, baking, home, and health. Just as people used to use the paper-based version of the Farmer's Almanac for information in the past, you will find this website to be a handy reference. E
Dictionaries
Dictionary.com offers a free, online dictionary. You can also learn by checking out the word of the day. E
RhymeZone is a great resource for budding poets and others who like to rhyme. Simply type in a word and find a list of words that rhyme. E
Freelang provides free foreign language dictionaries which can be useful when attempting to learn a foreign language. E
Encyclopedias
Encyclopedia.com allows you to search over 100 different encyclopedias and other reference books to get the best information. E
Wikipedia is definitely one of the most popular encyclopedias online. It's a great source for initial research, but facts should always be double-checked. E
Other Reference Sources
Goodreads contains reviews of books and also has a search feature that allows users to find quotes from popular books. It's a great resource, particularly when writing a paper. E
Internet Public Library for teens helps teens finds books, websites, and other resources for learning. It's also a great site for homework help. T
Ref Desk highlights some of the best reference websites and organizes different reference resources into categories to make it easy to find whatever you need. E
World Atlas offers maps from around the world, along with articles about where to travel and key information about different countries. E
General Knowledge/Trivia
Life-long learners aren't always focused on taking a course or learning about a specific topic. Many times, they simply enjoy gathering random information. The Internet is full of many free resources designed to provide them with just that. Not all of the information is useful, but it is certainly interesting, and you never know when a piece of information, like 10 different ways to use a gumball, could come in handy.

Mental Floss is a magazine and a website dedicated to providing readers with random facts and information. You can learn all about history, literature, and science, as well as fun facts about pop culture topics, such as television shows and movies. E
How-To
HowStuffWorks explains just what you think it would – how stuff works. Search by keyword or category. E
WikiHow is a how-to website that teaches you how to do almost anything you want to do with step-by-step instructions, pictures, and videos. E
Instructables offers instructions for all sorts of DIY projects. They range from home projects to crafts and science experiments. E
LearnThat.com focuses on helping you learn new information related to business, personal finance, and technology. It does so through a series of blogs and video tutorials. C
Questions and Answers
Whyzz is focused on providing answers to questions. Type in a question to search the Whyzz database for answers. E
Quora bills itself as the best answer to any question. On this site, you can search for answers to a question that has already been asked or post your own question and wait for others to answer. C
Trivia
Buzzfeed is known for its funny videos and slideshows. While a lot of its content is humorous, it's also a great place to learn something new. C
Bored.com encourages you to end boredom by learning something new. It is full of fun articles and activities. E
Daily Infographic highlights an infographic each day, making it a good way to learn a large amount of information at once. E
Homework Help
Shmoop offers a series of online courses and study guides designed to help high school students. Each comes with a dose of Shmoop-style humor. T
SparkNotes is known for its literature guides, but also offers many study guides for other subjects and major standardized tests. T
CPM Homework Help offers help with math homework at the high school level, focusing on courses such as algebra and calculus. T
No matter how old you are, you're never too old to learn. For more free educational resources, check out the Ultimate Guide to Free Online Self-Learning for Kids. Don't forget to check out our Ultimate Guide to Teaching Science and Top 100 Free Education Sites too.
What are some of your favorite resources for self-learning? We'd love to hear them!