Currently Browsing
Posts Tagged ' free resources '
Since 2013, Help Teaching has brought you our Top 100 Free Education Sites. We're continually updating our list to provide you with the best resources. Not only can you find the top free sites for teaching math, science, English, and social studies, but we've also added some of our favorite computer science and coding sites, language sites, and homeschooling sites.
No time to go through the whole list? Just use "Quick Links" section to jump straight to the section that interests you and bookmark this article for a reference later.
QUICK LINKS:
10 Awesome Education Sites
Whatever the grade-level or subject area, these websites have something to offer. From high-quality lesson plans to entertaining games and educational videos, they represent some of the best educational websites in existence.
Code.org has gained recognition with its Hour of Code initiative. The website offers free, easy lessons to help kids learn some of the basics of coding. The lessons also help teach critical thinking and problem-solving skills.
Google is something most teachers know about, but many haven't taken the time to explore all of their awesome free resources for education. There are some fun activities too, such as Google Experiments where kids can create all kinds of unique simulations and games online.
FunBrain helps students learn through fun games related to math and reading. They'll also find books and other entertaining resources.
Scholastic has developed a reputation for its high-quality educational books and materials and its website does not disappoint, offering lesson plans, interactive activities, and articles designed to help teachers and parents.
Gooru helps students take control of their own learning by providing them with information about how they learn best.
Edutopia focuses on helping educators grow. From articles and blogs from those working in the field to informational videos and classroom guides, educators in all areas of education will stay on top of the latest trends and find tips to help them improve.
DIY.org encourages kids to learn new skills. Teachers and parents can challenge them to set goals and complete tasks on the site.
Science Bob gets kids interested in science by providing experiments, research, Q&A, and other info all focused on science.
Teachers Pay Teachers isn't technically a free site since teachers sell materials. However, there are plenty of free downloads on the site. You may find the perfect free worksheet, lesson lan, or classroom time-filler.
Ted-Ed goes beyond traditional Ted Talks by offering lessons to accompany many of those videos. In addition, you'll find animated videos and resources for elementary,middle, and high school students too.
Coding
Every day, in classrooms around the world, kids are learning how to code. Coding is a valuable skill that helps teach kids to think logically and develop the critical thinking and reasoning skills they need for our increasingly technological world. These resources offer free coding activities for kids.

Code.org is home to the Hour of Code. In just an hour, kids can complete a fun coding game. There are many games to choose from, including those that feature popular characters kids love.
Tynker offers its own free Hour of Code activities and games for kids to enjoy.
CodeCombat is an online, multiplayer game that requires kids to write code to play.
Kodu Game Lab is a visual programming tool that kids can download to create games of their own.
CS Unplugged teaches the principles of coding, but not in the traditional way. The site offers a large selection of offline activities designed to help kids develop these critical thinking skills.
Reading
Find games and activities for early readers, as well as texts for advanced readers, in this collection of high-quality reading websites. In addition to these sites, Help Teaching offers a large collection of public domain and original reading passages organized by grade-level, word count, and Lexile level.
CommonLit contains a wealth of free fiction and non-fiction texts for use in the classroom. Texts are organized by grade-level and theme.

Media Literacy Clearinghouse introduces students to a new type of literacy – media literacy. With all of the new technology and messages appearing every day, it's important for kids to be media literate.
Awesome Stories uses non-traditional reading materials, such as biographies and primary source texts, to get students learning through reading. Students can use the site to help with research and teachers can use the texts as part of lesson plans. Creating an account allows users to access audio versions of many of the titles as well, making it an ideal site for auditory learners and those with learning disabilities.
ReadWriteThink gets students to participate in critical thinking and reading activities through its lesson plans and interactive student resources.
Book Adventure is a free online reading program that provides students with incentives for reading.
Bookopolis is essentially a GoodReads for kids. The site allows students to read reviews written by their peers and helps them find the perfect book.
Writing
Whether students need an outlet for their creative writing or want to brush up on their grammar skills, one of these resources will get the job done.

Make Beliefs Comix gives kids a place to create their own cartoons and store them online. It features tons of clipart and other artistic effects to make the comics visually appealing.
Voki features animated characters that students can customize and manipulate to speak their words. It's a great tool to help with creative thinking, writing, and storytelling.
Grammar Bytes tests students' knowledge of grammar through simple multiple-choice activities and rewards them with cheesy virtual prizes.
Purdue OWL is an online writing lab from Purdue University that provides students, particularly those in high school and college, with everything they need to know about writing a paper, including grammar advice and paper formatting guides.
Social Studies
Teachers can find primary source documents and high-quality lesson plans, as well as discover ways to connect students to history, geography, government, and other areas of social studies online.

GeoGuessr tests kids' geography skills. Using images from Google's Street View, it plops players down in the middle of the street and asks them to figure out where they are.
National Archives: DocsTeach allows teachers to incorporate primary source documents and other historical texts into a variety of critical thinking and thought-mapping activities. Pre-made activities are also provided. Students can complete the activities online or through the DocsTeach app available for the iPad.
iCivics offers high-quality and engaging games for students to play while they learn about civics. Lesson plans help teachers incorporate the games in the classroom.
Sutori gives students the chance to create free interactive timelines and engage in collaborative learning.
What Was There? allows students to type in any city, state, or country to view an archive of historical photographs and other documents. It's a unique way to help them learn about history.
Math
Not all websites focus on elementary math skills. While many of these games do work well for elementary-age students, they also offer games and lesson plans for students tackling subjects such as algebra, geometry, and calculus.

Math is Fun is full of math resources for kids and teachers. It also includes an illustrated dictionary of math terms to help students understand difficult concepts.
Numberphile features short videos about numbers. They help kids explore complex math topics and make math more fun.
Math Games offers a large collection of math games and questions organized by grade-level and skill. It also includes a progress-tracking feature so teachers and parents can see what kids know.
AAA Math features online interactive math lessons for students in kindergarten through 8th grade.
Yummy Math connects math with the real world through timely news stories and other reading passages.
Math Forum offers online professional development opportunities and other resources to help math teachers improve their skills.

Science
Help students understand science with this collection of videos, games, experiments, and creative science activities.

PhET features many engaging simulations to help kids learn difficult concepts in science and math.
Wonderopolis shows kids a wonder of the day, and then gives them a chance to test their knowledge or join in on a discussion related to that wonder. Kids will be surprised by all of the cool facts that they learn and they may spark some interesting discussions in the classroom.
Molecular Workbench contains hundreds of simulations, curriculum models, and assessments designed to improve the teaching of science.
Science Made Simple gives kids science experiment ideas and other science project topics. It also offers help when preparing for a science fair.
The Science Spot offers lesson plans, activities, and student examples from one teacher's science classroom, as well as daily science trivia challenges and daily science starters.

BioDigital is a human visualization platform that allows students to explore the human body in really cool ways.
For even more science-specific resources, check out the Ultimate Guide to Teaching Science.
Art
Art museums around the world have made it their mission to teach students about art. These websites introduce students to art theory, let them explore classic works of art, and even give them the chance to create art of their own.

Artsonia bills itself as the world's largest kids art museum. All of the artwork has been created by kids and, while the site is free, parents can also purchase products featuring their kids' artwork.
Artsology helps kids learn to appreciate the arts by providing them with the opportunity to play games, conduct investigations, and explore different forms of art.
NGAKids Art Zone allows kids to explore popular art movements, themes, and artists and offers guides to help teachers as well.
Tate Kids gives kids a chance to explore famous works of art, play art-related games, and even create their own works of art to add to their online gallery.
Music
Encourage kids to think beyond One Direction and their other favorite artists and experience new types of music. Kids can learn about the symphony and classical music or even build their own musical skills by learning through ear training or playing instruments online.

Andrew & Polly is an indie children's music duo that has created a podcast called Ear Snacks designed to help kids learn through music, sound, and unique experiences.
Classics for Kids regularly highlights famous composers and provides teachers with activities to use in the classroom.
KIDiddles has lyrics and audio files for over 2,000 kids songs for music teachers, or any teachers, to use in their classrooms.
Good Ear may not look like an awesome site, but it contains a lot in its simple design. This website provides virtual ear training to help serious student musicians learn to recognize the differences between notes.
Virtual Musical Instruments lets kids play instruments online. Instruments include the guitar, piano, pan flute, drums, and bongos.
Health and Safety
Health and safety are important to kids. Whether kids want to know more about keeping their bodies healthy or staying safe online, these websites have them covered.

KidsHealth is the top website for kids to learn about their bodies and their health. It features easy-to-read articles and kid-friendly graphics to help kids learn about a whole host of topics related to health and safety.
CDC BAM! focuses on teaching kids about their bodies. BAM stands for body and mind and all of the resources on the site help kids learn more about their bodies and keeping their minds sharp.
NetSmartzKidz and its sister site, Netsmartz, promotes online safety. Kids and adults can learn all about staying safe online and avoiding dangers such as cyber bullying.
StopBullying.gov helps prevent bullying in all forms by providing teachers, parents, and students with resources to educate them about bullying and let them know what to do when bullying occurs.
PE Central is a physical education teacher's ultimate resource. It includes lesson plans, assessment ideas, and other resources.
Early Education
Don't forget about your younger learners too. Many websites, including our own Early Education collection, offer games and activities designed to help toddlers and preschoolers build their basic skills.

Preschool Express is full of crafts, activities, bulletin board designs, and finger plays for early education teachers and parents to use with kids.
Starfall promotes beginning reading and number skills with fun stories and activities.
Funbrain Jr. brings the fun and quality of Funbrain to a younger audience with its early learning games.
Songs for Teaching offers a large selection of fun songs to help teach preschool students.
Super Simple Learning's resource section includes free flashcards, coloring pages, worksheets, and other resources for children, teachers, and parents.
Educational Games
Kids love to play games online. Why not encourage the practice by introducing them to some fun educational games websites? They'll have fun and you'll know they're learning.


Arcademic Skill Builders offers a series of racing games for kids focused on math and ELA skills. Best of all, many of the games are multiplayer so kids can create rooms and play against their friends.
Quizalize lets teachers turn content into fun quiz games for students. It's free to create quizzes, but teachers can also buy inexpensive quizzes from other teachers in the marketplace.
Cool Math Games is the ultimate site for kids who want to play math-oriented games. These arcade-style games are a lot of fun and many accompany the lessons found on the site.
Primary Games has a lot of educational games for kids to play mixed in with some "just for fun" games too. All of the games are kid-friendly.
Games for Change gets kids thinking about problem-solving and social issues by providing them with unique games to play. Many of the games help kids solve world problems or introduce them to social issues.
Educational News
It's important to keep up with the news. These websites cover the latest education news and also provide kid-friendly news sites to use with students.


Education World's main page highlights the latest news in the world of education, including interesting research and controversy.
Education Week publishes a weekly newspaper all about education. Its website highlights many of those stories so you can access them for free.
Smithsonian TweenTribune features unique news stories for kids. Stories are organized by Lexile level and cover topics related to kids' interests.
Time for Kids gives students and teachers access to many of the articles from Time for Kids magazine, even if they don't subscribe. Stories focuses on world news stories and pop culture.
DOGO News promotes "fodder for young minds" by sharing unique news stories, including stories of people doing good around the world.
Educating Yourself
With the introduction of open courseware and TED talks, educating yourself online has never been easier. Find access to actual college courses and learn what you want to know from the experts in the field. At HelpTeaching, we have launched our own line of online K-12 lessons that students can use for self-directed learning.


TED features videos and other resources from some of the world's greatest leaders, innovators, and thinkers. If you want to learn more about a particular field, chances are there's an expert talking about it.
Khan Academy offers free online courses in a wide variety of subjects. It offers the most content in math, but also has courses in science, economics, test prep, and more.
Open Education Consortium allows you to search for open courses around the world. It also provides news on the open courseware movement.
MIT OpenCourseWare gives you access to courses from one of the nation's most prestigious colleges.
Coursera helps you find and sign up to take free online courses from some of the world's top universities and other experts.
Youtube has been around for a long time, but that only supports its awesomeness. You'll find a lot of video tutorials on everything from fixing a car to learning how to beat a difficult level on Angry Birds. Don't forget to check out Help Teaching's YouTube channel with online lessons too.
For more resources, don't forget to check out the Ultimate Guide to Self-Learning for Kids and the Ultimate Guide to Self-Learning for Teens and Adults.
Homework Help and Study Skills
For general homework questions and help studying for that big test, students should check out this collection of websites. Teachers will also find study skills lessons to go over with students in class.

HomeworkSpot provides students with links, resources, games, and reference materials to help them build their skills and complete their homework.
Fact Monster Homework Center connects kids with reference materials and tools to help them successfully complete their homework.
Shmoop offers homework help, literature guides, and a ton of other resources for students. The site's writers incorporate a lot of humor in their writing too, making the site incredibly entertaining.
Howtostudy.org features articles on different study skills and test-taking strategies. There's even a subject-based "How to Write" section to help students learn how to write all kinds of informational texts.
Don't forget Help Teaching's Study Skills and Strategies worksheets either!
Lesson Planning
Lesson planning can be time consuming, but with high-quality pre-created lesson plans, lesson plan templates, and a place to store their lesson plans, teachers can simplify the process.

The Differentiator provides teachers with lesson plan ideas to help them incorporate higher-order thinking skills, change up the products students create, and add to the resources they use. This helps ensure teachers aren't presenting the same lessons all the time and that they reach students in many different ways.
ShareMyLesson offers lesson plans and other resources shared by teachers, educators, and educational companies around the world.
Classroom Management
If teachers want students to learn, they must have good classroom management. These resources help keep students in control and encourage behavior that promotes learning.

ClassDojo is a classroom management system that allows teachers to set goals for students, track their progress, and reward them for that progress. Parents can also access reports to see how their children are doing.
Remind gives teachers a free, easy, and safe way to share important information with parents and students via text message. All phone numbers are kept private and parents must opt-in to receive messages.
BouncyBalls is an online game where the noise level makes the balls bounce. The more balls bouncing, the noisier the classroom is, reminding students to quiet down and focus on their work.
NEA Classroom Management offers a classroom management survival guide, as well as articles and resources to help with specific areas of classroom management.
Super Teachers Tools contains free resources such as seating chart makers and countdown timers that can help teachers implement solid classroom management strategies.
Language
Whether students are looking to learn a foreign language or improve their English language skills, these sites are designed to help.

Internet Polyglot offers free videos, games, and other resources to help language learners memorize words in a new language. It also offers over 4,000 vocabulary lessons.
Busy Teacher features thousands of articles, worksheets, slideshow presentations, and other resources designed to help English language learners and teachers. All resources are available to view and download for free.
Google Translate is a free translation service provided by Google. You can translate a few words at a time or a whole document. While not 100% accurate, it can be a good place for language learners to start.
Open Culture contains a collection of the best free language learning courses and resources online.
Homeschool
Homeschool curriculum can be expensive. Thankfully, there are plenty of free resources out there to help offset the cost. You'll also find lots of tips, tricks, and other resources to help make your hoeschooling journey successful.

Homeschool.com bills itself as the #1 resource for homeschooling and with good reason. The website is full or articles about homeschooling, local homeschooler groups and even free curriculum and homeschool mom planner.
Beestar offers online elementary math and reading exercises. With a free account, kids can access a set number of free worksheets a day. There are also competitions kids can enter for a small fee.
Brainly gives students a place to ask questions and get answers. Think of it as a moderated Reddit or Yahoo! Answers for kids and teens. Most of the content on the site is free, although some verified answers require a subscription.
CK-12 is a platform that offers free online textbooks and resources for students and teachers. Why pay for curriculum when you can get free, customized resources online?
Hillsdale College provides free online courses to help people learn more about the principles of American democracy and study some of the authors and artists who were part of America's foundation.
Life Skills
There are some skills that aren't taught in high school, but they're extremely important for students to learn. These sites help students gain these essential skills.


Practical Money Skills bills itself as a site that offers financial education for everyone. The site includes free articles and learning modules for students, lesson plans for teachers, and a host of fun games, including many related to athletics.
Gen i Revolution offers free personal finance and economics education for students through the form of a game. Students go through real-life scenarios and use the selection of characters and skills available to them to set things right in the financial world of the game.
Everyday Life from GCF Learn Free features multiple interactive tutorials designed to take students through everyday life activities, including work shills and getting around town.
Overcoming Obstacles is a free life skills curriculum for students in grades K-12. Their resources include strategies for teaching social and emotional skills. Teachers and parents must register for a free account to access the curriculum.
For more resources, check out Help Teaching's selection of free life and money skills worksheets.
Did you favorite sites make the list? If not, share them in the comments. Maybe they'll make 2019's list of the 100 Best Free Education Sites. Remember to check out Help Teaching for all of your worksheet and printable needs too.
31 January //
Posted in How To //

While African-American authors hold their own in the literary world, Black History Month gives you a chance to highlight some of the most celebrated African-American authors and their literary achievements. While some of their works highlight the rich history and achievements of African-Americans, others simply bring a new perspective to common themes and story lines. To help you determine what books to include in your classroom, we've compiled a list of some great works and accompanying worksheets to share with students during Black History Month.
Kindergarten – 2nd grade
At this level, focus on poems and picture books. It's never too early to introduce children to the poetry of one of the most well-known African-American poets, Langston Hughes, or newer poets such as Nikki Giovanni. Start with a few of these texts:
3rd grade – 5th grade
Kids in upper elementary school can start to read short biographies of famous African-Americans. They will also appreciate short stories and novels that focus on African-American history and start to subtly tackle controversial issues. Consider some of the following pieces:
6th grade – 8th grade
In middle school, as kids begin to work out their own identities, they begin to resonate with the stories of others seeking to find themselves. At this stage, introduce them to novels, poems and informational texts that feature issues they can relate to and that help expand their worldview. Great works to begin with include:
9th grade – 10th grade
At this level, students still want texts they can relate to, but they can also begin to understand deeper stories of race and identity. Introduce them to a variety of texts, including:
11th grade – 12th grade
In the upper-levels of high school, teens can start to tackle major historical movements and controversial issues such as racism. This is the time to introduce them to poems, novels and informational texts with deep messages about African-American history and the overall African-American experience. A few selections include:
Of course, our selections only represent a small group of the wonderful books out there. Check out some of these resources to find more books to read during Black History Month.
Consider using the works above or any works by African-American authors as part of an African American Read-In. Members of the National Council of Teachers of English's Black Caucus have encouraged educators to hold a special read-in to highlight works of African-American authors during Black History Month. Enjoy a read-in with your class or get the whole school, and even students' parents, involved.
Have a favorite book, poem, or other African-American text of your own? Share it in the comments below!
This year, HelpTeaching.com offered its first scholarship opportunity to students around the United States. Aspiring writers in high school and college were invited to submit an informational article or short story for kids. After reviewing hundreds of entries, the field was narrowed down to ten finalists. The pieces submitted by the finalists deal with topics ranging from fitting in and learning life lessons to understanding where money comes from. Read on to discover more about the finalists.
This poem, written by Emma Granger, a student at the University of Manitoba, introduces kids to the important components of food and how they work in their bodies. Kids will learn the difference between fats, lipids, proteins, among others and discover why they truly are what they eat. We chose this poem as a finalist because it offers a unique and engaging format and also contains a lot of information for kids. Read the Full Story»
Kendall Nicely, who will be attending Sweet Briar College in the fall, introduces kids to the parts of the brain through her short informational article. Kids can learn about each of the four lobes of the brain and, through the questions, identify key characteristics of those lobes. We chose this piece as a finalist because the information is presented in a kid-friendly, easy-to-follow format. Read the Full Story»
Have you ever wondered what makes a genius? Natalie Boubion, a student at UC Davis, answers the question in her short, informational article. People like Leonardo Da Vinci and Albert Einstein are considered geniuses, but how did they earn that title. We chose this article as a finalist because it presents a thoughtful discussion related to an interesting question. Read the Full Story»
Another UC Davis student, Kaitlynn Gov, helps kids understand Money Supply through her short informational article. Not only can kids learn where money comes from, but they can gain an understanding of the importance of the money supply. We chose this article as a finalist because, in addition to the helpful information, the article contains key vocabulary words related to the economy. Those words are written in bold throughout the article and included in a word bank at the end of the article. Read the Full Story»
Shae Sager, a junior at Montana State University – Bozeman, wrote a short story written from the point of view of a tiger at two key stages in its life. Kids can read about the playful tiger cub, and then see how the tiger has changed by the end of this life. We chose this story as a finalist because of its unique perspective and the fact that it can be used as a lesson in comparison and contrast. Read the Full Story»
Erin Conlon is a student at the Minneapolis College of Art and Design, pursuing a Bachelor of Applied Science degree in Animation. Her story, Rainy Dog Saturday, tells the story of an eight-year-old boy who cannot find anything fun to do on a rainy day. However, when he hears a sound at the door, his day starts to become a little more interesting. We chose this story as a finalist because it is a cute story for kids that offers an element of surprise. Read the Full Story»
Ella Commerce recently graduated from Mt. Carmel High School in San Diego, California, and will be attending California Polytechnic Institute in the Fall. Her short story, The Great Flower Competition, tells the story of two brothers whose father issues them a challenge. The boy who can present him with the most flowers at the end of a month will win the competition. We chose this story as a finalist because it helps kids learn an important lesson. Read the Full Story»
Why Wolves Howl at the Moon is a short story by Emily Edmonds, a student a North Greenville University in Tigerville, South Carolina. In this story, Mama Wolf shares with her wolf cubs the story of why wolves howl at the moon. We chose this story as a finalist because it has the feel of a classic myth and tells a tale that many kids will find interesting. Read the Full Story»
Gina Gugliotta is a Health Sciences student at The Ohio State University. Her work as a swim instructor inspired her to write a poem to help children remember to stay safe around a pool. We chose this poem as a finalist because of its rhyme scheme and the creative way it teaches an important lesson to kids. Read the Full Story»
And the winner of the first HelpTeaching.com scholarship is…
Little Elephant Tries to Fit In, written by Christine McLauchlan, an Early Education major at New Brunswick Community College. tells the story of an elephant who has just moved to a new town and is facing his first day at a new school. We chose this story as the winner of the HelpTeaching.com scholarship competition because it deals with emotions that many kids can relate to and it helps kids understand that it's okay to be different. Aside from the lessons the story teaches, we feel like Little Elephant Tries to Fit In is a cute story that will make a fun read-aloud in the classroom. Read the Full Story»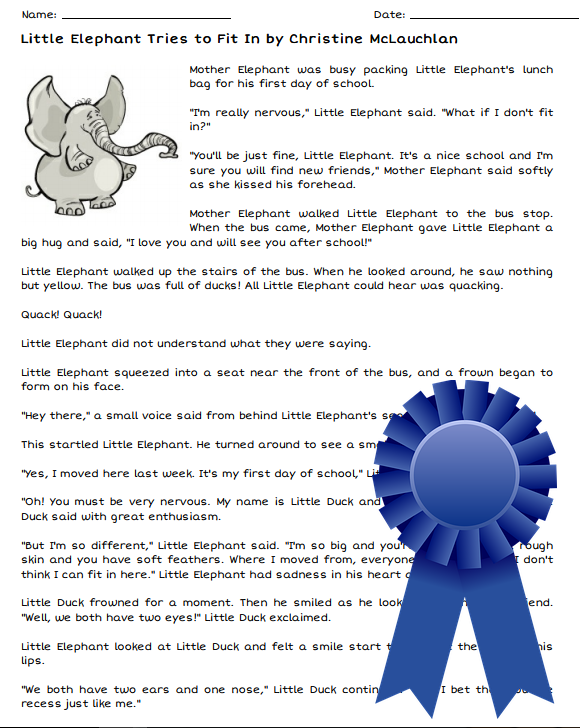 In addition to these passages from our scholarship finalists, check out the other informational stories and reading passages we have to offer.
Think you have a great story for the HelpTeaching.com scholarship contest or know students who like to participate? Help spread the word about this scholarship by posting the information and a link to our scholarship page on your school or organization's website.
In the world of education, there's nothing a teacher loves better than the word FREE and every teacher knows the internet is full of free content to use in the classroom. However, not every teacher knows how to find that content. Whether you teach early elementary school or are trying to keep seniors from checking out, many of these sites have been designed to help you.
Elementary School
Language Arts
1. Funbrain Reading offers games to help students brush up on their grammar and reading skills. Teachers and students will also find digital graphic novels and excerpts from popular children's books.
2. Scholastic Student Activities feature lesson plans and interactives for multiple grade-levels and subject areas. While the site covers multiple subject areas, many of the lesson plans are text-based, making them ideal for use in a language arts setting, particularly when it comes to introducing students to informational or non-traditional texts.
3. Merriam-Webster Word Central is designed to help kids practice their spelling skills. The site uses games, a build-your-own dictionary feature and lesson plans to help accomplish that purpose.
4. Paragraph Punch helps students learn to write a basic paragraph. This site is ideal for students in upper elementary school.
5. Storyline Online features videos of members of the Screen Actors Guild reading popular children's stories. It is a great site for getting students to read and also offers a new way to present books to students in the classroom.
Math
6. Math Playground is full of games designed to help kids practice their math skills. Activities feature a range of problem types and many are aligned to the Common Core State Standards.
7. Figure This encourages families to get involved in learning math skills by offering fun challenges for them to complete. Teachers can also adapt many of these challenges for use in the classroom to help students build some real-world math and problem-solving skills.
8. Math Cats offers a fun math fact every day, as well as numerous activities designed to help kids learn and explore more about basic math and problem-solving skills.
9. Funbrain Numbers contains multiple games for students. They can solve math problems while kicking soccer balls, racing cars and playing other arcade-style games.
Science
10. Wonderville helps kids learn about science by answering questions kids may have and exploring unique topics in science. The site also offers a section on "Neat Jobs," helping kids see some of the ways science is put to use in the real world.
11. Science Kids is full of fun science facts, experiments and other activities designed to help get kids interested in science. Teachers can also find lesson plans, videos and project ideas to bring science into their classrooms.
12. The Electronic Zoo allows kids to take a trip to the zoo without leaving the classroom. The site features information on all types of animals, from invertebrates to primates and many more.
13. Kitchen Chemistry shows kids how they can perform science experiments in their own homes. Teachers can adapt many of the experiments for use in the classroom as well.
Social Studies
14. BBC History provides games and activities to help make history fun for students. Special animations help students see what life was like during certain periods in history and interactive activities allow them to participate in history.
15. Geosense test students' knowledge of world geography. Kids can play by themselves or compete against each other.
16. Xpedition Hall is an online interactive museum from National Geographic. Students can learn about geography as they explore the museum and teachers can download a special guide to help them use the content in their classrooms.
17. Archiving Early America provides teachers with videos and images to use as they teach students about early American history. Some documents and biographies are also available.
Middle School
Language Arts
18. Essay Punch takes students through a series of exercises designed to help them learn how to write an essay, a crucial skill for all middle school students.
19. Scholastic News helps get upper elementary and middle school students interested in the news by providing them with news stories geared towards their interests and reading levels. This is a great site for finding informational texts for students as well.
20. VocabularySpellingCity gives students a place to practice their spelling and vocabulary words. While the free options on the site are limited, students and teachers can build vocabulary lists and take quizzes to help them learn the words.
21. Sheppard Software's language arts games help students brush up on their grammar and punctuation skills, as well as learn new vocabulary words and play fun word games.
Math
22. Aplusmath.com features flash cards, games and worksheets designed to help students brush up on their math skills. While the site covers elementary and middle school skills, the way its content is presented is better for middle school students.
23. AAA Math offers math lessons for students at multiple grade-levels. Teachers at the middle school level can find lessons and interactive activities on topics such as measurement, exponents and geometry.
24. CoolMath is not just for elementary students. Middle school students can also brush up on their basic math skills and practice basic algebra and geometry skills through these fun games and interactive lessons.
25. MathMovesU is full of activities, games, information and lesson plans designed to help get middle school students interested in math.
Science
26. Learner.org offers numerous interactives designed to help students understand complex scientific topics. While content is able for all grade-levels, some of most engaging interactives are geared toward students at the middle school level and cover topics such as DNA and divergent boundaries.
27. NASA Quest is focused on helping students learn to think critically and engaging them in scientific inquiry. Many of the activities found on this site are geared toward students in grade 5-9, making it an ideal resource to help students at the middle school level solve real-life scientific problems.
28. Physics Central offers a free comic book series called Spectra to help students learn about physics. The main character is a middle school student.
29. Exploratorium is a science museum that has filled its online site with websites, videos and other resources to help students learn more about science. Students can also view and interact with many of the museum's exhibits online.
Social Studies
30. Eyewitness to History provides teachers and students with lesson plans and media files designed to help them experience history. Students can access a wide variety of primary source materials to see history as it really was.
31. Teachable Moment helps take current events and use them to teach students valuable lessons. These lessons are especially beneficial in the middle school years when students are learning to think beyond themselves and develop their understanding of how they fit into the world around them.
32. Mr. Donn's Social Studies Site is full of lesson plans, quizzes, worksheets and other activities related to various countries, cultures and periods of history. Many of the resources are ideal for middle school students and their teachers.
33. Virtual Tourist helps students learn about geography by taking them on a behind-the-scenes tour of many different countries. This is not typical textbook information; instead, it is designed to help students actually see what a visit to these countries would actually be like.
High School
Language Arts
34. Grammar Bytes helps students brush up on their grammar skills by going through sets of interactive activities. Students are then rewarded with off-the-wall virtual prizes.
35. Project Gutenberg features thousands of public domain texts in the form of free eBooks. Teachers can find numerous fiction and non-fiction texts to use with high school students. Students can also find texts to use for book reports or to help them explore specific subject areas.
36. Purdue OWL is the online writing lab for Purdue University, but it also features a lot of information that can be helpful to high school students. This should be their go-to resource when writing papers, citing sources and learning how to avoid plagiarism.
37. A Word a Day provides students with a new vocabulary word each day. Teachers can use this site as an opening activity in the classroom or just to help students build their vocab skills. Archives of previously featured words are available as well.
Math
38. S.O.S. Mathematics offers over 2,000 pages of lessons and worksheets designed to help students improve their skills in high school math. Subjects covered include algebra, trigonometry, complex variables and matrix algebra.
39. Math Bits features tutorials related to high school math and computer programming. Students can also find information on how to operate graphing calculators.
40. Math Planet brings math to students through video lessons. Teachers can use these lessons in the classroom or students can watch them at home to help learn more about complicated math processes.
41. Analyzemath.com contains numerous free questions for math teachers to use in the classroom or students to use to brush up on their skills.
Science
42. PBS LearningMedia features a wealth of videos, audio files and lesson plans related to science. Students can see the scientific principles they are learning about in action. While an account is required to view most of the materials, creating an account is free.
43. ScienceGeek.net was designed by a high school science teacher to benefit his students. Students can find review sheets, worksheets and problems related to high school chemistry, A.P. Chemistry and biology.
44. NSTA: The Science Teacher allows high school science teachers free access to some of the articles from its magazine designed just for them. Some of these articles, such as those about careers in science, can be used with students in the classroom.
45. PhET offers a variety of interactive simulations to use with science students. Simulations are organized by topic and grade-level, making it easy for teachers to find simulations to use to help bring science to life for their students.
Social Studies
46. PowerPoint Palooza contains numerous PowerPoint presentations for teachers to bring directly into the classroom. Topics cover a wide range of history and include collections designed to be used in A.P. European History and A.P. American History courses.
47. Teach with Movies helps engage students, especially high-schoolers by helping teachers find movie clips that relate to core topics. Social studies is only one of the many subjects covered on this site.
48. Econedlink offers free economics lessons for students at all grade-levels, but a majority of the lessons are focused on students in grades 9-12. Many feature interactive handouts and quizzes to help test students' knowledge of economics.
49. Internet History Sourcebook is full of online texts for teachers to use in the classroom. These texts are geared toward major periods in history and ancient civilizations and get help students get a glimpse of history outside of the textbook.
50. Help Teaching offers a wide variety of free printable worksheets and activities that use unique map images.
Looking for more web-based teaching resources? Read Help Teaching's articles Ten Social Studies Web Resources and Free Interactive Web Resources for Teaching Science.