Currently Browsing
Posts Tagged ' black history month '
2 February //
Posted in How To //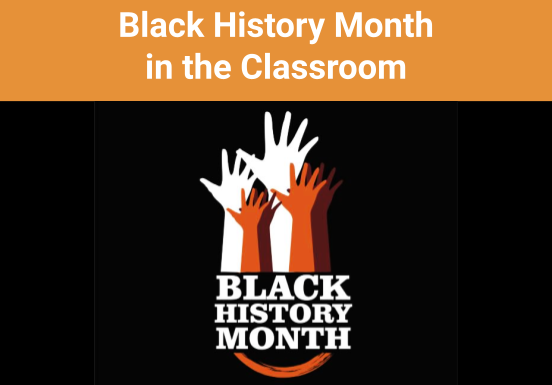 When commemorating and celebrating Black History Month, it is critical to involve your students in activities that get them thinking critically about all the facets of the African American experience.  Lessons should incorporate history, politics, human experience, art, and  literature.
The history of people of African descent in the U.S. is American history, and Black History Month offers the opportunity to dig deeper.  Each February gives us a chance to support students as they discover the impact African Americans have had on culture, society, politics, and science.  The key for social studies teachers is to avoid pigeonholing the achievements of Black Americans to just one month.  Although the emphasis during February is on African American history, this subject should be included in social studies education year round.
Origins of Black History Month
Those who have no record of what their forebears have accomplished lose the inspiration which comes from the teaching of biography and history

Carter G. Woodson
The distinguished Black author, editor, publisher, and historian Dr. Carter Godwin Woodson (1875 – 1950), penned these words as he worked to establish Negro History Week (the precursor to Black History Month) back in the opening decades of the 20th century. Woodson believed that African Americans should be aware of their past so they can participate intelligently in the country's affairs. He strongly held that Black history, which others have tried so hard to obliterate, provides a strong foundation for young African Americans to build on to become productive citizens.
Woodson's numerous scholarly books and many magazine articles on the contributions of Blacks to the development of America supported his message that Blacks should be proud of their heritage and that all Americans should also understand it.  This championing of African American history earned him the nickname the "Father of Black History".
Expand Your Horizons
While teachers typically tend to stay with the same few topics during Black History Month (think civil rights, historical Black leaders, and significant achievements), there are also plenty of other important concepts to consider introducing your students to, such as:
The Black Family: Representation, Identity, and Diversity (grades 9-12) (National Archives Museum Online panel discussion, Thursday, February 25, 2021, 7-8 p.m. EST)
African American History Month Teaching DO's and DON'Ts*
DO…
Incorporate Black history year-round, not just in February. Use February to dig deeper into history and make connections with the past.
Continue Learning. Explore how to provide an in-depth and thorough understanding of Black history. What textbooks include is limited, so use the textbook as one of many resources, but be sure to explore multiple resources and allow for opportunities to learn along with your students.
Reinforce that "Black" history is American history. Make Black history relevant to all students.
Connect issues in the past to current issues to make history relevant to students' lives. Making the subject matter relevant to student's lives drives the point of a lesson home.
Include the political and social context of the community's struggle for social justice. For example, talk about Daisy Bates' political affiliations and her political ideologies. You see her bravery not as just a personal act but as coming out of community determination.
DON'T…
Stop your "regular" curriculum, to do a separate lesson on Rosa Parks, on the Civil Rights Act or on Martin Luther King Jr. This trivializes and marginalizes anything you are teaching, making these leaders a token of their culture and ethnicity. Students will get the message that the diversion is not as important as the "regular" curriculum.
Focus on superficial cultural traits based on stereotypes. It's okay to celebrate Black music, but teachers should also explore the political and social contexts that give rise to musical forms like hip hop.
Talk about Black history in solely "feel-good" language, or as a thing of the past. This fails to help students examine how racism manifests itself today. Be sure to draw connections between how events or people's actions in the past affect society today.
Limit the presentation to lectures or reading. Be sure to allow students an opportunity for discussion and reflection.
Shy away from controversial, ambiguous, or unresolved issues. Share the real-life experiences about racial realities in developmentally appropriate ways.
Think that you can't talk about black history because you're a white educator. You do not need to be a person of color to talk about race. But you do need to be comfortable in your own skin, build your knowledge about the topic and be in alliance with educators of color for support and feedback.
Don't simply focus on the famous people. Use Black History Month as an opportunity to highlight the often-unacknowledged contributions that people of color make every day.
*source: www.Tolerance.org
Resources for Teaching Black History Month
Help Teaching has the following resources
Civil Rights Test (HS)
Triangular Trade (MS)
Benjamin Banneker (older ES)
Pre-Civil War – African-American History (older ES)
Nat Turner (older ES)
Sojourner Truth (older ES)
Underground Railroad (older ES)
Harriet Tubman (older ES)
Discrimination and Slavery in the 1800s (MS)
Frederick Douglass (older ES)
Frederick Douglass Quotes (HS)
Abolitionists (MS)
Emancipation Proclamation (older ES)
Civil War Amendments (13, 14, 15) (MS)
Jim Crow Laws (MS)
Booker T. Washington (older ES)
Granville T. Woods (older ES)
Buffalo Soldiers (MS)
W.E.B. Du Bois (MS)
W.E.B Du Bois Quotes (HS)
The Great Migration (HS)
Harlem Renaissance (HS)
Tulsa Race Riots (MS)
Tuskegee Airmen (MS)
The Civil Rights Movement (older ES)
King Quotes (grades 11-12) 
Letter from Birmingham Jail (grades 11-12)
Medgar Evers (MS)
Madam C.J. Walker (MS)
School Desegregation (older ES)
Greensboro Sit-Ins (older ES)
The Freedom Rides (MS)
Emmett Till (older ES)
Malcolm X (MS)
John Lewis: Civil Rights Icon (HS)
Selma March (older ES)
Civil Rights Test (HS)
Shirley Chisholm (MS)
Maya Angelou (MS)
Maya Angelou's poem "On The Pulse Of Morning" (MS)
George Floyd Demonstrations (HS)
Read-Aloud: Martin Luther King, Jr. (older ES)
People of Peace: Martin Luther King, Jr. (HS)
Martin Luther King Jr. Spelling (younger ES)
A Dream Like Martin Luther King Writing Prompts (younger ES)
Martin Luther King Jr. Writing Prompt (older ES)
Martin Luther King Jr. Timeline (older ES)
Martin Luther King Jr. Words (older ES)
Martin Luther King Jr. Reading Passage (older ES)
Martin Luther King Jr. Reading Passage (older ES)
Juneteenth (self-contained lesson) (MS)
The Civil War Amendments (13-15) (self-contained lesson) (MS)
You may also find this list of Black History Month Readings – 30 Titles for Grades K-12 helpful.
KidsKonnect.com has the following resources
BusyTeacher.org has the following free ESL resources
These groups and institutions can also help you teach about African American history
Brimming with comprehensive, cross-curricular content, including videos, primary source images and documents, compelling photo galleries, interactive maps, artwork, music, and more, this virtual collection invites students into an engaging exploration of some of the most significant events of the Civil Rights Movement.
Students discover the purpose of Black History Month as well as other historical facts, firsts, and figures about the month-long celebration with a downloadable backgrounder.
Help students understand the significance of the 1963 March on Washington and the role it played in the Civil Rights Movement with this collection of multimedia educational resources.
Use this collection of interviews from National Public Radio (NPR) with high school students to chronicle seminal people and events in the hip-hop movement.
Maya Angelou's talent was not defined by just one medium. Throughout her life, she was a poet, novelist, dancer, playwright, actor, and educator. In this lesson from PBS NewsHour Extra, students learn more about her extraordinary life.
Students in all grades can make decisions as they follow Harriet Tubman and escape from a slave owner in this online interactive.
To help those who may not know why, where, when or how to begin this conversation, USC Rossier has created Speak Up: Opening a Dialogue With Youth About Racism — a collection of interviews, resource guides, and op-eds aimed at answering some of the questions that can make these topics difficult, and prompt needed discussions about identity, inequality and education for children of color.
Examine social media's influence in America's Civil Rights movement and its role in democratizing the media.  The video answers the question, "How does social media support the work of social change protesters?"
These are just a few of the many free resources available online for teaching about African American history.
Image source: Vectoreezy.com
31 January //
Posted in How To //

While African-American authors hold their own in the literary world, Black History Month gives you a chance to highlight some of the most celebrated African-American authors and their literary achievements. While some of their works highlight the rich history and achievements of African-Americans, others simply bring a new perspective to common themes and story lines. To help you determine what books to include in your classroom, we've compiled a list of some great works and accompanying worksheets to share with students during Black History Month.
Kindergarten – 2nd grade
At this level, focus on poems and picture books. It's never too early to introduce children to the poetry of one of the most well-known African-American poets, Langston Hughes, or newer poets such as Nikki Giovanni. Start with a few of these texts:
3rd grade – 5th grade
Kids in upper elementary school can start to read short biographies of famous African-Americans. They will also appreciate short stories and novels that focus on African-American history and start to subtly tackle controversial issues. Consider some of the following pieces:
6th grade – 8th grade
In middle school, as kids begin to work out their own identities, they begin to resonate with the stories of others seeking to find themselves. At this stage, introduce them to novels, poems and informational texts that feature issues they can relate to and that help expand their worldview. Great works to begin with include:
9th grade – 10th grade
At this level, students still want texts they can relate to, but they can also begin to understand deeper stories of race and identity. Introduce them to a variety of texts, including:
11th grade – 12th grade
In the upper-levels of high school, teens can start to tackle major historical movements and controversial issues such as racism. This is the time to introduce them to poems, novels and informational texts with deep messages about African-American history and the overall African-American experience. A few selections include:
Of course, our selections only represent a small group of the wonderful books out there. Check out some of these resources to find more books to read during Black History Month.
Consider using the works above or any works by African-American authors as part of an African American Read-In. Members of the National Council of Teachers of English's Black Caucus have encouraged educators to hold a special read-in to highlight works of African-American authors during Black History Month. Enjoy a read-in with your class or get the whole school, and even students' parents, involved.
Have a favorite book, poem, or other African-American text of your own? Share it in the comments below!