Currently Browsing
Posts Tagged ' scholarship '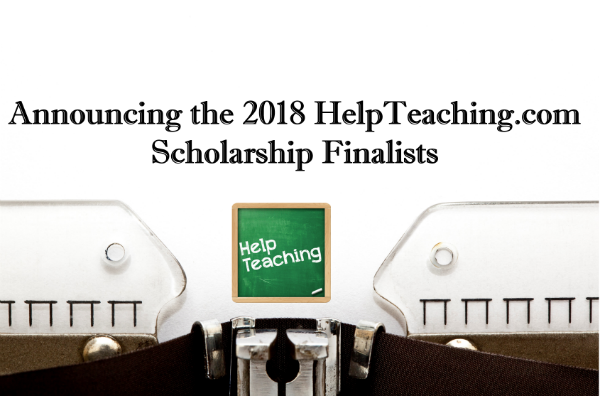 This year, the HelpTeaching.com Scholarship received over 600 entries, with students from all over the United States and Canada submitting stories, poems, and informational articles on topics such as being kind to others, learning about the human digestion system, understanding people with disabilities. We would like to commend all of our applicants for a job well done. After reading all of the entries, we have chosen the finalists and winner of this year's scholarship. All of the finalists' pieces will be published on HelpTeaching.com and the winner will receive a $1,000 college scholarship.
Honorable Mention
The following pieces weren't named as finalists or the ultimate winner, but we felt they deserved recognition because they had something special to offer.
Megan Rice, a student from Lyman Memorial High School, penned a creative poem about the kingdom of Aspenkranze and a little girl that brought some happiness back to the king through dance.
Jon Kramer, a graduate of North Olmstead High School and incoming freshman at the University of Findlay submitted an intriguing piece about blinking.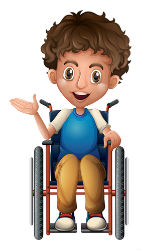 In addition to the pieces above, some authors chose to focus on bringing attention and fostering understanding when it comes to interacting with children with special needs.
Piglet Max by Maddie Whittemore, an IB student from Southeast High school, tells the story of a little pig with autism.
My Friend Nicky by Olivia Placzek, a graduate of the Academy for Classical Education in Macon, Georgia, shares one child's thoughts about a friend who has autism.
Victor's New Friend by Nikki Foy, a student at ECU, tells the story of a kid who makes friends with a classmate who has spina bifida.
Finalists
Jacob Grube, a high school senior, submitted a poem about an owl who aspires to make deliveries. The only problem? It's a job that is typically performed by pelicans. Read more…
Daniella Jenkins wrote a short story about a girl who goes from being shy to being self-assured. Her piece, particularly the poem at the end, can inspire kids to have confidence in themselves. Daniella is a student at Loyola University in New Orleans. Read more about Shy Sarah.
In a short story by Lexus Hendrix, a student at the University of Central Florida, a little girl shares her feelings about her looks and the comments others make because she does not look like her mother. Even though they don't look alike, she and her mommy do have something in common. Discover what it is!
In Natasha Moe's short story, the main character learns an important lesson about being wise when posting on social media. It's a great story to share with pre-teens or teens. Natasha is a graduate of Bloomington Senior High and an incoming freshman at Purdue University. Learn some tips for being kind online.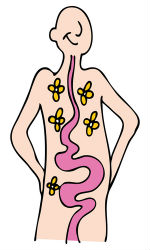 Students are introduced to the process of digestion through a poem written by Kendall Lowe, a rising high school senior. Digestion isn't pretty, but it is a pretty interesting process. Find out what happens!
Noah Snitzer's submission featured a fictional account of dog sledding during a Canadian winter. The main character starts off reluctant to participate, but discovers a new appreciation for the work of his father. Read more.
An apple pie is the basis for the short story written by Kennedy Webb, a student at the Ohio University Zanesville campus. Will Jamie's pie in honor her nana take top prize at the county fair? Read the story to find out!
Grad student Ashley Teztlaff submitted a short story about a girl who raised money to build a well for children who did not have access to clean water. Ashley's story highlights the ability kids have to make a difference. Learn more about it.
Kyle Mason, a student at The University of Tennessee, wrote a piece designed to help students learn more about their DNA makeup. After reading his piece, students will know that they truly are unique. Kyle even wrote his own questions to accompany the piece! Discover how unique you are!
Winner
This year's winner is Tatiana Rusev, a junior at Arizona State University. Perhaps inspired by the Arizona Desert Tarantula, Tatiana wrote a creative and informative piece entitled A Night in the Life of a Desert Tarantula. Through her story, kids can learn more about the arachnid that is commonly found in the Arizona desert. Find out more.
Watch for more details about the 2019 HelpTeaching.com Scholarship and start preparing your stories now! Don't forget to check out 2017's winner and finalists too.
This year, HelpTeaching.com offered its first scholarship opportunity to students around the United States. Aspiring writers in high school and college were invited to submit an informational article or short story for kids. After reviewing hundreds of entries, the field was narrowed down to ten finalists. The pieces submitted by the finalists deal with topics ranging from fitting in and learning life lessons to understanding where money comes from. Read on to discover more about the finalists.
This poem, written by Emma Granger, a student at the University of Manitoba, introduces kids to the important components of food and how they work in their bodies. Kids will learn the difference between fats, lipids, proteins, among others and discover why they truly are what they eat. We chose this poem as a finalist because it offers a unique and engaging format and also contains a lot of information for kids. Read the Full Story»
Kendall Nicely, who will be attending Sweet Briar College in the fall, introduces kids to the parts of the brain through her short informational article. Kids can learn about each of the four lobes of the brain and, through the questions, identify key characteristics of those lobes. We chose this piece as a finalist because the information is presented in a kid-friendly, easy-to-follow format. Read the Full Story»
Have you ever wondered what makes a genius? Natalie Boubion, a student at UC Davis, answers the question in her short, informational article. People like Leonardo Da Vinci and Albert Einstein are considered geniuses, but how did they earn that title. We chose this article as a finalist because it presents a thoughtful discussion related to an interesting question. Read the Full Story»
Another UC Davis student, Kaitlynn Gov, helps kids understand Money Supply through her short informational article. Not only can kids learn where money comes from, but they can gain an understanding of the importance of the money supply. We chose this article as a finalist because, in addition to the helpful information, the article contains key vocabulary words related to the economy. Those words are written in bold throughout the article and included in a word bank at the end of the article. Read the Full Story»
Shae Sager, a junior at Montana State University – Bozeman, wrote a short story written from the point of view of a tiger at two key stages in its life. Kids can read about the playful tiger cub, and then see how the tiger has changed by the end of this life. We chose this story as a finalist because of its unique perspective and the fact that it can be used as a lesson in comparison and contrast. Read the Full Story»
Erin Conlon is a student at the Minneapolis College of Art and Design, pursuing a Bachelor of Applied Science degree in Animation. Her story, Rainy Dog Saturday, tells the story of an eight-year-old boy who cannot find anything fun to do on a rainy day. However, when he hears a sound at the door, his day starts to become a little more interesting. We chose this story as a finalist because it is a cute story for kids that offers an element of surprise. Read the Full Story»
Ella Commerce recently graduated from Mt. Carmel High School in San Diego, California, and will be attending California Polytechnic Institute in the Fall. Her short story, The Great Flower Competition, tells the story of two brothers whose father issues them a challenge. The boy who can present him with the most flowers at the end of a month will win the competition. We chose this story as a finalist because it helps kids learn an important lesson. Read the Full Story»
Why Wolves Howl at the Moon is a short story by Emily Edmonds, a student a North Greenville University in Tigerville, South Carolina. In this story, Mama Wolf shares with her wolf cubs the story of why wolves howl at the moon. We chose this story as a finalist because it has the feel of a classic myth and tells a tale that many kids will find interesting. Read the Full Story»
Gina Gugliotta is a Health Sciences student at The Ohio State University. Her work as a swim instructor inspired her to write a poem to help children remember to stay safe around a pool. We chose this poem as a finalist because of its rhyme scheme and the creative way it teaches an important lesson to kids. Read the Full Story»
And the winner of the first HelpTeaching.com scholarship is…
Little Elephant Tries to Fit In, written by Christine McLauchlan, an Early Education major at New Brunswick Community College. tells the story of an elephant who has just moved to a new town and is facing his first day at a new school. We chose this story as the winner of the HelpTeaching.com scholarship competition because it deals with emotions that many kids can relate to and it helps kids understand that it's okay to be different. Aside from the lessons the story teaches, we feel like Little Elephant Tries to Fit In is a cute story that will make a fun read-aloud in the classroom. Read the Full Story»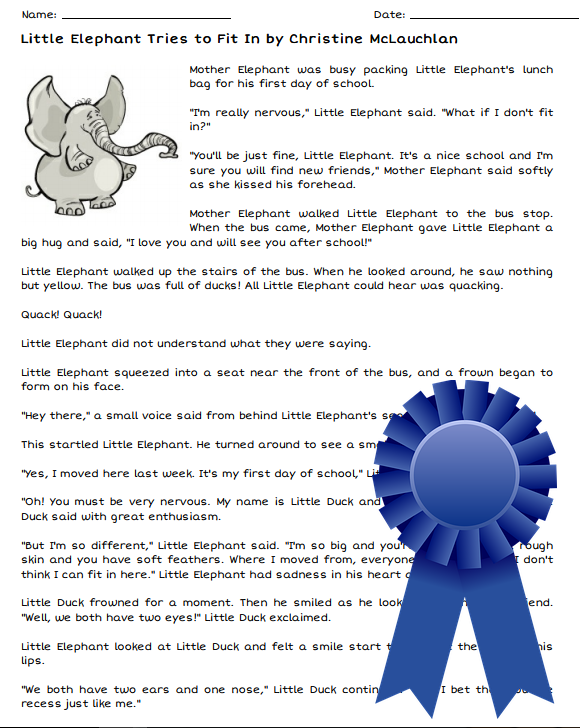 In addition to these passages from our scholarship finalists, check out the other informational stories and reading passages we have to offer.
Think you have a great story for the HelpTeaching.com scholarship contest or know students who like to participate? Help spread the word about this scholarship by posting the information and a link to our scholarship page on your school or organization's website.