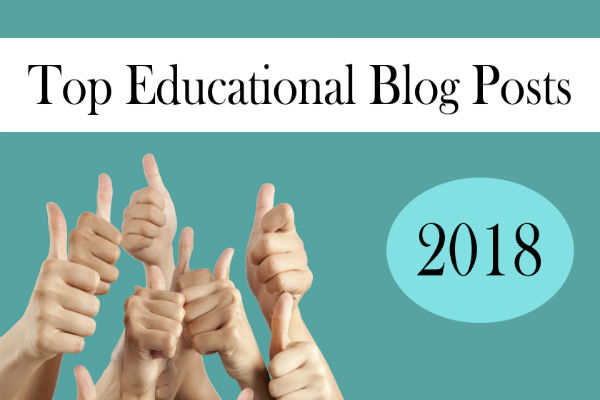 In the world of education, 2018 was full of teachers striking for fair pay and benefits, students speaking out against gun control, and schools becoming more inclusive.  But while the world of education is always changing, some traditional components remain the same. As our top educational blog posts of 2018 show, there will always be students who struggle with procrastination, teachers looking for new teaching resources and ways to fund their classroom needs, and parents looking for materials to help their children learn and grow.
Looking for resources to enhance your science curriculum? Look no further than the Ultimate Guide to Teaching Science which contains resources for teaching science in grades K-12. Resources are organized by subject and topics such as breaking science news, NGSS standards, and science activities.
Since 2013, Help Teaching has brought you the best websites for education. The list has grown well beyond 100 sites and features categories such as reading, writing, science, math, coding, language, lesson planning, and educational games. Resources span all grades from K-12.
Summer is a time to relax, have fun, and get outside. It's also a time when kids experience boredom. While it's okay for kids to be bored sometimes, our list of 100 Summer Activities will limit those moments by giving kids plenty of activities to enjoy during the summer. Some require a bit of travel while others can be enjoyed right at home. If you live in a warmer climate, you can enjoy all of the activities year round.
Kids need time to exercise and practice physical fitness, but they don't have to do it alone. Our 100 Fitness Activities for Families encourages families to get active together. Go for a bike ride. Learn a new yoga pose. Find tons of ways to get physically fit.
SEL is definitely one of the current buzzwords in the world of education. By focusing on the whole child rather than just academic skills, parents and teachers can help kids and teens become more aware of themselves, their emotions, and how their actions affect others. Find some simple activities to bring SEL into the home and classroom.
As with all kids with exceptional skills, working with kids with autism requires some extra care and knowledge. 7 Things to Remember When Working with Kids with Autism gives teachers the tips they need to experience success with kids who are on the spectrum and helps kids with autism receive the quality education they deserve.
Kindness matters. We live in a world where put downs fill the Internet, political leaders regularly share negativity, and if you don't like someone, it's okay to say it, but that's not okay. Parents and teachers can set a positive example and start changing the landscape by teaching kids to be kind.
Teaching requires resources and resources cost money. As school districts cut budgets, teachers need to find creative ways to get materials for their classrooms. This list goes beyond simply making Donors Choose requests and helps teachers find ways to raise funds for classroom needs.
Few people would turn down the chance to make a little extra dough, especially if they have a classroom to fill or children to support. We've rounded up some ways that parents and teachers can earn some extra money throughout the year. Some are simple while others require more of a time commitment.
This year, Help Teaching hosted its 2nd annual scholarship competition. Over 600 high school and college students submitted original pieces and 10 finalists were chosen. The winner of the scholarship, Tatiana Rusev, won a $1,000 college scholarship. Now it's time to think ahead. Help Teaching has begun accepting entries for the 2019 scholarship competition.
Online learning has become more popular and that has increased the popularity of the Ultimate Guide to Free Online Self-Learning for Kids and its companion post the Ultimate Guide to Free Online Self-Learning for Teens and Adults. Both posts are great for homeschool and public or private school students, with free online courses, informational websites, videos, and other resources covering a range of subject areas.
One of the keys to doing well on the SAT is knowing the test. Our comprehensive guide to conquering the SAT introduces students to the test and provides links to tests, worksheets, and other resources to help ensure they're prepared to ace the test.
Although Fortnite has enjoyed success as the trendy video game this year, Minecraft has remained a popular game in classrooms and for younger students. However, not all Minecraft fun has to take place online. Our post takes some of the Minecraft characters and skills and puts them into offline activities with 10 ways to bring Minecraft into the classroom.
Did you watch the Geminid meteor shower in December? How about the super blue blood moon in January? Every year there are tons of space events to watch with kids. Keep watching the post to find more.
Pi Day is everyone's favorite math holiday, but it's not the only one. If you missed some math holiday this year, be sure to bookmark the 11 Prime Days to Celebrate Math Holidays to catch them all in 2019.
Keeping in line with math topics, the top STEM competitions give students a chance to show of their math, science, technology, and engineering skills. Use the list to find the perfect competition for your students to enter.
Children benefit from seeing the world. Sure, travel may be stressful, but 9 Benefits of Traveling with Children highlights all of the positives children gain as well. You'll quickly see that they outweigh the negative.
Banned books are a touchy subject. Despite some of their controversial content, they provide an opportunity to students to think more deeply and gain insight into hot-button issue. Do you teach banned books? If not, maybe you should consider it.
At Help Teaching, we're committed to providing teachers, parents, and other educators with all of the tools and resources they need to do an amazing job. What topics would you like to see covered in 2019? Share your thoughts in the comments.
Try HelpTeaching out today for free.
No credit card required.