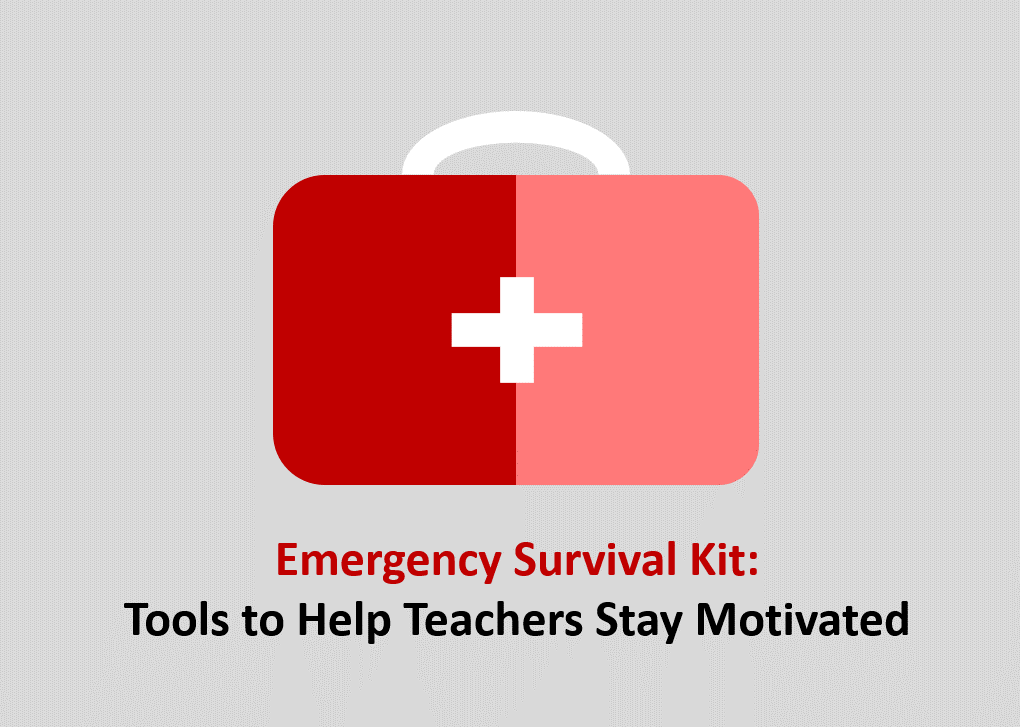 During the school year, teachers go through moments where it seems like the days are dragging on and on. Then, in an instant, it feels as if they are just flying by. The constant changes in attitude and emotions may cause teachers to feel overwhelmed. We have gathered some survival tips to help even the most seasoned professionals find some balance during the school year. Whether the school year is winding down and you just need help getting to the last day or it's just beginning and you're not sure how you'll make it through the year, these tips will help motivate you.
#1 You Are What You Eat
Have you noticed what you've been putting into your body lately? If you've been eating a lot of foods that are high in sugar and processed ingredients, you may notice that you have a lack of energy and focus. Sometimes you have to stop at a drive thru or grab some chips from the vending machine, but you should try to make healthy choices as often as possible. When you stick to a healthy, balanced diet, you will feel energized and able to take on the day. You can find many clean eating meal plans online to help you freshen up your day to day eating habits. Do some research and choose one that works for you.
#2 Keep the Hydration Coming


Feeling tired during the day? If you can't squeeze in a nap, try drinking some water. Often feelings of fatigue come from being dehydrated. Teachers are ALWAYS talking and moving around. As a result, your body is using a lot of water. You may also experience dry mouth and lips or even an irritated, sore throat. Find a giant water bottle that you love and keep if with you throughout the day, or purchase a mini fridge for your classroom and stock it with bottles of water that are always cold and easy to access. To add some flavor to your water you can drop in a few strawberries, cucumbers, lemons/limes,  or your own choice of fruits/vegetables. This will help you take in some extra essential nutrients during the day as well. When you are properly hydrated, you will not only look your best, but more importantly, you will feel your best.
#3 Move Your Body, Enhance Your Mind
Regular exercise will keep your mind clear and your body energized. Teachers often say they are too busy or have too many papers to grade to exercise. However, it's important to make time for exercise during the day. Some ways to squeeze in your exercise include a 20-minute walk right after school, an early morning run, or treadmill time while grading papers or writing lesson plans. You can also incorporate exercise into the school day. For example, you may use your planning period to take a walk with co-workers and discuss department issues during your walk. You could also incorporate brain breaks into the classroom and join in as students dance or engage in short exercises. When you take care of your body, you will have the energy you need to make it through the week without feeling burnt out. Get moving and keep moving!
#4 The Early Bird Gets the Worm
Advance planning is one of the key aspects of keeping your head above water during the school year. It's easy for your routines to become more relaxed as the year goes on. Sometimes you can't avoid running to the copy machine minutes before your first class begins. However, the more you can get ready ahead of time, the better you'll feel during the day. Whenever you can, spend a few extra minutes trying to get ahead so you can stay sane in the moment.
#5 Forget Beauty Sleep, Stock Up on Sleep for the Brain


When you have lots of grading to do and lesson plans to  write, it can be difficult to get to bed at a decent time.  However, choosing sleep over work will usually pay off in the  long run. Teaching is mentally and physically exhausting. You need rest to help you recharge and refocus at the end of every day. While it may seem like the grading will never get done if  you get to bed on time, you may be surprised. Often people who get a good night's sleep are more productive and energized during the day, which means it takes less time to complete essential tasks. In addition, if you're tired during the day, you may find that you lack patience with students or are less engaging when delivering a lesson. Getting some sleep can solve a lot of problems in the classroom.
#6 Treat Yourself
It is so important at the end of a rough week or even a long day to remember to do something nice for yourself. It doesn't matter if you take a hot bubble bath, watch your favorite sports team, bake your favorite treats, or go on a long hike. If you get that time out that you need, you have succeeded. It is important to reward yourself for your hard work and long hours by doing things that you enjoy. Even if you are completely swamped, just a few hours away will be enough to rejuvenate you and allow you to return to your work a bit more refreshed.
If you don't take care of yourself, it's harder for you to take care of others. If you are feeling burnt out or overwhelmed as the year goes on, focus on these tips. Remember, YOU are a hard-working, dedicated educator who is making a difference in your community. YOU are giving so much of yourself each day, so don't ever let a bad week keep you down. You deserve the best and so do your students. After all, they're the reason you do what you do.
For more help on managing the classroom, check out Back-to-School Tips for Teachers which contains strategies that can be used year-round. You can also use strategies to keep students energized which may help you stay energized too.
This post was written by Help Teaching contributor, Amanda McAllister. Amanda is a qualified primary, intermediate and senior teacher who has been teaching for over 8 years. When she is not teaching, she is travelling, spending time with family/friends, acting, and trying out new recipes. Amanda is proud to be a life long learner and is looking forward to many more years of teaching to come.
Try HelpTeaching out today for free.
No credit card required.