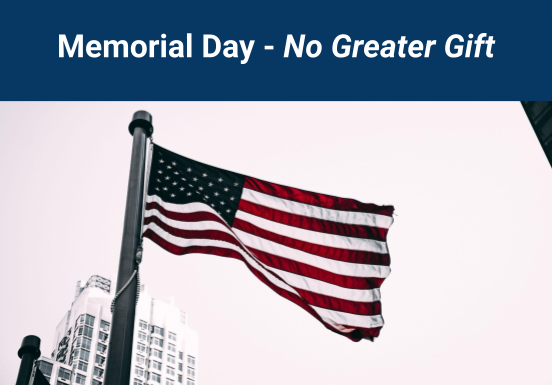 Teach your students about the ultimate sacrifice
The meaning of the most solemn of civic holidays is sometimes lost, as many Americans view Memorial Day weekend as simply the unofficial start of the summer season. There may be a vague awareness of Memorial Day's meaning among the general populace, but for families which have a military tradition the day can be deeply personal. We'll take a look at the origin of this day of remembrance, examine how it is celebrated, and profile some of the courageous people who have given their lives for their country.
What is Memorial Day?
Memorial Day is always observed on the last Monday in May. It commemorates all men and women who have died while giving military service to the United States. Memorial Day should not be confused with Veterans Day, which is a celebration of all U.S. military veterans every November, or with Armed Forces Day (celebrated the third Saturday in May) which honors men and women currently serving in the military.
The History of Memorial Day
While some trace the idea of a "memorial" day back to President Lincoln's famous Gettysburg Address dedicating the Gettysburg National Cemetery in 1863, an actual Memorial Day holiday began in 1868, just a few years after the end of the Civil War. The holiday, originally called Decoration Day, was established by a group of Union veterans as a day to decorate with flowers the graves of fallen soldiers.
In an 1868 Decoration Day address at Arlington Cemetery, then-congressman and future U.S. president James Garfield said, "I am oppressed with a sense of the impropriety of uttering words on this occasion." This sentiment still captures the true meaning of Memorial Day today.
In 1873, New York became the first state to recognize Memorial Day as an official holiday. By the late 19th century, many more cities observed Memorial Day, and a number of states had declared it a legal holiday. In 1971, an act of Congress made Memorial Day a national holiday. In 2000, Congress passed the National Moment of Remembrance Act, encouraging Americans to observe a moment of silence at 3 p.m. local time to remember those who have died while serving.
Memorial Day Traditions
Americans observe Memorial Day in many ways. Parades, speeches, ceremonies and concerts are held around the country.
Tomb of the Unknown Soldier
The solemn holiday is formally observed each year at Arlington National Cemetery in Washington, D.C. when the president gives a speech at the Tomb of the Unknown Soldier. This monument contains remains of unidentified soldiers and stands as an iconic memorial to all those killed in service. The tomb, a white, marble sarcophagus has stood atop a hill overlooking the capital since 1921. The Tomb is also a place of mourning and a site for reflection on military service.
Military Cemeteries
Arlington National Cemetery is the most-well known final resting place for America's fallen heroes. Approximately 400,000 veterans and their eligible dependents are interred there including service members from each of America's major wars, from the War of Independence through today's conflicts. The cemetery also holds the grave of two U.S. presidents (Taft and Kennedy). An eternal flame marks the place of Kennedy's grave. More than 16 million people visited the site in its first three years.
There are over 150 "national" cemeteries in the U.S. These include the aforementioned Gettysburg, one of the 14 national cemeteries established by Lincoln in 1862. Other famous national graveyards are Golden Gate National Cemetery and Antietam National Cemetery which contains nearly 5,000 graves (over 1800 are unidentified). Antietam is the deadliest one-day battle in American military history with more than 22,000 casualties. In this battle a nurse known as the "Angel of the Battlefield", Clara Barton, brought badly needed supplies to doctors at the scene.
Since many American soldiers and sailors died in foreign lands, there are many military cemeteries on foreign soil. Notably, St. James American Cemetery in Brittany, France contains the remains of over 4,000 World War II American soldiers, many who were killed on D-Day. The Manilla American Cemetery and Memorial in the Philippines is the final resting place for more than 17,000 U.S. personnel who lost their lives during World War II. Many were killed in New Guinea, or during the Battle of the Philippines (1941–42) or the Allied recapture of the islands. Buried there are the five Sullivan Brothers, who perished when their ship was sunk in 1942.
Parades and Ceremonies
Memorial Day observances include parades, presentations of the colors, speeches, and gun salutes. These events are often organized by groups such as Veterans of Foreign Wars, the American Legion, American Gold Star Mothers, and Daughters of the American Revolution. The presentation of colors is a ceremony presenting the American flag and flags of the armed services (referred to as the "colors"). A color guard, consisting of honor guards and flag bearers, presents the colors while a sergeant-at-arms dictates the orders during the ceremony.
There's a protocol for displaying the American flag on Memorial Day. The stars and stripes should be hoisted quickly up to full staff at sunrise, then lowered to half-staff until noon, and then returned to the top of the staff. And, as always, any other flag displayed with Old Glory should be given a lower place.
Gun salutes have long been associated with Memorial Day as a way to honor the fallen. A three-volley salute – representing duty, honor, and country – is performed by a rifle party which fires blanks into the air three times in unison. A 21-gun salute is typically performed with cannons rather than rifles, and, although reserved for the funeral of a sitting or former president, is sometimes given on Memorial Day.
Other Memorial Day traditions include pilgrimages by veterans and their families to military cemeteries and sites such as the World War II Memorial and Vietnam Veterans Memorial in Washington, D.C. During the 3 p.m. moment of silence on Memorial Day, Amtrak conductors sound one long whistle in honor of those who have died in service. Memorial Day is often chosen for special dedications of monuments. Fittingly, in 1922, the Lincoln Memorial was dedicated by then-Supreme Court Chief Justice William Taft on Memorial Day.
Hall of Heroes
What follows are just a few of the people who have paid the ultimate price on the battlefield. Each received the nation's highest award for military valor in action: the Congressional Medal of Honor.
Frank Luke
Lieut. Luke was a daredevil WWI fighter pilot who targeted heavily defended German observation balloons. In just thirty hours of flight time over ten missions in nine days of combat, Luke shot down fourteen enemy balloons and four aircraft. On his final mission on Sept. 29, 1918, his plane went down in a field near a small village in France. He posthumously received a Congressional Medal of Honor for his bravery.
Joe Gandara
Pvt. Gandara received the Congressional Medal of Honor "for his heroic actions on June 9, 1944, in Amfreville, France. His detachment came under devastating enemy fire from a strong German force, pinning the men to the ground for a period of four hours. Gandara advanced voluntarily and alone toward the enemy position and destroyed three hostile machine-guns before he was fatally wounded."*
Alfred Nietzel
Sgt. Nietzel was awarded the Medal of Honor "for his valorous actions in Heistern, Germany, Nov. 18, 1944. When an enemy assault threatened to overrun his unit's position, Nietzel selflessly covered for the retreating members of his squad, expending all his ammunition and holding his post until he was killed by an enemy hand grenade."*
Leonard Kravitz
Army Pfc. Kravitz was "recognized for his actions in Yangpyong, Korea, March 6-7, 1951. While occupying defensive positions, Kravitz's unit was overrun by enemy combatants and forced to withdraw. Kravitz voluntarily remained at a machine-gun position to provide suppressive fire for the retreating troops. This forced the enemy to concentrate their attack on his own position. Kravitz ultimately did not survive the attack, but his actions saved his entire platoon."*
Joe Baldonado
Army Cpl. Baldonado "distinguished himself on Nov. 25, 1950, while serving as a machine-gunner in the vicinity of Kangdong, Korea. Baldonado's platoon was occupying Hill 171 when the enemy attacked, attempting to take their position. Baldonado held an exposed position, cutting down wave after wave of enemy troops even as they targeted attacks on his position. During the final assault by the enemy, a grenade landed near Baldanado's gun, killing him instantly."*
Oscar P. Austin
During the early morning hours of February 23, 1969, Marine Pfc. Austin's observation post was attacked by a large North Vietnamese Army force. One of his wounded companions had fallen unconscious in a position dangerously exposed to enemy fire. Austin didn't hesitate to leave the relative security of his position and, with complete disregard for his own safety, raced across the bullet-swept terrain to help. As he neared his fellow Marine, Austin saw an enemy grenade land nearby. Instantly, he leaped between the injured man and the grenade, absorbing its detonation. Ignoring his painful injuries, Austin turned to examine the wounded man when he saw an NVA soldier aiming a weapon at the unconscious Marine. Austin threw himself between his friend and the enemy soldier, and by doing this, was mortally wounded. He gallantly gave his life for his comrade and his country.
Robert Miller
On January 25, 2008, following an engagement with insurgents in Afghanistan, Army "Staff Sergeant Miller led a small squad forward to conduct a battle damage assessment. As the group neared the small, steep, narrow valley that the enemy had inhabited, a large, well-coordinated insurgent force initiated a near ambush, assaulting from elevated positions with ample cover. Exposed and with little available cover, the patrol was totally vulnerable to enemy rocket propelled grenades and automatic weapon fire. As point man, Staff Sergeant Miller was at the front of the patrol, cut off from supporting elements, and less than 20 meters from enemy forces. Nonetheless, with total disregard for his own safety, he called for his men to quickly move back to covered positions as he charged the enemy over exposed ground and under overwhelming enemy fire in order to provide protective fire for his team. While maneuvering to engage the enemy, Staff Sergeant Miller was shot in his upper torso. Ignoring the wound, he continued to push the fight, moving to draw fire from over one hundred enemy fighters upon himself. He then again charged forward through an open area in order to allow his teammates to safely reach cover. After killing at least 10 insurgents, wounding dozens more, and repeatedly exposing himself to withering enemy fire while moving from position to position, Staff Sergeant Miller was mortally wounded by enemy fire."†
*From remarks made by President Barack Obama at a Congressional Medal of Honor ceremony on 3/18/2014
†From remarks made by President Barack Obama at a Congressional Medal of Honor ceremony on 10/6/2010
Resources for Teaching about Memorial Day
Help Teaching has created these educational resources:
KidsKonnect.com offers these resources:
BusyTeacher.org has these free resources:
In today's culture which touts professional athletes and celebrities as heroes, it is important to instill in children and youth the significance of Memorial Day to America's history and civic life. Let's teach them what true heroism is.
Try HelpTeaching out today for free.
No credit card required.