Currently Browsing
Posts Tagged ' assessments '
For many high school juniors and seniors, the SAT causes a lot of stress and anxiety. In their quest to get the perfect score, they've turned prepping for high stakes tests into a multi-billion dollar industry. While there's some value to the expensive prep courses and gigantic test prep books, you don't need a fancy program to help you improve your score. In many cases, you can ensure you do well on the SAT by doing some free prep work at home and using some key strategies while taking the test. We've rounded up some of the best tips to help you conquer the SAT.
Get to Know the Format of the Test
One of the best tips for doing well on the SAT, or any other big test, is to get to know the format. Do you know how many sections are on the SAT? Do you know how many questions you have to answer in each section?
We'll help you out.
How much time do you have to finish the SAT? 3 hours (65 for reading, 35 for writing, 25 minutes for no-calculator math, 55 minutes for calculator-allowed math), plus 50 minutes if you complete the essay
How many sections are on the SAT? Five: Reading, Writing and Language, Math (with calculator), Math (no calculator), and Essay (optional)
How many questions do you have to answer in each section? 55 reading, 44 writing, 58 math, 1 optional essay
Beyond that, you need to know how the questions are asked. For example, you'll be asked to answer 13 student-produced response math questions. You'll also have to know how to read the underlined portions of the passages to answer the writing and language questions.

Answer every question
The current test does not have a guessing penalty, so it is better to answer every question, even if you have to guess. Use the process of elimination to eliminate at least one answer choice and improve your odds of getting the question correct.
Determine how much time you have to answer each question
Don't spend a lot of time during the test looking at the clock, but as you practice for the SAT learn each amount of time feels like. If you're spending too long on a question, move on and come back to it at the end.
Change the way you bubble
Consider bubbling at the end of each section or page so you don't have to flip back and forth between the test and answer sheet. This will buy you some time. Just circle your answers in the test booklet and flip to the answer sheet at the end of each section or page.
Double check your answers at the end of the test
If you have time, go back and make sure you bubbled in the correct answer for each problem. Circle the answers in your test booklet to make this process smoother.
Try to answer the question without looking at the choices
Immediately after you read a question, take a second to see if an answer comes into your head. Then read the answer choices. If the answer you came up with is one of the choices, chances are it's the right answer.
Underline key parts of the question
Many questions contain key words that tell you what to do. Underline these words to help you stay focused as you answer the questions.
Don't fall for traps
Make sure you answer what is being asked. The most obvious wrong answer will always be one of the answer options, so it's easy to get tripped up.
Trust your gut
You can easily get caught into the trap of second-guessing yourself. If your gut says it's correct, then stick with the answer and move on to the next question.
Take some time to relax before the test
It doesn't matter how prepared you are for the SAT; if you're stressed out, you won't perform as well. The day before the test be sure to get some sleep and take some time to do something fun. Go see a movie. Play a video game. Hang out with your friends. Don't spend all your time thinking about the test.
Tips for Taking Practice Tests
Taking practice tests is an important part of preparing for the SAT. Don't just sit and click through sample questions online. Instead, print out or get a practice book that has multiple practice tests in it. As you complete each test, try to mimic test day conditions, including following the time limits, using an answer sheet, and creating a test-like atmosphere.
When you're finished with a practice test, score yourself. For any questions you missed, before reading the answer explanation, see if you can determine how to come up with the correct answer on your own. Also look over your answers and see if you can find a pattern of errors. Did you miss certain question types or specific math or ELA skills? If so, you know that you need to brush up on those areas before test day.
Brush Up on the Basics
Because the SAT covers so much information, there isn't nearly enough time to learn it all again. However, you can brush up on some of the basics to help you do your best on your test. Some skills to look at in order to prepare include:
Grammar Rules
Math formulas
Data interpretation and graphing skills
Making calculations without a calculator

The SAT largely measures language arts and math skills. The reading and writing sections have changed over the years. Not only has an optional writing section been added, but the emphasis on definining higher-level vocabulary words and completing analogies has been decreased. In the reading section, you'll be asked to read high-level passages and answer questions. In the writing section, you'll be asked questions related to grammar, spelling, conventions, and general writing techniques.
Here are some tips to help you do your best on the reading and writing sections of the test:
1. Read the questions first
If a question is passage-based, it helps to have a purpose for reading. Look at the questions related to the passage before you start reading so you know if you're looking for parts of the passage related to a particular idea or character.
2. Read grammar questions and answer choices aloud
While you can't talk loudly during the test, you can whisper the sentences that are part of grammar questions to yourself. Often you'll hear an error better than you can see in on the page.
3. Pay attention to connotation and context
In reading and grammar, connotation and context play a large role. By looking at both, you may be able to distinguish between two very similar answer choices and choose the correct one.
4. Look for small errors
The SAT question writers are not trying to trick you with grammar questions, but they may include some very small errors in answer choices to make them incorrect. Pay close attention to punctuation marks, plurals, pronoun-antecedent agreement, parallel structure, and subject-verb agreement.
5. See if one question clues another
Question writers work hard to avoid cluing (where one question gives you the answer to another) in a test, but sometimes, particularly in evidence-based questions, you can often find some help.
6. Read all passage introductions
Often there's a lot of useful information in the short paragraphs that introduce the passages and questions in the reading and writing sections. There can be a lot of helpful information in the instructions on other parts of the test too, so make sure you read all of them carefully.
For more help with the reading and writing questions on the SAT, use Help Teaching's SAT worksheets to brush up on your vocabulary, identify sentence errors, and read some SAT reading passages.

The math section of the SAT has both multiple choice and open-ended math questions. There's also a section where you're not allowed to use a calculator. The open-ended format can see intimidating, but if you prepare for the test, you can feel confident in your answers no matter what type of question is asked.
Here are some tips to help:
1. Substitute in a number
When answer choices do not have numbers, rather equations or expressions, you can still plug in a logical number and see which one works. Pick a logical number or numbers if needed. For example, 1 is a good starting place, 100 if you are dealing with percents, multiples of 10 if angle measures, etc.
2. Substitute in answer choices
Substituting the answers choices in for variable is a huge time saver – "plug and chug". You're looking to get the correct answer as efficiently as possible, not please your math teacher!
3. Simplify or rewrite in another form when you can
Sometimes a question masquerades as something more complex when all you really need to do is simplify it. For example, an improper fraction may reduce to a whole number.
4. Brush up on time savers
These include the Pythagorean Triple (3-4-5 and 5-12-13 specifically). Remember that any multiples of those numbers are also triples (6-8-10, 10-24-26). You can also brush up on special right triangle rules or other ones learned in school.
5. When in doubt, draw it out
Draw a picture, graph, table, diagram whenever you can to help visualize the problem.
6. Memorize and become familiar with formulas
The SAT will give you a reference sheet with common formulas, but it's time-consuming to constantly take it out and refer to it. If you are familiar with common formulas, you can answer most of the questions on the test without referring to the formula sheet.
In addition to the tips above, you can find resources to help you prepare for the SAT on Help Teaching's SAT Preparation Resources page.
Still worried you won't do well? Don't stress. Not all colleges require the SAT or ACT. Check out FairTest to discover a list of colleges and universities that are "test optional" or "test flexible" when considering students for admission.

If you're currently teaching the Common Core ELA Standards, you're already teaching students to think critically and to look at building their reading and writing skills in new ways. The PARCC ELA assessments are aligned to the Common Core standards you're already teaching. Those standards just come in the form of intimidating question types such as EBSRs and TECRs. While it may seem like you have to do a lot of teaching to help students figure out all of these question types, you don't. If you want students to be successful on the PARCC ELA assessments, particularly those that deal with reading comprehension, you simply need to focus on three key areas that you're probably already focused on anyway.
1. Text Variety
According to its developers, the goal of the PARCC is to include "texts worth reading." These are authentic texts that come from a variety of sources, not texts written solely for the test. These texts also come in a variety for formats. Students may read an excerpt from a how-to manual, a business e-mail, or a newspaper article. They may have to interpret recipes, bus schedules, and advertisements.
Whether you're preparing for the PARCC or simply teaching on an ordinary day, it's time to decrease your reliance on the textbook and other traditional books and start having students read non-traditional texts. They should be reading newspapers, signs, webpages, e-mails, and historical documents. Look for texts that have charts and diagrams and texts that offer different views of the same topic too. This will help students experience the variety of passage they'll likely find on the test – and in real life.
When it comes to more traditional texts, such as short stories and non-fiction books, students should be perusing digital versions along with the traditional print. Reading a digital version of a passage uses different skills that reading a paper-based version of a passage. Since most students will take the PARCC digitally, they need to have experience reading on a screen.
2. Evidence and Support
One of the main question types students will encounter on the PARCC ELA assessments is the EBSR. This stands for Evidence-Based Selected-Response. It sounds fancy, but all EBSR means is that students will have to answer a question and back up their answer with evidence. (See examples of EBSR questions on our practice PARCC worksheets) This is what students should be doing in the ELA classroom every day.
When students answer a question about a text, do you ask them how they arrived at that answer? That is exactly what the PARCC asks students to do. The only difference is that instead of making them search for the exact answer in the text, it gives them a series of answers to choose from. If students can find the support in the text on their own, they shouldn't have any trouble choosing the correct answer on the PARCC.
If you're not already encouraging students to provide support when they answer questions about a text, there are a few simple ways to help them. On a paper-based version of a text, have students regularly highlight or use sticky notes to mark the support for a particular answer. When a student answers a question in class regularly ask "why?" or "how do you know?" For students who struggle with finding support for their answers, spend some time modeling your thinking for students as you do a close reading of the text.
3. Organizing Thoughts and Information
Perhaps the most intimidating part of the PARCC is the new type of question – the dreaded TECR or Technology-Enhanced Constructed Response. While this format is new to the standardized assessment world, it's very familiar in most ELA classrooms. A TECR is simply a glorified graphic organizer, something you likely use in your classroom every day. On TECR questions students may be asked to match a sentence from a text with a statement, compare and contrast two ideas, put events into a sequence, identify a problem and solution, or show their understanding of a cause/effect relationship.
Help Teaching has a large selection of graphic organizers for you to use with students. The key is to introduce students to many different types of graphic organizers so they become used to analyzing a text in many different ways. For example, you don't always want to use a Venn diagram to have students compare/contrast. You could also use a T-chart or another type of organizer.
The reality is, you don't have to spend hours worrying about how you're going to prepare students for the PARCC ELA assessments. If you're already teaching the Common Core standards as they're meant to be taught, you're helping students build the skills they'll need to be successful on the test. Continue to provide students with a variety of texts, encourage them to support their answers, and help them organize their thinking with graphic organizers. Then build their confidence by telling them they have the skills they need to ace the test.
Spring has sprung and with it comes testing season. Over the next few months, students across multiple states will be taking on the new, two-part PARCC (Partnership for Assessment of Readiness for College and Careers). Although PARCC's computer-based administration and question styling may look different from previous tests, it still aligns to the Common Core State Standards, the learning goals for the majority of U.S. classrooms.
Below we've highlighted a sampling of PARCC-style items to help you familiarize students with the types of math tasks they will encounter this spring. Find more PARCC-style worksheets and questions at HelpTeaching.com and be sure to visit Test Room to administer computer-based practice tests.
Multi-Select, Multiple-Choice Problems
Many of us grew up answering multiple-choice items that involved selecting one correct answer from four options. Today's students will see multiple-choice questions that require selecting two or three correct answers from five or six options. For example, try your hand at this fourth grade PARCC style problem:
Students at this level should be able to compare fractions with different numerators and denominators. Multi-select questions assess student reasoning and allow for a more thorough evaluation of a student's conceptual understanding. When it comes to solving these problems, encourage students to:
read each question carefully
determine the number of required answers
eliminate incorrect answer choices
Incorrect Reasoning Problems
Simply being able to calculate answers correctly no longer makes the grade. Students must now show mastery of concepts by explaining why mathematical reasoning is flawed, and then correcting that reasoning. Give this third grade PARCC style problem a try:

In order to receive full credit, the student must provide a valid explanation as to why the statement is incorrect; once she justifies her reasoning, she must then calculate the correct answer. This challenges students to delve beyond procedural fluency and demonstrate understanding of both the how and the why behind mathematical reasoning. To help students solve this type of problem:
encourage to them to write narrative justifications of their math work throughout the year
ask students to practice justifying a problem aloud in front of the class
Multiple Part Problems
Multiple part problems present two or three questions based on a real-world situation that require students to show reasoning through modeling, critical thinking, and application of integrated standards. All three are core components of the PARCC assessment. Go ahead and try this fifth grade item:
At first glance, this problem may seem intimidating, but at its foundation, the item asks students to solve a basic length times width area problem. Beyond that, students must understand how to develop and solve expressions and equations, but within a real-world context. To help students solve this type of problem:
scaffold lessons and practice opportunities to work up to this type of task
challenge students to write modeling problems for their classmates to solve
encourage creativity when developing and solving math problems
You will amazed by the quality of work your students are capable of!
Using these strategies to familiarize students with the style of questions they may face on the PARCC exam will help alleviate test anxiety. More importantly, reassuring your children that they have the knowledge to do well, encouraging them to just do their best, promoting a good night's sleep, and eating a healthy breakfast will ensure they are ready to tackle the PARCC with confidence. After all, this is only a test.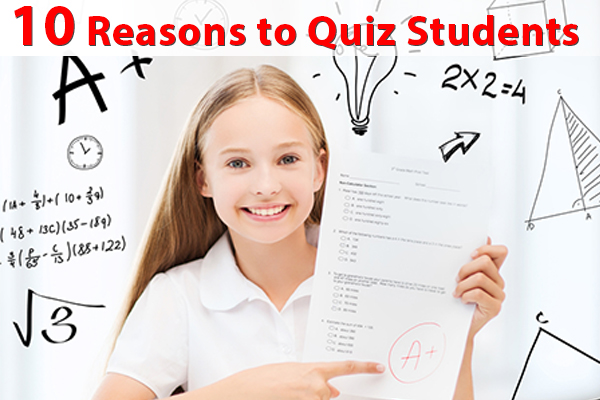 Standardized tests have become a hotly contested topic in the world of education. With many teachers and parents arguing that students spend too much time taking tests and not enough time learning, it may seem insane to suggest that teachers test their students even more. However, that's exactly what we're doing.
While standardized tests and other more formal summative assessments may not always be the best for students, quizzes actually have the potential to improve student learning. These low-stakes, more formative assessments encourage students to learn and retain knowledge, while helping teachers better structure instruction in the classroom.
Quizzes Reduce Test Anxiety
How could having students take more quizzes possibly reduce their anxiety? It's simple. Standardized tests and other summative assessments come with high stakes. Quizzes, on the other hand, come with much lower stakes. They're less formal and designed to test a smaller set of skills. The more quizzes you give, the less doing poorly on a single quiz will have a negative effect on a student's grade, lowering the stakes even more. If you give quizzes regularly, eventually students will become so used to taking quizzes that their nervousness will fade. This will also transfer to bigger tests, making students less likely to face anxiety when it comes time to take those high-stakes standardized tests at the end of a unit or the end of the school year.
Quizzes Get Students to Pay Attention in Class
"Is that going to be on the test?" is a question commonly heard in the classroom. While teachers want to encourage a love of learning, many students only focus on learning what they know they'll be tested on. By regularly bringing quizzes into the classroom, teachers encourage students to pay attention to all of the material in class. Whether you have a regular quiz schedule or randomly give students pop quizzes, they'll come to realize that all of the material has the potential to make it on to a quiz in the near future.
Quizzes Encourage Students to Study Regularly
When students are only tested on what they know at the end of a unit, during midterms, or finals, they often put off studying until the days before the test. Studies, such as this 2012 UCLA study, have shown that cramming for big tests doesn't work and could actually have a negative effect. By quizzing students regularly, teachers can eliminate the need for cramming and encourage students to study the material on a regular basis.
Quizzes Help Teachers Focus the Learning
Also when teachers quiz students regularly, students won't be overwhelmed by the amount of material they need to learn and they won't have to wonder what they need to study. Instead, teachers can focus the learning on a few key concepts at a time. This will help students maximize their regular studying and give them a chance to build a thorough understanding of each part of a unit.
Quizzes Allow Students to Build Knowledge Gradually
Rather than only testing students on the big picture, quizzes give teachers a chance to test students on the smaller pieces. For example, you can quiz students on individual chapters of a novel to help build understanding of the text chapter by chapter; or while teaching the periodic table, you can quiz students on individual groups of elements or sections of the table rather than requiring them to learn about the whole table at once. This scaffolding of learning and quizzing students at each step helps make sure they have mastered understanding of one part before moving on to the next part.
Quizzes Allow Teachers to Modify and Adjust Instruction
To be most successful, quizzes should be used as a type of formative assessment. This means they're used to inform teachers and students and help monitor understanding. So if a quiz shows students haven't mastered a part of a lesson or are having a difficult time with a particular concept, teachers can modify and adjust their instruction to help cover that concept before it's too late.
Quizzes Can Be Completed and Graded Quickly
Giving students a quiz doesn't have to take a long time, nor does it require a lot of grading. With online assessment platforms such as Help Teaching's new Test Room feature teachers can quickly put together an online quiz and schedule a time for students to take it.  Once students take the quiz, teachers can see statistics on student results, allowing them to quickly modify and adjust their instruction or share the results with students.
Quizzes Offer More Immediate Feedback
One of the reasons people criticize standardized tests and other larger summative assessments is that the results don't really help students. By the time students receive the results from the test, they've moved on to the next unit or the next class and have already dumped a lot of the information they learned. Quizzes, on the other hand, give students a chance to gain more immediate feedback. Even if a teacher doesn't adjust instruction based on student performance, individual students know what skills and concepts they had trouble with and can work on improving their understanding before it comes time for the final assessment.
Quizzes Help with Long-Term Retention
Perhaps one of the greatest reasons to give quizzes comes from Dr. Henry L. Roediger, a professor at Washington University in St. Louis. Roediger argues that it's not studying and reviewing materials that helps students remember material, it's actually quizzing them regularly on the material. In a study by Roediger, three different groups were asked to study a series of pictures. One group studied the pictures the entire time. The second group studied the pictures and were quizzed on them once. The third group was quizzed on the pictures every 20 minutes. A week later, the third group still remembered 32 of the 60 original pictures, while the first group only remembered 16.
Quizzes Keep Students' Minds Sharp
Aristotle once wrote, "exercise in repeatedly recalling a thing strengthens the memory" and that's exactly what Roediger argues when he encourages teachers to quiz students more. When students study they simply look to a textbook, notes, or other resources for the answers, but when they take quizzes they must retrieve the information from their own brains. This retrieval process helps the information stick in the brain more, keeping students' minds sharp and improving their long-term memory. This fits with the "if you don't use it, you lose it" idea that many people have experienced. Quizzing students also helps improve their brain plasticity, keeping their minds sharp and allowing them to regularly create new systems and connections in the brain.
While Roediger and his colleagues who promote Test Enhanced Learning in Classroom (TELC) say that the best quizzes to give students are those with short answer and short essay questions, even multiple-choice, matching, and true/false questions incorporated into quizzes on a regular basis can have a positive effect on students' learning. The key is that the quizzes are given regularly and that immediate feedback is offered to students.
Want to see if regular quizzing can help your students? Check out Help Teaching's Test Maker and Test Room options to create and quickly administer quizzes.  Then share your results in the comments.
Happy quizzing!
Putting together a challenging yet fair test for your students is a difficult task for even the most experienced teacher. So many variables go into choosing the format, creating the questions, and locating the appropriate maps, charts, passages, and documents that some very basic, but very important, factors often go forgotten. Until now…
1)    Give the students confidence right away.
The first question of your test should be relatively easy. The students with test anxiety and those who are unsure of their knowledge will feel their confidence buoyed from getting the first question correct.
2)    Mix it up…
Each test can and should have a mixture of question types. Earlier grades should have a mixture of multiple choice, true/false, and others. Upper grades should blend multiple choice questions, questions with documents, and short answer questions.
3)    …But the format within those question types should remain consistent.
For example, all of the multiple choice questions on your test should have the same amount of choices.
4)    Be chrono-logical.
Students will often recall your lessons and classwork while taking the test. Putting your test questions in the order in which you taught the unit will allow them to cycle through the unit in their mind and hopefully jog their memory.
5)    Search to the ends of the earth for a good question.
Whatever your state assessments may be, there are past tests out there for you to peruse and use.  Find similar assessments from around the country and use their questions. Have a skill that you would like to reinforce on your test? Do an image search for the perfect picture, graph, or chart and create a question around the document. Websites such as HelpTeaching.com give you the ability to create tests from user created content from teachers just like you.
6)    Timing is everything.
It's better to have your weakest student finish early than to have them not finish at all. Don't try to pack too many questions into one class period. If there is just too much information to limit the amount of questions, spread out your test over two days, or change your assessment to an essay. Written assignments allow you to assess greater amount of content in one overriding question instead of 25 smaller questions. If you are afraid your higher level students will finish too early or will not be sufficiently challenged, prepare a secondary assignment those who finish early can complete in class and those who do not can finish at home.
Test creation can be a difficult task. A poorly created test can make an well prepared unit finish with a crushing thud, forcing you wait a whole year to rectify those mistakes. Follow the tips above for a smoother testing period. Good luck!
My next post will focus on customizing your tests using the features on HelpTeaching.com.