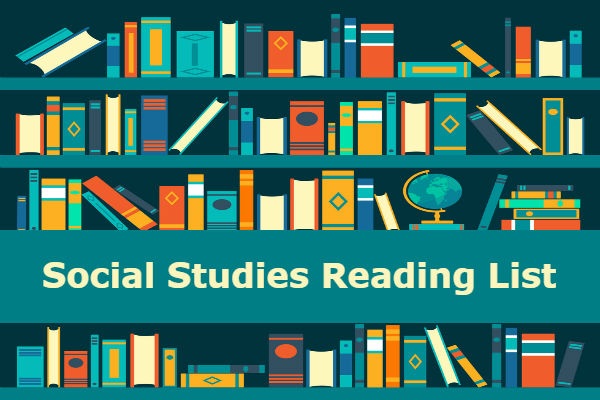 The first day of a new school year is right around the corner! Ease back into learning mode with these social studies book offerings that will be sure to spark interest and prepare your elementary or middle schooler for another school year.
Geography
Geography is an oft overlooked, but essential component of learning. It crosses over into other subject areas, and provides a basis for learning about historical and modern events, particularly relating to their causes and effects.
The 50 States by Gabrielle Balkan (grades 2 – 5)
This fact filled atlas devotes an entire spread to each state, including an oversize map and tons of trivia. It even has an accompanying activity book that includes stickers and games!
When on Earth? (grades 3 – 7)
This compilation uses illustrated and annotated maps from around the world to explain major historical events across four distinct and chronological eras. The bright colors, historical facts, and connections across places and time makes this a wonderful primer for the impact of geography on history across time.
Primary Sources
Every social studies classroom uses primary sources to teach about historical events, while integrating the thinking skills of interpretation and analysis. Primary sources come in many different forms, as indicated by the list below.
A Primary Source History of the American Revolution by Sarah Powers Webb (grades 3 – 4)
This books uses newspaper articles, personal accounts, and other primary sources to put the reader in America as they fight for their freedom from the British in the late 18th century.
Dreams of Freedom: In Words and Pictures by Amnesty International (grades 2 – 6)
This collection lists basic freedoms that all should enjoy, accompanied by a quote from famous human rights champions, such as Nelson Mandela and Malala Yousafzai. There is also an illustration depicting the freedom and the quote. Pairing words and accessible art is a terrific way to encourage analysis and thoughtfulness in young adults.
Biography
Accessible biographies are not always easy to come by, but those that integrate learning with easy to read text engross young readers in magical stories of those who dared to make a difference.
Heroes of History by Anita Ganeri (grades 2 – 4)
More than a simple retelling of history's fascinating figures, this book aims to educate though entertaining. Fictionalized diary entries combined with important historical facts take young readers on an adventure with every page.
Voice of Freedom: Fannie Lou Hammer: Spirit of the Civil Rights Movement by Carole Boston Weatherford (grades 6 – 12)
Hammer's fascinating struggle is told in verse and in the first person. A seminal civil rights figure, her story should be read by many, and the unique storytelling model used in this book will surely hook young readers.
Aaron and Alexander: The Most Famous Duel in American History by Don Brown (grades K – 4)
For students aware of the Hamilton craze gripping the country, this picture book gives some further historical meaning to Alexander Hamilton and a score that was settled many years ago.
Taking Action
The social studies classroom aims to not only teach about the people and cultures of the world, but also to ingrain a sense of community among our students. Building better citizens is just as, if not more important than the facts, years, and events that so many of us cling to. The books below enlighten students to those who go above and beyond to help others, and hopefully, will encourage them to embrace service and good deeds.
Can We Help? Kids Volunteering to Help Their Communities by George Ancona (grades 1 – 4)
Many schools are instituting service learning requirements, while other encourage students to be more community minded. This book chronicles real life kids helping the less fortunate in their own communities. An inspiring and educational look at those who make our world a better place.
The Great Depression for Kids: Hardship and Hope in the 1930s by Cheryl Mullenbach (grades 4 – 7)
Well organized account of the Great Depression with a special focus on how neighbors helped each other through extremely difficult conditions. This puts a historical spin on community service and service based learning.
As the beach and vacation filled days of August come upon kids, it's important to subtly integrate learning into their lives. Finding the right way to do that is often a fool's errand, but the books above will grease the wheels of learning as September approaches without destroying the joy of the last days of summer.
Try HelpTeaching out today for free.
No credit card required.