Currently Browsing
Posts Tagged ' books '

Step into the young adult section of your local library or bookstore and you'll find hundreds, if not thousands, of books written just for teens. From paranormal romance and dystopian tales to stories of identity and social justice, there are plenty of options. The problem is, most teens aren't reading them. To help teens wade through the masses, we've rounded up some of our top picks.
How'd we choose the books on our list? We looked for books that were exciting, books that teens could connect with emotionally, books that told about real-life teens, and books that would encourage teens to think a little deeper about the world. Some are fun, some are serious, and all are great reads.
American Born Chinese by Gene Luen Yang is a graphic novel that focuses on Jin Wang, a Chinese-American student who just wants to be an American boy. It's a quirky story that deals with identity, disaster, and The Monkey King.
Blubber by Judy Blume is one of those classic novels teens have loved to read for decades. It takes on bullying and asks teens to consider how far is too far when it comes to making fun of someone.
The Curious Incident of the Dog in the Night-Time by Mark Haddon is a slightly odd, but enjoyable book about a character name
Christopher John Francis Boone. He is intelligent, but very little, and has no real understanding of human emotions. The novel was recently adapted into a Broadway musical.
Drums, Girls, and Dangerous Pie by Jordan Sonnenblick is one of Amazon's 100 Young Adult Books to Read in a Lifetime. The book tells the story of Steven, whose younger brother is diagnosed with leukemia, and how he and his family navigate life in the wake of the diagnosis.
The Earth, My Butt, and Other Big Round Things by Carolyn Mackler has a humorous title, but it takes on very important issues that teens face, such as eating disorders, self-esteem, and rape.
Feed by M.T. Anderson, which is set in the future, imagines what would happen if televisions and computers were implanted into everyone's brain. Teens will be able to connect many of the novel's events with today's focus on technology.
The Gospel According to Larry by Janet Tashjian introduces readers to a teen prophet, Larry. In a humorous way, this book discusses issues of self-identity, popularity, and what it takes to conquer the masses.
Hoops by Walter Dean Myers is a great book for teen boys. It follows Lonnie Jackson who dreams of being a big-time basketball player one day, but must deal with the pressures of life that get in the way.
For a bonus H pick, check out The Hate U Give by Angie Thomas which tells the story of an African-American girl who witnesses the shooting of her childhood best friend.
If I Stay by Gayle Foreman shows a teen standing outside her body and considering her life up until that moment. It's a powerful story that will encourage teens to consider what makes their lives worth living.
Just as Long as We're Together by Judy Blume is a story of friendship. Stephanie and Rachel have been friends forever, but their friendship is altered by the addition of a new friend, Alison, and by life changes, but they learn to navigate it all together.
The Kill Order by James Dashner is part of the popular Maze Runner series. This prequel provides teens with a welcome introduction to the events of the series and helps them learn more about Mark, Thomas, and Teresa.
Looking for Alaska by John Green is an award-winning book from one of young adult literature's hottest authors. This particular story deals with sexuality, fitting in, grief, and controversial life choices.
Monster by Walter Dean Myers is written as a screenplay mixed with journal entries that detail Steve Harmon's life in prison. Is he really he monster he sees himself as?
New Moon by Stephanie Meyer is part of the infamous Twilight series. Like it or not, many teens love Twilight, so that earned this book a place on our list.
The Outsiders by S.E. Hinton is one of those classic novels that every teen, especially teen boys, should read. It tells the story of the Greasers and the Socs and shows how they navigate some of life's toughest moments.
The Perks of Being a Wallflower by Stephen Chbosky is a coming-of-age story that was turned into a major motion picture. It is written as a series of letters from a character named Charlie who must handle a whole host of social and psychological problems.
The Quiet Sky by Joanne Bischof tells the story of two teenagers, one with a fatal illness, who learn major lessons about life and about love.
Romiette and Julio by Sharon Draper takes the classic tale of Romeo and Juliet and sets it in Cincinnati, Ohio. The couple, from two different cultural backgrounds, must fight their families and their friends to maintain their relationship.
Speak by Laurie Halse Anderson follows Melinda, a formerly popular girl who has become an outcast. Readers will learn a lot about high school, the power of rumors, and what it means to stand up for yourself.
Tears of a Tiger by Sharon Draper is part of the Hazelwood High Trilogy, a series of books about a group of African-American teenagers and the struggles they face. In this book, Andy deals with guilt after his best friend is killed in a drunk-driving accident.
For a bonus T title, check out To All the Boys I've Loved Before by Jenny Han, a story about a teen girl whose high school existence is turned upside down when letters are secretly mailed to her five crushes. It was also made into a movie for Netflix.
Uprising: Three Young Women Caught in the Fire that Changed America by Margaret Peterson Haddix is a historical fiction novel that centers around a fire at the Triangle Waist Company in New York City. The book helps teens learn about the Industrial Revolution and its effects on many different types of Americans.
Very Far Away from Anywhere Else by Ursula K. Le Guin focuses on two friends, Owen and Natalie. Near the end of their senior year in high school. Owen narrates the novel as he figures out what their friendship means and whether he really knows as much as he thinks he does.
WTF by Peter Lerangis is an edgy book that tells of two parties from six different points of view. It's a high energy, action-packed story that focuses on some of the worst-case scenarios that can happen to real teens.
X: A Novel by Ilyasah Shabazz and Kekla Magoon that tells about Malcolm Little's younger years. The book, which was co-written by Malcolm X's daughter, helps explain the life decisions that he made before becoming the famed civil rights leader.
YOLO Juliet by Brett Wright and William Shakespeare takes the tale of Romeo and Juliet and puts it into terms teens today can understand. While it may seem a bit crazy, it's actually a very clever take on classic literature that can help get teens hooked on the Bard.
Zac and Mia by A.J. Betts shares the story of two teens who meet in the pediatric cancer ward of a hospital. Both have very different personalities and perspectives on their illness, which means they each have something to offer the other.
We're sure many of your favorites didn't make this list. What do the teens you know love to read? Share them in the comments and encourage teens to pick up a book and get reading this week! Also don't forget to check our our printable worksheets based on popular young adult novels or create your own literature quizzes using our Test Maker and Online Testing options.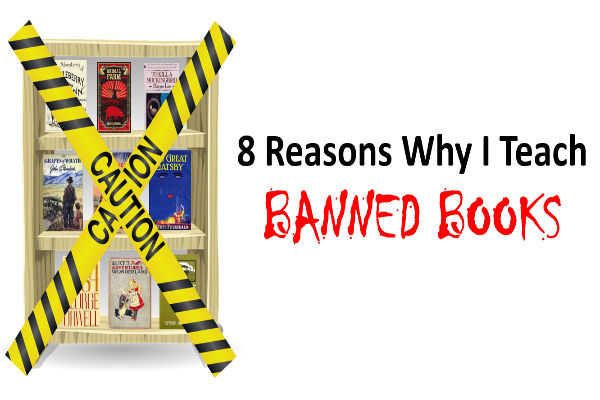 It seems like every year a new book makes the news for being challenged or banned by a school. Books that have been banned run the gamut from Mark Twain's Huckleberry Finn to The Holy Bible. While some parents and teachers have legitimate concerns, others have less valid reasons (a library patron in Toronto, Canada wanted to ban Hop on Pop because it encouraged children to use violence against their fathers). Regardless of whether books contain controversial content, they should still be accessible to students. Here are eight reasons why banned books should be accessible to students.
They Challenge Students to Consider Alternate Viewpoints
As a parent, your first instinct is often to shield your children from things you don't want them to see, but you can't hide the world from your children forever. Banned books are often challenged because they contain controversial content or don't mesh with adults' beliefs, but that doesn't always mean they're bad. Instead of simply banning a book that contains an alternate viewpoint, use the book as an opportunity to safely expose students to that viewpoint. While reading the book, use reading response activities to discuss what's controversial about it and why people might disagree with the actions or viewpoints held in the book. If you're a parent whose child has to read a book for school that you don't agree with, read the book with your child and talk to him/her about the content. Explain to your child why you don't agree with it and encourage your child to share his/her thoughts too.
They Introduce Students to Diverse Characters
Often children live in their own little world where their friends and family members largely think and act like they do. While there are some exceptions to this rule, most children don't get the opportunity to experience people and places that aren't familiar to them. Many books have been banned throughout history because they contain diverse characters that children may not have encountered before. For example, the book Nasreen's Secret School: A True Story from Afghanistan was challenged because the main character says a prayer to Allah in the book and the picture book And Tango Makes Three was challenged because the main characters are two male penguins who raise a chick together.
It's important to remember that reading a book with diverse characters doesn't mean you support those characters' lifestyles or thoughts. Reading books with diverse characters can help students understand the different types of people that exist in the world and help them better prepare to interact with those people when they encounter them.
They Take Students Out of their Comfort Zone
Why are most books banned? Some of the most common reasons are because they include:
racial themes
alternative lifestyles
inappropriate language
unpopular religious views
sexual or violent content
unpopular political views
references to witchcraft or the occult
characters doing drugs or smoking
All of these reasons for banning books have one thing in common: they make people uncomfortable. It's not fun to feel uncomfortable. It's not fun to read something that takes you out of your comfort zone or challenges you to look at a situation differently, but it happens a lot in life and it's bound to happen to children at one point or another. Should third graders be required to read books that contain excessive violence or sexual references? No. Should an eleventh or twelfth grader? Maybe. Because the eleventh or twelfth grader is about to enter a world where these issues will appear and what better place to practice being taken out of your comfort zone than in the safety of the classroom or your own home?
They Teach Valuable Lessons
In addition to taking children out of their comfort zones, banned books can often teach valuable lessons about identity, tolerance, or even freedom. For example, the book The Art of Racing in the Rain teaches readers a valuable lesson about the grieving process. The book The Working Poor: Invisible in America teaches a lesson about the real problems the working poor in America face. Brave New World teaches students about the extremes of passion and offers a bleak view of the future that students can connect to the future of the world. The Adventures of Huckleberry Finn has been banned numerous times its use of the n word, despite being regarded as one of the most valuable pieces of American literature.
They Can Be Interpreted in Multiple Ways
A book that is banned in one school or district may be perfectly acceptable in another. Take the case of Hop on Pop. One person in Toronto thought it advocated violence against fathers, but how many others have read the book and seen something completely different. What about the book And Tango Makes Three? Are children likely to see it as more than a story about a family of penguins? You could write a book with nothing offensive in it and, as a adults, we are often more likely to find offensive content than children.
They May Be Banned for Silly Reasons
Sometimes this also leads to books being banned for silly reasons. Did you know Shel Silverstein's A Light in the Attic was once banned in an elementary school because it encouraged children to break dishes instead of dry them? The popular Harriet the Spy was once banned because Harriet is a spy and being a spy means that she occasionally lies and gets into mischief. Are You There God? It's Me, Margaret was banned because it talked about a girl getting her period. Brown Bear, Brown Bear, What Do You See? by Bill Martin was banned because an author with the same name wrote a book about Marxism. Before you turn down a book because it has been banned, consider the reason it was banned. You may realize you were avoiding a book for no good reason at all.
They Are Often Great Books
Frankly, no one takes the time to ban a bad book. Not usually anyway. Books become banned because they become popular and fall into the hands of a diverse group of people. At some point, they're bound to offend one of those people. Some of history's greatest authors – Toni Morrison, Mark Twain, F. Scott Fitzgerald, Judy Blume – have written books that have been banned. By refusing to teach or let children read banned books, you're often causing them to miss out on great writing.
They Promote Free Speech
But at the end of the day, the main reason to teach banned books is because books should never be banned in the first place. If you live in the United States, you know that one of the greatest freedoms you have is the right to free speech. Banning a book suppresses the author's right to free speech and also suppresses students' right to access media. Yes, a book may be inappropriate for a particular age group or it may contain controversial content, but banning books is a form of a censorship, the same censorship people decry in third world countries, the same censorship that is warned against in books like Fahrenheit 451:
"Black people don't like Little Black Sambo. Burn it. White people don't feel good about Uncle Tom's Cabin. Burn it. Someone's written a book on tobacco and cancer of the lungs? The cigarette people are weeping? Burn the book. Serenity, Montag. Peace, Montag. Take your fight outside. Better yet, into the incinerator. Funerals are unhappy and pagan? Eliminate them, too. Five minutes after a person is dead he's on his way to the Big Flute, the Incinerators serviced by helicopters all over the country. Ten minutes after a man's speck of black dust. Let's not quibble over individuals with memoriams. Forget them. Burn all, burn everything. Fire is bright and fire is clean."
The solution to handling books that contain content someone doesn't like isn't to ban them. Instead, teachers and parents can use these books as a learning tool and discuss them with children in a safe environment. That doesn't mean you have to read all controversial books, but it does mean you shouldn't avoid everything just because someone says it's no good.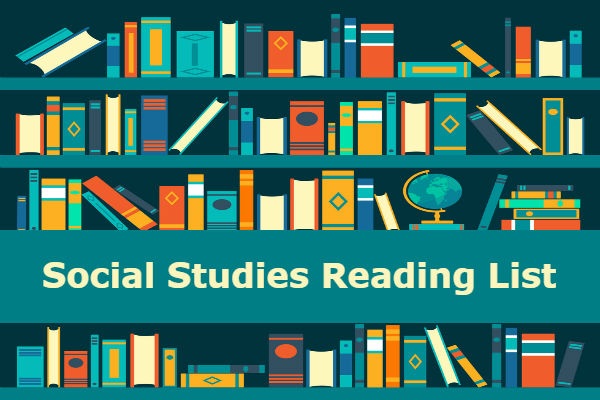 The first day of a new school year is right around the corner! Ease back into learning mode with these social studies book offerings that will be sure to spark interest and prepare your elementary or middle schooler for another school year.
Geography
Geography is an oft overlooked, but essential component of learning. It crosses over into other subject areas, and provides a basis for learning about historical and modern events, particularly relating to their causes and effects.
The 50 States by Gabrielle Balkan (grades 2 – 5)
This fact filled atlas devotes an entire spread to each state, including an oversize map and tons of trivia. It even has an accompanying activity book that includes stickers and games!
When on Earth? (grades 3 – 7)
This compilation uses illustrated and annotated maps from around the world to explain major historical events across four distinct and chronological eras. The bright colors, historical facts, and connections across places and time makes this a wonderful primer for the impact of geography on history across time.
Primary Sources
Every social studies classroom uses primary sources to teach about historical events, while integrating the thinking skills of interpretation and analysis. Primary sources come in many different forms, as indicated by the list below.
A Primary Source History of the American Revolution by Sarah Powers Webb (grades 3 – 4)
This books uses newspaper articles, personal accounts, and other primary sources to put the reader in America as they fight for their freedom from the British in the late 18th century.
Dreams of Freedom: In Words and Pictures by Amnesty International (grades 2 – 6)
This collection lists basic freedoms that all should enjoy, accompanied by a quote from famous human rights champions, such as Nelson Mandela and Malala Yousafzai. There is also an illustration depicting the freedom and the quote. Pairing words and accessible art is a terrific way to encourage analysis and thoughtfulness in young adults.
Biography
Accessible biographies are not always easy to come by, but those that integrate learning with easy to read text engross young readers in magical stories of those who dared to make a difference.
Heroes of History by Anita Ganeri (grades 2 – 4)
More than a simple retelling of history's fascinating figures, this book aims to educate though entertaining. Fictionalized diary entries combined with important historical facts take young readers on an adventure with every page.
Voice of Freedom: Fannie Lou Hammer: Spirit of the Civil Rights Movement by Carole Boston Weatherford (grades 6 – 12)
Hammer's fascinating struggle is told in verse and in the first person. A seminal civil rights figure, her story should be read by many, and the unique storytelling model used in this book will surely hook young readers.
Aaron and Alexander: The Most Famous Duel in American History by Don Brown (grades K – 4)
For students aware of the Hamilton craze gripping the country, this picture book gives some further historical meaning to Alexander Hamilton and a score that was settled many years ago.
Taking Action
The social studies classroom aims to not only teach about the people and cultures of the world, but also to ingrain a sense of community among our students. Building better citizens is just as, if not more important than the facts, years, and events that so many of us cling to. The books below enlighten students to those who go above and beyond to help others, and hopefully, will encourage them to embrace service and good deeds.
Can We Help? Kids Volunteering to Help Their Communities by George Ancona (grades 1 – 4)
Many schools are instituting service learning requirements, while other encourage students to be more community minded. This book chronicles real life kids helping the less fortunate in their own communities. An inspiring and educational look at those who make our world a better place.
The Great Depression for Kids: Hardship and Hope in the 1930s by Cheryl Mullenbach (grades 4 – 7)
Well organized account of the Great Depression with a special focus on how neighbors helped each other through extremely difficult conditions. This puts a historical spin on community service and service based learning.
As the beach and vacation filled days of August come upon kids, it's important to subtly integrate learning into their lives. Finding the right way to do that is often a fool's errand, but the books above will grease the wheels of learning as September approaches without destroying the joy of the last days of summer.

Many teachers struggle with motivating students to do more independent reading, especially when that reading happens at home. Whether students don't like reading, or simply would prefer to play their favorite video game, it's a head scratcher for even the savviest teachers.
However, you don't have to take "Ehh, I just don't feel like reading" for an answer any more. Use these strategies to motivate students to read more at home.
Make the Process More Fun
Students love video games and social media because they're fun—and there's no reason why reading shouldn't be fun too. Use these websites to motivate students to read more at home without you pushing them to do so.
Bookopolis: The best book recommendations for students come from their peers. The website Bookopolis aims to give students the recommendations they're looking for, with thousands of student-written book reviews. With the whole class signed up, students can recommend specific books to their friends and browse pre-made book lists to discover their next favorite read.
Whooo's Reading: This online reading log platform motivates students to read more with extrinsic rewards. Students earn Wisdom Coins for logging reading, answering open-ended, reading comprehension questions and interacting with peers in their private newsfeed. These coins are used to "buy" accessories for their Owlvatar—students want to have the coolest Owlvatar in their class, motivating them to read and log more. You'll be surprised how quickly these extrinsic rewards help develop an intrinsic desire to read more.
Storyline Online: This website provides audio books, with a twist. Rather than simply listening to the book, students watch a video of the person reading the book, so they see the actual book while listening. Some stories are even read by famous people, like Betty White.
Give Them a Greater Purpose
If students know they're reading for a greater purpose—like helping impoverished children—they may want to read more. Here are a few worthy programs to join:
Read to Succeed: This program, offered by Six Flags, gives students free tickets to the nearest Six Flags after completing at least six hours of recreational—not assigned through school—reading. This program is free for teachers and schools to participate in.
Students Helping Students: Room to Read offers a fundraiser read-a-thon, where students read to raise money that goes toward helping impoverished children around the world gain access to schools and books.
Give Them Access to New Books
One of the reasons students cite for not reading more is not having a book or not knowing what book they want to read next. Luckily this is an easy battle to win—there are plenty of ways to get more books in the hands of your students.
Here are a few options:
Epic! Books: This service gives students, ages 12 and younger, access to more than 10,000 digital books. The program is free for elementary teachers and librarians to participate in, and provides students with a wide range of popular titles such Brown Bear Brown Bear What Do You See and the Goosebumps series.
First Book Marketplace: If you work at a Title 1 school, you're eligible to purchase books through First Book Marketplace at 50-90 percent off below retail price. Books are available for children up to 18 years of age, with a variety of popular and classic titles available, along with STEM resources and college-prep materials.
Thrift Books: This online bookstore honors the work teachers and educators do with a 15 percent discount on book sets (20 or more titles). If you're looking to stock your classroom, this is a great way to do it.
Reading Resource Project: Use this website to give your classroom library a complete overhaul. Educators can order a collection of 100 books—you choose the collection, whether it's a mix of titles and genres, or books about specific things, such as animals, food, science and more—and then simply pay shipping, which comes out to $.88 per student. Books are distributed many times a year, including on Read Across America Day, National Drop Everything and Read Day and Children's Book Week.
Free Audio Books: There are dozens of sites available that offer free audio books. Check out Ambling Books and Librophile. Get a full list of free audio book websites here.
Once you have all of these books in your classroom, you'll need to implement a book lending process so students can take them home, if you haven't already. Use these tips to create this system and making your classroom library more interactive.
Motivating your students to read more at home can be a difficult process. However, with multiple strategies at play, it becomes easier to get every student in your classroom reading more every single day.
Bio: Jessica Sanders is the Director of Social Outreach for Whooo's Reading, a San Diego-based education organization that motivates students to read more every day. It's available to teachers, schools and districts. Jessica grew up reading books like The Giver and Holes, and is passionate about making reading as exciting for young kids today as it has always been for her. Follow Learn2Earn on Twitter and Facebook, and check out their new ebook, How to Bring Technology Into the Classroom, just $2.99 on Amazon.com.