Currently Browsing
Posts Tagged ' homeschool '
13 June //
Posted in How To //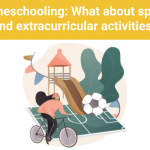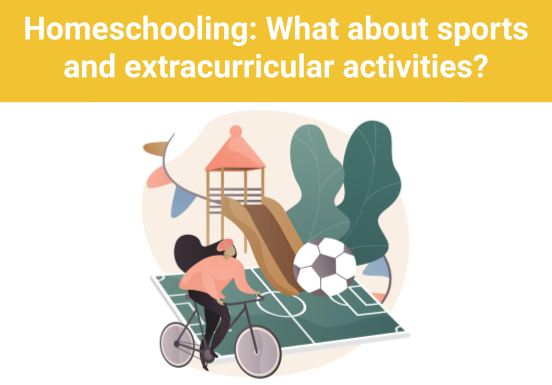 Homeschooling your kids comes with a number of challenges to meet. You might worry about their social interaction, whether they'll get to have prom like their public school-going peers, or even whether they want to participate in programs offered by a public school like band practice, cheerleading, choir, math groups, and others.
Public schools offer some popular and interesting events that may intrigue homeschoolers. Many teens will want to go to dances, learn how to drive, play on a team, or explore music. So, what are the answers to those challenging questions? There are several options:
Work Through the School District
Contact the local school district and see what its policy is on permitting homeschoolers to join the school's events, teams, or groups. Be specific in what you are asking when you call. Schools might allow a teen to attend driver's education classes, for example, but not permit attending the prom—or vice versa. Some schools are happy to accommodate homeschooling families with access to all activities, while others choose to completely restrict it. In addition to contacting the local public school, consider reaching out to area private and charter schools to see what their policies are on incorporating homeschoolers.
Look at Community Programs
While schools do offer some great activities, they are rarely the ONLY place to offer them. Look around to see what other choices you might have.
If your teen wants to join a local sports team, check out the local YMCA to see what sports it has to offer. You can also see if there are any local leagues sponsored by businesses or community groups. Be sure to contact community centers, as they frequently offer a chance to play a variety of sports. Look at resources online such as Craigslist or Meetup.com to find clubs, teams, and other activities.
Students who play instruments or sing can look into private lessons, as well as explore city orchestras and local music groups. Choirs are available through churches and other independent groups. Community theatres offer a chance to explore drama.
Driver's education courses are offered by many groups, including police organizations and independent companies. School enrollment is not necessary to participate in most of these courses. Parents can also purchase packaged driver's education programs online and teach the subject themselves. National Driver Training Institute offers homeschooling programs. Just make sure you're aware of the driver education laws in your state.
Homeschoolers can typically attend prom if their partners are enrolled in the school. Perhaps your son or daughter's main goal is just to dress up and go to a dance, rather than specifically the prom. If so, community dances are available in many cities.
Start Your Own
One trait homeschoolers tend to be known for is creating their own activities when they can't find what they need within their communities. Support groups often have enough members that they are able to start a small sports team, a choir, a band, or an acting troupe. It takes time, effort, and dedication, of course, but many parents are willing to do it to help their children.
Homeschool proms are becoming more and more popular across the country. A 2 Z Home's Cool lists a growing number of states that host these dances annually, including:
Alabama
California
Indiana
North Carolina
Oklahoma
Oregon
Texas
Tennessee
Virginia
(For parents who are starting from scratch to organize a prom in their area, there is a helpful site with many resources on it at http://home-school.lovetoknow.com/Homeschool_Prom. It offers information on how to find the best location for the prom, how to budget the money, where to find flowers, food, and beverages and more.)
Homeschooling teens—and just parenting them—can be a complex combination of challenging and delightful. Having the answers to the most common questions that can arise is one way to make the trip a little easier—for everyone involved. To learn more about homeschooling, check out Homeschooling 101: An Introduction to the Laws and Legalities of Homeschooling and The Most Important Questions to Ask Before Deciding to Homeschool.
Tamra Orr is the author of six books on the topic of homeschooling, including Homeschooling FAQs: 101 Questions Every Parent Should Ask, The Parent's Guide to Homeschooling, and After Homeschool: Fifteen Homeschoolers Out in the Real World. In addition, she homeschooled her four children from Kindergarten through high school graduation.
Whether you have a full-time job and want to make a little money on the side or you would like to earn an income while being a stay-at-home mom or homeschooling your kids, opportunities abound. Getting a minimum wage job is not always cost-effective, nor is it easy to find one with an accommodating schedule. Instead of traditional jobs, numerous teachers and parents are creating income opportunities that fit their own unique interests, skills and scheduling needs.
Tutor
Tutoring is an easy way for teachers to make money on the side. You can choose to work for a tutoring company and have them help find clients or simply advertise around your neighborhood. During the school year, parents may hire tutors to help their children improve in a specific subject area. Many also seek out tutors in the summer to help their children get ahead or keep them from losing information during their time away from school. And while tutoring may be best suited for teachers, it is not limited to certified educators. If you have a bachelor's degree in an area where students need help, you may be qualified to tutor students who need help. Companies such as WyzAnt and Club Z can help you find local students to tutor in your area.
If you have children at home or cannot find students to tutor in your local area, you can also tutor online. Sign up with an online tutoring service such as Tutor.com. They will connect you with students who need help in the areas you are qualified to teach. You may also find opportunities to teach students from other countries how to speak English such as through VIPKID or a similar service.
Write a Book
Everyone has a story to tell and, with the Internet, it has never been easier. Turn your advice, creative story ideas or special area of interest into an e-book. Do not be intimidated by the idea of writing a book. E-books do not have to be hundreds of pages long. In fact, many e-books are as short as 20,000 words or around 30 pages long. That may be the perfect length to write out your parenting tips, a guide to local events and attractions or a how-to guide related to one of your hobbies. If you are not a strong writer, put your ideas down on paper and then hire another freelance writer or editor to help you shape them into a book. You can then sell your book through online platforms such as Smashwords, CreateSpace or Lulu.
Create Educational Materials
Teachers and homeschooling parents are always creating their own worksheets, quizzes, lesson plans and other educational materials. You can profit from those materials by selling them on a website such as Teachers Pay Teachers. Remember that all materials must be entirely your own, not created using question banks, such as those you will find at HelpTeaching.com or any other copyright-protected artwork.
If you are a certified teacher, you may also be able to make money by creating materials for educational companies. Many educational websites, textbook publishers and educational software designers contract with teachers to have them design lesson plans, worksheets and test questions or have them review materials to ensure they will work well in the classroom. This work can often be done remotely and on a part-time basis during the school year.
Get Crafty
If creating educational materials is not your cup of tea or you have other talents, consider getting crafty. Sell your crochet-work, knitting or creative craft projects online using Etsy or another online shopping platform. If you are into stamping or scrapbooking, turn your skills into making stationery and pre-designed scrapbooks. Not sure what to make? Take a stroll around your local craft store for inspiration. A foam circle, some ribbon and artificial flowers could turn into a new wreath-making business. Wood and some paint could become kitschy signs and fun home décor. Flipping furniture is also a big trend. Browse thrift stores on the weekend for desks, hutches, bookshelves, tables, old chairs, and other pieces of furniture to re-stain, paint, and turn into something new.
Be a Tester
When companies launch new websites or products, they need people to test them out. Earn some money on the side by becoming a tester. UserTesting.com hires testers to review websites and answer a few questions about them. Software companies such as Microsoft also hire individuals to test out new products and websites. Not only can you earn money for your work, but you can be one of the first to experience cool new products and websites.
Complete Random Tasks
In some cases, companies have random tasks that they are willing to pay people to do. While the tasks may only pay a few pennies or a few dollars to complete, the more you complete, the more the earnings add up. Websites such as Amazon Mechanical Turk have you complete random tasks, such as verifying website addresses or finding search results. You can also do some field research through apps such as Field Agent and Gigwalk. These apps send you to local businesses to search for products, verify addresses and take photos, giving you the opportunity to earn a few bucks for each task you complete.
Want to control the type of tasks you complete? Try a site like Fiverr where you offer services and products for $5. Review websites, write poems, create logos or offer to do anything else you think is worth $5. If you can get enough people to take you up on your offer, you could earn decent money. If you have a specific skill, such as the ability to design webpages, work as a copywriter or complete the work of a virtual assistant you can also advertise your services and your price for those services on a website such as Upwork.
Drive and Make Deliveries
Decompress after school by hitting the road and driving for a company such as Uber or Lyft. Some companies, such as Grubhub also hire delivery drivers to pick up orders from restaurants and deliver them to customers. Want to be a professional shopper? Sign up for a service like Instacart.
Give Feedback
You can also earn money by giving feedback to companies through surveys and focus groups. While not all survey websites are legitimate or will result in significant earnings, some can provide a decent part-time income. Survey Police is a website that can help you determine whether the online survey companies you find are legitimate. If you are social and like participating in online conversations, try a website like Crowdtap, where you can take surveys, participate in discussions and occasionally try free products to earn points that can be redeemed for gift cards and other items. Searching in the ETC column of your local Craigslist jobs board will often reveal local focus groups that can pay up to $100 for participation, usually in the form of gift cards.  However, be careful not to give out confidential information until you have verified that the opportunity is legitimate. Don't forget to check out local hospitals and universities for medical and psychological studies you may be able to participate in as well.
Run Errands
Driving around town anyway? Make money by running errands for others at the same time. TaskRabbit pays individuals in major cities to run errands and complete tasks for users. Tasks range from grocery shopping to dog walking and home repairs. You may even find long-term work through the TaskRabbit app. If you find you enjoy running errands, you may even be able to start your own local business, advertising to busy executives, those who have difficulty leaving their homes and even other busy moms. Craigslist is also a place to find random jobs, such as walking dogs or helping move boxes.
Babysit
The last thing many teachers and parents want to do during their time off is spend more time around children, but if you have children of your own, babysitting may be the perfect way to earn extra cash while keeping your children at home with you. During the summer, working parents of elementary-aged children are often looking for affordable care. You can also serve as a drop-in babysitter, offering to watch local children for a small fee while their parents go to appointments or need to have some time to themselves for a few hours. Connect with a website such as Care.com or Sitter City so people needing sitters can easily find you.
Re-Sell
Chances are you have items lying around your own house that can help you make money. Sell those unused kids toys and clothes kids have outgrown using websites such as Craigslist, local swap groups on Facebook or a Just Between Friends or other kids' consignment sales. Look for free items and good deals on Craigslist and at local garage sales, and then resell those items online or at a larger sale. Do your research by looking up current prices online to make sure you are getting a good deal on the items you buy and sell.
Rent Out Your Home
Have an extra room? A mother-in-law suite you don't use? Consider renting out your home on a site such as Airbnb. Just make sure you have time to prepare your home for guests and are willing to share with people before you create your listing. If you have family or friends in the area that will let you stay with them one weekend a month, you could even offer up your whole home to renters every so often.
Add an Idea of Your Own
If none of the ideas above appeal to you, there's nothing stopping you from starting your own business. All you need to get started is an idea and some funding. While the idea should come from you, the Internet can help with the funding process. Crowd-funding platforms such as Kickstarter.com, Indiegogo.com and GoFundMe are designed to help you find the funds you need to write the next Great American Novel, produce a video, design the latest, greatest invention or even start a cool new business venture. All you have to do is create a project proposal and start soliciting support from family, friends and individuals around the world.
Making money during the summer, part-time or online requires thinking outside of the box and taking a look at what you have to offer. Make a list of all of your interests, hobbies and skills. Then think of ways you could get other people to pay you for using those interests, hobbies and skills. You may not start off making a lot of money, but as you build experience and get more people interested in what you have to offer, your summer job could turn into a way to fund a summer vacation, add a significant amount of money to your budget or even become a new full-time career.
Looking for ways to get the whole family involved? Check out Money-Making Ideas for Families.
==========
A former 8th grade English teacher, turned freelance writer, Stacy Zeiger is focused on helping educators and parents find ways to improve their students' and children's education. As a stay-at-home mom and military wife, Stacy has unique experiences to bring to her work. She regularly blogs about education and parenting, develops creative educational activities, writes lesson plans and creates workbooks for all age-levels and subject areas.

If you're thinking about homeschooling, it's time for some homeschooling 101. Most parenting decisions involve asking a lot of questions and searching for the best answers. This is particularly true when it comes to making decisions about your children's education.  Today, parents have many options when it comes to choosing a type of schooling. What is the best choice? Public school, charter school, private school, virtual school, or homeschooling? Every family should conduct its own research and make a decision that meets the needs of their children.
If you're thinking about homeschooling your son or daughter, what questions should you ask before making the decision? Here are some of the most important ones to consider:
Why do you want to homeschool?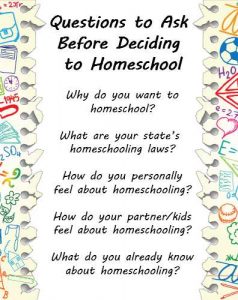 Give some thought as to why homeschooling appeals to you. Is it because a friend or someone else in the family has homeschooled? Is it because your child came home after a bad day at school and asked to be homeschooled? Is it because you've read a few articles, and you're considering trying it? All of these can be valid reasons to think about homeschooling, but they are not sufficient answers. They need support. Just because one family homeschooled successfully doesn't mean that it will work well for you. One bad day at school isn't enough to decide to leave it behind.
Take time to analyze why you may want to homeschool. Instead of a single bad day, is your child consistently suffering at school because of learning difficulties, bullying, or other problems? Instead of a relative homeschooling successfully, do you know multiple families who are doing it well? Instead of a few articles, have you read multiple books, attended a few workshops, or gone online and consulted multiple web sites?
John Holt, considered the original "father" of homeschooling, once wrote, "Why do people take or keep their children out of school? Mostly for three reasons: they think that raising their children is their business not the government's; they enjoy being with their children and watching and helping them learn, and don't want to give that up to others; they want to keep them from being hurt mentally, physically and spiritually.
What are your state's homeschooling laws?
Although homeschooling is 100 percent legal in every state (since 1993), the laws are different in each state.  The laws vary greatly from very lenient (Alaska, Connecticut, Idaho, Illinois, Indiana, Michigan, Missouri, New Jersey, Oklahoma, and Texas) to very strict (Massachusetts, New York, North Dakota, Pennsylvania, Rhode Island, and Vermont). You can find the laws for your state by either checking your department of education, the Home School Legal Defense Association or A to Z Homes Cool.
How much do you personally know about homeschooling?
There are a lot of myths and misunderstandings about home education and they can be very misleading when you're trying to make the best decision. For example, do you think that only religious people homeschool—or only hippies do? Do you believe that homeschooling costs a great deal or takes a huge amount of time? Have you heard that homeschoolers can't go to the prom, join sports teams, attend college or join the military? None of these statements are true. Believing that they are can lead to confusion—and poor decision making. Doing solid research about homeschooling can help dispel these myths and make it easier to make wiser decisions.
How does your child/partner/family feel about homeschooling?
Any family that homeschools has to do it as a unit—if a partner doesn't agree with the choice, or if a child is against being homeschooled, it can be a real uphill battle. To get everyone "on board" with the decision means lots of discussions and sharing of thoughts, opinions, facts, and ideas. If your child is old enough, involving him or her in the decision making will help your child feel validated and listened to. Listen to each other's concerns and questions, and find the answers together. Homeschooling is so much easier when the family is a team.
Do you know any of the current stats about homeschooling?
While national numbers may not seem to affect you directly, they can give you an idea of how homeschooling trends are developing across the country. According to the National Centers for Educational Statistics, 1.77 million children were homeschooled in 2012, an 18 percent increase over the numbers in 2007. The numbers have continued to climb with each passing year. (Note: Many experts believe there are many more homeschooling students than this, as this statistic only reflects state-registered homeschoolers, and many of families decline to register.)
According to the National Home Education Research Institute in Oregon, homeschoolers also score above average on SAT and ACT exams. Also, according to a study conducted at the University of St. Thomas, homeschoolers were shown to graduate college at a rate of 66.7 percent, which is almost 10 percent higher than students who attended traditional public school.
Making the best choice for your children's education is never an easy decision, regardless of what you ultimately choose. Asking the right questions and getting reliable answers is the first step to figuring out the answers. Happy researching!
To learn more about homeschooling, check out Homeschooling 101: Sports and Other Extracurricular Activities and An Introduction to the Laws and Legalities of Homeschooling.
Tamra Orr is the author of six books on the topic of homeschooling, including Homeschooling FAQs: 101 Questions Every Parent Should Ask and After Homeschool: Fifteen Homeschoolers Out in the Real World. In addition, she homeschooled her four children from Kindergarten through high school graduation.
"But aren't you concerned about socialization?" If you're a homeschool parent, chances are you've heard this question or some version of it more than once. When parents choose to homeschool their children versus sending them to traditional school, they often have to give up the built-in peer support network. But that doesn't mean children won't get any social interaction. To have a successful homeschool experience, community is extremely important. If you struggle with building community or are looking to expand your community, we have some ways to help.
1. Join a Co-op
A co-op is a group of homeschooling families who meet together on a regular basis. Some homeschool co-ops meet every day of the week. Some meet once a week. Some only meet up for field trips and special activities. The size and age-ranges of co-ops also vary. In some co-ops, parents take on some of the teaching duties, presenting courses to small groups of students. The courses students take are typically enrichment-oriented. For example, students may take a course on Shakespeare's England or Model Rocket Building, offering unique ways to get in some of the science, history, and English lessons.
Finding a co-op can be difficult for some homeschoolers. Many co-ops have monthly or annual fees to help cover the cost of the space they meet in and the materials needed for the courses. It's also important for parents in a homeschool co-op to get along and share similar educational goals and values. For example, a parent who believes in a classical Christian education may not mesh well with those in a co-op that focuses on unschooling. To find a co-op or other support group near you, check out the Home School Legal Defense Association (HSLDA) or The Home School Mom's Local Support resources.
2. Visit Local Attractions
Sometimes just getting out of the house and visiting local attractions can be a great way to build a community as a homeschool parent. You may encounter other home school families at the zoo, the local art museum, or the science center. If you're visiting these places and see a mom (or dad) with children who look like they are school age, consider striking up a conversation to see if their children are homeschooled. Perhaps you'll find a new friend in the process. In addition to randomly approaching strangers, you can check out the events page for your local library and other local attractions. Many libraries and museums offer special homeschool programs on a weekly or monthly basis. Even some amusement parks offer discount admission for homeschoolers at the beginning or end of the season.
3. Go to School
While you may not want your children to attend public school full-time, many school districts offer part-time options where homeschooled students can attend for part of the school day or take special classes, such as physical education, band, or art at the school. If your area public school does not offer this benefit, you can often find the same benefit at a local private school. If you're struggling to find homeschool groups that cater to your child's age group, sending your child to school for an hour or two a day can be a way to build those peer connections while still maintaining control over your child's education. In addition to taking classes at the public school, many school states have laws that allow homeschool students to participate in athletic programs at public schools.
4. Play a Sport
Even if you choose not to participate in the athletic programs available through your local school district, sports can
be a great way to build community as a homeschooler. Check out your town's recreation department or local YMCA for different athletic opportunities. Chances are you'll find sports programs to cover every season. For example, your child may play soccer in the fall, basketball in the winter, baseball/softball in the spring, and swim in the summer. Look beyond the popular sports too. For example, your local bowling alley may
5. Celebrate Homeschool Spirit Week
During the last full week of September, many families celebrate International Homeschool Spirit Week. Just like Spirit Week at more traditional school, this week gives homeschool families a chance to participate in themed days, such as Crazy Hair Day and Superhero Day. Families can participate as a co-op or individually. Photos can also be uploaded to social media channels using a special hashtag. As you look through photos from other homeschool families, you will feel a sense of community and you may also find some kindred spirits in the process.
If you live in a community that doesn't have a strong homeschool presence or you find it difficult to make it out of the house to attend a co-op, you can also find community online. Search Facebook for homeschooling groups or conduct an internet search for "online homeschooling groups" to find a wealth of possibilities. Just like with an in-person co-op, look for groups that share your core values and educational goals. For example, you might search for "Christian homeschooling groups" or "unschooling groups." Whatever group you find, make sure that you feel supported in your homeschooling journey and leave any negative groups immediately.
6. Connect Online
offer a youth bowling league or, if you live in a town with an ice rink, you may be able to sign your child up for ice skating lessons or a curling club. Dance and gymnastic teams and classes can also be a good way to find a community to connect with.
7. Volunteer
The community you build does not have to be one full of other homeschoolers. You may find that community through a local non-profit organizaation or another volunteer opportunity. Check out your local animal shelter to see if they offer volunteer opportunities for homeschool families. Contact a local nursing home to see if you can bake cookies and visit with residents once a week. Serve meals at a local homeless shelter or help at a local food pantry. Many of these organizations have loads of people ready to volunteer on the weekends, but during the week they can often really use the help.
8. Get Involved in Your Community
Beyond volunteer opportunities, just get out and get to know people in your community. Visit the local library and the post office. Spend time playing at the local park. Talk to the workers at your local grocery store or hardware store. Attend community fairs and festivals. If you're religious, get involved in a local church. The more you get out of the house and experience your community, the less likely you are to feel isolated as a homeschooler.
How do you build community as a homeschooling family? Share your tips in the comments!

When parents first consider homeschooling, they often start by wondering if teaching their own children is actually legal. The answer is yes. Homeschooling is legal in every state of the United States. (It is, however, outlawed in two dozen foreign countries.) That said, however, it is important to realize that homeschooling is governed by the individual states, rather than the country as a whole. The legalities of homeschooling differ widely from one state to the next.  Some states are incredibly lenient and some are quite strict.
Notice of Intent
Commonly the first law that is referenced with homeschooling is whether or not parents have to contact the local school district to let them know they are planning to homeschool. Some states do not require this notice, while others require a simple parental notification—and that is it. Some parents elect to simply turn in a letter of intent with their names, addresses, and child's name to the state and to the school district in which they live. Others may choose to include additional details about what subjects they will be covering.
States that do not require notification of intent to homeschool:
Idaho
Alaska
Texas
Oklahoma
Missouri
Illinois
Indiana
Michigan
Connecticut
New Jersey
States that require only notification of intent to homeschool:
California
Nevada
Montana
Wyoming
Utah
Arizona
New Mexico
Nebraska
Kansas
Wisconsin
Kentucky
Mississippi
Alabama
Beyond the Basic Notification
Many states go beyond requiring notification.  In addition to a notice of intent, they want to see student test scores and expect a professional evaluation of each student's progress at the end of the year.  The level at which these tests are administered depends on the state. Some states expect homeschooled students to be tested once at the elementary school level and once at high school. Others expect it as often as grades 4, 6, 8, and 10.
Moderately strict states:
Washington
Oregon
Colorado
South Dakota
Minnesota
Iowa
Arkansas
Louisiana
Tennessee
Ohio
Georgia
Florida
South Carolina
North Carolina
Virginia
West Virginia
New Hampshire
Maine
Maryland
The strictest homeschooling states in the country are found on the east coast.  These states require parental notification, in addition to professional evaluation (by an objective third party), and often curriculum approval from the state, parental teaching certification (minimum high school diploma or GED), and even, in extremely monitored states, home visits from state officials.
Most restrictive states:
Vermont
New York
Pennsylvania
Rhode Island
Massachusetts
As an example, New York homeschoolers are required to submit a very detailed home instruction plan that lists the curriculum materials, textbooks, and other resources that will be used. In addition, parents must keep detailed attendance records to indicate that each student has been instructed at the legal equivalent of 180 days per year. (This breaks down to 900 hours for grades 1 through 6 and 990 for grades 7 through 12.)  New Yorkers are also expected to submit annual homeschooling plans, plus quarterly reports with grades in all subjects. Here, standardized tests are administered in grades 4, 6, and 8, as well as every year of high school.
It is important to note that state homeschooling laws are not written in stone. They can—and often do—change with enough parental and organizational involvement. In recent years, Utah, Iowa, New Hampshire, Pennsylvania, and Minnesota have significantly reduced their requirements for homeschoolers.
Finding Additional Resources
Knowing what rules each state has in place to govern homeschooling is essential for all new homeschoolers, as well as for teachers whose students are leaving the system to be homeschooled. There are many online sites with this information, such as The Homeschooling Legal Defense Association, A to Z Home's Cool and the Coalition for Responsible Home Education.
In addition to researching online, parents should connect with local and state homeschooling support groups and associations. Attend conferences. Go to the library and ask about homeschooling resources. All of these places can help parents and teachers better understand the laws in place and what they do and do not entail.
Deborah Stevenson, Executive Director of National Home Education Legal Defense (NHELD) stated in an interview with Home Education Magazine, "If citizens are not informed about the law and the facts affecting their rights under the law, they cannot effectively retain their freedom." Stevenson encourages parents to not only read their state laws regarding homeschooling, but also read the U.S. and state Constitutions, and all state Department of Education and local Board of Education policies that focus on the right to homeschool. The key is being informed, so that if any family is questioned, they know their rights.
Larry and Susan Kaseman, authors and columnists for Home Education Magazine, write about how parents can maintain their homeschooling freedoms. In one column, they advocated having copies of state homeschooling statutes and regulations, but to rely heavily on speaking with experienced homeschoolers as well. "The best source of information is knowledgeable, experienced homeschoolers who live in the state you're interested in," they wrote.
The right to homeschool is one that is upheld in every state of this country. What parents need to do to keep and fulfill this right varies, however, so taking the time to do "home-school homework" is essential.
To learn more about homeschooling, check out Homeschooling 101: Most Important Questions to Ask Before Deciding to Homeschool and Sports and Other Extracurricular Activities.
Tamra Orr is the author of six books on the topic of homeschooling, including Homeschooling FAQs: 101 Questions Every Parent Should Ask, The Parent's Guide to Homeschooling, and After Homeschool: Fifteen Homeschoolers Out in the Real World. In addition, she homeschooled her four children from Kindergarten through high school graduation.