Currently Browsing
Posts Tagged ' patriotism '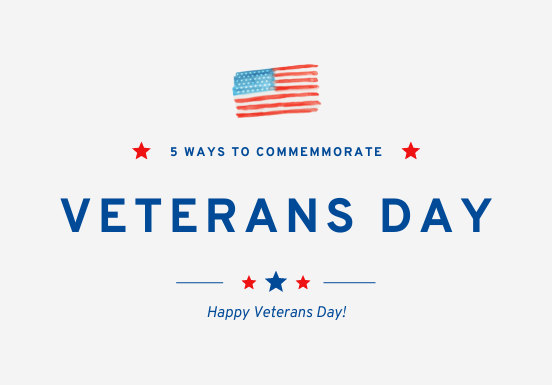 Hold a Veteran's Day Ceremony
There's no better way to show the importance of this day than to devote 30 minutes to a whole school ceremony highlighting the special place that veterans hold in our country. The US Department of Veteran's Affairs has created a handy step by step guide to hold an assembly in your school, including instructions on how to post the colors and suggestions for remarks and speakers.
If you can't host vets in person, consider a video call or a pre-recorded video featuring interviews.
Take a Vet to School Day
The History Channel has a Take a Vet to School Day program, complete with How To Guides and Planning Guides by grade. Of course, you don't have to involve a national program to invite veterans into your classroom. Invite your students' relatives to sit in on class for a celebration of their service. Have the children read letters of thanks and ask the vets to say a few words. It's a day your students and the servicemen and women will not forget.
Make Crafts and Care Packages to Commemorate Veteran's Day
Younger students will love to use their creativity to show their thanks and respect for veterans. Celebrate the social studies themes of Election and Veteran's Days with a display that encompasses both events. Ask your students to write thank you cards expressing gratitude to our service members. Contact the local VFW or Veteran's Hospital to act as an intermediary and deliver the cards. You can use this thank you card template or download free thank you cards from Operation We Are Here to get started. Or maybe your class can send items to military personnel stationed overseas. Many organizations will assist in sending care packages to soldiers, such as Any Soldier, Operation Gratitude, and Adopt a Soldier.
Teach Your Students About the Contribution of Women in the Military
Too often we are saddled with stereotypes of the past that are unfortunately passed on to our children. There has always been a vibrant and vital role of women in our military, but it's important to emphasize the history and facts of those contributions. The Pennsylvania Veterans Museum has a terrific lesson plan about the role of women in the military. The Veteran's History Project has a mini unit on the role of women in World War II.
Take a Virtual Field Trip to the National World War II Museum in New Orleans
This museum offers numerous opportunities for distance learning, including as many as 15 virtual field trips on topics that include Pearl Harbor, D-Day, Iwo Jima, African Americans, and Science and Technology. They also offer Skype programs that provide a lesson plan and Skype session with a museum expert who will guide your students through the content.
It's so important to ingrain a sense of respect for our service members. There is no better way to do that than to use appropriate, creative resources to show young people how special our soldiers really are. This is another great opportunity to discuss citizenship and patriotism. For more on that topic, check out 10 Activities to Celebrate Constitution and Citizenship Day.
Do you have any lessons/activities you use to help students understand Veteran's Day or show gratitude to those who serve our country? If so, we would love to hear them.

A lot goes into electing a president. The 24 hour news cycle has certainly improved the public consciousness about campaigning and each political party's convention, but there is still much undiscovered territory for students, especially the role of the Electoral College in electing the 45th chief executive. As the 2020 presidential election nears, here are some terrific resources for teaching students of all ages how the next president will be chosen.
How did we get here?
Scholastic provides the "Road to the White House" that chronicles the journey from campaign to convention and through the election in an entertaining and illustrative interactive tour. Students of all ages will appreciate this journey as a refresher of how the United States narrowed a long list of candidates down to just two major party contenders in the last 12 months.
What are "blue and red states"?
When discussing an historical topic, teachers often rely on textbooks or handouts to explain common vocabulary terms in advance to avoid student confusion. But when discussing current events or "general knowledge" topics, we sometimes forgo a primer on the jargon  necessary for understanding. Scholastic has provided a concise list of need to know terms as you discuss the electoral process to ensure no one is left behind when you reference "GOP" or a party's "platform".
What is the  Electoral College?
Here is where your electoral adventure takes a turn toward surprise, and maybe even befuddlement.  Many students may not know what the Electoral College is and why it determines the next president.
One way to explain this system is to use music. Musical Media for Education has a song about the Electoral College, which includes a lyrics list so your students can follow along with the song.
Or, if you're old school like I am, Schoolhouse Rock has an excellent Electoral College song for use in your class ($) that covers the electoral system in their typical entertaining manner.
Does my vote even count?
Once your students understand the role of the Electoral College, they may wonder if their votes even count. Show them this Ted-Ed video about the electoral college and importance of voting, particularly in certain states.
Is this the best way to determine the leader of the free world?
This all may be a bit jarring for your students. They may have valid questions about whether this is the best, most democratic way to choose a leader. Go over the history of the Electoral College from the House of Representatives website. This History Channel video also gives more background on why the founding fathers implemented this system.
There are some detractors of this system. The major arguments are chronicled by Scholastic. This is a great opportunity to hold a debate or to ask students to write a claim about the validity of this system using a selection of documents from this post.
What do the electors do when they meet?
The meeting of the Electoral College is not a clandestine event. C-SPAN has video of the 2008 meeting of the electors from Illinois and Arizona. This is a terrific primary source that gives the students a glimpse into our democratic process.
How can a candidate win the election?
The best way to understand how an election is won is top ask the students to win an election themselves. iCivics has a fun election game to help students win the White House, as well as ideas for mock elections in the classroom.
Students can also track the race to 270 electoral votes with an interactive electoral map. This would also be handy for a research project that asks the students to predict the results of the election by tracking each state's past voting habits.
The Washington Post has an Electoral College curriculum that encompasses all of the above questions in one handy document with numerous resources. In addition, Help Teaching offers numerous free election worksheets, including a presidential election quiz and electoral vote activities for both the 2008 and 2012 elections.
With so much attention paid to the popular vote and so much polling data on all of the major networks, it can be easy for students to be unfamiliar with the electoral process. Don't let this election pass without giving them a primer on one of the most important components of our democratic system!