Currently Browsing
Posts Tagged ' resources '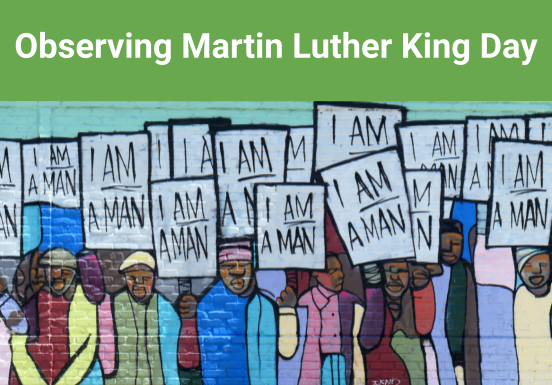 On the third Monday of January each year (in 2021, that's 18 January), Martin Luther King Day is observed and celebrated through service in the US. Learn more about MLK and his contribution to the Civil Rights Movement here!
Who was Martin Luther King, Jr.?
Born on January 15, 1929, the Rev. Dr. Martin Luther King, Jr. was a Christian pastor, a leader of the civil rights movement in America, Nobel laureate, and anti-war activist. King was the conscience of a nation as he stood up in the face of institutional racism leading millions to demonstrate against the injustices of American society. King's embodiment of the non-violent methods used to protest racial discrimination changed the course of history. He remains an inspiration to generations of people regardless of their racial and ethnic background.
His birth name was Michael, as was his father's.  After a trip to Germany, where the elder King became impressed by the life of the Reformation priest Martin Luther, Michael's father changed his name to Martin.  Soon the younger King would also adopt the name.  That's not the only thing Martin, Jr. would imitate from his father's life.  After undergoing seminary training, the young MLK would eventually join his father as co-pastor of Ebenezer Baptist Church in Atlanta.
Martin Luther King, Jr. was famous for many accomplishments, but perhaps his greatest legacy is not in his achievements but in his methods.  Nonviolence was the hallmark of King's success at leading a movement for civil rights for African Americans.  King fused his belief in the Christian doctrine of love, espoused by Jesus, with the non-violent political resistance demonstrated by Mohandas K. Gandhi.  King said this powerful combination gave him the method for social reform he needed.
Civil Rights Movement
King went to segregated schools in Georgia, and this experience of discrimination led him to become a strong proponent for civil rights for African Americans.  While serving as a pastor, he was also a member of the executive committee of the National Association for the Advancement of Colored People.  This prepared him to take on a leadership role in one of America's greatest non-violent demonstrations — the Montgomery Bus Boycott of 1955.
Montgomery bus boycott
The boycott began when a Black woman, Rosa Parks, refused to give up her seat in the "whites only" section of a bus.  This year-long political demonstration when Black passengers refused to ride on the city's bus services because they were treated as second class citizens to white passengers captured the nation's attention and catapulted King to fame.  During the boycott, King was arrested, his home was bombed, and he was subjected to personal abuse, as were other protesters.  Yet his unwavering commitment to non-violence in the face of police aggression set in motion a political movement the country had rarely before seen.
Greater leadership
By 1957, King became president of the Southern Christian Leadership Conference which bolstered the burgeoning civil rights movement.  For the next decade, MLK would travel more than six million miles giving speeches, leading demonstrations, and at times being imprisoned, physically threatened, and beaten.  He led voter registration drives, organized the peaceful March on Washington where he gave his famous "I Have a Dream" speech, and gave advice to Presidents Kennedy and Johnson.
Accomplished author
MLK wrote many books including Stride Toward Freedom, his first book.  It recounts the story of the Montgomery Bus Boycott.  The famous 1967 Massey Lectures which King gave through the Canadian Broadcasting Corporation are collected in The Trumpet of Conscience.  In the lectures, King addressed the Vietnam War and civil disobedience.  In 1963, he wrote the movement's seminal work "Letter from Birmingham Jail".  In a triumph of oratory, the letter is a scathing indictment of white church leaders who preach the love of God but do nothing to stop the injustices God despises.  King said that people have a moral responsibility to break unjust laws and to take direct action rather than waiting forever for justice to come through the courts.  The letter contains one of most memorable King quotes: "Injustice anywhere is a threat to justice everywhere."
Nobel Peace Prize
King was awarded five honorary degrees in his lifetime, was named "Man of the Year" by Time magazine in 1963, and received, at age 35, one of the world's most prestigious awards — the Nobel Peace Prize.  In his acceptance speech, King said, "…man must evolve for all human conflict a method which rejects revenge, aggression and retaliation. The foundation of such a method is love."
Tragic Death
On the evening of April 4, 1968, while standing on the balcony of his motel room in Memphis, Tennessee, where he was to lead a protest march in sympathy with striking garbage workers of that city, King was assassinated by a lone gunman.  He was just 39.
Honoring King's Legacy
Martin Luther King Jr. Day (officially Birthday of Martin Luther King, Jr., and sometimes referred to as MLK Day) is a federal holiday marking the birthday of the civil rights leader. It is observed each year on the third Monday of January. King's birthday is January 15. Known as "a day on, not a day off", the holiday is an opportunity for adults and children to spend their day off from work and school performing acts of service. Martin Luther King Jr. Day is the only federal holiday designated as a national day of service to encourage all Americans to volunteer to improve their communities.
In 1983, President Ronald Reagan signed a bill into law to create the federal holiday honoring King.  The national Martin Luther King Day of Service was started by U.S. Senator Harris Wofford and U.S. Representative John Lewis, who co-authored the King Holiday and Service Act.  This federal legislation was signed into law by President Bill Clinton in 1994.
Resources for Learning about Dr. King and the Civil Rights Movement
Help Teaching has created many educational resources for this holiday.
KidsKonnect.com has a library full of MLK-related activities
Check out these free resources from BusyTeacher.org.
These groups and institutions can also help you teach about MLK Day:
Learning at home and online
Watch the short video; then do any of the activities created by Discover EducationTry making these I Have a Dream mobiles from the National Constitution Center
Recommended Videos
Recommended Books
Service activities online
Webinars and online educational events
Or skip the video and download a pdf of the slides from the presentation
The Martin Luther King, Jr. Center for Nonviolent Social Change ("The King Center") presents a worldwide Teach-In on Building the Beloved Community. Friday, January 15, 2021.
The Town of Lexington, Massachusetts, will hold its 28th commemoration of Martin Luther King, Jr. Day with its 8th annual family-friendly day of volunteer activities supporting the underserved. Monday, January 18, 2021.
Fans of Minecraft will love the Minecraft March on Washington: Virtual Exploration Monday, January 18, 2021.
The State of New Jersey Dr. Martin Luther King, Jr. Commemorative Commission will host a Virtual Youth Conference "Youth, We Hear You!" Monday, January 18, 2021, 9 am to 2 pm.
21 December //
Posted in How To //

In 2017, Help Teaching continued to bring you a wealth of educational blog posts and resources, from guides to help to life skills for teens, and even fun pumpkin activities. We've rounded up your favorite posts from 2017. Check out the list to re-read some of your favorites and catch any posts you may have missed.
Once again, our post with fun facts for Geography Awareness Week made the list. This year, we featured fun mountain facts. For example, did you know that there is no universal definition of what constitutes a mountain? Read the post to find even more fun mountain facts.

How many ways can you use a pumpkin? This list provides 100 different ways to use pumpkins into the classroom. It includes ideas such as creating a booklet about the pumpkin growing process and singing the song "Five Little Pumpkins."
Earth Day is held on April 22, but it can be celebrated all year long. The activities in this post help kids learn more about the Earth and get involved in its care.
Keeping with the science theme, the Ultimate Guide to Teaching Science continued to be popular in 2017. This guide contains a wealth of websites, activities, and other resources designed to help science teachers improve their teaching. If you teach science, you need to bookmark this guide.

Of course, social studies is an important subject too and it's a great place to incorporate character education. This post shows you how to take events in history and turn them into character lessons to help kids become better people as they learn.
The U.S. Presidency was a big focus in 2017. Along with talking about our current president, Donald Trump, many teachers wanted to find creative ways to teach about other U.S. Presidents. This posts contains unique ideas that range from presidential videos to presidential puppetry.
Speaking of creativity, music is very creative and you can bring creativity into other subjects areas through music. This post offers three very simple ways to bring music into nearly every subject to help make your teaching more engaging.

Adding emojis to the classroom can also help make your teaching more engaging. Try an emoji Periodic Table, annotate texts with emojis, or create your own emoji rebus stories.
Teens love to use emojis when they're texting or posting on Instagram and Snapchat. However, the ability to use emojis with skill is only one of the skills every teen needs. This post highlights some of the most important, and often neglected, skills teens need before they graduate from high school.
Some teens desire to skip college and choose to focus on a trade, such as culinary arts or carpentry. Vocational education comes with a lot of benefits. This post breaks down those benefits and highlights some of the new vocational education resources available on HelpTeaching.

Along with new vocational education resources, HelpTeaching.com also held its first annual scholarship competition. High school and college students from the U.S. and Canada entered original fiction and non-fiction pieces. The winner, Christine McLauchlan, was awarded a $1000 scholarship. The deadline for the 2018 scholarship is June 1, 2018.
Teachers deserve gifts too. Whether you're looking for gifts for Teacher Appreciation Week, Christmas, or just because, the five gifts highlighted in the post will help make your favorite teacher's day.
Every new school year comes with its own set of challenges. These tips help make the back-to-school process go more smoothly. They work well when returning to school after holiday break or starting a new semester too.

The Top 100 Free Education Sites is a popular post every year. In 2017, we updated the post to contain even more free sites for students and teachers in nearly every subject area. Stay-tuned for 2018's edition of the popular post.
Homeschool students, advanced students, and students in flipped classrooms can benefit from our Guide to Free Online Self-Learning for Kids. This list contains free online courses, websites, and other resources designed for kids.
The internet is not the only place kids can learn. They can learn while traveling too. If you travel during the holidays or during spring break and summer vacation, incorporate some of these activities in your trip.

Learning doesn't stop in the summer either. It may be too late to enjoy these activities in Summer 2017, but you can start building your kids' bucket list for Summer 2018.
Of course, learning never stops at HelpTeaching.com. Keep visiting our site to find free printable worksheets and lessons to use with your students. You can also create your own free tests and administer tests using Test Room, our online testing platform.