Free Printable Geography Tests, Worksheets, and Activities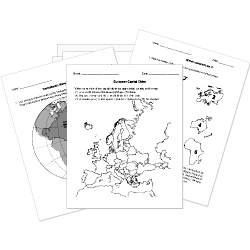 Have your students complete interactive activities, assign one of our many labeling activities, or simply test their knowledge of specific geographic features or map components.
Worksheets labeled with are accessible to Pro subscribers only. Become a Subscriber to access hundreds of standards aligned worksheets.
Don't see a printable you need? Use our Test Maker™ to create your own printable that fits your needs. Browse Geography questions or use our advanced search to find existing questions while filtering by grade levels and keywords. You can also create your own questions.
Related: 10 Fun Facts for Geography Awareness Week
Printable Geography Activities
Printable Geography Tests