Currently Browsing
How To

The holidays are the perfect time to curl up with the kids or gather all of your students on the rug and read a good book. Whether you celebrate Christmas, Hanukkah, or Kwanzaa, or just want a nice winter read, we've got something for you. Our holiday reading list includes classic tales, read-alouds, and even some more recent stories that may become your new holiday traditions.
Christmas Stories
From classics like "How the Grinch Stole Christmas" and "The Polar Express" to more recent additions such as "The Elf on the Shelf" there are plenty of Christmas stories for kids to enjoy around the holidays. While these stories are listed by age, many of them will be enjoyed by the whole family.
K-2
The Sweet Smell of Christmas by Patricia M. Scarry (Worksheet)
Pine trees, gingerbread men, and hot cocoa are all traditional Christmas smells kids can experience as they sniff their way through this scratch & sniff Christmas story.
A Wish to Be a Christmas Tree by Colleen Monroe (Worksheet)
For years, the old pine tree has sat in the field, wishing to be a Christmas tree. Seeing him so sad gives the animals an idea to help him get his wish.
Merry Christmas, Mouse! by Laura Numeroff (Worksheet)
Mouse, from If You Give a Mouse a Cookie, decorates his Christmas tree in this simple counting book for young children.
The Elf on the Shelf by Carol V. Aebersold (Worksheet)
The Elf on the Shelf has become a tradition for many families. Even if you're not a fan of the elf, you can read this fun story with kids.
The Gingerbread Man by the Brothers Grimm (Read-Aloud)
"You can't catch me, I'm the gingerbread man!" This classic tale about a popular Christmas cookie is a great read during the holidays. Read it to kids or let them enjoy this read-aloud version on their own.
3-5
The Snowman by Raymond Briggs (Worksheet)
A boy builds a snowman who ends up taking him on an adventure in this classic Christmas story.
The Polar Express by Chris Van Allsburg (Worksheet)
"All aboard!" The Polar Express takes young boys and girls to the North Pole. After reading the book, watch the movie version with kids and compare the difference.
How the Grinch Stole Christmas by Dr. Seuss (Worksheet)
It's hard not to love this Christmas classic from Dr. Seuss about a Grinch whose heart grew two sizes that day.
'Twas the Night Before Christmas by Clement Clarke Moore (Read-Aloud)
'Twas the Night Before Christmas has been retold many times. Listen to the original version of the story, called "A Visit From St. Nicholas," in this read-aloud version.
The Elves and the Shoemaker by The Brothers Grimm (Read-Aloud)
A poor shoemaker wakes up one morning to find his day's work has already been done in this classic fairy tale by the Brothers Grimm. The read-aloud version is fun to listen to with kids.
6-8
The Gift of the Magi by O. Henry (Worksheet)
"One dollar and eighty-seven cents. That was all." Those lines begin the classic story about a young couple in love and the sacrifices they make for Christmas.
A Christmas Carol by Charles Dickens
Chances are you know a few Scrooges of your own. Read about the original Scrooge in this classic Christmas story. You can also find worksheets covering each stave of A Christmas Carol on Help Teaching's literature page.
Hanukkah Stories
Whether you celebrate Hanukkah or simply want to teach children more about these Jewish holidays, these books will introduce kids to the history and principles of The Festival of Lights.
K-2
The Latke Who Couldn't Stop Screaming by Lemony Snicket (Worksheet)
Lemony Snicket's The Latke Who Couldn't Stop Screaming is a hilarious story about a latke. As kids read the story, they'll also learn about the importance of Hanukkah.
How Do Dinosaurs Say Happy Chanukah? by Jane Yolen (Worksheet)
The How Do Dinosaurs Say series is popular with kids and How Do Dinosaurs Say Happy Chanukah is no exception. This simple story teaches kids about some of the traditions of Hanukkah.
Latkes and Applesauce by Fran Manushkin (Worksheet)
A lack of money and food won't stop a family from having a wonderful Hanukkah in this touching story about the holiday.
3-5
The Story of Hanukkah (Read-Aloud)
Give kids a refresher on the story behind Hanukkah. Our short read-aloud introduces them to the history of the holiday and explains why the Menorah is lit today.
The Purse of Gold (Read-Aloud)
This Jewish folktale isn't necessarily a Hanukkah story, but the moral of the story is a good one to teach kids around the holiday. A beggar finds a purse of gold, but kids have to listen to the read-aloud to discover what happens next.
Hershel and the Hanukkah Goblins by Eric Kimmel (Worksheet)
Every year the goblins come out and try to ruin Hanukkah for the village. This year, however, Hershel shows up to send them packing.
6-8
Hanukkah Haiku by Harriet Ziefert (Worksheet)
Experience the sights, sounds, and events of Hanukkah through a series of haiku. Once kids have read the haiku in the book, encourage them to write their own to share their experiences and thoughts about Hanukkah.
Hanukkah Mad Libs by Roger Price and Leonard Stern (Worksheet)
A Mad Libs book may not seem like a great choice, but these Mad Libs take Hanukkah events and allow kids to add their own words to create truly hilarious stories. While this book is more about creating than reading it's a great way to get often disinterested pre-teens and teens involved in the holiday.
Kwanzaa Stories
There aren't as many stories written about Kwanzaa as their are for other winter holidays, but we've found a few to help kids learn about the holiday. All of the books promote the holiday's theme of celebrating black heritage and living life in a positive way.
Li'l Rabbit's Kwanzaa by Donna L. Washington (Worksheet)
Inspired by Brer Rabbit stories, Li'l Rabbit's Kwanzaa tells the story of a rabbit who wants to make his Kwanzaa better. Throughout the story, he learns some important lessons about the holiday.
Seven Spools of Thread: A Kwanzaa Story by Angela Shelf Medearis (Worksheet)
This story tells the tale of seven brothers who are always fighting. When their father dies, he leaves them with a seemingly impossible task. As they complete the task, the brothers learn the importance of working together.
Seven Days of Kwanzaa by Angela Shelf Medearis
In this informational book, kids will learn about the key principles of Kwanzaa. They'll also crafts, recipes, and other activities related to the holiday.
In addition to these stories, Help Teaching's Kwanzaa Reading Passage gives kids a brief overview of the holiday and the seven principles it celebrates and our Lessons page features a read-aloud story to represent each principle of Kwanzaa, including: Anansi Writes a Song (Kuumba), Anansi and His Sons (Umoja), The Collared Crow (Imani), The Feast (Ujamaa), The Great Drum (Ujima), The Three Tests (Kujichagulia), and The Name of the Tree (Nia).
We know there are many other great holiday books for kids. What are some of your favorites?

Movies aren't just something to show students on the day before a long break or when you have a substitute in the classroom. Previously, we've shown you how to incorporate movies into the ELA and social studies classrooms, but there are many more interesting ways to bring movies into the classroom and help students build skills that will help them not only learn more about a particular subject, but also learn more about life.
"There are many interesting ways to bring movies into the classroom and help students build skills that will help them not only learn more about a particular subject, but also learn more about life."
#1 Paying Attention to Details
When it comes to making a film, it's all about the details, but filmmakers and others involved in the process still occasionally make mistakes. In fact, there's an entire website devoted to the mistakes made in movies — Movie Mistakes. When you're going over the rules and procedures at the beginning of the school year, show a few clips and see if students can spot the mistakes. Then discuss how not paying attention to details affected the film and what lessons they can learn from those mistakes that they can also apply to the classroom.
Many movies also contain crucial details that aren't mistakes, but rather help propel the story along. This is especially true in mysteries and other suspenseful films. Pull out clips that foreshadow events to come or contain symbolism that is important later in the film to help students learn to pay attention to details while reading a novel, taking a test, or completing another important task. The Harry Potter and Lemony Snickets films work well for this type of task.
#2 Following a Story
Sometimes we rely too much on what we hear and not enough on what we see. Some movies, however, are created to encourage us to follow a story without listening to the words. Bring old Charlie Chaplin or Mr. Bean movies into the classroom to see if students can follow the story without any words. For an even trickier task, show a foreign film without subtitles and see if students can figure out what is going on without understanding the words. If you can't find a foreign film, simply showing a movie with the sound off could work as well. Students will have to think critically and rely on other senses to really make sense of what is going on.
#3 Understanding Expressions and Emotions
The same types of movies can also help students understand how to read expressions and emotions. This is particularly helpful in kindergarten classrooms, where students learn a lot about feelings, and in special education classrooms where students may have trouble reading and relating to others. Use films without words to highlight key emotions such as anger, sadness, or happiness. Once students begin to understand what the emotions look like, you can show clips with words to help students understand more about an emotion, for example, what tone of voice someone might use when they are angry.
#4 Learning a Language
For ESL or ELL students, movies offer a great opportunity to help students learn a language. While they won't pick it all up, they'll get to hear a large amount of vocabulary in context which will provide them with visual clues to use when they hear the words used in other scenarios. Movies can also introduce students to slang and other unique expressions that they may not learn in traditional ESL instruction or even traditional foreign language instruction. If you decide to show a movie, skip the subtitles. While reading and listening for comprehension are closely-related students learning a new language may find themselves overwhelmed with trying to comprehend both at the same time.
Those feel-good movies, the ones that show individuals rising out of the ashes and overcoming obstacles can play a role in teaching students character
#5 Developing Character
Chances are you've seen a movie that made you come out of the theater feeling better about humanity. Those feel-good movies, the ones that show individuals rising out of the ashes and overcoming obstacles can play a role in teaching students character. Find movie clips to help students learn about making positive choices, developing resilience, reaching a goal, being honest, or handling conflict. You can play and discuss the clips while establishing your classroom environment at the beginning of the school year, as part of special counseling sessions, or even during after school programs or detention. Movies such as Rudy, The Blind Side, Radio, Pay it Forward, and Remember the Titans are just a few great films that provide a lot of teachable moments.
#6 Discovering Alternate Cultures and Perspectives
You can also use movies to help students learn about other cultures and different types of people. This can be done through fictional movies and through documentaries. Students can compare and contrast the way the characters in the movie live with their own lives and will begin to understand that not everyone has the same experience. While movies set in other countries provide the best way to teach about other cultures, don't forget about other cultures around you. For example, you may show a movie set in the deep South, the Midwest, or focusing on Hispanic or Asian families in a particular area. The goal is to help students see those who are different and realize that being different isn't a bad thing. Similarly, movies can help students learn how people might see a situation differently.  For example, documentaries frequently show multiple sides of an issue through different perspectives to help viewers fully understand an issue.
Visual examples and movies in particular tend to stick with people, therefore, they make a great tool for helping improve comprehension.
#7 Increasing Comprehension
How often do you come across things that remind you of a scene in a movie? Visual examples and movies in particular tend to stick with people, therefore, they make a great tool for helping improve comprehension. If you're talking about diving fractions in math, show a movie clip related to dividing fractions. Want to drive home how a soldier's experience during war was particularly grim? Share a clip. You can often find these clips in unlikely places. For example, characters in a young adult movie may dissect a frog in science class and even though it doesn't really connect with the movie as a whole, it can serve as a visual example for your classroom.
#8 Hearing Vocabulary in Context
Movies also provide visual and auditory examples of vocabulary words in context. No matter what subject you teach, when you're introducing a new vocabulary list, look for a movie clip that incorporates many of those words. Better yet, if you need inspiration to help develop a new vocabulary list, turn to a movie to help you garner words to add to the list. For example, a movie about a politician running for re-election will introduce students to key words related to the electoral process while a movie about a mathematical genius is likely to introduce students to some of the key vocabulary words they need to understand problems in math class. The clip only has to be a few seconds long for students to use it as an example. If you have tech-savvy students you can even have them turn the clips into video memes to use as study tools.
Movies have the potential to teach important lessons and provide real-world examples for students.
#9 Teaching Important Lessons
Whatever it is you want to teach students, chances are you can find a clip from a movie to help support it. Movies have the potential to teach important lessons and provide real-world examples for students. They can learn about business by watching a movie about an executive on Wall Street, discover the importance of lab safety by watching the clip of a high schooler's experiment gone wrong, or even understand the impact of slavery by seeing a character portrayed in a movie. When looking for movies, think outside of the box to find clips, as many of them will be hidden in movies that have nothing to do with the lesson you plan to teach. Ask your students for help too. They'll learn to make connections as they try to think of clips that will help enhance your teaching.
Do you have any favorite movie clips you use to teach students? Share them so other teachers can incorporate them too.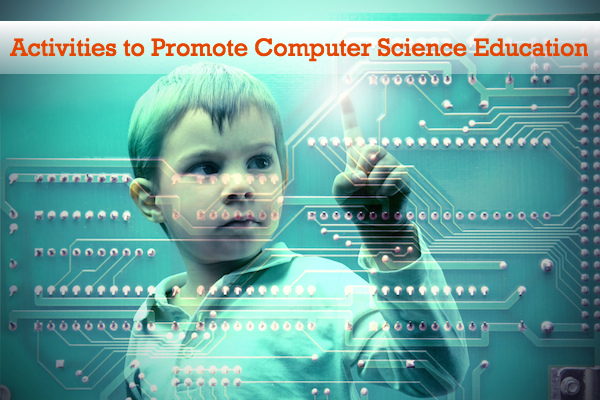 Did you know that experts estimate there will be 1.4 million computing jobs open in 2020 and only 400,000 students to fill them? Since 2013, Computer Science Education Week has been held during the second week of December. This week is designed to make students and teachers more aware of computer science and the importance of building computing skills at early age. While enrolling all students in regular coding and other computer science classes may be the ideal solution, you can still take small steps to encourage students to take notice of computer science and help them discover how much fun it can be.
Participate in an Hour of Code
In 2014, the Hour of Code gained a lot of publicity when President Obama sat down to join students as part of the event. This year, and all year long, you can also participate in an hour of code. Organize your own Hour of Code event at your school or join up with an existing group. If you're not sure of what you're doing, search for local volunteers to come work with your students during the event. For a less formal option, simply have your students complete one of the coding tutorials available through Code.org where they code with popular characters from Star Wars, Minecraft, or even Anna and Elsa from Frozen.
Don't be afraid to go beyond an Hour of Code either. Many different apps and websites offer a series of lessons designed to teach students how to code or to think in ways that are related to the language of coding. A few of them to try in your classroom include:
Elementary
Kodable – a fun app that comes with an extensive coding curriculum
ScratchJr – a free app that teaches kids to think like a coder while completing fun tasks
Tynker – another provider of an Hour of Code resources featuring brands and characters kids love
Secondary
Hopscotch – an app that allows kids to make and publish their own games
CodeCombat – an online, multiplayer game that requires kids to write code to play
Kodu Game Lab – a visual programming tool that kids can download to create games
Hold a Computer Science Career Day
Students often hear that there are tons of job in the tech industry, but do they know what those jobs look like? Invite parents and other community members to your school for a Computer Science Career Day. Your speakers can rotate among classes to share what their jobs are like or they can set up tables in booths and talk to students as they approach them. If you can't find individuals to come to school, then have students research different tech jobs or companies and share their findings with the class.
Show a Video
Take some time to show kids a video related to computer science. There are tons of Ted Talks related to technology that could inspire kids to consider a career in computer science. A few videos you might want to use include:
Have Fun with a MaKey MaKey Kit
While a MaKey MaKey kit does not involve a lot of coding, it does encourage kids to think outside of the box and imagine the cool things they can do when they combine computers with everyday objects. You can turn students' experiments with the kit into writing assignments, science experiments, marketing proposals, and other educational activities.
Connect Computer Science to Students' Interests
Your students may not be interested in computer science, but they may be interested in playing football, playing with their toys, or drawing and coloring. Chances are they don't realize how much computer science can play a role in these activities. For example, it takes a lot of technology to take video of a football game, freeze it, and move it around on the screen. Give students the task of researching how technology plays a role in their favorite hobbies. They may discover that coders help create 3D models of their favorite toys or that they can create some amazing art with lines of code.
Get Away from the Computer
While learning how to code can benefit students, thinking in the language of coding is even more important. By promoting logic and creative thinking skills, you can give students the mental skills they'll need to be successful in a computer science field.  CS Unplugged offers a large selection of activities designed to help kids develop these critical thinking skills. These include tasks such as learning about The Turing Test and discovering how difficult it is for computers to draw lines and circles.
For more resources to help you bring Computer Science into the classroom, check out Code.org and the Computer Science Education Week website. If you use some of these activities in your classroom, share them to Facebook or Twitter with the hashtags #CSEdWeek and #HourOfCode.

Did you know it's possible to have fun and learn at the same time? While it's great for kids to play with toys, their young minds are at the prime stage for taking in information and learning new skills. The solution? Toys that allow kids to learn while they play. This year when you shop for holiday and birthday gifts, think beyond the flashy toys and those that feature popular characters and opt for something with educational value. Need help finding ideas? We've rounded up some of the top educational gifts for kids of all ages.
Babies
Even though babies won't remember whether you bought them a gift for Christmas or their birthday, sometimes you still want to get them something. Instead of adding another stuffed animal to their collection, try one of these options.
Baby's First Blocks: Nothing beats a classic shape sorting toy for babies and toddlers. Baby's First Blocks from Fisher-Price features a handy tub to collect the shapes and a handle for carrying it. Babies and toddlers will learn to grab, manipulate, and match the shapes.
Skip Hop Activity Mirror: Mirrors are great toys for babies. They allow them to explore the world around them and also begin to recognize their own face. This mirror from Skip Hop is just one of many baby mirrors that can be attached to the seat of a car or the bar of a stroller for babies to enjoy.
Sassy Developmental Sensory Ball Set: This sensory ball set features three balls with different textures and functions. Babies can build fine motor skills and fulfill sensory-seeking behaviors as they interact with the balls.
Munchkin Mozart Magic Cube: Babies love music and this magic cube combines music with lessons in cause and effect and tempo to create a fun learning experience for babies. They can press different parts of the cube to add instruments to the orchestra and see lights flash w
ith the tempo of the music.
Go Car: This car comes with a handle to make it easy for babies to hold on to it and control the way it moves. It also glides smoothly on different surfaces, helping babies begin to learn about the concept of movement.
What's Inside Toy Box?: With the What's Inside Toy Box, babies begin to learn that objects have names and also build motor skills as they reach in and pull out objects or put objects back in. Additionally, this toy can help teach object permanence.
All About Me Personalized Photo Book: Babies can learn the names and faces of loved ones, pets, and other special people or places in their lives with this photo book. Parents can insert photographs in protected compartments so babies can flip through and look at them.
Toddlers

Start Up Circuits: Toddlers who enjoy playing with switches will enjoy these toys that help them begin to understand how circuits work. Simply flip the switch to make each object work.
Wooden Building Blocks: Blocks are a favorite for toddlers because they help them build motor skills and begin to understand geometrical concepts. This set from Pidoko Kids features 50 colorful blocks in different shapes and comes with a container for carrying them all.
Personalized Name Puzzle: One of the first things a toddler learns how to spell is his/her name. Help develop that skill and help your toddler start learning how to complete puzzles with a personalized name puzzle.
Color Discovery Boxes: Color Discovery Boxes help toddlers learn their colors and begin to categorize objects. Each box contains multiple objects to represent the color. Mix the objects up and have toddlers sort them and put them back where they belong. 
Bunny Peek a Boo: This fun game helps toddlers learn about prepositions and object placement. They must look at the cards and try to create the scene with the bunny and various blocks. Parents are encouraged to give clues and talk about where the bunny is. For example, "The bunny is behind the box."
Learn the Alphabet Dough Mats: You can print out and laminate your own dough mats or you can buy these handy mats which feature uppercase and lowercase letters. These help kids learn letters and build fine motor skills.
Size and Sequence Farm Puzzles: Size and Sequence Farm Puzzles have toddlers put the puzzle pieces in order by size. This set of puzzles helps them learn how to organize objects from smallest to largest.
Dress Up Career Set: Toddlers can learn a lot from dressing up, especially when they dress up to represent different careers. With this set, your toddler can pretend to be someone else nearly every day of the week.
Seek A Boo: Seek A Boo is a fun game designed to get toddlers and preschoolers moving and help them learn how to categorize objects. Basically, it works like a game of "I Spy" where kids must find a circle that meets a particular description. Adults and kids can take turns coming up with questions.
Preschoolers

Think & Learn Code-a-pillar: Kids are never too young to learn some of the basic principles of coding and the Code-a-pillar helps them do just that. Kids can build the Code-a-pillar to make it move in different ways, helping them learn how to code at an early age.
Balancing Stacker: Preschoolers can learn about patterns and balance with the Balancing Stacker. This toy comes with different cards for kids to follow as they place the rings on the board. It also builds fine motor skills and color recognition skills as they must manipulate the rings and place them carefully on board based on the colors on the cards.
Bear Counters: Bear Counters and counting cubes can be used by preschoolers in a variety of ways. Not only are they good for counting practice, but they can also be used for creating patterns and measuring.
Think & Learn Measure With Me! Froggy: The Measure With Me! Froggy encourages kids to measure things around the house. It helps kids learn the concepts of long and short and also has fun songs to help kids learn to count by 5s and 10s.
Fun Express Happy Kids Hand Puppets: This adorable set of hand puppets features kids from different ethnic backgrounds. It's great to include with a puppet theater and to use to act out social stories to help get preschoolers thinking about their actions and emotions.
Toss Across: If you're looking for a fun game to get kids moving, try Toss Across, a game that helps kids practice their throwing skills and learn about patterns while playing a game of tic tac toe.
Periodic Table Blocks: Make block play a little more educational by having kids learn the elements of the periodic table at the same time. These square blocks are great for building and also feature the names, symbols, and atomic numbers of various elements.
Rainbow Mosaic Pattern Puzzle: Kids can build fine motor skills and create patterns when they play with the Rainbow Mosaic Pattern Puzzle, an activity that features connecting tiles that kids snap together to create a mosaic on the floor.
Early Elementary

Teaching Talking Cash Register: This cash register is a favorite of kids because it offers many functions. Kids can play store or open a real store and the cash register will help them add up totals and calculate change. It also features a fun scanner.
Melissa and Doug Magnetic Human Body: Kids can learn the different parts of the human body by taking them on and off the wooden form. It's a great, non-gory way for kids to begin to explore what makes up the body.
Snap Circuits: This kit helps kids learn about the basics of electricity and other STEM principles as they put together circuits.
Magformers: Magformers feature fun tiles that connect to one another. Kids can use them to build unique structures.
Magnetic Science: Magnetic Science contains 38 pieces to help kids explore magnets and their various uses.
Geosafari Talking Microscope: With this talking microscope, kids can learn about the world around them and the samples they are viewing. They can also learn how to properly use a microscope.
Precision School Balance: With a balance, kids can practice weighing items and comparing different weights. For example, is a carrot heavier than four quarters? 
Dive into Shapes: Using a series of rods and balls, kids can build their understanding of geometry as they try to recreate the shapes on the cards.
Tumble Trax: Tumble Trax is a magnetic marble run. Kids can arrange the pieces in a variety of ways to create crazy and challenging marble runs of their own.
Sum Swamp: Sum Swamp is a fun game that helps kids build their addition and subtraction skills.
Electric Plane Launcher: With the help of a grown-up, kids can put together the electric plane launcher, and then make a variety of paper planes and see how far they fly.
Upper Elementary

Rush Hour Logic Game: The Rush Hour Logic Game has become a classic game for helping kids build logic and problem-solving skills as they maneuver the cars in the parking lot.
Women of NASA Lego Set: Celebrate the women of NASA with this fun Lego set which features mini figures and building kits. It's great for girls and boys.
Adopt an Animal: Start teaching your child about giving back and becoming more aware of the world by adopting an animal. The kit comes with a certificate and a stuffed animal.
Kiwi Crate offers maker kits for kids up to age 16. Try Doodle or Tinker Crate for ages 9-16 and Kiwi for ages 5-8. Sign up for a monthly subscription box. Each box comes with fun STEM and STEAM activities for kids.
Tin Can Robot: Take an ordinary tin can and turn it into something cool with the Tin Can Robot kit. Using this kit, kids can build their own robot.
Star Wars Death Star Electronic Lab: Star Wars fans will love the challenge of the Death star Electronic Lab which has them connect circuits to help bring the Death Star to life.
Super Slime Factory: Slime is all the rage these days and the Super Slime Factory gives kids the chance to make their own slime while learning a bit about the science that goes into the process.
Qwirkle: Qwirkle is a fun game with a dominoes-like feel. Kids must match the shapes and colors, but they also have to use a bit of strategy to win the game.
Keva Contraptions: With Keva, kids can learn about engineering and geometry. This set allows kids to build unique contraptions and also comes with two balls. Perhaps kids will use them to make an epic marble run.
Create a Maze: With the Create-a-Maze set, kids are tasked with re-creating the maze on a card and then trying to get a ball through the maze.
For preschoolers through upper elementary school students, you can also put together a craft kit, full of supplies, such as googly eyes, stickers, craft sticks, and glitter glue, to make a variety of crafts and to encourage kids to use their imaginations.
Pre-Teens

Kano Computer: Pre-teens who enjoy coding and working with electronics, but are not quite ready to work on a full-fledged computer will appreciate Kano Computer, which allows them to build their own mini computer.
Perfume Maker: A lot of science goes into the creation of perfume. This set allows pre-teens to make their own scents while learning at the same time.
Spa Soaps Kit: Let pre-teens make their own spa soaps, and then use them to host a spa party for their friends. Better yet, they can package their soaps and give them as gifts to others.
Boxed Book Sets : If you know a pre-teen loves to read or has a favorite series, consider purchasing a boxed set. The Giver trilogy by Lois Lowry is a great set to consider.
Eco-Friendly Bean Bag: Instead of a normal bean bag, opt for an eco-friendly bean bag. The gift will teach pre-teens about being more environmentally conscious.
Giant Inflatable Ball: Encourage pre-teens to get outside and be active by purchasing a giant inflatable ball. They can make up their own fun games to go with the ball too.
Signed Diary of a Wimpy Kid Book: Don't just get any book, get a signed copy of a book. Authors like Jeff Kinney often promote signed copies on their websites.
Infinity Cube: Explore the night sky from the indoors through Infinity Cube, a fun light for pre-teens to play around with.
Build Your Own Pinball: Kids and teens can learn about engineering by building their own pinball game with this fun set.
Teens

Displates: Give teens a unique gift that teaches them to value creativity and different art forms. Displates come in different styles and relate to interests such as popular movies and TV shows or musical instruments.
Quadcopter: What's more fun than a drone? A drone with a camera. Teens can make their own videos and take pictures as they fly their drones.
Marvel Puzzle: Have a superhero fan? Give them a superhero puzzle so they can enjoy some of their favorite skills and they put their puzzlesolving skills to the test.
Codenames: Disney: Codenames is a fun word association game. Purchase the Disney version or another themed-version and play it with your teen.
Die Cast Spirograph: Spirograph may seem like a kids' toy, but this version of the classic drawing kit is super sleek. Teens may find creating their own spiral shapes relaxing.
Games: World of Puzzles: Purchase a subscription to a magazine such as Games: World of Puzzles. This fun magazine includes many different puzzles for teens and adults to solve.
Game of Phones: Teens are always on their phones. Get them to interact with one another with this fun game which has them use their phones to send messages and complete challenges.
My Cinema Lightbox: A lightbox is a fun way to get teens to write. They can come up with creative messages or even practice spelling vocabulary words.
In addition to the gifts listed above, consider purchasing apps and other digital gifts for teens or giving them a gift card to purchase music and apps for their phones or tablets.
Do you know of any must-have educational gifts for kids or teens? If so, we'd love to hear your ideas. Share them in the comments!

Whether you don't have family nearby or are tired of the traditional turkey and stuffing, this is the year to try something new. From celebrating friends to participating in a 5K, there are many alternative ways to celebrate this Thanksgiving. Who knows? These alternative traditions could become your or your children's traditions for years to come.
Celebrate Friendsgiving
Instead of shelling out hundreds of dollars to travel home or eating a TV dinner alone, gather together some friends for a Friendsgiving. A Friendsgiving is typically celebrated on the day before or the day after Thanksgiving, but you can also celebrate it on the actual day. The goal is to gather together with friends and enjoy a meal together.
A traditional Friendsgiving works similar to a potluck. One friend agrees to host and provide the turkey, chicken or ham. The other guests bring side dishes and desserts. If you're not much of a cook, store-bought dishes are completely acceptable. You could even all go in together and purchase a full Thanksgiving dinner from your local grocery store or favorite restaurant.
For a unique take on a Thanksgiving meal, try a progressive dinner where a different friend hosts each course of the meal. This works particularly well if you all live close together. If no one has the space to host, head to a local diner or a restaurant like Denny's (as declared in Tim Allen's The Santa Clause, they're always open).
Give Back to Others
Instead of eating at home on Thanksgiving, spend some time giving back to others. You can go the traditional service route and sign up to serve Thanksgiving dinner at a local soup kitchen or try something a little different. Giving back also teaches kids an important lesson about the value of serving others and may help them realize they have a lot to be thankful for. Some ways to give back to others on Thanksgiving include:
Deliver food boxes or turkey dinners to people in need
Collecting holiday gifts for children
Put together care packages to send to members of the military
Send cards to people you miss
Visit a local nursing home
Provide a treat to the staff at a local hospital
Go to a restaurant and leave your server a large tip
Clean out your cupboards to gather food for a local food pantry
Contact a local college and offer to host students who stayed on campus during the holidays
Get Fit
On Thanksgiving morning, thousands of people gather to participate in "Turkey Trots" around the United States. These 5Ks have become a Thanksgiving tradition of their own. Gather some friends together and enter the race together or run solo and meet new friends along the route. Many 5Ks also have special fun runs or walks, so kids can join in the fun too. If you're not a fan of running, you can always walk the 5K or volunteer to help out with the race in another way. When the race is over, treat yourself to a hearty Thanksgiving meal.
If you're missing your family's annual touch football game, organize one of your own. Meet your friends at a local park or advertise the game on a local events page so others without family in the area can join you.
Have a Movie Marathon
Thanksgiving is a big day for movie releases. Head to your local movie theater and spend the day hopping from theater to theater to enjoy them all. Just be sure you purchase a ticket for each movie. If you prefer a cheaper option, invite some friends to your house for a Christmas movie marathon or a showing of "A Charlie Brown Thanksgiving." If kids are included, pull out all of your old holiday favorites, such as "Rudolph the Red-Nosed Reindeer" and "Frosty the Snowman."
Go International
Many other countries celebrate their own versions of Thanksgiving throughout the year. Introducing elements of other cultures can also turn itno a mini-geography lesson for kids. Consider adopting one of these traditions for Thanksgiving:
In Jewish culture, some families build a hut from branches called a Sukkot. Then they eat a meal beneath the hut.
In China, families enjoy mooncakes, filled flaky pastries. The cakes were often used to deliver secret messages.
In Korea, families honor the deceased. They hold a memorial service and occasionally visit a graveyard before feasting on Songpyeon.
In Liberia, chicken and mashed cassavas replace turkey and mashed potatoes on the Thanksgiving table.
In Ancient Rome, citizens celebrated Ceres, the goddess of corn. Ceres is also where we get the word cereal, so perhaps you could incorporate some sugary cereal into your Thanksgiving meal.
However you decide to celebrate Thanksgiving this year, take some time to write down what you're thankful for.
Do you have any alternative Thanksgiving traditions? Share them in the comments!