Currently Browsing
How To
16 June //
Posted in How To //
Tags :

School is out. The weather is nice. And your kids are… bored out of their minds. While blog posts about letting kids experiencing boredom this summer have gone viral, we know that sometimes they need a little help figuring out what to do. From activities designed to help kids learn and give back to their communities to those focused on making kids a little money and helping them have fun, we've gathered the ultimate list of over 100 summer activities for kids. Most of these activities can be done at home, so you don't have to spend the summer running your kids from place to place.
Educational Activities
To help prevent kids from experiencing the summer slide, engage them in some educational activities. Last year we shared 15 summer learning activities for all ages. This year, we have a few suggestions to add to that list.
Reading/Writing
1. Create and distribute a family or community newsletter
2. Keep a summer journal
3. Write and direct a play or puppet show.
4. Write letters to family and friends
5. Join a summer reading program, such as one found at your local library or Barnes and Noble.
6. Challenge yourself to finish all of the books on a list, such as the ASLC Summer Reading List.
Science
7. Spend rainy days looking at the resources found on the Ultimate Guide to Teaching Science.
8. Conduct a science experiment
9. Find out what plants are in your yard using a field guide or an app like Project Noah.
Math
10. Take a free summer math course, such as the one from Ten Marks or the Summer Math Challenge
11. Grab a measuring tape or ruler and start measuring random plants outside
12. Figure out the perimeter of the local pool
13. Count your steps as you walk and try to get in a certain number of steps each day
Other Activities
14. Plan a trip by getting out a map and tracking where you want to go. You don't have to go, just pretend
15. Go geocaching
16. Go letterboxing
17. Take a course or learn a new skill, using some of the resources on the Ultimate Guide to Free Online Self-Learning for Kids
18. Visit a museum. Many museums offer free days throughout the summer. Bank of America customers and military families can also get free admission to museums during the summer
Socially Responsible Activities
Summer is also a great time to teach kids to give back to the community through volunteering, taking care of the environment, and other socially responsible activities. Try out a few of these suggestions this summer.
Volunteering
19. Read stories to or play games with residents of a local nursing home
20. Spend time visiting the animals at a local animal shelter
21. Serve a meal as a family at a local food bank
22. Use a service like VolunteerMatch.org to find organizations in your area that need volunteers.
Helping Others
23. Visit with elderly neighbors
24. Offer to do chores for neighbors free of charge
25. Raise money for a local charity
26. Hold a neighborhood food drive
27. Donate items to a thrift store or charity
28. Do random acts of kindness
29. Take snacks to the local police or fire station
30. Offer to watch a friend's dog or cat while they go on vacation
Helping the Environment
31. Clean up trash in your neighborhood or at a local park
32. Start recycling cans and bottles at home and encourage neighbors to do the same
33. Plant a garden
34. Make bird feeders
35. Go the farmer's market. Check out Local Harvest to find one near you
36. Pick your own fruits or vegetables. Find a farm using Pick Your Own
37. Practice conserving water by taking shorter showers and watering plants in the evening
38. Start a compost pile
39. Raise butterflies
Money-Making Activities
While most kids aren't old enough to get an official summer job, they can use the summer to make some extra spending money. Encourage them to earn money to save up for a toy or other item they really want instead of just going out and buying it for them. Some suggestions for making money include:
40. Mow lawns
41. Sell lemonade
42. Make and sell crafts like bracelets
43. Ask parent or neighbors to do chores for pay
44. Bake and sell baked goods
45. Have a garage sale or toy swap
46. Walk dogs
47. Weed gardens and water plants
48. Play an instrument in a public place
49. Sell clothes and toys to a local consignment shop
Fun Activities
Of course, at the end of the day, summer is a chance for kids to have fun. There are lots of ways to have fun at home and in your local community.
Cooking and Food
50. Make a pitcher of sun tea
51. Make ice cream in a bag
52. Make sculptures using fruits and vegetables
53. Mix whipped cream and food coloring to make edible paint
54. Place different flavored fruit juices into paper cups, add a wooden stick, and freeze to make popsicles
Arts and Crafts
55. Paint or draw a picture.
56. Practice your photography skills by taking close-up photos of animals and plants
57. Host an art show featuring artwork created by kids
58. Make a picture or sculpture using items found in nature
59. Draw with sidewalk chalk
60. Create a sidewalk chalk mural
61. Paint on the house or sidewalk with water
62. Tie-dye a t-shirt
63. Put watered down paint into a squirt gun and spray it on paper outside
64. Collect and paint rocks
65. Gather leaves and create leaf rubbings
66. Dry out flowers by pressing them between two heavy books
67. Mix bubbles with food color to make popped bubble art
68. Paint your feet and walk on white paper outside
Community Events
69. Listen to music. Many towns offer free outdoor musical performances during the summer
70. Go to a fair or festival. Fairs and Festivals highlights many of these events around the United States
71. Attend a baseball game. Many minor league games offer inexpensive tickets
72. Host a neighborhood carnival with simple games such as ring toss and bean bag toss
73. Go bowling. Kids Bowl Free partners with local bowling alleys to let kids bowl free all summer
74. Take a picnic to a local park
75. See a movie. Many movie theaters, such as Cinemark's Summer Movie Clubhouse and Regal's Summer Movie Express play free or $1 kid movies during the summer. Cities and towns also often sponsor summer movies under the stars.
Rainy Day Activities
76. Play a board game
77. Make up a new card game
78. Design a new board game
79. Have a movie marathon
80. Visit a fun website, like those found on our Top Free 100 Education Sites
81. Jump in puddles
82. Make a rain gauge and measure how much rain you get
83. Redecorate your room
84. Set up a tent indoors and have an indoor camp out
Water Activities
85. Have a water balloon fight
86. Hold a wet sponge toss where you try to land wet sponges on a target on the ground
87. Run through the sprinkler
88. Buy a kiddie pool and soak your feet
89. Play "Does it sink or float?" in a kiddie pool
90. Fill a tub with water and use measuring cups and other water toys to play with it
91. Fill bottles with different amounts of water and blow across them to make music
92. Fill buckets, squirt guns, and other containers with water and have a water fight
Backyard Activities
93. Make a fort using cardboard boxes, sheets, or tree branches
94. Have a picnic in your backyard
95. Camp in your backyard
96. Make a mini-golf course using plastic tubs with holes cut in them
97. Lay on a blanket and watch the clouds
98. Blow bubbles using different items, such as slotted spoons and funnels as bubble wands
99. Grab glow sticks and play a game of glow tag in the dark
100. Make a stunt track for your toy cars in a pile of rocks or dirt
Fun with Friends
101. Have a neighborhood scavenger hunt and see who can find all the items first
102. Ride bikes around the neighborhood
103. Have a dance party
104. Challenge friends to competitions, such as who can stand on one foot for the longest or who can jump the highest
105. Make up a special summer song or chant
106. Start a game of kickball or capture the flag
Whether it's Make Something Monday, Wander Somewhere Wednesday, or Fabulous and Fun Friday, there's plenty of fun to be had all summer long. What do you love to do with your kids in the summer? Share your ideas in the comments to help our list grow!

Teens can accomplish more with their phones in an hour than most people can accomplish in a week. However, while technology moves us forward, basic life skills are slowly fading into the background. Facebook, Twitter, and Snapchat, along with other social media tools, make it so easy for teens to interact with people from the comfort of their homes that in-person job interviews or public speaking tasks seem daunting. And with banking apps to help manage our finances, it's easy to see why many young people don't know how to write a check or balance a checkbook. Still, basic life skills, which include managing a bank account, writing a resume, or understanding how a paycheck works, are as important today as they were 20 years ago.
Help Teaching offers worksheets on the following topics to help teenagers understand, learn, and remember the basic life skills they need before entering adulthood:
#1. Driving and Safety
Knowing driving laws plays a big role when it comes to driving safely. Being a defensive driver – doing everything to avoid an accident – is also essential when on the roads. Once teens get a driver's license, it is imperative that they stay within legal speed limits, obey the rules of the road, and keep their seat belts on at all times. The Driving and Safety worksheet is a great reminder that driving correctly isn't only important for the driver and his passengers, but for all of the motorists on the road.
#2.  Managing bank accounts
It's not difficult to open a bank account, but it isn't always easy to maintain one.  Our Understanding Checks and Bank Accounts worksheet covers what teens need to know in order to manage their money in high school and beyond. It touches on understanding the difference between a checking and savings account, discovering how interest works, learning how to withdraw and deposit money, and keeping a checkbook up to date.  Teens may not realize that balancing a checkbook isn't always easy — it takes discipline and time.
#3. Filling Out a Check
While teenagers have seen parents or other adults write checks, many do not know how to write one out on their own. It's important for teenagers with checking accounts to know how the process works.  The Understanding Checks and Bank Accounts worksheet refers to important details, such as filling out a check, where to find the routing, account, and check numbers, and where to sign a check.
#4. Writing Resumes and Cover Letters
A resume is a summary of work experience, skills, and education, and can be utilized even if an applicant doesn't have much of a work history. Help Teaching's Resumes and Cover Letters worksheet addresses what type of content is needed to make a good impression on a potential employer. Items such as professional quality, easy to read content, and error-free grammar and spelling are a must. It also touches on the need for cover letters to be tailored to each job application, rather than a one-size-fits-all approach.
#5. Searching for a job
Finding the right job takes time, knowledge of labor laws, and some detective work. This process can be frustrating for anyone, but our worksheet The Job Search provides tips and guidance on how to proceed. Items such as networking, when to apply, what jobs to apply for, and age limits are covered.
#6. Job Applications
Job applications are generally used for all places of employment. Deciding what information to have on hand, or knowing what should be filled out on the application can be daunting to someone just starting the job search.  The Filling Out a Job Application worksheet touches on what is important when applying for a job. Employers need easy to remember items such as name, address, and phone numbers, but can also require information not known offhand, like a social security number, emergency contacts, or former supervisors' information. The worksheet also discusses what to do if there is no work history to include on an application, such as preparing a list of skills that can go a long way to impress a hiring manager.
#7. Job Interviews
Once the application has been received, a personal interview is the next step. Help Teaching's Life Skills worksheet The Job Interview recognizes how intimidating it can be to meet with a potential employer. It can be difficult think quickly when nervous, or to answer questions on the spot, so it is wise to be prepared before going in the interview room. First impressions are key and things like being on time, what kind of clothing is worn, and overall demeanor can be the defining factors in getting the job or being passed over.  Knowing what skills are outstanding, what skills need improved, and having questions ready for the hiring manager will make a positive impression.
#8. Understanding your paychecks and taxes
Once a job is obtained, our website's worksheet Paychecks and Taxes can help guide employees through the ins and outs of deductions and taxes. For teenagers and young adults, often the number on that eagerly awaited first paycheck is not nearly as high as had hoped.  This worksheet discusses 401 K, the difference between net and gross pay, overtime, and benefits on a paycheck. It also introduces topics such as tax forms, dependents, Social Security, and Medicare.
#9. Credit Card Management
When that paycheck begins to come regularly, a credit card may be desired. Without out the right knowledge, it's easy to fall into credit card debt. Anyone under the age of 21 must have a co-signer to obtain a credit card, unless they can prove they have a five-figure income. Our worksheet Understanding Credit Cards discusses how credit cards work and how to manage them. It refers to credit scores, credit history, and payments, along with APR and interest fees.
The amount of knowledge teens and young adults have with basic life skills is often taken for granted.  As a result, many go out into the real world not knowing how to write a check, use a credit card wisely, or even remember basic driving skills. Teachers can use the Life Skills worksheets in any high school or higher grade level. Some worksheets such as Understanding Checks Bank Accounts can be used for early high school, and even middle school. Find more life skills worksheets at HelpTeaching.com.

Teaching kids about money goes beyond giving kids an allowance or having them fill a piggy bank with spare change. It involves creating budgets, setting savings goals, comparing prices, and even coming up with ways to earn more money. That may sound like a lot of work, but thankfully you don't have to do it on your own. We've chosen a few of the top tools that you can start using today to ensure your kids develop the healthy money habits they need to become financially stable adults. Remember: it's never too early to start teaching kids about money.
Financial Peace Jr.
What: book, chart, activities
Age Range: preschool – elementary
When people want to get out of debt, one of the first people they often turn to is Dave Ramsey.
However, Dave Ramsey does more than help people get out of debt. He also offers resources to help parents teach kids about money. One of those resources is Financial Peace Jr. and the Junior's Adventure story series. In the Financial Peace Jr. kit, kids receive giving, saving, and spending envelopes, a fun chore chart, and a book full of activities to complete. In addition, parents get access to video lessons and a digital copy of the book Smart Money, Smart Kids to help them learn more about the importance of teaching kids healthy money habits.
Sesame Street Finance for Kids
What: videos, worksheets
Age Range: preschool – early elementary
Sesame Street is a favorite of toddlers and preschoolers around the globe, so it makes sense that it would also be a good platform for a lesson about healthy money habits. Finance for Kids features a short video where Elmo tries to earn money, discovers the difference between needs and wants, and sets earnings goals. Parents can download a guide with activities and questions to use along with the video. The site also features coloring pages and other worksheets that can be downloaded and printed out. For more help, parents can check out the Elmo's Adventures in Spending, Saving, and Sharing podcast.
Current Debit Card
What: debit card with virtual wallets and parental controls
Age Range: upper elementary – college
With Current, parents can teach kids and teens about responsible spending with an actual debit card and an online platform that helps kids learn more about money. Kids are given three wallets: spending, savings, and giving.
Kids earn money through chores and/or a general allowance, both of which can be set up in the app, and can also have money transferred into their accounts by their parents and others. The money can then be moved between the different wallets. Current gives kids freedom to spend their money, but also provides parents with tools and opportunities to see how kids are spending their money and talk to them about responsible spending habits. All transactions are itemized and parents have the ability to control what kids are allowed to spend their money on.
BusyKid
What: chores and allowance management
Age Range: upper elementary – high school
BusyKid helps simplify the process of monitoring chores and giving kids an allowance by combining them into an online platform. With this program, parents can set up chores and see suggested rates for common chores. They can also approve payments for those chores. Kids can then use the money they earn to purchase gift cards, contribute to popular charities (such as Big Brothers Big Sisters, Make-a-Wish Foundation, and Autism Speaks), and even purchase stocks. The idea is to teach kids how to save, share, and invest their money responsibly.
Biz Kids
What: videos, games, activities

Age Range: middle school – high school
When kids visit Biz Kids, they can learn all about healthy money habits through engaging videos, fun games, and other activities. Through BizKids, kids and teens can learn about a lot more than just spending, saving and giving. They can also learn about concepts such as starting a business and how to spot common advertising tactics and scams. These lessons come largely through the video clips from the BizKids show. The website also features lesson plans for teachers and a blog that highlights kids who are doing awesome things with their money.
Whatever tools you use to teach your kids about money, remember to practice what you preach. Take time to show your kids your household budget, tell them about some of your savings goals, and regularly talk to them about any spending or giving choices you make. The more kids see you making smart money choices, the more likely they are to make those same choices themselves.
Today's jobs look nothing like they did 20, or even 10, years ago. Gone is the age of the cubicle. Now workplaces feature open offices and flexible schedules with telecommuting options. Even the traditional look of a career has changed. While it's still possible to get that 40 hour a week job with vacation and benefits, many employers and job-seekers have started to look for something a little less formal and a lot less permanent. The result is the rise of the gig economy.
What is the Gig Economy?
Essentially, a gig economy is just like it sounds. Workers make money through gigs. For example, if a band is booked to play a show (a gig), then the members of the band get paid. However, a gig economy goes beyond the field of music. Today, many job seekers make a living through a series of gigs. They code apps and develop websites. They take photographs and create advertisements. They mow lawns and complete odd jobs. They develop assessment items and tutor students. They take on cases as lawyers and help sell real estate. They upcycle furniture and sew dresses. They work as entrepreneurs, freelancers, temporary workers, and independent contractors.
The difference between a gig economy job and a standard job is that a gig economy job is less permanent. Some gigs may be recurring, offering workers a steady paycheck and income they can depend on. Most, however, are one-time deals. Companies that cannot afford to hire a full-time employee or may not have a need for an employee once a project is complete may hire temporary workers to get the job done. Workers who crave flexibility and do not want to be tied down to one job can get a variety of experiences and, often, set their own schedules.
According to the annual Freelancing in America survey, nearly 35 percent of the workforce is choosing to participate in the gig economy, either full-time, part-time, or as a second career. As many industries face cutbacks and the number of full-time jobs available for graduates continues to decrease, many new college grads and other job seekers are finding hope in the gig economy.
Things to Consider with a Gig Economy
Of course embracing the gig economy isn't for everyone and it comes with its own sets of challenges. While the gig economy can provide workers with a flexible work schedule and the opportunity to work on a variety of projects, it can also lead to an unpredictable income and problems maintaining a work-life balance.  Those thinking about the gig economy should consider a few questions before getting to work.
How will I find work?
One of the biggest challenges of working in the gig economy is finding work. Essentially, workers start their own business and develop a roster of clients who provide them with tasks to complete. When you first start out, it may be difficult to get work. However, the more time you spend in the field and making connections, the more opportunities you're likely to get.
What are some ways I can monetize my skills?
Working in the gig economy is all about finding non-traditional ways to earn money. Sometimes the jobs being offered do not mirror more traditional positions. Think about the skills that you have and make a list of all the ways you could possibly use those skills. Maybe you're good at making quilts, but the market for selling quilts is not very large. Could you monetize your skills by making quilted potholders en masse or teaching a quilting class at a local craft store? Maybe your skill involves driving people around all day. While you could work for a ride-sharing service, you may have more luck finding a regular job driving a senior citizen to appointments or to the grocery store.
Can I manage multiple projects at once? If so, how many?
When you work in a traditional job, you often only handle one or two projects at a time. However, when you work independently, you may have multiple clients. Each client will have a different set of standards and expectations and most of them won't be very understanding if you get those standards and expectations mixed up. To work in a gig economy, you must be organized and able to multi-task. You also need to learn your limits.
Do I want to work full-time? Part-time? Just in my spare time?
With the gig economy, you have a lot of control over how much you work. Think about the skills you have and how you can monetize them. Can you make enough money to work full-time? If not, would it be better to pick up a part-time job and take on gigs part-time as well? Maybe you want to take on a full-time job in your field and pick up gigs on the side as a way of earning extra money. Some people start taking on gigs while working a full-time job, and then eventually leave the full-time job to work full-time in the gig economy. Others only work in the gig economy on a very part-time basis. What you decide to do is up to you.
How will I pay for insurance? Save for retirement? Pay taxes?
Traditional jobs often come with insurance and other benefits. They also automatically take taxes out of your paycheck. In the gig economy, you often become responsible for all of those tasks. When you determine how often you want to work and how much money you need to make from your gigs, you must consider the cost of insurance, saving for retirement, and paying for taxes. The cost of these items helps determine whether you can be successful in a gig economy.
What happens if I get sick or need to take extended time off?
Jobs in the gig economy often don't come with paid sick days or vacation time. If you get sick and can't meet a deadline, a client may decide to take his/her business elsewhere. Regularly cancelling gigs or failing to complete projects on time can make it harder to get new work. Plus, when you take time off, you don't get paid. If you rely on the gig economy as your main source of income, you must be prepared for sick days, time off for vacation, and even lulls in your workload during the year. For example, you may get fewer gigs during the holiday season as companies take time off to celebrate.
How will I pay for my equipment?
If you work in a traditional job, chances are your company will provide you with most of the equipment you need. When you work independently, not so much. Do you need a computer? Specialized software? A printer and ink? These expenses are your responsibility. When you price your gigs, you need to take this into consideration.
What if I take on a bad gig?
Working in the gig economy comes with a lot of risks. When you work independently, you often aren't covered by the same rules and regulations that you're covered by in the workplace. This means that clients may make unreasonable demands on your time, may not pay you a fair rate, or may not pay you at all. Are you prepared to handle any of these events should they happen? Do you know the legal aspects of the field you plan to work in?
Am I willing to invest the time and effort it takes to make it work?
When it comes to working in the gig economy, some people get lucky and work just falls into their laps. For most people, however, finding work and managing your workload requires a lot of time and effort. You must be willing to put yourself out there, take risks, and apply for a lot of jobs. You must be willing to figure out how much to charge for your work and not give up when times get tough.
How to Find Work in the Gig Economy

One of the biggest challenges in a gig economy is finding work. Before looking for work, make a list of all of the jobs you're qualified to do and include 1-2 reasons you're qualified to do them. This will help you in your search for new work. Once you know what you want to do, you can start exploring opportunities. Remember, you don't have to find a full-time job. While the gig economy can be a great alternative for full-time employment, it's also a great way to earn some extra money while going to school, working part-time, or being employed in another career.
To find work in a gig economy, consider the following options:
Ask family and friends for help. They may have odd jobs that need completed, or they may be able to connect you with others who need help. Just put yourself out there and ask. You never know what connections you might make.
Contact companies directly. Is there a company you'd like to work for? First, visit their website to see if they have any job openings. You can also conduct a Google search to see if they have any job listings on other sites. Once you've done that, consider sending a letter to the company that describes your services and how you think you can help them.
Create a profile on a website focused on helping people find gigs. Some sites to consider include Fiverr and Upwork. You can also look in the gigs section of Craigslist, but use caution when responding to listings.
Look for companies that rely solely on independent contractors or temporary employees. Think beyond companies like Uber or Lyft. For example, you might want to make deliveries for Postmates or Instacart, or rent out your car with Getaround or Turo.
Set up your own online store with sites such as Etsy, Shopify, or eBay. You may also find a place at local co-ops that cater to small businesses or pop-up shops.
Create your own website. Think of it as a virtual resume. On your website you can advertise your services and your qualifications. People looking for your services in your area can find you through your site.
Whether you're just graduating from high school or college or want to make a change in careers, you may find that working in the gig economy is the solution. Also, don't forget to check out our 10 Money-Making Ideas for Teachers and Parents to find additional ways to make money in the gig economy.

During the school year, teachers go through moments where it seems like the days are dragging on and on. Then, in an instant, it feels as if they are just flying by. The constant changes in attitude and emotions may cause teachers to feel overwhelmed. We have gathered some survival tips to help even the most seasoned professionals find some balance during the school year. Whether the school year is winding down and you just need help getting to the last day or it's just beginning and you're not sure how you'll make it through the year, these tips will help motivate you.
#1 You Are What You Eat
Have you noticed what you've been putting into your body lately? If you've been eating a lot of foods that are high in sugar and processed ingredients, you may notice that you have a lack of energy and focus. Sometimes you have to stop at a drive thru or grab some chips from the vending machine, but you should try to make healthy choices as often as possible. When you stick to a healthy, balanced diet, you will feel energized and able to take on the day. You can find many clean eating meal plans online to help you freshen up your day to day eating habits. Do some research and choose one that works for you.
#2 Keep the Hydration Coming


Feeling tired during the day? If you can't squeeze in a nap, try drinking some water. Often feelings of fatigue come from being dehydrated. Teachers are ALWAYS talking and moving around. As a result, your body is using a lot of water. You may also experience dry mouth and lips or even an irritated, sore throat. Find a giant water bottle that you love and keep if with you throughout the day, or purchase a mini fridge for your classroom and stock it with bottles of water that are always cold and easy to access. To add some flavor to your water you can drop in a few strawberries, cucumbers, lemons/limes,  or your own choice of fruits/vegetables. This will help you take in some extra essential nutrients during the day as well. When you are properly hydrated, you will not only look your best, but more importantly, you will feel your best.
#3 Move Your Body, Enhance Your Mind
Regular exercise will keep your mind clear and your body energized. Teachers often say they are too busy or have too many papers to grade to exercise. However, it's important to make time for exercise during the day. Some ways to squeeze in your exercise include a 20-minute walk right after school, an early morning run, or treadmill time while grading papers or writing lesson plans. You can also incorporate exercise into the school day. For example, you may use your planning period to take a walk with co-workers and discuss department issues during your walk. You could also incorporate brain breaks into the classroom and join in as students dance or engage in short exercises. When you take care of your body, you will have the energy you need to make it through the week without feeling burnt out. Get moving and keep moving!
#4 The Early Bird Gets the Worm
Advance planning is one of the key aspects of keeping your head above water during the school year. It's easy for your routines to become more relaxed as the year goes on. Sometimes you can't avoid running to the copy machine minutes before your first class begins. However, the more you can get ready ahead of time, the better you'll feel during the day. Whenever you can, spend a few extra minutes trying to get ahead so you can stay sane in the moment.
#5 Forget Beauty Sleep, Stock Up on Sleep for the Brain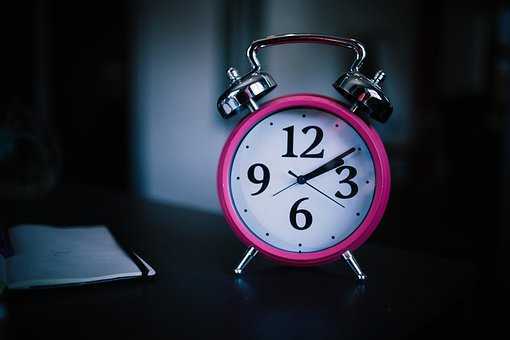 When you have lots of grading to do and lesson plans to  write, it can be difficult to get to bed at a decent time.  However, choosing sleep over work will usually pay off in the  long run. Teaching is mentally and physically exhausting. You need rest to help you recharge and refocus at the end of every day. While it may seem like the grading will never get done if  you get to bed on time, you may be surprised. Often people who get a good night's sleep are more productive and energized during the day, which means it takes less time to complete essential tasks. In addition, if you're tired during the day, you may find that you lack patience with students or are less engaging when delivering a lesson. Getting some sleep can solve a lot of problems in the classroom.
#6 Treat Yourself
It is so important at the end of a rough week or even a long day to remember to do something nice for yourself. It doesn't matter if you take a hot bubble bath, watch your favorite sports team, bake your favorite treats, or go on a long hike. If you get that time out that you need, you have succeeded. It is important to reward yourself for your hard work and long hours by doing things that you enjoy. Even if you are completely swamped, just a few hours away will be enough to rejuvenate you and allow you to return to your work a bit more refreshed.
If you don't take care of yourself, it's harder for you to take care of others. If you are feeling burnt out or overwhelmed as the year goes on, focus on these tips. Remember, YOU are a hard-working, dedicated educator who is making a difference in your community. YOU are giving so much of yourself each day, so don't ever let a bad week keep you down. You deserve the best and so do your students. After all, they're the reason you do what you do.
For more help on managing the classroom, check out Back-to-School Tips for Teachers which contains strategies that can be used year-round. You can also use strategies to keep students energized which may help you stay energized too.
This post was written by Help Teaching contributor, Amanda McAllister. Amanda is a qualified primary, intermediate and senior teacher who has been teaching for over 8 years. When she is not teaching, she is travelling, spending time with family/friends, acting, and trying out new recipes. Amanda is proud to be a life long learner and is looking forward to many more years of teaching to come.