Currently Browsing
Posts Tagged ' teacher resources '

Social media is a regular part of students' lives. They use it to communicate with friends, share photos and post status updates on a regular basis. In fact, 92 percent of teens, ages 13-17, report going online daily.
Unfortunately, this shift to more online communication has also brought more bullying into schools. Around 80 percent of young people believe that bullying is easier to do online and 43 percent of kids have experienced cyber-bullying, according to DoSomething.org.
However, teachers don't need to make students to put away their phones. Instead, teachers can use these tools in the learning process. Not only will this help make learning more relevant, but it's also an opportunity to encourage positive social media use – something students don't learn about enough.
You don't need to drop all the books and completely change course. Rather, bring social media into the classroom in small amounts, using projects or research as a chance to talk about positive and appropriate use of social media. Here are a few ways to make this work in your classroom. 
Bring it Into Your Lessons
You don't need to create social-media specific lessons to teach students how to use social media in a positive way. Simply bring these tools into your current lesson plans, giving them a chance to learn by doing.
Here are a few fun and simple ideas to do just that:
Use Twitter to Research: Show students that Twitter can be used for more than sharing their personal thoughts. Ask them to research and source at least three tweets for their next project. This will also give them a chance to practice deciphering between good and bad sources of information.
Use Blogs for Work: Teach students that they can put their thoughts onto "paper" and share the final product with the world by bringing blogging into your classroom. Not only will they get a thrill from sharing the work they put so much time into, but this also gives them experience with using various blogging tools and writing web content; skills that are quickly becoming required of 21st century students.
Use Social Platforms in a Different Way
Students use Pinterest to share funny memes and products that they want to buy. But this tool—and others—can be used in so many different ways in the classroom. Use the following ideas to show students how multi-dimensional these social platforms are.
Historical Figures' Facebook Pages: Have students create a Facebook page for a historical figure of their choice. They'll need to show you that they know everything about this character by creating status updates and filling out the varisous sections such as, "about me" and "interests." (Idea from EdTechTimes.com)
Current Events Pinterest Boards: Each student creates their own board and adds a new current every week—or with whatever frequency you assign this task. Encourage students to go onto Pinterest and comment on their peers' posts, allowing them to collaborate and socialize with an educational mindset.
Create Class-Specific Social Groups
For most students, social media is used to chat with friends and share photos. With a classroom account, students can still do that, but within the framework of education and school. While you can use these groups to share homework, give test reminders, and further cultivate your classroom community, classroom social groups provide you with a great opportunity to encourage positive social media use.
For example:
Create group rules: Every student must abide by the rules, including using appropriate language, proper spelling—you not u; your not ur—which may translate to their social media use outside of school.
Create an anonymous concern form: Many students won't report cyber-bullying for fear of someone finding out—90 percent of teens who have seen it say they ignored it. Provide students with a Google Form they can use to share any issues they're having in the classroom group with regards to cyber-bullying or poor language use. While you should be constantly monitoring these platforms, students could write something and delete it before you see it.
Use Social-Focused Tools
If you or your students aren't ready to fully use social media in the classroom, use tools that have similar collaboration and social features. This gives you a chance to lay down ground rules and set expectations for social media use without allowing students to log into Facebook in the middle of class. Try one of these simple tools.
Whooo's Reading: Students call this tool "Facebook for reading," because it incorporates many similar features of Facebook including commenting and "liking." However, it also uses gamification features to motivate students to read more, while using fun CCSS-aligned comprehension questions to ensure they understand the text.
Google Docs: Allow students to use Google Docs for peer reviewing. With this tool, they can collaborate and comment in real-time, similar to Facebook. Use this as a chance to talk about what makes an appropriate and helpful comment, versus one that is mean or inappropriate.
Diigo: Students use this web platform to tag websites, create a personal library, share with classmates, and structure research. This puts an educational spin on sharing and online chatting, while allowing you to monitor and guide the process and conversation.
Bringing social media into your classroom isn't just about engagement, or giving students what they want, it can be beneficial in teaching how to use these platforms correctly. With cyber-bullying and teen social media use at an all-time high, teachers have an opportunity to change the course.
Jessica Sanders is the Director of Social Outreach for Learn2Earn, a San Diego-based education organization that offers Read-A-Thon fundraisers and reading motivation tools for teachers and schools. She grew up reading books like The Giver and Holes, and is passionate about making reading as exciting for young kids today as it has always been for her. Follow Learn2Earn on Twitter and Facebook, and check out their new ebook, How to Bring Technology Into the Classroom, just $2.99 on Amazon.com.
10 March //
Posted in How To //

Kids love crafts (and many grown-ups do too). Sites like Pinterest are full of craft ideas for kids, but sometimes you don't feel like wading through all of the pins. When you're short on time or aren't quite sure what you're looking for, there are plenty of craft sites ready to help you out. Whether you want to celebrate National Craft Month in March, find a craft to go along with a lesson, or just do a craft with the kids, we've rounded up a collection of the best craft sites to help you find the perfect craft for kids. With over 50 kid-friendly resources, you'll be getting crafty in no time!
General Crafts
Many craft sites cover all subjects and seasons. These are some of our favorites both for the amount of craft ideas they offer and the quality of the ideas they provide.

Red Ted Art's motto is "Bringing Color & Art to Children's Hearts." This site is full or really neat ideas to encourage children to develop their creative side. Crafts are organized by category and range from making gifts to designing your own board games.
Busy Bee Kids Crafts organizes its craft ideas by time of year, category, and material. For example, if you have a wealth of empty toilet paper tubes, you can see a list of crafts that will help you use them up.
Enchanted Learning's crafts section includes craft ideas for nearly every holiday and category. The crafts include a mix of printables and simple paper-based crafts. Most are appropriate for preschool and early elementary school.
DLTK's Crafts for Kids is another quintessential crafts site, with a large selection of crafts for preschool and early elementary school. One section of the site is entirely devoted to printable crafts, which are ideal for those who want simple crafts with little mess.
First Palette includes a large selection of crafts searchable by theme, occasion, and age. Crafts range from toddler to ages 9 and up. While the site does have some printable crafts, many are slightly more involved crafts that will require grown-up participation.
Crayola has a great selection of crafts that can be made with Crayola projects. You can filter by age (12 months-12+ years), category, and color.
Storybook Crafts and Favorite Characters
Younger kids love to create crafts related to their favorite stories and characters. These sites take some of the most popular picture books and cartoon characters and pair them with great crafts for kids.

Kids Activities Blog has gathered up 100 crafts inspired by children's books. These include crafts from books such as The Very Hungry Caterpillar and Knuffle Bunny.
No Time for Flashcards features a list of 25 books with crafts to match. Find a book you want to read with young kids and a relevant craft beside it. It can't get much easier than that.
The Picture Book Professor offers many holiday and seasonal booklists that are accompanied by relevant crafts for kids.
PBS Kids crafts for kids page features crafts for many of kids' favorite PBS shows, such as Peg+Cat, Sesame Street, and Daniel Tiger's Neighborhood. Many of the crafts are involved and require grown-up participation.
Disney Family offers many different craft ideas featuring favorite Disney characters. Many of the crafts are designed to be completed by families, which means they have steps that will be difficult for little kids.
Bible Crafts
Bible crafts can help kids learn more about key events and lessons in the Bible. These sites are perfect for Christian homeschoolers, Sunday school teachers, and parents who want to bring Bible lessons into the home.

DLTK's Bible Crafts features a large selection of craft ideas organized by animals, general Bible crafts, Old Testament crafts, and New Testament crafts. Their offerings include printable crafts and many crafts that use items found around your home.
Danielle's Place offers a massive selection of Bible stories and crafts for kids. Crafts are organized alphabetically by story. Each story is also accompanied by fun games.
Christian Preschool Printables focuses on easy-to-use printable crafts for kids. Crafts are organized by Old Testament, New Testament, and Holidays.
Meaningful Mama created a list of 100 Best Bible Crafts for Kids. The crafts are organized by major stories in the Bible.
Edible Crafts
With these edible crafts, you can have your crafts and eat them too. These sites offer crafts for a range of ages, from young kids who like to play with their food to older kids who are starting experiment in the kitchen.

EdibleCraftsOnline.com includes a large assortment of edible crafts for kids and adults. Many of the crafts are focused on special occasions.
Kinder Art shares a solid collection of recipes and edible crafts for kids. Many are simple enough to made by younger kids, with some grown-up supervision.
Cute Food for Kids features many neat ideas to help parents make kids' food playful and fun. While many of these ideas are designed for parents, kids can help with the process.
Imperial Sugar offers many edible art projects that incorporate sugar and also includes fun science experiments as well.
Fun Family Crafts has an extensive archive of edible crafts, including some inspired by kids' favorite movies.
Science and Nature Crafts
Science and nature crafts are a great way to get kids to have fun while learning more about the world around them. These sites include crafts made from materials found in nature and science experiments to help kids learn more about the world of science.

Tinkerlab features a variety of crafts and other projects designed to get kids thinking. Its offerings include many crafts related to science and nature that are great for upper elementary school.
Science Kids offers many fun science experiments and crafts designed to help kids learn more about how the world works. Ideas range from making eggs float to building parachutes.
The Craft Crow features crafts designed to help kids learn about science while being creative as well. Many of the activities repurpose the same materials in multiple ways.
32 Awesome Things to Make with Nature from Buzzfeed is full of clever craft ideas. While many of the ideas are designed for adults, they can easily be adapted to be fun for kids too.
Activity Village offers a nice selection of crafts designed to be used with leaves, pine cones, and other easy-to-find objects from nature. Many crafts can be enjoyed by younger kids too.
National Geographic features a selection of crafts designed for kids in elementary and middle school. Many of the crafts are designed to go along with National Geographic articles or programming.
Recycled Crafts
Rather than wasting paper and other items, why not make crafts from items you can find around your home? Kids can have fun and help save the environment at the same time.
Education.com's Recycled Crafts section includes tons of craft ideas, from using old Christmas lights to creating a classic tin can phone.
Fave Crafts shares its list of 1000+ Recycled Crafts. This extensive list features crafts for both kids and adults and all of them use recycled items.
Planetpals is all about saving the Earth and it continues its mission through its collection of recycled crafts for kids.
Math Crafts
Sometimes right-brained students have a hard time grasping math. Bringing craft projects into the math classroom can help students grasp difficult concepts in fun ways.

Lalymom offers a list of 20 different math activities activities that all use the same main material – craft sticks! These activities are designed for preschool and early elementary school and help kids learn a range of basic math skills.
Nurture Store created a list of 100 hands-on, creative math activities for kids. Many of the items on the lists are crafts kids can complete. Activities are organized by skill, such as addition and subtraction and learning symmetry.
The Art Curator for Kids offers 13 Ways to Integrate Art & Math, a list of 13 different art projects connected with math. Ideas include tessellations and color wheel clocks. The site also includes a list of books that combine math and art.
We Are Teachers shares a list of 9 math art projects designed to help students love math. Ideas include musical fractions and place value pictures.
Social Studies Crafts
Craft projects can help kids experience the time period or event they're learning about. Many of these sites offer projects that allow kids to make replicas of toys and tools found in history.

Time Traveller Kids is a British site that offers a wealth of free project ideas from different periods in history, including Ancient Rome, Japan, and Tudor Britain.
A Book in Time includes many resources for teaching social studies, including pages of crafts and projects organized by periods in American and world history.
Quatr.us offers a "What Should I Do Today?" section with a variety of social studies crafts. The site also has tons of articles on many different social studies topics.
Gifts for Others
Rather than spending tons of money on holiday gifts, why not have kids make gifts for friends and family? These sites offer some great handmade gift ideas.

FreeKidsCrafts.com has over 10 pages of crafts that kids can make as gifts for others. Ideas range from candy towers to glittery acorn necklaces. Many ideas are great for upper elementary and middle school.
101 DIY Gifts for Kids from Kids Activities Blog includes a large selection of ideas for both kids and parents to make.
101 Crafty Gifts to Make from Instructables is a list designed for adults, but many of the ideas could easily be made by older kids and teens as well.
40 Useful Gifts Kids Can Make is full of great crafty gift ideas. It includes gift such as handprint aprons and handmade bowls. Many will require help from a grown-up.
101 Handmade Gift Ideas Kids and Families Can Make from the Artful Parent is a great collection of crafty ideas. The crafts are organized by gift type, such as art gift, gifts for play, and gifts for the home.
Coloring Pages and Cut-Outs
Sometimes instead of making fancy crafts, kids just like to color. Pick up cheap coloring books at the dollar store or print them out from these sites.

Babadoodle features free coloring pages for kids and adults. Colorings pages are organized by category and include many mandala coloring pages.
Coloring.ws from DLTK is full of simple coloring pages organized by category and holiday. Print them out and let kids color away.
Crayola offers many free coloring pages, including pages featuring some of kids' favorite characters, such as the Disney Princesses.
Educational Coloring Pages has thousands of coloring pages for kids featuring their favorite cartoon characters.
The Kidz Page has a large selection of printable and online coloring pages organized by category and holiday. They include many early elementary pages.
HelpTeaching.com's Early Education printables feature coloring pages designed to help preschoolers learn their letters and numbers.
Craft Kits and Subscriptions
If even searching for craft ideas for kids is too much work, consider getting a subscription to a craft box or purchasing a craft kit.

Kiwi Crate is a monthly subscription box that includes a different craft or maker project each month. It is designed for children ages 5-8, but the company offers other boxes for kids from ages 3-16.
Green Kid Crafts features monthly subscription kits for kids ages 3-10. Each kit is focused around a different educational theme and comes with STEAM activities for kids.
Bramble Box is a pretend play and craft kit that is delivered to your door monthly. Kids will enjoy exploring and reading about a monthly theme, and then creating a craft related to it. Many themes relate to math, science, and social studies, so it's educational too!
Science Buddies sells kits to help kids learn about science while making their own fun toys, such as vibrating robots and a magic bullet train.
Oriental Trading is known for its pre-made crafts for kits. Many of the kits come in multi-packs, which makes them great for play dates or classroom craft time.
Tips for Crafting with Kids
Before you start a craft project with kids, keep these tips in mind.
Gather all of your materials in advance

The kids will be ready to get started right away, so you want to make sure you have everything ready to go.

Be patient and flexible

It may take kids a long time to complete a step and they may not do it perfectly, but you need to step back and let them craft their own way and at their own pace. If their snowman comes out looking for like a snowball, who cares?

Prepare for the worst

Crafts are designed to be messy. Cover your dining room table, put newspaper or plastic on the floor, and let kids wear a large paint shirt so you're not as worried about the mess.

Have fun

Why let your kids have all the fun? Summon your inner-child and have some fun getting messy and making the crafts with them.
Do you have a go-to craft site or a great craft idea with kids? How about tips for parents and teachers taking on a big craft project? We'd love if you shared it with us.
It's the beginning of a new school year and you're anxious to jump into the new curriculum. However, as many veteran teachers will tell you, before you jump headfirst into the new curriculum, it may be helpful to take some time to review. It's common knowledge that many students experience a significant amount of learning loss over the summer and while some of that knowledge may come back to them during the school year, reviewing at the beginning of the school year can you save you a lot of time and headaches early in the year. In addition to saving time and headaches, reviewing previously taught material offers other benefits as well.
Review Helps Students Gain Confidence
You don't start an AP Calculus course by having students find the derivative of a function. Instead, you build up to that skill by reviewing trigonometric functions and discussing limits. By starting with something students know, you help build their confidence to tackle more complex tasks.
Review Shows Where Students Are
Reviewing with students, also helps you gain a sense of where students are and what gaps may exist in the learning. For example, you may hope to move into a lesson about writing complex sentences and realize that students still don't understand the basic parts of speech (nouns, verbs, adjectives). While you may not be able to fill in all of the gaps before introducing new content, you will know the areas where you may have to spend a bit of extra time as you introduce new concepts throughout the school year. If only a few students have gaps, you may be able to provide them with worksheets, video lessons, and other resources to help catch them up.
Review Improves Retention
As a teacher, your goal isn't just to cover the standards, it's to ensure that students retain the information as well. By reviewing previously taught material with students, you help that material to begin to take root in their brains so that it's more likely to stick with them. For example, if students hear once that a comma goes inside quotation marks, they're not as likely to remember it, but if they hear it multiple times throughout the school year and are required to practice putting the comma inside quotation marks, they're more likely to remember that bit of information.
Strategies for Review
When it comes to reviewing material with students, the level of review will depend on the level each student is at and the amount of time you can build in for review. Pick and choose the following strategies based on your students' needs.
Let Students Conduct the Review
Give students a chance to show what they know and to make sense of the information themselves by allowing them to conduct a review. A few ways you can do this include:
Summarize
Give students a concept or briefly review information with students and have them summarize what they've learned or what they remember in their own words. As students share their summaries with one another, they'll gain a better understanding of the concept.
Organize
Give students a set of information and have them organize it in a way that makes sense. You could give students a paragraph that needs to be put back into order or a group of animals that need to be organized by habitat. As they organize the information, students will get the chance to review the material and make meaning out of it.
Elaborate
Give students a task that requires them to use information they need to review in a new way. For example, students could use the laws of physics to solve a problem.
Info Dump
At the beginning of a lesson, give students a chance to complete an info dump, where they write down or say everything they remember about a particular topic. Have students work in pairs or small groups so they can learn from one another. When you get into the actual lesson, you can touch on topics students remember and clear up any misunderstandings they may have.
Incorporate Short Video Lessons
Short video lessons are a quick way to help students review a concept before introducing a new one. Help Teaching's self-paced lessons feature short videos accompanied by practice questions and worksheets. Best of all, you can assign individual students lessons to watch based on their needs.
Play Fun Review Games
Download a slideshow template to create your own version of Jeopardy or Who Wants to Be a Millionaire? that includes questions related to material students need to review. If you don't have time to create an entire slideshow, just create a list of a few questions and have teams of students take turns answering them in the classroom. You can add excitement by letting students try to shoot a basket every time they get a question correct.
Choose a Topic of the Day
Start each day or class period with a particular topic students need to review. You may have students answer a question in their journals, read a short paragraph and complete reading response activities, or even complete a short worksheet, such as a daily grammar review or number sense worksheets. You only need about five minutes a day to conduct a short review.
Integrate Old Material with New Material
As you teach new material, build upon previous knowledge. You can do this through an info dump, short bell-ringer activities at the beginning of every lesson, or by simply pointing out how the skills build upon one another. Not only will students review the concepts, they'll begin to see how different skills and topics work together. This will help them begin to make critical connections on their own.
Very few people can read or hear something once and remember it forever. Instead, they need to regularly review material to keep it fresh in their brains. Don't think of review as a waste of time. Instead, try to build time in your schedule to review with students at the beginning of the school year and throughout the year.
Do you have any strategies you use to review? If so, we'd love to hear them. Share your ideas in the comments!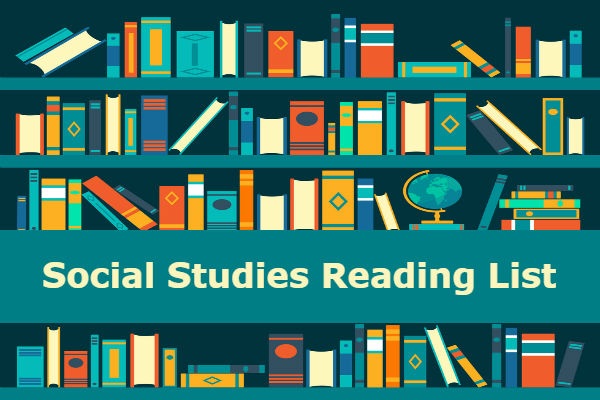 The first day of a new school year is right around the corner! Ease back into learning mode with these social studies book offerings that will be sure to spark interest and prepare your elementary or middle schooler for another school year.
Geography
Geography is an oft overlooked, but essential component of learning. It crosses over into other subject areas, and provides a basis for learning about historical and modern events, particularly relating to their causes and effects.
The 50 States by Gabrielle Balkan (grades 2 – 5)
This fact filled atlas devotes an entire spread to each state, including an oversize map and tons of trivia. It even has an accompanying activity book that includes stickers and games!
When on Earth? (grades 3 – 7)
This compilation uses illustrated and annotated maps from around the world to explain major historical events across four distinct and chronological eras. The bright colors, historical facts, and connections across places and time makes this a wonderful primer for the impact of geography on history across time.
Primary Sources
Every social studies classroom uses primary sources to teach about historical events, while integrating the thinking skills of interpretation and analysis. Primary sources come in many different forms, as indicated by the list below.
A Primary Source History of the American Revolution by Sarah Powers Webb (grades 3 – 4)
This books uses newspaper articles, personal accounts, and other primary sources to put the reader in America as they fight for their freedom from the British in the late 18th century.
Dreams of Freedom: In Words and Pictures by Amnesty International (grades 2 – 6)
This collection lists basic freedoms that all should enjoy, accompanied by a quote from famous human rights champions, such as Nelson Mandela and Malala Yousafzai. There is also an illustration depicting the freedom and the quote. Pairing words and accessible art is a terrific way to encourage analysis and thoughtfulness in young adults.
Biography
Accessible biographies are not always easy to come by, but those that integrate learning with easy to read text engross young readers in magical stories of those who dared to make a difference.
Heroes of History by Anita Ganeri (grades 2 – 4)
More than a simple retelling of history's fascinating figures, this book aims to educate though entertaining. Fictionalized diary entries combined with important historical facts take young readers on an adventure with every page.
Voice of Freedom: Fannie Lou Hammer: Spirit of the Civil Rights Movement by Carole Boston Weatherford (grades 6 – 12)
Hammer's fascinating struggle is told in verse and in the first person. A seminal civil rights figure, her story should be read by many, and the unique storytelling model used in this book will surely hook young readers.
Aaron and Alexander: The Most Famous Duel in American History by Don Brown (grades K – 4)
For students aware of the Hamilton craze gripping the country, this picture book gives some further historical meaning to Alexander Hamilton and a score that was settled many years ago.
Taking Action
The social studies classroom aims to not only teach about the people and cultures of the world, but also to ingrain a sense of community among our students. Building better citizens is just as, if not more important than the facts, years, and events that so many of us cling to. The books below enlighten students to those who go above and beyond to help others, and hopefully, will encourage them to embrace service and good deeds.
Can We Help? Kids Volunteering to Help Their Communities by George Ancona (grades 1 – 4)
Many schools are instituting service learning requirements, while other encourage students to be more community minded. This book chronicles real life kids helping the less fortunate in their own communities. An inspiring and educational look at those who make our world a better place.
The Great Depression for Kids: Hardship and Hope in the 1930s by Cheryl Mullenbach (grades 4 – 7)
Well organized account of the Great Depression with a special focus on how neighbors helped each other through extremely difficult conditions. This puts a historical spin on community service and service based learning.
As the beach and vacation filled days of August come upon kids, it's important to subtly integrate learning into their lives. Finding the right way to do that is often a fool's errand, but the books above will grease the wheels of learning as September approaches without destroying the joy of the last days of summer.

Many teachers struggle with motivating students to do more independent reading, especially when that reading happens at home. Whether students don't like reading, or simply would prefer to play their favorite video game, it's a head scratcher for even the savviest teachers.
However, you don't have to take "Ehh, I just don't feel like reading" for an answer any more. Use these strategies to motivate students to read more at home.
Make the Process More Fun
Students love video games and social media because they're fun—and there's no reason why reading shouldn't be fun too. Use these websites to motivate students to read more at home without you pushing them to do so.
Bookopolis: The best book recommendations for students come from their peers. The website Bookopolis aims to give students the recommendations they're looking for, with thousands of student-written book reviews. With the whole class signed up, students can recommend specific books to their friends and browse pre-made book lists to discover their next favorite read.
Whooo's Reading: This online reading log platform motivates students to read more with extrinsic rewards. Students earn Wisdom Coins for logging reading, answering open-ended, reading comprehension questions and interacting with peers in their private newsfeed. These coins are used to "buy" accessories for their Owlvatar—students want to have the coolest Owlvatar in their class, motivating them to read and log more. You'll be surprised how quickly these extrinsic rewards help develop an intrinsic desire to read more.
Storyline Online: This website provides audio books, with a twist. Rather than simply listening to the book, students watch a video of the person reading the book, so they see the actual book while listening. Some stories are even read by famous people, like Betty White.
Give Them a Greater Purpose
If students know they're reading for a greater purpose—like helping impoverished children—they may want to read more. Here are a few worthy programs to join:
Read to Succeed: This program, offered by Six Flags, gives students free tickets to the nearest Six Flags after completing at least six hours of recreational—not assigned through school—reading. This program is free for teachers and schools to participate in.
Students Helping Students: Room to Read offers a fundraiser read-a-thon, where students read to raise money that goes toward helping impoverished children around the world gain access to schools and books.
Give Them Access to New Books
One of the reasons students cite for not reading more is not having a book or not knowing what book they want to read next. Luckily this is an easy battle to win—there are plenty of ways to get more books in the hands of your students.
Here are a few options:
Epic! Books: This service gives students, ages 12 and younger, access to more than 10,000 digital books. The program is free for elementary teachers and librarians to participate in, and provides students with a wide range of popular titles such Brown Bear Brown Bear What Do You See and the Goosebumps series.
First Book Marketplace: If you work at a Title 1 school, you're eligible to purchase books through First Book Marketplace at 50-90 percent off below retail price. Books are available for children up to 18 years of age, with a variety of popular and classic titles available, along with STEM resources and college-prep materials.
Thrift Books: This online bookstore honors the work teachers and educators do with a 15 percent discount on book sets (20 or more titles). If you're looking to stock your classroom, this is a great way to do it.
Reading Resource Project: Use this website to give your classroom library a complete overhaul. Educators can order a collection of 100 books—you choose the collection, whether it's a mix of titles and genres, or books about specific things, such as animals, food, science and more—and then simply pay shipping, which comes out to $.88 per student. Books are distributed many times a year, including on Read Across America Day, National Drop Everything and Read Day and Children's Book Week.
Free Audio Books: There are dozens of sites available that offer free audio books. Check out Ambling Books and Librophile. Get a full list of free audio book websites here.
Once you have all of these books in your classroom, you'll need to implement a book lending process so students can take them home, if you haven't already. Use these tips to create this system and making your classroom library more interactive.
Motivating your students to read more at home can be a difficult process. However, with multiple strategies at play, it becomes easier to get every student in your classroom reading more every single day.
Bio: Jessica Sanders is the Director of Social Outreach for Whooo's Reading, a San Diego-based education organization that motivates students to read more every day. It's available to teachers, schools and districts. Jessica grew up reading books like The Giver and Holes, and is passionate about making reading as exciting for young kids today as it has always been for her. Follow Learn2Earn on Twitter and Facebook, and check out their new ebook, How to Bring Technology Into the Classroom, just $2.99 on Amazon.com.