Printable K-5 Science Worksheets, Tests, and Activities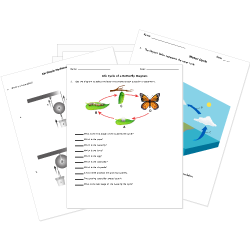 Challenge students to explore the natural and physical world with this collection of science worksheets and activities.
Worksheets labeled with are accessible to Pro subscribers only. Become a Subscriber to access hundreds of premium worksheets.
Don't see an elementary science worksheet you need? Use our Test Maker™ to create your own printable that fits your needs. Browse science questions or use our advanced search to find existing questions while filtering by grade levels and keywords. Customize your test further by creating your own assessment questions.
Worksheets noted with (NGSS) support Next Generation Science Standards. Select the worksheet link to view the alignment note in the upper left corner of its page. Search for NGSS questions to see all content available.
Related: Science Activities You Will Want to Do With Your Kids
Life Science
From what organisms need to survive to habitats and life cycles, use these elementary life science worksheets and activities to supplement and support your life science teaching.
Grades K-2
Introduction to Life Science

Plants

Animals

Human Biology

Ecology
Grades 3-5
Cells

Plants and Animals

Human Biology

Ecology
Earth and Space Science
The Earth is a complex system. Introduce elementary students to concepts related to Earth systems, its place in the universe, and how human activities impact our planet with this growing collection of K-5 Earth and Space Science worksheets and activities.
Grades K-2
Earth's Place in the Universe

Earth's Systems and History

Earth Resources and Human Activity
Physical Science
From the early grades, students must develop an understanding of energy and matter and its interactions. Use these worksheets to support your physical science teaching and allow students to discover the roles of matter and energy in their worlds.
Grades K-2
Matter and Energy

Forces and Motion

Waves
Grades 3-5
Matter and Energy

Forces and Motion

Waves
Scientific Methods & Skills
Asking questions, modeling, and carrying out investigations are practices that all scientifically literate students must master. Introduce elementary students to these fundamental skills and methods with our scientific methods and scientific skills worksheets.
More Elementary Resources
Use our search tool to go beyond elementary science worksheets and find elementary worksheets for other subject areas, including ELA, Math, and Social Studies.