Printable High School Science Worksheets, Tests, and Activities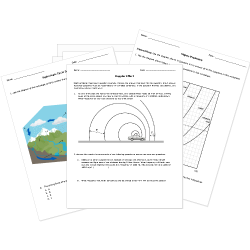 Challenge students to explore the natural and physical world with this collection of science worksheets and activities.
Worksheets labeled with are accessible to Pro subscribers only. Become a Subscriber to access hundreds of premium worksheets.
Don't see a worksheet you need? Use our Test Maker™ to create your own printable that fits your needs. Browse science questions or use our advanced search to find existing questions while filtering by grade levels and keywords. Customize your test further by creating your own assessment questions.
Related: Online Self-Paced Science Lessons
Scientific Methods and Applications
Test student understanding of the scientific method and laboratory equipment. Practice sheets include scientific notation problems, organizing the steps of the scientific method, and scientific reading skills.
High School Biology Tests and Worksheets
Discover the natural world with this collection of free biology worksheets on botany, ecosystems, and the human body. Test knowledge of anatomy and physiology by identifying features on ear, eye, heart, and cell reproduction diagrams.
DNA, RNA, and Genetics
Ecology and Evolution
Other
High School Earth Science Tests and Worksheets
Investigate the planet Earth with these assessments on its structure, processes, and resources. Earth Science activities include rock classification and diagramming the rock cycle.
Atmosphere
Environmental Science
Oceanography and Hydrology
High School and AP Chemistry Tests and Worksheets
Learn about atomic structure as well as matter composition and reactions. Practice mole calculations, name compounds, and use graphic organizers to develop student understanding with these chemistry tests and worksheets.
Acids and Bases
Analytical Methods
Atomic Structure
Bonds and Mixing
Kinetics and Equilibrium
Nuclear Chemistry
Matter
Molecules and Compounds
Organic Chemistry
Periodic Table and Elements
Properties of Matter
Reactions
Solvents, Solutes, and Solubility
Thermodynamics
Other Chemistry
High School and AP Physics
Try physics tests on motion, energy, and forces. Take a quiz to test knowledge of electrical circuits using schematic symbols.
Electricity and Magnetism
Energy and Momentum
Forces and Motion
Light and Optics
Other Physics
Matter and Properties of Matter
Mechanics
Fluid Mechanics
Waves and Sound